Best Gifts for Kids
With five little people running around the house, we've road tested more than our share of toys and activities. Ones with a zillion little parts probably won't last, but anything that gets them creating or imagining or cooperating will go a long way. Lots of these toys are on our shelves, and lots of them are in the pile of boxes that just arrived from Amazon. (Shhhhh.) Our kids are ages 8-2 so some of these won't work for the oldest and some won't work for the youngest, but… I always try to find games and activities that might appeal to a wider range of ages!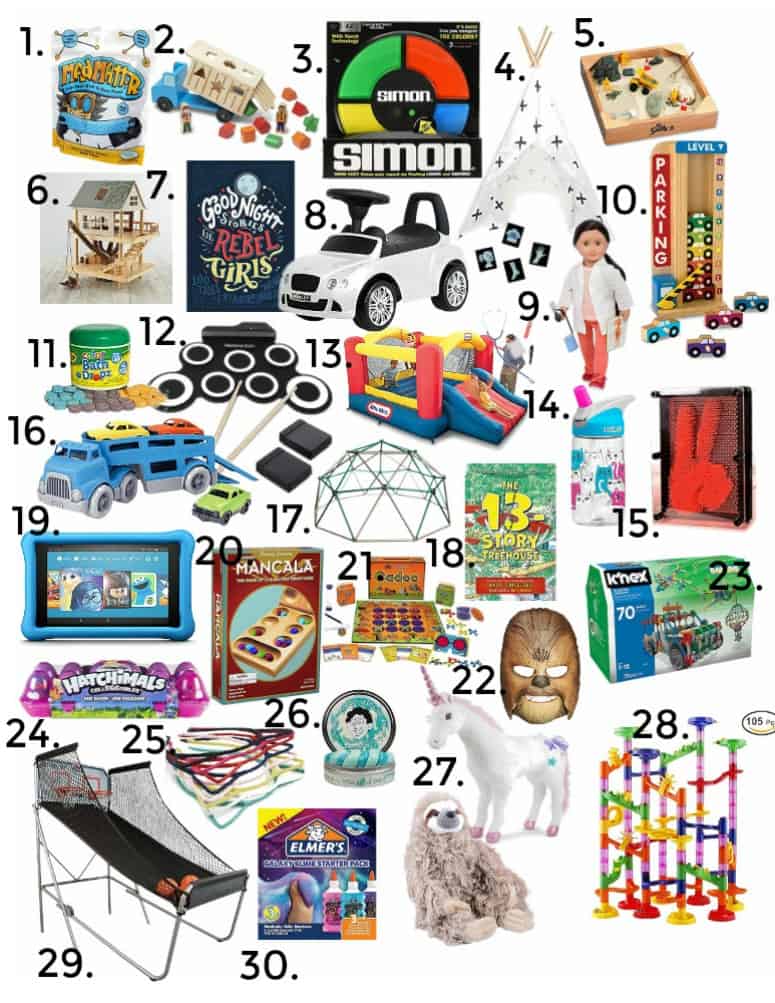 Kinetic Sand / 2. Shape Sorting Dump Truck / 3. Simon Says / 4. Teepee / 5. Sandbox / 6. Tree House / 7. Rebel Girls book / 8. Ride On Car / 9. Doctor Doll / 10. Parking Garage / 11. Bath Color / 12. Electric Drums / 13. Moonbounce / 14. Waterbottle / 15. Pin Art / 16. Green Toys Car Carrier / 17. Jungle Gym / 18. 13-Story Treehouse / 19. Kindle Fire / 20. Mancala / 21. Cadoo / 22.  Chewbacca Mask / 23. K'Nex / 24. Mini Hatchimals / 25. Metal headbands / 26. Thinking  Putty / 27. Giant Unicorn and Stuffed Sloth / 28. Marble Run / 29. Indoor Basketball / 30. Slime Kit 
Every year I vow to keep things more organized and streamlined and mellow instead of just throwing piles of toys at the kids. I'm also hoping to instill a little more gratitude in our crew and to get rid of the "I wants" and the "it's no fairs".  We typically go for toys that can provide an experience rather than just a character, but… there are some princess-related gifts en route too!