3 Ways to Use a Pump Sprayer in Your Yard
Psssst… this post *might* contain affiliate links: see my disclosure here.
I use a pump sprayer for three important jobs around my yard.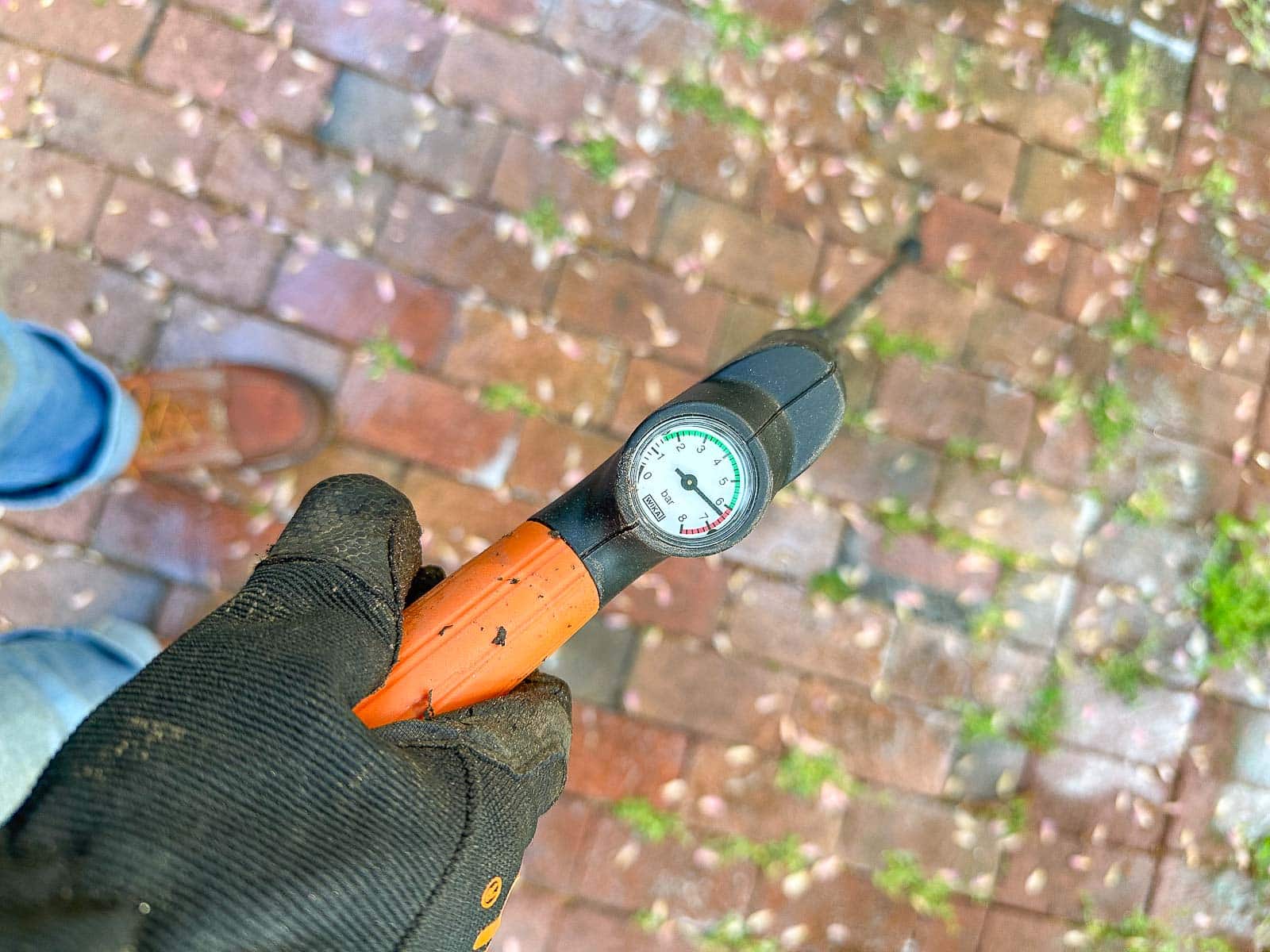 Disclosure: this post is sponsored by STIHL but all opinions and helpful tips are mine.
Today I'm going to tell you about a tool that you may be sleeping on: a pump sprayer. Specifically a *battery* powered pump sprayer like this one. It's an investment, but I'm going to share more than three ways I use these on a WEEKLY basis. Also, wearing this on my back and spraying things has become one of my favorite tasks around the yard because something about the whole rig just feels badass.
Reason 1: Weed Control
Our new house seems to be a weed magnet. Something about the proximity to the woods with all of the animals and critters and wind blowing… they sprout up EVERYWHERE. I've tried to put down cardboard in my flower beds to help mitigate over there, but the front walk and the back patio get the type of little weeds that creep up between the pavers like this: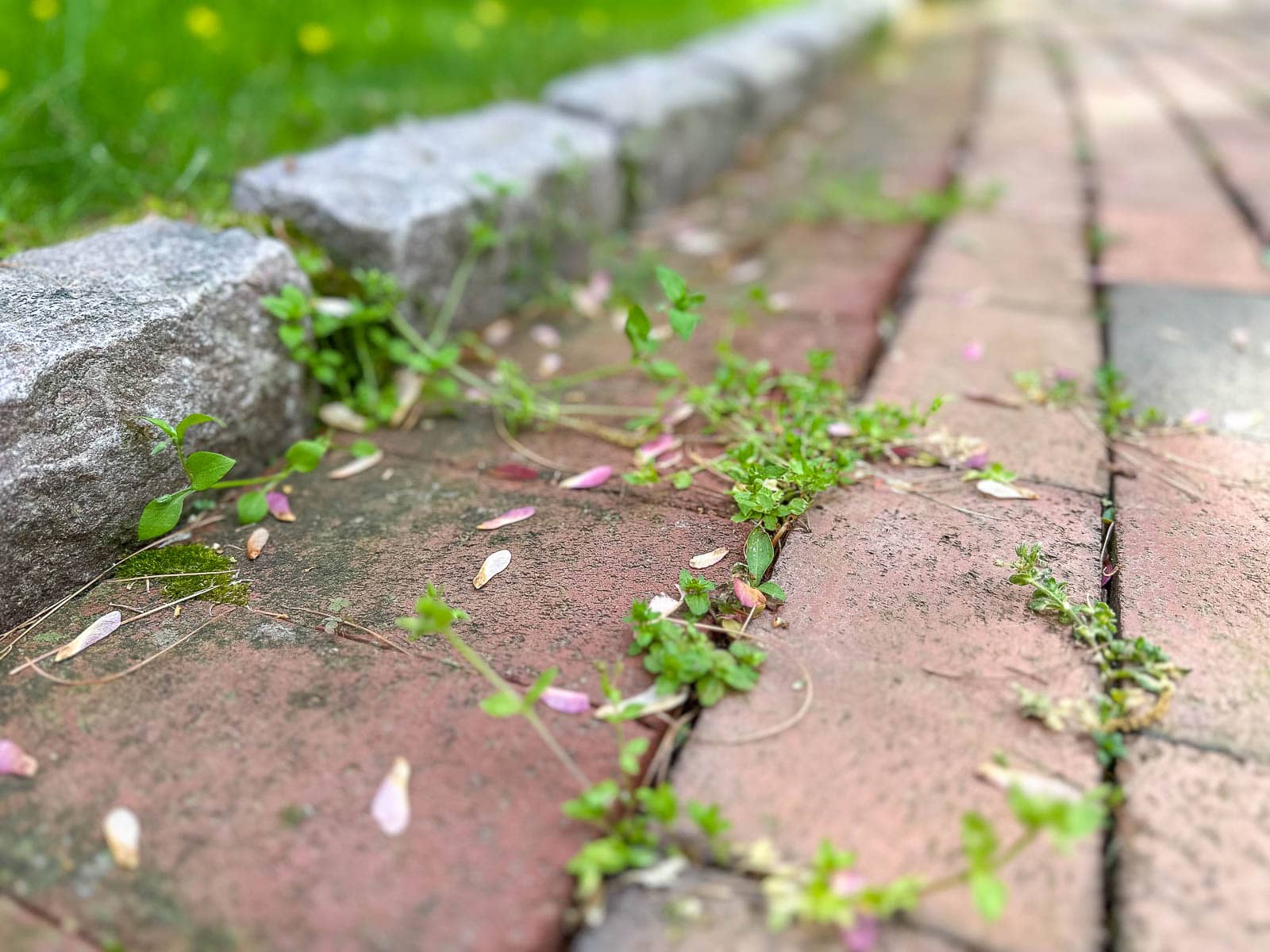 Typically I wait until they get really bad and then I hunker down with a bucket to pull them out or feel like a jerk for spraying some toxic chemical on them, but most of the time they come back so I have to repeat the whole process every couple of weeks. UNTIL THIS SUMMER. Meet my chemical free kind of magical weed control solution.
• 1 cup salt
• 1 tablespoon dish soap
• 1 gallon white vinegar
Technically you can use this on any weeds, but… it's going to kill anything it touches, so I was hesitant to use it in my flower beds. I mixed the above cocktail into my pump sprayer, popped in a charged battery and… started spraying. (Obviously use caution and wear necessary protective gear like gloves, long pants, boots, etc….) Here's where the STIHL battery sprayer works its magic. It will keep the pressure where it needs to be to continuously spray for as long as your weed killing heart desires. No more manual pumping to build up the pressure, just a walk through the weeds with your weed killing spray.
The first time I sprayed this concoction I wasn't sure whether it would do anything and, guys…. it felt like it started working within a few hours. Here's what all my weeds looked like the next day and within a week, they just kind of disappeared.
Reason 2: Bug Repellent
When I know it advance that we are entertaining or having a movie night outside, I'll use my pump sprayer to spray around our back patio in advance to keep the mosquitos at bay! I use a natural concentrated pesticide like this and simply spray the surrounding plants and bushes to keep our outdoor activities itch free!
Reason 3: Deer Deterrent
We live in the woods in Connecticut and every year the deer do a number on my garden. This year was the final straw when all of my "deer resistant" plants got eaten to the nub. Plants that are typically not tasty were getting eaten on the regular and my patience was over it.
I asked for advice down at my local nursery and they recommended this spray. You mix it with 8 parts water and spray it every couple of weeks onto your plants. BEWARE… this stuff STINKS. Like really really bad. Our nursery suggested spraying at dusk on a dry evening but whatever you do, do NOT plan on hanging out anywhere near where you've sprayed until the next day. That said, the new cone flowers I just planted are still thriving so I'll put up with a little stink every few weeks!
Other Reasons to Use a Pump Sprayer:
Not pictured here, but other things I use my pump sprayer for:
Grass seed. My dogs like to occasionally dig in our grass so there are always a few patches of lawn that I need to fill and reseed. Using this pump sprayer to water is SO much easier (and gentler!) than dragging a hose all around the yard.
Wallpaper. Both for removal AND hanging. I have a post coming up sharing all my wallpaper removal tips and my pump sprayer was critical. I also use a pump sprayer to activate pre-pasted wallpaper as it's much faster than a dinky little hand sprayer.
Watering. I often grab my pump sprayer for watering hard to reach places because, again, it's so much easier and more convenient to grab this guy than it is to drag a hose all around the property.
Fertilizing. I'm trying to be better about feeding my plants and I'm hoping this pump sprayer will be the secret to my success. Again… we have a lot of garden beds so connecting fertilizer to my hose always ends up being a paint as I drag the hose around to reach all of them. Having the ability to walk anywhere I need to and spray my plants is a game changer.
In conclusion… I wasn't so sure this battery powered sprayer would be something I'd use all that often when I first received it but, as you can see, this has become one of the most used tools in my arsenal. It's saved my garden. If you've been watching my flip house content on my YouTube channel, then you know it was an MVP for wallpaper removal. And it's my weed killing deadly weapon. Run, don't walk… to check out all the details for yourself!