How to Set a Colorful Spring Table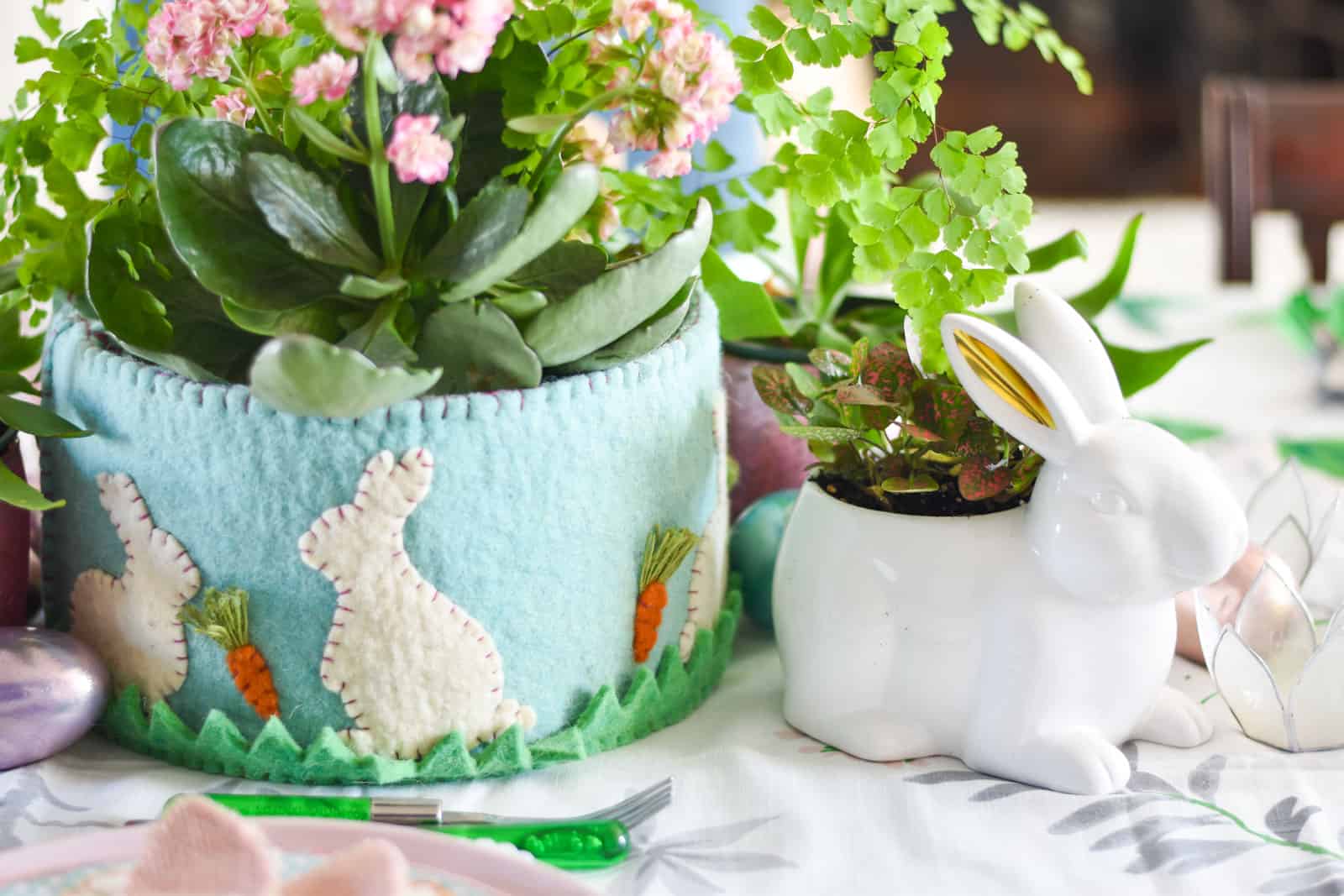 It must be some form of insanity that I enjoy creating these fun seasonal tablescapes with NO intention of sitting my kids down at any of them! Ha! Sometimes I use a fancy table post as an excuse to entertain, but my month is cray cray so… no way. But never you mind… here's our spring table all ready for Easter, and I'm excited to break it down a bit for you! Thanks to my friend Heather at Southern State of Mind for wrangling all of us for this fun day of sharing!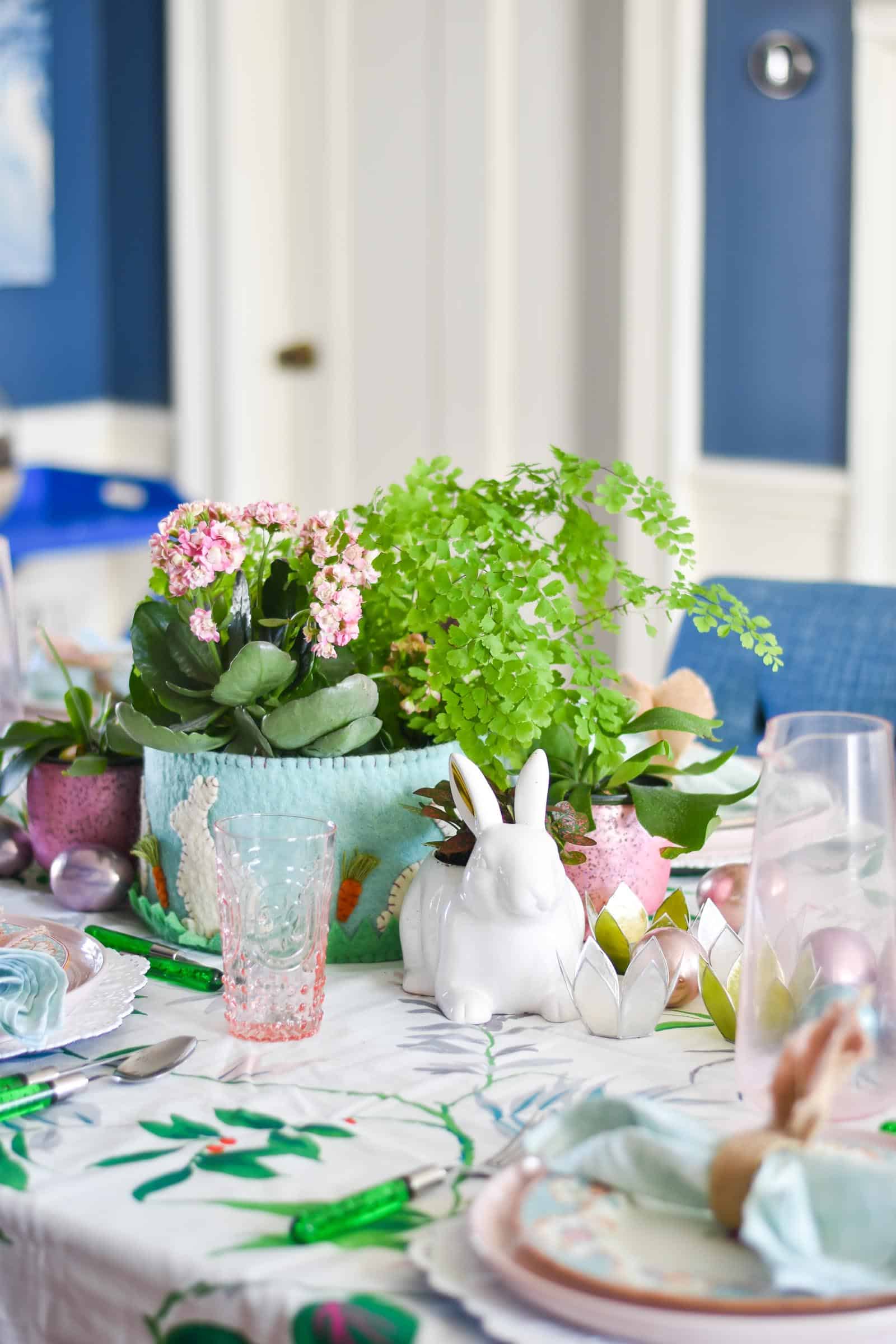 Step 1. Table cloth or placemats?
I tend to use one or the other when setting a table: either placemats OR a tablecloth. For our spring table, I wanted to soften the navy blue of the table so I put down this Kate Spade cloth from Homegoods last summer. (Full shopping list at the end of the post.)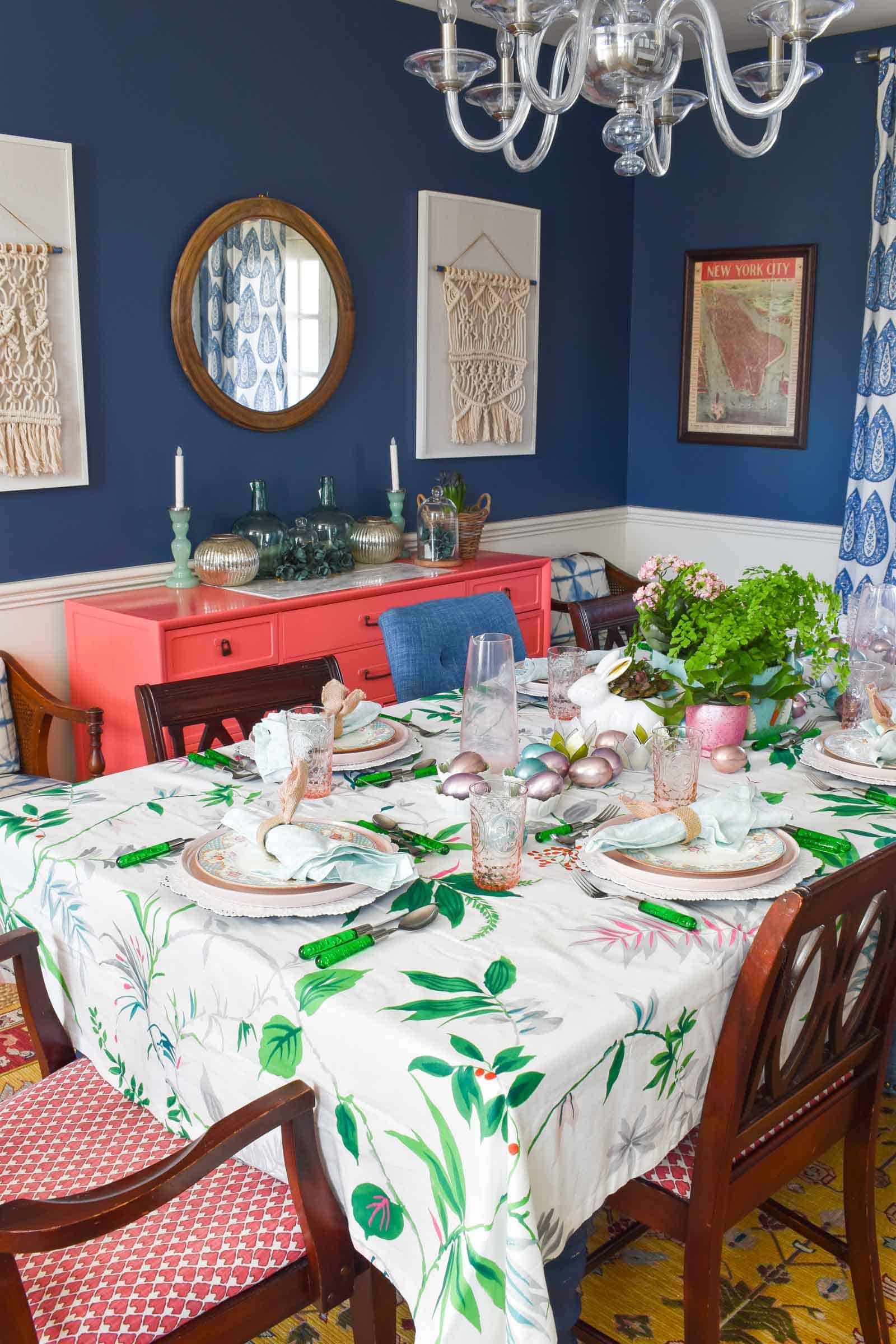 Step 2. Color scheme?
Technically, your color scheme may have factored into your decision to use a tablecloth or placemats, but I consider my centerpiece, possible table linens, etc. before choosing my colors. The centerpiece was the springboard for this spring table!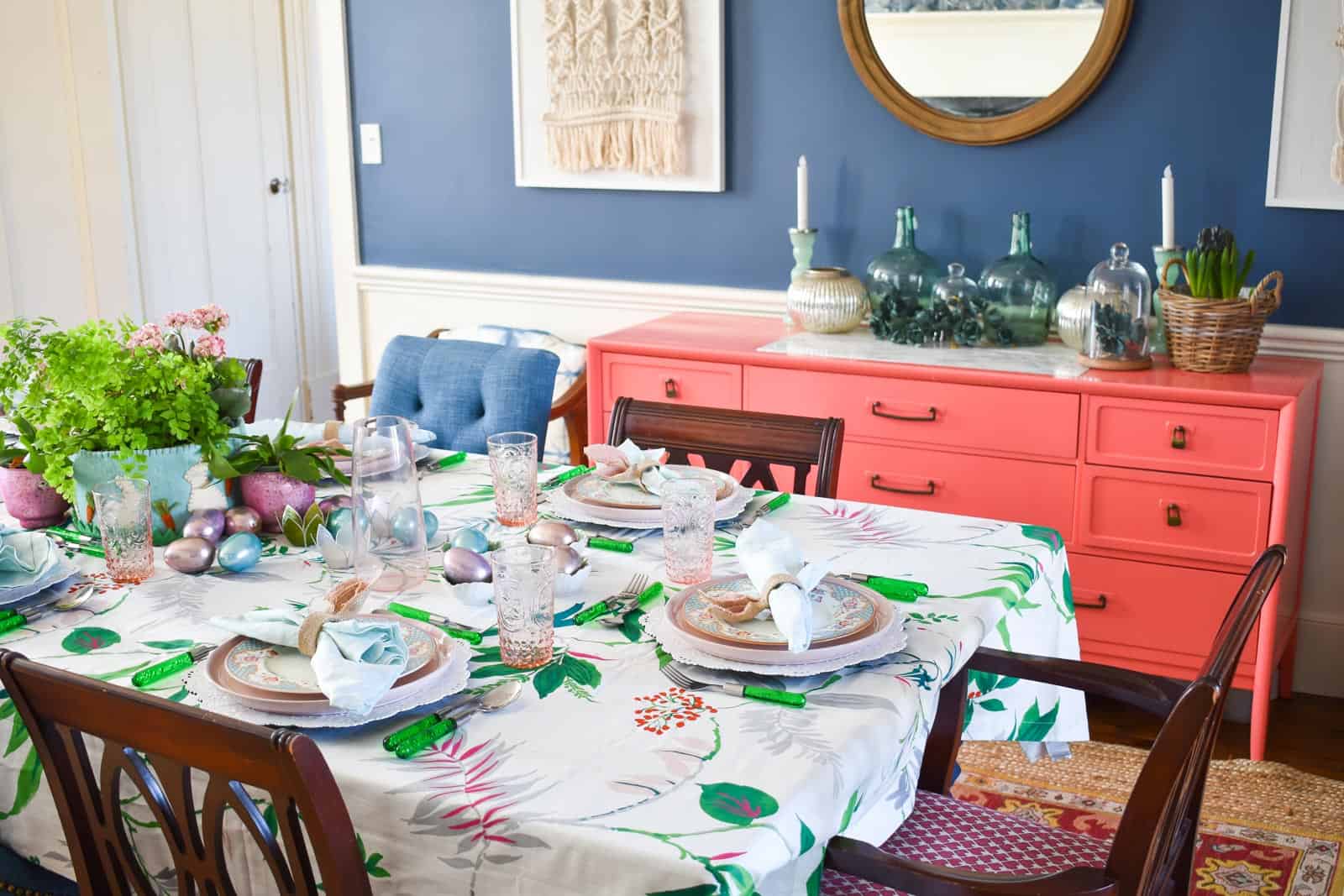 Step 3. Centerpiece Anchors
We have a big table, so I often start with one or two larger elements for the centerpiece and then fill in around it with smaller items. I found that felt Easter basket at Marshall's and love how it looks with  a few small potted plants inside.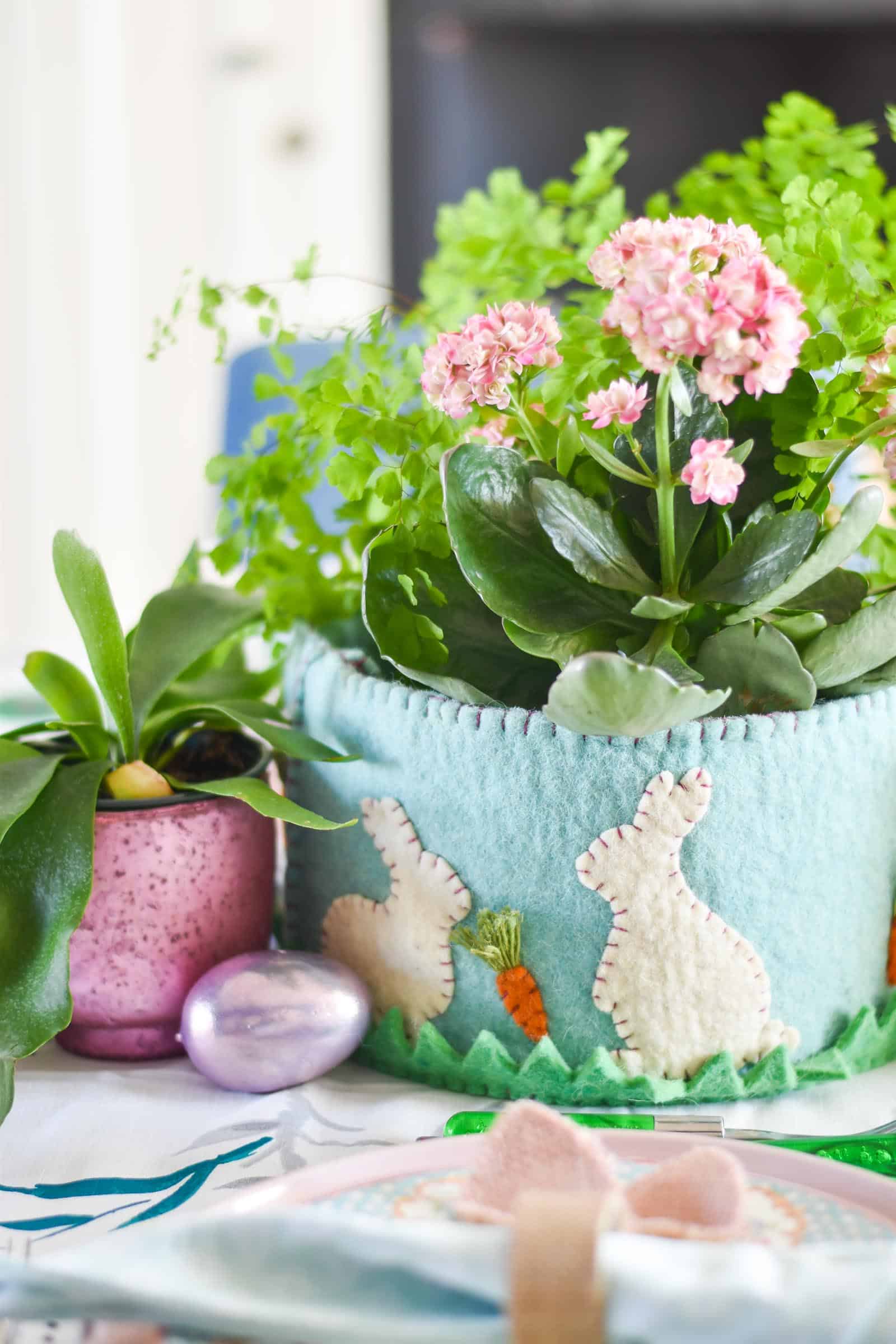 I filled in around the basket with that small ceramic bunny and two coral mercury glass votives.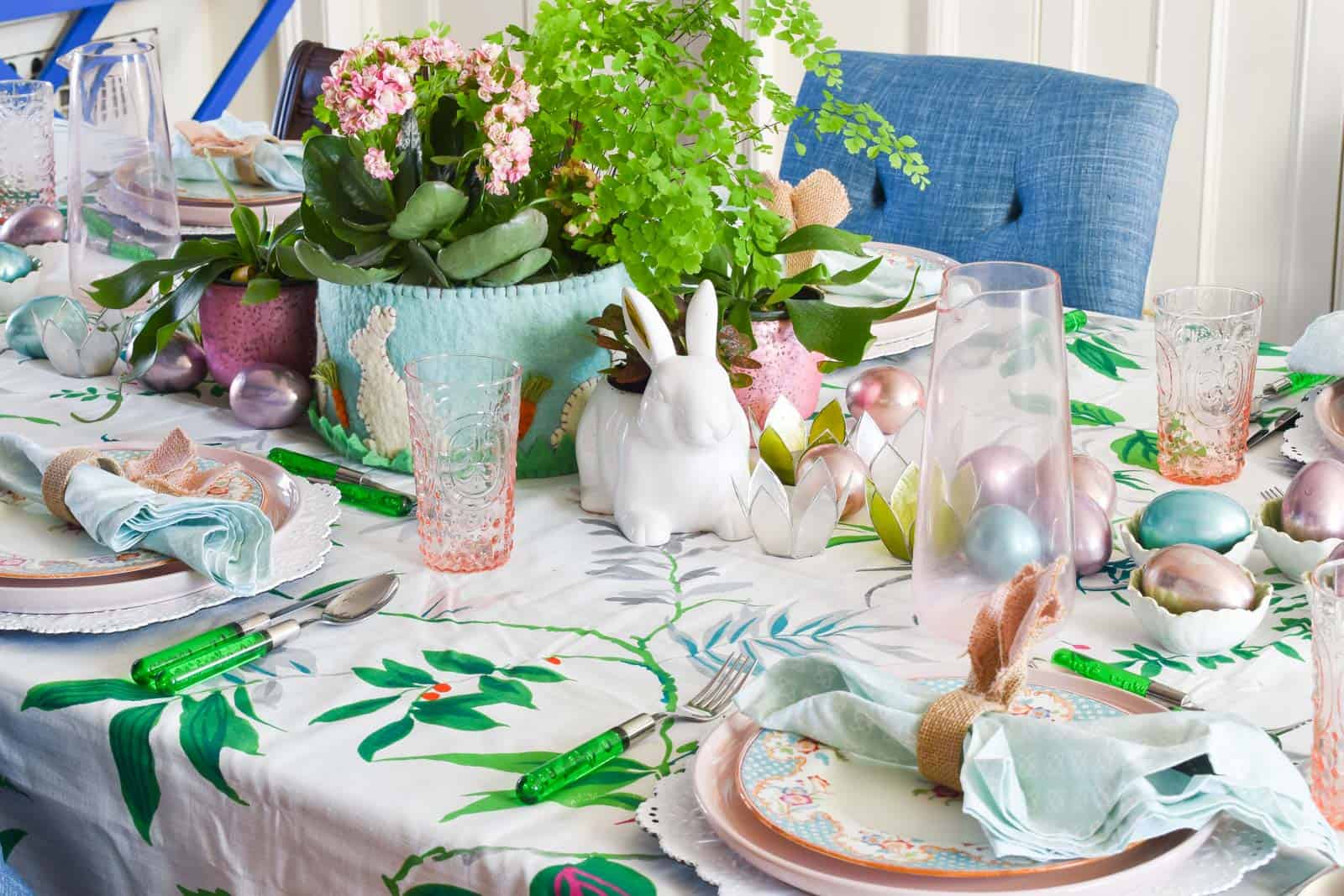 Metallic eggs scattered around fill in any final gaps.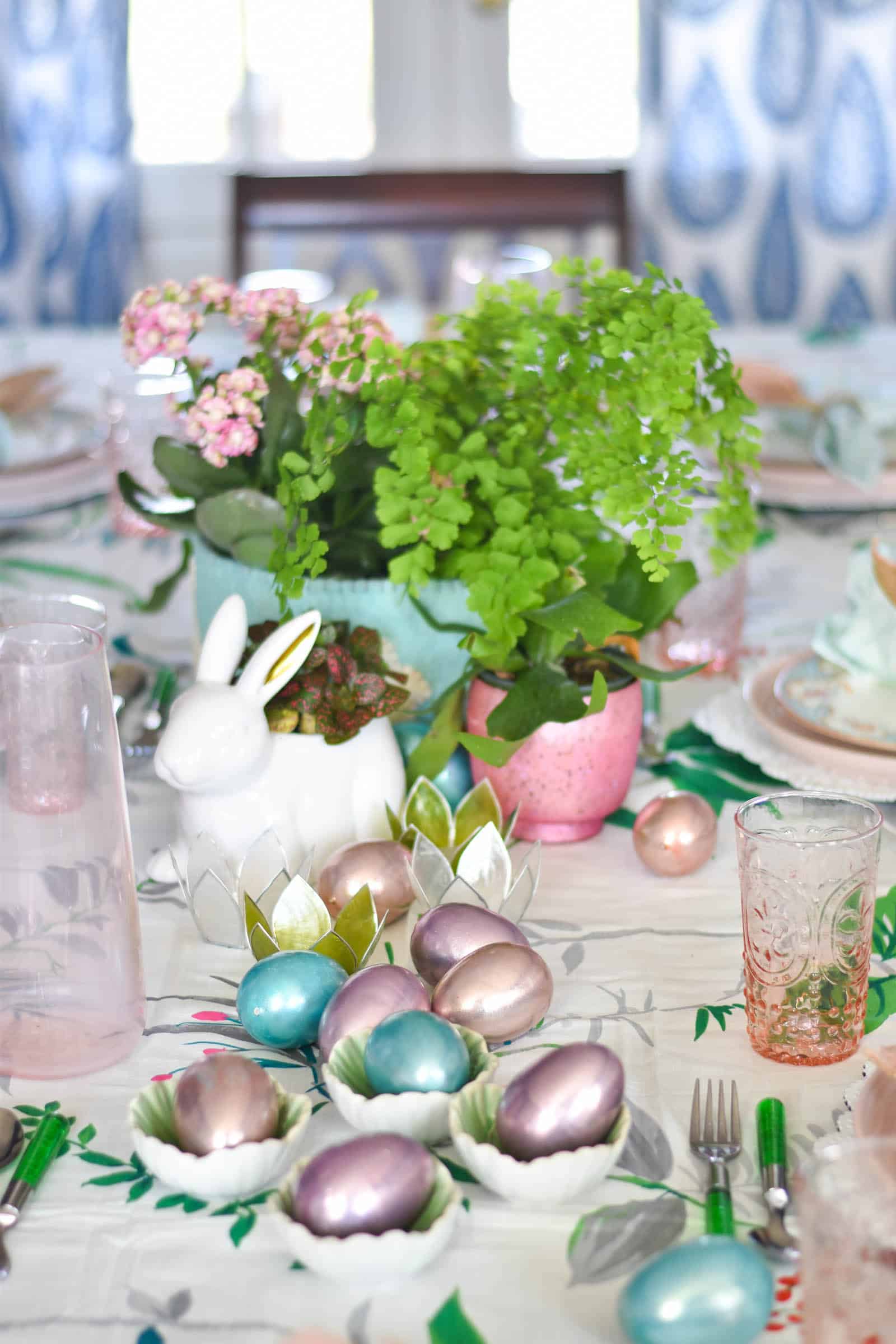 Step 4. Plates
I like to layer dinner plates onto larger chargers. Mostly this gives me another chance to bring in color or texture, but I also just prefer the look.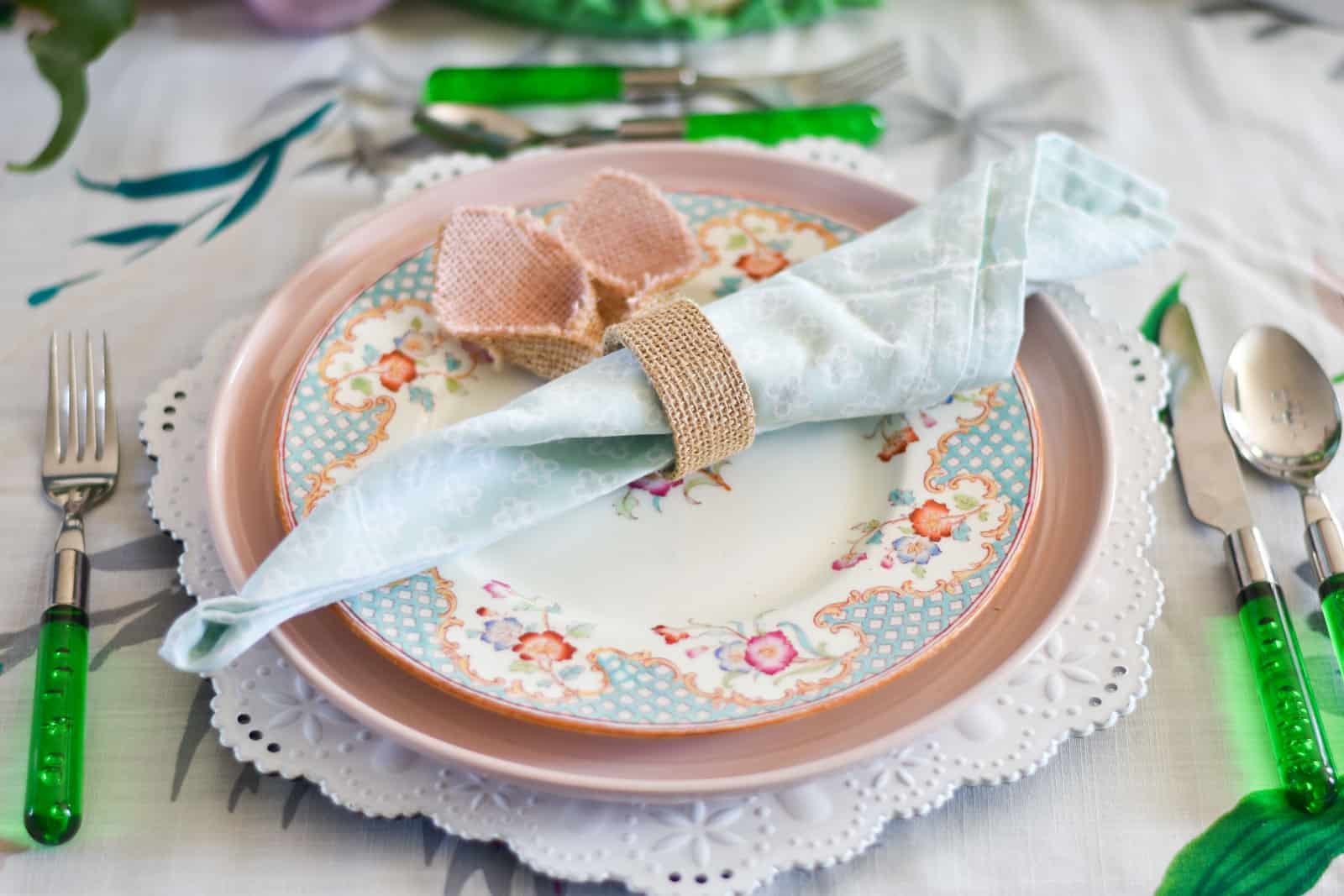 Sometimes I include a dessert plate for a third layer, sometimes not. That kind of depends on the color scheme and whether or not I have a smaller plate that will fit!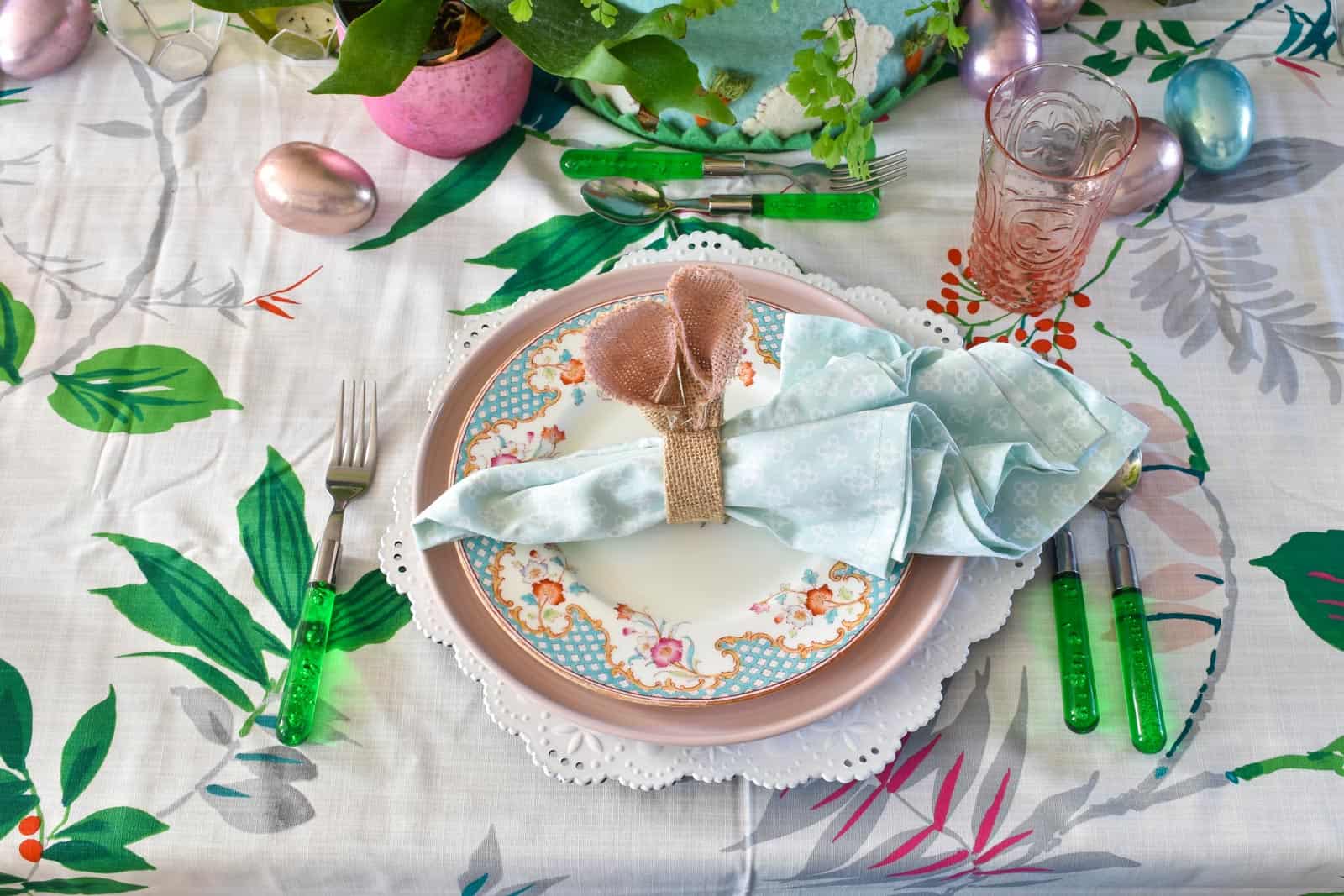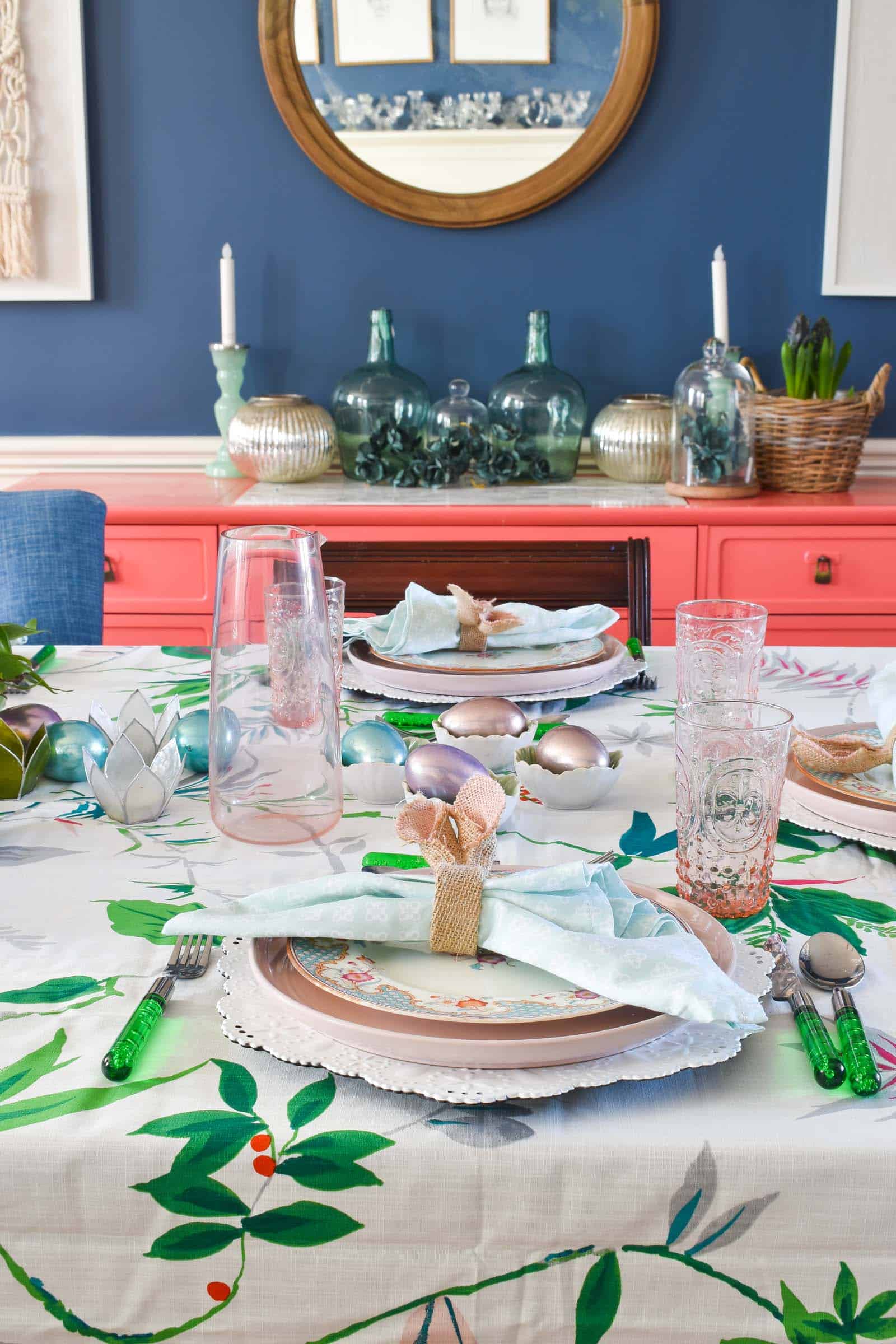 Step 5. Linens and Flatware
I have a handful of neutral linens that I pull out for my table settings. Most of the time I use napkin rings because they're easier than finding some cute way to fold the napkins. Once in a while, I'll sandwich the napkin between the dessert and the dinner plate.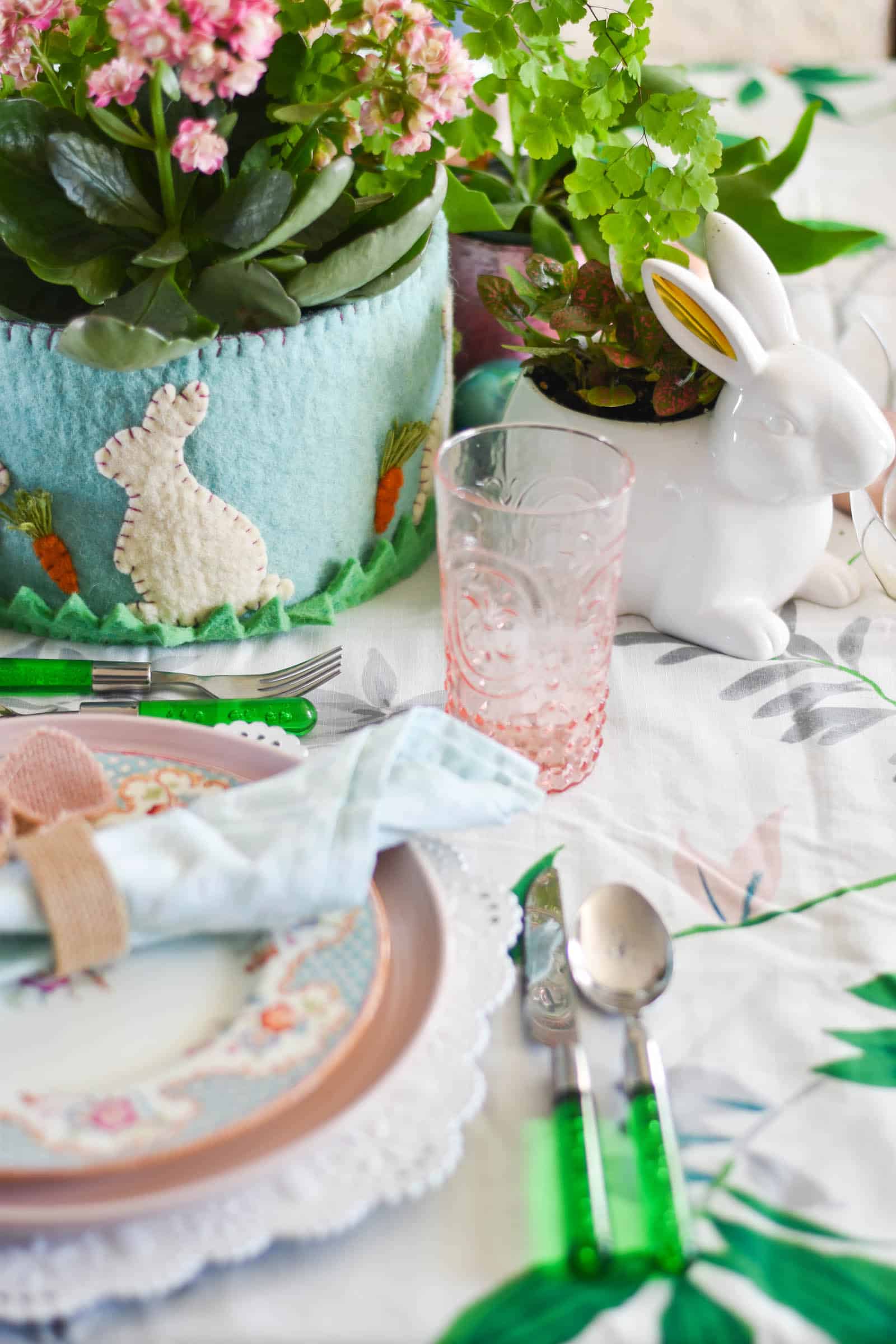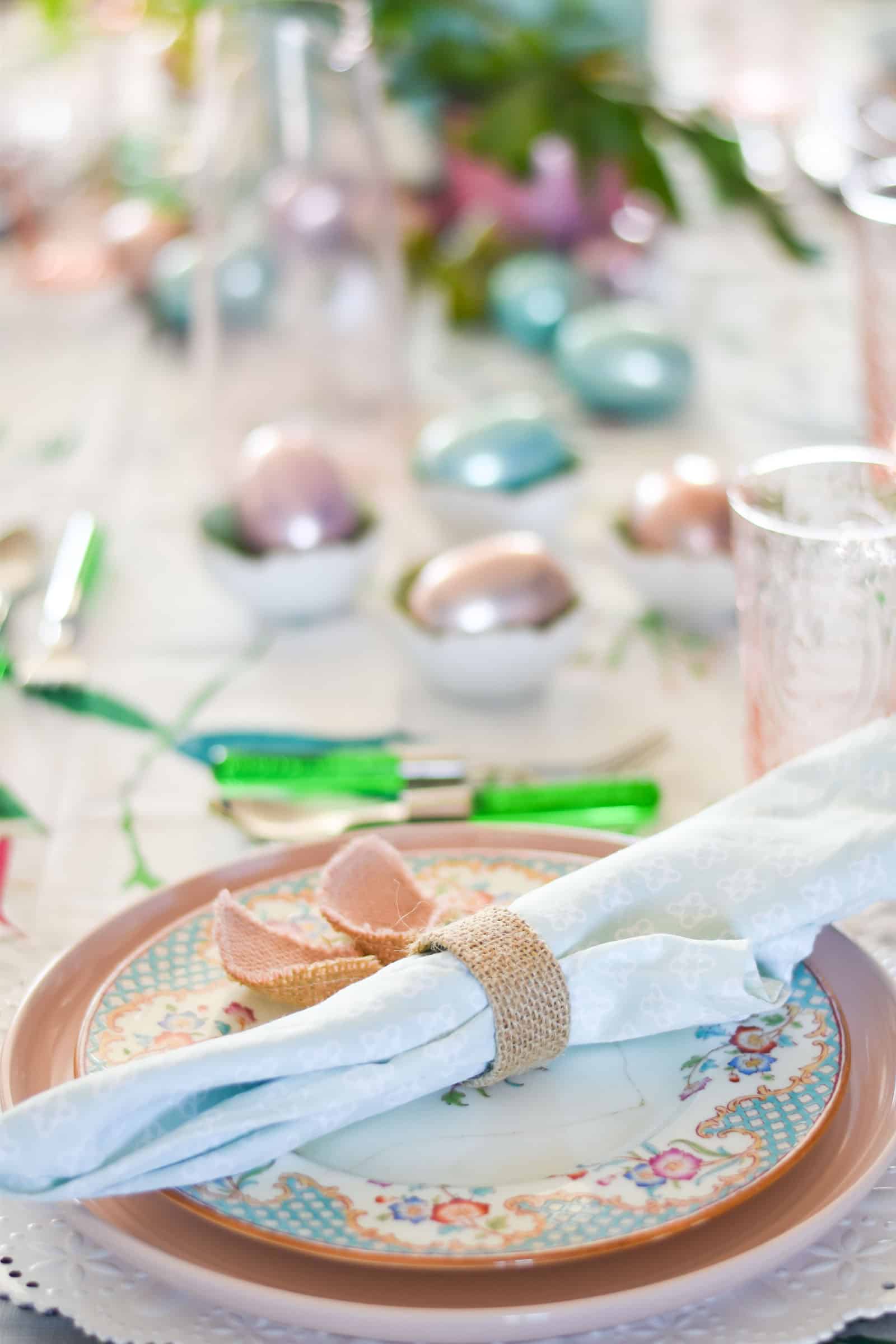 The formality of the occasion is kind of what determines what flatware I use… gold for fancier events, lucite whenever… these green ones for SPRING!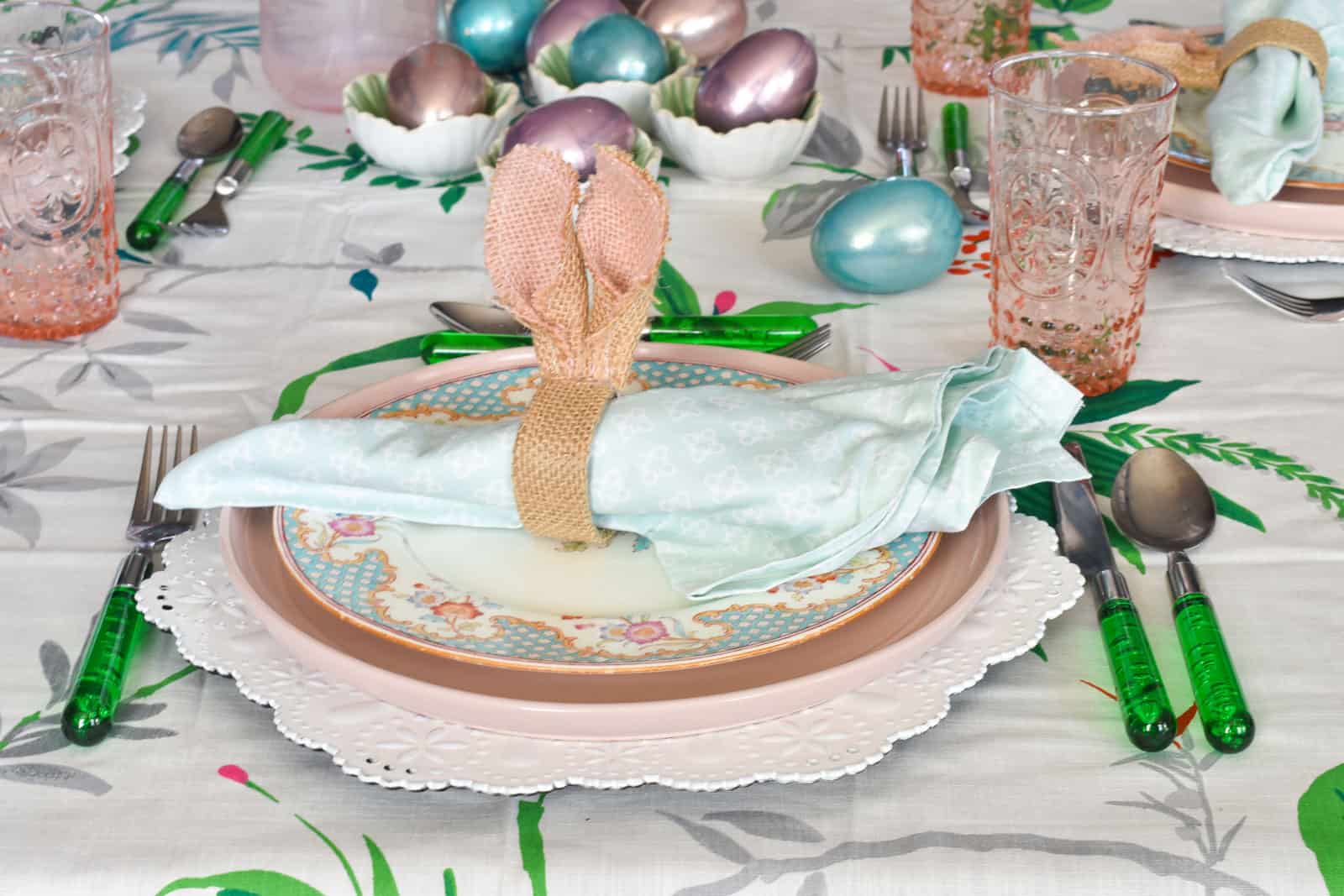 Step 6. Glassware
I always set my table with a water glass and a wine glass. I love using larger votives for water glasses just because they come in so many wonderful colors and shapes. Note: I usually don't include a bread plate, but if I were to… I'd make the "OK" sign with both hands and I'd notice that my left hand made a "b" for bread and my right hand made a "d" for drink.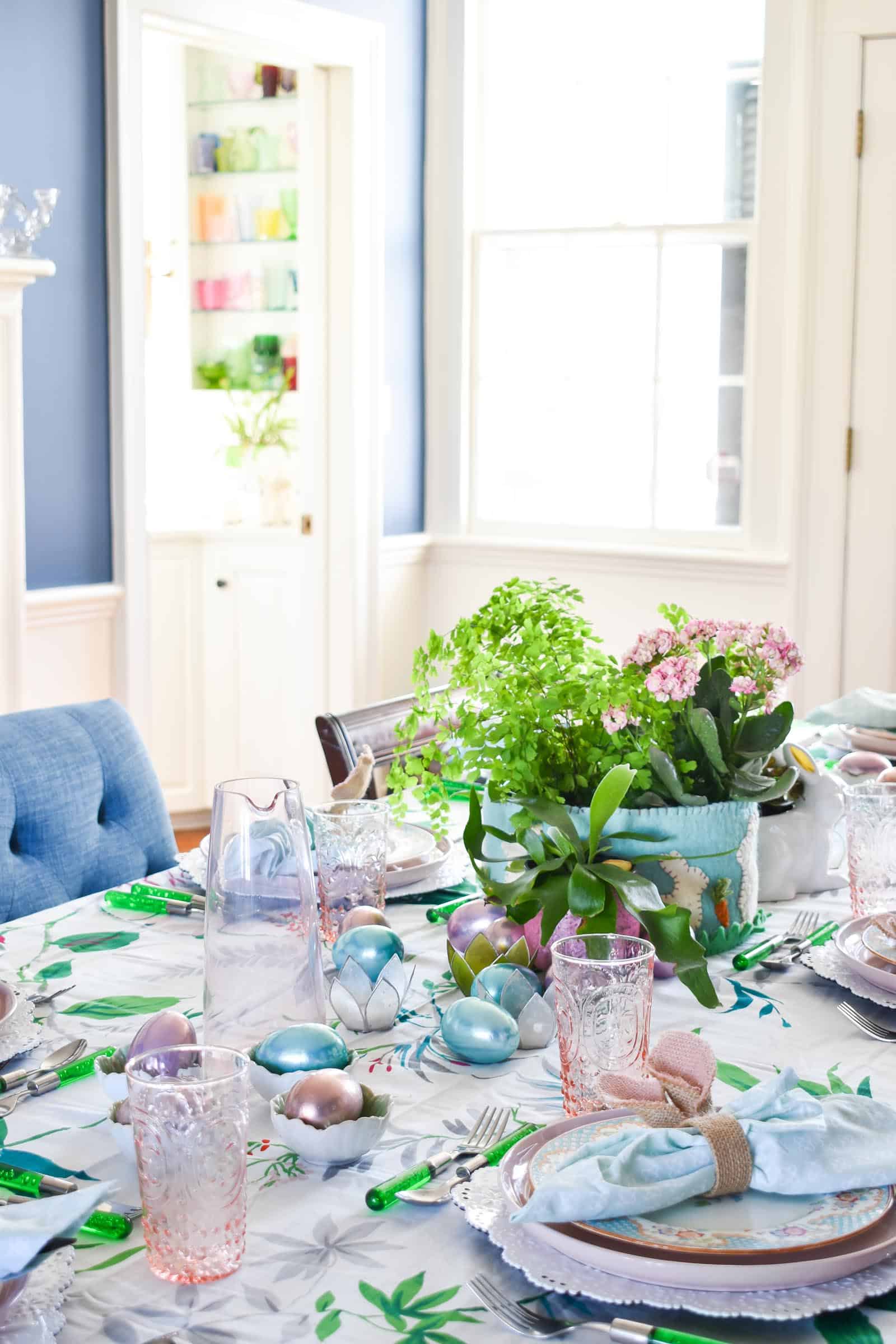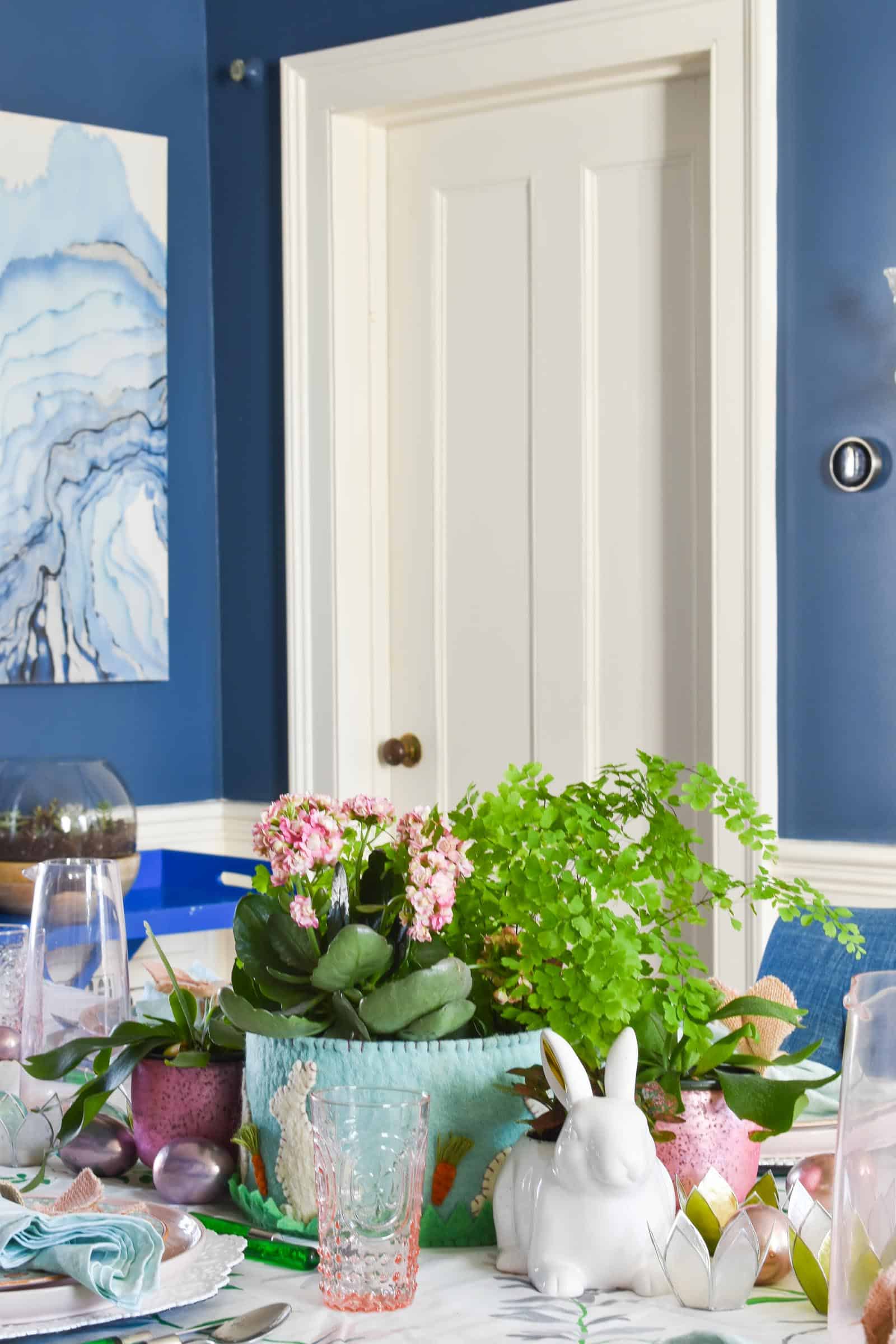 Step 7. Other details
It occurs to me that I don't *really* have a formula for all of this and that I probably add way too much to my tablescapes, but this is the point of the table setting palooza, that I may add place cards. Or party favors. Or balloon animals. JK… I've never added balloon animals, but how cool would that be?!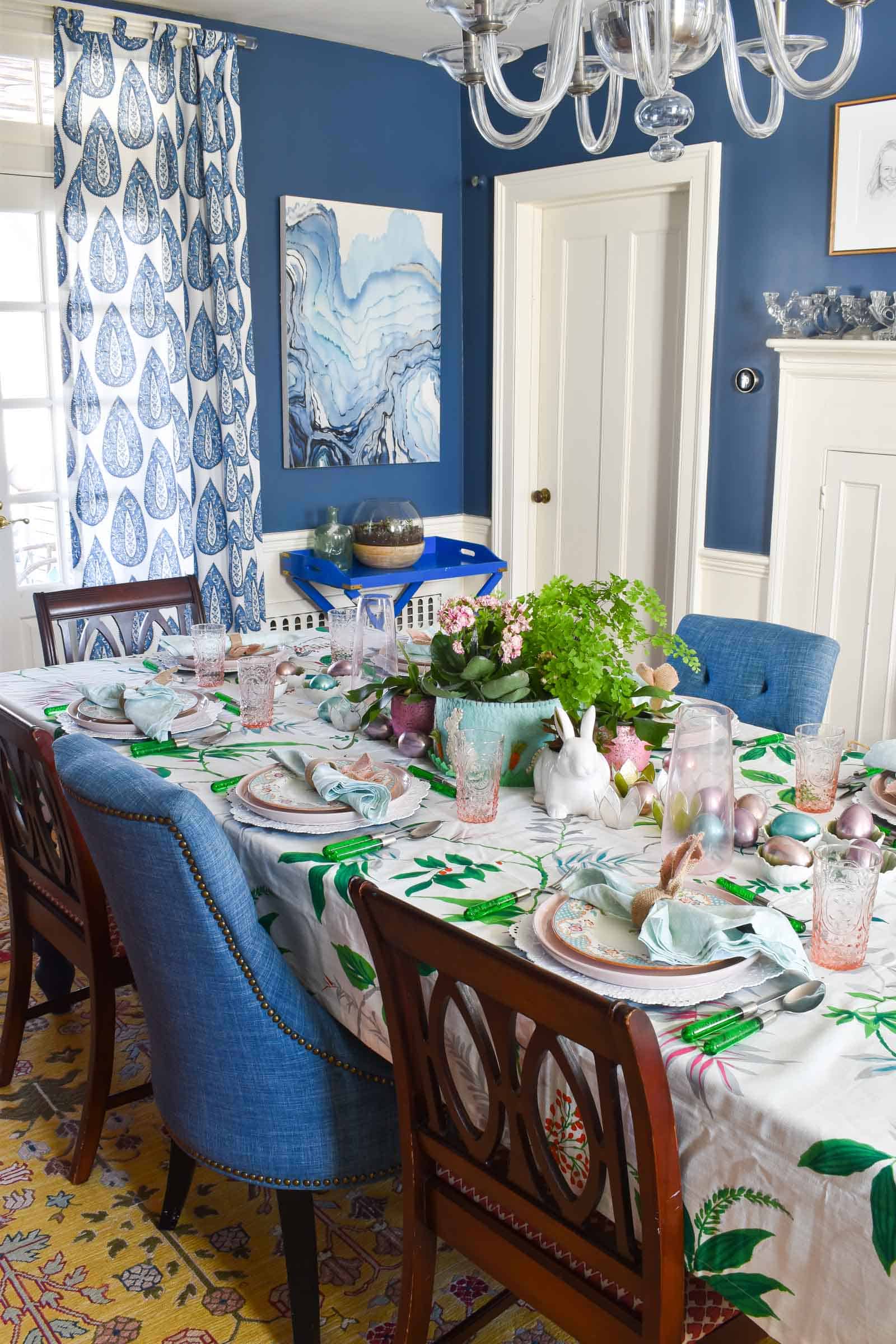 Source list:
Affiliates included for your convenience!
Chargers (currently out of stock… boo!)
Dessert Plates (family china)
Centerpiece (currently out of stock… double boo!)
Rabbit Planter (Target dollar spot… no longer available)
Make sure you give some love to all the other beauties who are linking up today… they're my blogging pals and I always love to see what they've come up with!
At Charlotte's House
Dixie Delights
Dimples and Tangles
Haneen's Haven
11 Magnolia Lane
Our Fifth House
Southern State of Mind
The Pink Clutch
This Is Our Bliss