Using Plutonium Spray Paint to Update Thrifted Busts
I picked up a handful of busts from Goodwill.com, Facebook marketplace… anywhere I could find them for under $10 and I gave them a colorful makeover!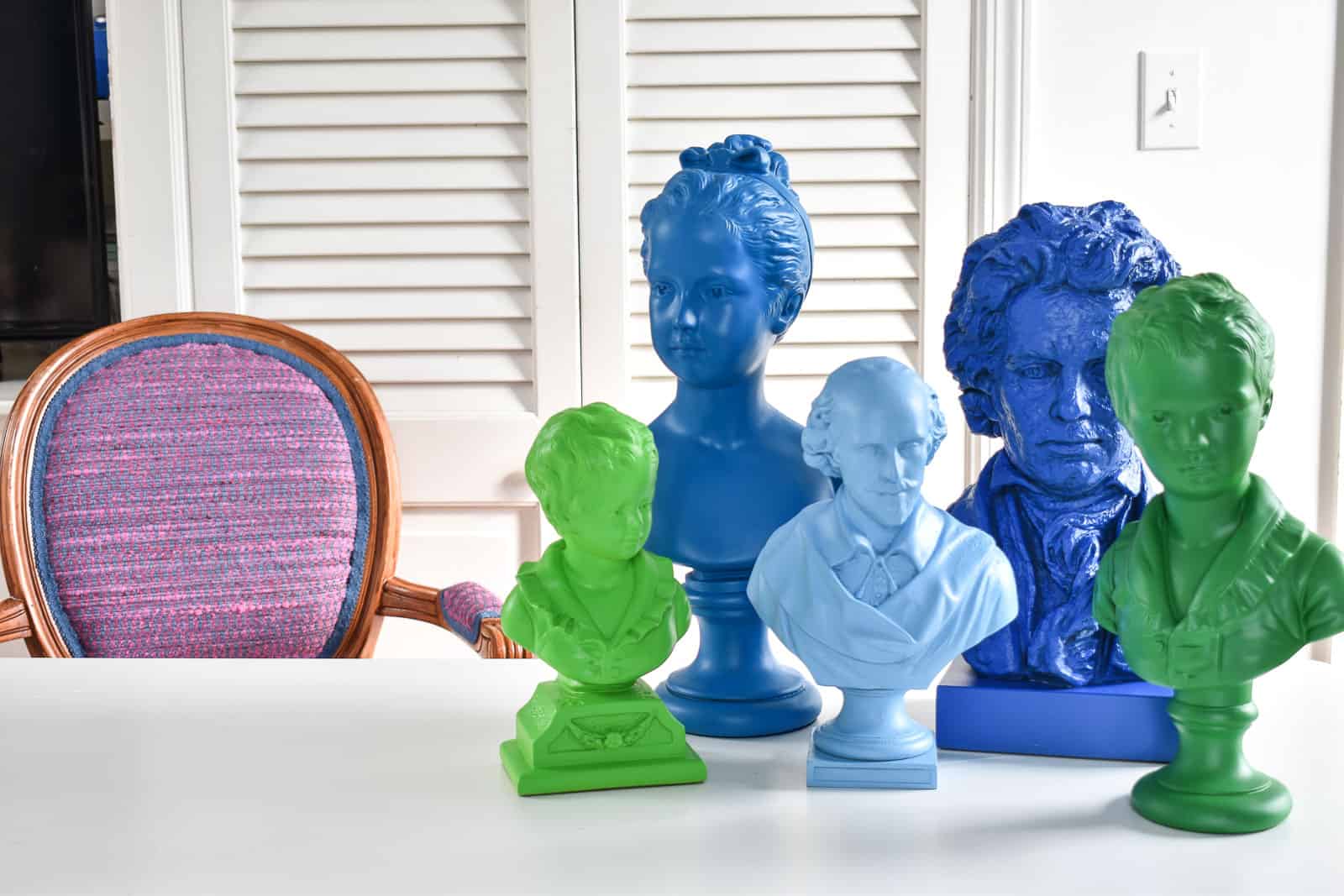 Disclosure: I am an ambassador for Plutonium Paint and they have provided me with product.
I LOVE this spray paint makeover. Not as much as I love Dawson Leery, but it was super easy and makes SUCH a difference so yeah… I love it a lot. I picked up a handful of statues from thrift stores and Facebook marketplace… anywhere I could find them for under $10.  Here's my secret weapon: Plutonium Spray Paint. I used Plutonium ages ago and have always loved the product. Be prepared, it's more expensive than other brands you might see on the shelf at The Home Depot, but… it's totally worth it in my opinion. Here's why:
1. COLORS!
I wanted these busts to pick up colors in my new office. Specifically some wallpaper. I was able to match 3 different blues which isn't something I can't typically do with a more generic spray paint.
2. Nooks and crannies
These busts are all different materials, but the one thing they have in common is nooks and crannies. In order to reach all those crevices and grooves I need to hold the spray paint *real* close… which normally would make me nervous because that's a recipe for drips. But… Plutonium comes out in such a fine mist that it doesn't drip. I mean, I could probably get it to drip if my life depended on it, but spray painting a few inches from the surface is totally fine.
3. Coverage
Because the  paint goes on in such a fine mist, the coverage is glorious. Smooth and flawless. A couple of my busts were already super smooth so any issue with the spray paint would have been magnified. No experience necessary for a pristine finish… see how this looks in process and finished.
4. Dry Time
Anyone who's ever painted or spray painted knows that waiting for paint to dry can feel like an eternity. I've ruined many a spray paint project with a second coat applied too early… you know that tacky sticky feeling or those tell tale finger prints? Plutonium spray paint dries in what feels like seconds… (And in fact… in humid temps, if you hold the can too far away from the surface, the paint will literally DRY before contact.. that's how fast this stuff works!)
5. Less overspray
The first time I spray painted anything, I set up a few tarps in the driveway and went to town. An hour later, I had white dining chairs and a thin haze of white paint on the front of our black car and anything else within 10 feet of my spray painting. I was spray painting these busts in my favorite paint shelter, but you'll see… there was hardly any paint anywhere but on the bust. See how little green is on the spray shelter?! With so little overspray, not only is it just easier to work with, but a single can goes MUCH farther than other brands.
For small to medium projects, I LOVE using Plutonium and it's hands down got a smoother more durable finish than other brands. Plutonium comes with a handful of interchangeable spray heads so you can better target your paint spray to your project. Stay tuned for more projects featuring Plutonium… Check out their website for more information!
You'll have to wait a little longer to see where these busts ultimately ended up. They look SO fun now so even without styling, I love how they turned out!