Any of you who have been following along with my Instagram stories lately know that we've taken out two biiiiig trees around our patio. This post won't have any glamorous before and after photos (yet!), but I DID want to share our experiences with tree removal with you! Something about removing a big beautiful tree always feels sad to me, and I've rarely taken them out without moments of regret that we might be making a mistake. Here are some of the reasons we've come to for taking out trees in our own yard.
5 Reasons to Remove Trees
1.  Safety
When we bought our first house, it was completely overgrown and we had to remove a ton of trees. One of the larger trees was leaning precariously towards the house and one limb alone would have gone straight through our roof. Given the weight of snow and the strength of summer storms, proper tree maintenance is essential in our neck of the woods. If a tree hasn't been tended to or is ill in ANY way, there can be terrible repercussions. See that enormous pine tree on the left? Yeah… had to go.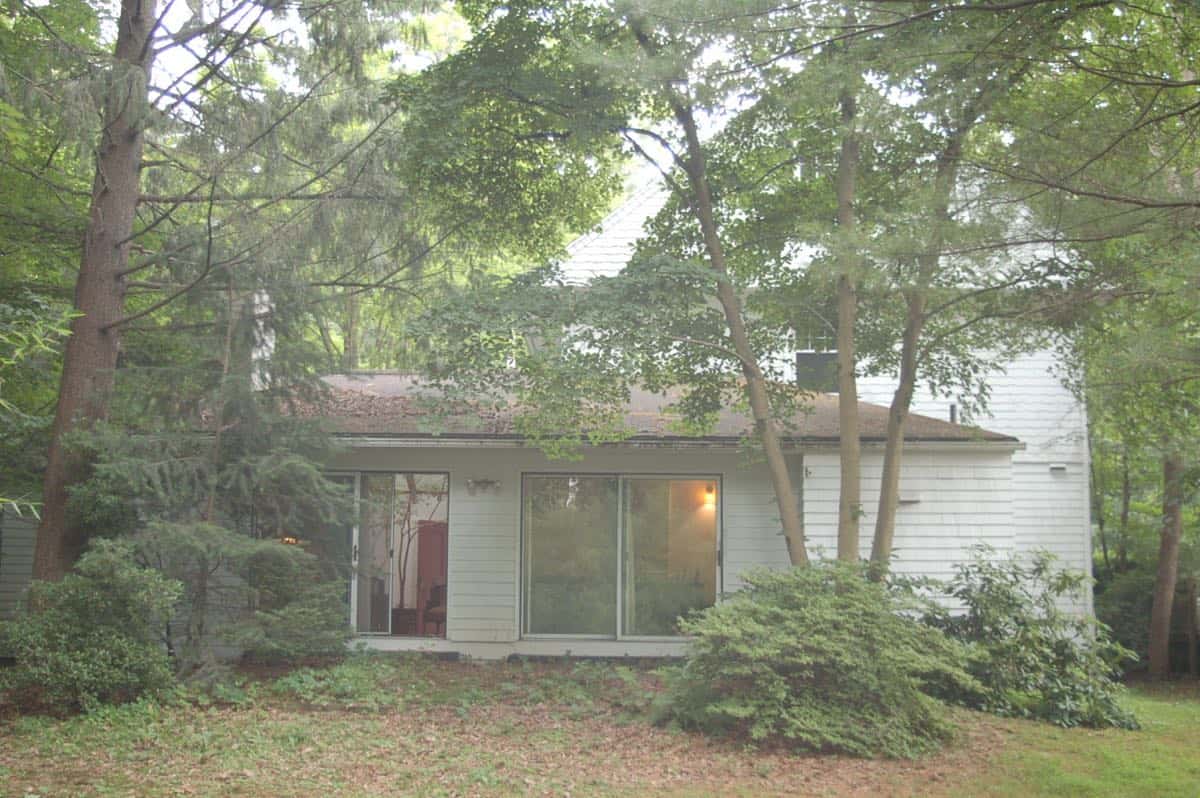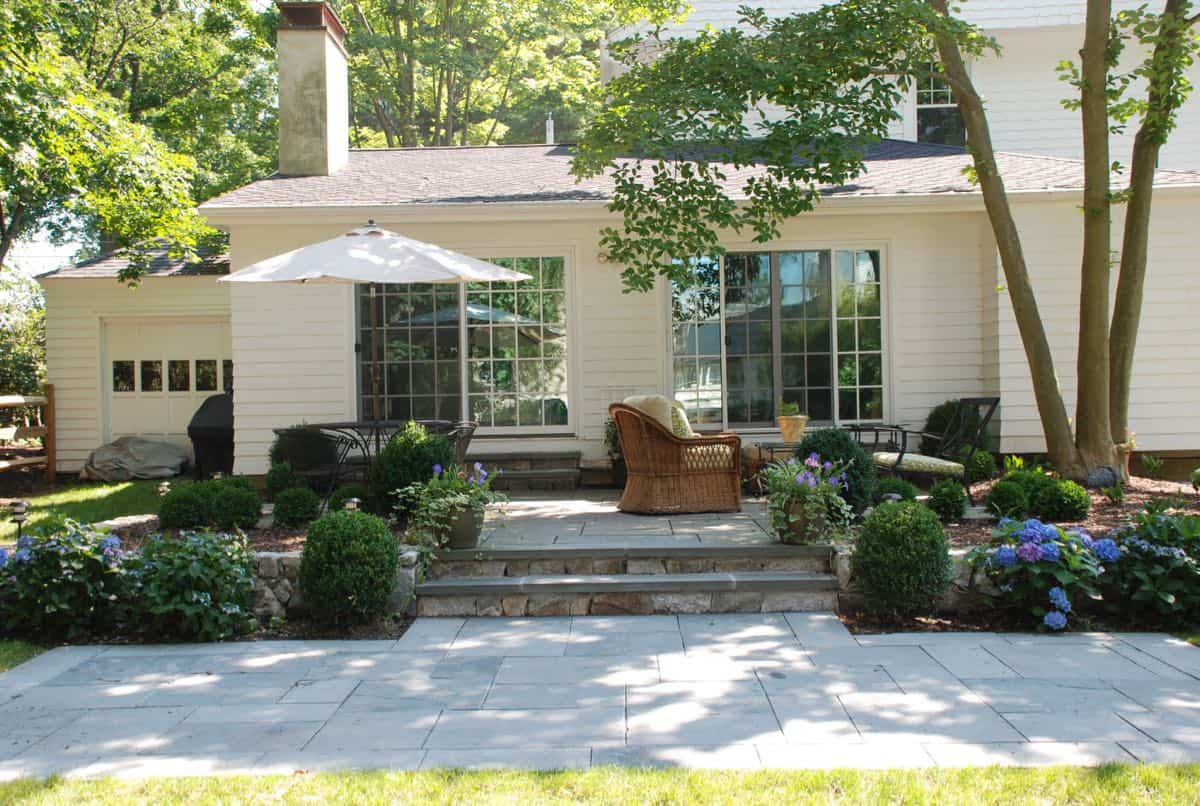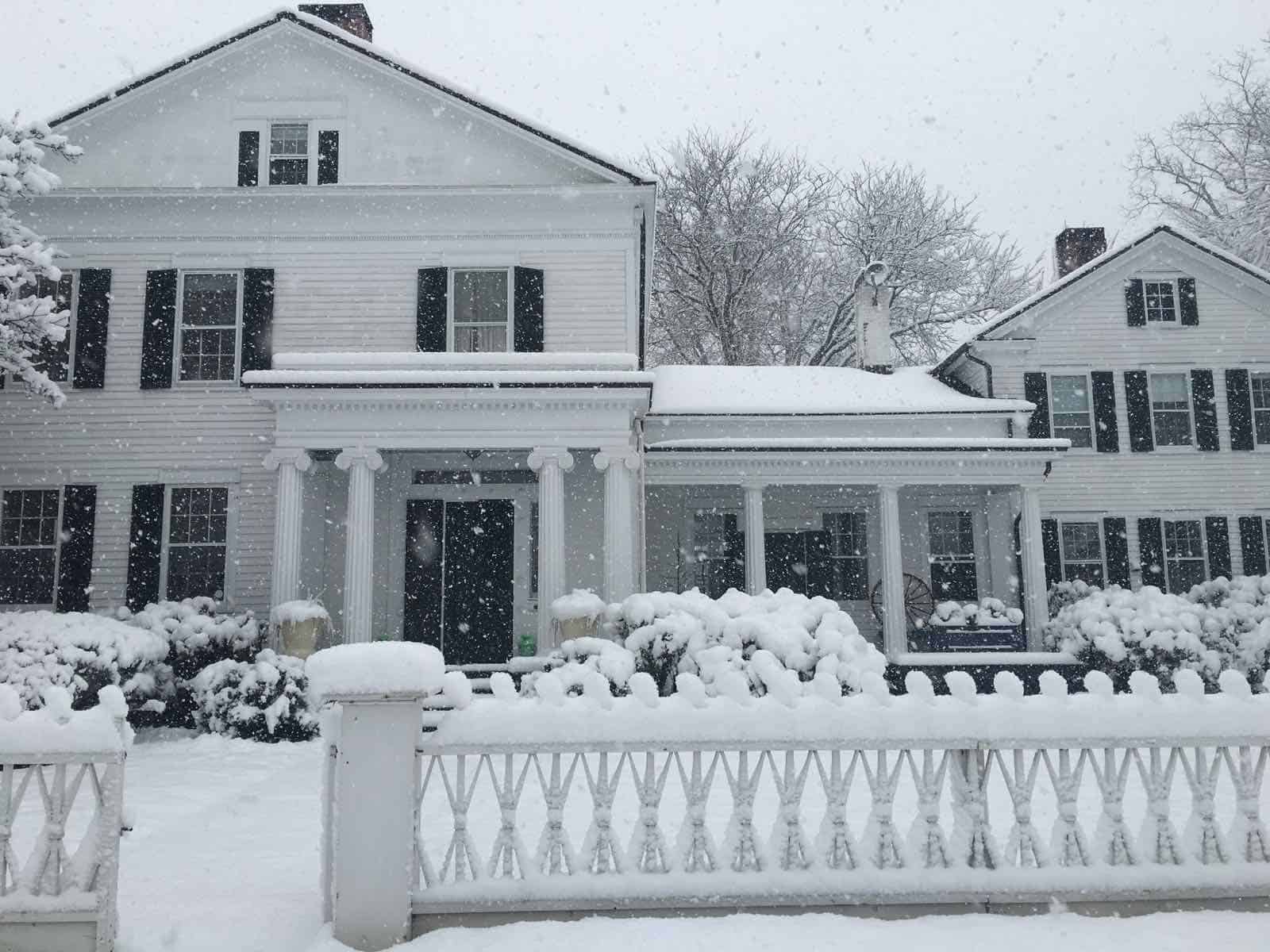 2. Structural Preservation
Trees provide wonderful shade and are obviously lovely to have around your property, but… when too close to the house, they can be a real detriment. Often smaller trees are planted too close to the foundation and as they grow and expand their roots wreak havoc on the structure and their limbs follow suit with siding and exterior walls.  Animals will use trees as a one way ticket onto your roof. Not good. And last but not least, For us in the Northeast, fall leaves are a big consideration… a tree too close to the house will drop leaves onto gutters and roofs and just sit there damp and rotting. Again…. not good. Finally, these two trees were completely uprooting the patio stones. They were uneven and cracked as a result of the roots.
This was the front of our house when we bought it. Both front porches had significant rot as a result of those trees and bushes sitting so close to the wood.
We're slowly adding smaller bushes back into the plan, but the condition of the house is MUCH better already without so much vegetation in contact with the building.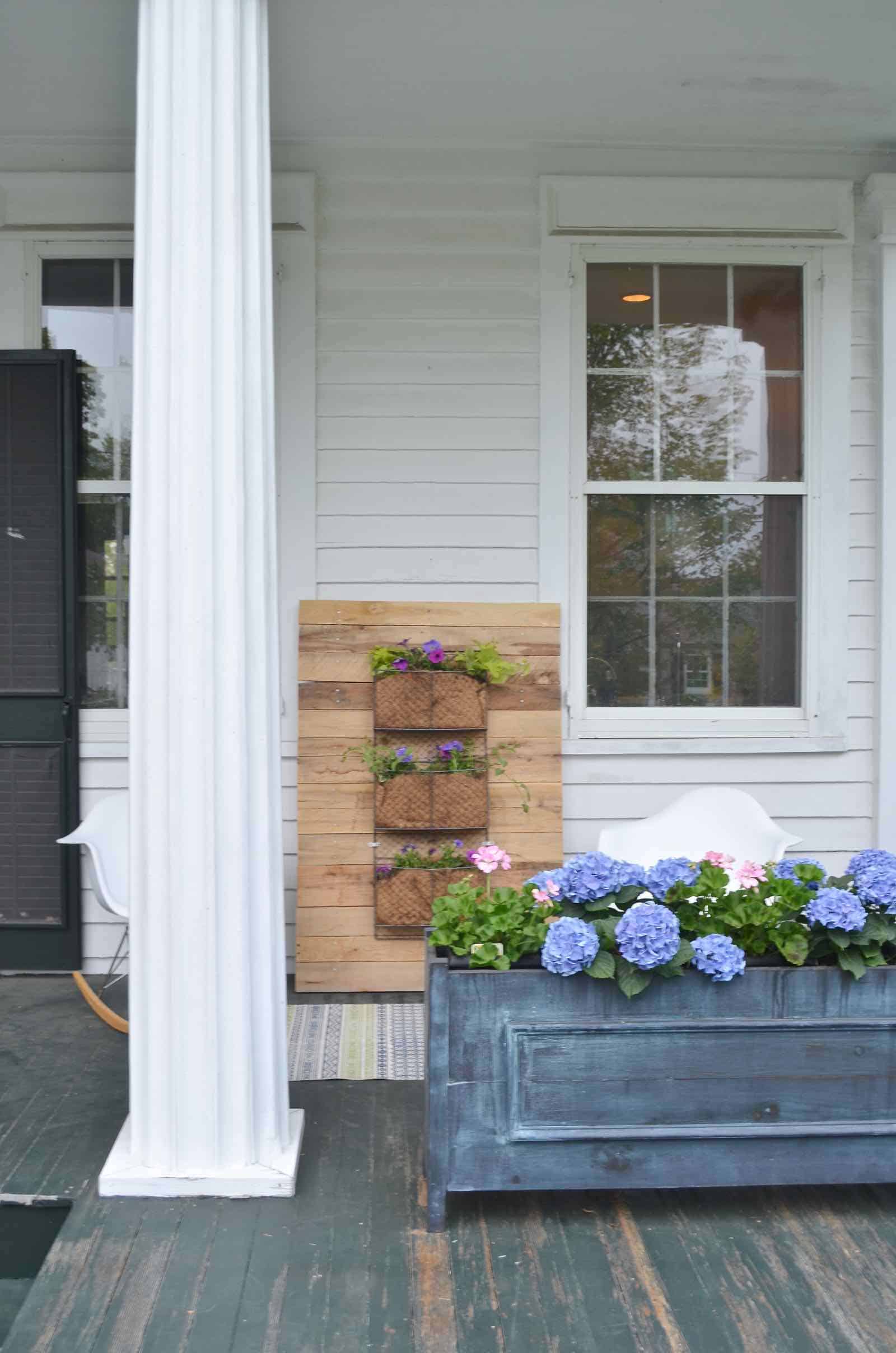 3. Climate Control
Obviously trees provide shade and in the summer, this is a great thing. So removing a tree is nothing to rush into. That said… these trees around our patio meant that the flagstones and surrounding area was always damp. The stones and porch railings were collecting mildew (see below) and the back porch was slowly rotting where water and moisture was sitting over time.  Both of these trees drop their leaves so we do get some sunlight in here during the winter, but… without the branches, I'm hopeful that it might warm up by a few degrees.
4. Aesthetics
Sometimes you just want a different look. Sure… tastes changes so removing a tree isn't something to be taken lightly (goodness knows, I've already had half a dozen moments of second guessing), but… what was once a diminutive decorative touch might one day be an overwhelming and cumbersome catastroTREE. One of the trees we removed was a cherry tree that produced lovely pink flowers every spring. BUT… when we took a few steps back, it was clear that the entire thing was lopsided and completely wild. The larger limbs were rotted in the middle so I actually think we removed it before things got worse which was lucky. When we bought this house, there was no fence in the backyard so the patio had a different feel. With 5 kids and a dog, obviously we needed a fence which set into motion a new plan for the backyard overall.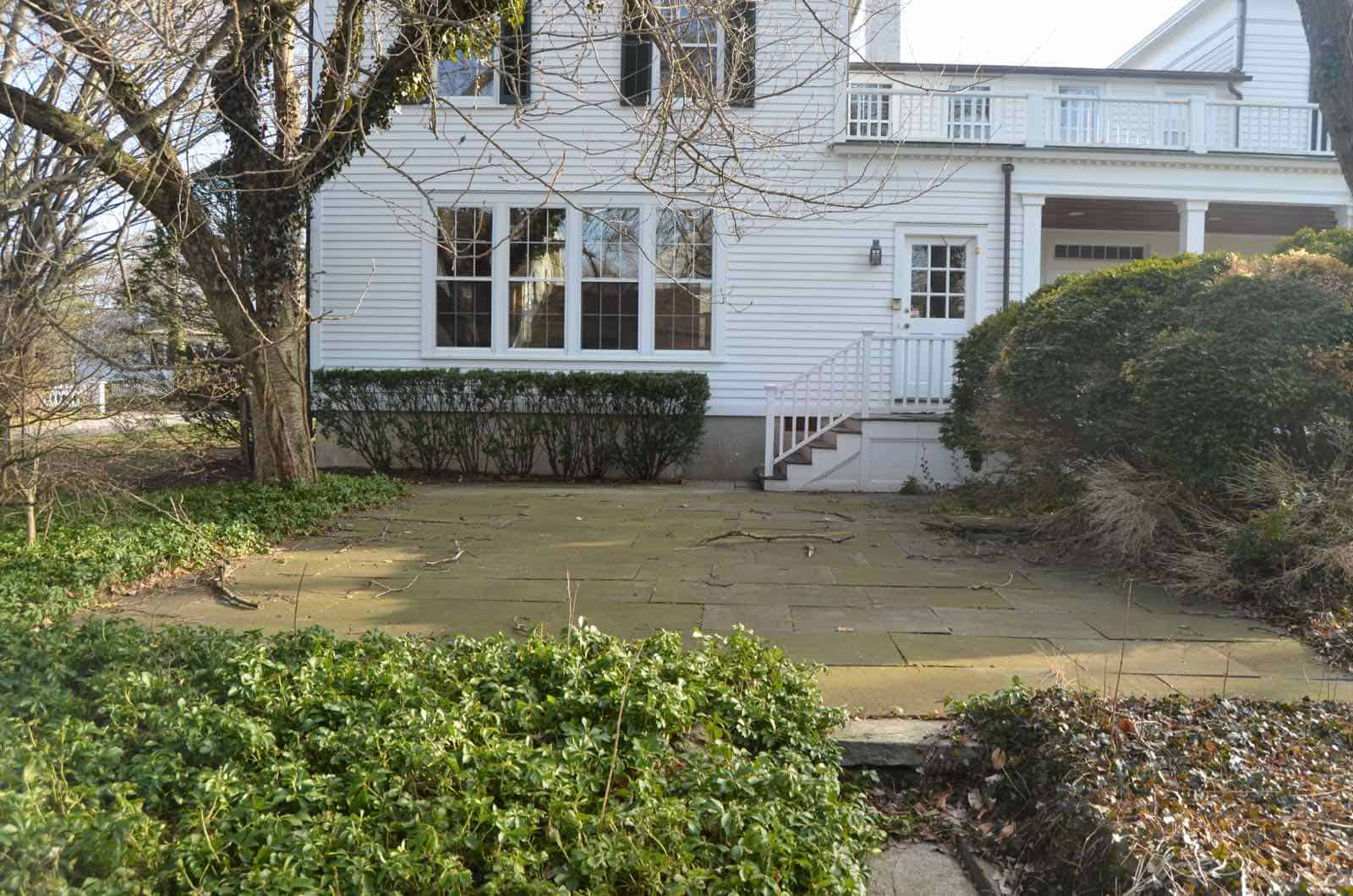 5. Practical Reasons
Remember I mentioned that lovely cherry tree a moment ago? Well… that flowering tree also ruined our patio furniture. Every spring the flower petals fall to the ground and rot all over the patio cushions and wicker. The opposite tree dropped even smaller leaves and seeds that would stick to the flagstones and leave behind a slippery residue every time it rained or collected dew.
Other things to consider:
Cost: We live in Fairfield County, Connecticut so EVERYTHING is more expensive. For us to remove a large tree like this is typically around $500 and then there's an additional fee to grind the stumps. For this project, we will have to get the stumps ground down because we plan to expand the patio a bit. There's also a small fee for our landscaper to remove the debris. If we lived in a wooded area… we could just leave the branches etc. to rot. Its slightly less expensive to remove a tree in the winter when there are no leaves, but that's simply because there's less to clean up and it's a little bit easier for the crew to maneuver around the branches.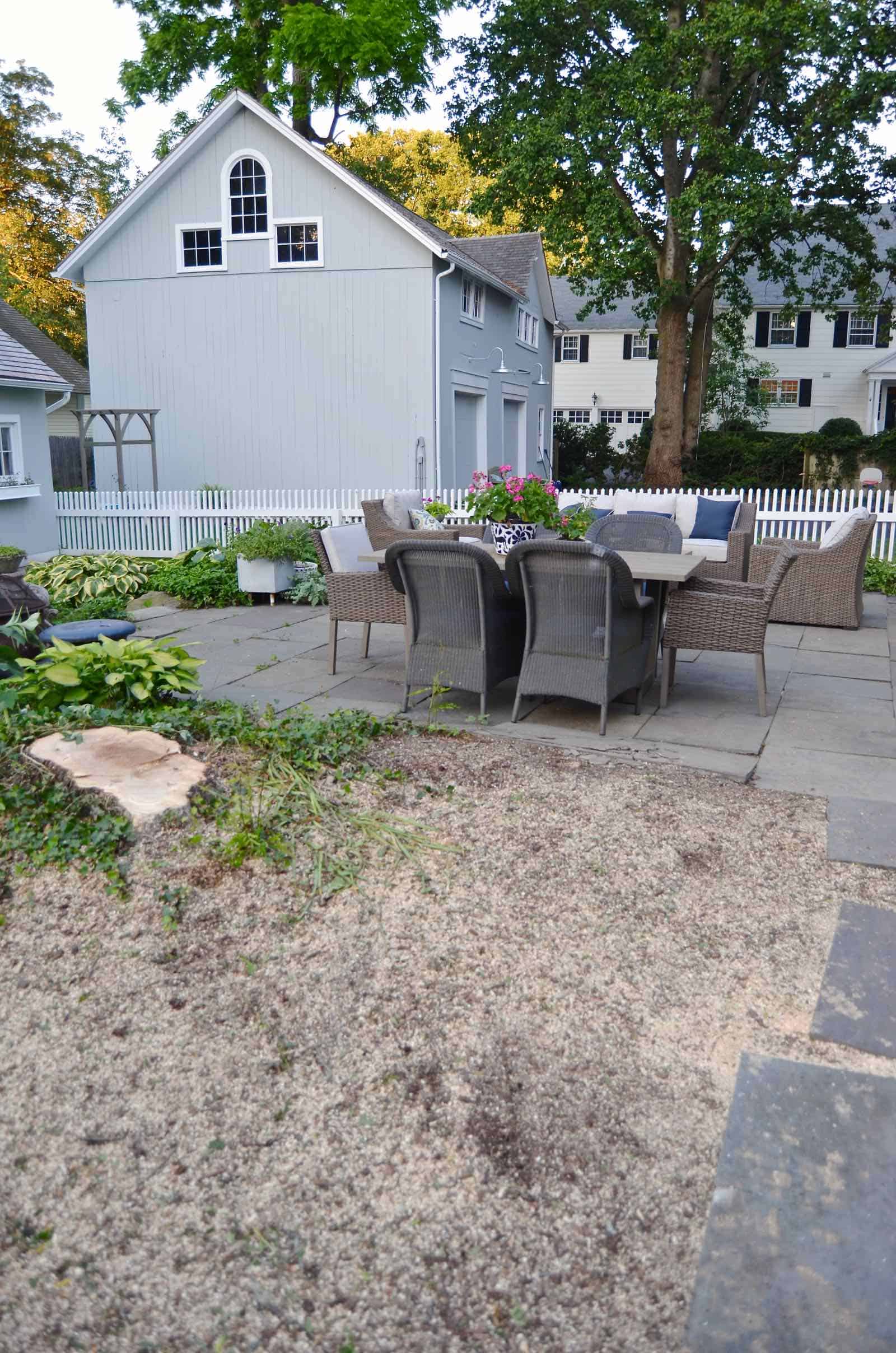 Sun location: Our trees were removed from the north side of our house so we won't get direct sun light into the house as a result of their removal. Consider where the sun will rise and fall and try to imagine how the shade/ sunlight will change accordingly.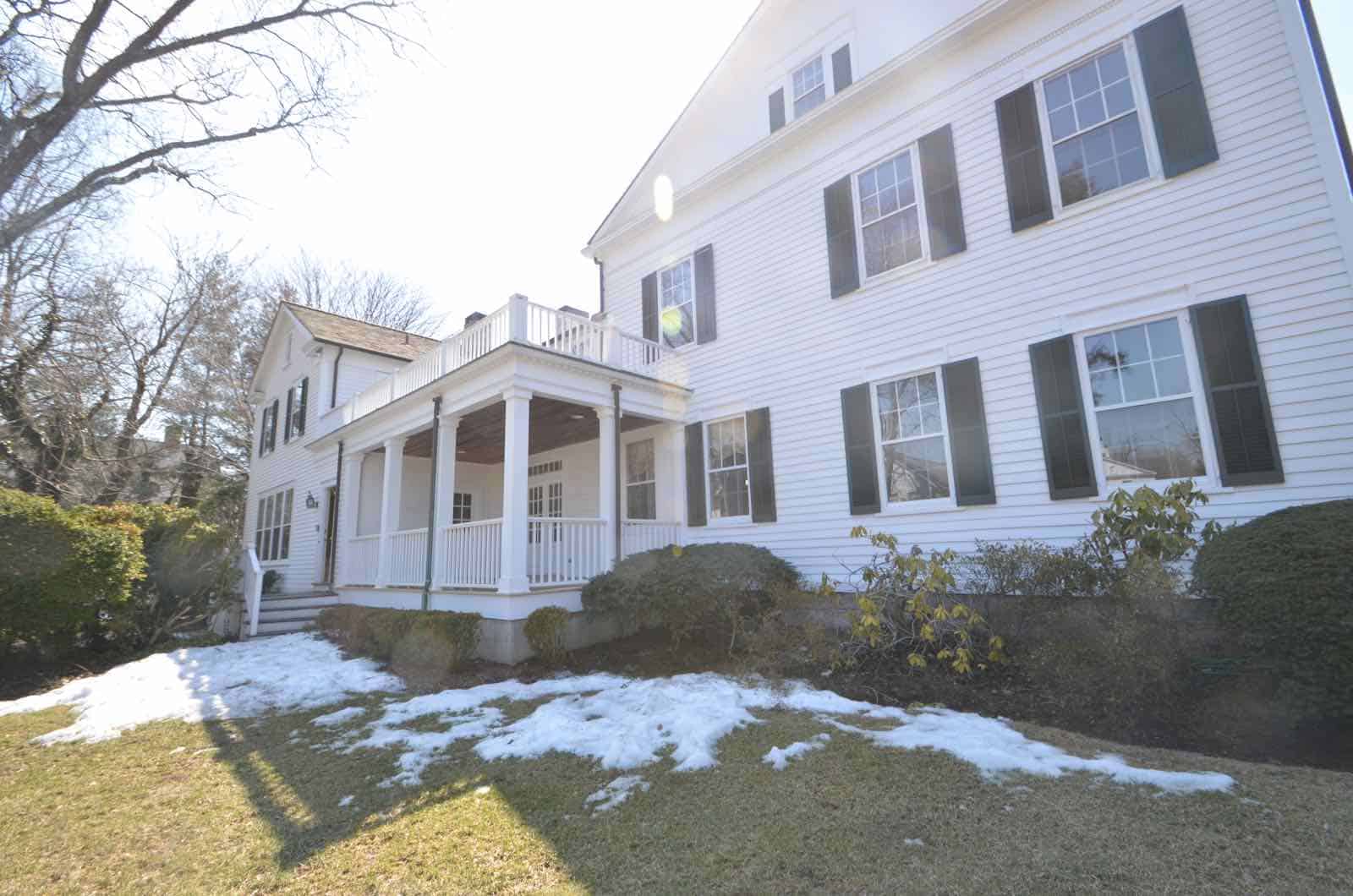 History: These two trees were nothing special. One was essentially a weed and the other was a run-of-the-mill cherry tree. In Connecticut, there are plenty of flowering trees that hold  a bit more clout as well as trees that are on a historic register of sorts for trees. We planted two trees in front of our old house when Louisa was born and one day I will mention this fact to the new homeowners. If they ever plan to remove those two trees, I will come and transplant them to our current house!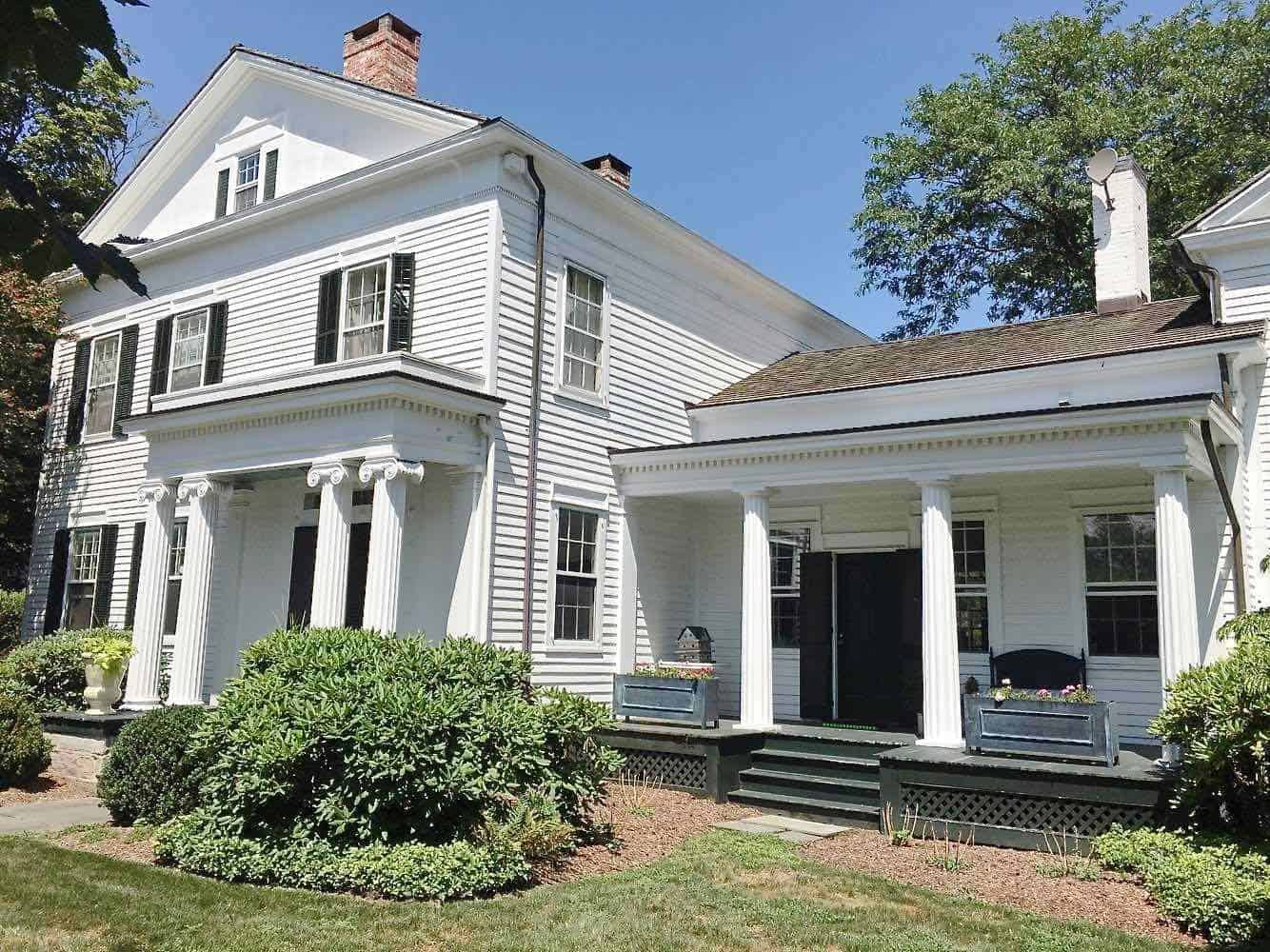 Expect the unexpected: We were excited enough about the new plan for the patio to go ahead with this tree removal. And for the most part, we're THRILLED. It opens the yard, brightens the patio, makes everything seem much more clean and crisp… BUT, there have definitely been some surprises.  I didn't realize how the cherry tree added a sense of protection to that patio- the street at the end of our driveway feels MUCH closer than it did before.  I have to water my flower pots; a lot. Our yard feels very flat all of a sudden. Luckily, we have plans to add a few trees this fall (summer is the wrong time for tree planting), but until then, we'll just have to get used to it!
Update: It rained last night and our patio cushions are ALREADY dry. I know this seems like a silly reason to remove trees… but since we added the fence, etc. the back patio is being used differently than it was decades ago when it went in. In a part of the world where it's not uncommon to have a rain shower every evening, how things dry out is a valid reason to consider tree removal, in my opinion!
What do you all think? Any tree removal stories or thoughts you want to share!