Layered Blue Covered Porch
Disclosure: I partnered with Christmas Tree Shops for this post. All opinions and layered shades of blue are entirely my own.
Can I just say that I LOVE my job?! I get to make cool things, work with awesome brands, bring in pretty stuff… it's truly a delight. Today I'm sharing the results of my fun shopping spree last week to Christmas Tree Shops! For those of you unfamiliar with Christmas Tree Shops, don't worry… it's not Christmas. At all.  (Unless it's Christmas in which case it's TOTALLY Christmas.) They have amazing decor and accessories and seasonal items and bedding and food… basically everything but live puppies and kittens.
I was asked to feature their new Coastal Living line and you're probably thinking the same thing I was thinking…. that's cool, but I'm not particularly 'coastal' in my decor. You guys. This line was every shade of blue that I love and more! IF you're coastal… just stop reading this post and go. Go now. If you're not coastal, I PROMISE you will see lots and lots of things that you will love because I sure did.
The Coastal Living line is super easy to identify because everything in it has a cute sticker and, in our store, it was essentially front and center. I have been eager to set up our back porch and wanted to use this opportunity to bring in some more coordinated decor so… ding ding ding, the blues could not have been better for me.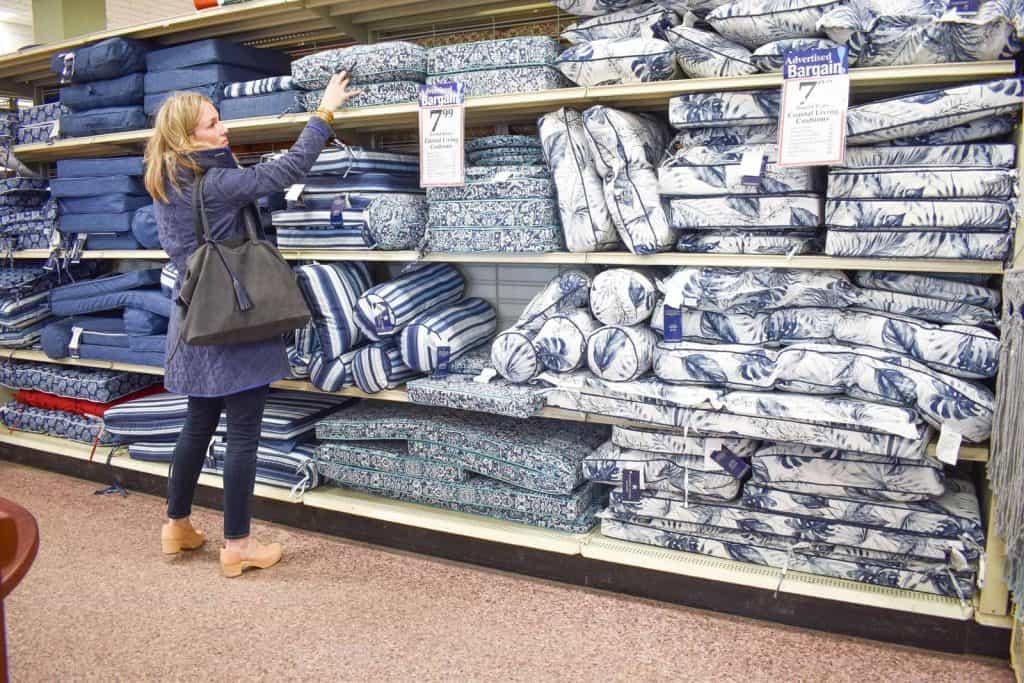 Our back porch already has a thrifted loveseat, a DIY bench a new DIY coffee table and then some all weather patio furniture. I picked up that indoor/ outdoor rug (LOVE!) for under $40 to anchor the space. The large rug is not Coastal Living, but they have some adorable cotton chindi rugs in the collection and I used one of the smaller ones as a table runner for the coffee table.
We already had a bunch of cushions, but I couldn't resist those two navy arm rolls to help soften the bench I made, and then… did somebody say pom poms?! That straw colored throw pillow is my newest obsession. It's a nice match maker with the blues of the fabrics and the wood of the furniture.
Moving along, I picked up a handful of votive candles. Again, these may not seem like a big deal, but when the sun is just setting, they make this area feel so relaxing and welcoming. I put a string of copper LED lights in one votive, and then displayed the other votives in that sweet wooden teak mirror that is intended to be on the wall, but I laid it flat and am using it as a tray. And you KNOW I needed to grab that soft denim throw blanket from the Coastal Living line (in store only).
Those melamine plates were $1 a piece and coordinate perfectly with the rest of the porch as well as those fun dish towels I picked up to use as napkins. In case you were curious, all the snacks are from… you guessed it… Christmas Tree shops. So basically this whole imaginary backyard party was one-stop shopping!
Did I mention Christmas Tree Shops have garden supplies too? Well they do… and they're awesome. So of course I added those two blue planters and a citronella candle to my cart. That fish pitcher is my new watering vessel, but in the summer it *might* end up holding lemonade.
Last but not least, I took this opportunity to hang those colorful string lights around the perimeter of the porch and I can't WAIT to sit out here with a drink when the weather warms up a bit.
Now for the temps to rise above 55 degrees so I can sit out here on the porch watching the kids play down below in the yard! Thanks again to Christmas Tree Shops for giving me so many coastal blue goodies… almost l like it was meant to be!