Upholstered Daybed Reveal
Psssst… this post *might* contain affiliate links: see my disclosure here.
I Made a Daybed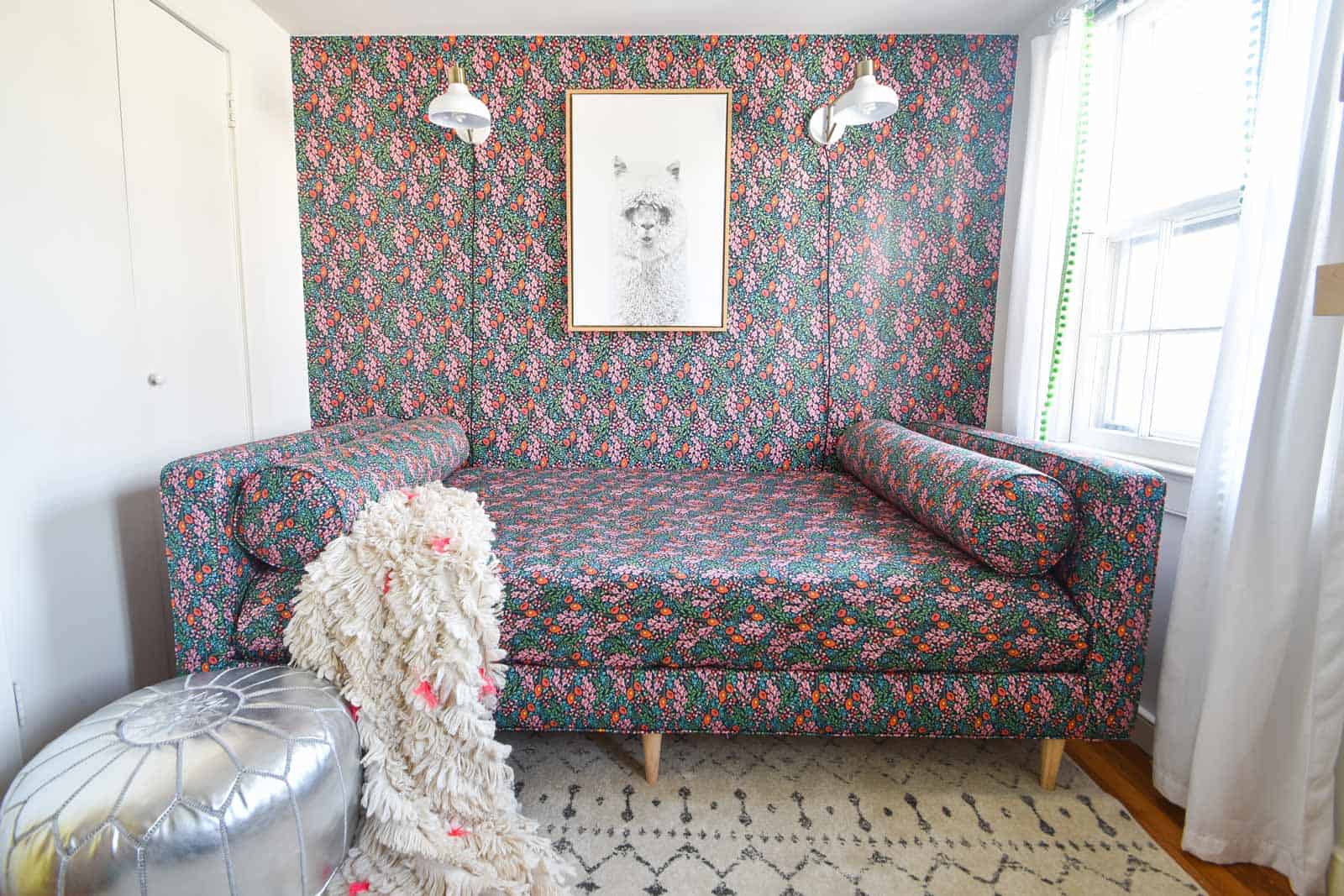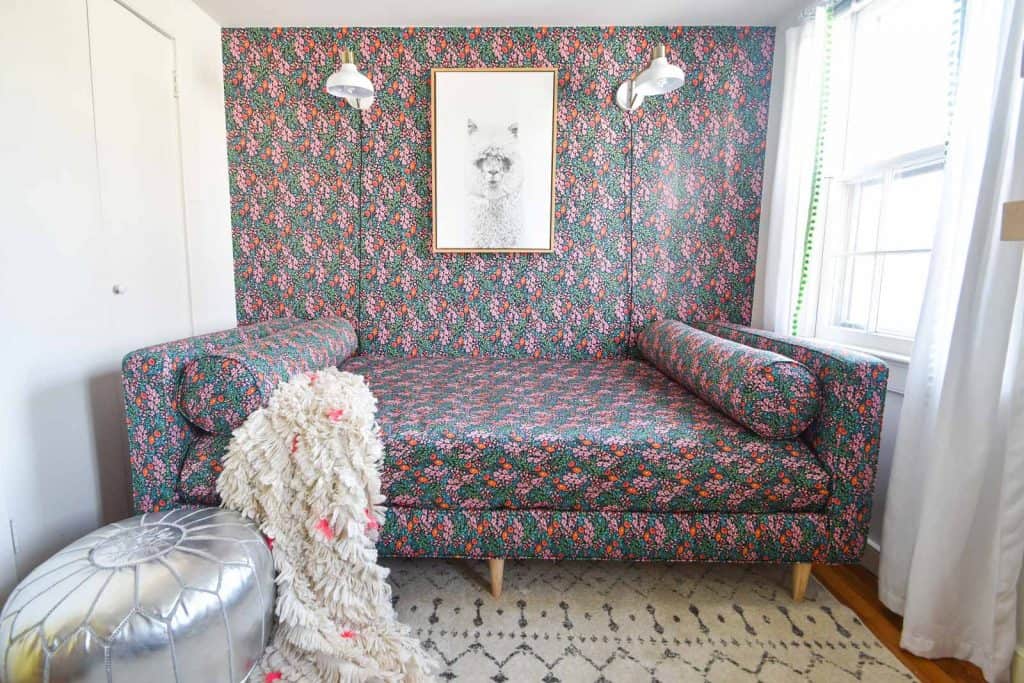 Disclosure: I am so SO SO grateful to Spoonflower and Roostery for so generously partnering with me on this space! They provided the wallpaper, fabric and a custom duvet for me and my cheeks still hurt from smiling.
It's all that I can do to keep from sharing the entire space with you, that's not until May! But… it's Wednesday and today is still a reveal day for one of my #DuelingDIY projects so make sure you see Sarah's space too! You've heard me reiterate my goals for the space over the last couple of months so you know I wanted to make this small room feel a little bigger but still make it work as a guest room. I decided to orient the bed against the wall and turn it into a daybed. But the only daybeds I saw online were 'meh'. Sooooooo, I built one!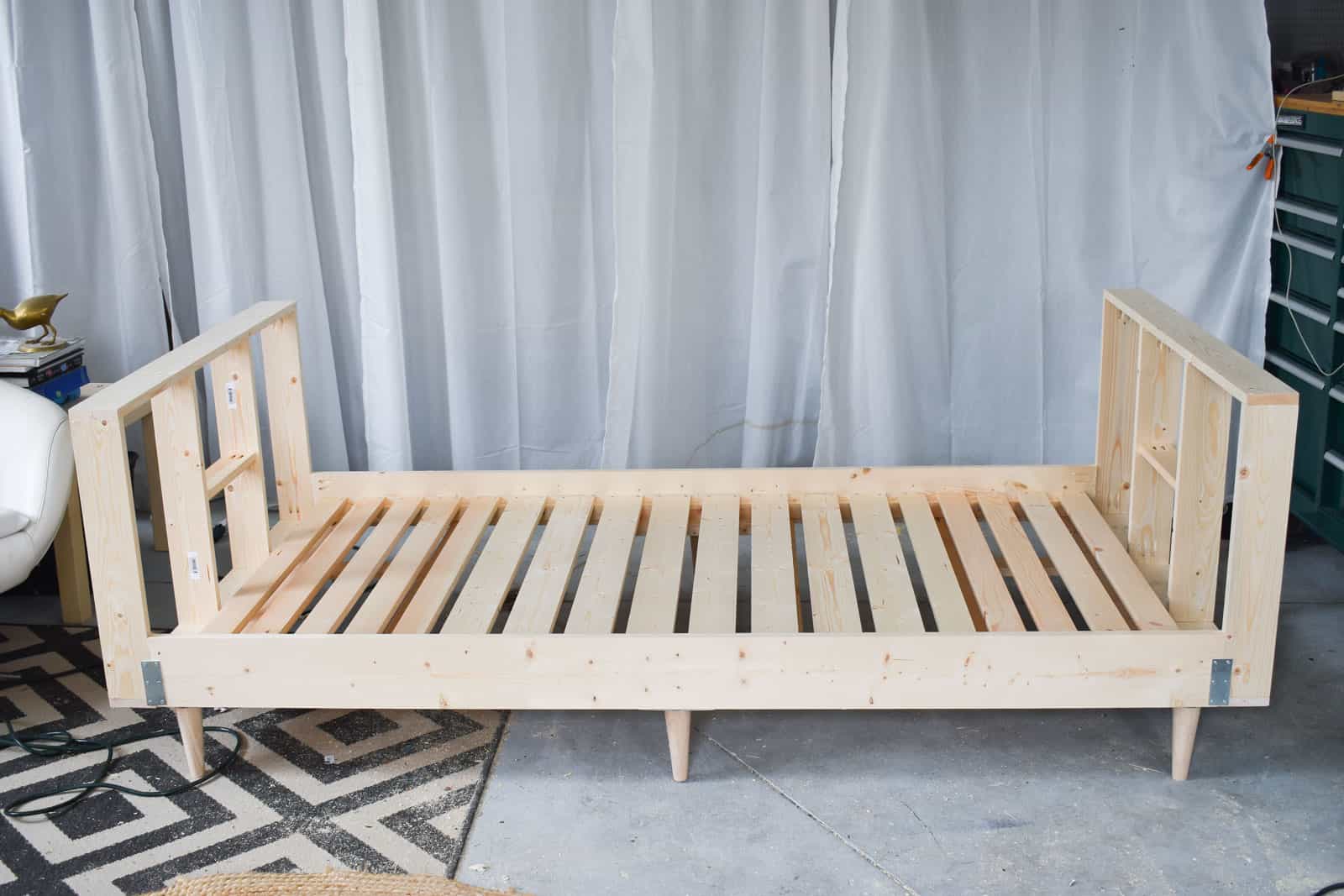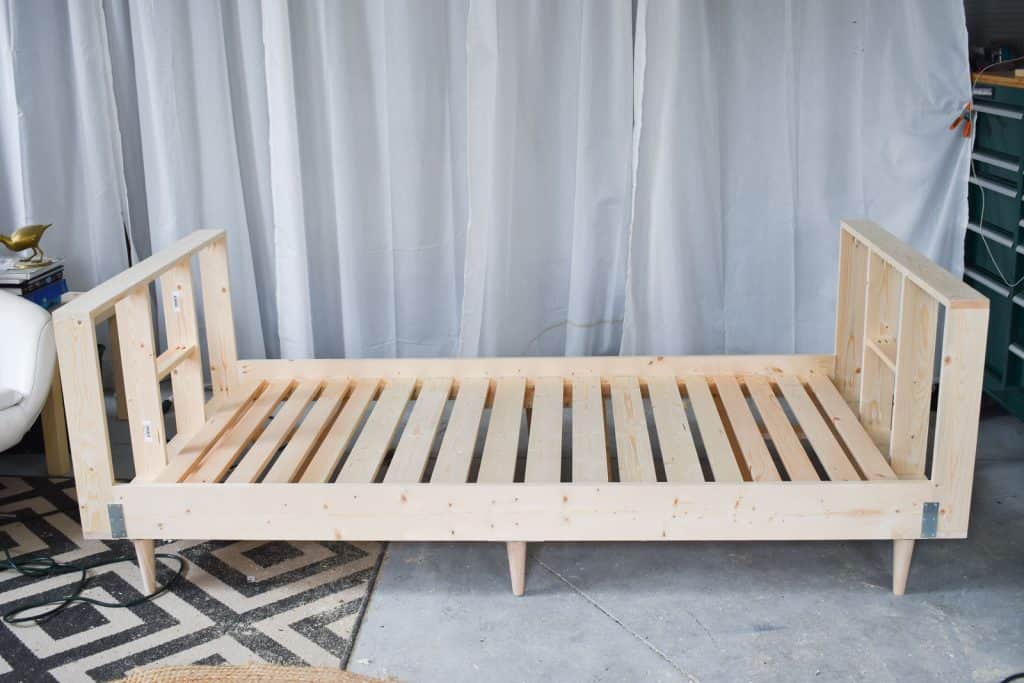 I wanted a frame that was most of all STURDY, but also one that was fairly clean with it's lines because I knew I wanted to upholster it to bring in a fun fabric with lots of color and pattern. See my tutorial on how I built the frame here. You can see my inspiration for the shape of the bed below…. very sleek and simple.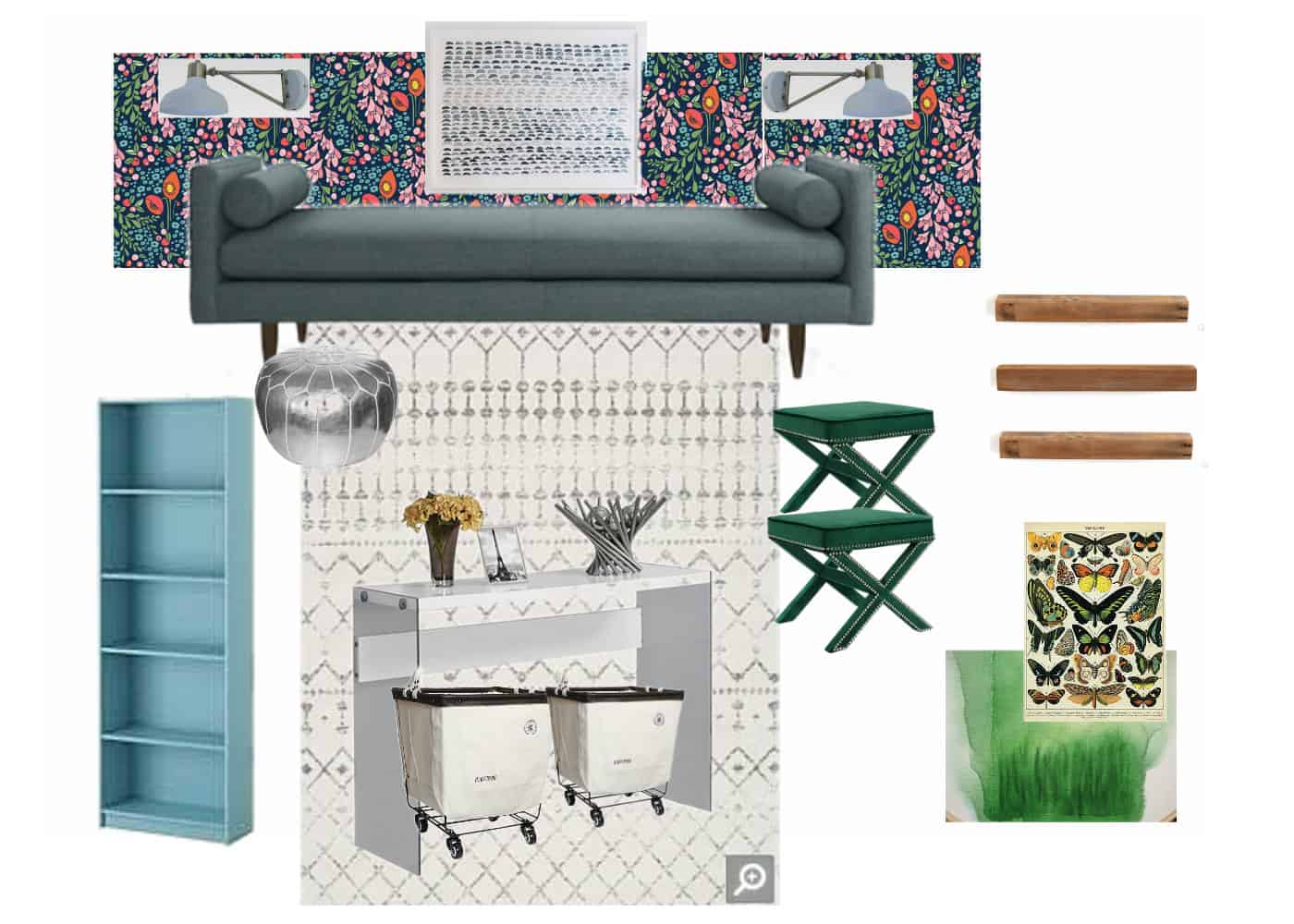 This is the part of my story where I need to pause and give an epic high five to my friends at Spoonflower. From the very get go, I was inspired by this image that had matching wallpaper and fabric. For a small space like this, I loved the drama and the depth this provided for that one wall.
When I'm choosing fabrics or wallpaper, I usually narrow my choices down to a dozen or so, order samples and then see how they look in person. (Learn more about my process here.) I've used Spoonflower's smooth (pasted) wallpaper in both our playroom AND our guest bathroom upstairs and I really like how easy it is to apply. I was also SUPER excited because they JUST launched a cotton canvas fabric that is perfect for the daybed… sturdy with a great luxe texture.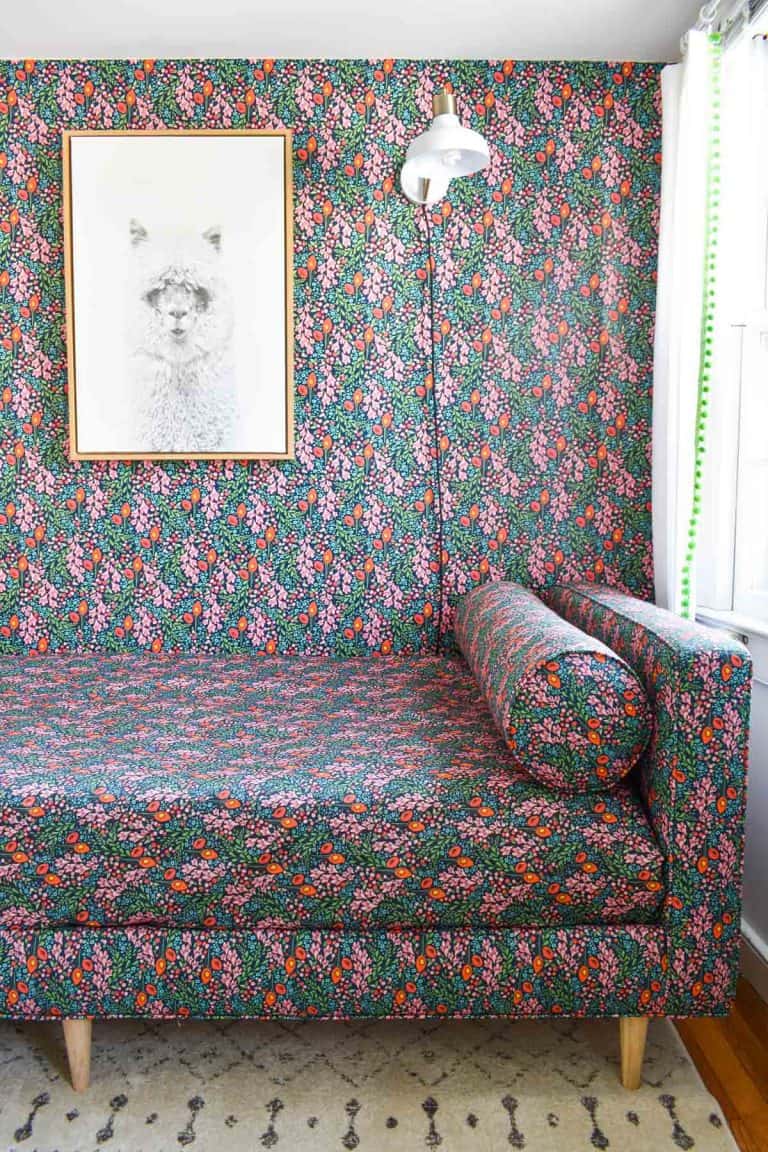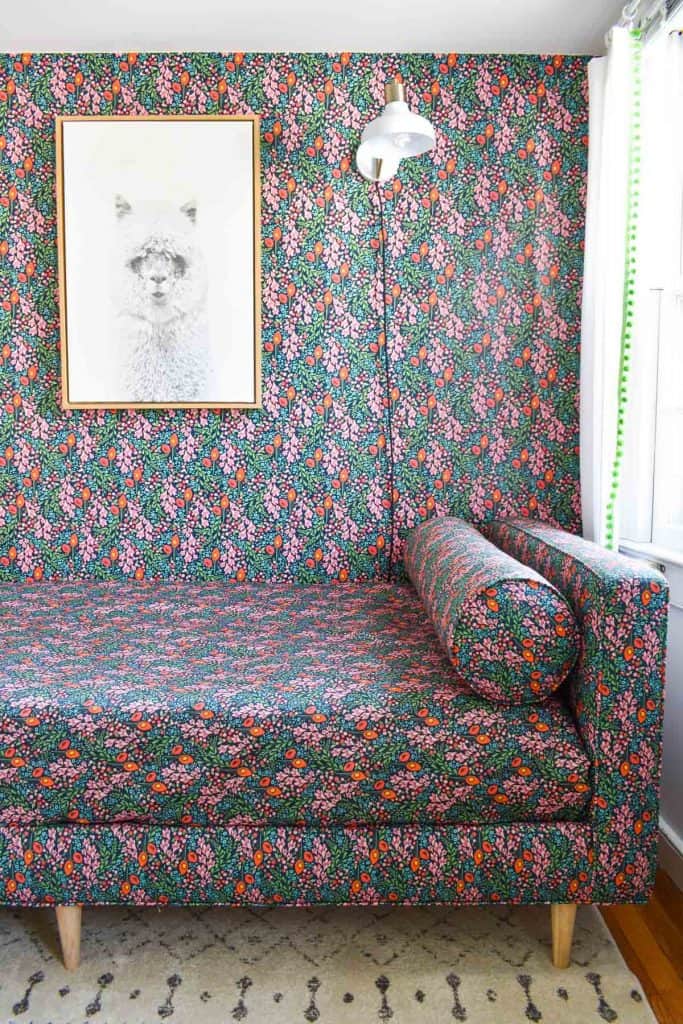 I veeeerrrry quickly fell in obsession with this print but the uber talented This Little Street. Problem was… that print was only available in fabric not wallpaper. I mentioned this to Spoonflower and they offered to reach out to the artist to provide the fairy dust they need to make the pattern wallpaper was well. I was ready to pull the trigger with a totally different pattern when I got the heavenly glorious miraculous news that… wallpaper was a GO, so my dreams of coordinating the upholstered daybed with the wall behind could become a reality!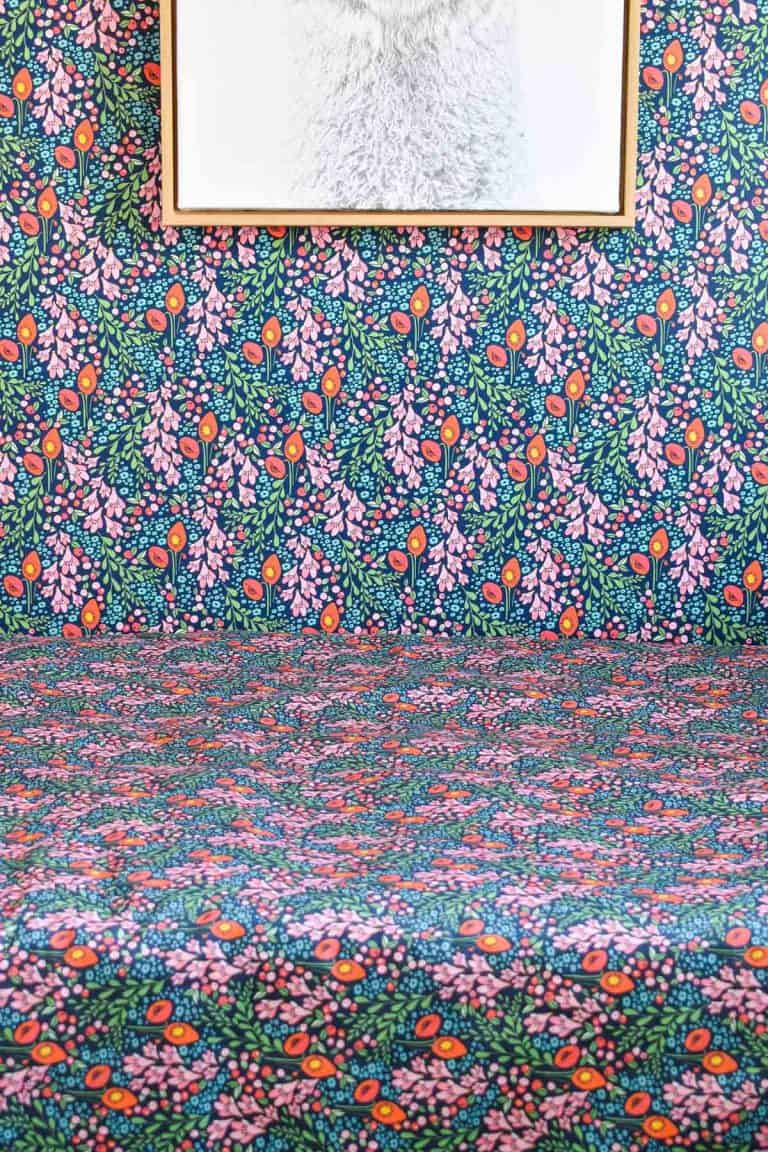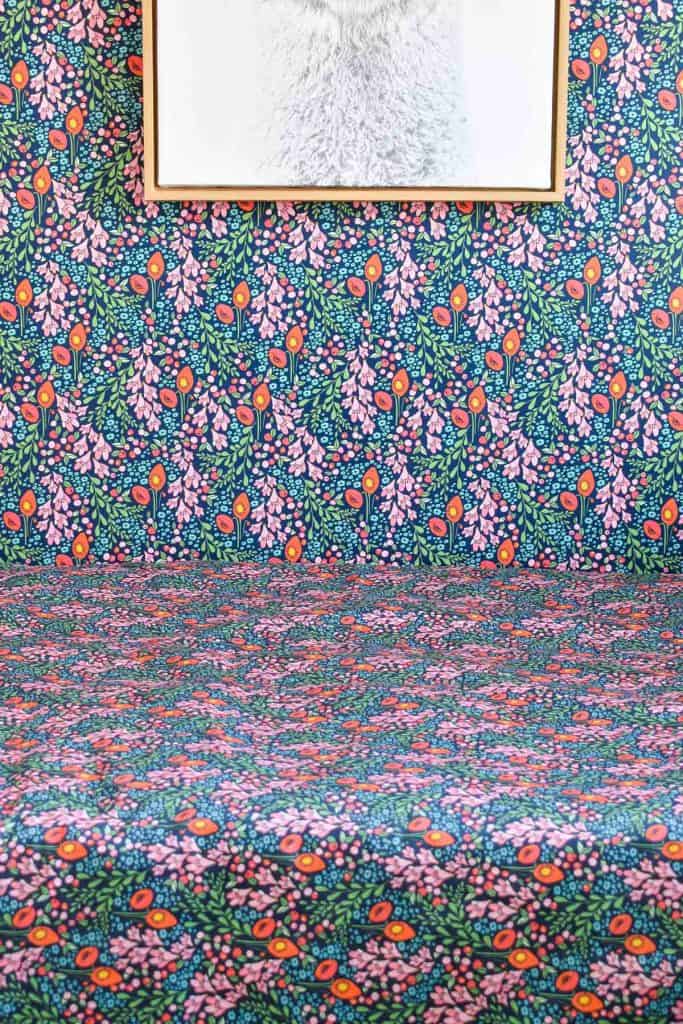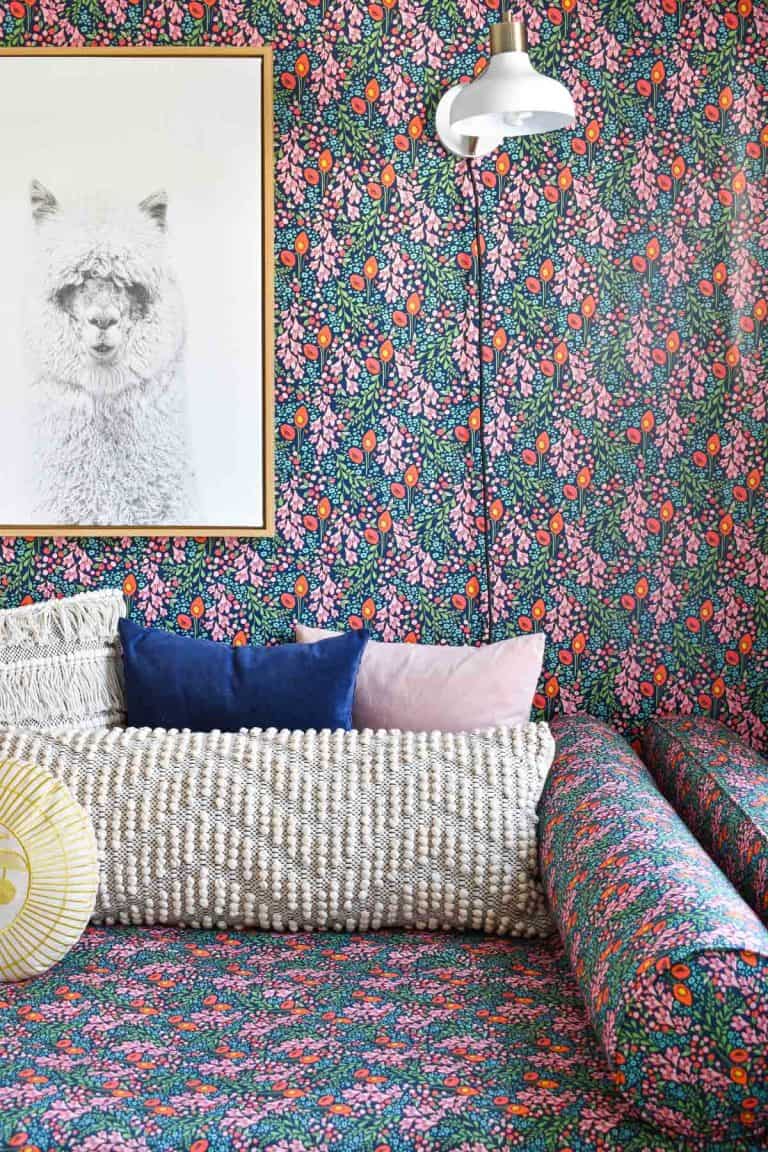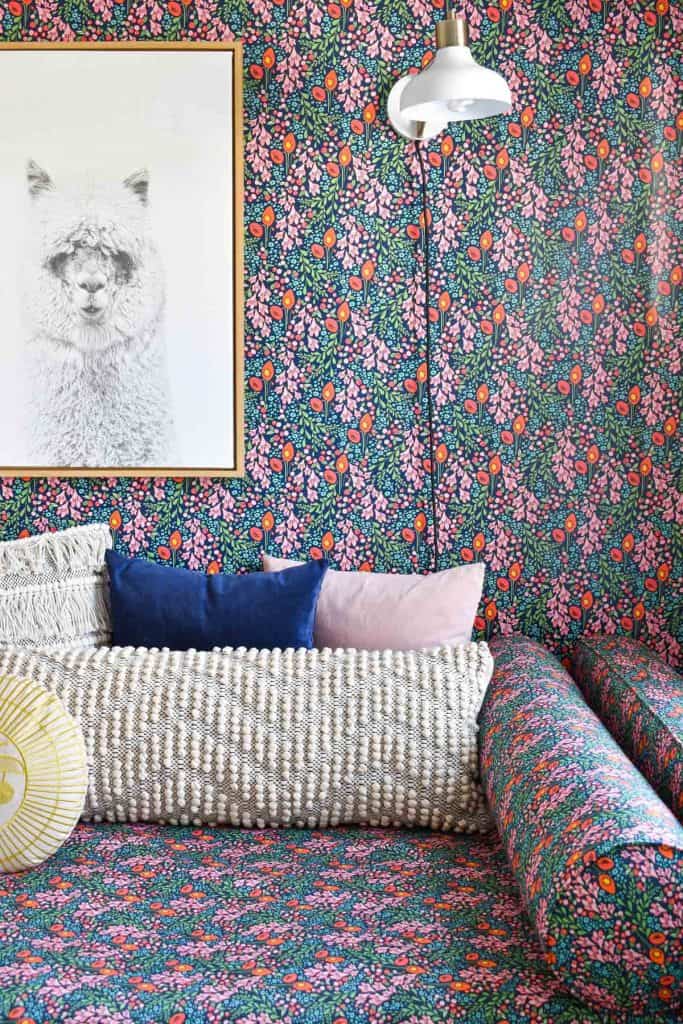 You've seen the wallpaper, but you haven't seen the newly finished upholstered daybed!!!! I thought about doing my own upholstery, but then I decided it was worth the expense of having the pros do it and, guys… I'm so so so glad I did. The essence of this daybed is that it's clean and chic. Had I attempted the upholstery, it's a safe bet that the upholstery would have been wrinkled and crooked and it would have totally distracted from the shape, so hoozah for the professionals!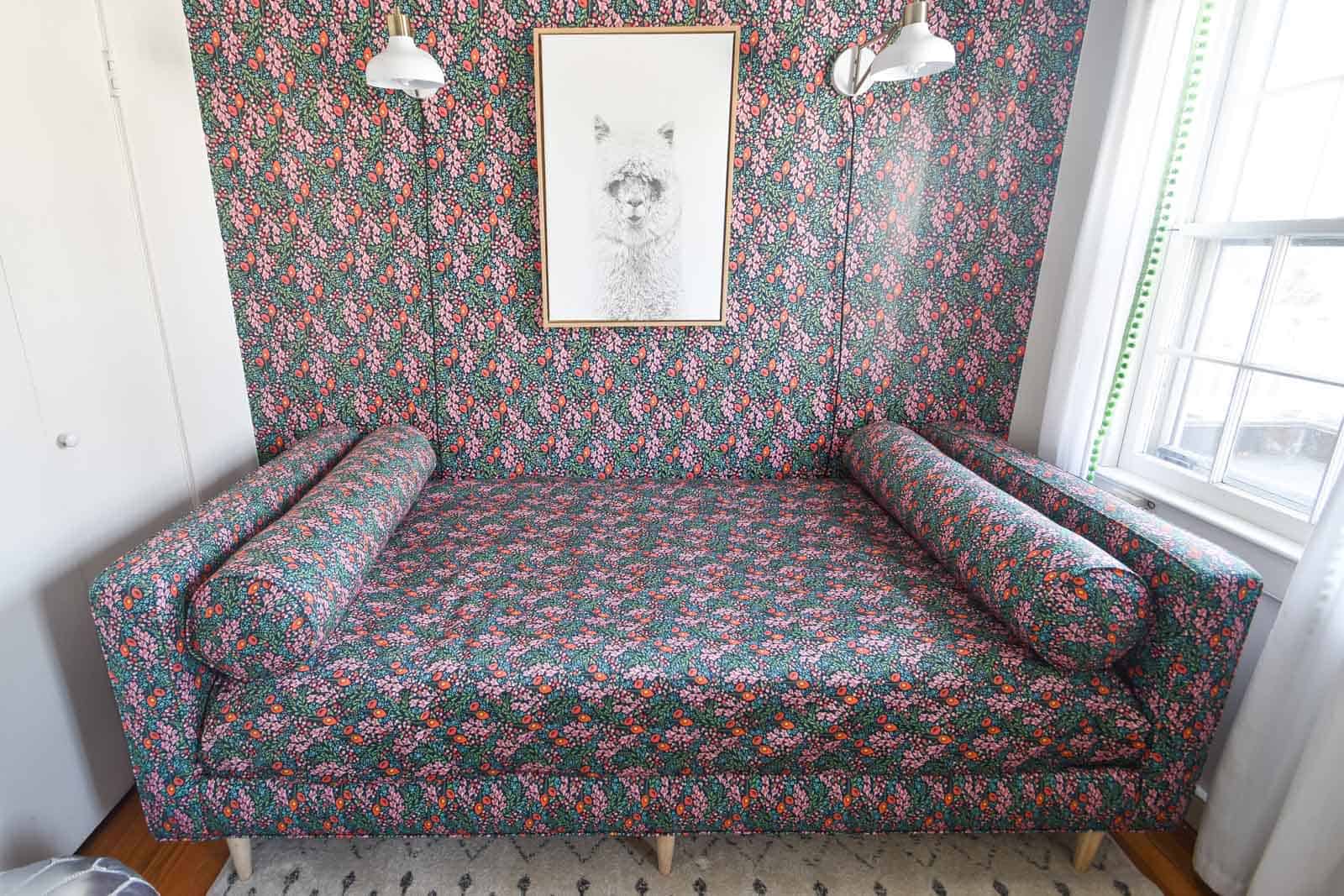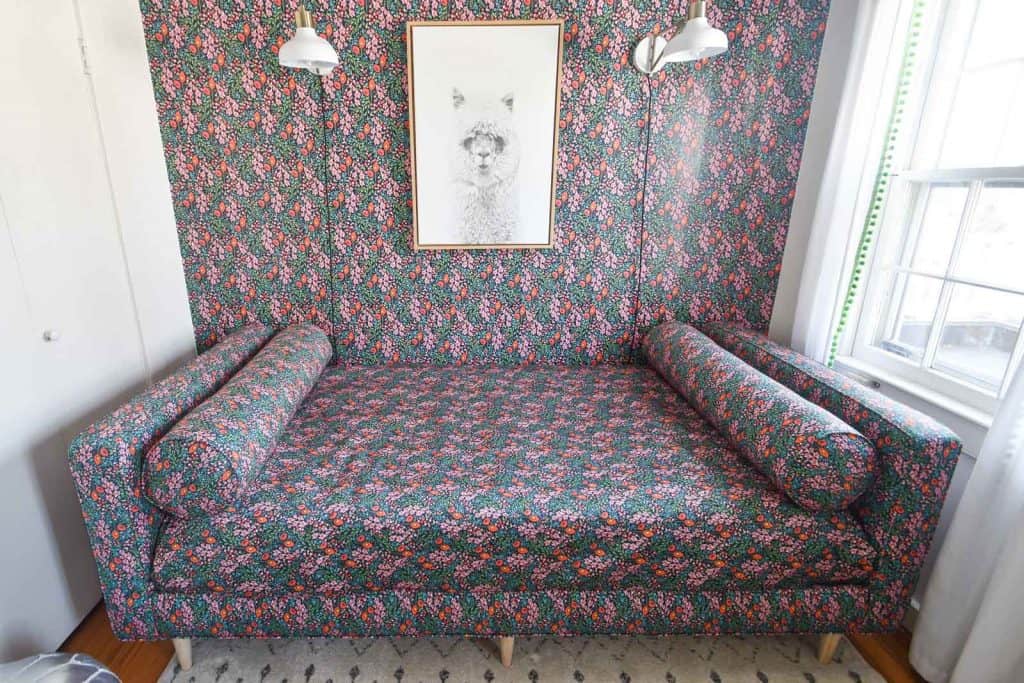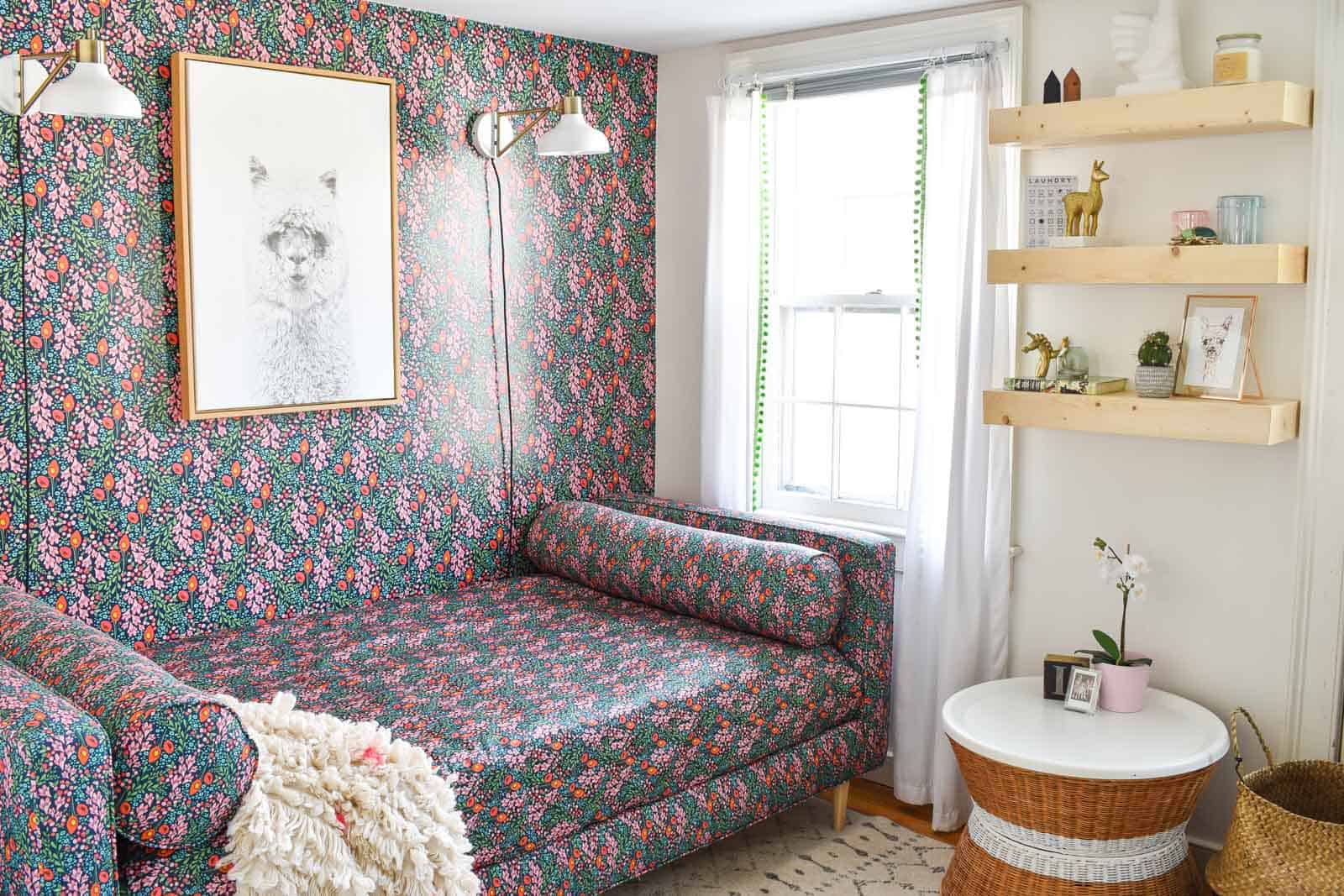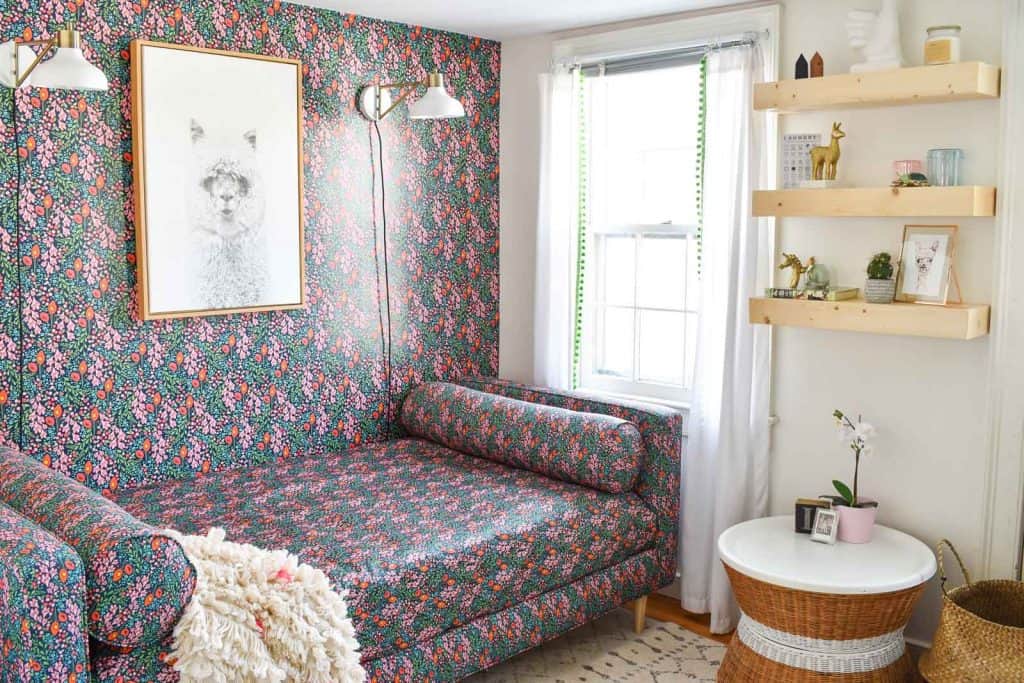 I styled it a couple of different ways: with and without throw pillows. I actually LOVE how the fabric and wallpaper really get their time in the spotlight withOUT the throw pillows, but to use the daybed as a couch, it's kind of necessary to have the throw pillows back there.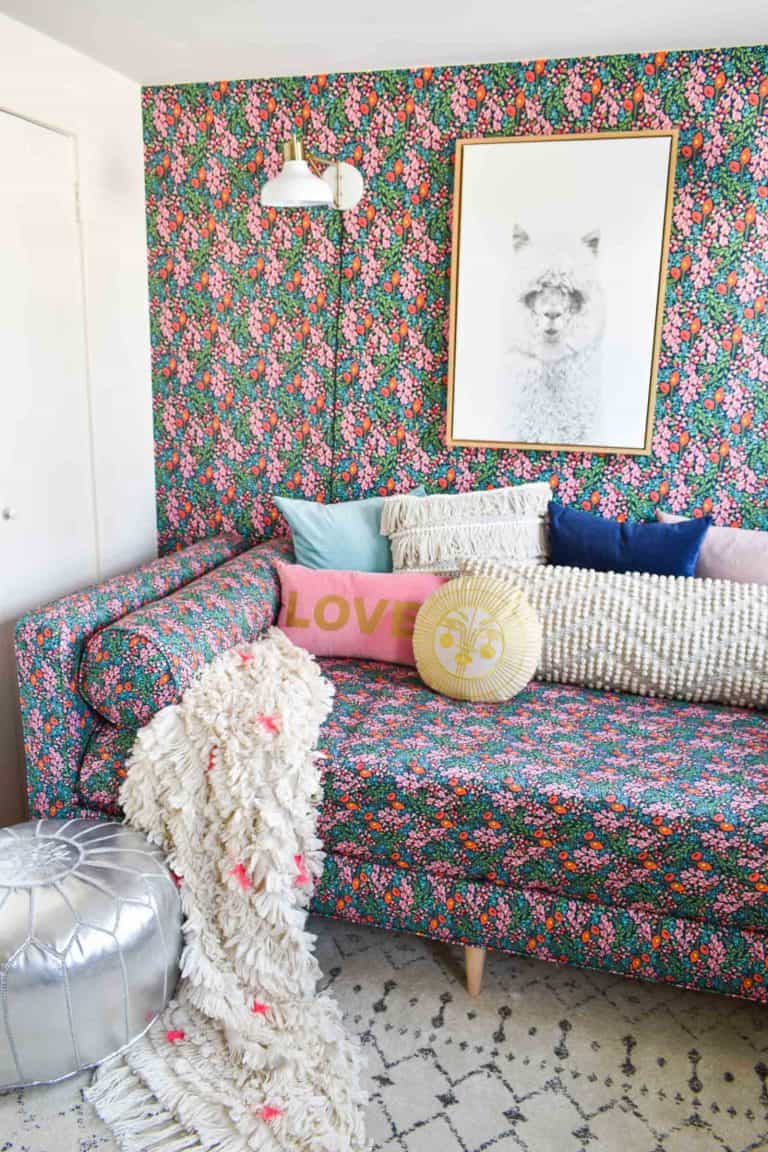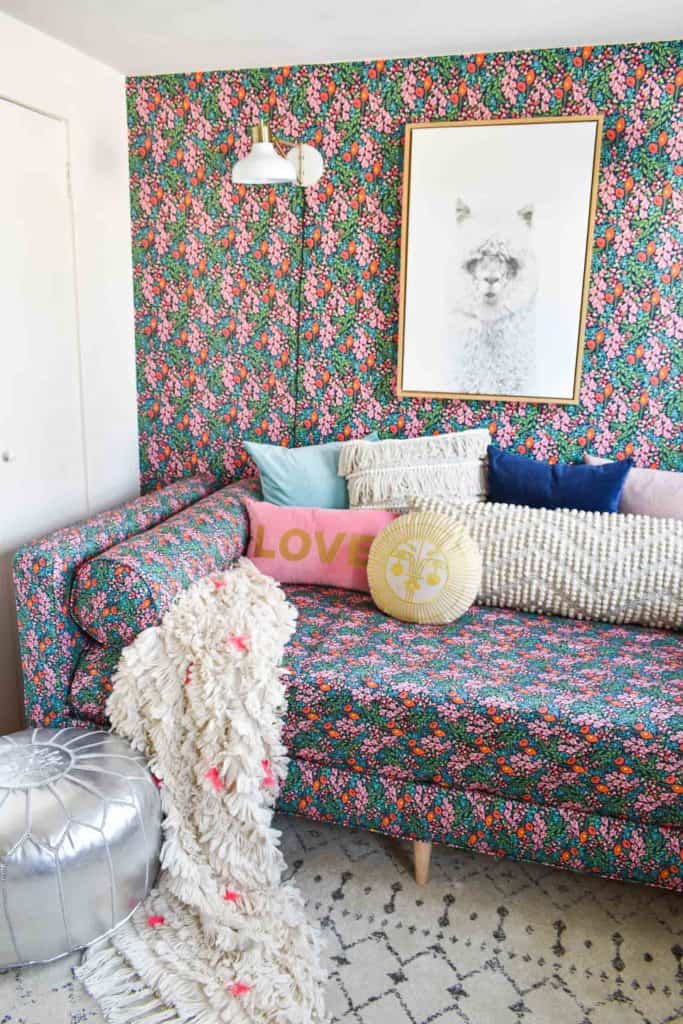 Over the bed are two sconces. They're these affordable ones and hopefully they'll be a reading light for someone if they're staying overnight, but still have nice clean lines to go with the wallpaper.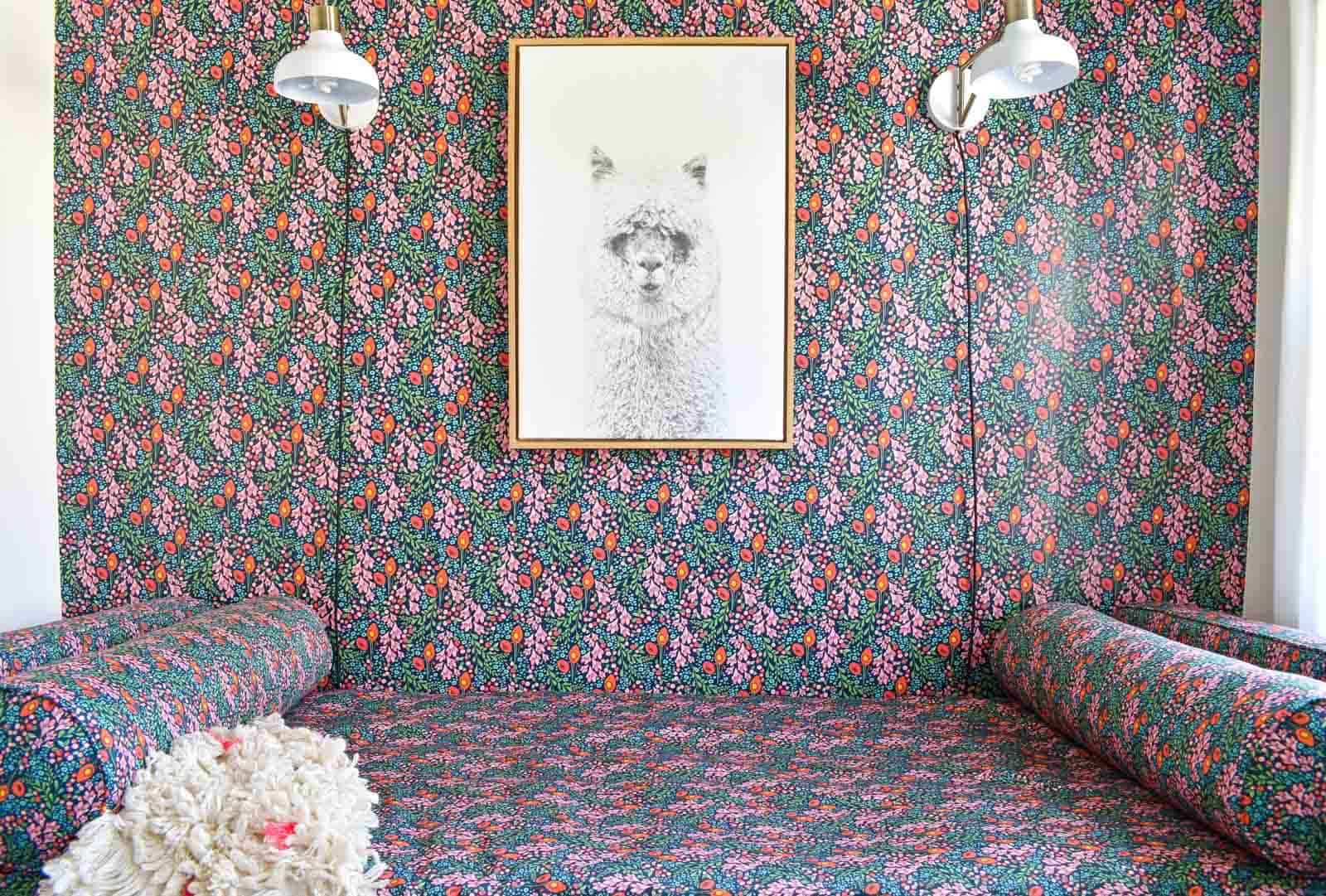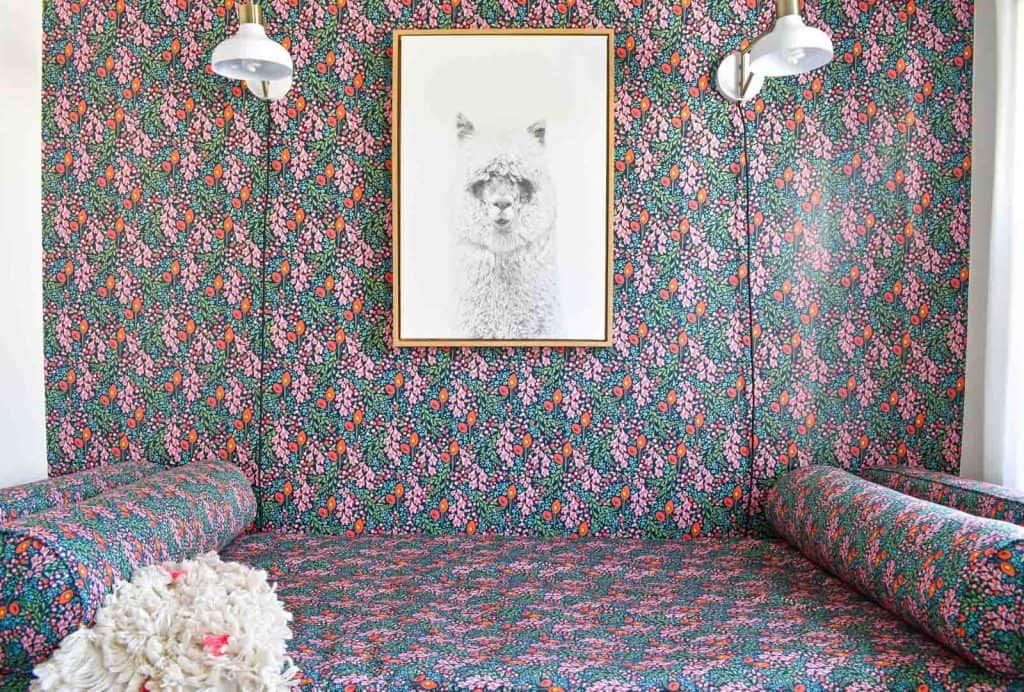 Originally, I was planning on hanging this DIY artwork between the sconces, but it was a little too big, so Llama Llama got the spotlight. I also think that the neutral black and white of the llama is a nice contrast to the vibrant wallpaper/ fabric combo.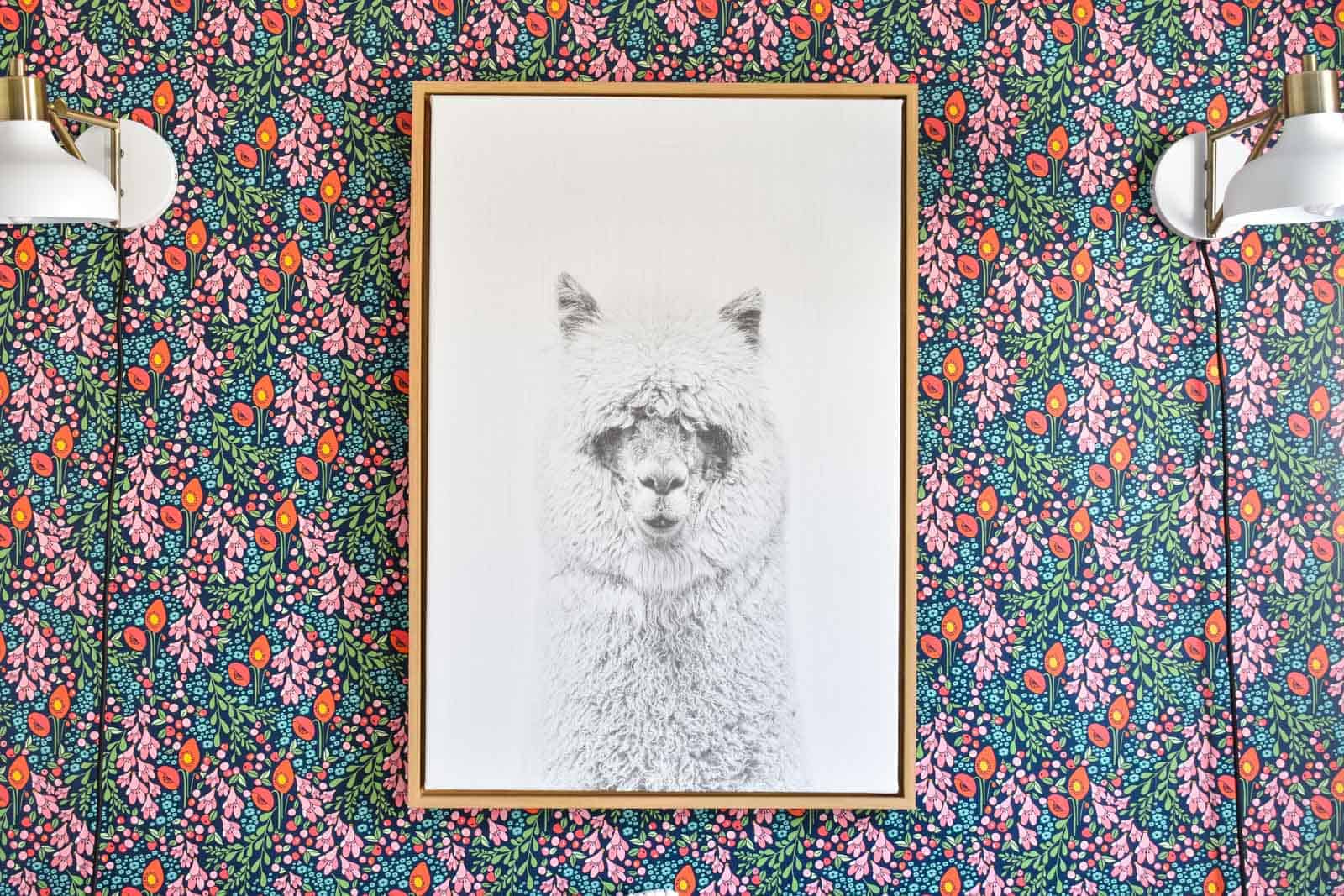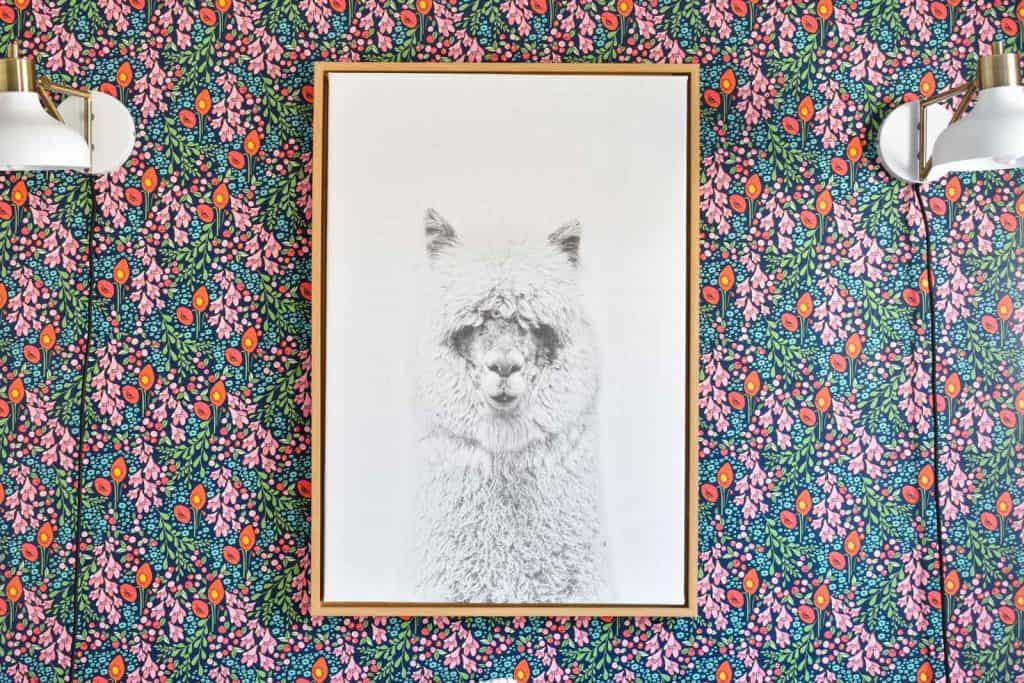 The duvet cover was sent to me by Roostery… they have thousands of custom textiles (like mine from Spoonflower) and use them to make any number of home decor products. Most of the pillow cases are from Ikea or H & M, but the textured ones came from Homegoods. The sun pillow and the "LOVE" pillow are linked here and here. That silver pouf came from Homegoods as well (purchased for my Christmas room at Santa's house… I was *definitely* going to return it after.) I've linked a similar one here.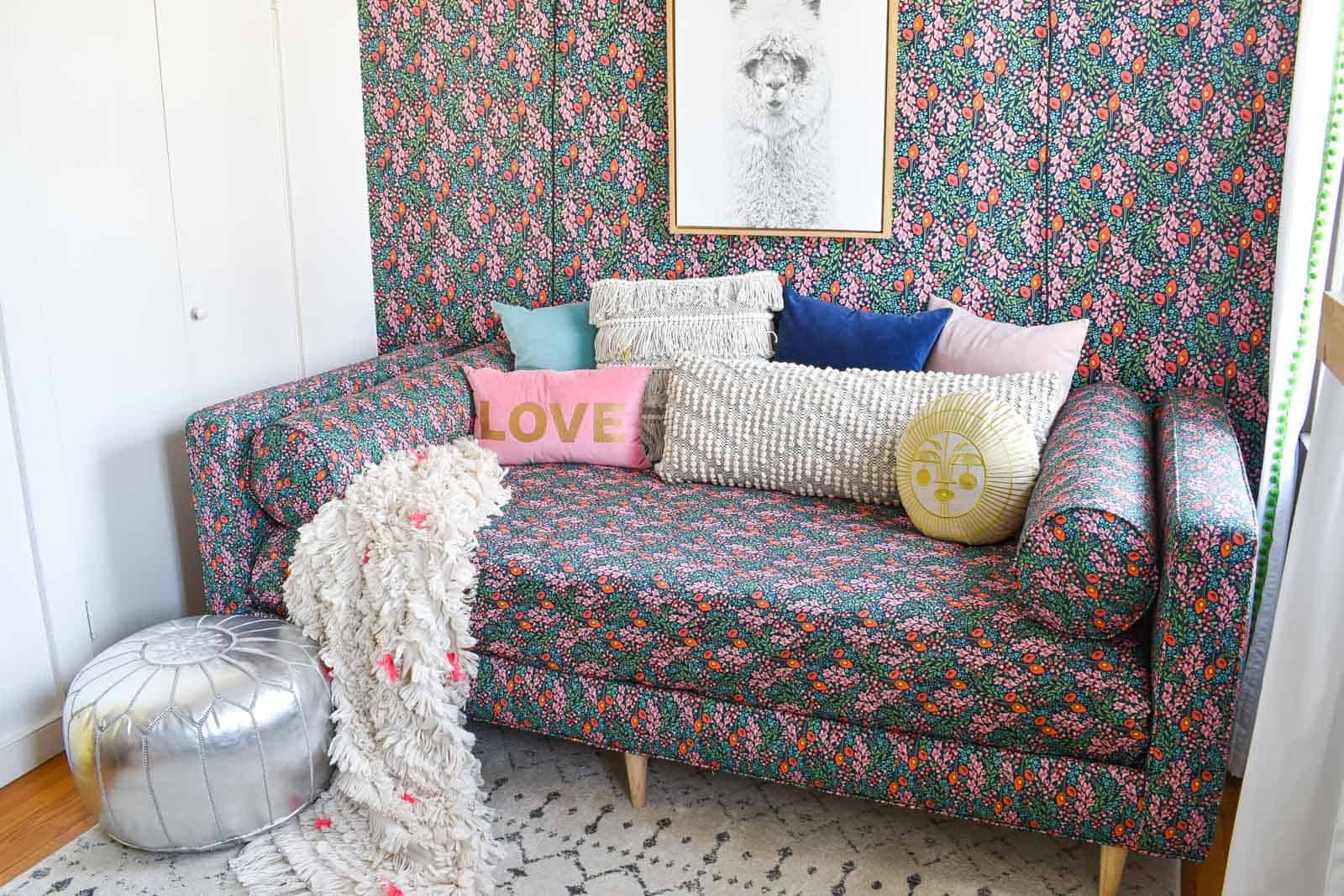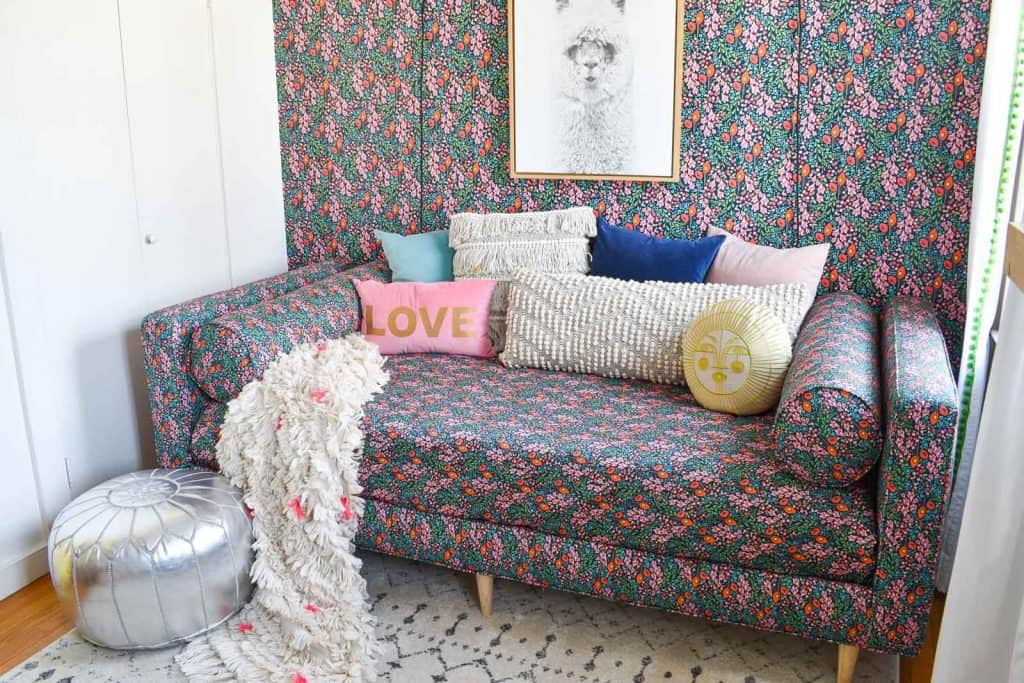 Check back in in two weeks for the FULL reveal (with video to go with!) Thanks again to my friend Sarah for being the brainchild behind #DuelingDIY and this round's Guest Room Gauntlet. I mean, she doesn't have *many* good ideas, but this was one of them! Make sure you pop over to her site to heckle the measly makeover she's done in her guest room. Murphy bed shmurphy bed.