Turning Old Cabinets into a Media Center
I took these thrifted hutches and turned them into faux built ins for our bedroom.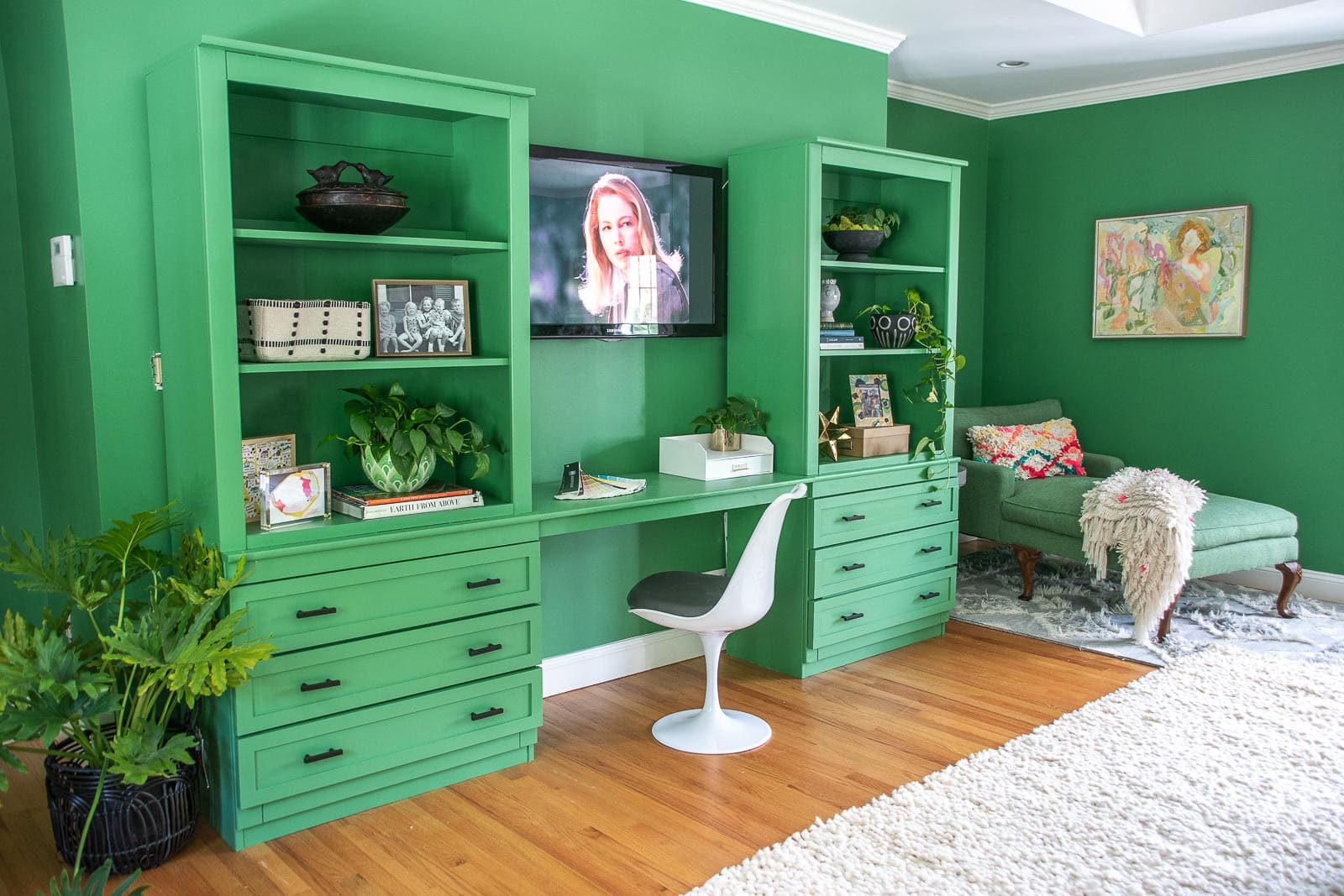 I think I've mentioned before but our primary bedroom in this house is big. Real big. I was an addition from the 90s and it's much more space than we need, but it also means that I had to get creative with how to decorate/ fill the space with furniture. I picked up an amazing tweed chaise from Facebook marketplace and moved the room around a bit to accommodate and it became clear that the wall opposite our bed needed something pretty substantial to balance the space. Lots of you suggested a fireplace which I thought about for a minute. But honestly… we have a real fireplace downstairs so a decorative fireplace upstairs wasn't super appealing from a functional point of view. What felt like it would be useful was some sort of desk/ storage situation. Perhaps built ins across that back wall? With lumber crazy high, I decided to look into repurposing existing furniture… perhaps cheaper and possibly easier because I would ba adapting something already built.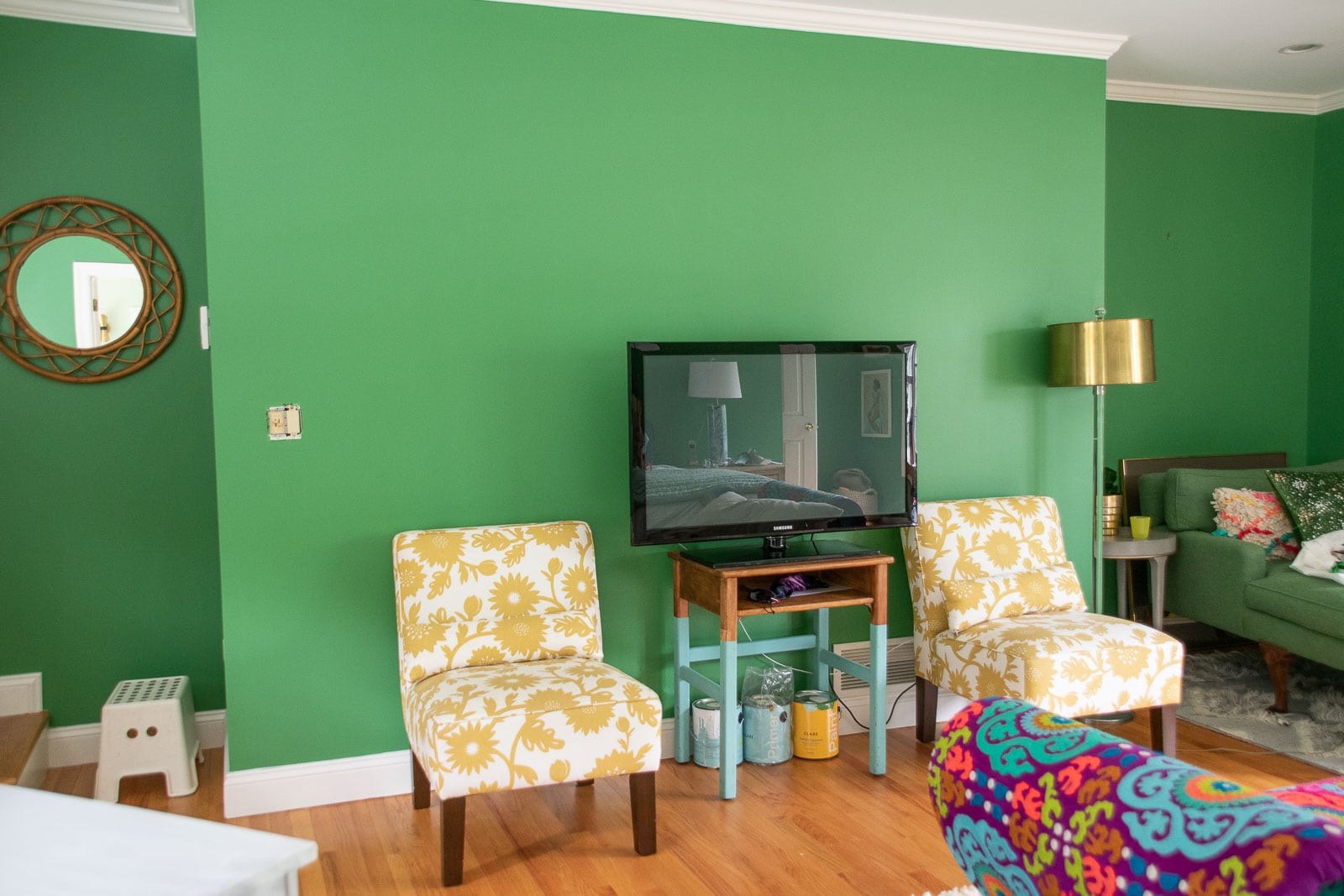 May I present this pair of wooden cabinets I saw at the Restore. Originally priced at $60 each, they were on sale so… I got them BOTH for $75. These are *not*antiques or fine pieces of furniture, but they ARE wood which is important because I knew I wanted to paint them. Let's see what we can do with them…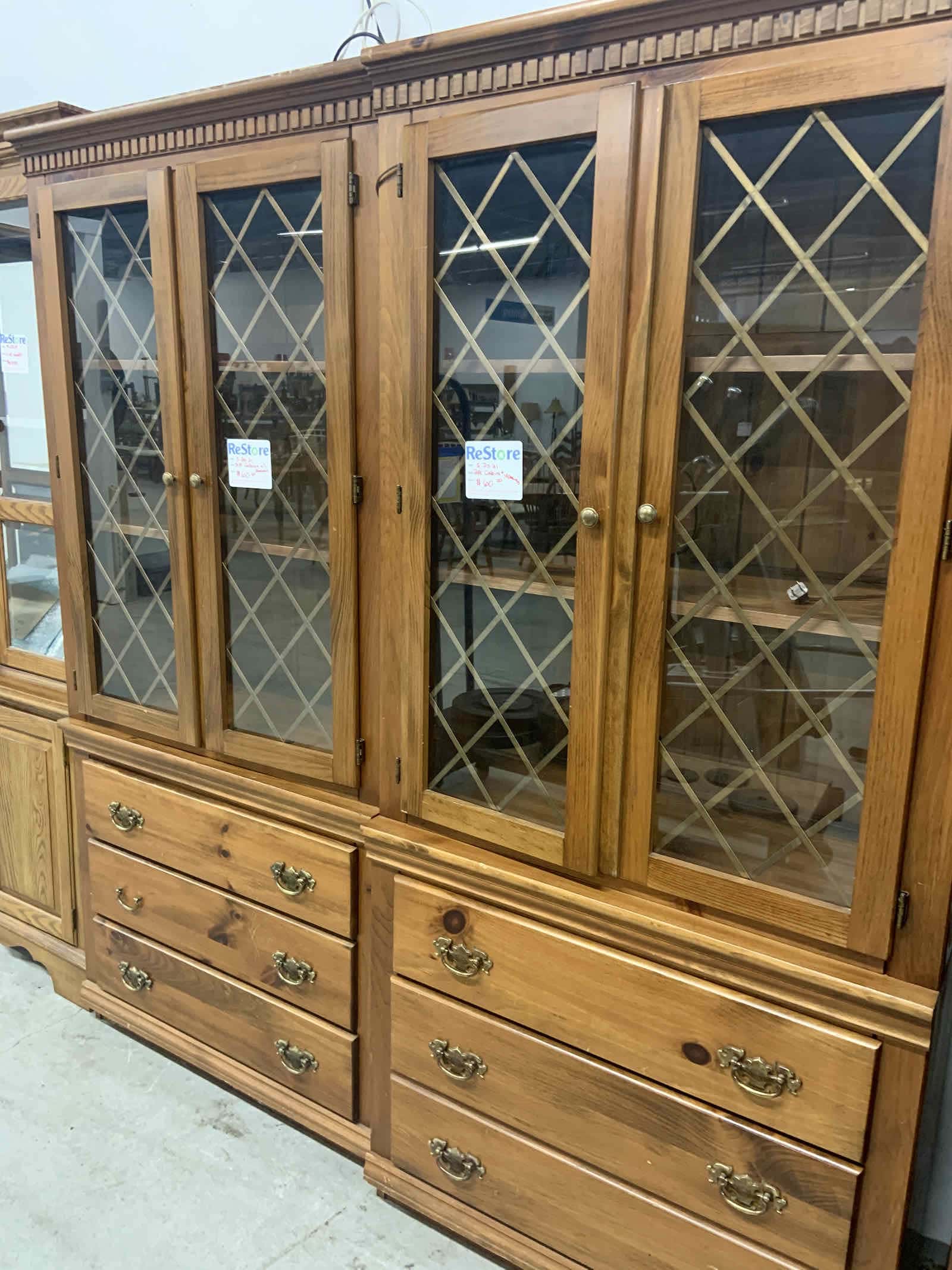 Step 1. Remove the Doors
The doors on these guys were lovely, but not the look I was going for. I was also thinking initially that I'd need to add a shelf to the top which would have made the doors impossible too. Two things that were lucky about these doors: 1. the hinges unscrewed from the base easily and 2. the hinges were NOT grooved into the base so once removed, all I needed to do was fill the screw hole.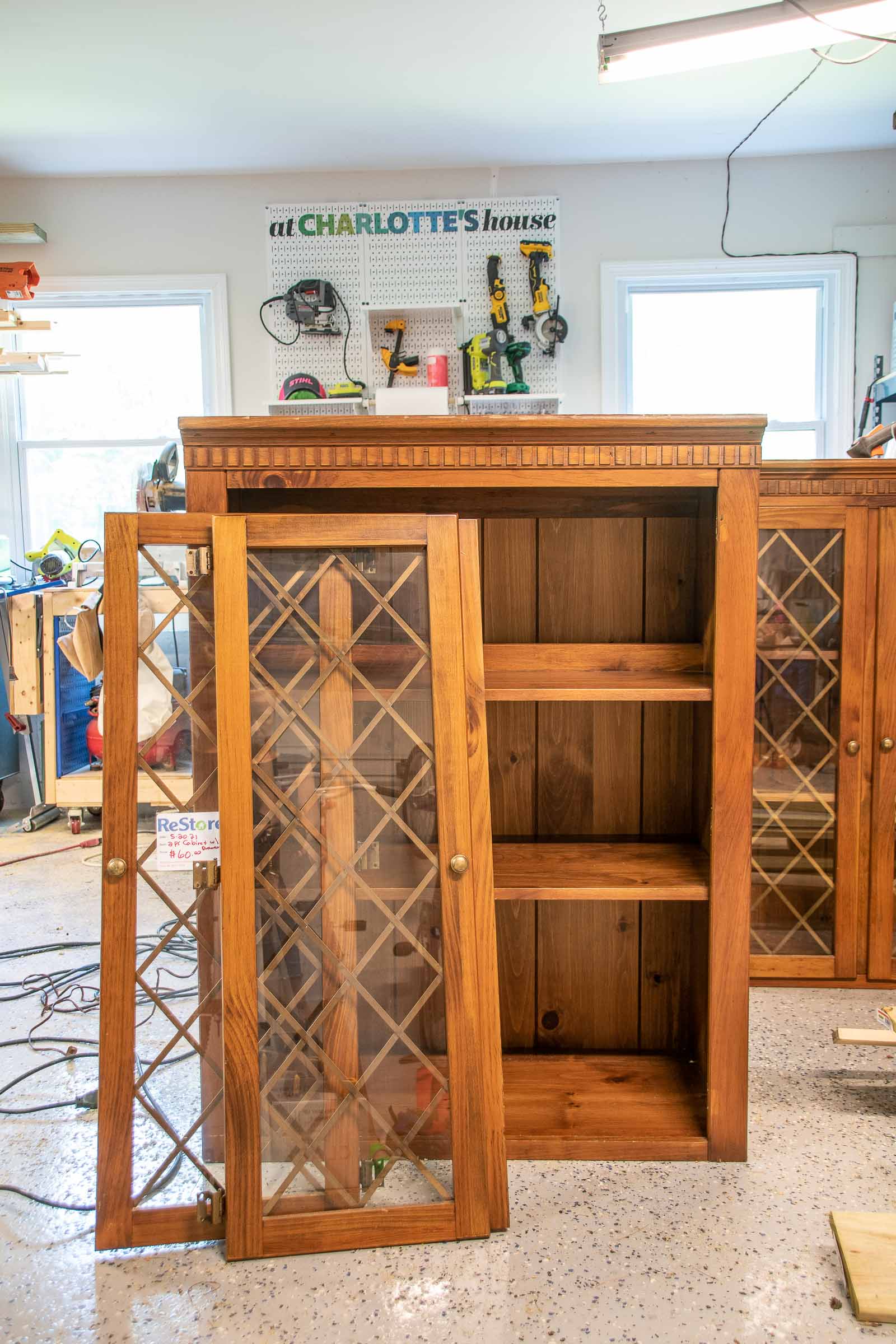 Step 2. Change the Drawer Fronts
The drawers of the original cabinet felt a little dated. The built ins I liked the look of had straight front drawers with a shaker profile (a simple clean lined frame). I started by trimming off the curved routed edges on the ends with my 4-inch circular saw.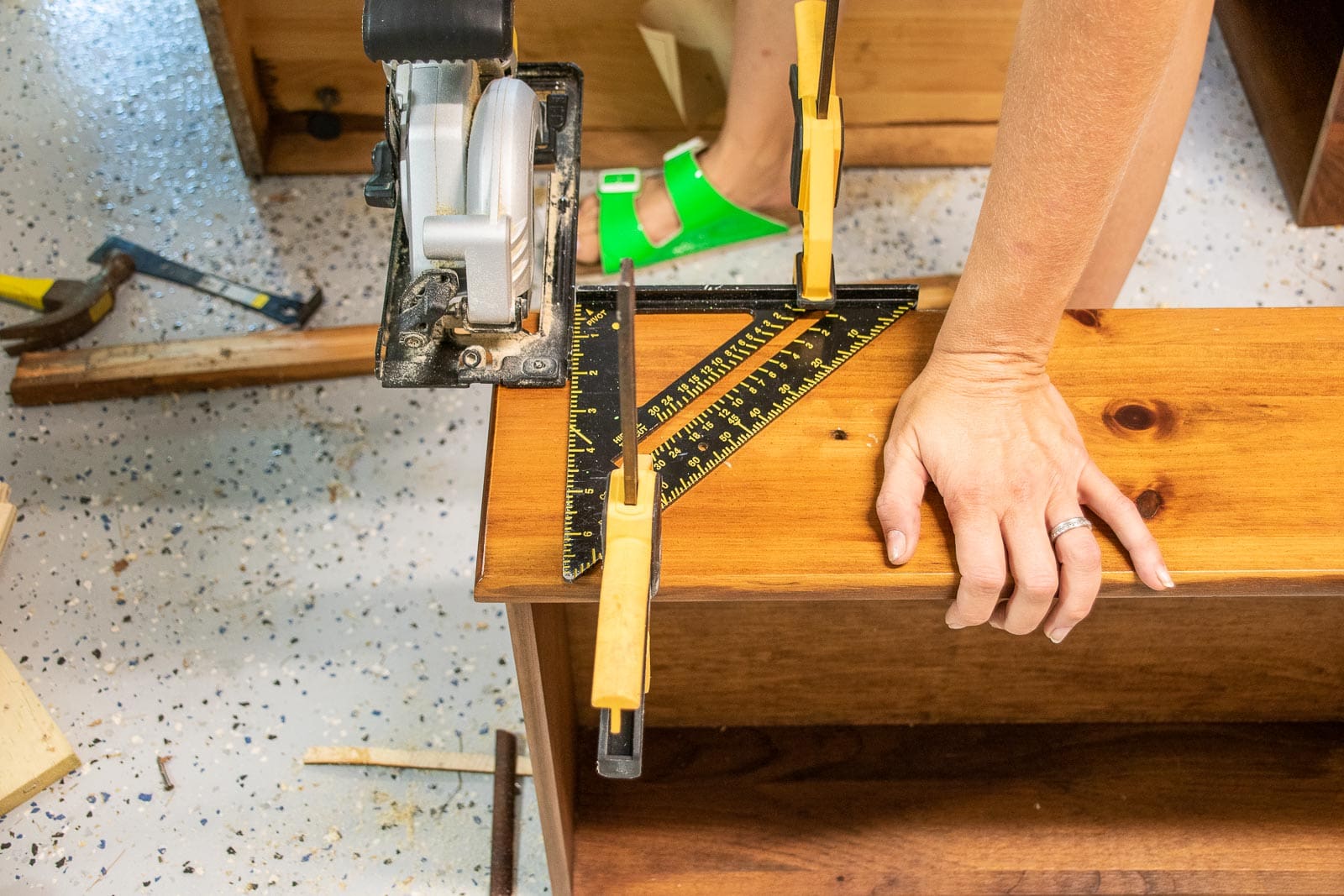 Then I cut some 1x3s down and used pocket holes to screw these into either side of the drawer so that the drawer fronts would extend all the way.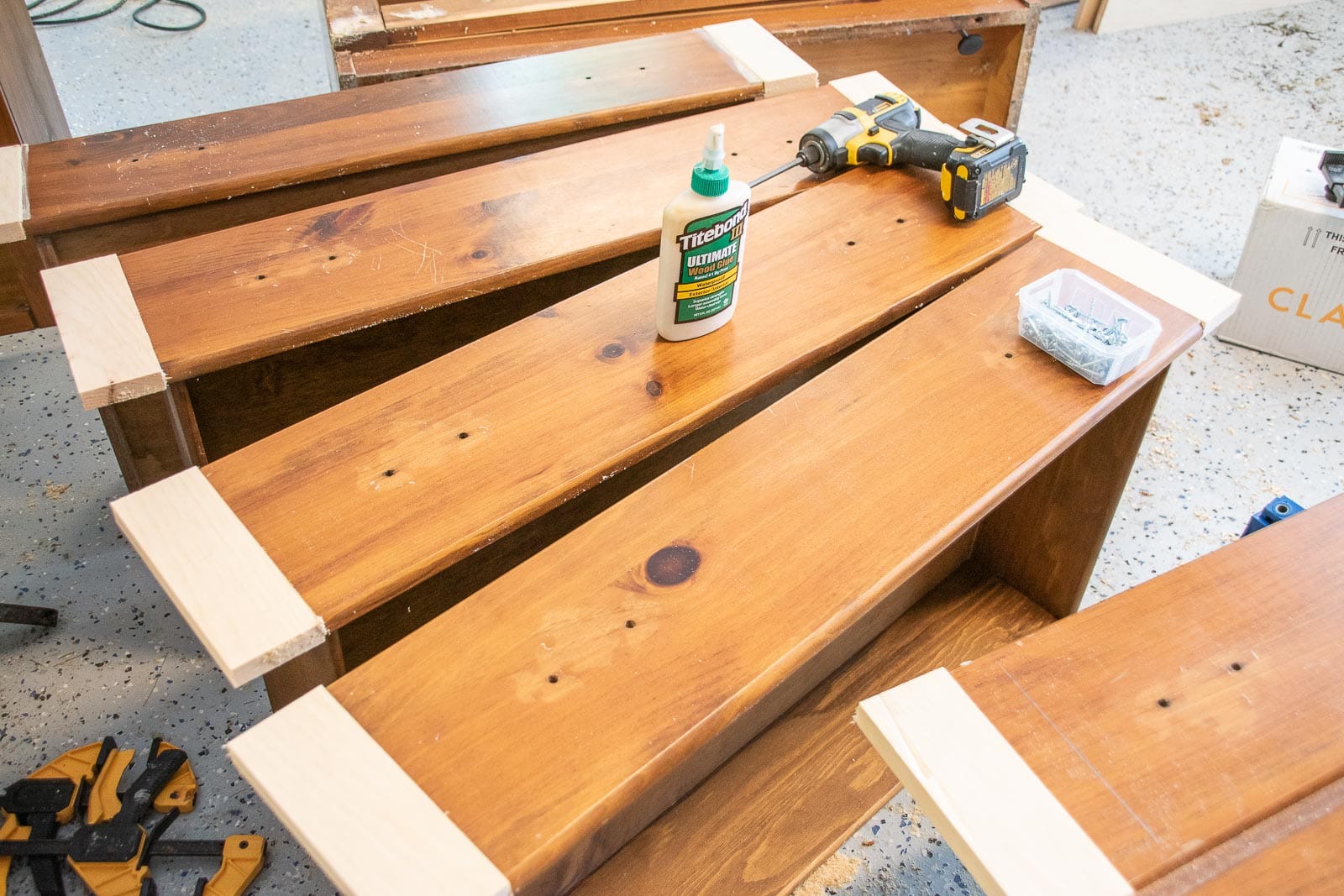 Finally, I used some poplar hobby boards to make the shaker frame for each drawer front. I attached these with wood glue and my brad nailer.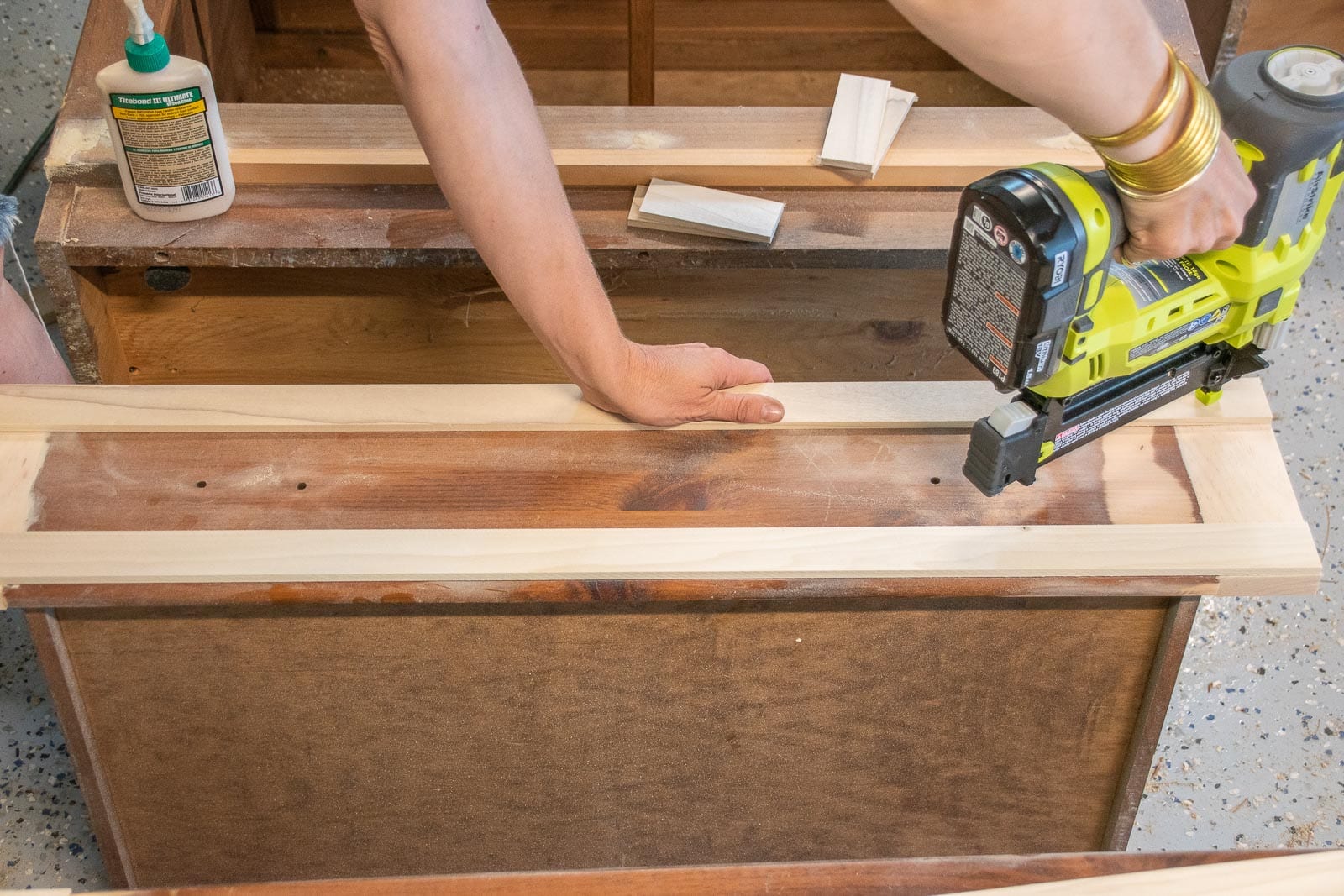 Step 3. Remove Trim
These cabinets had some trim and molding across the top as well as beadboard along the back. I used a small crowbar to remove these as well. I wanted these shelves to be as simple as possible and these pieces of trim/ molding made it feel a bit less contemporary in my opinion.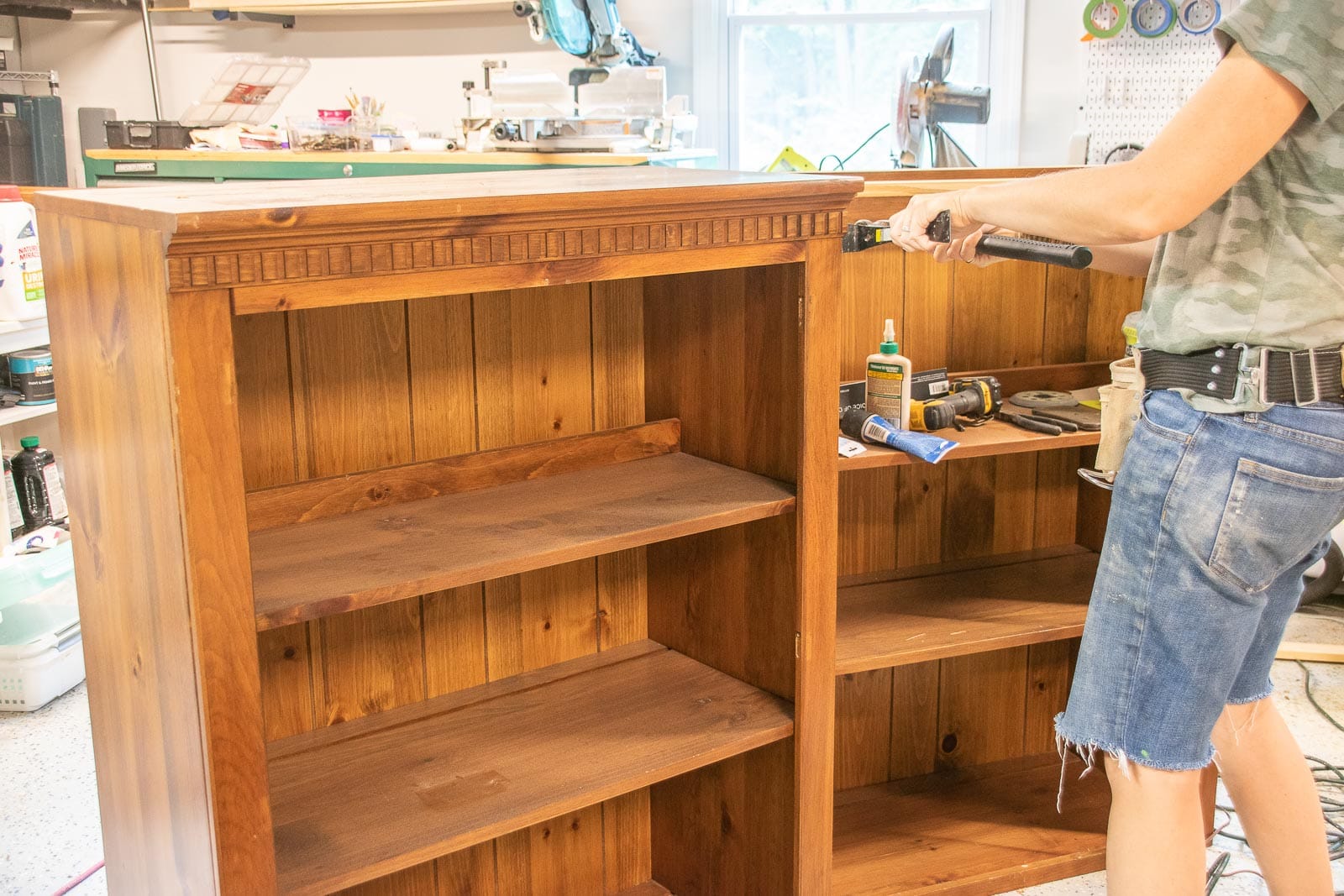 Step 4. Fill Nail Holes, Sand, Prime
I used paintable wood filler to fill in all of the nail holes from where I'd remove the doors and added the trim pieces. Once that dried, I was able to sand it down smooth, and primed it.
Step 4. Add a desk
In order to make these two pieces look like one combined piece, I needed to somehow bridge the gap between them. Originally, as I mentioned, I was planning to build a shelf across the top and a desk across the middle. Once i brought the two sides into the space, I was worried that an additional shelf across the top would be too bulky/ high for the room. I wanted these to look like one solid media cabinet/ bookshelf but I wasn't planning on adding crown molding or anything to connect it to the ceiling soffit.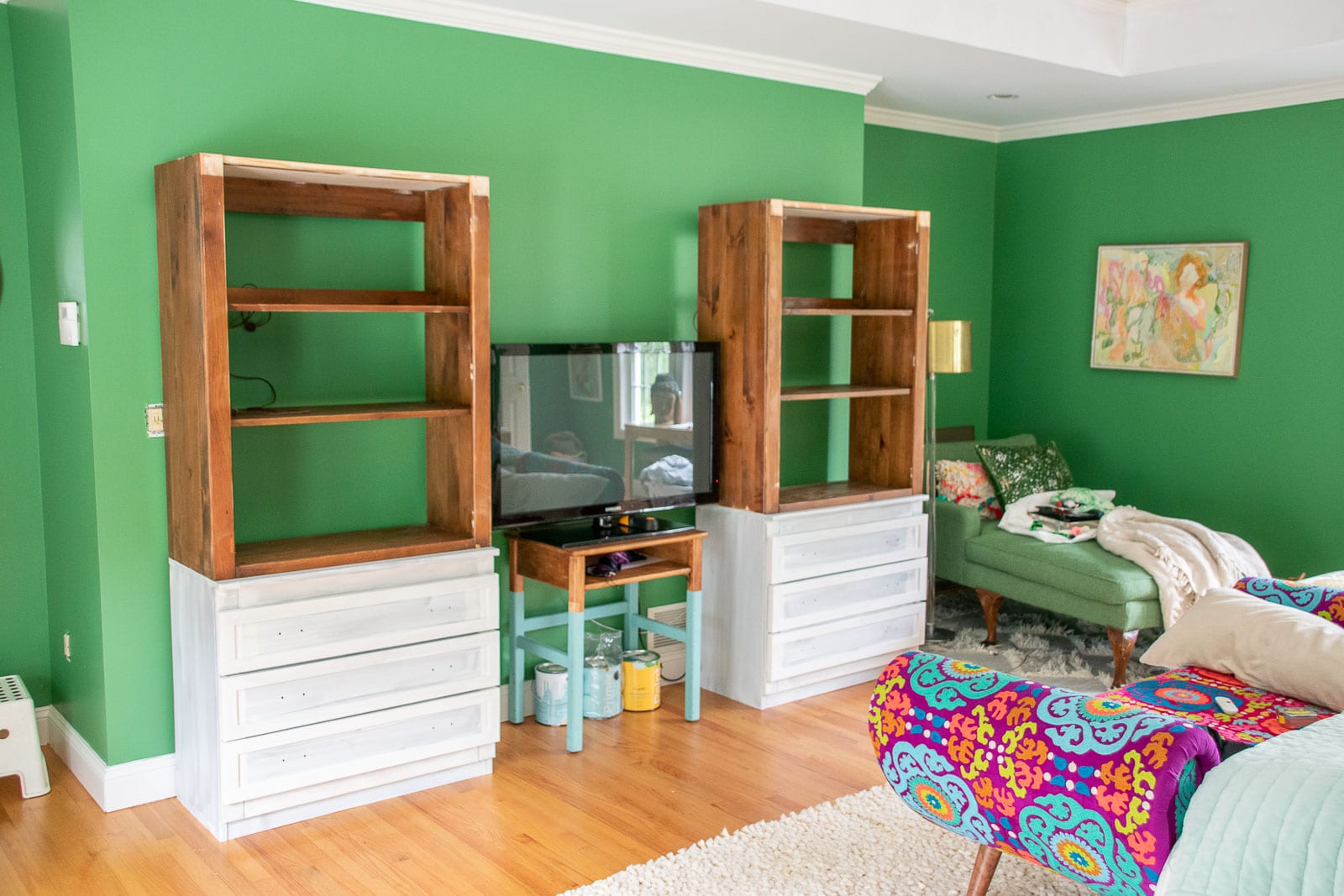 I figured the lower height felt more balanced. I did add two support pieces on the cabinets and then cross braces to support a piece of plywood I cut down to be a desk. I routed the front edge so that it matched the profile of the original cabinets. Once I saw it installed, I also went back and added a narrow front plate so that it matched the two lower sets of drawers a little better and felt more substantial.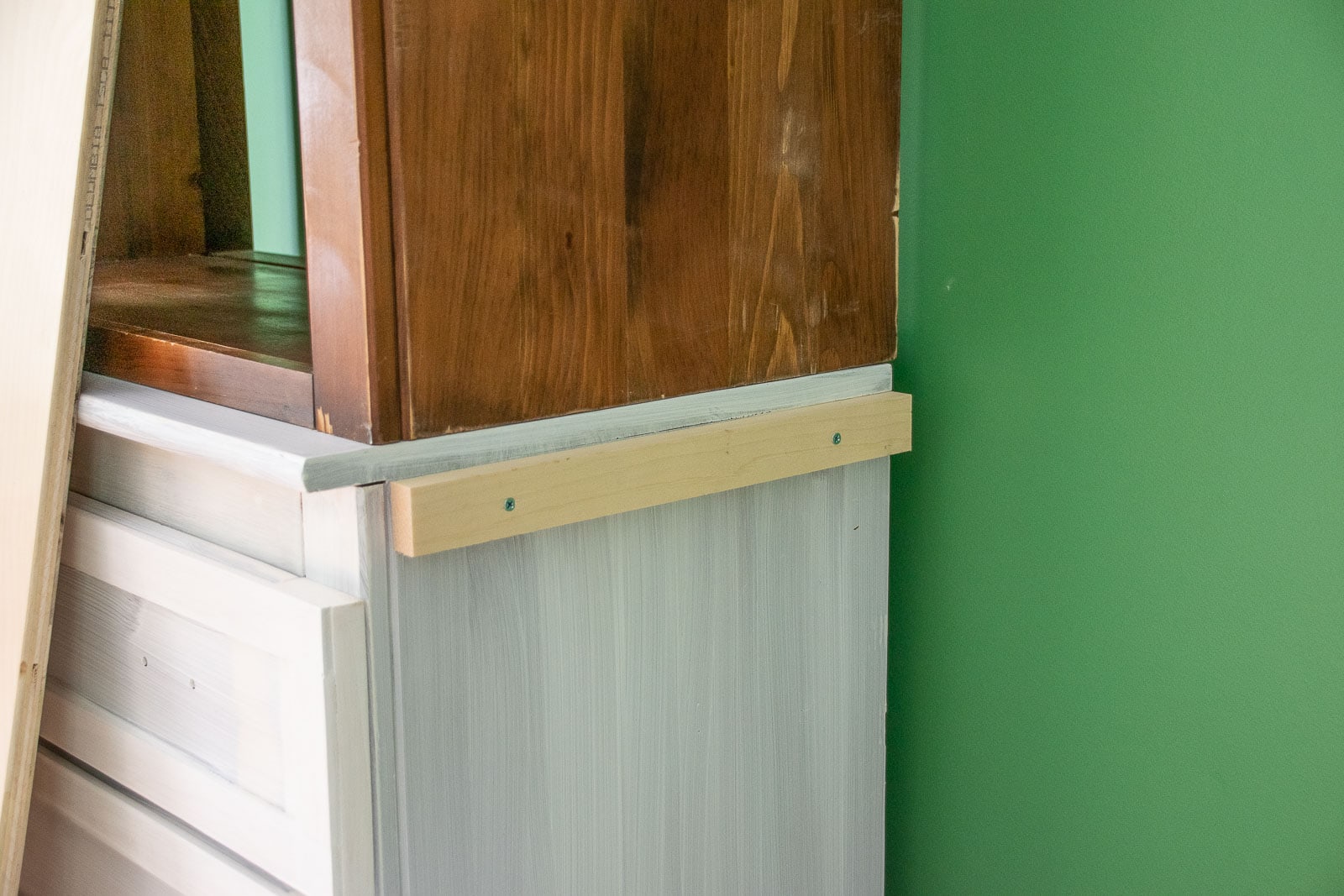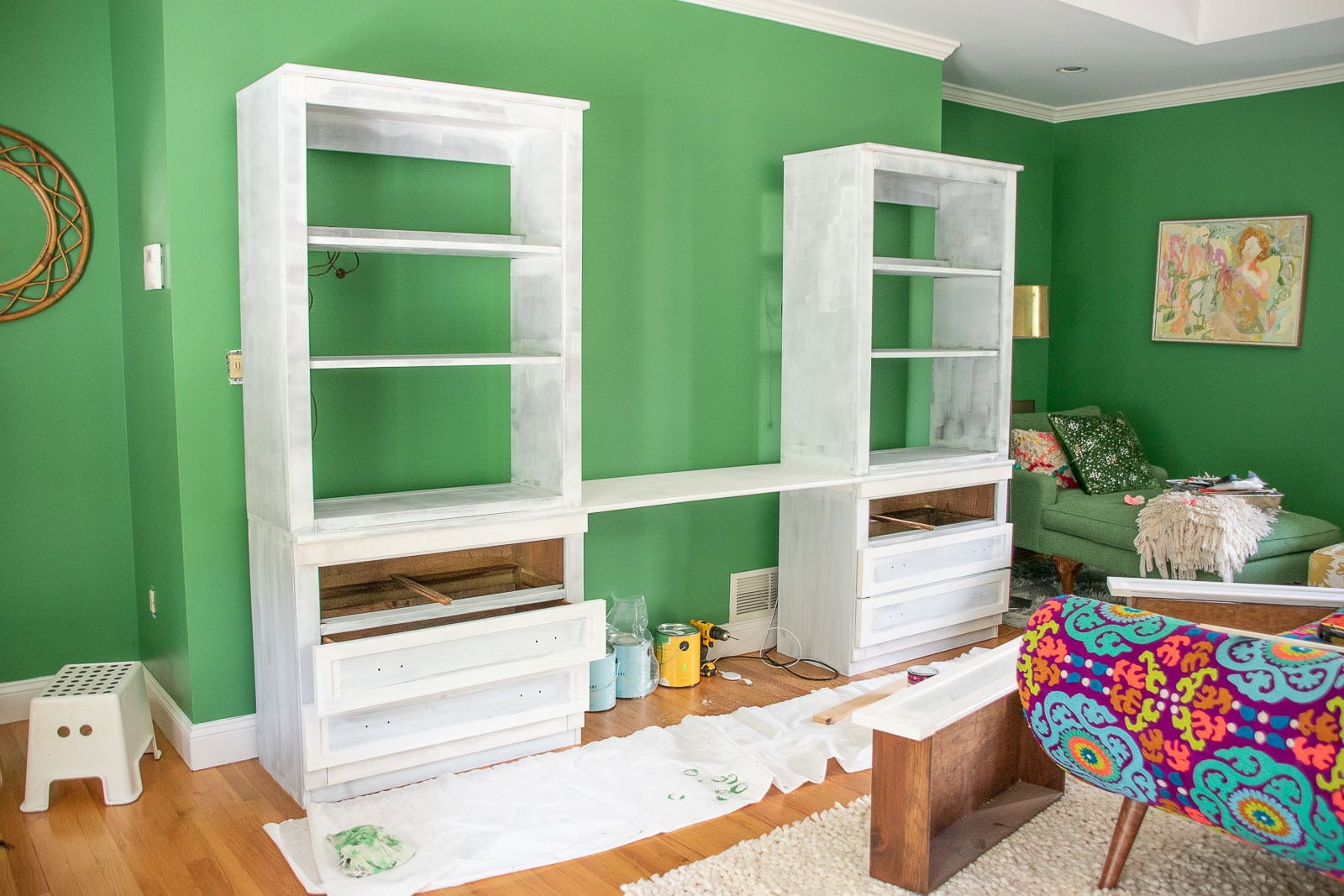 Step 5. Paint
I chose to paint the shelves the same color as the wall to give it more of a 'built in' look. (The green is Matcha Latte by Clare Paint.) TikTok disagrees but I love the way they came out! Haha.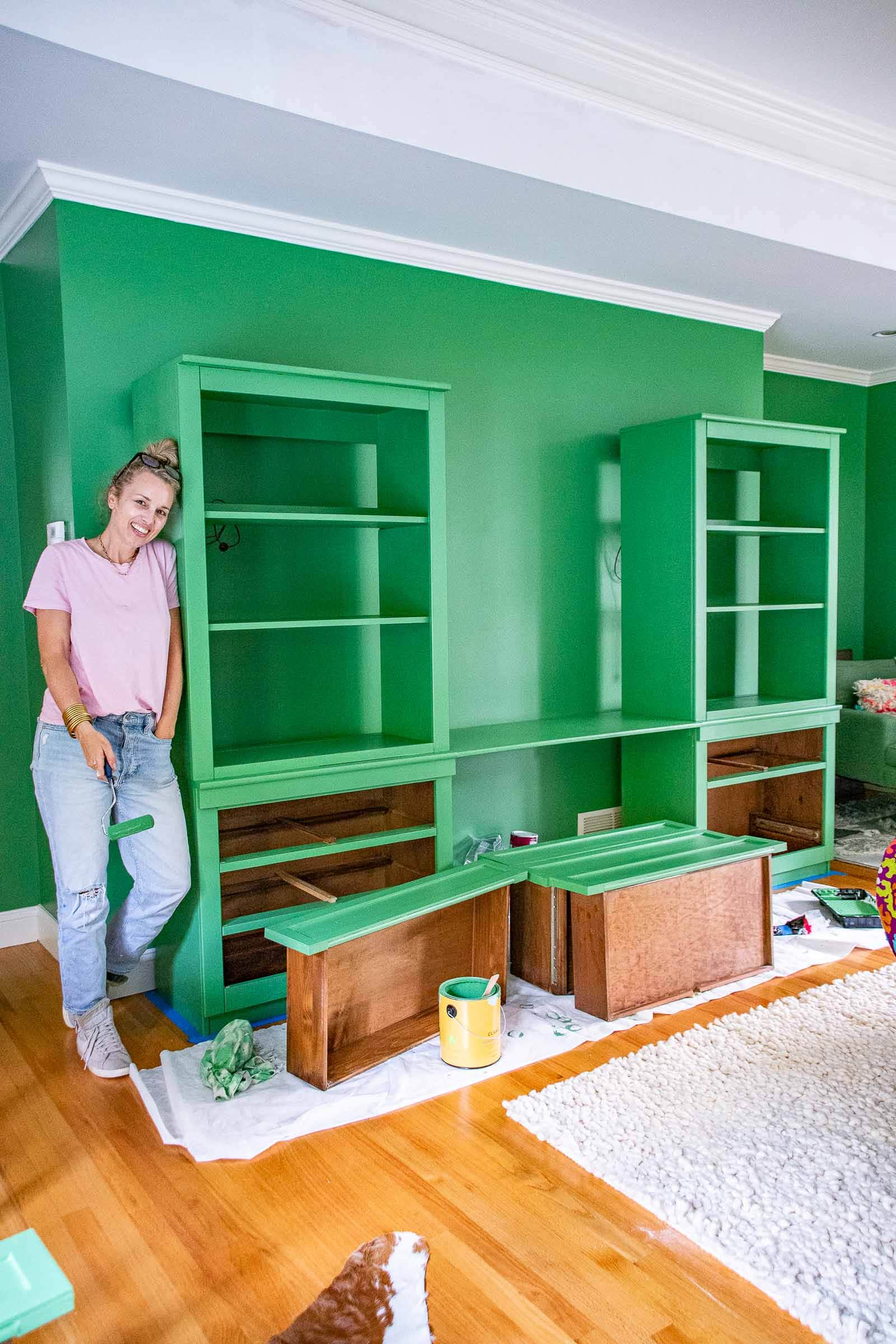 Step 6. Cabinet hardware
The final step was to add new cabinet hardware. I opted for matte black to complement the hardware and fixtures in the rest of the room and love the simple lines with the new improved bookshelves.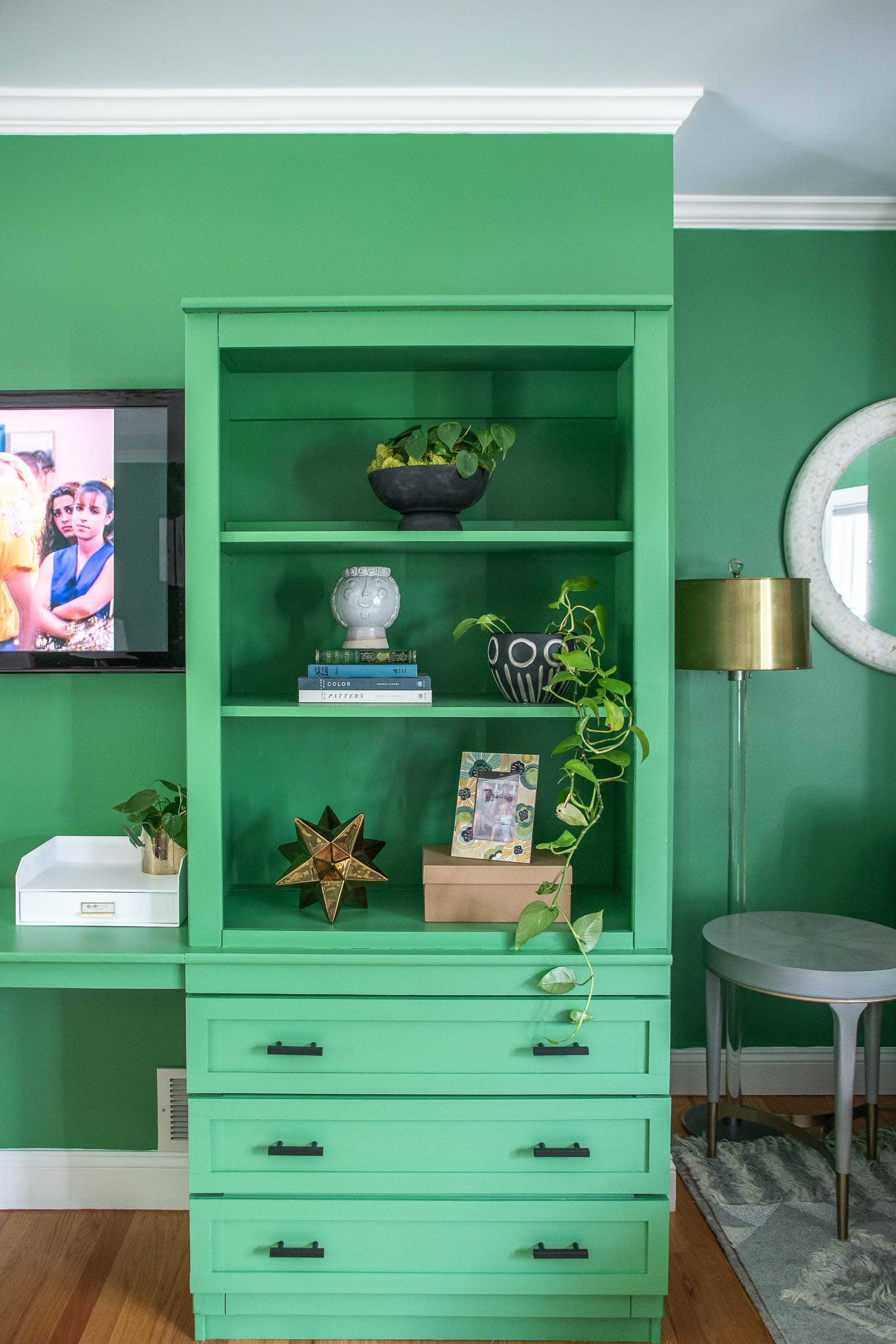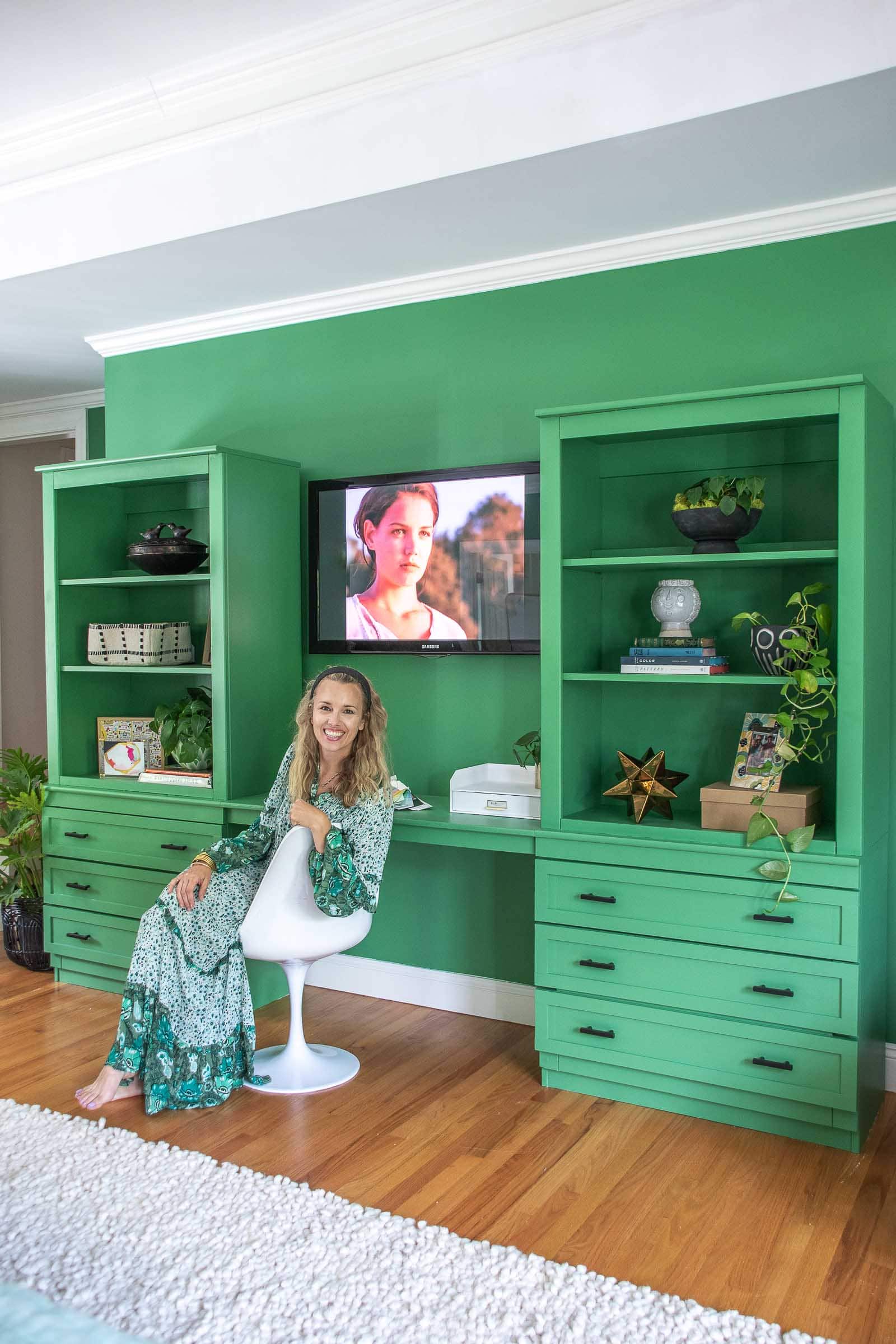 The bookshelf/ desk is now my work space and the shelves/ drawers have so much great storage. I love the way the bookshelf blends into the room itself so that even though it's a large piece of furniture, it doesn't stand out or look out of place. To me, it feels much more custom *because* it blends in with the walls. It took me a few days to alter and adjust, and maybe $100 in lumber so the grand total for this project was under $200.