Who doesn't like a good knock off?! The last time I was in Anthropologie grabbing 'something for a friend' I noticed these bangles. They were on sale, but… still… it was like a little DIY challenge staring me in the face taunting me from behind the display of drawer pulls and the industrial pendant light. Sure, I could spend $40 on these and they'd be great. OR… I could take 45 minutes and under $10 and have something stamped with my own blood, sweat, and tears. (DIY is nothing to take lightly.)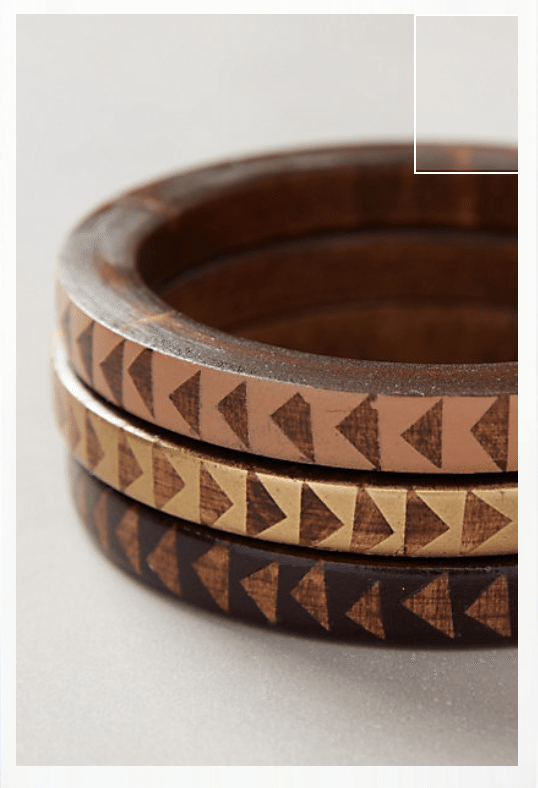 Before you all go reaching for your soap boxes, I am aware that these prices are silly expensive for a thrift store bangle. Unfortunately our Goodwill is considered somewhat 'fancy' so they've jacked up the prices. And yes… I saw a million similar bangles at the flea market a week later, but patience and craft execution have never been my forte. When the idea strikes, I need to put the wheels in motion NOW.
I was still riding my 'must get this project done' buzz so I didn't do much planning, but I reached for some frog tape and drew out a geometric pattern with a sharpie before I even unrolled the tape.
You're not going to believe what I did next… (sorry… you're totally going to believe it, I'm just working on adding a little drama to these posts.) I unrolled the tape and stuck it onto the bangle.
With a SHARP exacto knife, I cut out the pattern. A more deliberate person than I might have used a ruler, but the curvature of the bangle made that tricky, so I just went slow and steady free hand.
I repeated these same steps for the other two bangles and then gave them all a hit of gold spray paint. (I toyed around with removing the design on the smallest bangle, but nail polish remover didn't do it, and I hate paint remover. I figured it might add to the ultimate texture of the finished product so I left it as is.
All together, how COOL are they. Granted, they're nothing like the Anthro ones, but the inspiration counts for something. I love the geometric patterns with the gold and the colors of the original bangles work perfectly together!
Don't accessories make you happy?!