#SwapItLikeItsHot 2.0: Flea Market Swap
Psssst… this post *might* contain affiliate links: see my disclosure here.
YOUGUYSSWAPITLIKEITSHOTISFINALLYHEREANDIMFREAKINGOUT!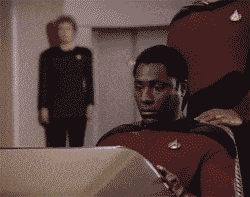 The big kids are at school and I've put Martha and Louisa in a bathtub filled with chocolate pudding, tubes of chapstick and bubbles. For good measure I have Frozen playing in the background, so I think I've bought myself at least 20 minutes to see WHAT EVERYONE MADE FOR #SwapItLikeItsHot 2.0!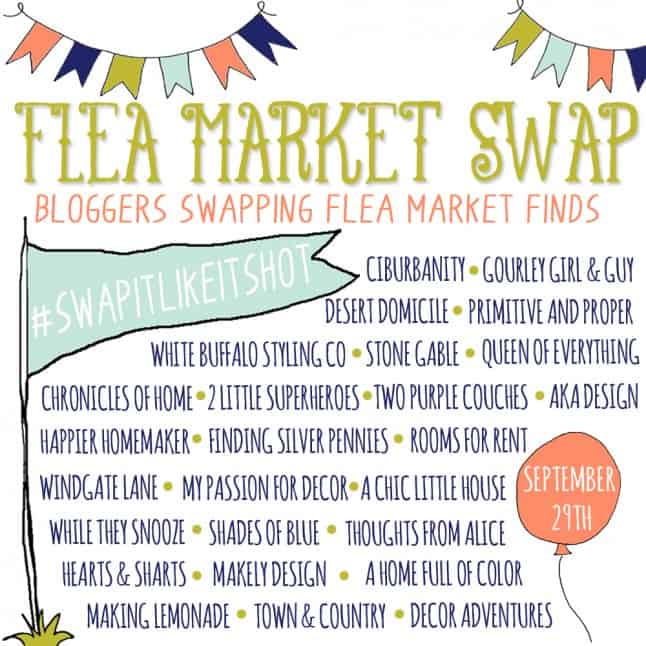 To get you up to speed if you're just now tuning in, 26 bloggers all threw their name in a hat to swap thrift store/ flea market/ yard sale finds. No one spent more than $10 and today we're all sharing our makeovers and transformations. Fun, right?! So, um, wanna see what I made? (*She says with a goofy grin on her face.*) I was sent three potential-rich items from Sarah at While They Snooze. A 'leather' belt, a plastic mirror, and a white Ikea vase.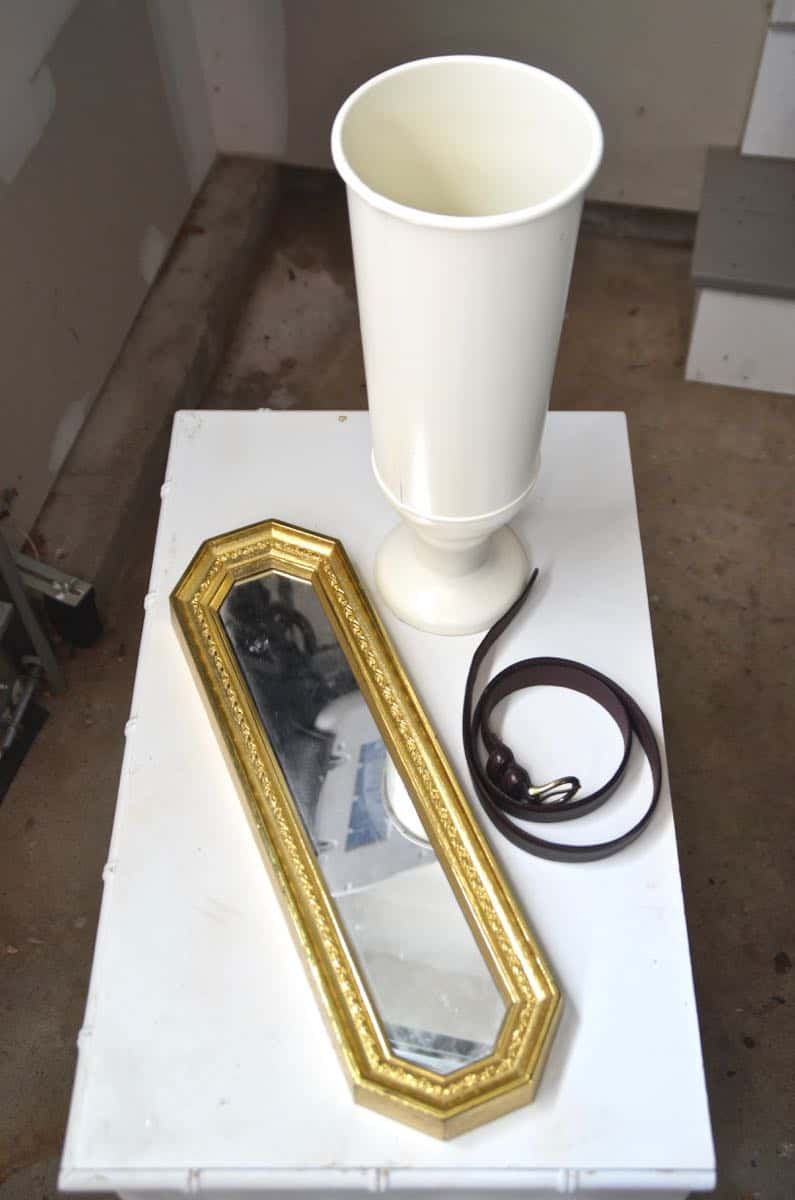 I had grand plans for everything (alas… the belt didn't make the cut), but the mirror… well, the mirror was like Celine Dion… it just needed some tweezing and some tweaking to be a showstopper. While I was fishing around in our scrap wood looking for trim that might work in the new powder room, I stumbled across some extra 1 x 3s. Incredibly, the geometry worked out perfectly (despite my elementary miter saw skills) and I was able to cut a couple dozen triangles.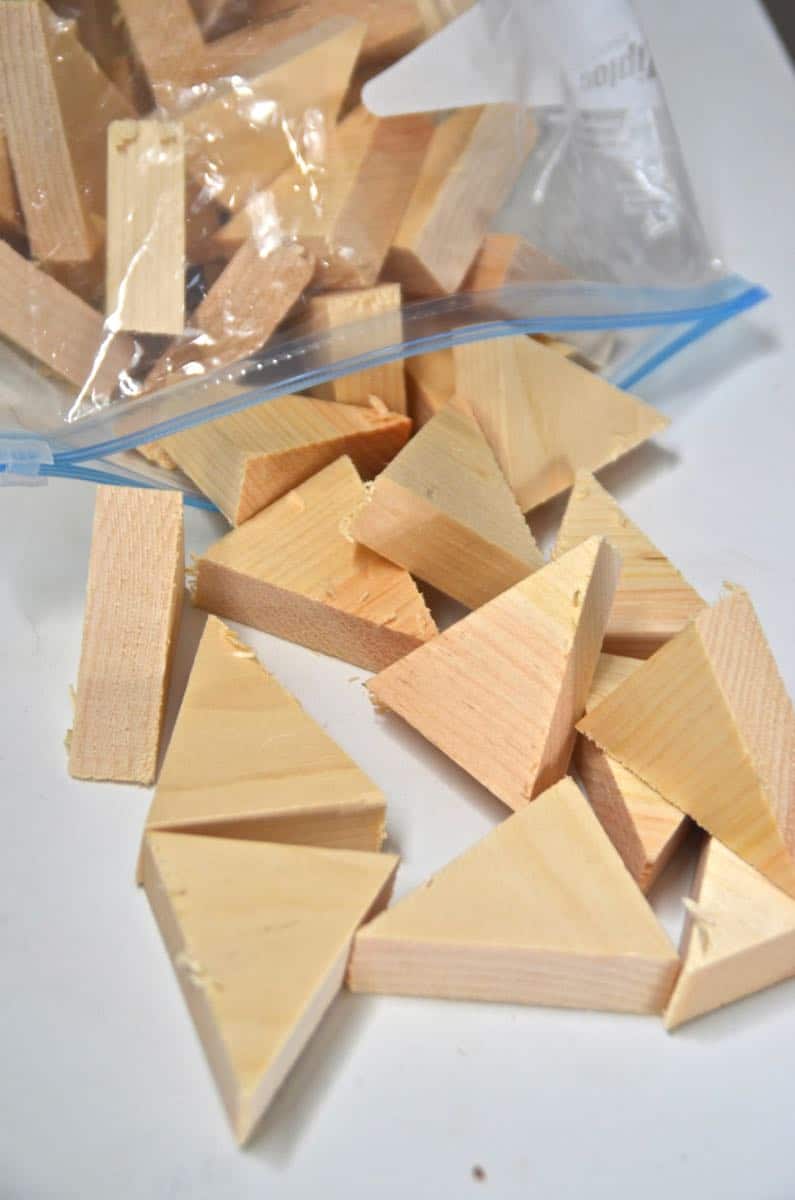 Lots and lots of sanding. And then some more sanding. Spray primer and raiding my leftover paint supply gave them eclectic color.
More leftover supplies for a backer board… spray paint… and wood glue.
Oh… And I used a white oil-paint pen to add a little geometry to the mirror. I think the triangles will be my new 'theme song.' Like Felicity. Or Charles in Charge. Or Blossom. Those were killer theme songs.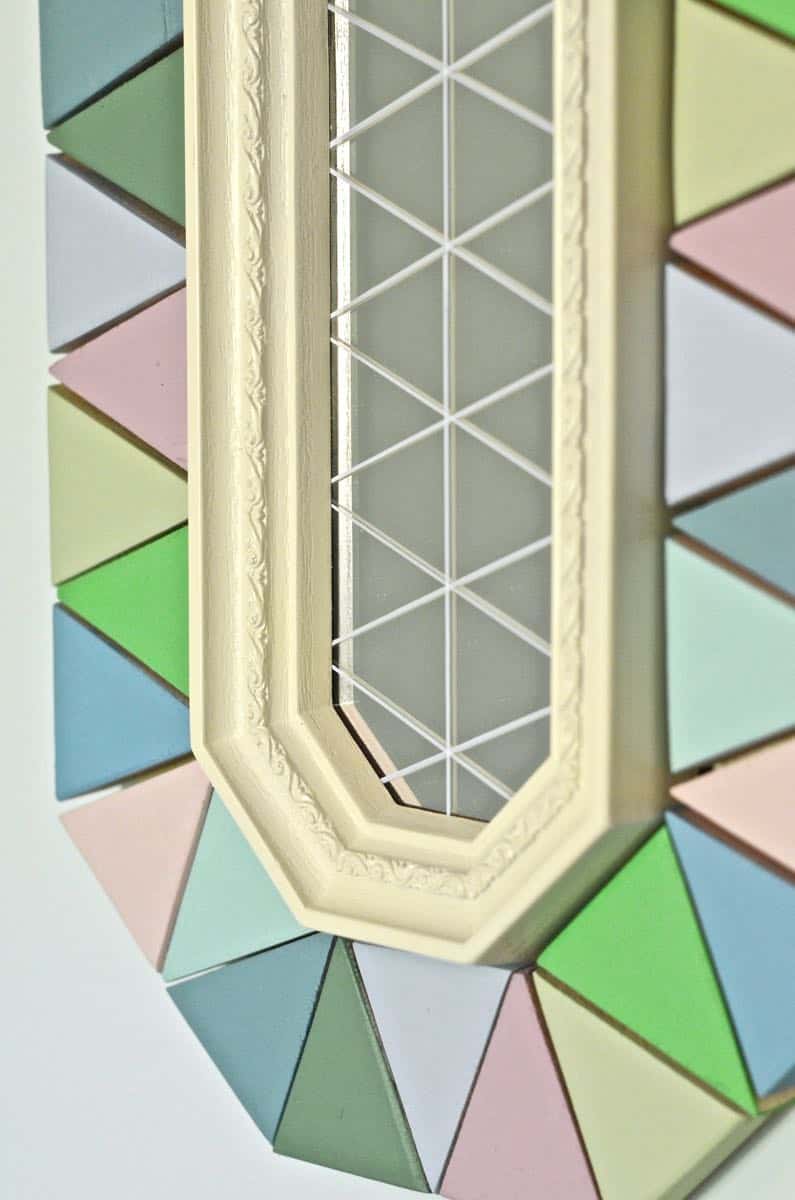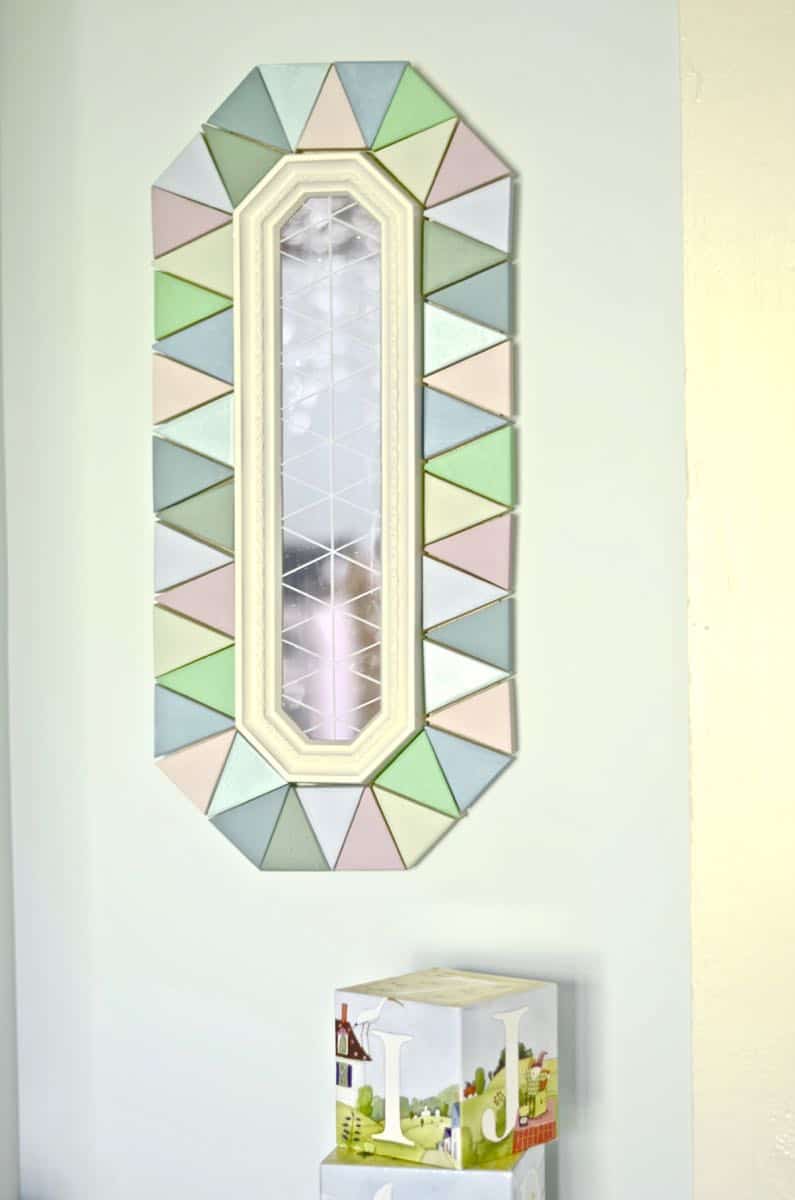 Bam. Done.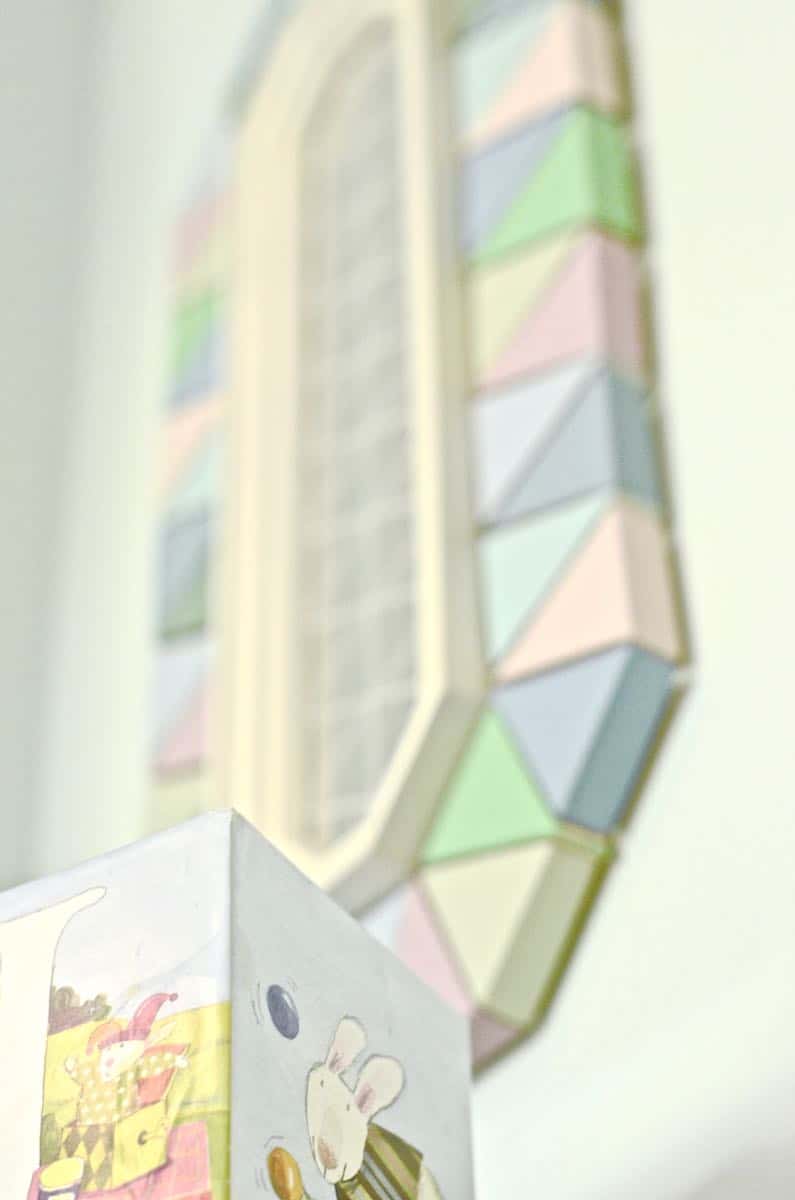 I wasn't planning on touching the metal vase at first… but then I got to thinking and, well… I need all the practice with my jigsaw that I can get. (Still I ask, HOW DO YOU CUT A PERFECT CIRCLE?!) With my jigsaw, I wobbled my way around 2 circles from some scrap plywood- one for the table top, and one to fit inside the vase. I screwed them together and hit them with the same Rustoleum Heirloom White I used for the mirror.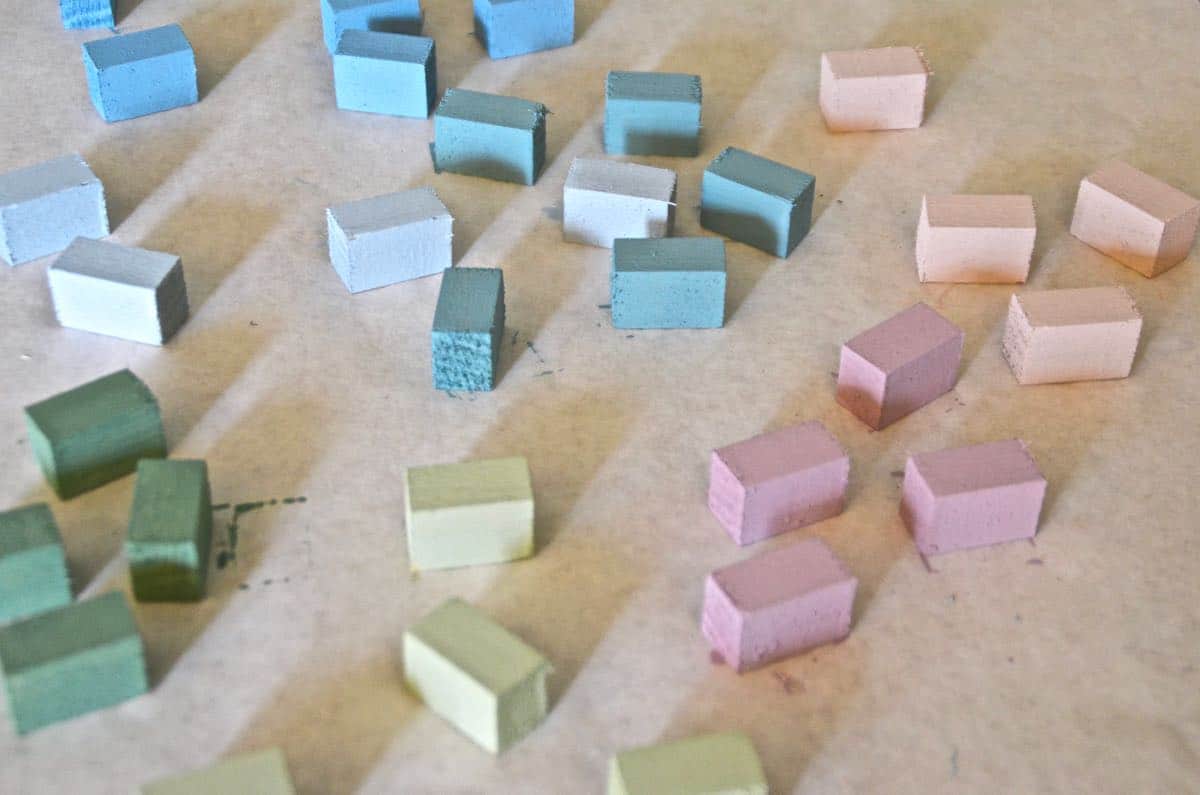 I chopped up a strip of trim I had in the scrap pile, sanded (although I got lazy and could have sanded more…) and used the same paint as I did for the mirror.
The plywood was too rough for a finished-ish looking table, so I looked to my scrap fabric pile and found a remnant of the no-sew curtains from the playroom. I cut this into a circle and used Polycrylic to adhere it to the table top.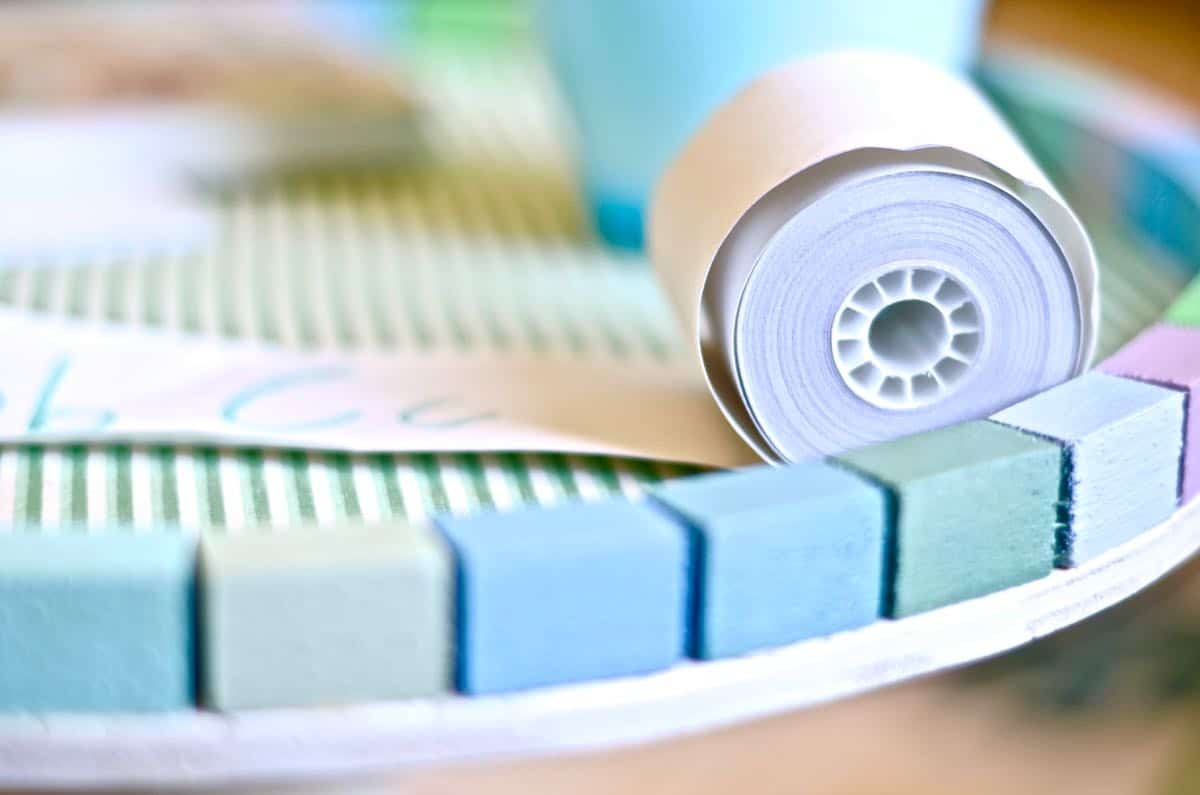 Both of these live up in our oh-so-colorful playroom and I love them. The mirror helps reflect some light in the back of the playroom. And the table creates a much needed surface between the two chairs in front of the window. (Also, my favorite material for the kids' art center is receipt tape like this.)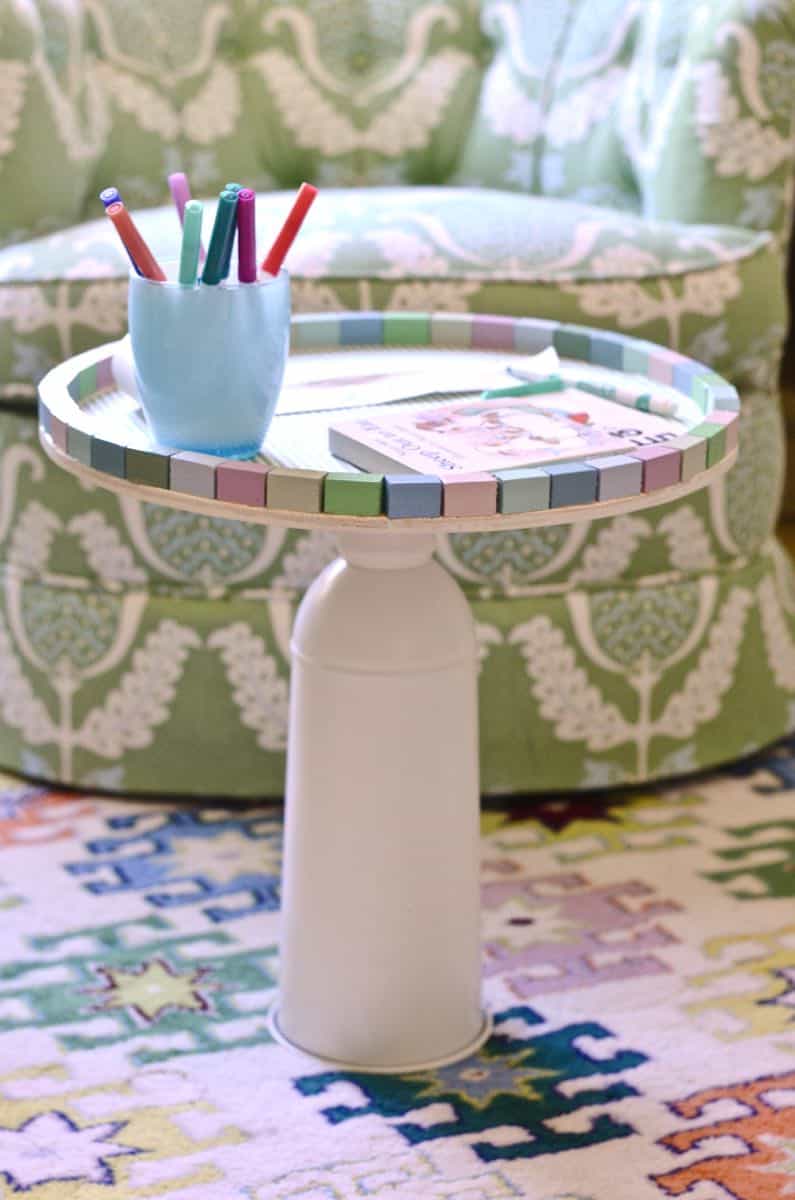 To quote Mr. Gump… that's all I have to say about that.
Here comes the fun part. WE WANT YOU TO PLAY ALONG! Cue the giddy exuberation! Follow our group board on Pinterest, and shoot me an email or leave a comment if you want to be added so you can Pin your own Swaps! In addition, at the end of this post is a LINK UP! If you're a blogger, then you know the drill. If you're NOT a blogger, but want to play along and share a thrift store/ flea market/ yard sale makeover, then you can post your image to either Pinterest or Instagram and use that URL for the Link Up! It runs for 2 weeks and I'm going to pick a few of my favorites to feature when it's all over!
I mailed a box full-o-fun to the amazing Shannon at AKA Designs and I can't WAIT to see what she did with it all. (Did I mention how excited I am about all of these reveals?!)
Before you link up your fantastic projects, load up your bathtub with pudding and bubbles and go see what EVERYONE ELSE has done with their swapped items! (Incidentally, I'm done with the caffeine for the day…)
2 Little Superheroes
AKA Design + Life
A Chic Little House
The Chronicles of Home
At Charlotte's House
Decor Adventures
Desert Domicile
Finding Silver Pennies
Gourley Girl & Guy
The Happier Homemaker
Hearts and Sharts
Makely Home
Making Lemonade
My Passion For Decor
Primitive and Proper
Queen of Everything
Rooms For Rent
Shades of Blue
Stone Gable
Thoughts From Alice
Town and Country Living
Two Purple Couches
While They Snooze
White Buffalo Styling Co.
Windgate Lane