Fall STEM Activities for Preschoolers
Psssst… this post *might* contain affiliate links: see my disclosure here.
Preschool Fall STEM Activities
STEM (Science, Technology, Engineering, Math) activities are SO important for young children. These fall projects are easy and educational!
Disclosure: This is a sponsored post written by me on behalf of La Petite Academy. All opinions are 100% mine.
If you saw my library maker space from this summer then you know that I LOVE designing and imagining ways for children to explore STEM concepts. It's an important part of preschool development and something that we try to have accessible to our kids all the time (hence an overflowing craft closet). I've partnered with La Petite Academy on this post and love that they're an educational daycare focused on STEM based education for children.
Activity 1: Traveling Color Leaves
Setup: This is a basic science project that is always fun for kids to observe, but we added a fall finale. Start by adding food coloring to three class cups. Use primary colors (yellow, blue and red) and 10+ drops of food coloring for a bright saturated color. Fill the cups with water. Using either coffee filters or paper towels, fold them into one inch strips and place one end in one color and the other end in another color. You'll see that I have them going from the blue to the red to the yellow.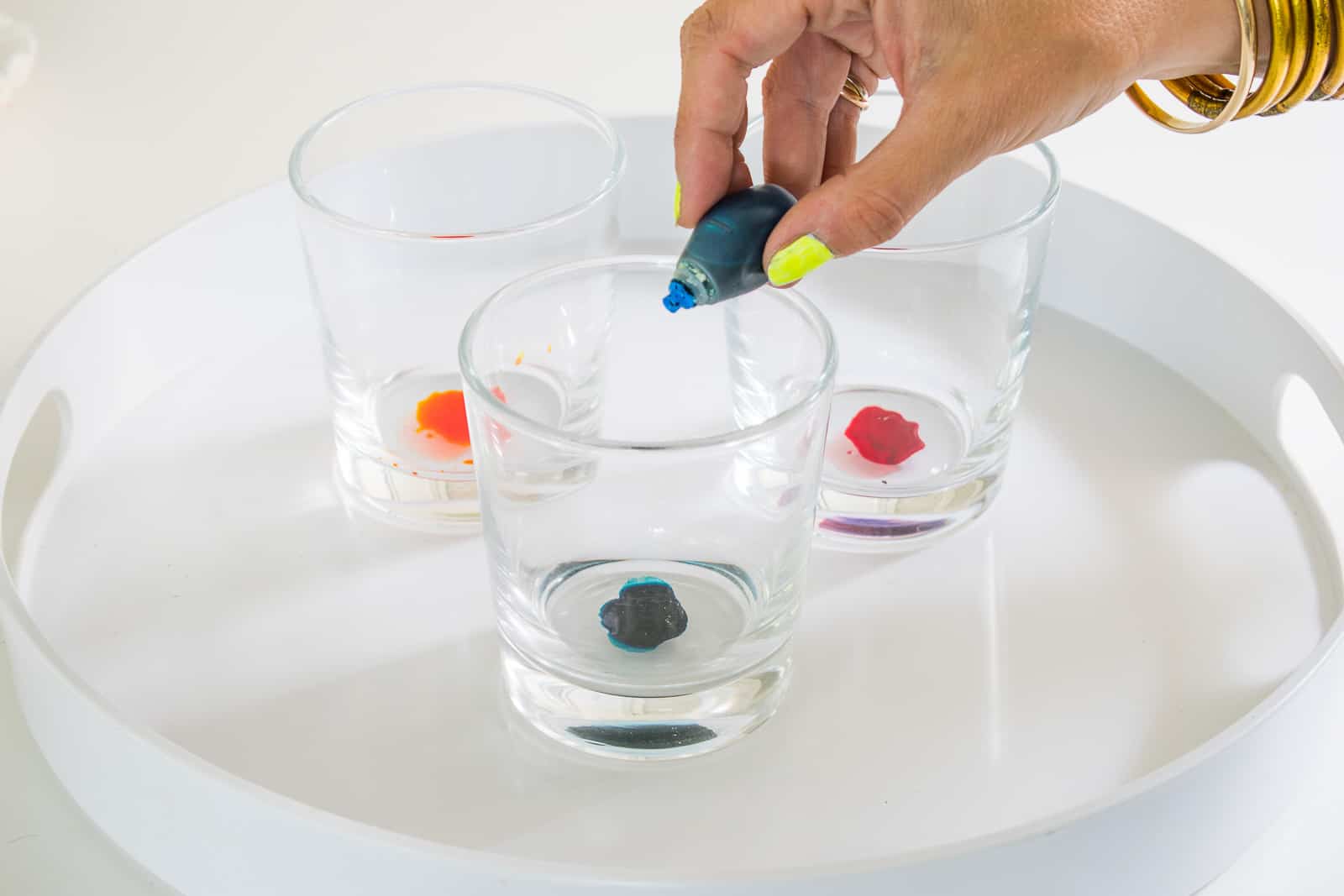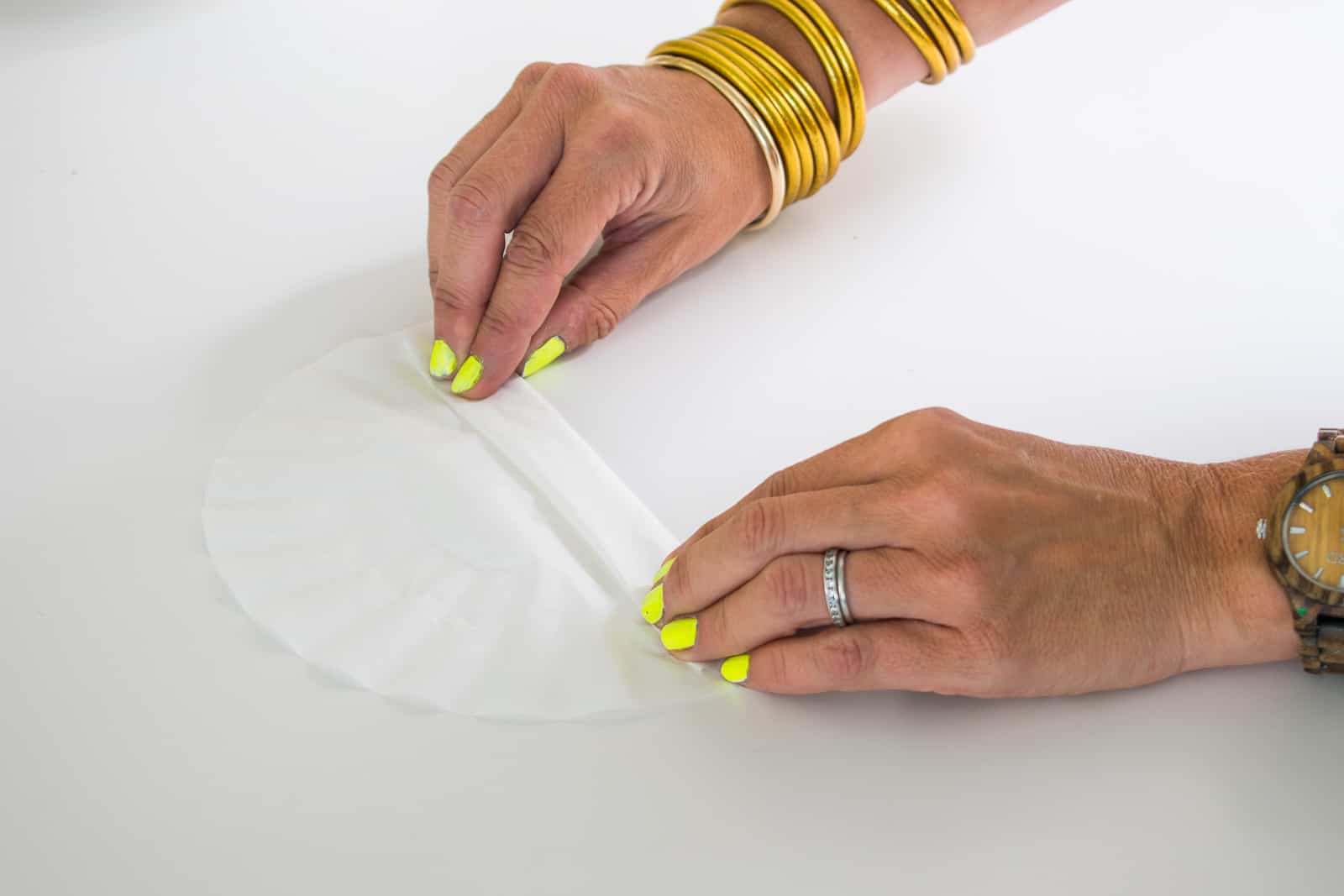 Observations: Your children will notice two things. 1. the liquid will travel UP through the paper towel/ coffee filter and it might even go all the way into the other color… so it really 'moves'. 2. when the two colors meet, something will change. Notice what happens when two colors mix… what colors do they make together?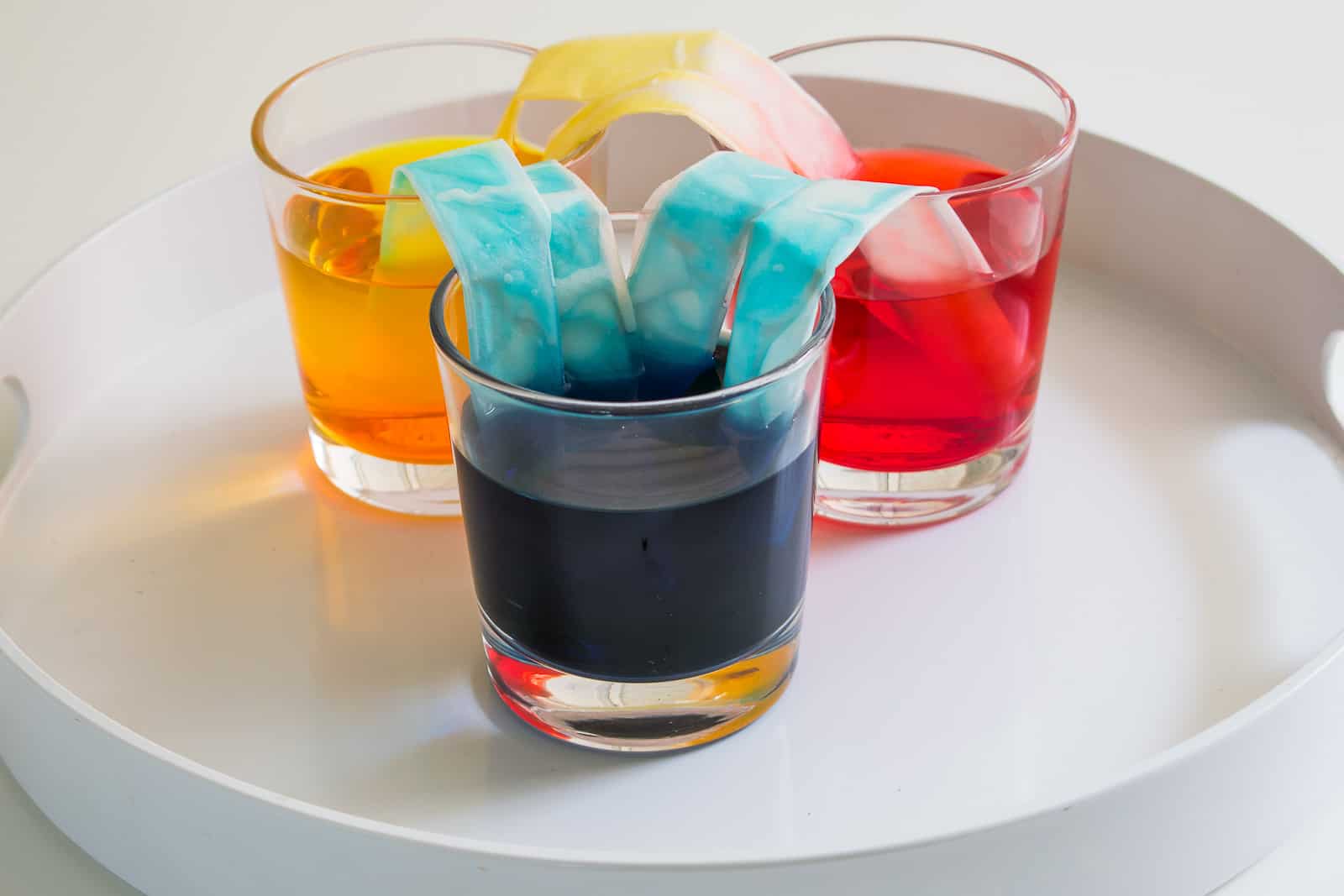 Finale: Let the paper dry and cut out leaf shapes. I drew a branch for Arthur and then he glued the colorful leaves onto his branch.
Materials
Coffee filter/ paper towels
food coloring
containers
scissors
school glue
paper
Activity 2: Sugar Cube Construction
Setup: Using eye droppers and a mixture of food coloring and water, drop the liquid onto sugar cubes. Using eye droppers is an amazing fine motor activity for children as it requires coordination draw the liquid into the dropper and then squirt it back out.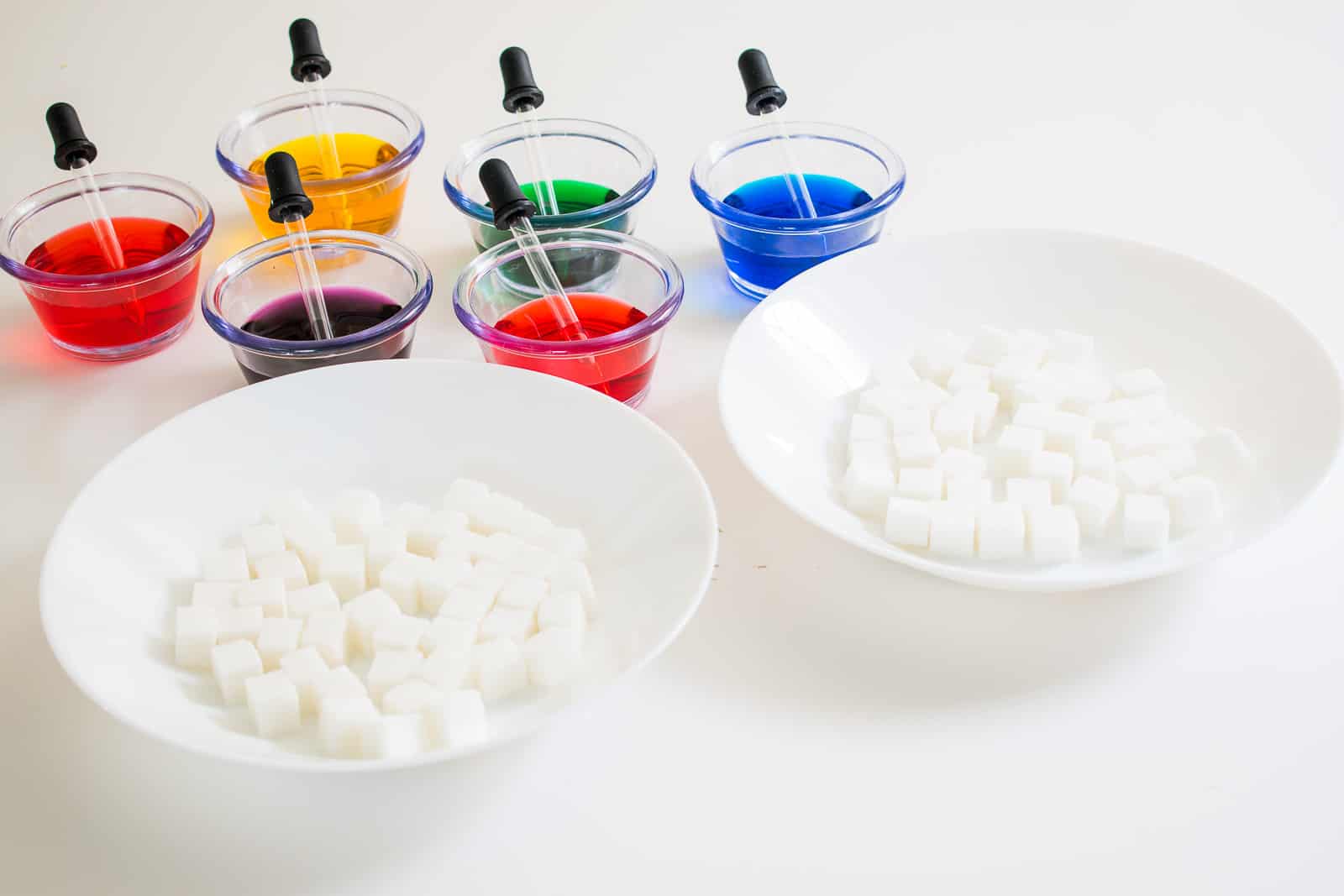 Observation: Notice how the water is absorbed into the sugar crystals. What happens when one single drop hits the sugar cube. Like magic, the liquid will spread down the cube. If children want to experiment, they can also add one drop of one color and another drop of a different color and observe what happens when the two colors mix.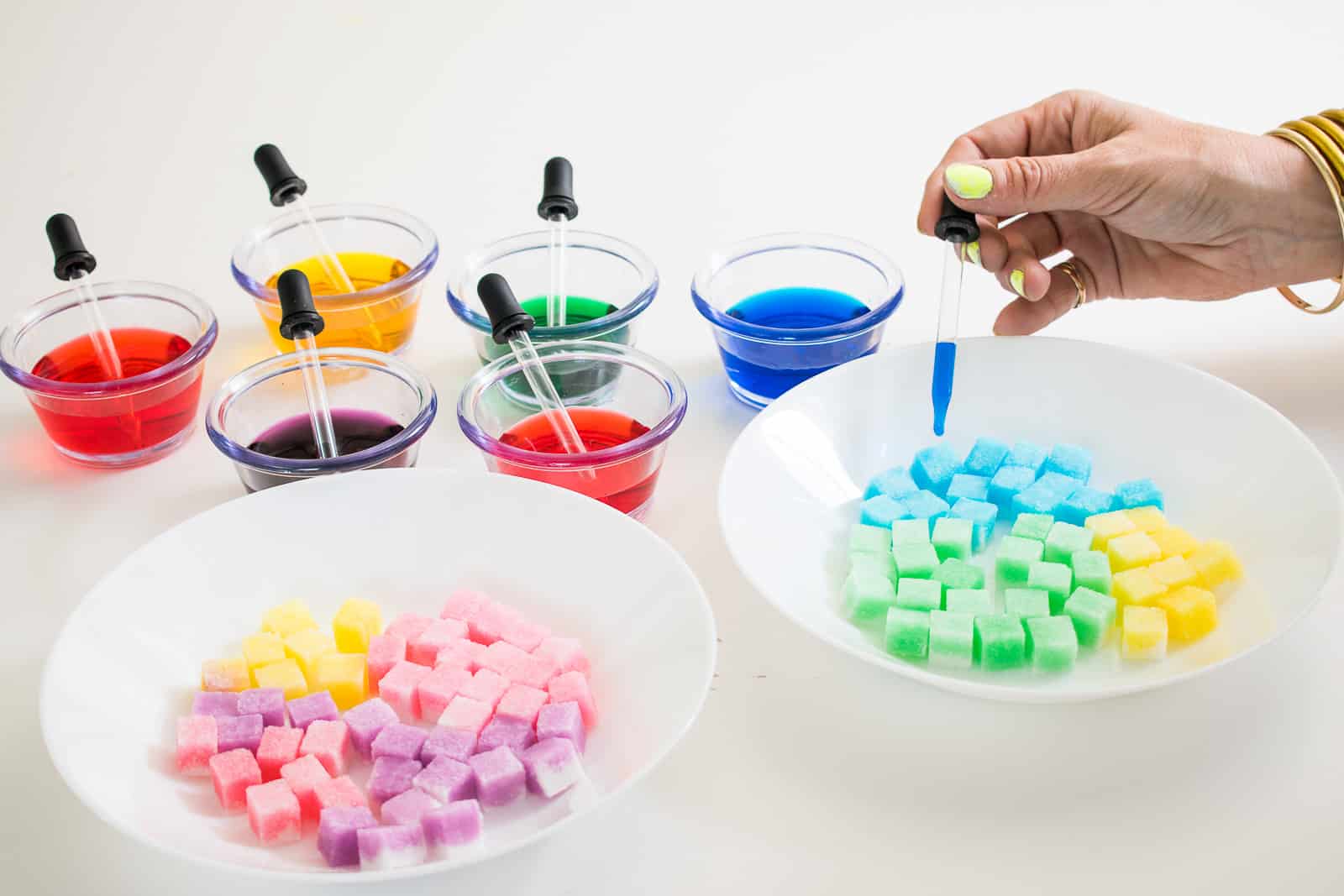 Finale: Let the colorful sugar cubes dry and then enjoy building with them! For permanent sculptures, use school glue to hold everything in place.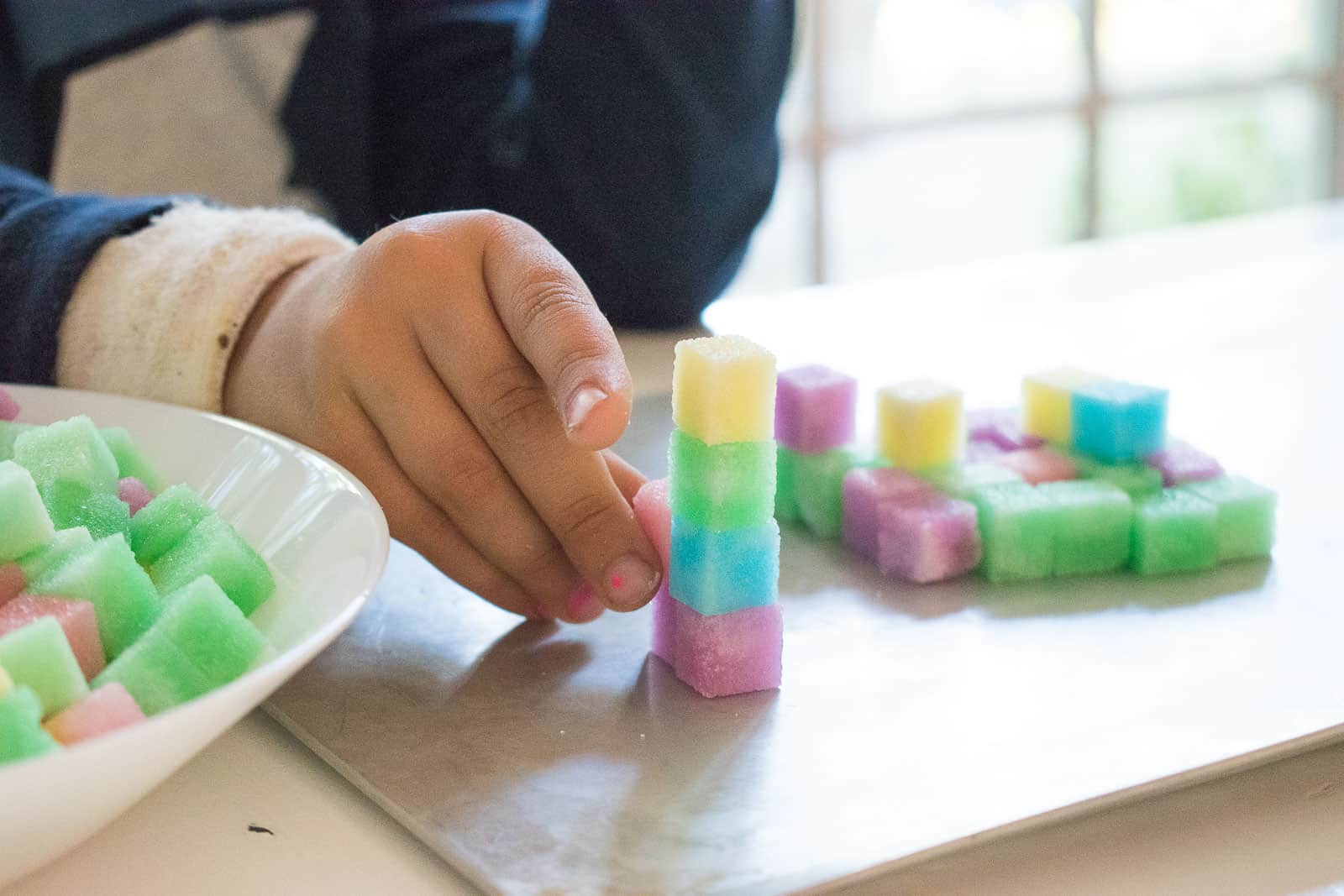 Materials
sugar cubes
food coloring
eye droppers
optional: school glue
Activity 3: Salt Drawing
Setup: Lightly draw a branch with leaves (or any other fall design) onto a sheet of watercolor paper. Go over the pencil line with a solid stream of school glue… a heavier line is better. Children can complete any of these steps without adult supervision, but younger children might need help. Pour an ample amount of table salt over the glue lines and allow to dry.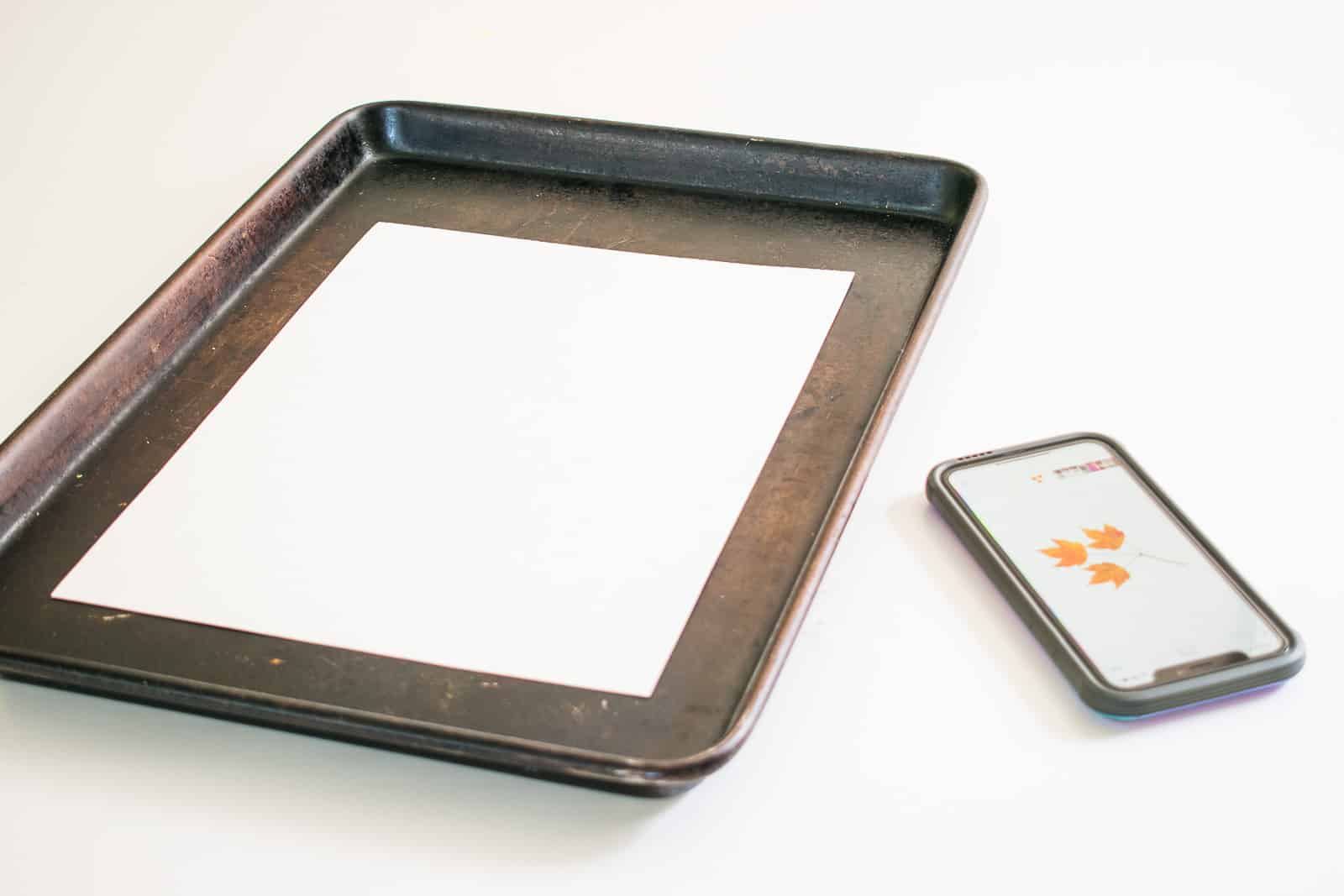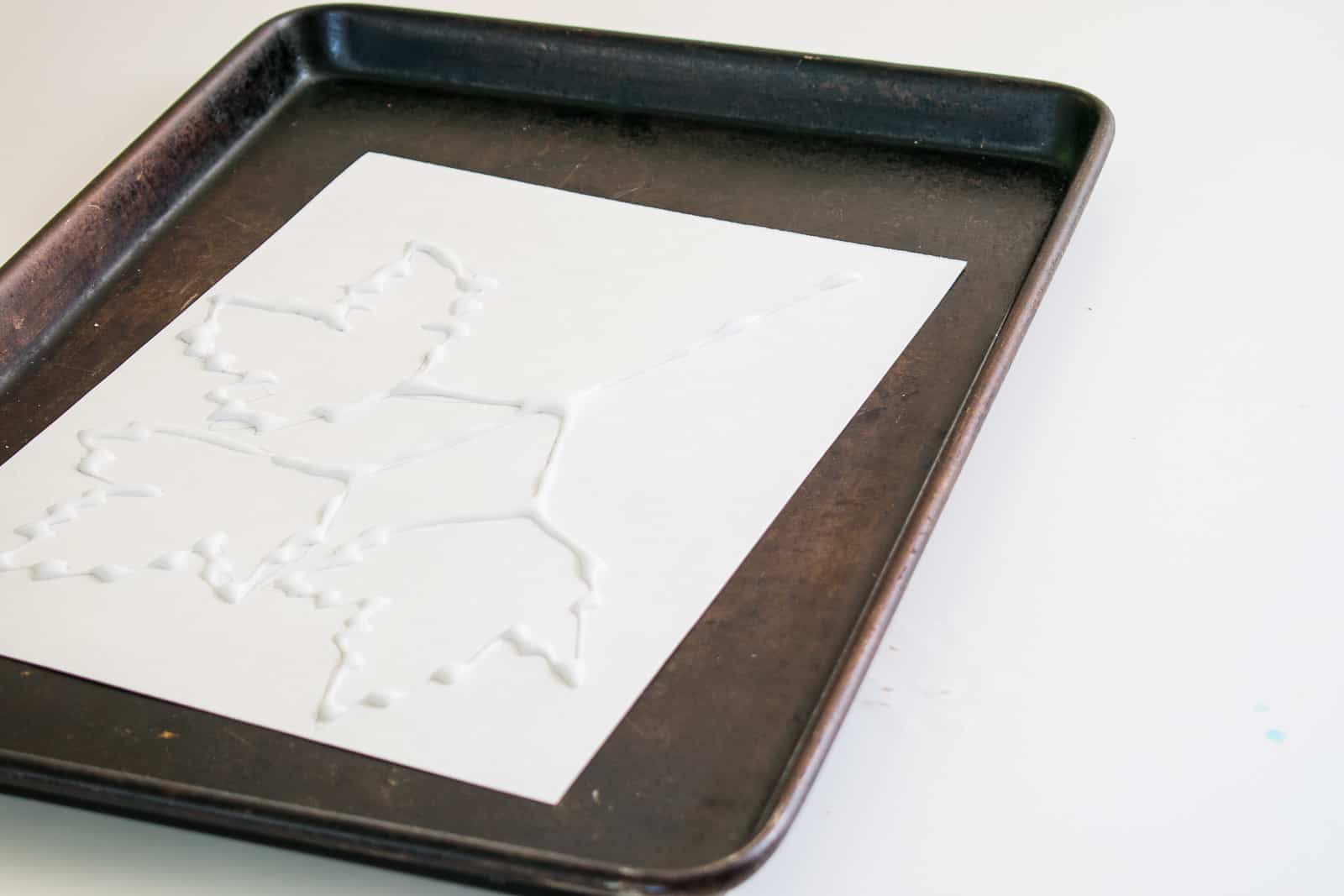 Observation/ Finale: Pour excess salt off of the paper and let the children paint the salt lines. They should notice the watercolor magically spreading through the salt with one touch of the brush. Similar to the sugar cubes, the liquid is absorbed and spread throughout the salt crystals.
Materials
Watercolor paper
pencil
school glue
table salt
watercolor paints
Activity 4: Colorful Ice Cubes
Setup: I purchased these fun leaf molds, but any ice-cube tray will work. Add colored water to the ice-cube tray. I opted again for primary colors: yellow, red, and blue… these are the easiest ways to explore color theory. Freeze overnight.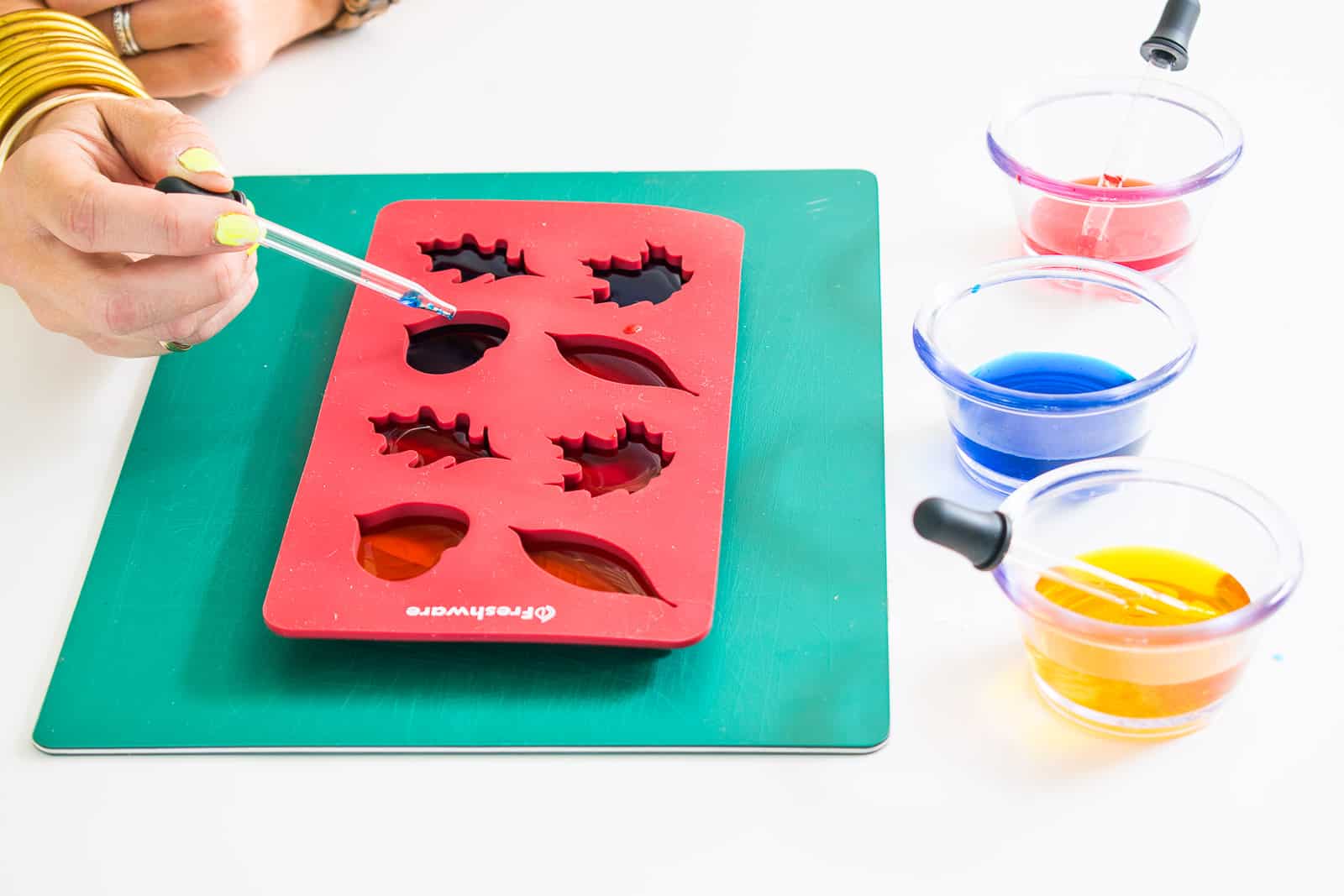 Observations: In a small ramekin, place two different colored ice cubes. What happens next? The ice will melt in the warm air and then notice what happens to the colors. (To accelerate the melting, you can use the eye droppers to slowly add warm water to each ramekin.) Do they mix? Do they change?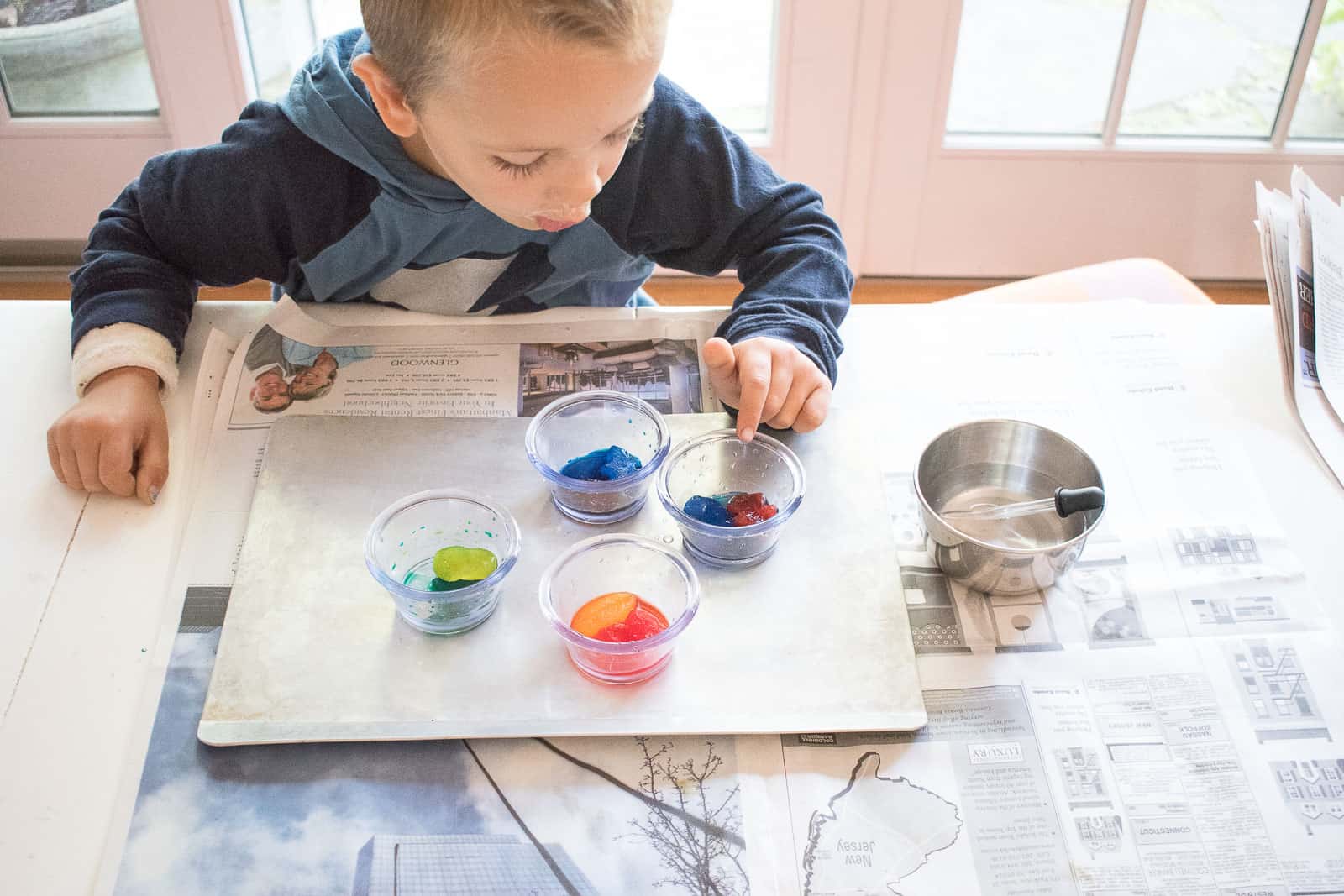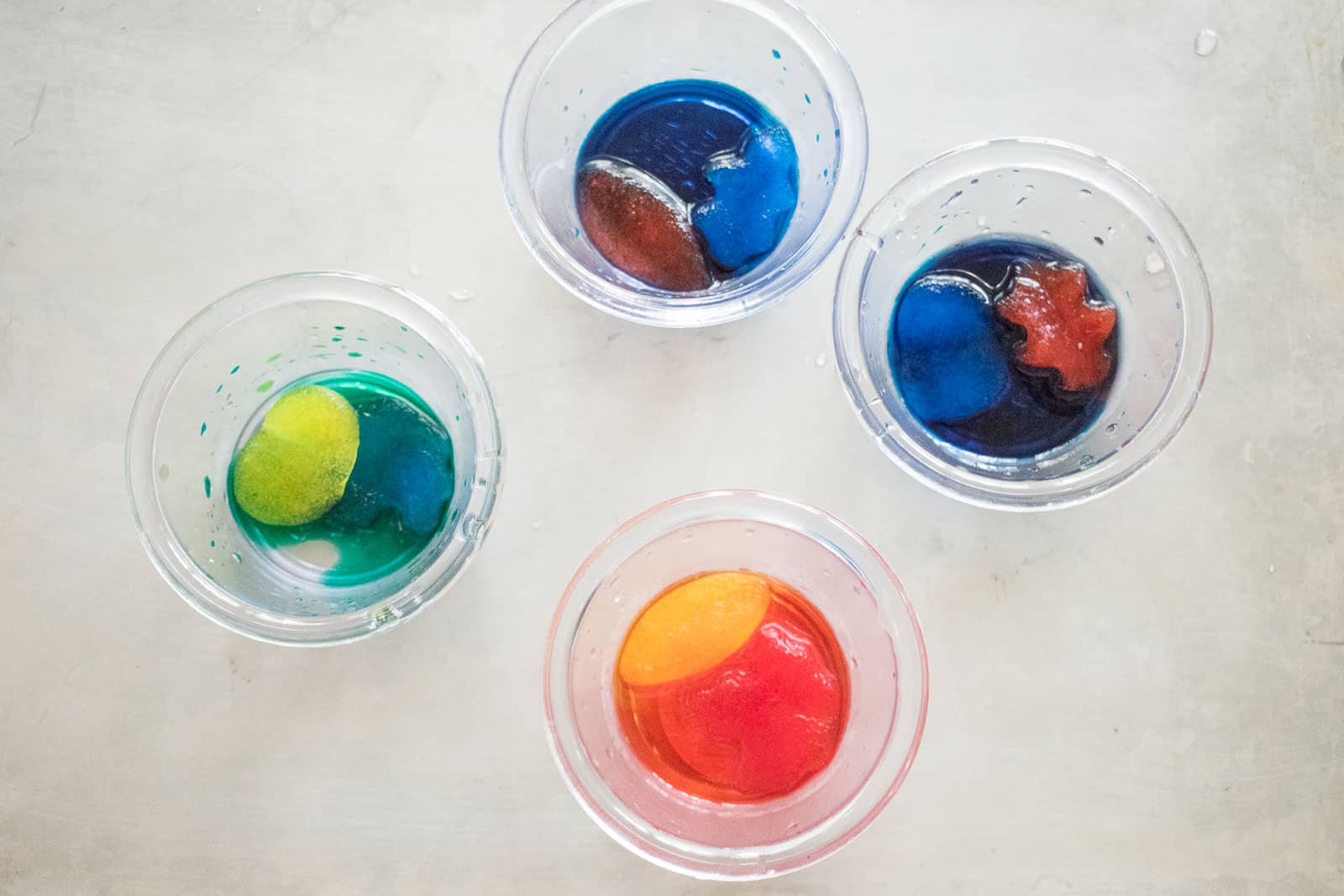 Materials
ice cube tray
food coloring
small ramekin/ container
One thing to consider when doing STEM activities with your kids, is that the discussion and observation is just as important as whatever the 'goal' of the activity is. Encouraging questions and curiosity is such a wonderful aspect of preschool STEM exploration. We are so fortunate that lots of these activities happen at our preschool and I am thrilled to be bringing attention to La Petite Academy and their STEM focused preschool programs. Make sure you head over to their website to see if there's a La Petite Academy preschool near you and Schedule a tour today!!