Design Plans for the Fall One Room Challenge
Today I'm revealing which space I'm making over for this Fall's One Room Challenge!
You'll have to forgive me if this post reads differently than others… it's hard to type as I hyperventilate into a paper bag. Let's get the gushing out of the way: I am beyond honored to be joining this wonderfully eclectic and diverse group of designers for this fall's One Room Challenge! The One Room Challenge is a glorious six week endeavor in which a group of featured designers and guest participants make over a space in their home. Each week we'll share our progress towards the big reveal on November 6! I've played along a couple of times as a guest participant: I tackled the dining room in our old house,  an upstairs bathroom and of course my favorite… the She Shed.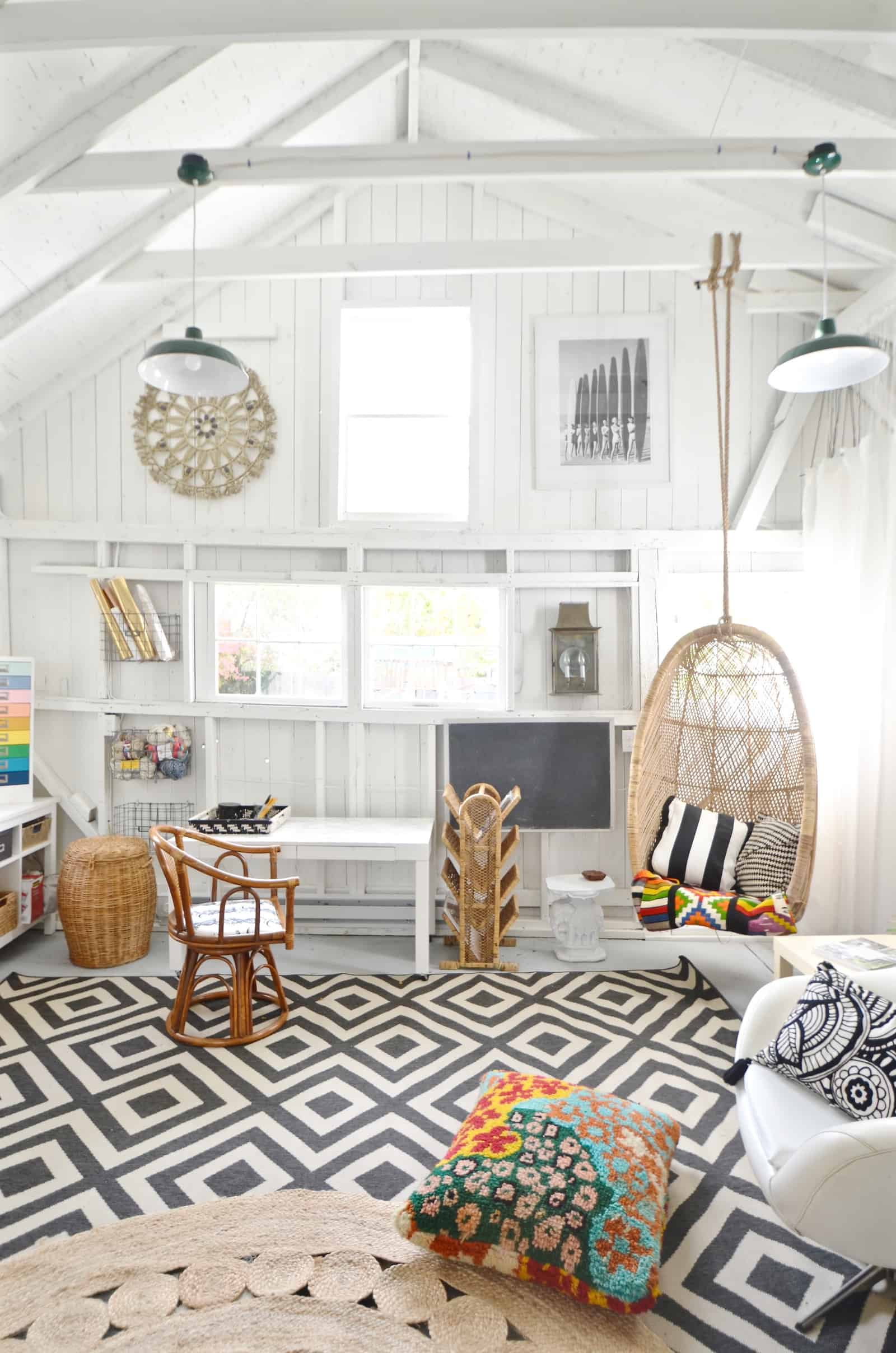 About Me
If you've gone down the One Room Challenge rabbit hole and have landed here not knowing anything about me… head over to my About Page for the full scoop. My name's Charlotte. I live in Connecticut with my husband and 5 kids and I love color. There's too much chaos in my house for me to be precious about design… I decorate on a budget of Cheetos and string cheese and try to create spaces that are bright and cheerful.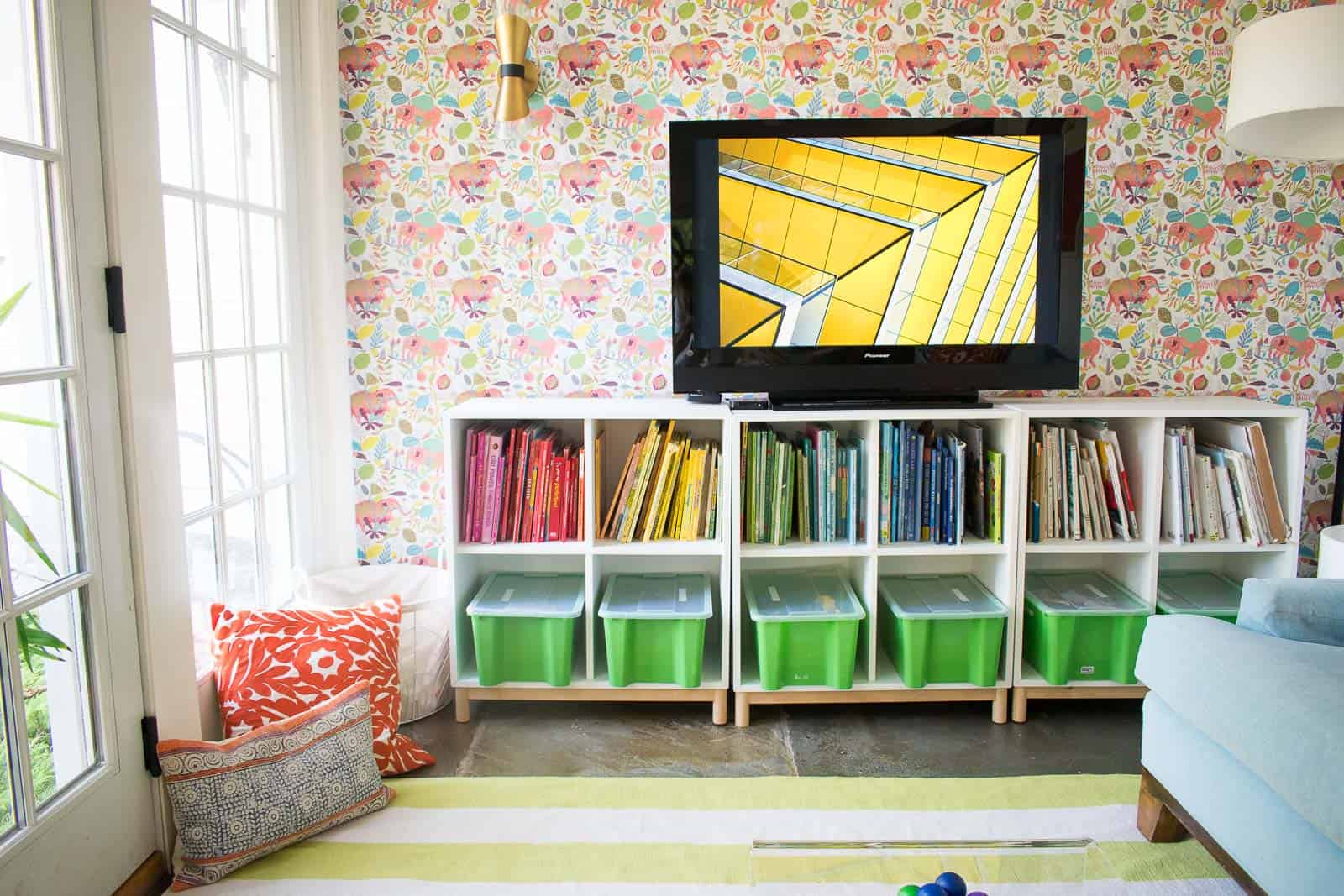 One Room Challenge Design Plan
Today I'm going to share the space I'm taking on as an official featured designer. Reminder that we're renting so I can't take on anything extensive like a bathroom or a kitchen. In a full circle moment from my first ORC, I've decided to redesign our… DINING ROOM.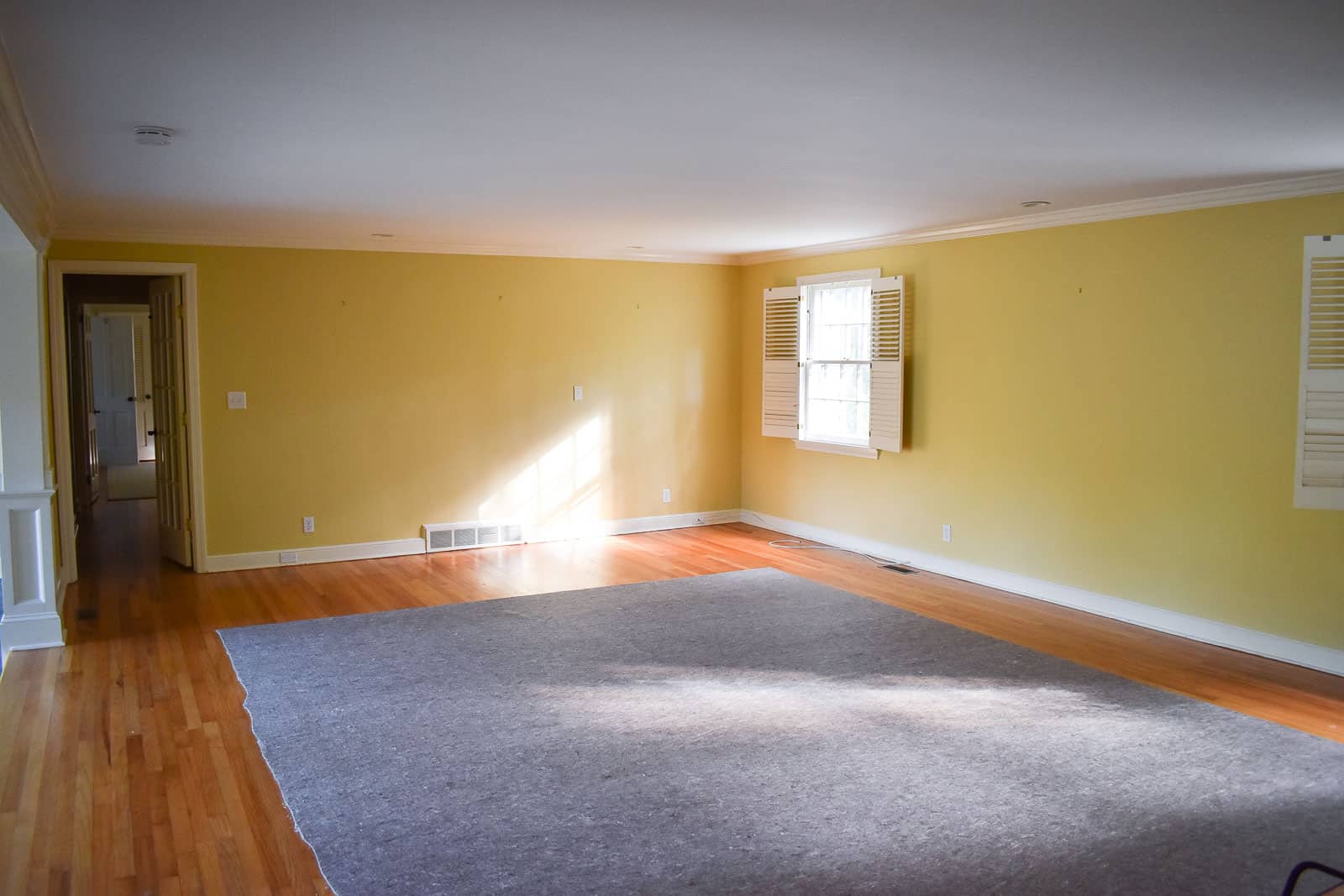 Technically I'm lying already, though, because our dining room in the rental is connected to our formal living room so it's kind of two spaces in one. I've done *nothing* to this space since we moved in other than plop furniture. And if I'm being honest, probably too much furniture. It's my gift.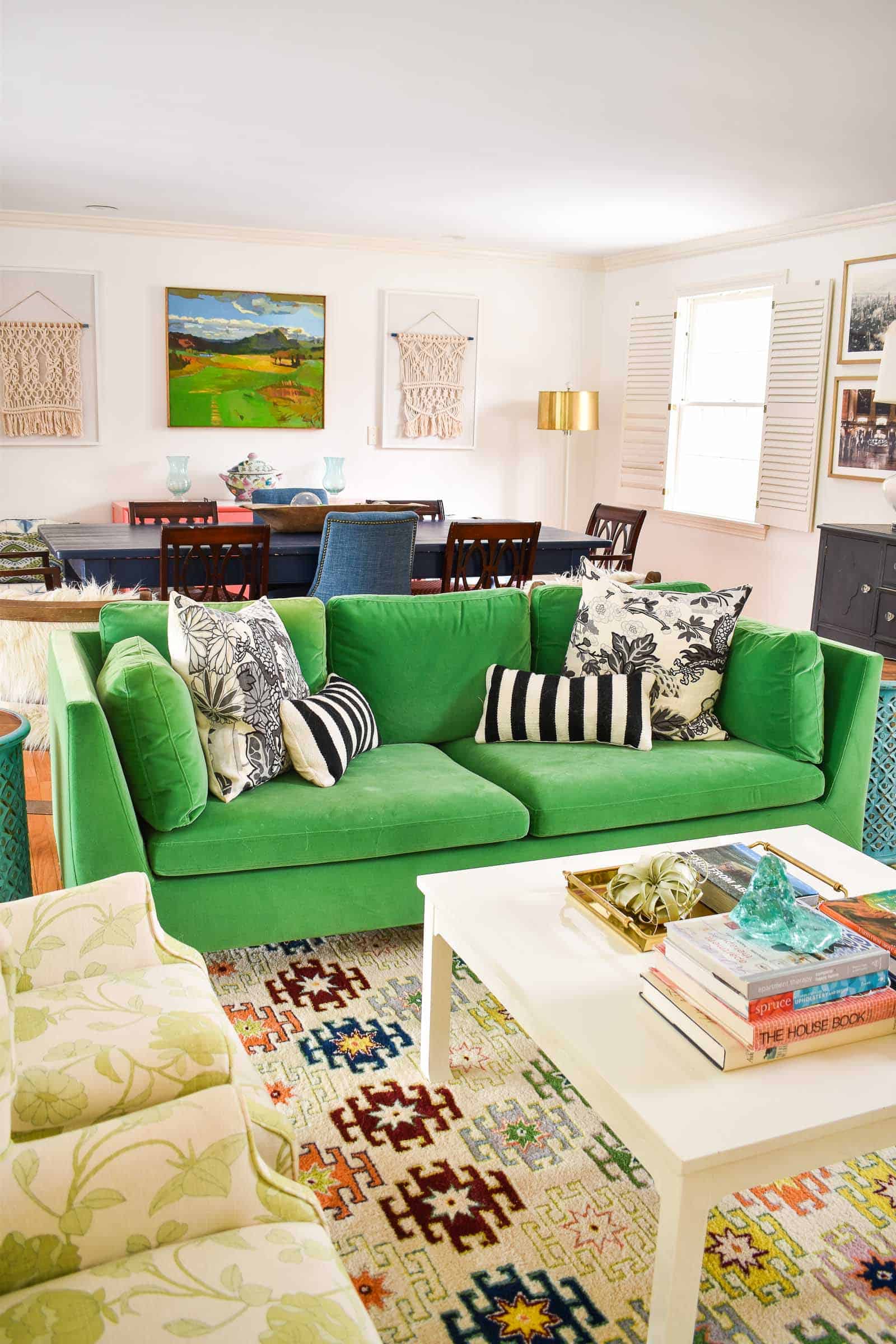 Let me walk you through my plans for the space. (Mostly so you can hold me accountable!!) The first thing that's going to happen is that a lot of the furniture is going to get an upgrade. With the exception of my green Ikea couch, every single piece of furniture you can see here is thrifted. I painted the pink sideboard, I painted the blue dining table, and I painted the gray sideboard. The dining chairs from eBay were recovered (twice!) and the side chairs were restuffed and reupholstered. Both pairs of chairs in the dining room were reupholstered estate sale finds and that white coffee table was from Facebook marketplace. That might be a record in one room even for me!
I'll keep some of these pieces in storage but will sell all the others (if you're local and interested… hit me up!). This house has much lower ceilings than the old house, so I'm drawn to simpler furniture with clean lines. Raymour and Flanigan is working with me to provide a handful of items around which I can fill in. I've also been obsessed with the idea of a chinoiserie jungle mural for… awhile. I'm bringing in one of those too!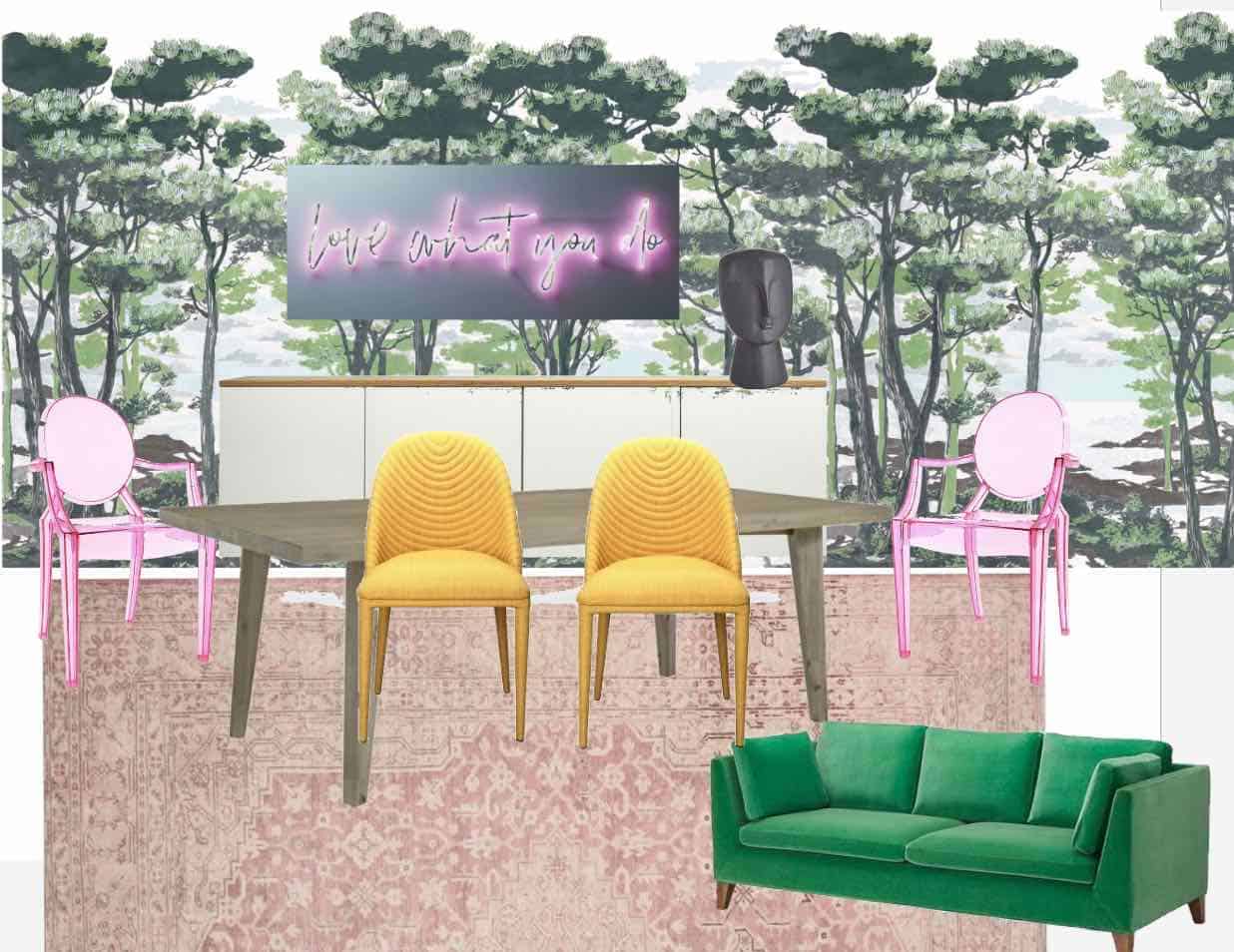 The wall between the windows will look a little different. I've picked out some curtains to add a little visual interest and swapping out that large sideboard. I'm hoping the curtains and the mural might trick your eye into thinking the ceilings are a bit higher in here, but we'll just have to see! Fingers crossed!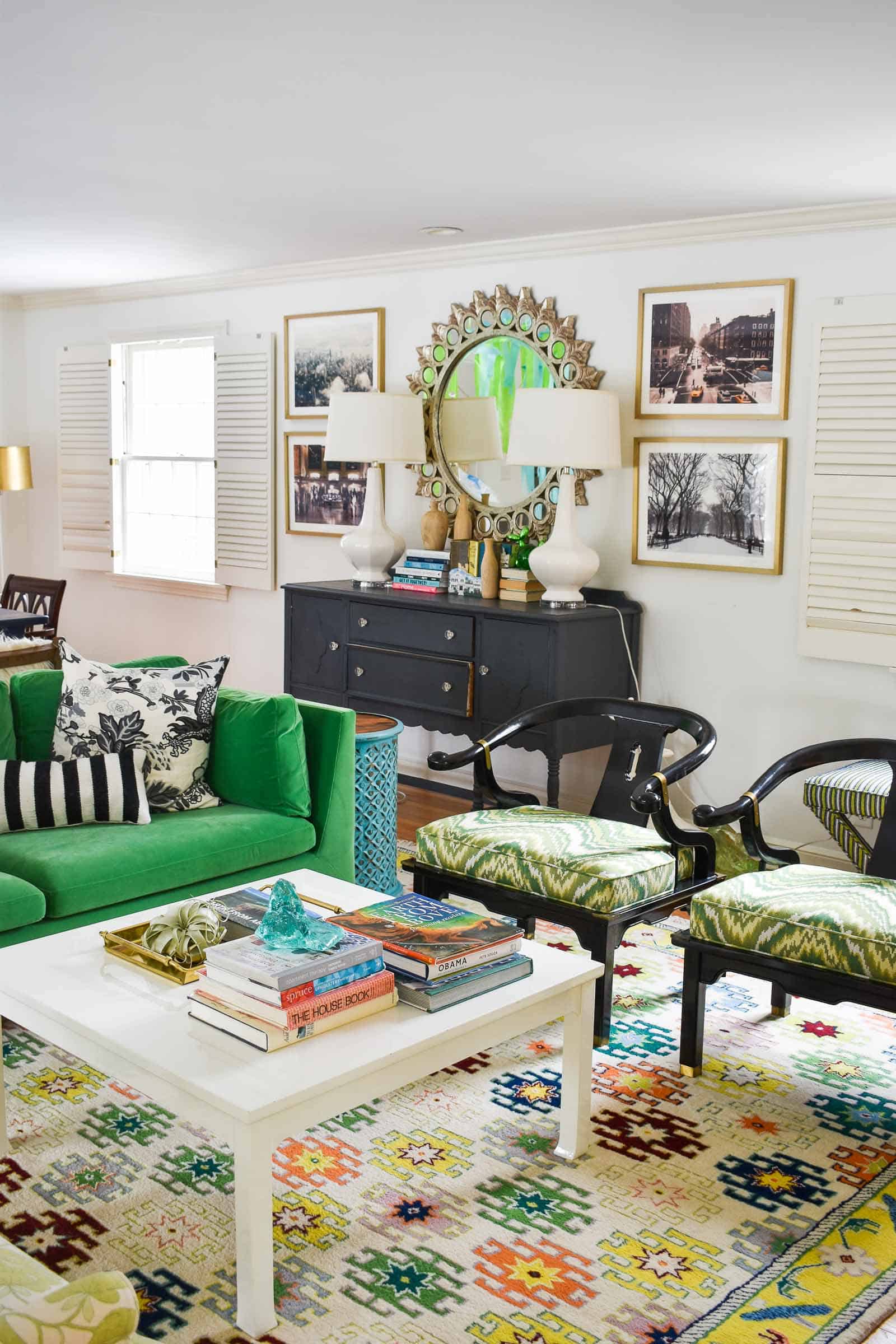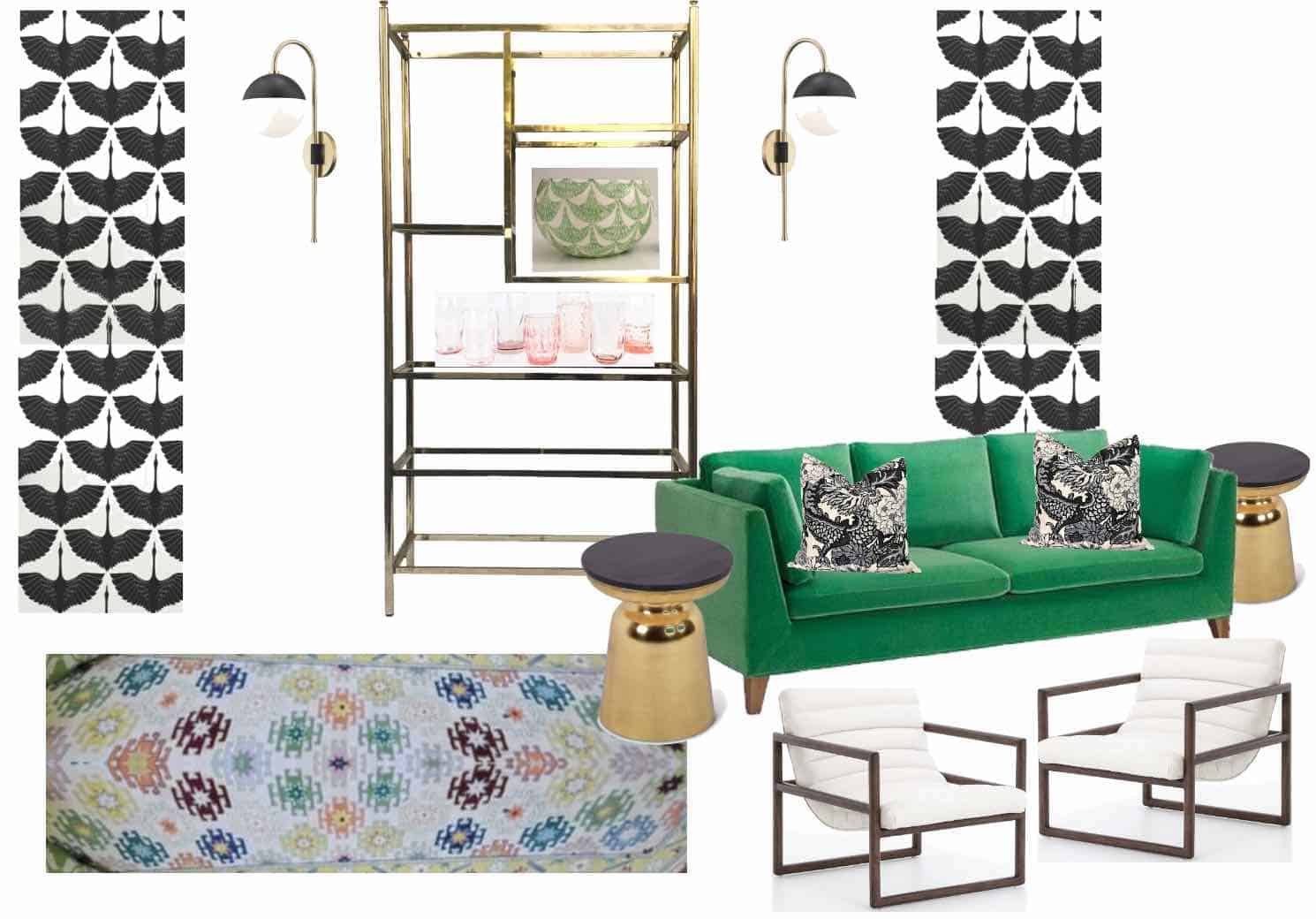 We painted this room white before we moved in so I can incorporate lots of new fabrics and textiles. Curtains, rug, pillows. I've already started searching the flea market for some fun accessories, and I have plans for a new gallery wall somewhere in the space. Below is a mock up with a combination of purchased, thrifted, and DIY wall art!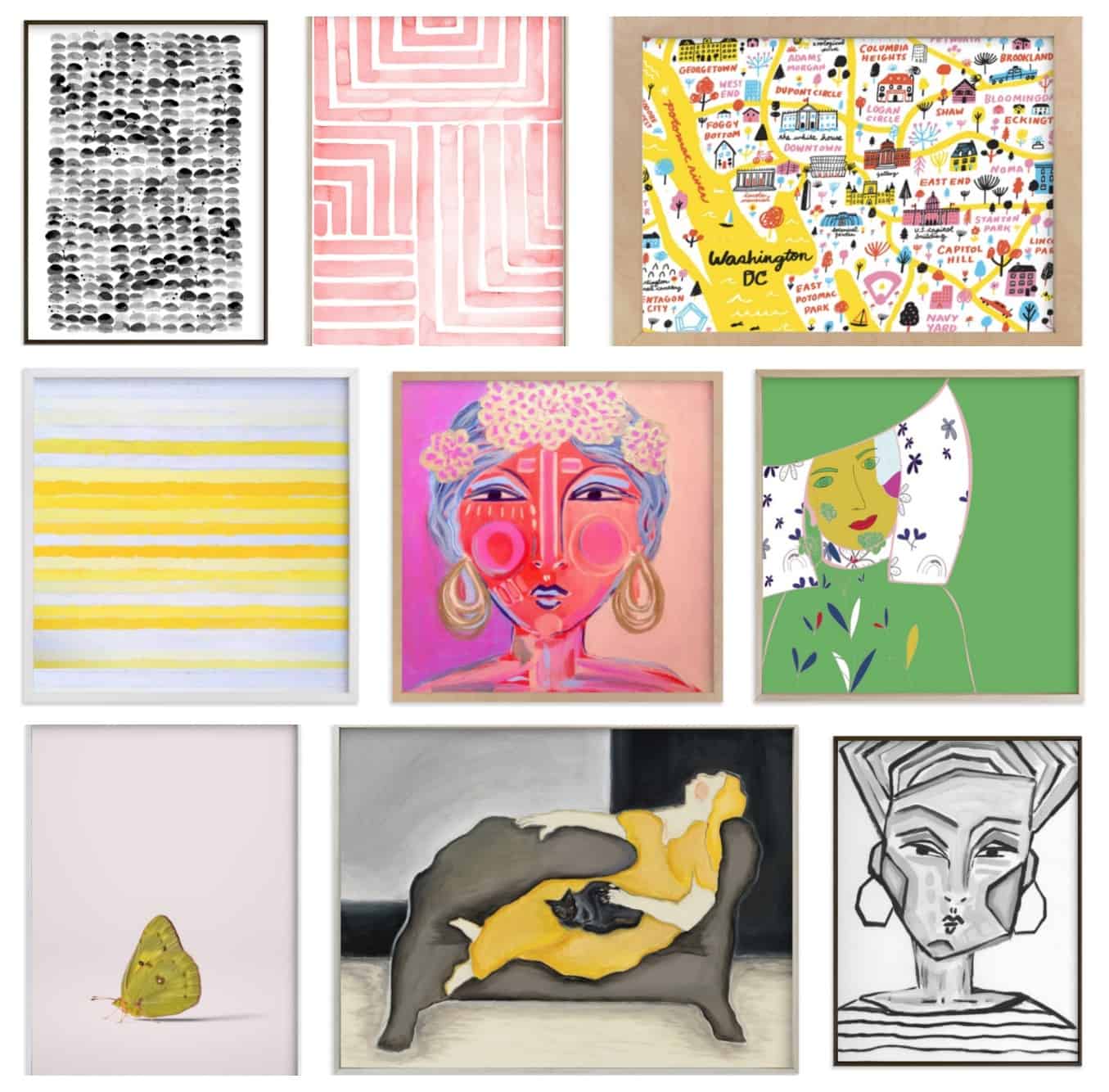 So that's the "plan". Putting it all in a vision board really helps to see how colors and patterns will work… but I never truly know how it will all come together until I see the actual items in the space. (I wrote this post about how I make vision boards.) And the more creative I get with the designs… the more nervous I get about the finished results!
Just to recap, here's my To Do list (so far):
Wallpaper
Curtains
New wall sconces
DIY chandelier
Gallery wall
DIY art
New furniture
Tune in next week to see my progress! Wish me luck!!
The best part about the One Room Challenge, in my opinion, is the chance to follow along as this collective group of designers works on their space all at the same time. Make sure you get to know my ORC teammates below and see what spaces they're taking on!
Design Addict Mom | Erika Ward Interiors | Erin Kestenbaum | Girl & Grey
Gray Malin | Hommeboys | I Spy DIY | Jewel Marlowe | The Learner Observer | Making it Lovely
Nicole White Designs | Old Brand New | Oscar Bravo Home | Place of My Taste | The Rath Project
Room for Tuesday | SG Style | Undecorated Home | Veronica Solomon | Media BH&G | TM by ORC