Disclosure: Sometimes it takes a village to pull of a room reveal and this is no exception. I had some help from the AMAZING folks at Lacefield Designs who sent along the fabric, BoomBoom Prints generously gave Eleanor the custom colored print and Americana Decor let me check out their flawless chalk paint. A million gold stars to everyone!
If you had told me six years ago that I would be designing a FUCHSIA bedroom… I would have cringed. And balked. But mostly cringed. Well, today… my daughter and I are THRILLED by her new amazing bedroom!
In the old house, Eleanor shared a room with her brother. When we told the kids we were moving, I was most worried about Eleanor and her attachment to the old house. To help 'sell' her on the new house, we spent some time talking about HER room. Kinda sorta bribery. Well, it worked! She started thinking about what sort of things she'd like in her room: fuchsia, a fancy mirror, and a big bed were a few items on her rider. She also asked for a canopy and a fancy chandelier. Can't please 'em all. Reminder that this was how the room looked before. Yellow. And random.
I got rid of the yellow and gave the walls a coat of paint. The power of paint is always amazing to me… the new color alone brightened up the space and made it feel so much chic-er. Thanks to the beauties at Lacefield Designs, I was able to give her the centerpiece of this room: the amazing curtains. Lacefield sent me fabric for free but… I begged and pleaded (pattern shown is no longer for sale on their site). It makes the room methinks. (I started to write a post about the curtains but I made them just like I did here… just without the lining.)
I didn't want the room to be allllllll pink, so I kept her pretty green bed as is (Geranium Leaf by Behr) and painted this old wooden loveseat I picked up at the flea market. I recovered the fabric with this fun pattern I grabbed "for later" at Ikea months ago. The colors work perfectly!
The dresser got a coat of the prettiest pale pink (Promise) that the kind folks at Americana Decor sent over… not too bright, not too light. Went on like a dream and takes the edge off the bright pink curtains.
It's hard to miss that fun graphic print, right? I worked with the folks at BoomBoom Prints to bring in something fun and graphic and… "E For Elephant" is perfection. Both colors can be customized so naturally Eleanor chose pink on pink. (I tried to make a case for a white background, but Ms. Pinktastic was having none of it.) The frame cost me $10 at the flea market- $5 for the lovely outer frame and $5 for the glass. I gave her a coat of this amazing new Magenta color from Rustoleum and it's such a statement!
A wicker headboard I picked up a year ago hangs on the wall (again I make the case for a good solid furniture hoard), and her requested 'fancy mirror' is layered right on top.
The killer MCM (mid-century modern) desk seat was $30 at the flea market and I simply gave it a coat of Rustoleum's vinyl spray paint… these kids climb and jump all over the seats so a shiny vinyl surface is perfect! I can reupholster when everyone is past the parkour stage of play around here.
I always love to have fun with accessories in a room like this… for her desk storage, I found this fun bread pan at the flea market to corral her many MANY pens. The Girls Rule sign was another amazing flea market find.
Throw pillows, door hooks and fun quote are from Homegoods and the paper unicorn and light up E were the results of my first ever trip to a Hobby Lobby.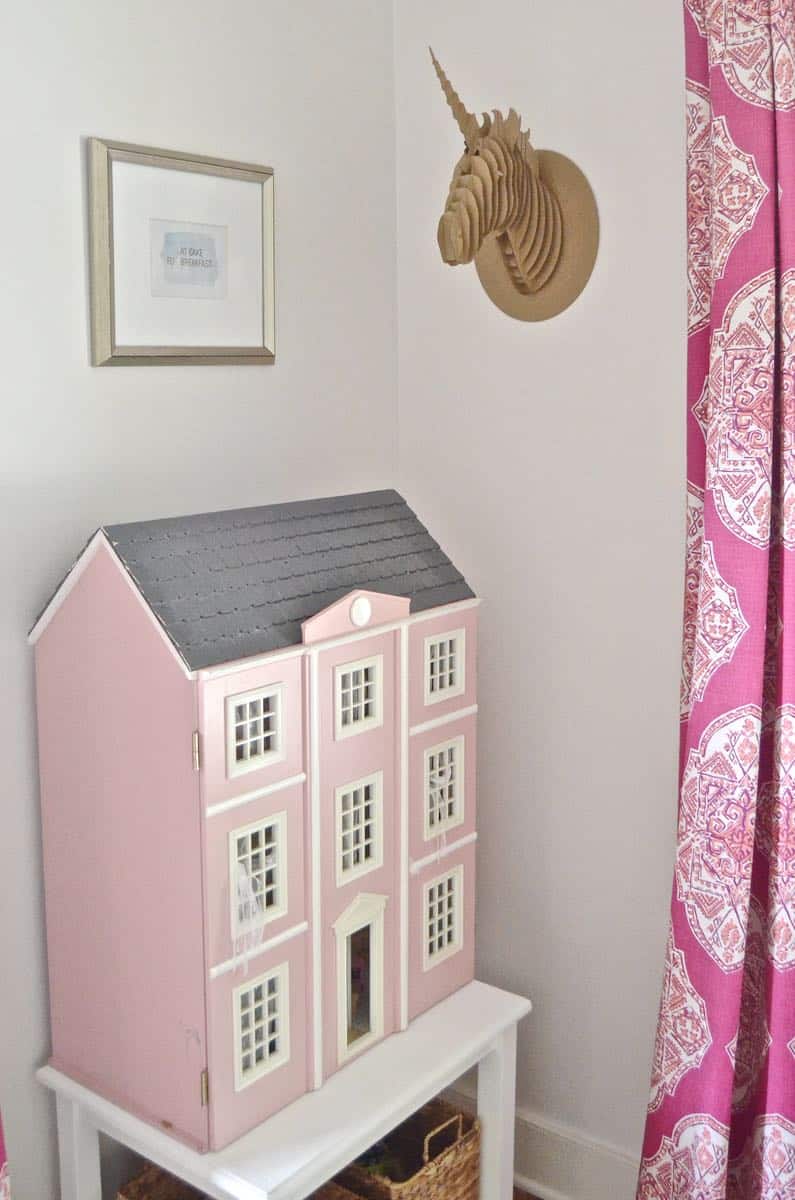 Oh! I didn't get a fancy chandelier for her, but this white ceramic floral lamp is everything. Ten dollars. TEN!!! Like, what?!
Are you seeing pink yet? Yeah… I know. It's a lot. But you know who LOVES it? Eleanor. She just beams every time she goes in there which makes all the painting and flea market schlepping totally worth it.