The Home Depot provided me with product and compensation. The opinions I have shared about the products are me own. Affiliate links to products included for your convenience!
When we moved into this house two years ago, the third floor bedroom was essentially a drop zone for any furniture that didn't have a real home. The best part about the room was having a wall for my embroidered art collection, but the rest of the room wasn't nearly as fun.  I love an eclectic space, but not when it begins to look… shabby. The walls were peeling, the pattern mixing was a little much even for me and MOST problematic… my $35 Craigslist beds were peeling apart and chipping. I'm all for shabby chic, but c'mon… wood veneer on the bedspread wasn't the look I was going for.
BEFORE:
Updated Guest Room with New Upholstered Headboards
Which brings me to my revelation for this post: you guys, Home Depot has HOME FURNISHINGS! That officially makes it my #1 spot for everything aside from my Lucky Charms cereal.  Among other things, I swapped out my crumbling Craigslist headboard for  these upholstered Baxton Studio beauties
and simple metal bed frames
 and they're basically rocking my world.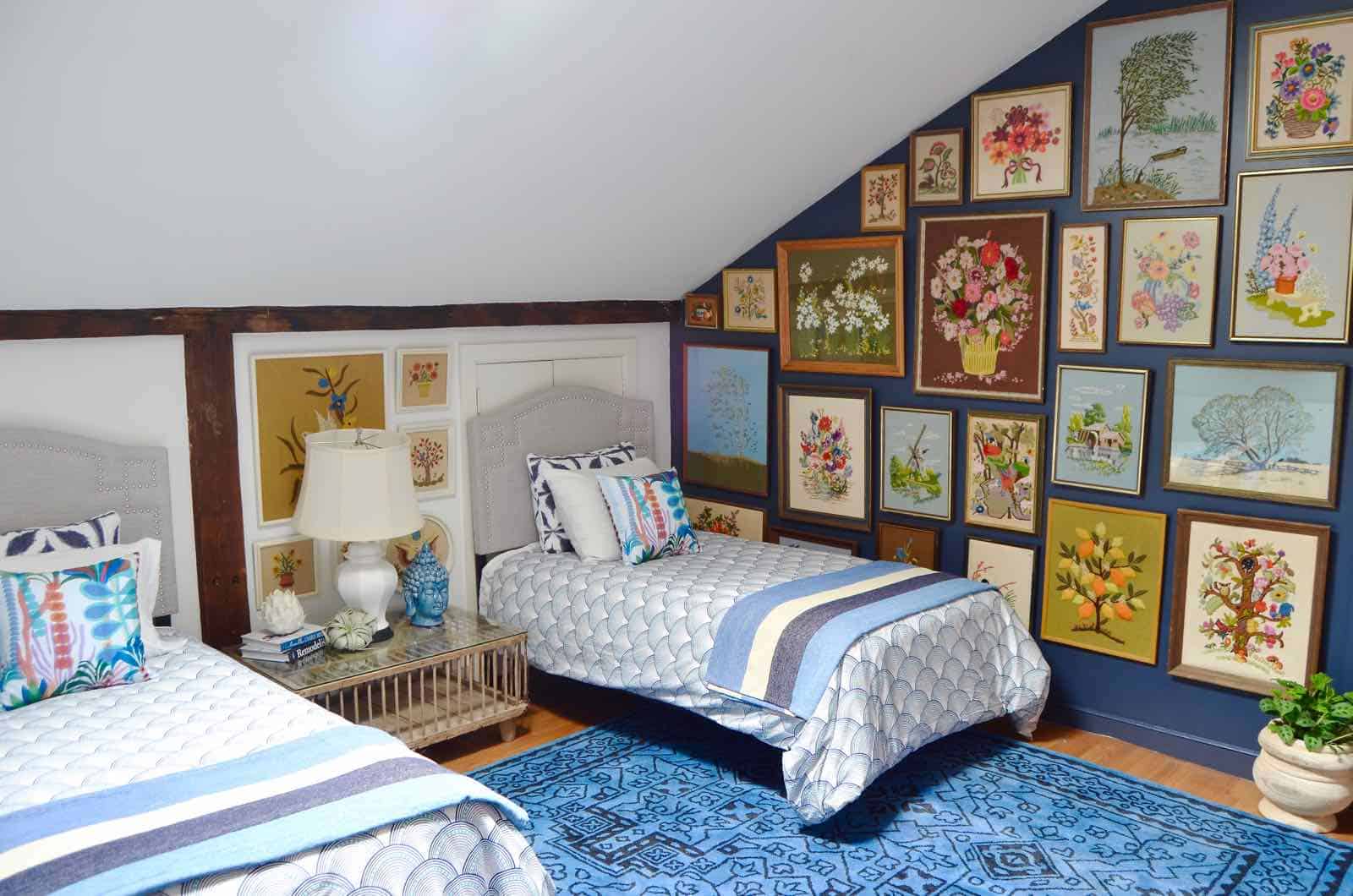 I wanted to bring in upholstered headboards up here to soften the whole space. I LOVE the nailhead detail and the way it contrasts a bit with the uber thrifted quality of the gallery wall. I'm NOT a designer, but I always try to bring in a little 'tension' or an 'opposite' to my rooms to balance the vibe a bit.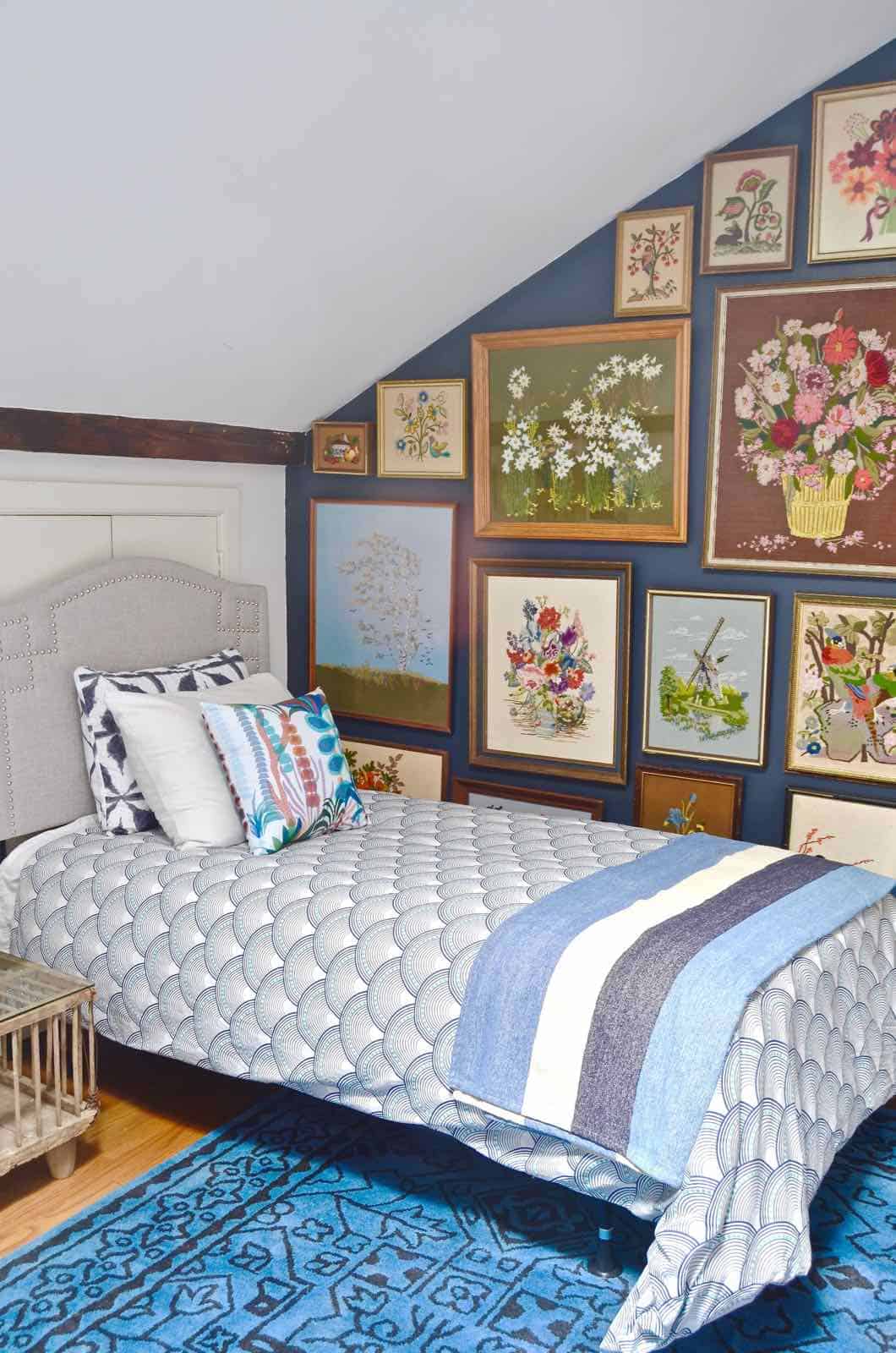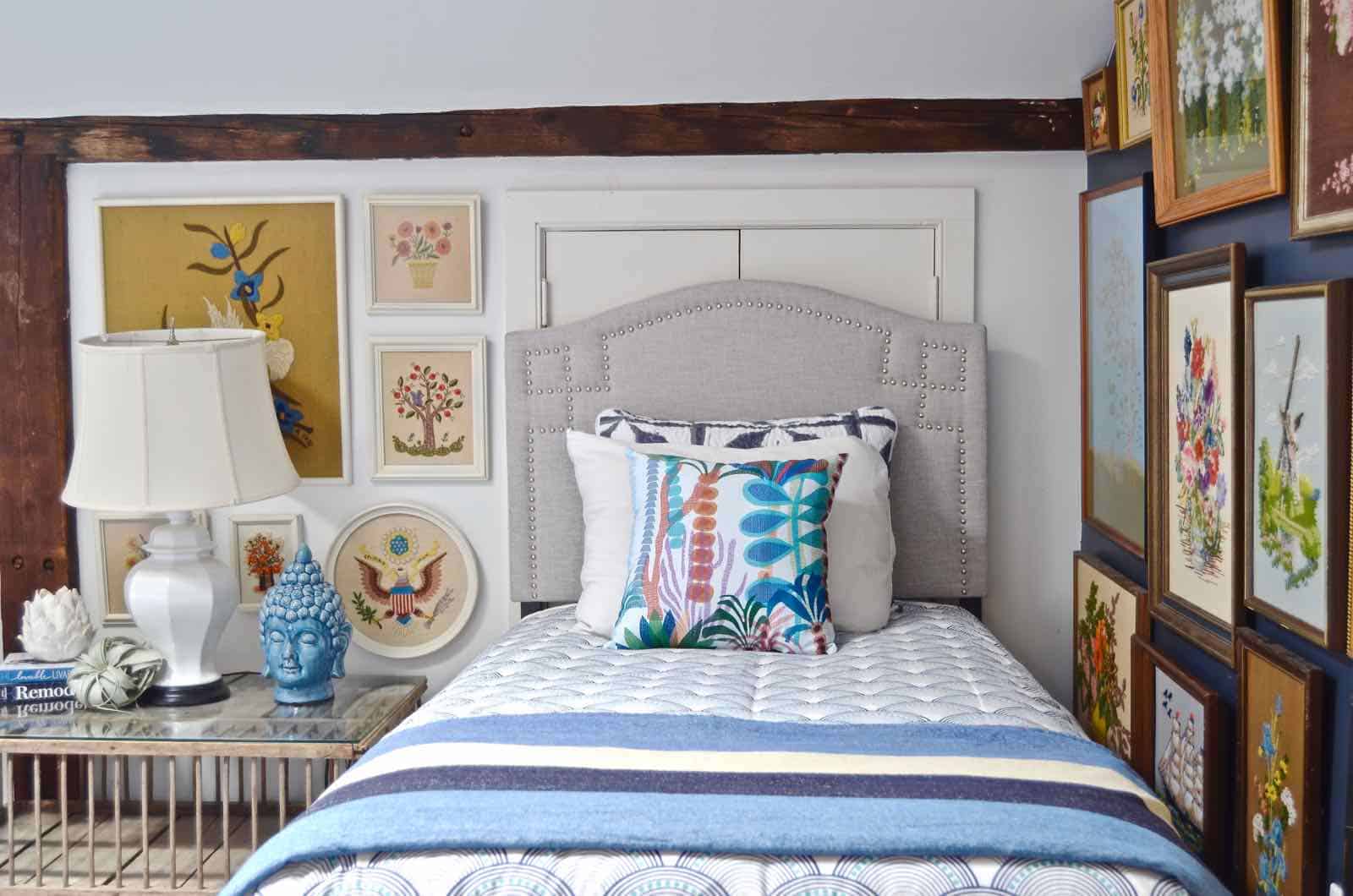 The gallery wall up there is textural and colorful and has so much character that in this situation I actually wanted the headboards to sit there regally without competing too much with the artwork.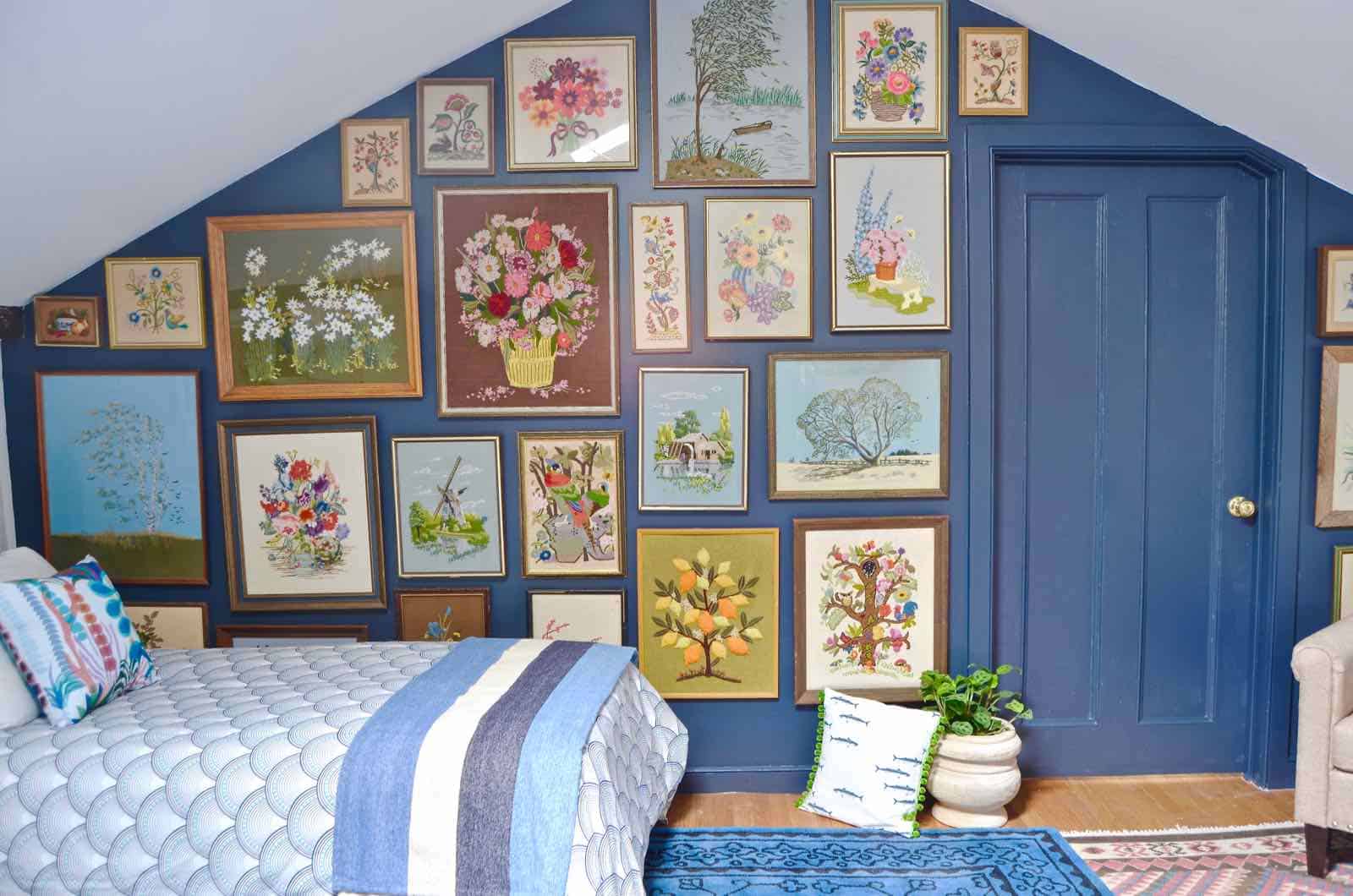 I decided to paint the one wall and door a rich navy blue so the flea market textile art would stand out. Those soft throw blankets
have all my favorite blues and pull together the dark color of the wall and the bedding/ throw pillows with the neutral perfection of the headboards. Pro tip: something as simple as the right accessory can truly bring together a room.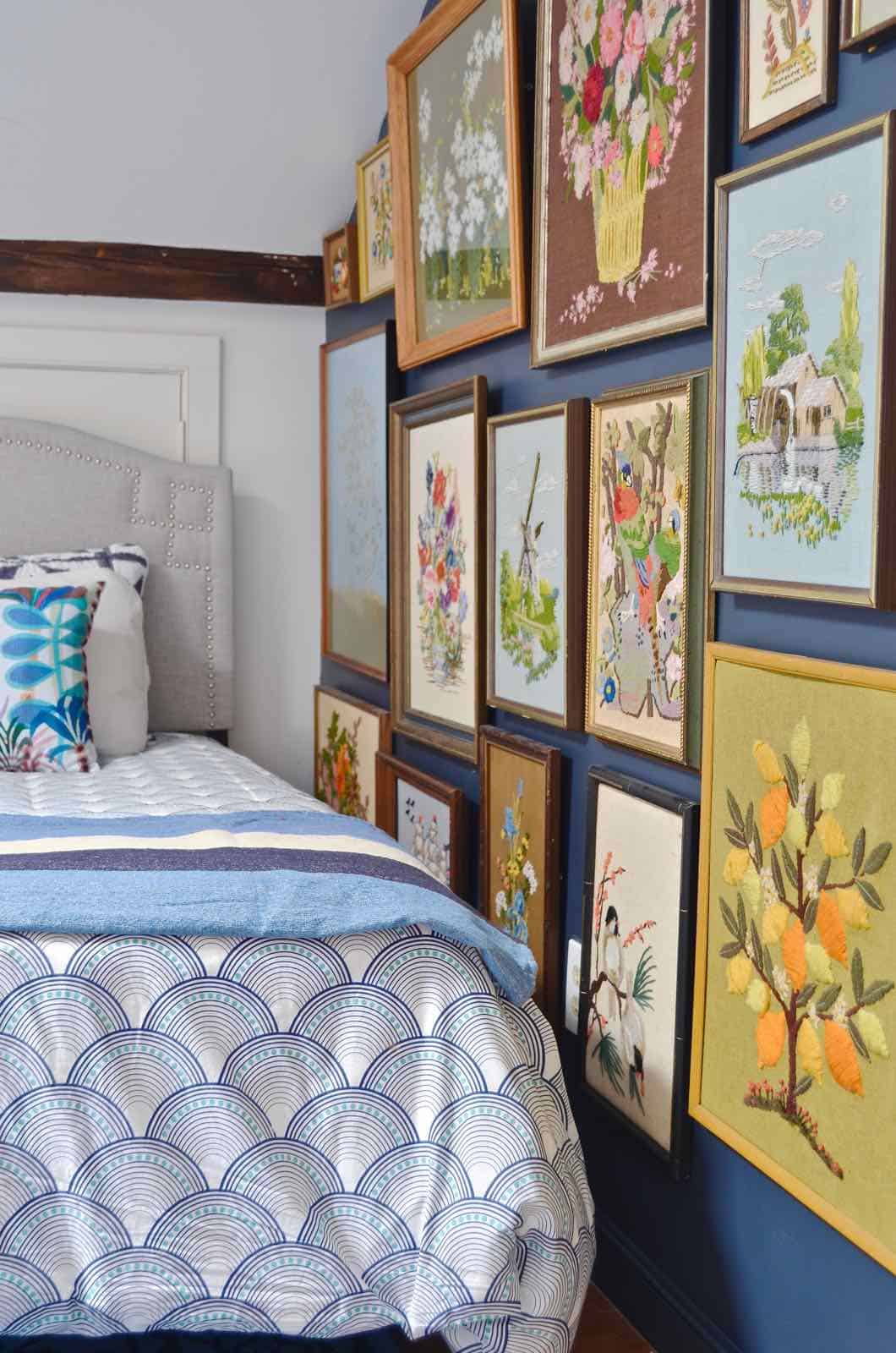 A smiling buddha is kind of my jam. That peaceful face gets me every time and I sneak him into decor whenever I can. Predicatable, I know.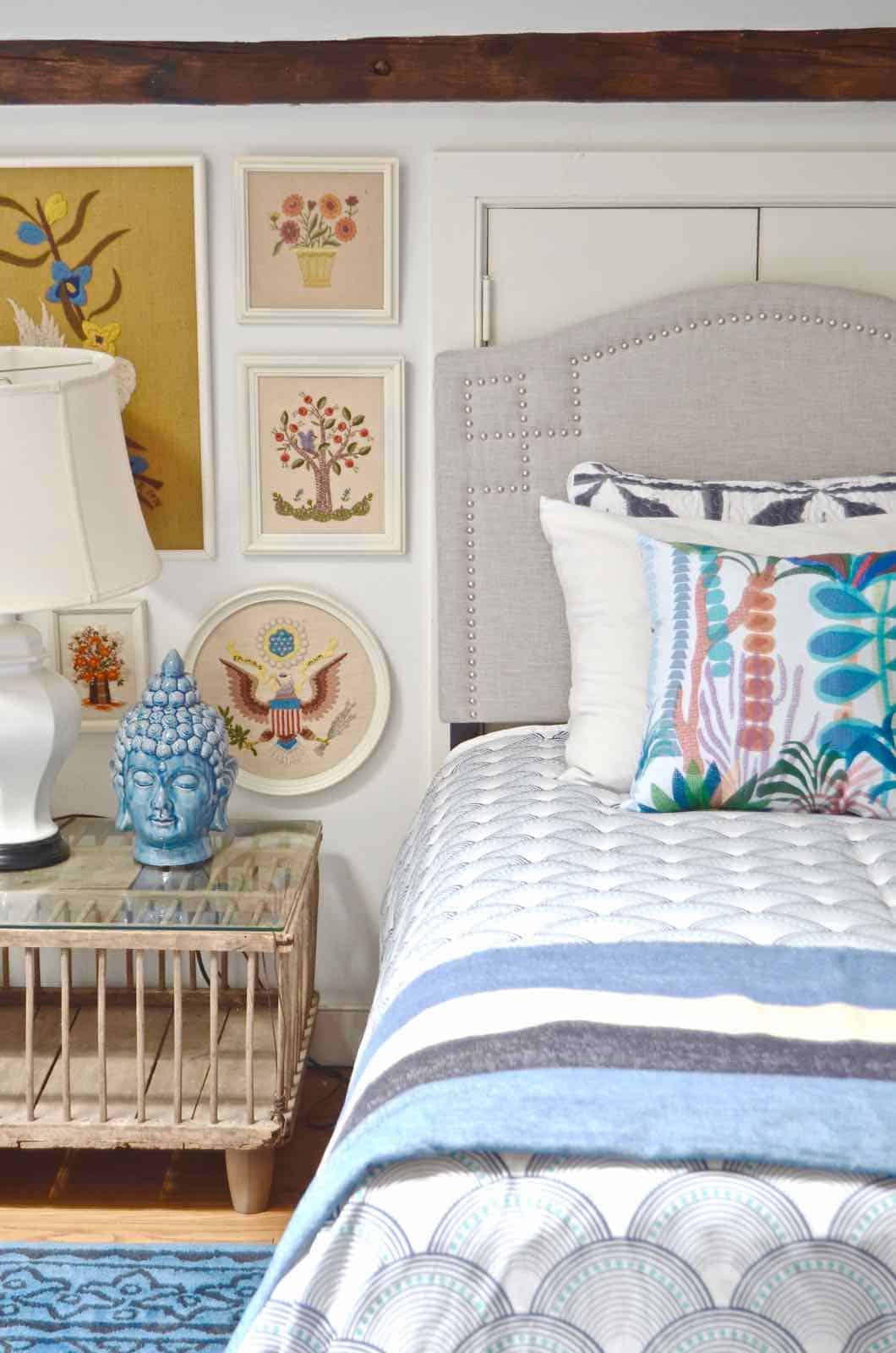 One of my favorite things to do in a bedroom is to swap  out things like the duvet or the throw pillows. It can be an amazingly easy way to change the space without lifting a finger! I used those tropical-ish throw pillows to bring a little color onto the bed, but I can swoop in with a switcheroo if I want a different look in there down the line. (Another reason why the neutral headboard is so great up there!)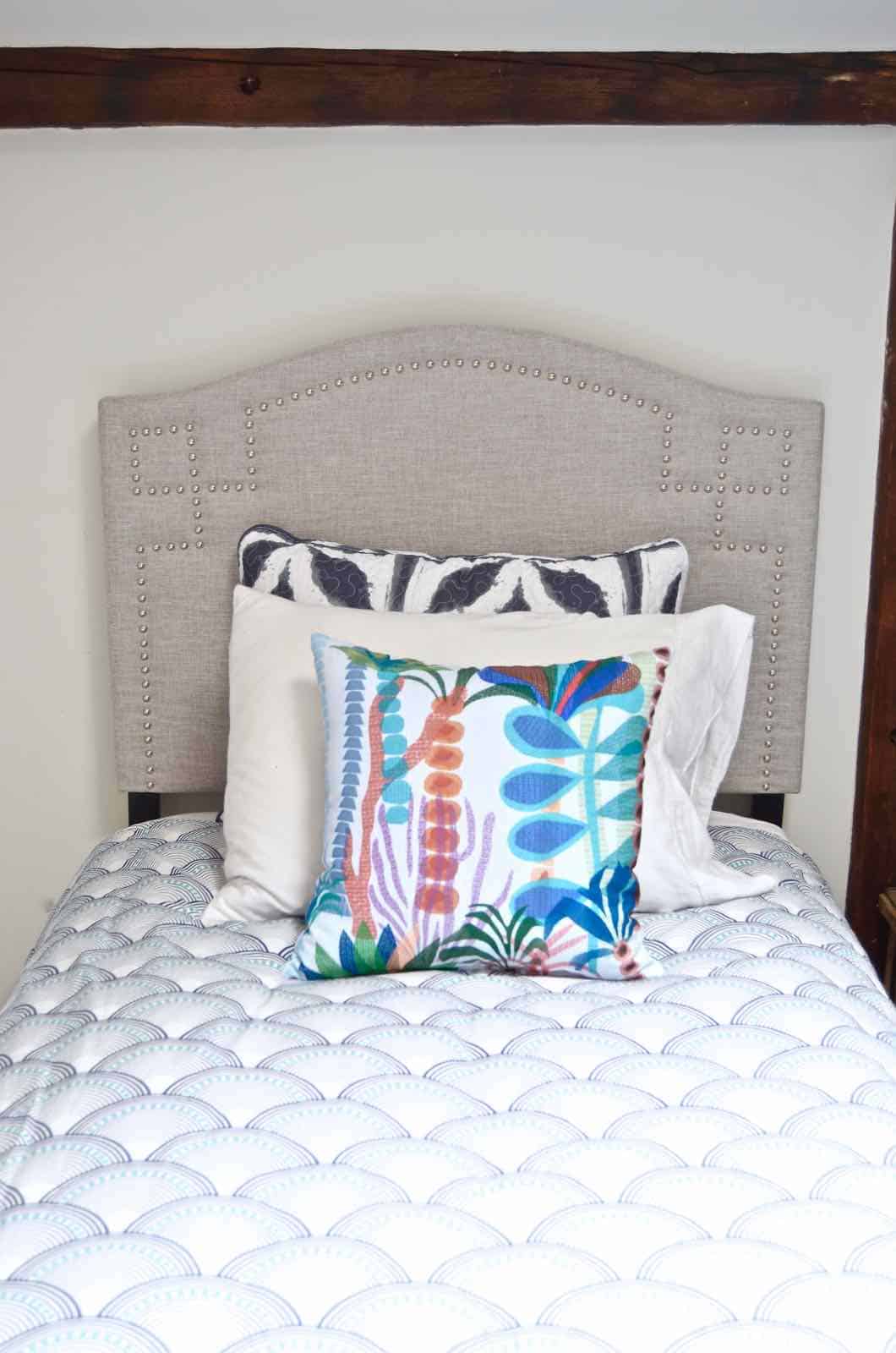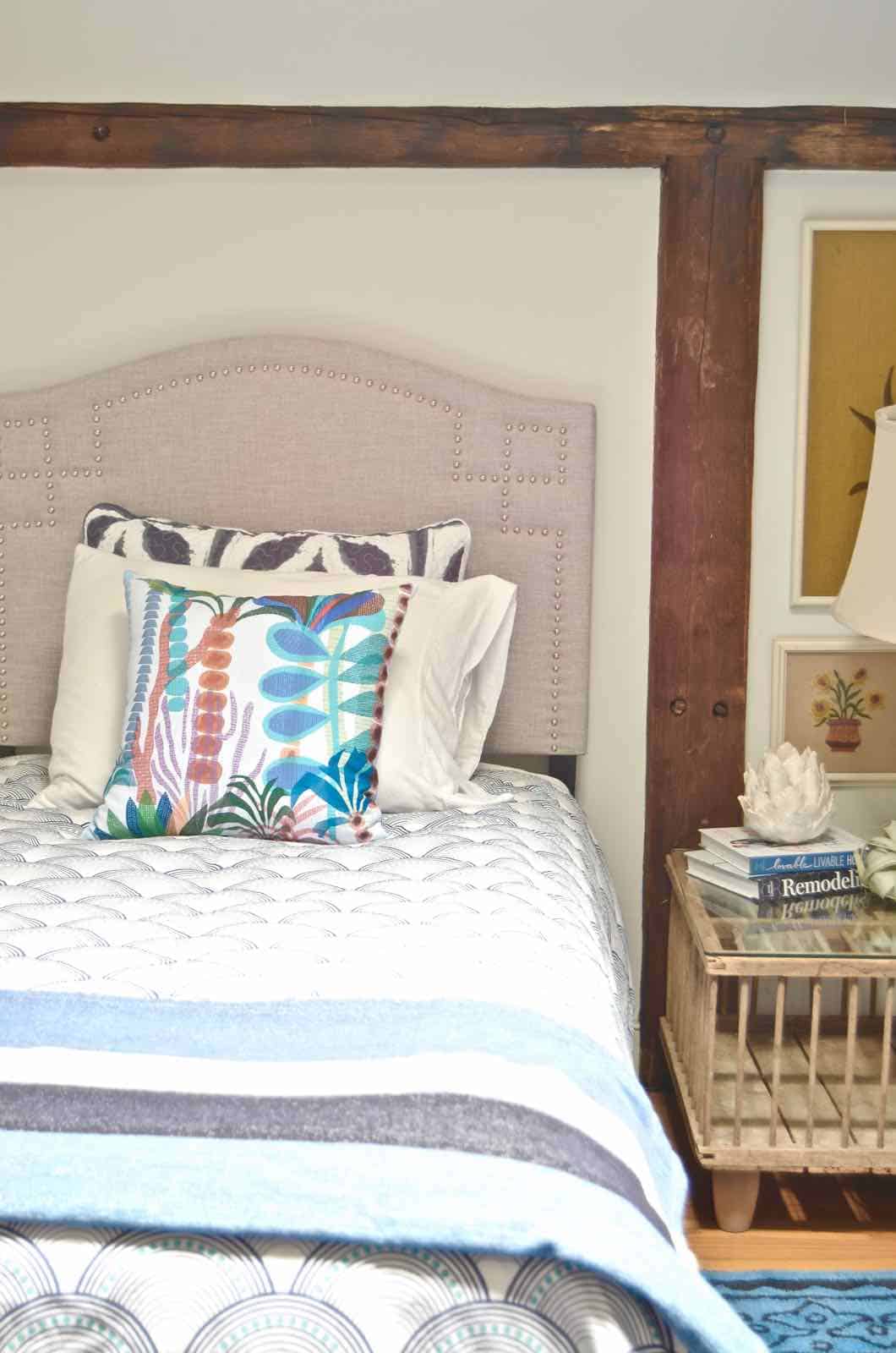 The chicken crate bedside table was a flea market flip (I just added legs and had a piece of glass for the top), but it looks a little more upscale with a handful of design books and that luxe artichoke candle holder.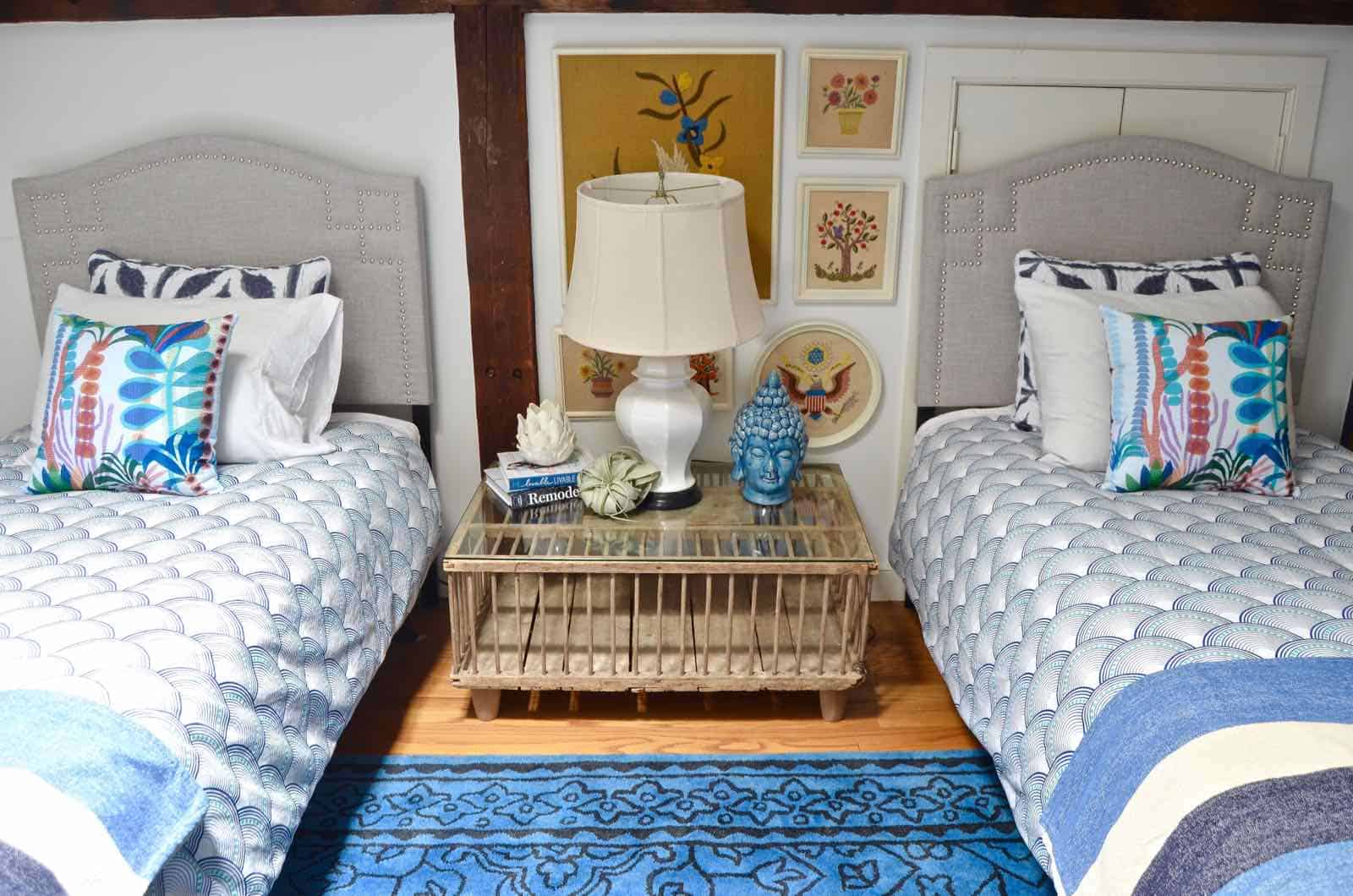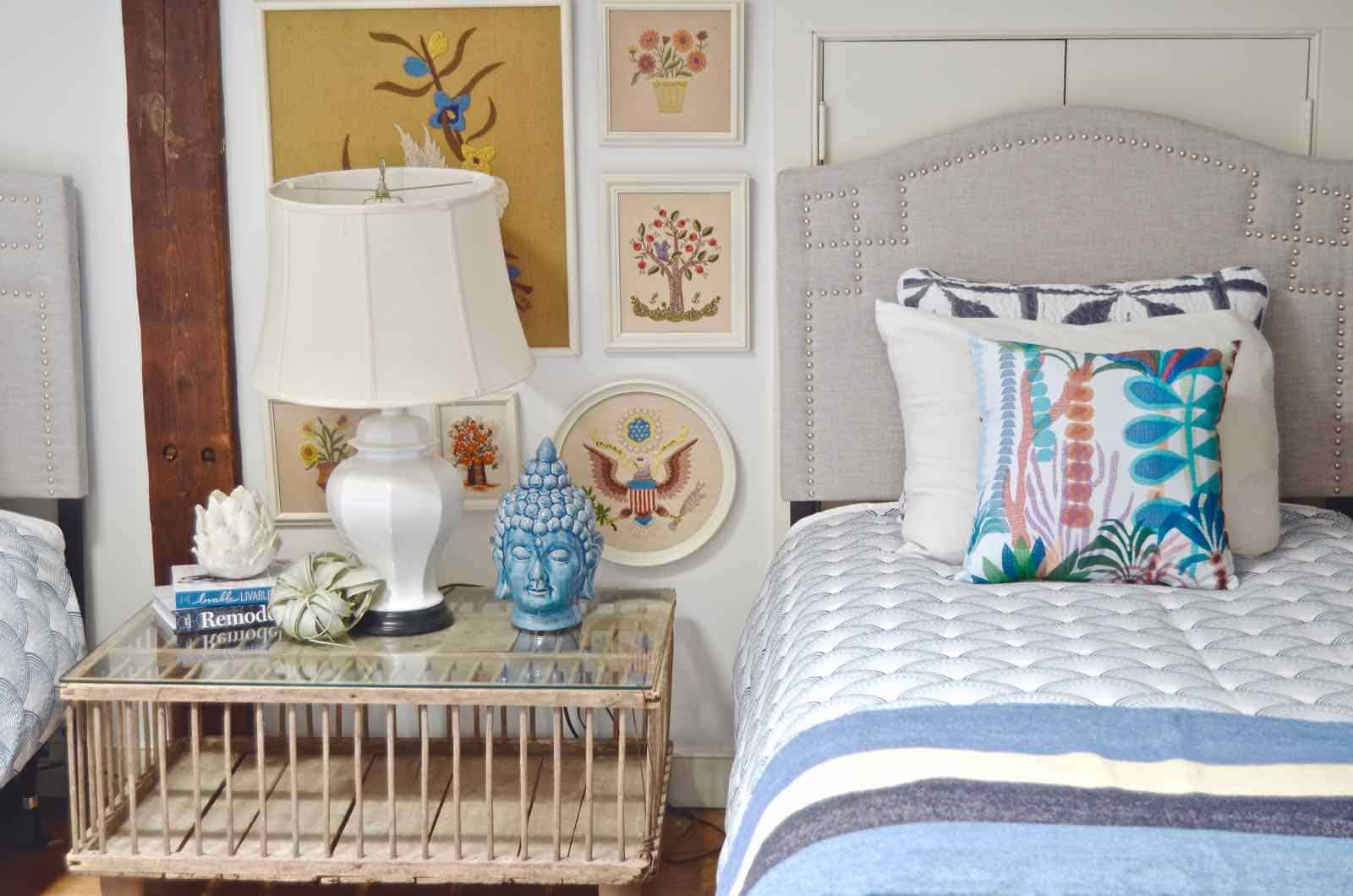 Remember how I said this bedroom was the land where old furniture comes to die? Sadly, no armchairs were to be found on their death bed so that corner had been empty.  I brought in
this tufted beauty
to match the headboards, and styled it with that marbled throw pillow. The color's not identical, but the nailhead detail is SO good and the kilim rug actually matches the chair better than the headboard so win-win! That pillow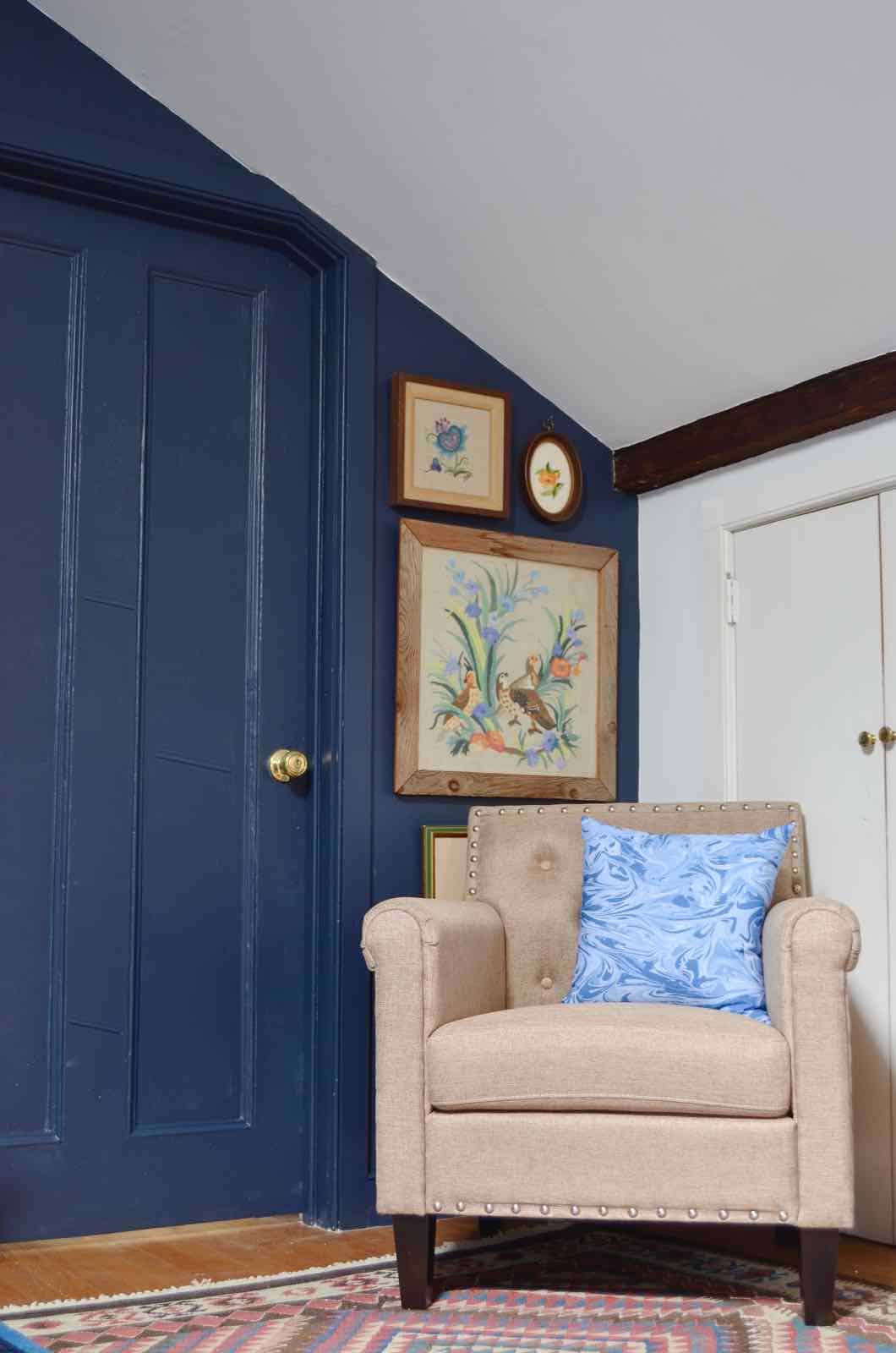 The main source of natural light up there is the skylight which is code speak for 'bring on the houseplants! I'm a little bit obsessed with the natural wood planter
. I have it sitting on the floor, but it could look amazing on a foyer or end table.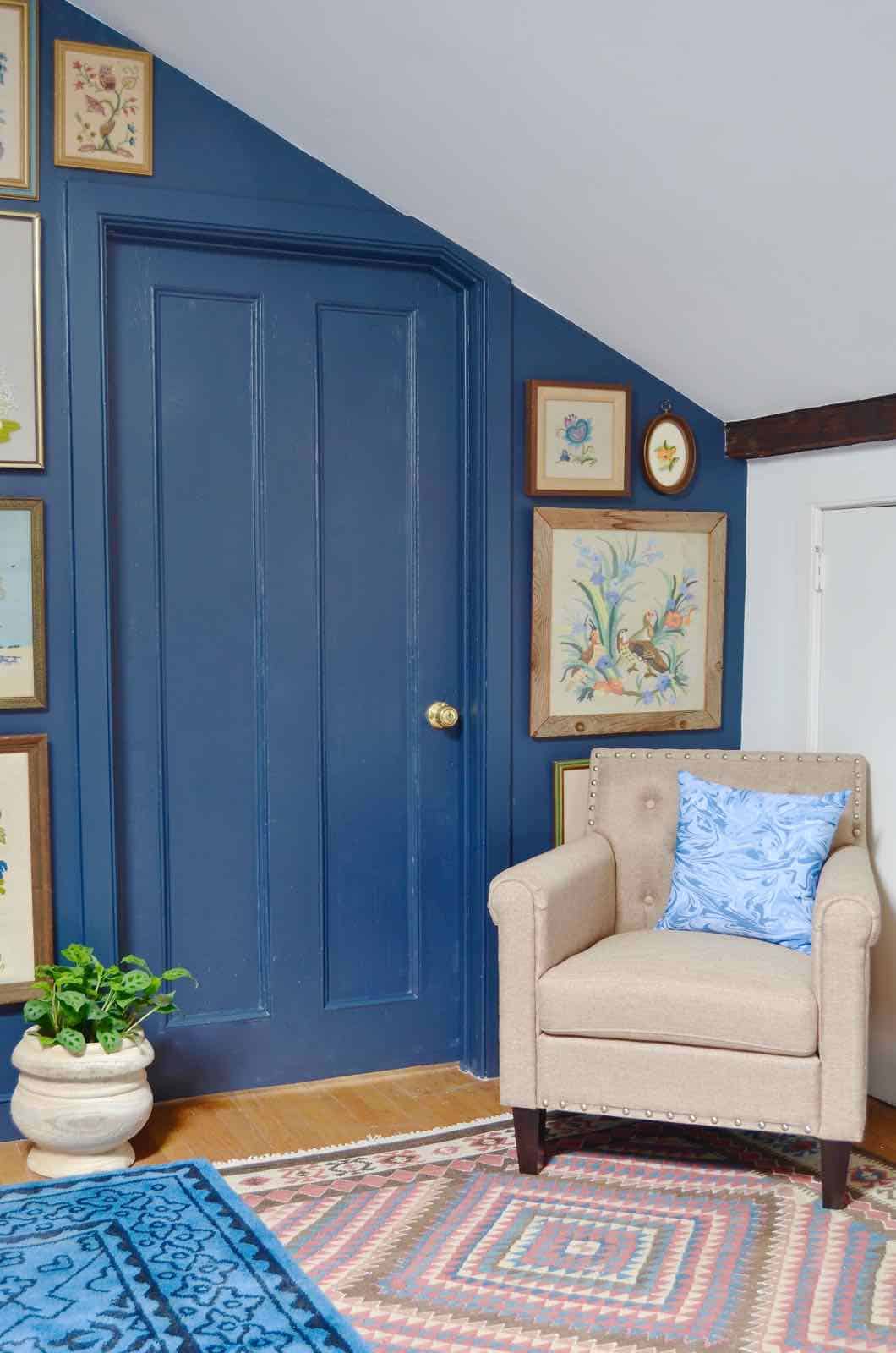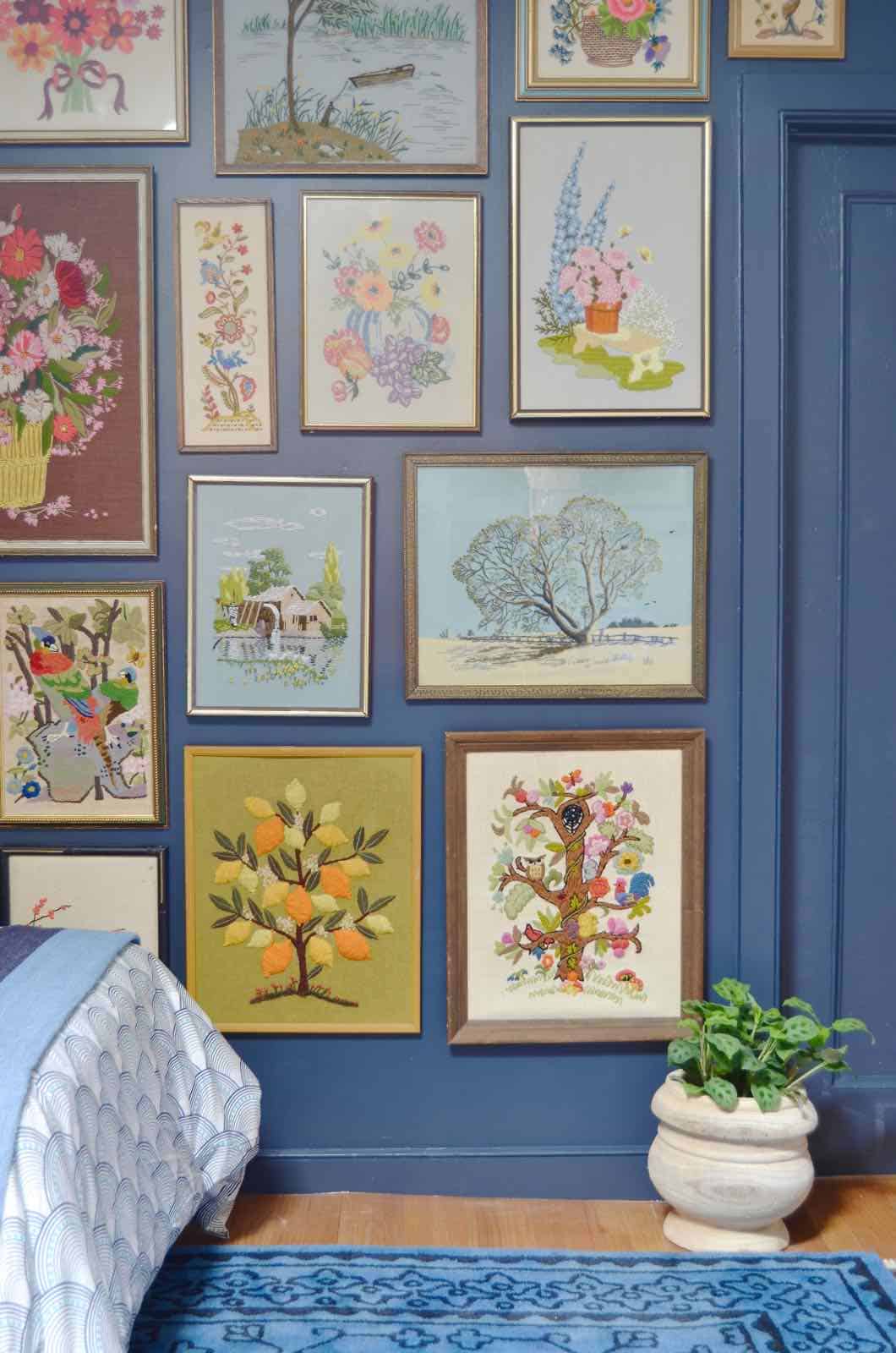 To reiterate. New modern glam headboards to offset the gathered vintage gallery wall? Check. Coordinating chair with gorgeous throw pillow. Check. Beautiful blue wall as backdrop for flea market embroidered art collection. Check. Accessories to help balance the eclectic gallery wall. Check. Home Depot has home decor. Heck yeah: CHECK!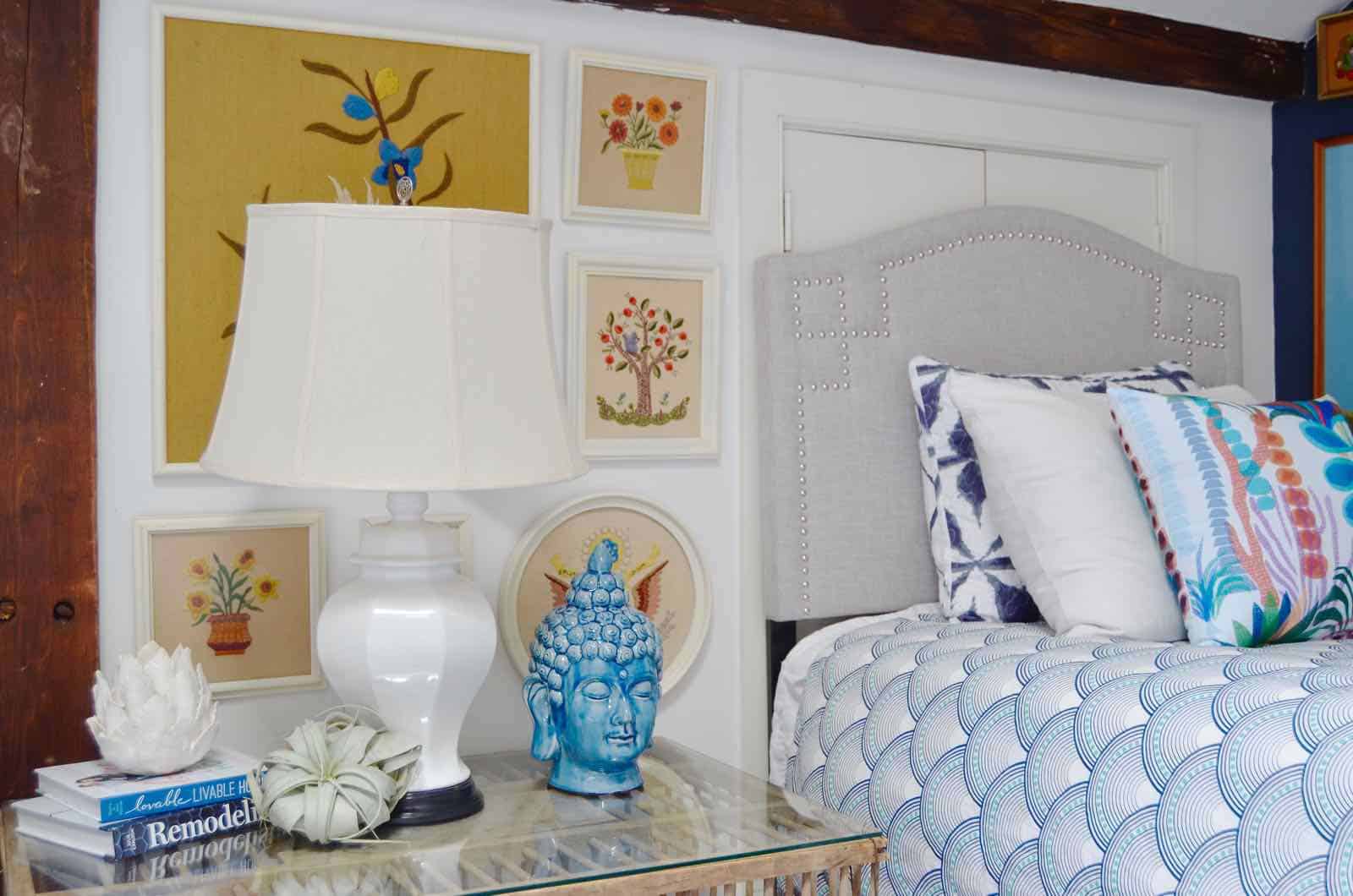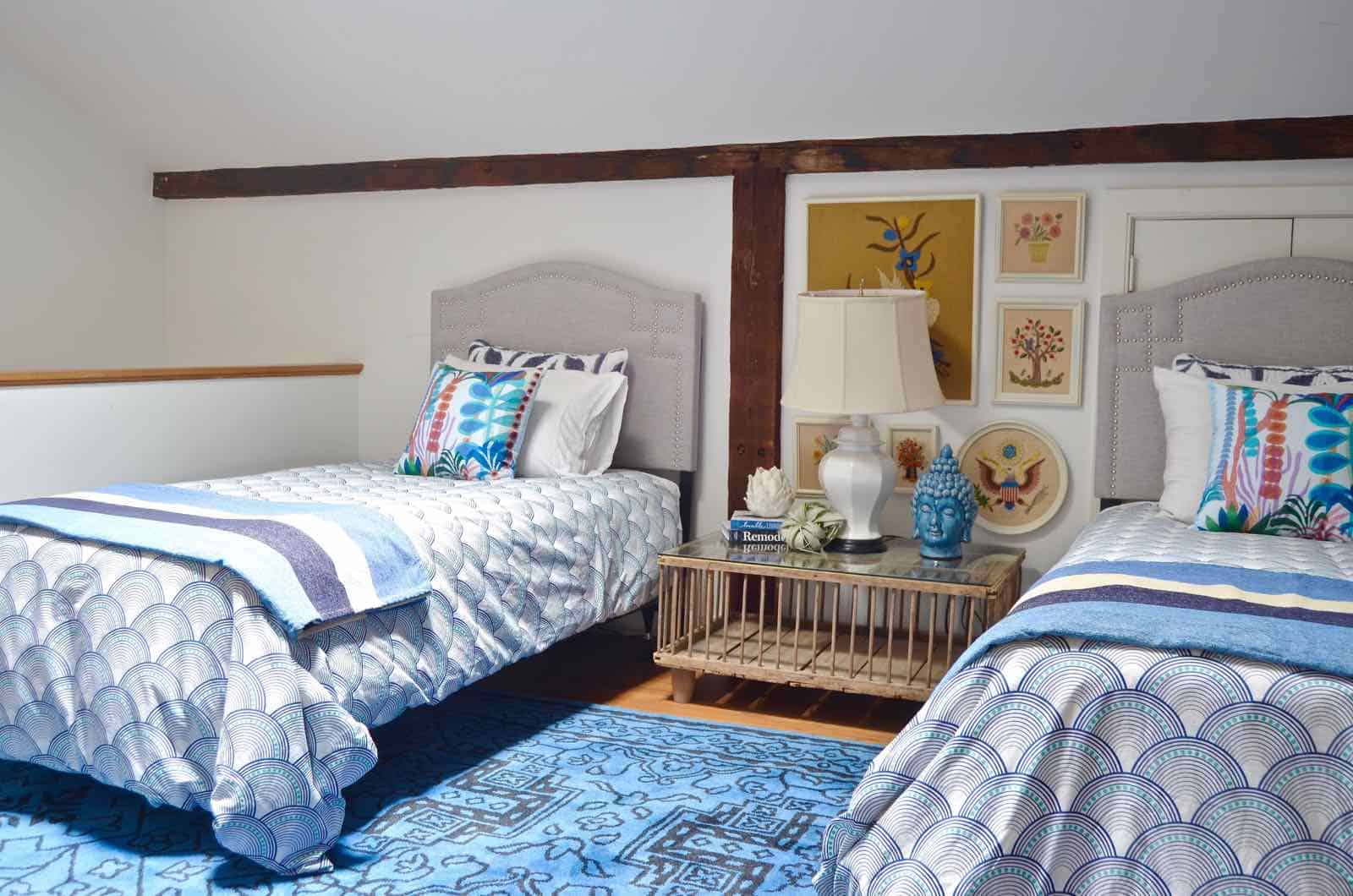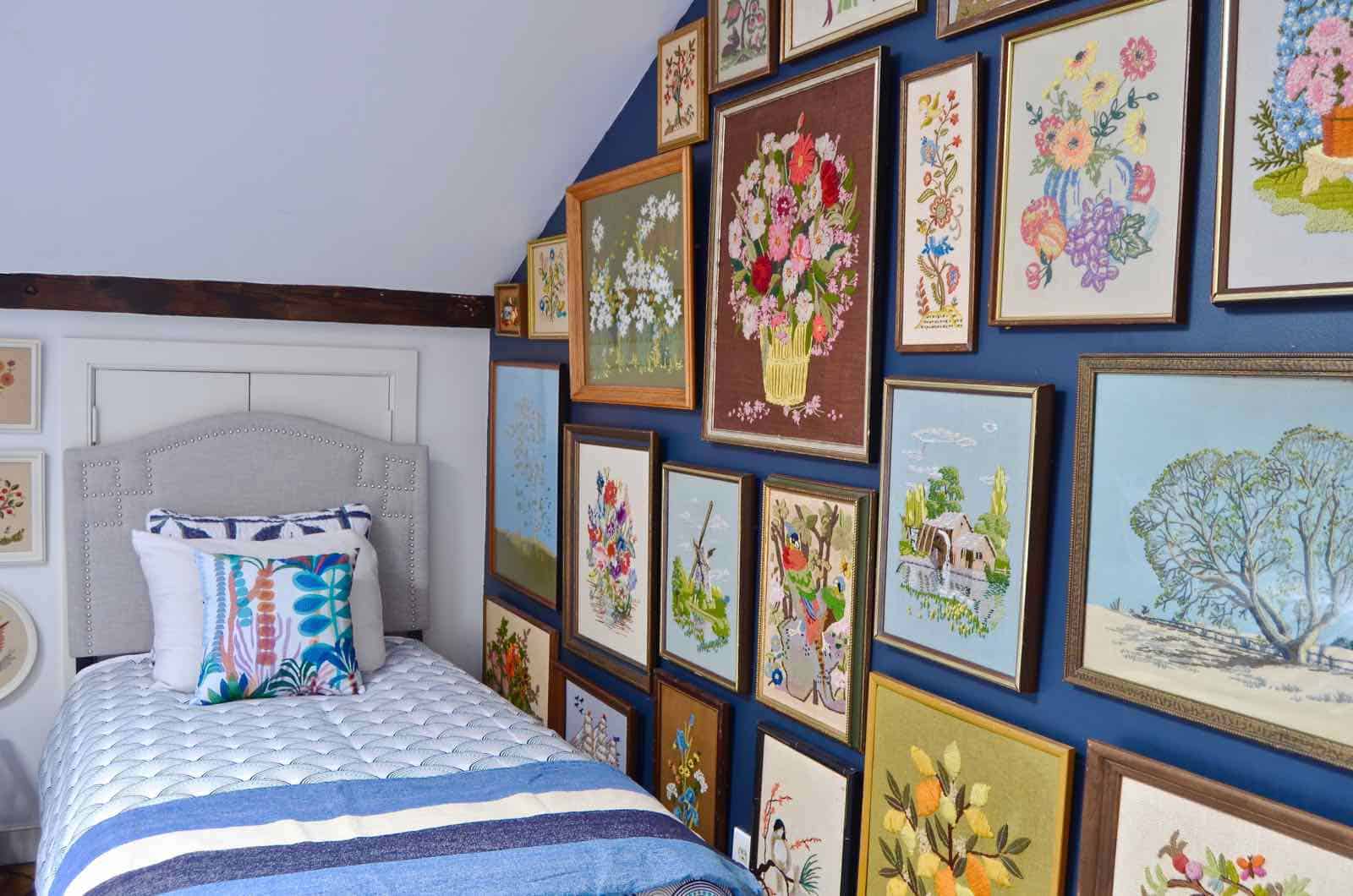 Sometimes the best way to incorporate thrifted treasures into your home is to pair them with something shiny and new. See what I mean? BEFORE:
AFTER: