Gift Guide for Teachers, Postal Carriers, and Delivery Folks

I mentioned the other day on my Instagram stories that I was gathering gifts for teachers, our UPS guy and our mailman, Tom. I had SO many messages about what kinds of things I typically got, that I figured I'd throw together a gift guide! Best part? All but one of these are available for Amazon Prime so… you have PLENTY of time to order before Christmas!
Teacher Gifts
First… the teachers. Lots of folks suggested things like manicure/ pedicure gift certificates, movie gift certificates, Starbucks/ Dunkin Donuts gift cards or car wash gift cards. I totally agree with all of these so those are something to consider in your local area. IF you prefer sitting on your couch and shopping in your PJs, then… these are some of the items I've purchased for teachers in the past (affiliate links included for your convenience):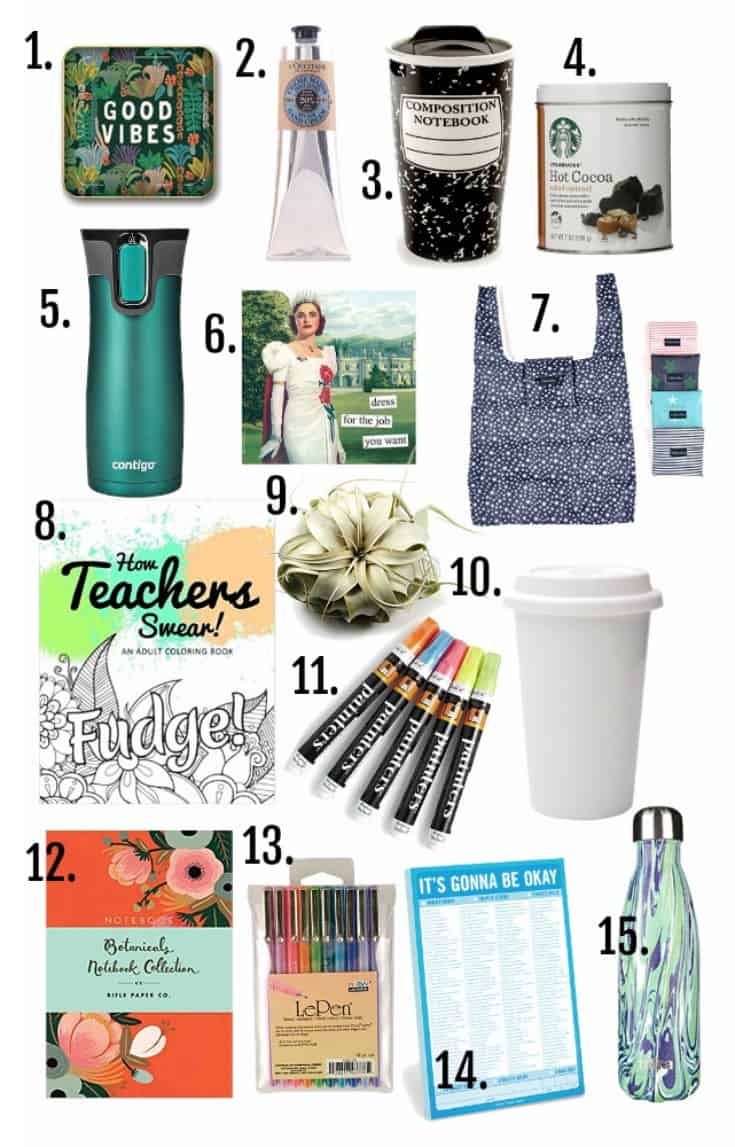 1. Trinket Tray to help corral things like paperclips and thumbtacks on a desk
2. Hand Cream. Lots of options out there, but this one is top of the line and kind of a nice treat
3. and 4. I love pairing a decadent hot chocolate mix with a fun coffee cup. If I have my act together, I might have one of my kids actually paint their own mug… happens 25% of the time.
5. This travel coffee mug is my favorite. We have a few of them and they can be tossed in a bag without spilling AND they will keep your drink warm for hours.
6. Sassy cocktail napkins. There are loads of hilarious sayings to choose from.
7. Compact reusable shopping bags. When I was a teacher, the amount of stuff I had to lug back and forth to school was intense. Extra tote bags or these compact reusable bags were perfect since I could have one folded up and tucked away until needed.
8. C'mon, this coloring book is funny, right?!
9. I LOVE airplants. They require virtually zero tending to, but they add a nice little bit of greenery to the space.
10. and 11. There are kits you could buy to decorate a coffee mug (or paint your own pottery places), but you can also grab some oil-based paint pens and a plain mug and make your own!
12. What teacher doesn't need pretty notebooks for jotting down a to-do list or keeping track of all the teachery things.
13. Pick your favorite, but a brand new set of pens is always appreciated if you ask me. I love Le Pen, but there are dozens of others if that's not your jam!
14. These fun notepads always make me smile. (There's a WTF one that makes me chuckle but probably isn't appropriate for teachers…).
15. Goodness knows I need to hydrate more and, as a result, I tend to gravitate towards these fun and colorful water bottles as go-to gifts.
UPS/ FED EX/ MAIL CARRIER GIFTS
I love our mail man and UPS guys so every year I try to get them a little something. Usually it's just a Visa gift card with a box of chocolates or something, but I've also wrapped up some of these ideas in the past: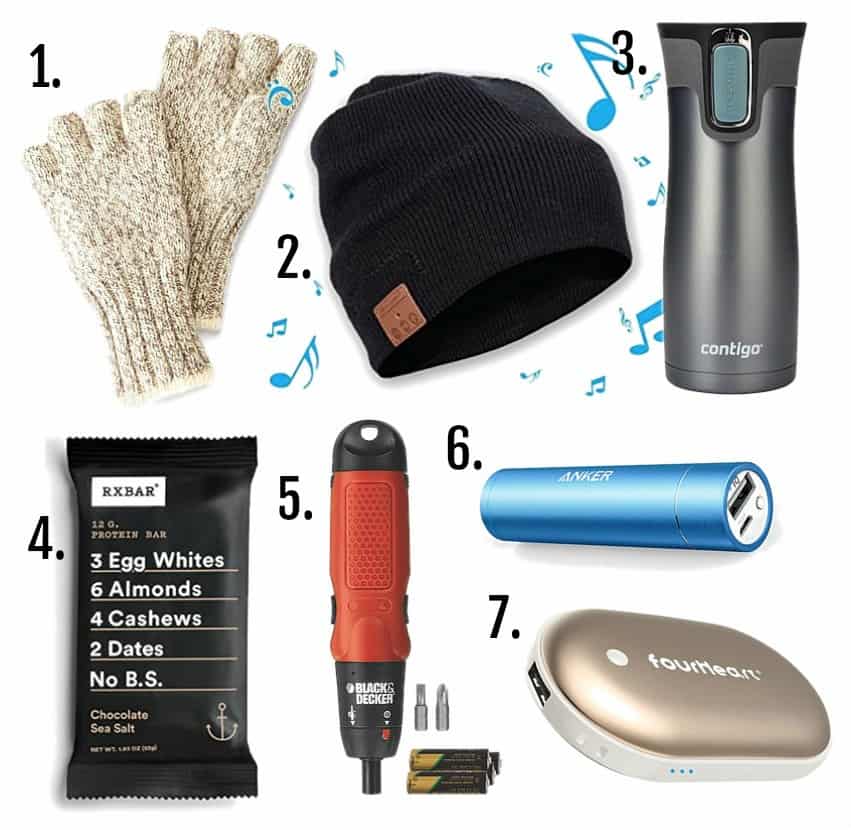 1.  Fingerless gloves are one of my faves… I wear them in my workroom and love that I can still use my phone, drive my car, work my tools… these fall into the 'never can have enough' category!
2.  These bluetooth hats are definitely gimick-y but Mark said it works! If you're stuck out in the cold, might as well have music or your phone handy!
3. Again… this to-go coffee cup is THE. BEST.
4. I've never tasted these energy bars, but no matter how I searched on Amazon, these came up towards the top! If you're not into this exact brand… the idea remains: something protein-filled that can fill someone up on a long day of deliveries!
5. No real connection to delivery here, but this screwdriver is always on a gift guide of mine. Battery controlled screw driver makes every job easier.
6. My phone seems to be perpetually at 35%. These portable rechargers give you a little more life.
7. There are disposable hand warmers you can buy, but this rechargeable hand warmer seemed kind of fun. Again… I've never used it, but seems like a logical gift for someone who's out in the cold ALL DAY!
Again, ALL of these times show that they will be delivered before Christmas and 99% of them are Amazon Prime so you can have them by the end of the week!