Vintage Holiday Decor for Santa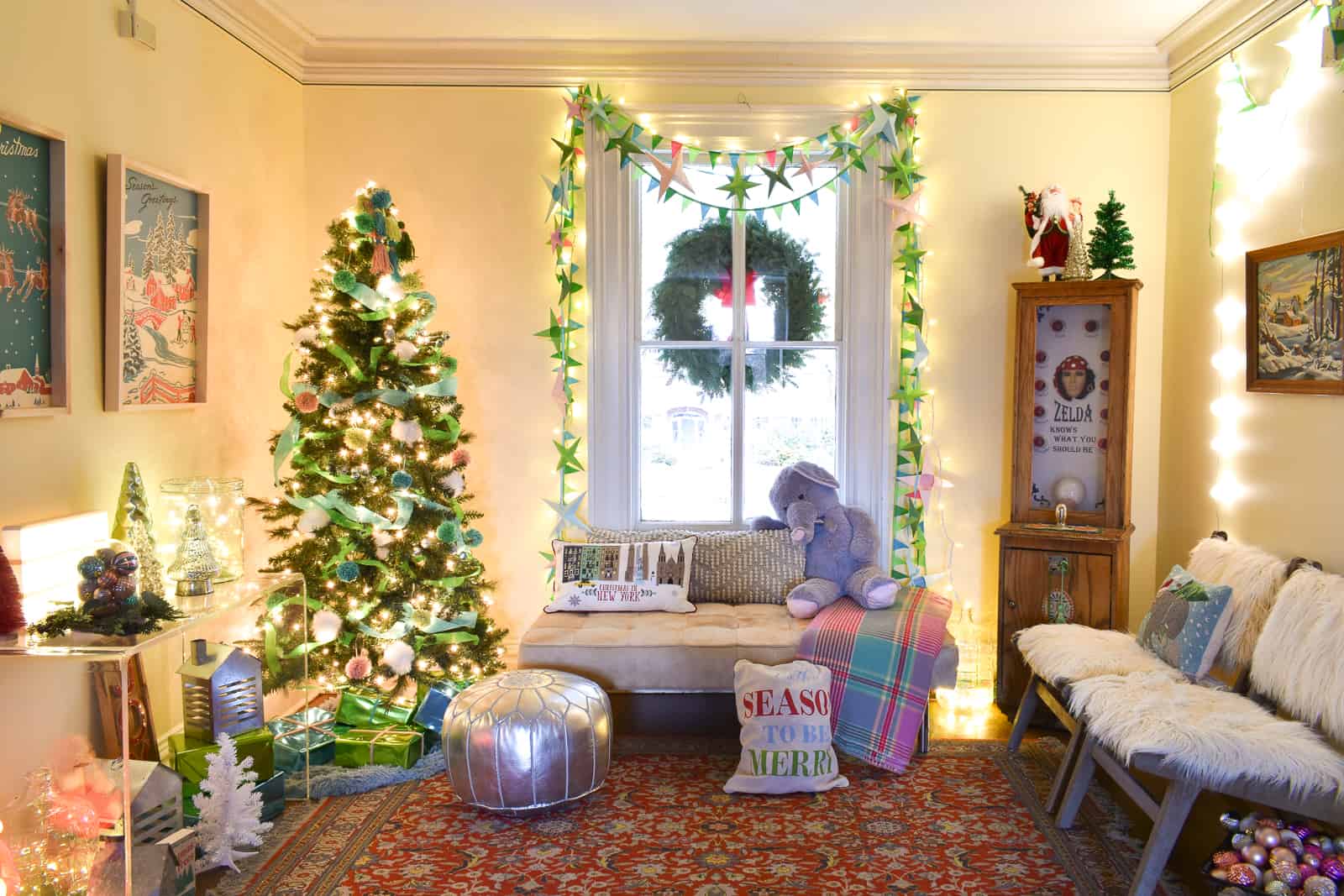 A couple of weeks ago, I had the pleasure of being invited to decorate a space in a local historic home for their annual Santa event. I had a few days to plot and plan, but ultimately had to pull together a fun colorful retro (show-stopping) space in under a week!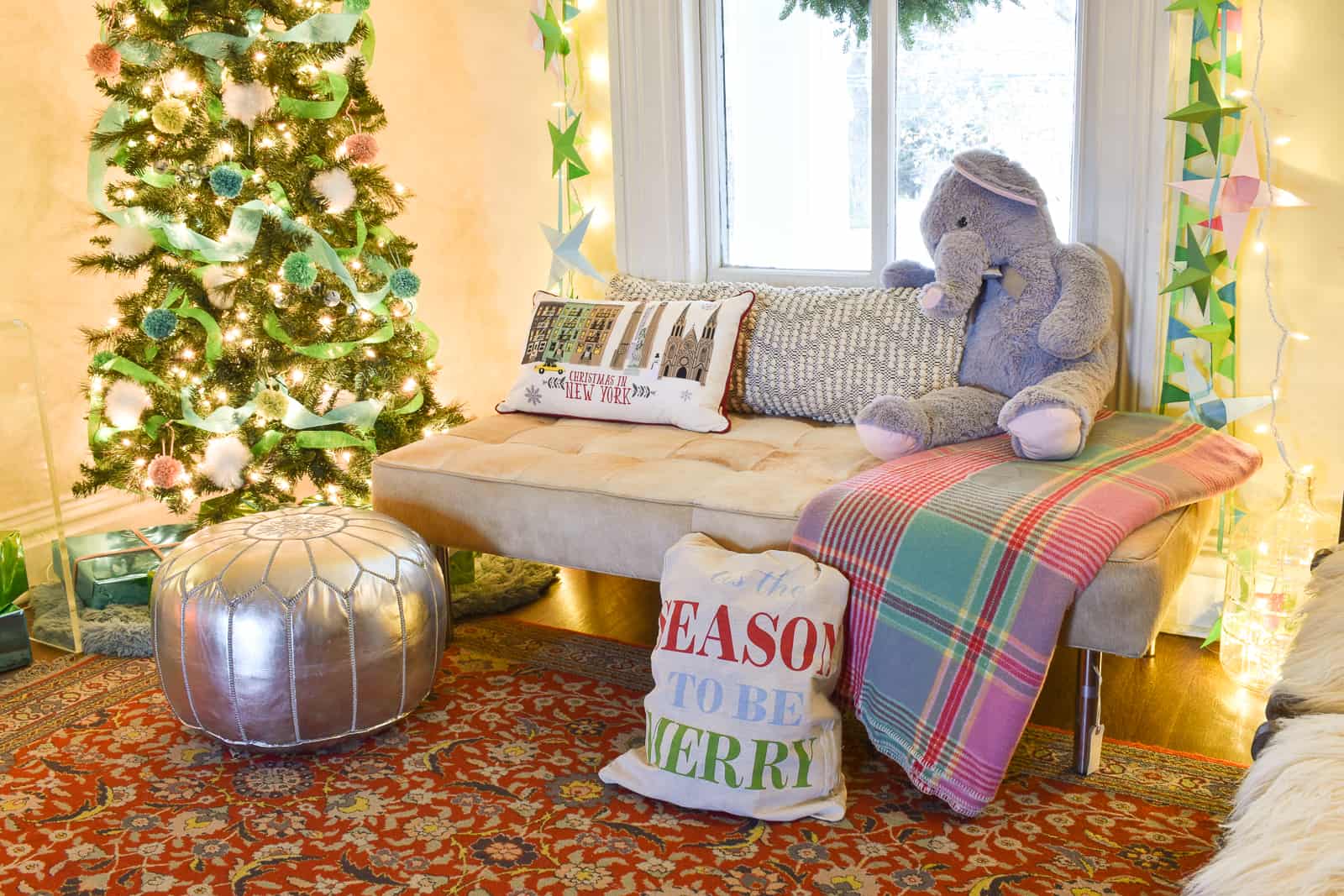 I am so thankful to Black Rock Galleries for loaning some amazing furniture to anchor the space. I'm kind of obsessed with pinks and greens this season, so I started there. At some point turquoise crept in… not sure when or why, but I'm into it.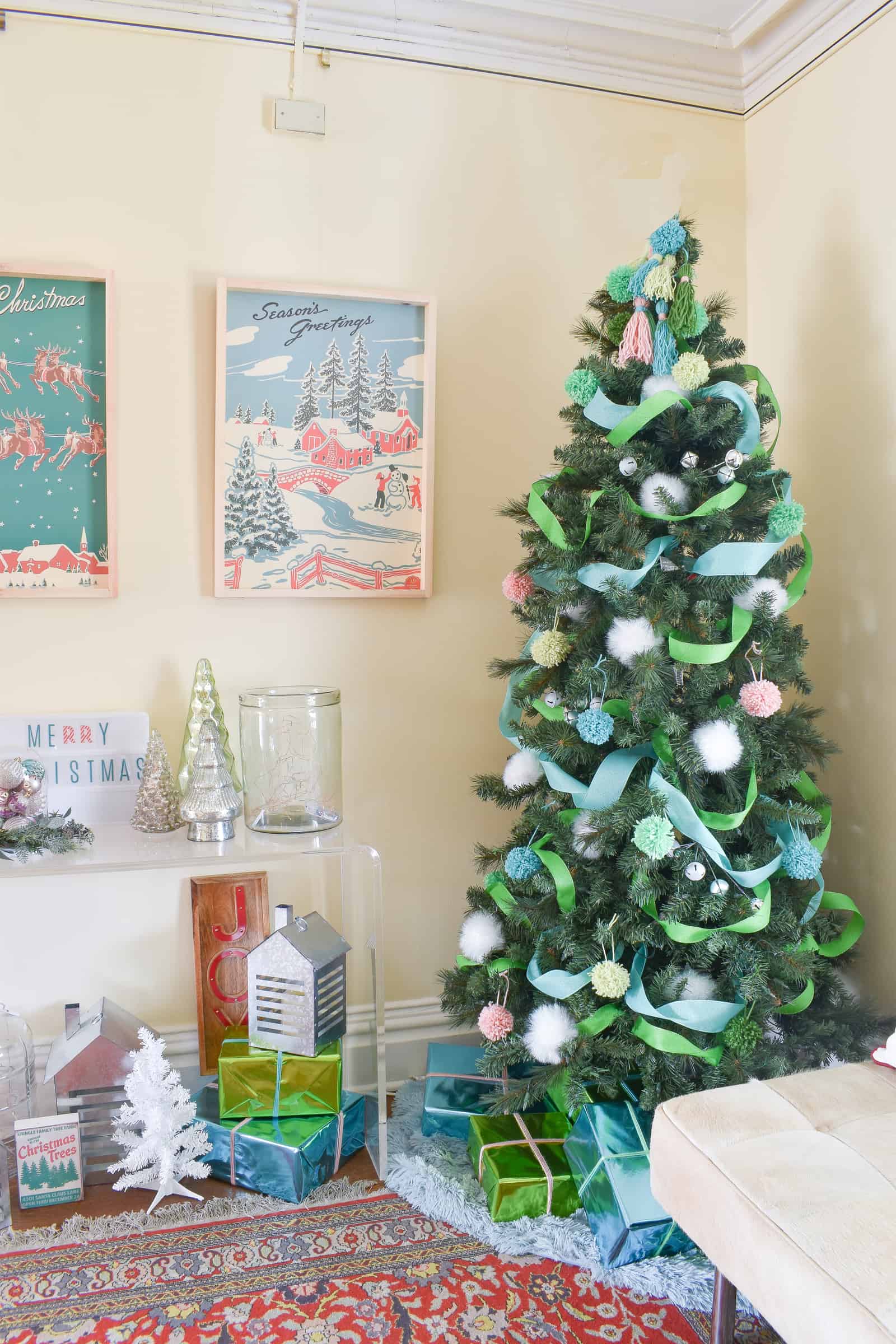 The colors are a little tricky to pick up in the photographs because of the yellow walls, but I love the combination of the vintage rug with the modern lucite table, the contemporary pony-hair bench, those flokati chairs from World Market (affiliate) and then, of course, Zelda. (Sidenote… my kids did NOT understand what Zelda had to do with Christmas. I told them they had a lot to learn in a condescending tone.)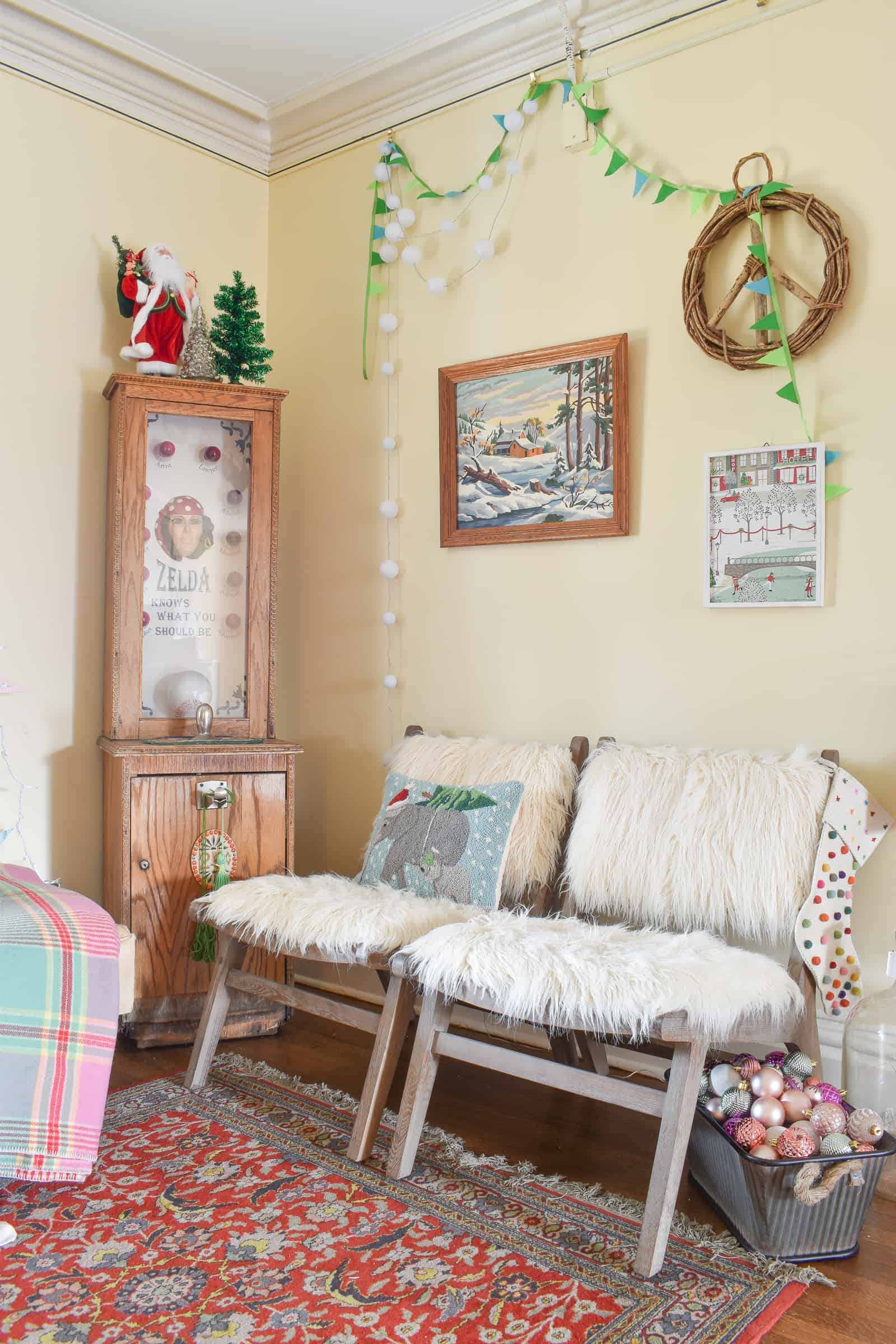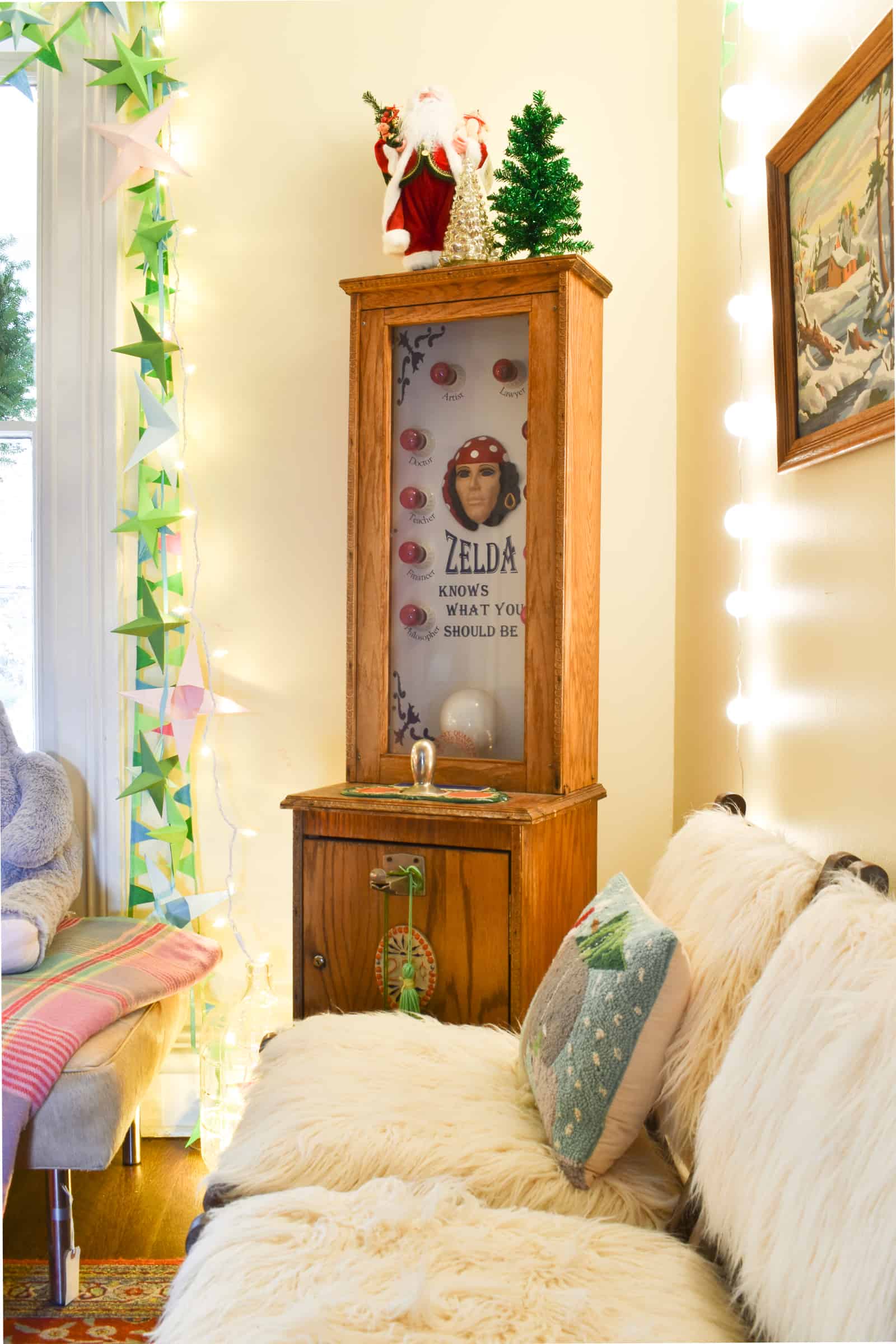 That silver leather ottoman was from Homegoods and I splurged on it because "I can return it when I'm done." Now… I'm done. And… I can't bare to part with it. Tell me you guys do that too!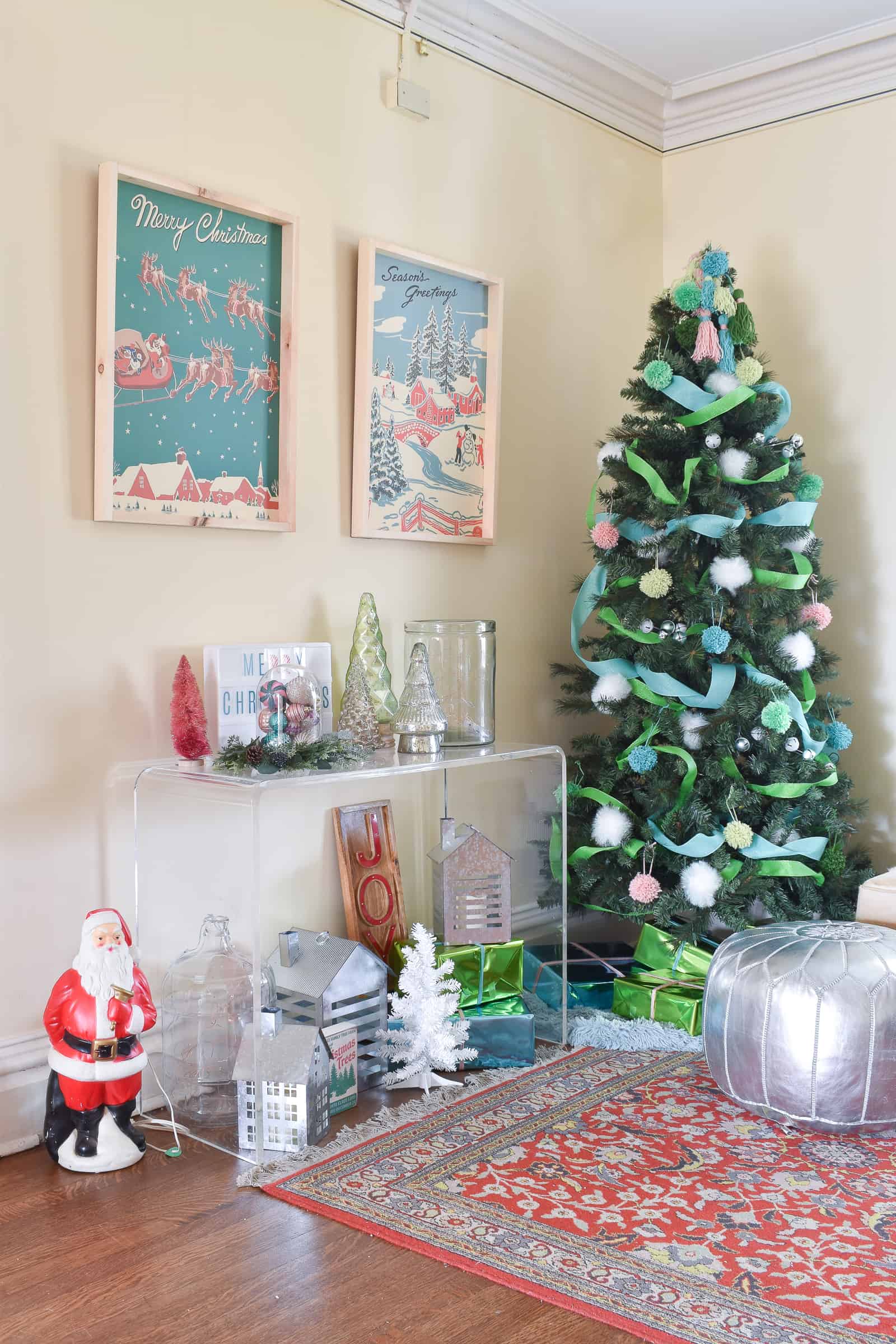 The garlands around the window are fun and easy DIYs… They took a couple of hours to make and cost… nickels. (Stay tuned for a video tutorial on these guys!)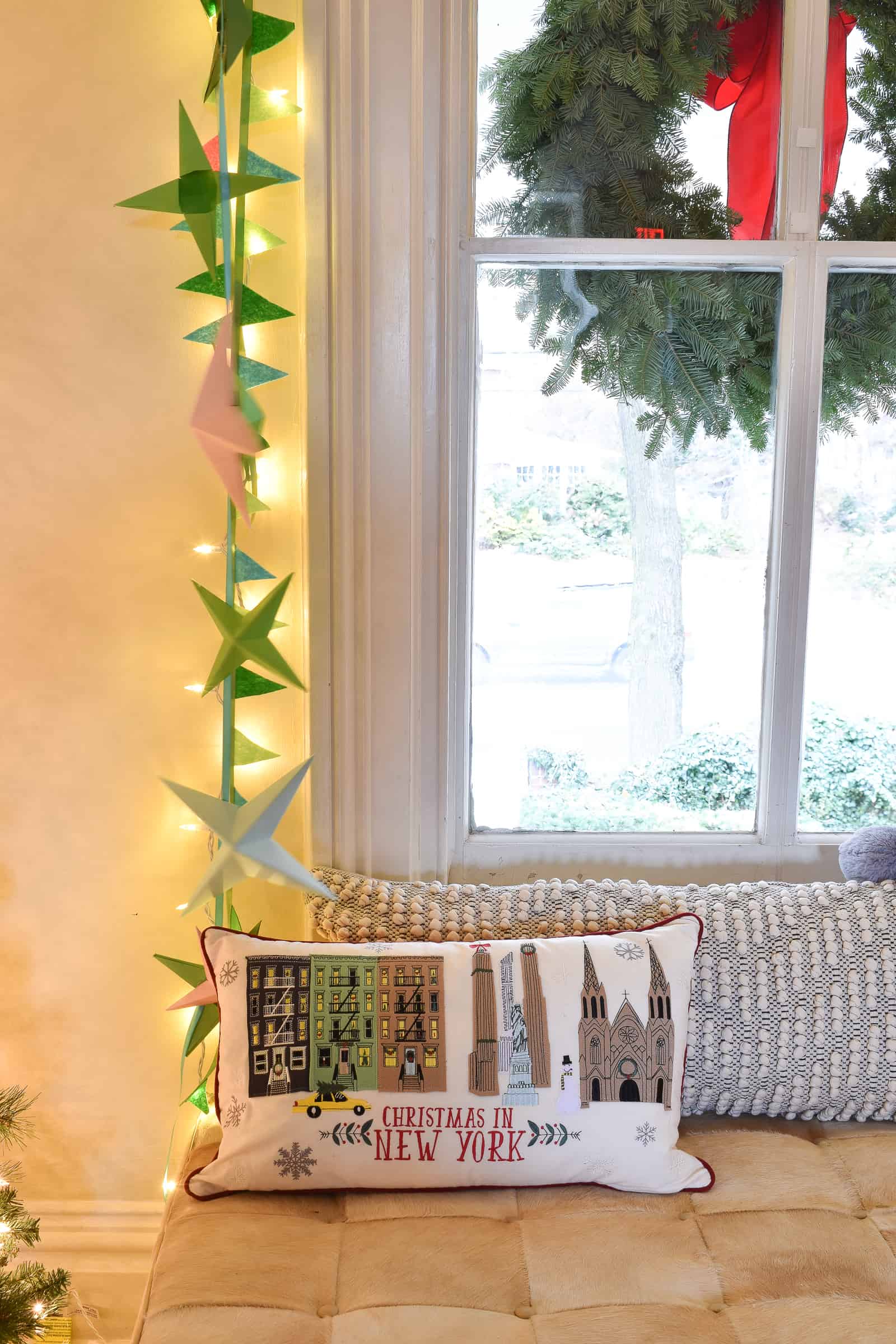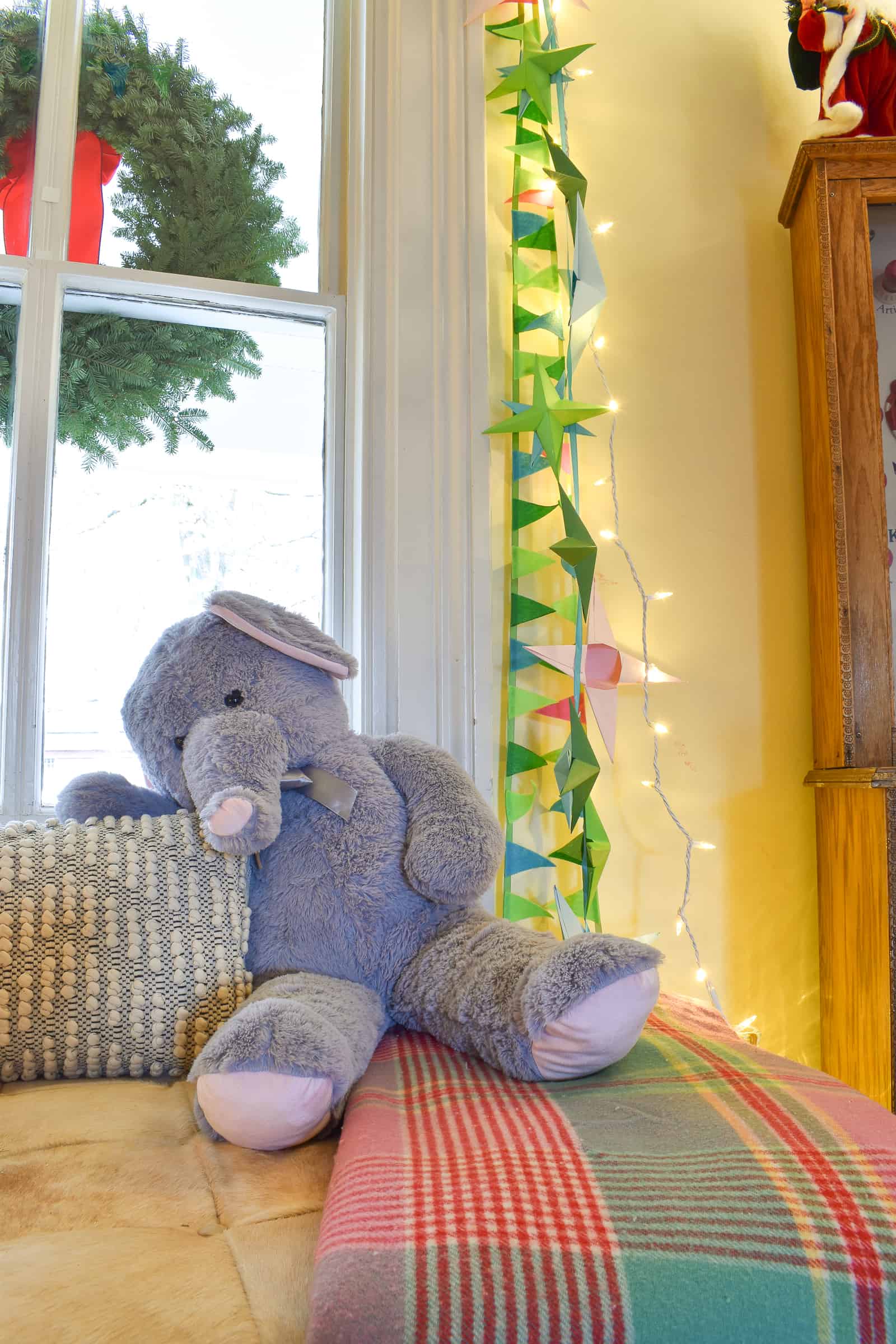 I shared the tutorial for those retro Christmas prints on the blog… say it with me: SO easy. SO cheap.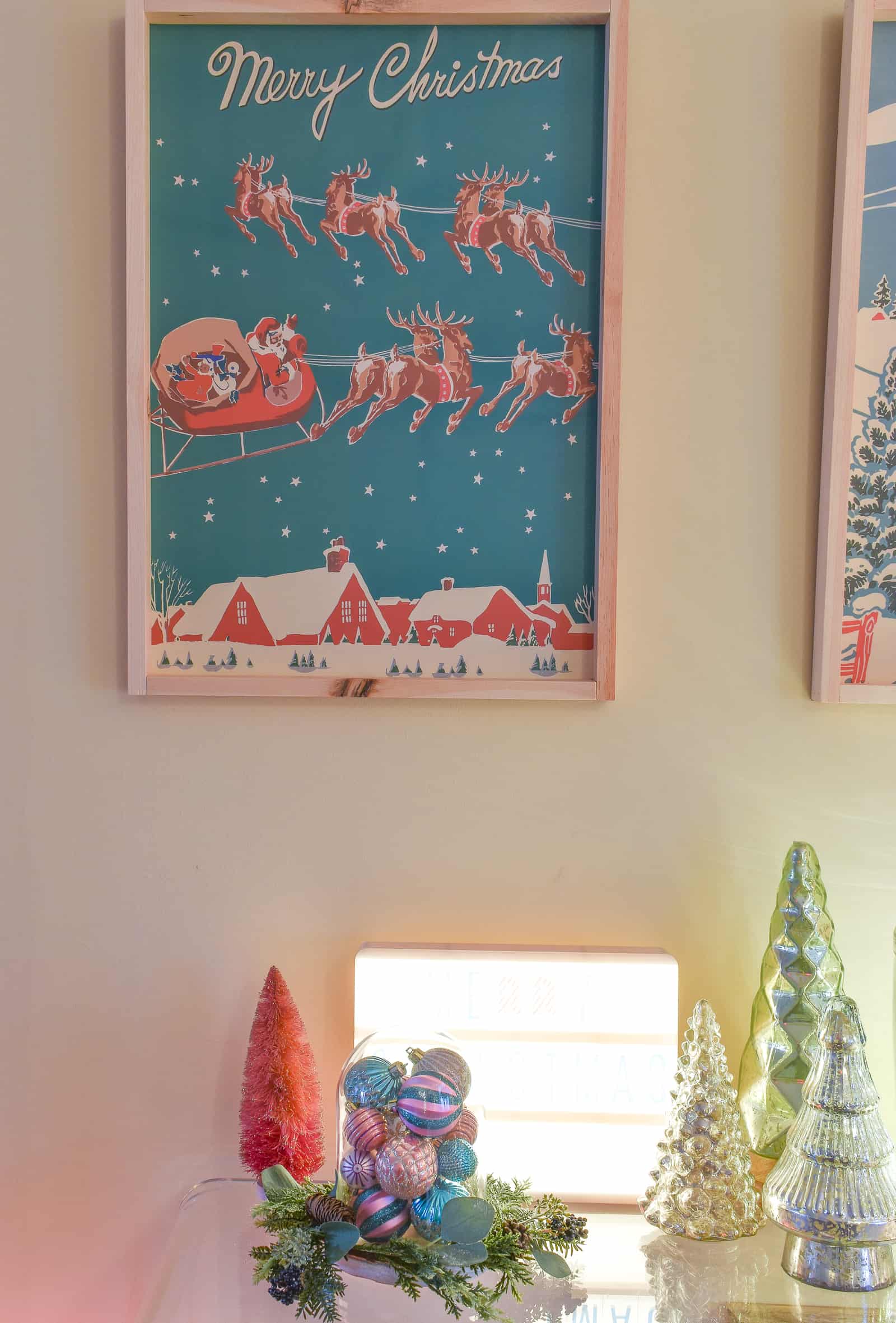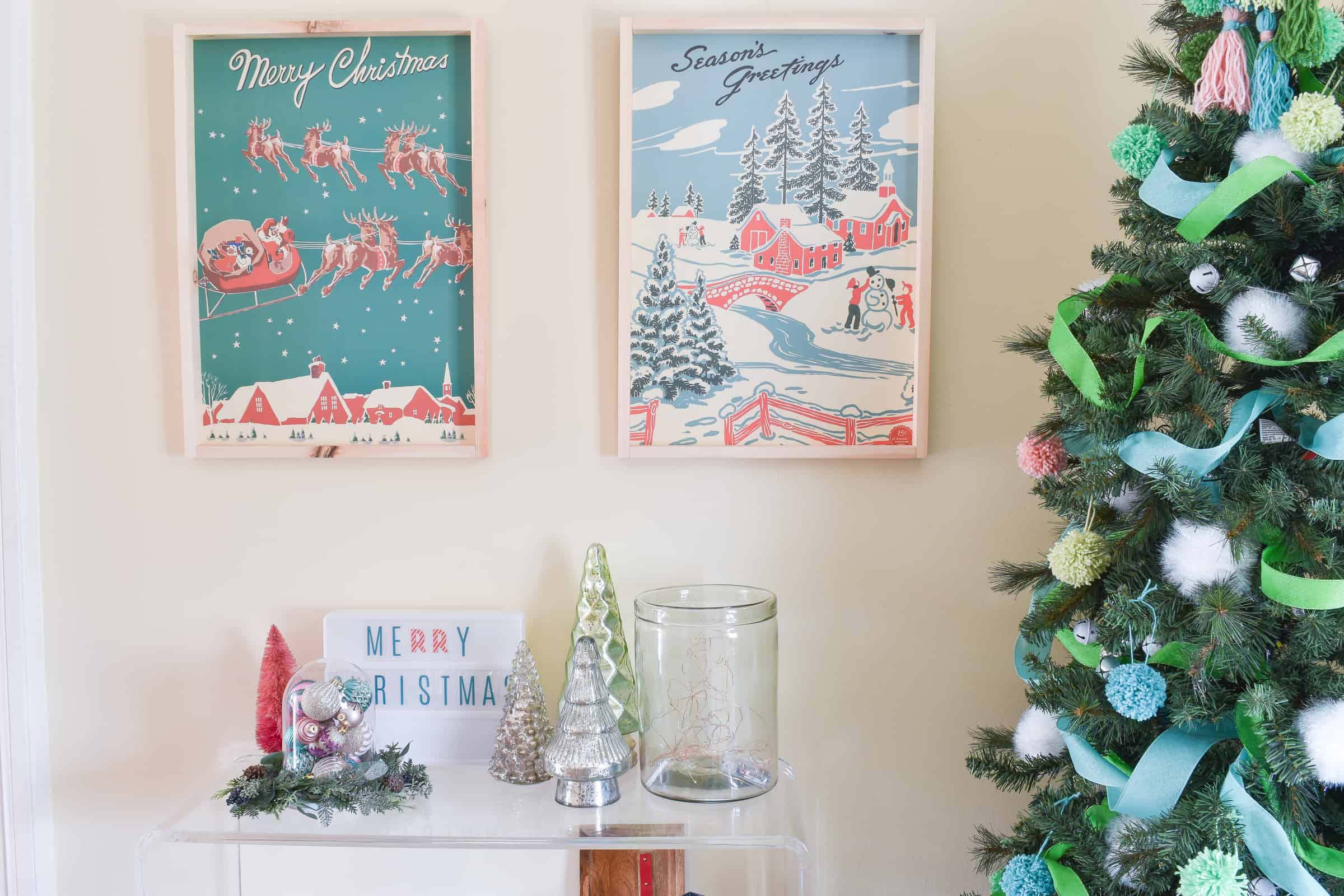 For the tree… I fell in love with a pom pom tree topper I'd seen on Oh Joy! so I ordered up a pom pom maker (affiliate) and spent a night making colorful poms and tassels. Michaels was having a 70% off sale or something absurd so I also grabbed those fluffy things and some ribbon to adorn the tree as well.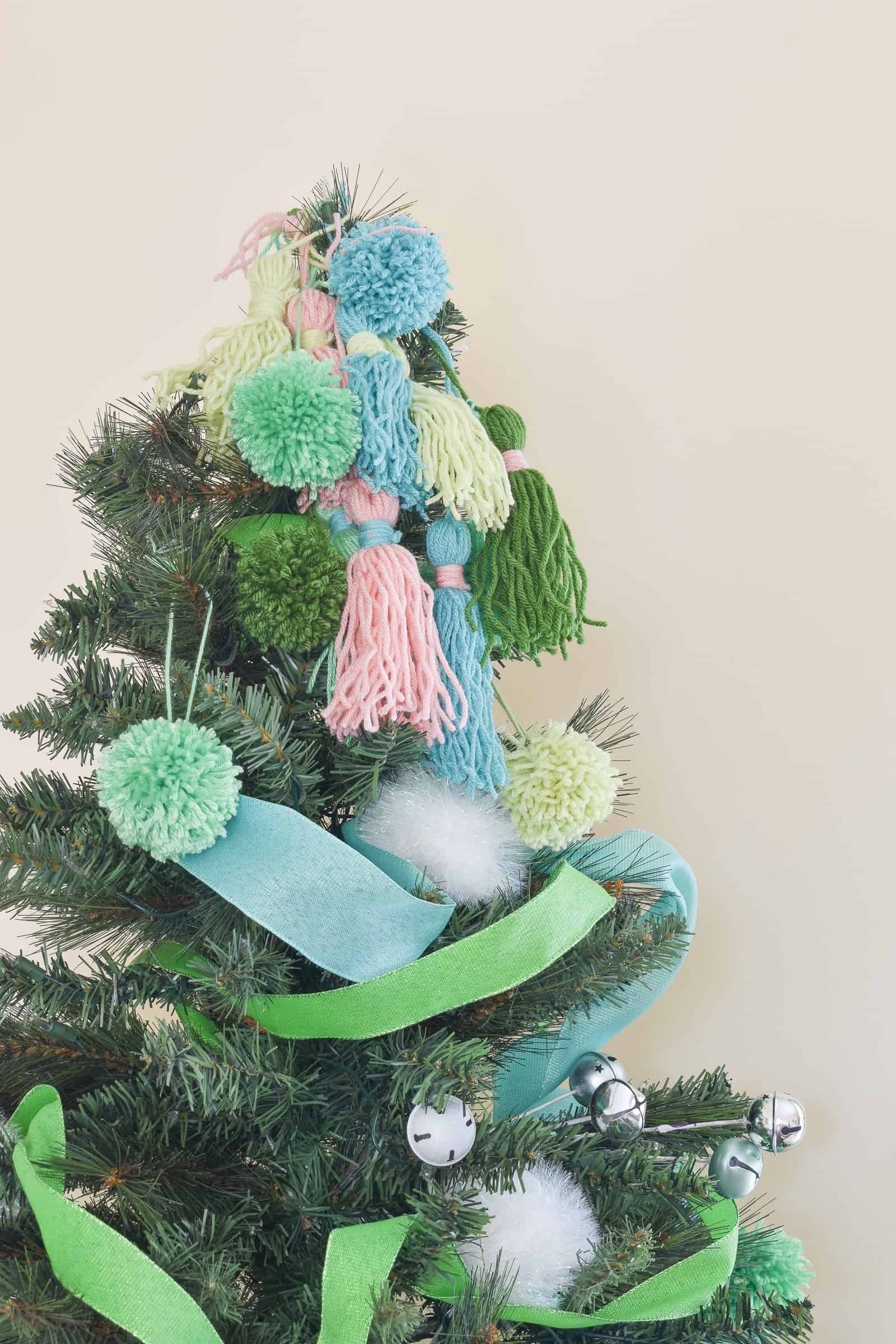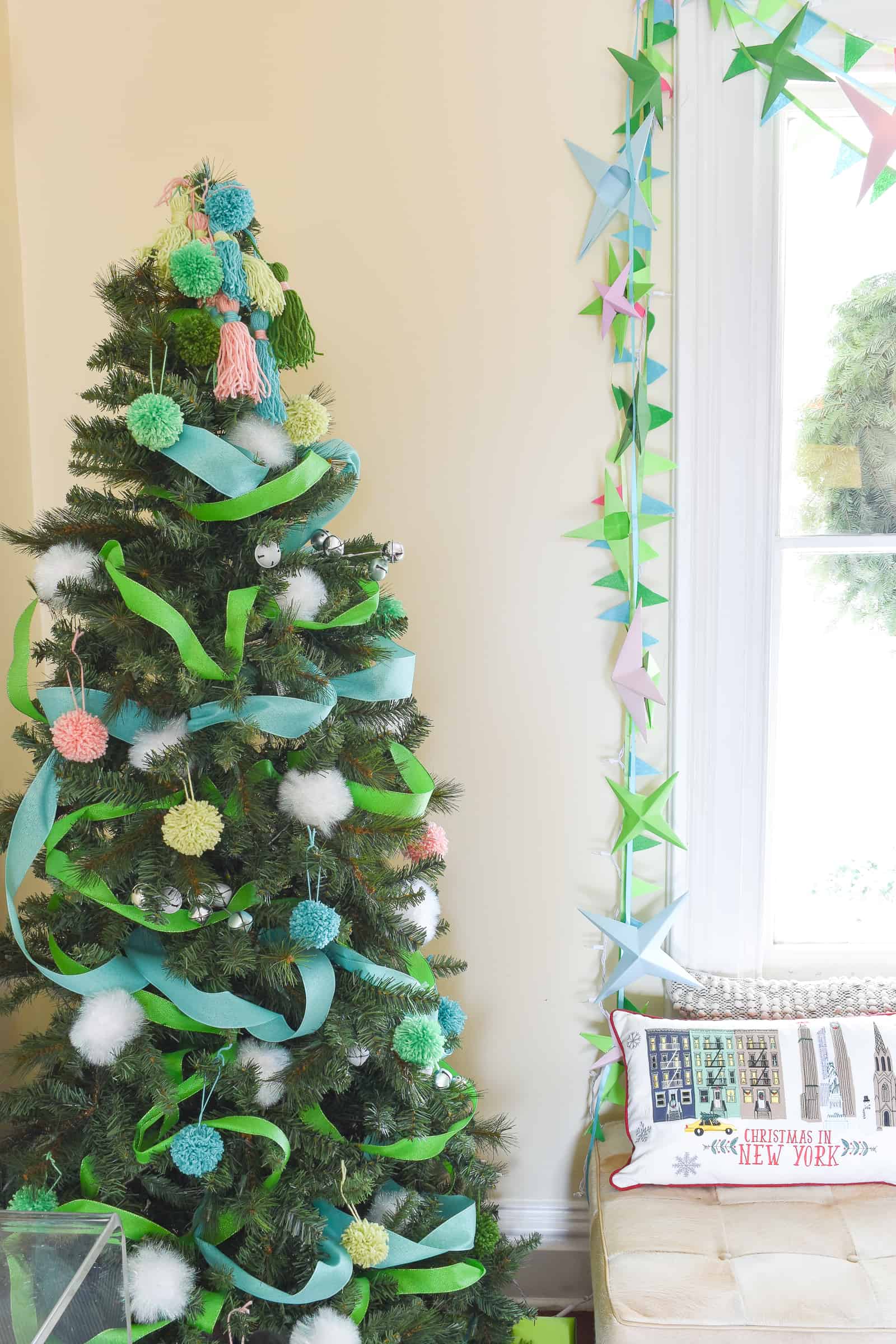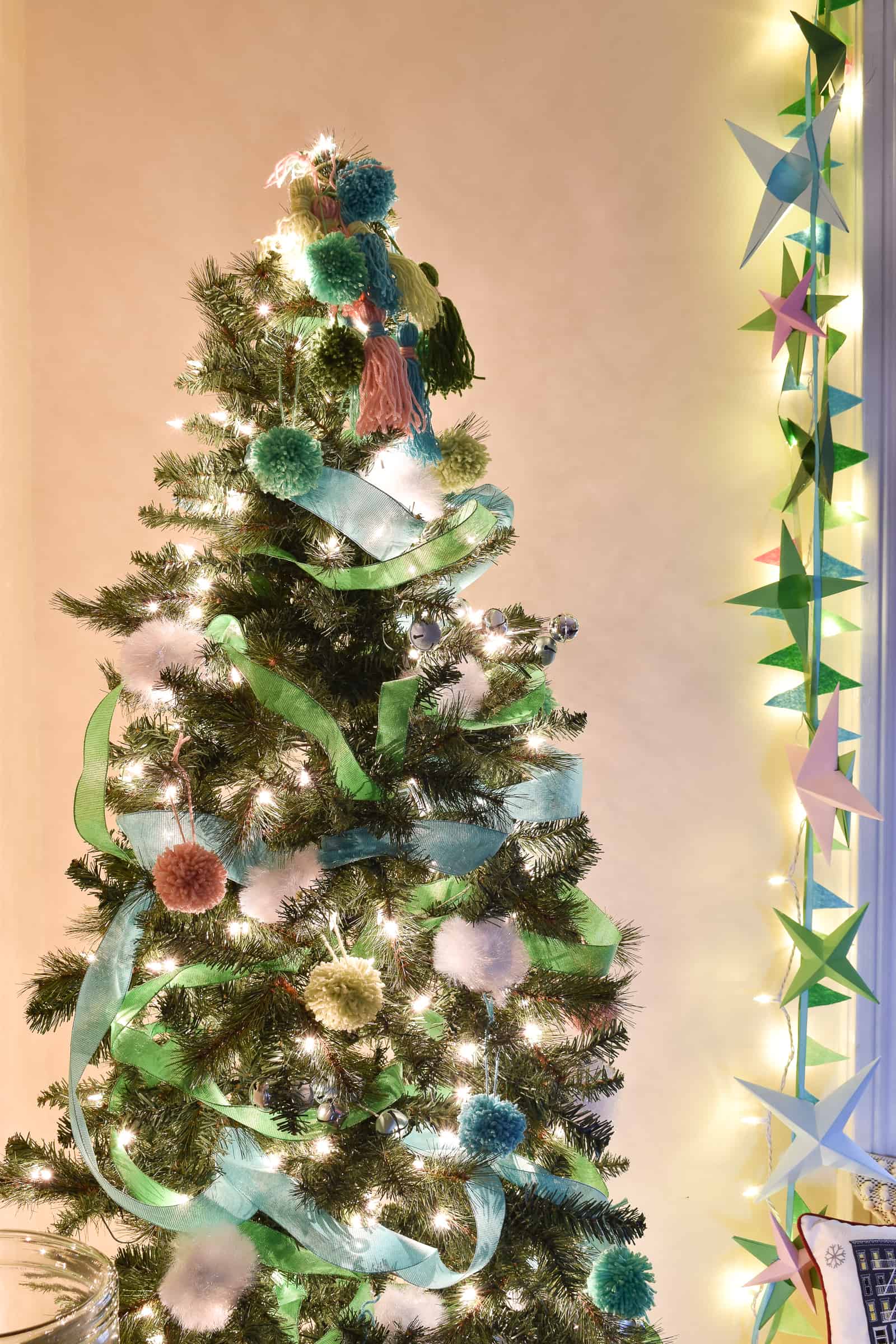 Shiny blue and green paper wrapped up some of the many Amazon Prime boxes I've received in the last couple of weeks and I skipped the ribbon for some more yarn to wrap them up.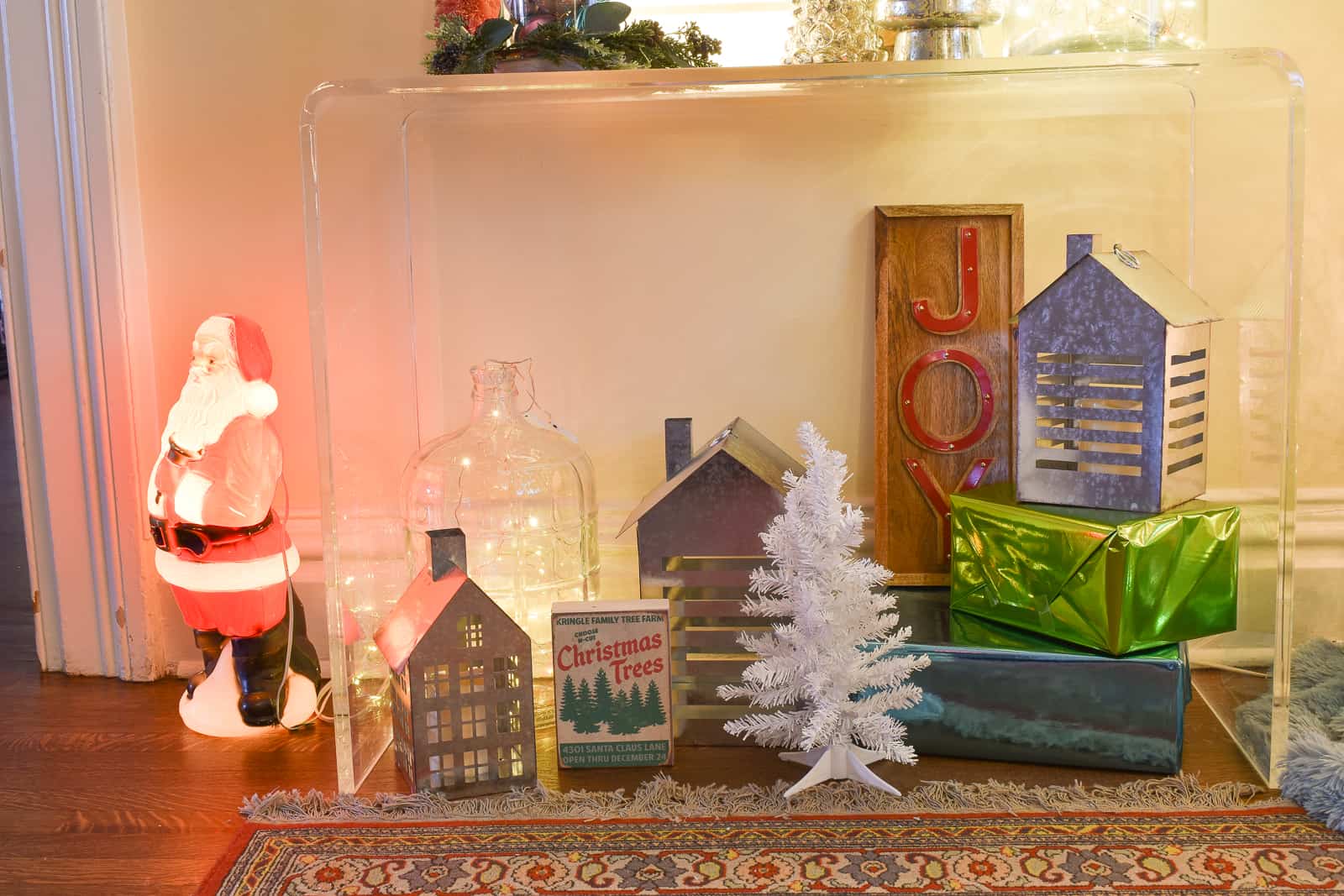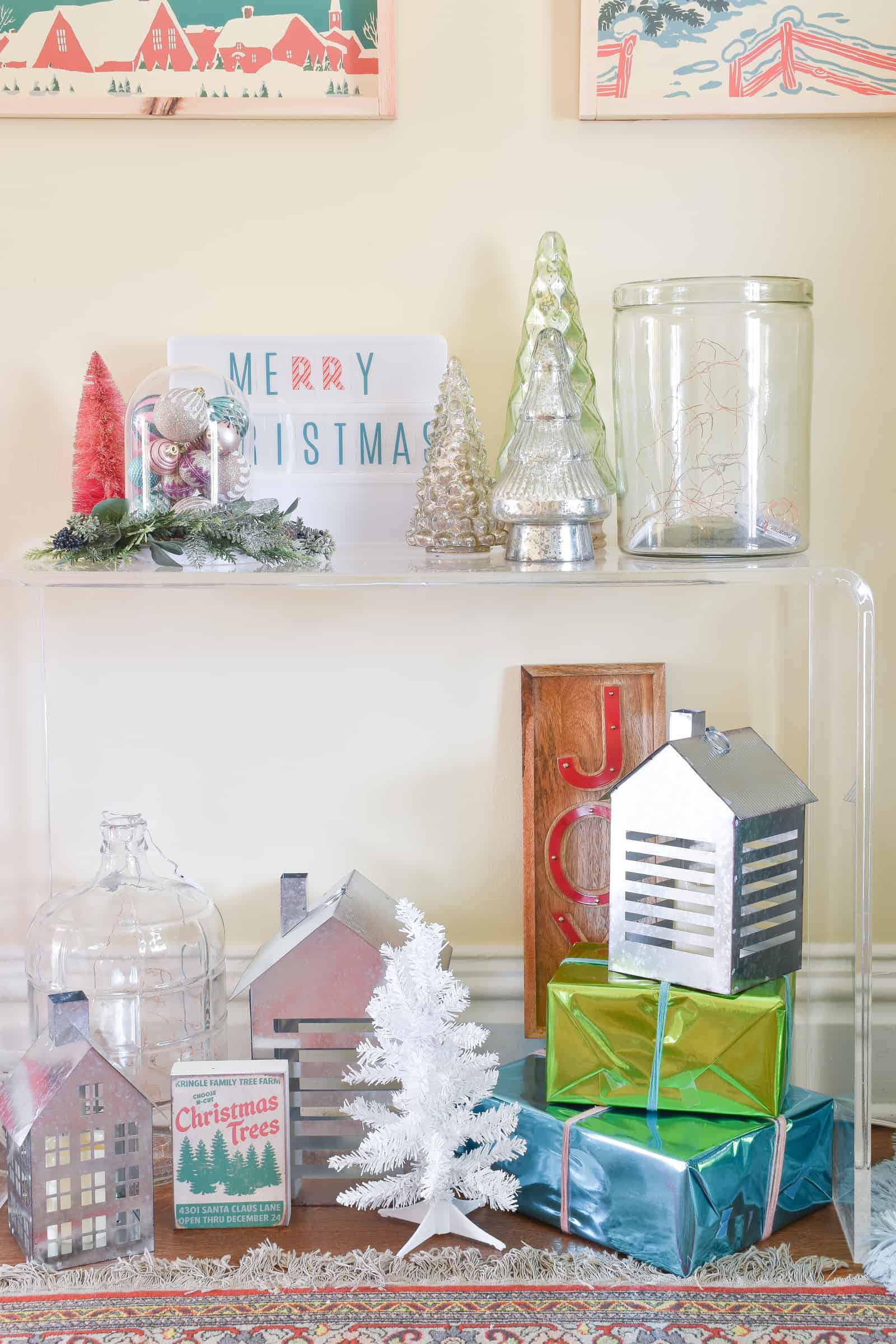 On the other wall, that flea market paint by number scene fit right in as did an old peace sign from my own hoard and that print that was part of the 70% off victory at Michaels.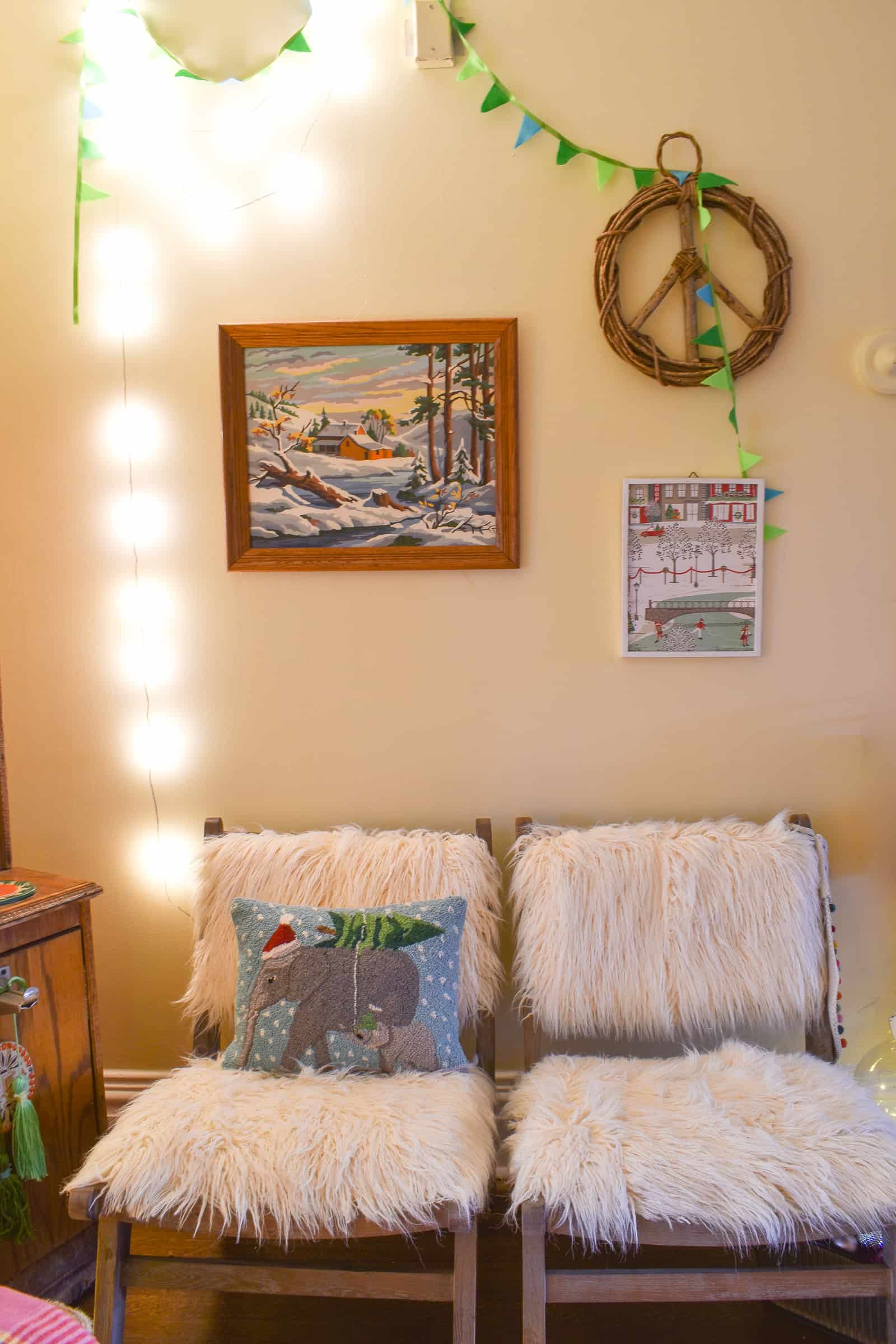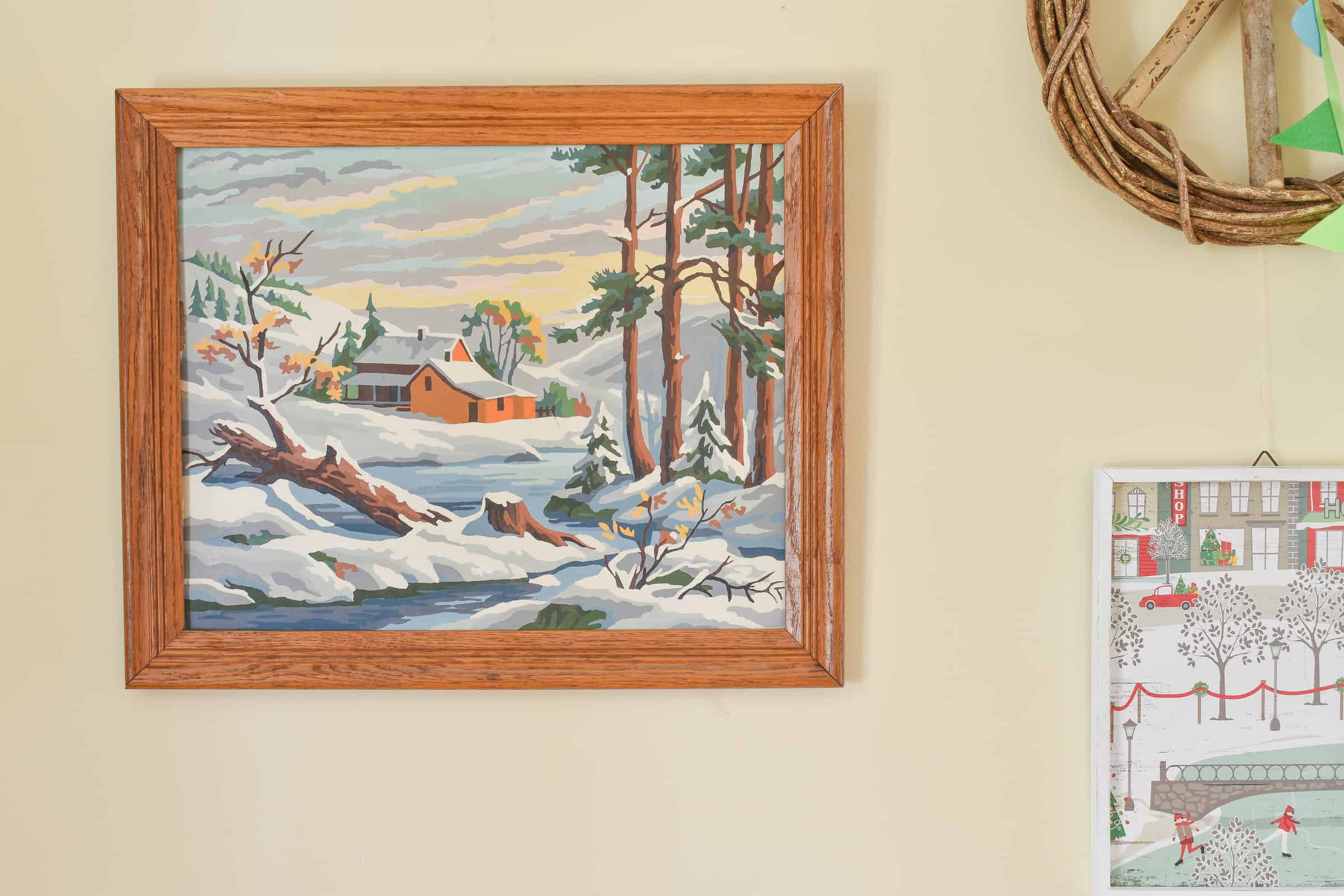 I also grabbed that Santa figure and the fun plaid blanket from the flea market…  whenever I have a space to decorate, the flea market is my go-to spot for a few last minute one-of-a-kind accessories and it never fails to disappoint!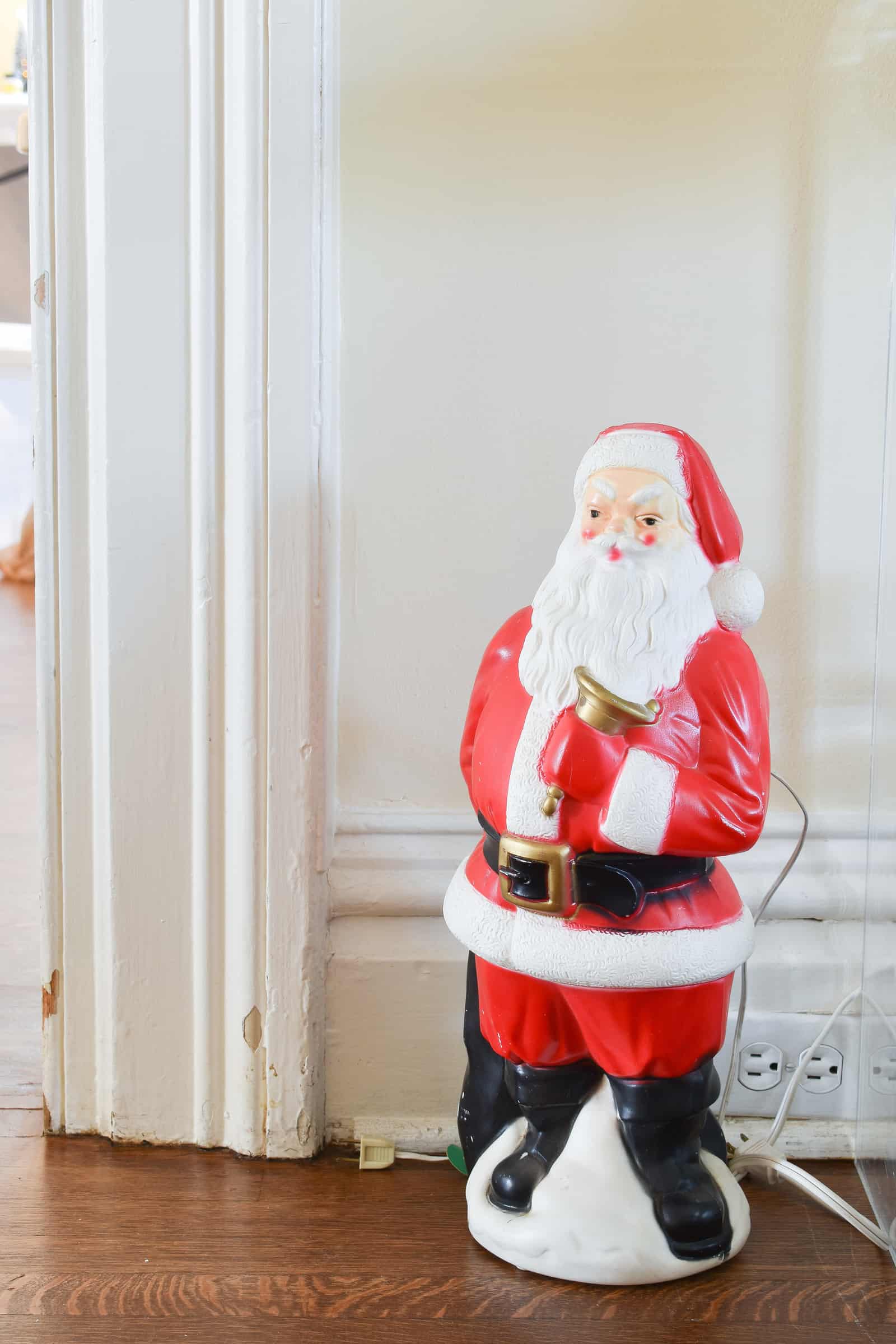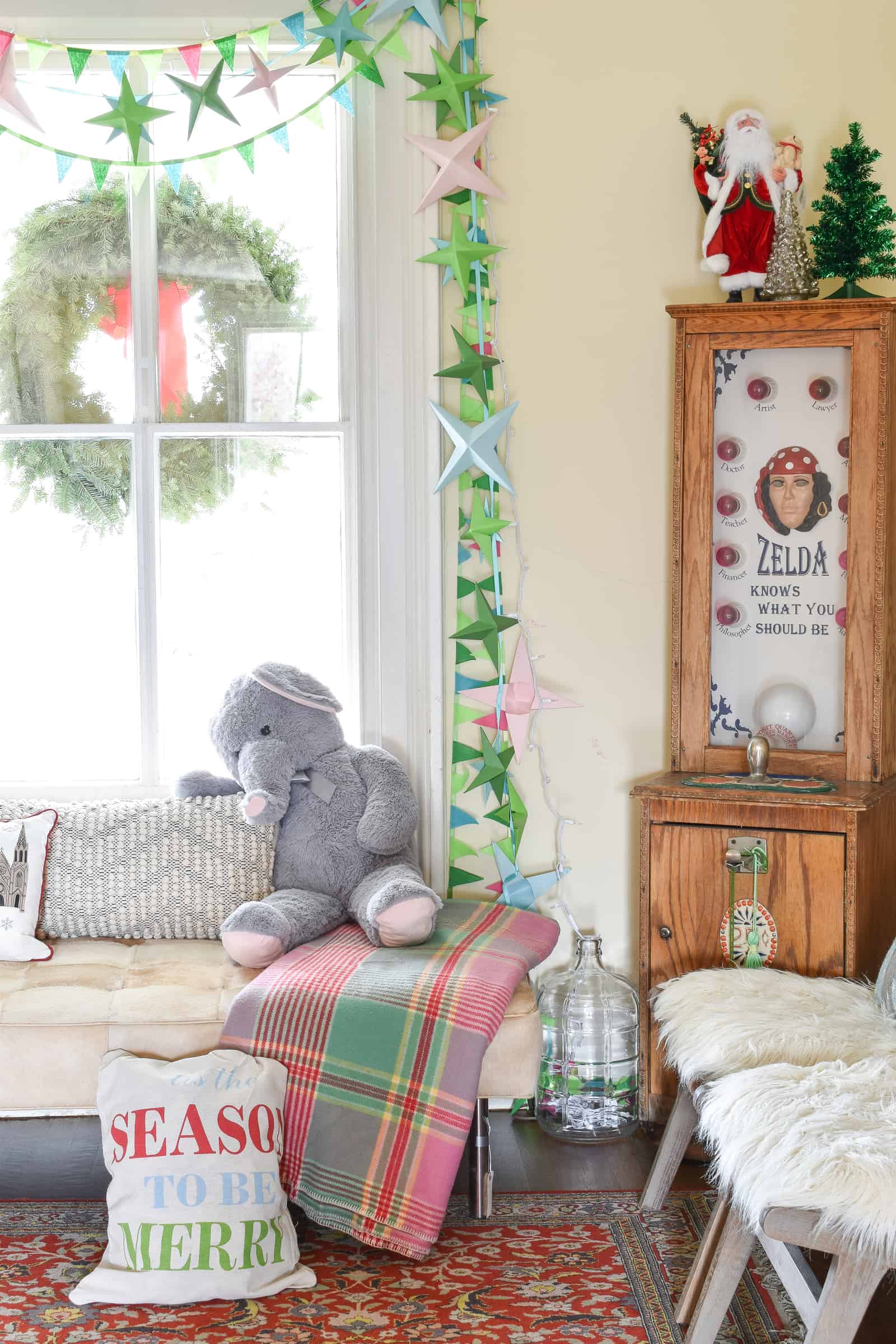 Last but not least, to add some more twinkly magic, I borrowed a handful of large glass vessels from Black Rock Galleries and filled them with my favorite copper LED lights.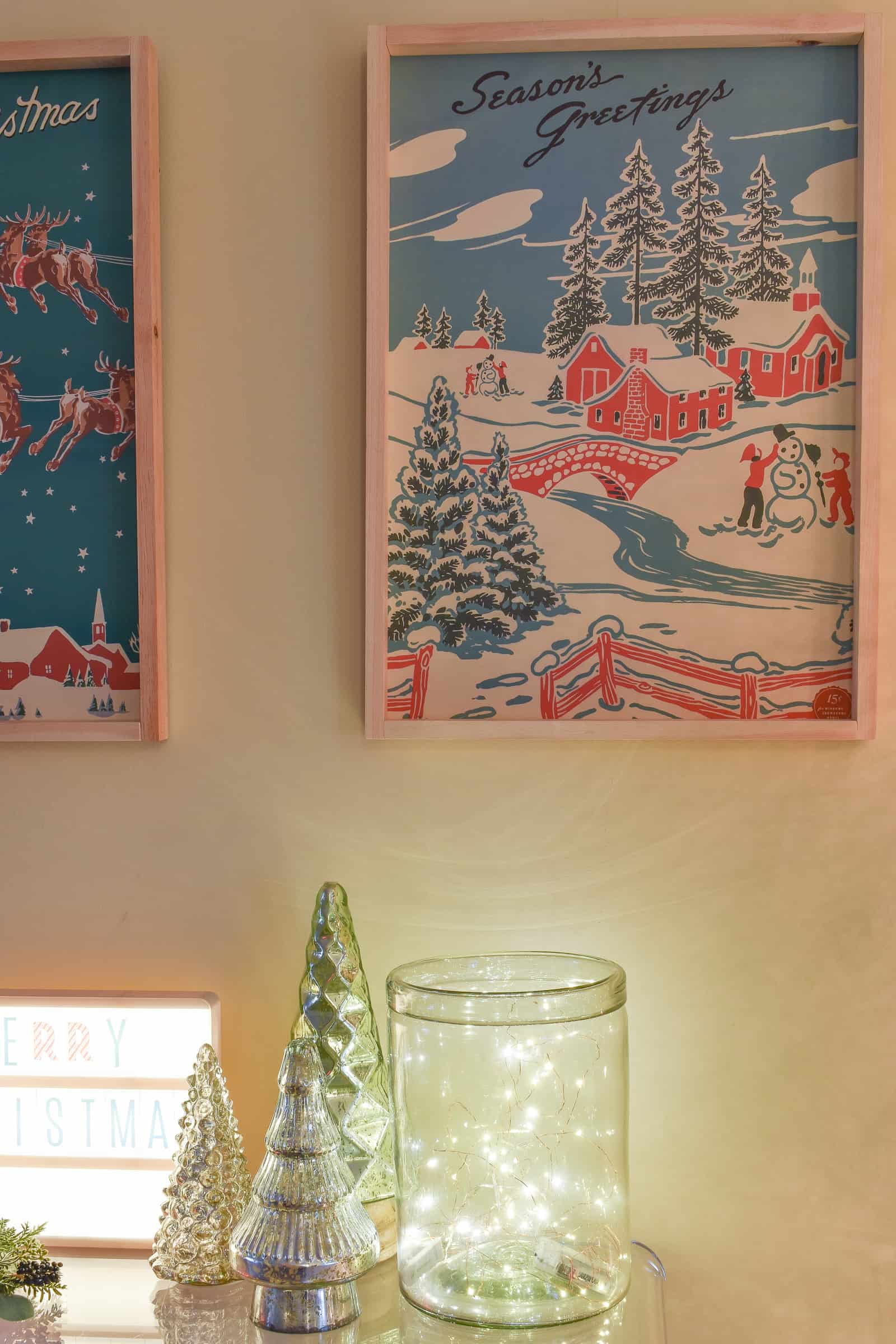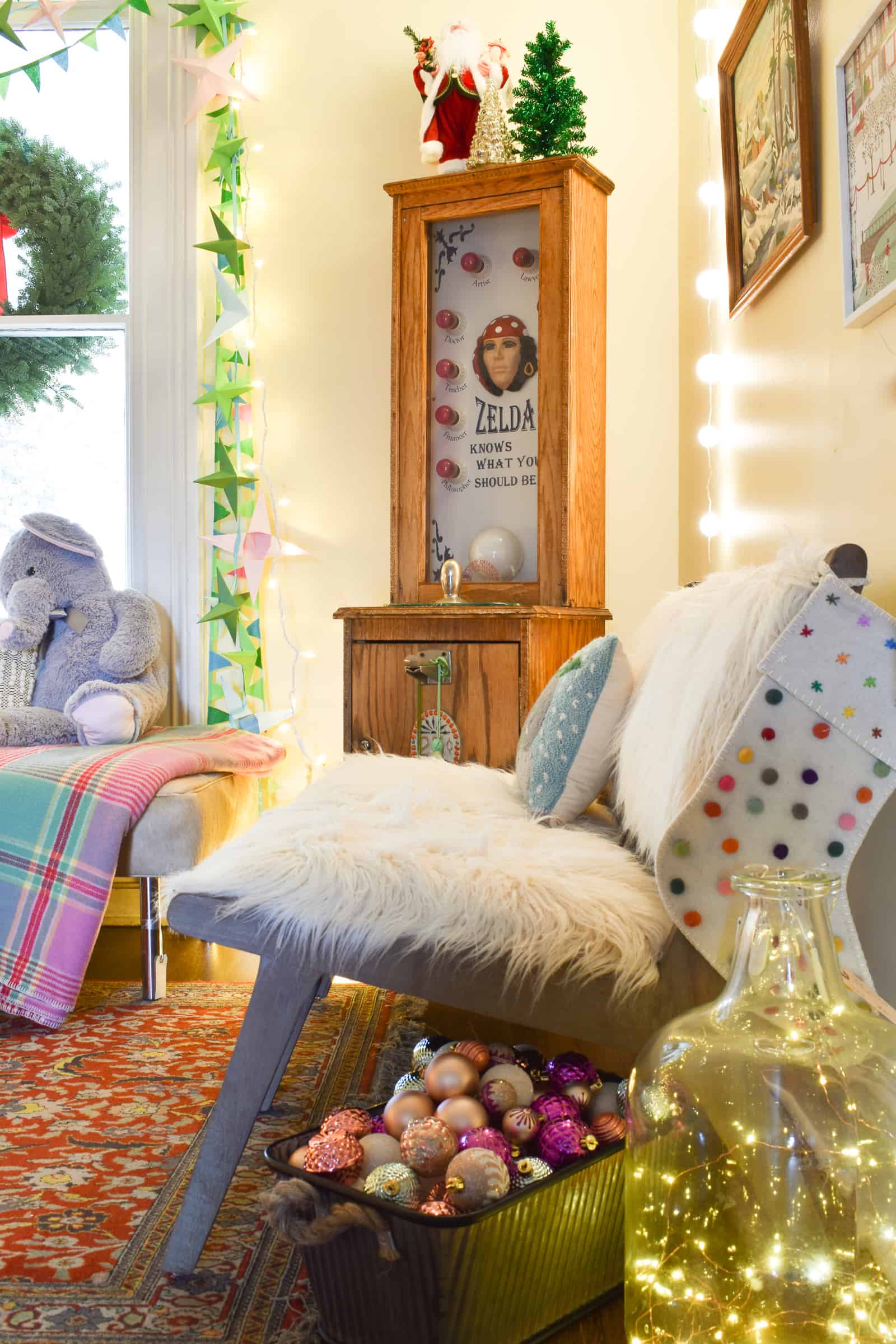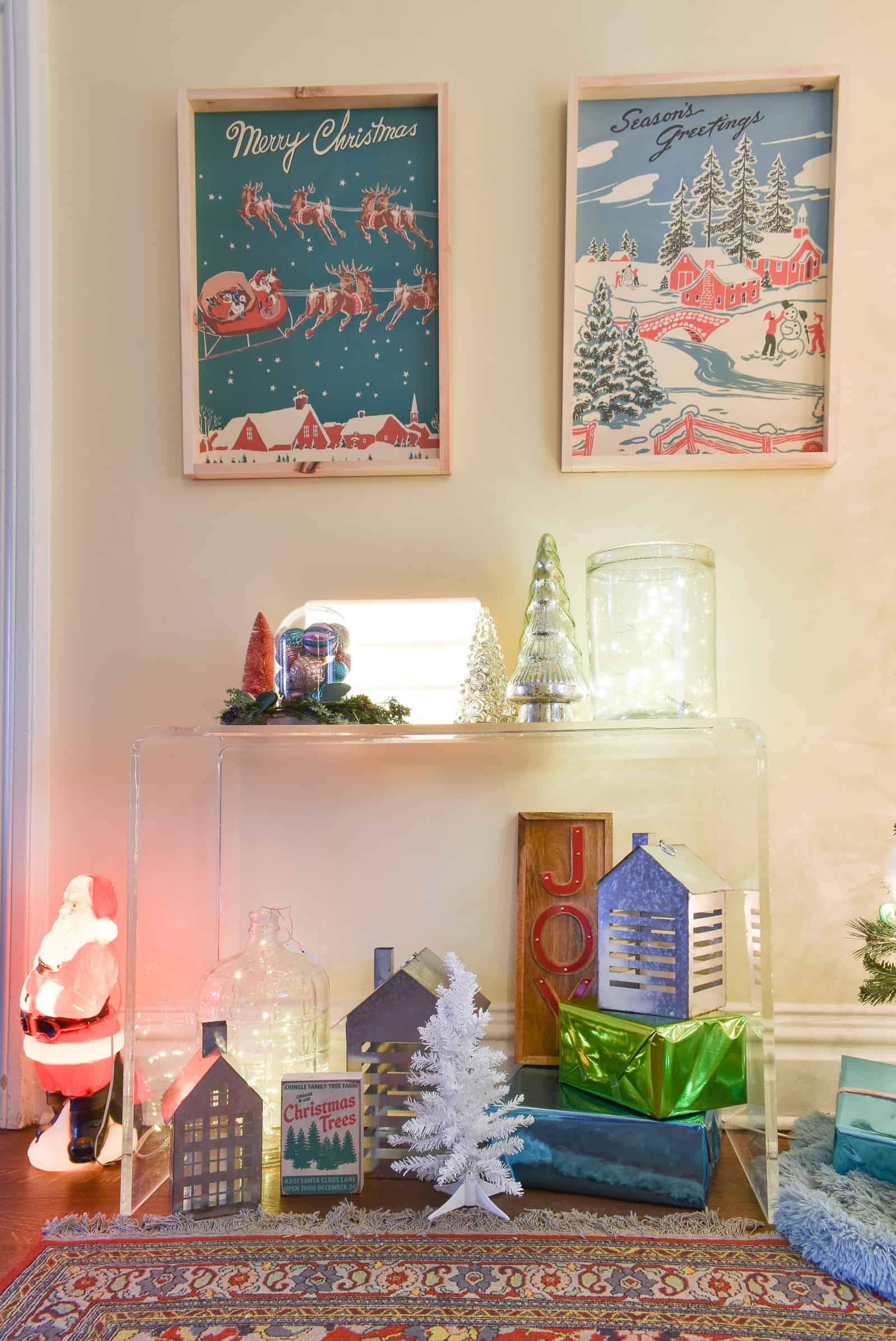 I know I've mentioned a couple times on the podcast, but… this space was SO fun to decorate. Something about playing around with decor and not worrying even a little bit about how practical or kid-friendly things will be was really free-ing!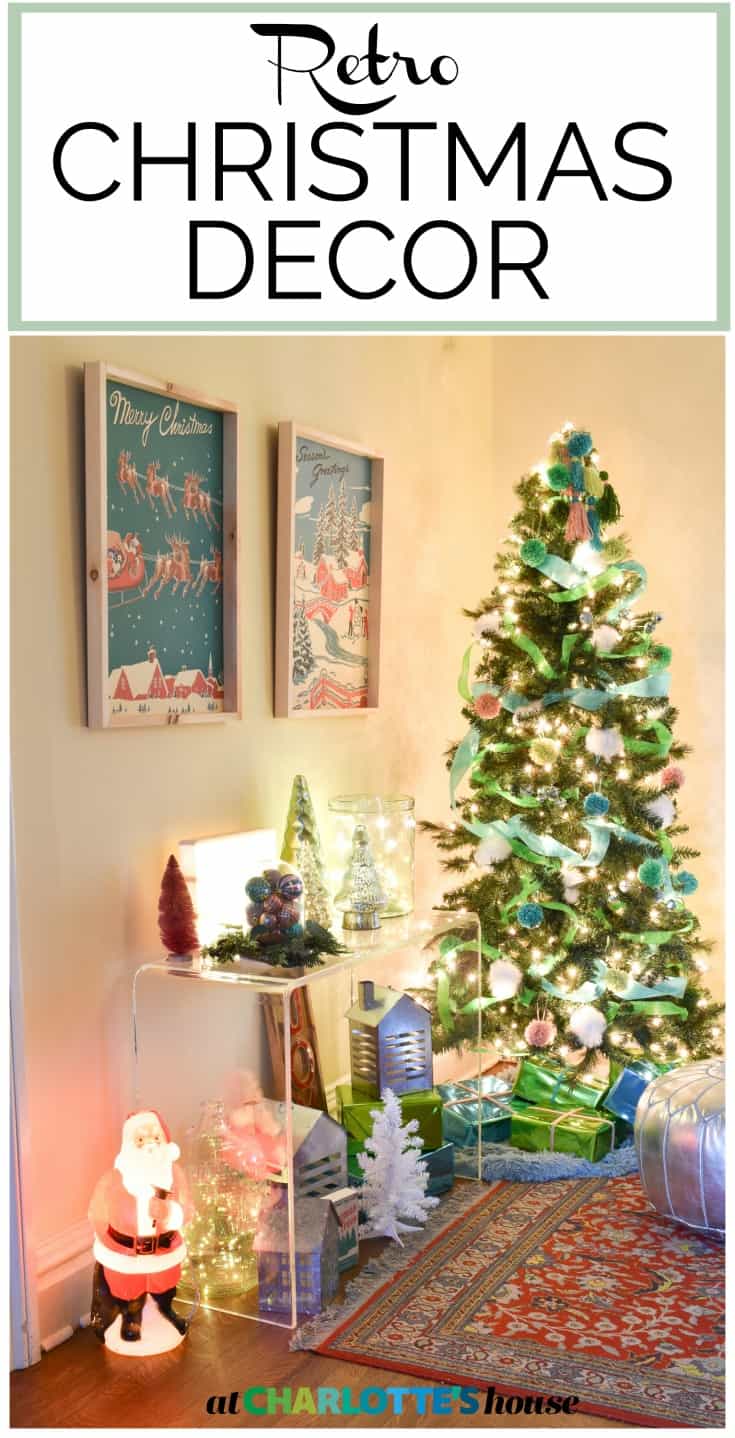 z