This year, for the first time, I was asked to participate in a holiday house tour organized by the amazing Jen from Migonis Home. Let me tell you… nothing gets your tukkus into holiday gear like a gaggle of 30 wildly talented bloggers posting their holiday decor alongside yours! Turns out? I secretly love getting holiday decorations up a month early!  I think.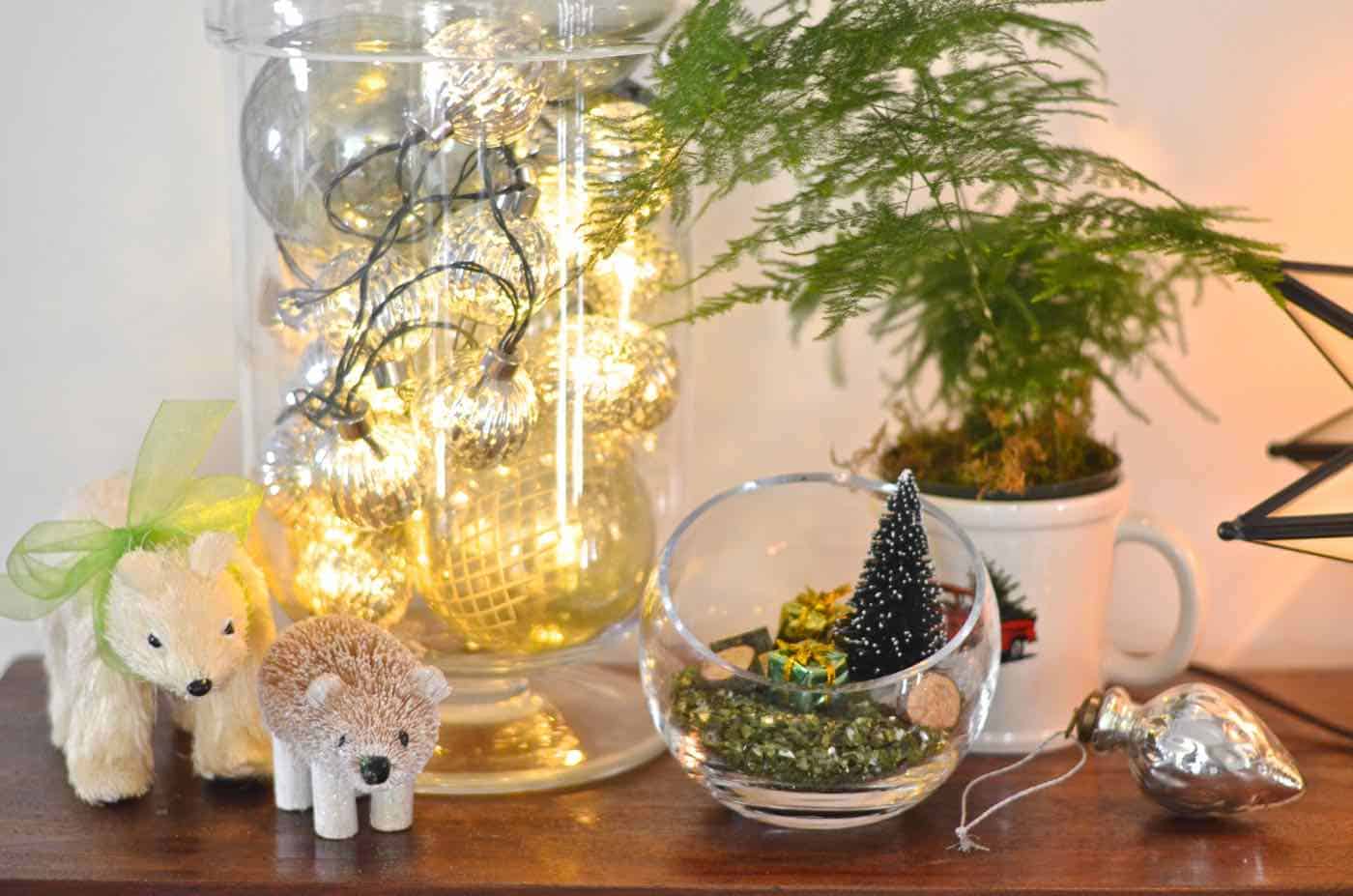 If you visited the Welcome to the Season hop, then you know that my approach to decorating is to start small and then slowly add details until the whole house is bursting with Christmas glee. So that's pretty much how I tackled this holiday tour. I found a few places that would be quasi-kid-proof and started there.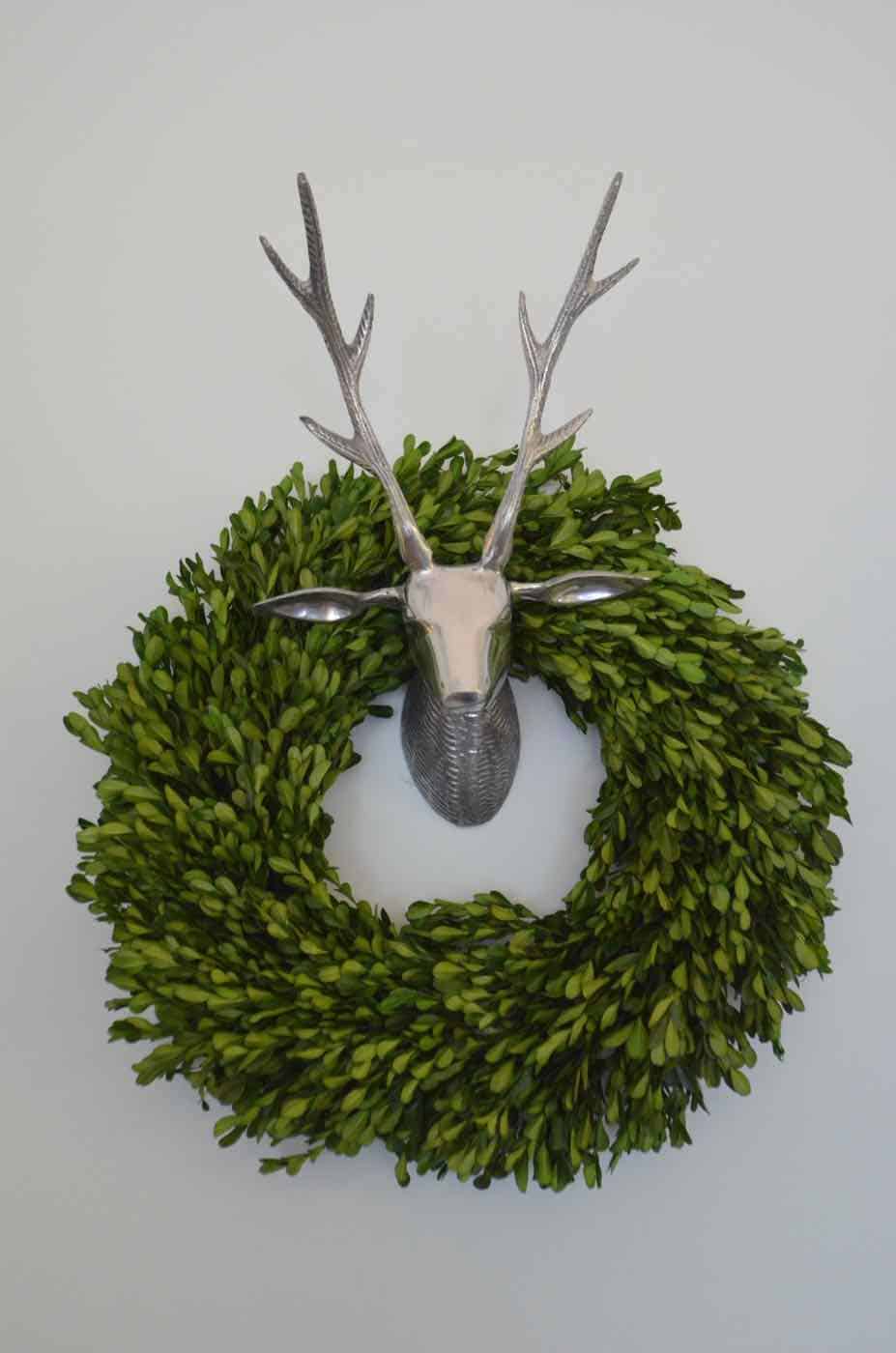 My felt Christmas tree garland was the jumping off spot for our mantel. I love the colors of the garland draped across with the eclectic mix of tchotckes displayed above. I found this cloche at the flea market and filled it with some green LED wire lights Homegoods was giving away for $3.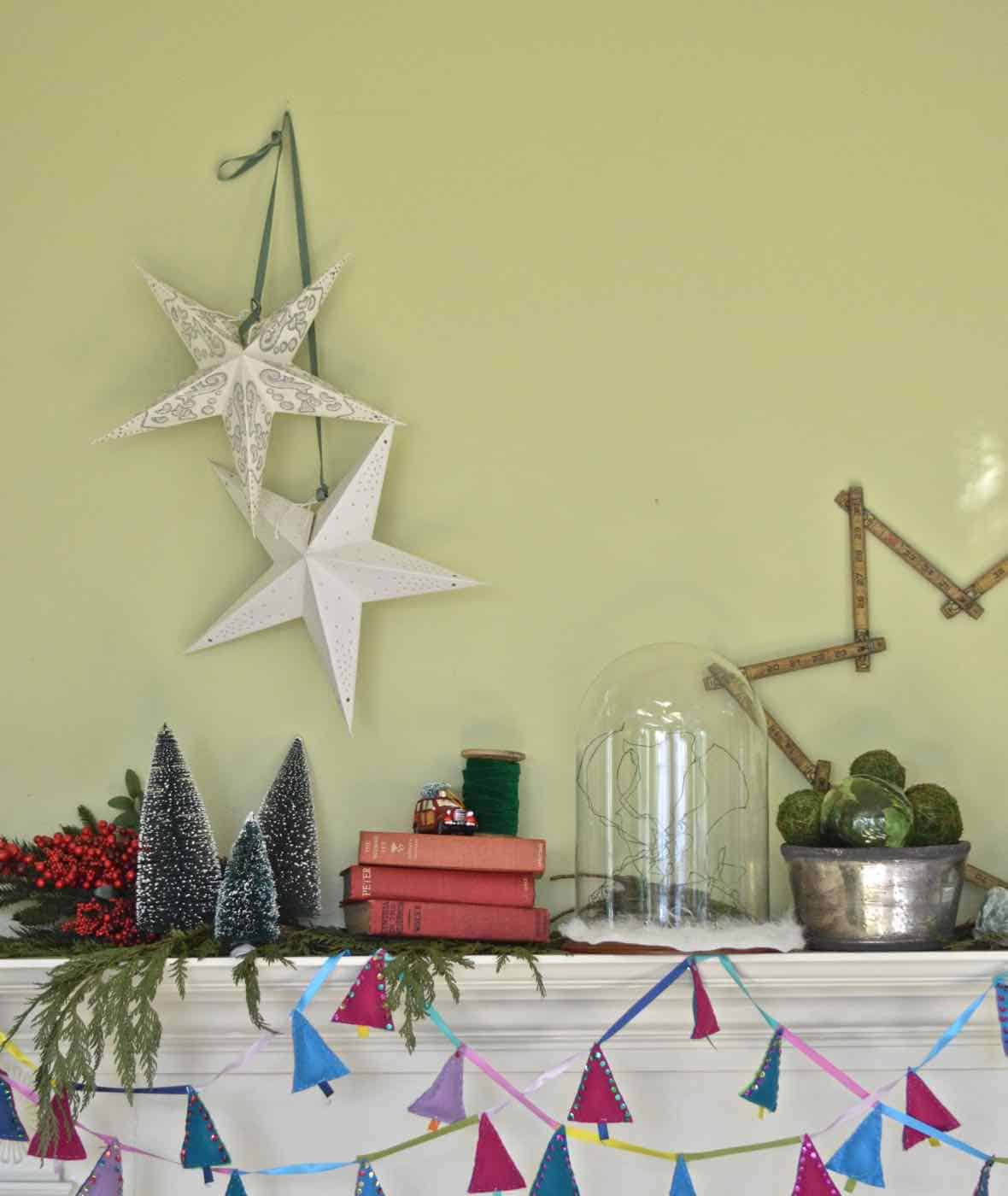 The stack of books was found at the flea market along with the jointed ruler that I folded into a star. The other lovelies are my justification for hoarding. #winning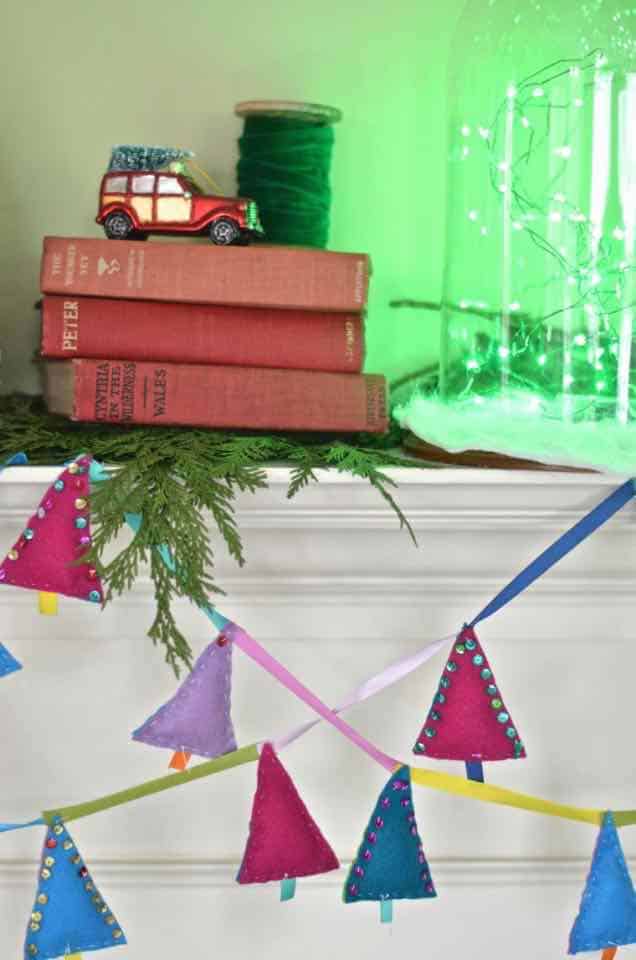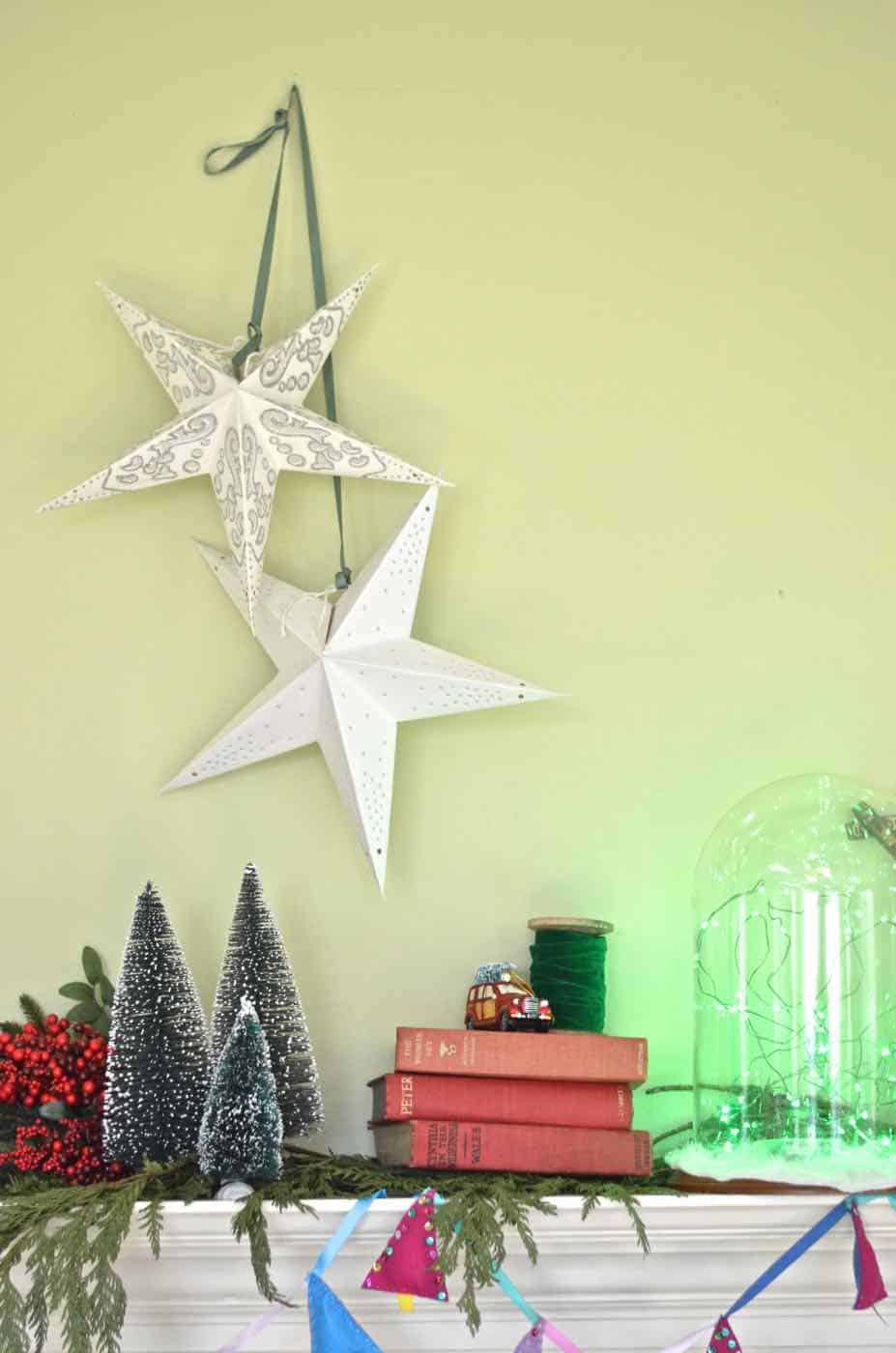 On the coffee table in the living room, I displayed an old gumball machine and a blue mason jar filled with nonbreakable ornaments and that bowl of paperwhites will hopefully be blooming in time for Christmas.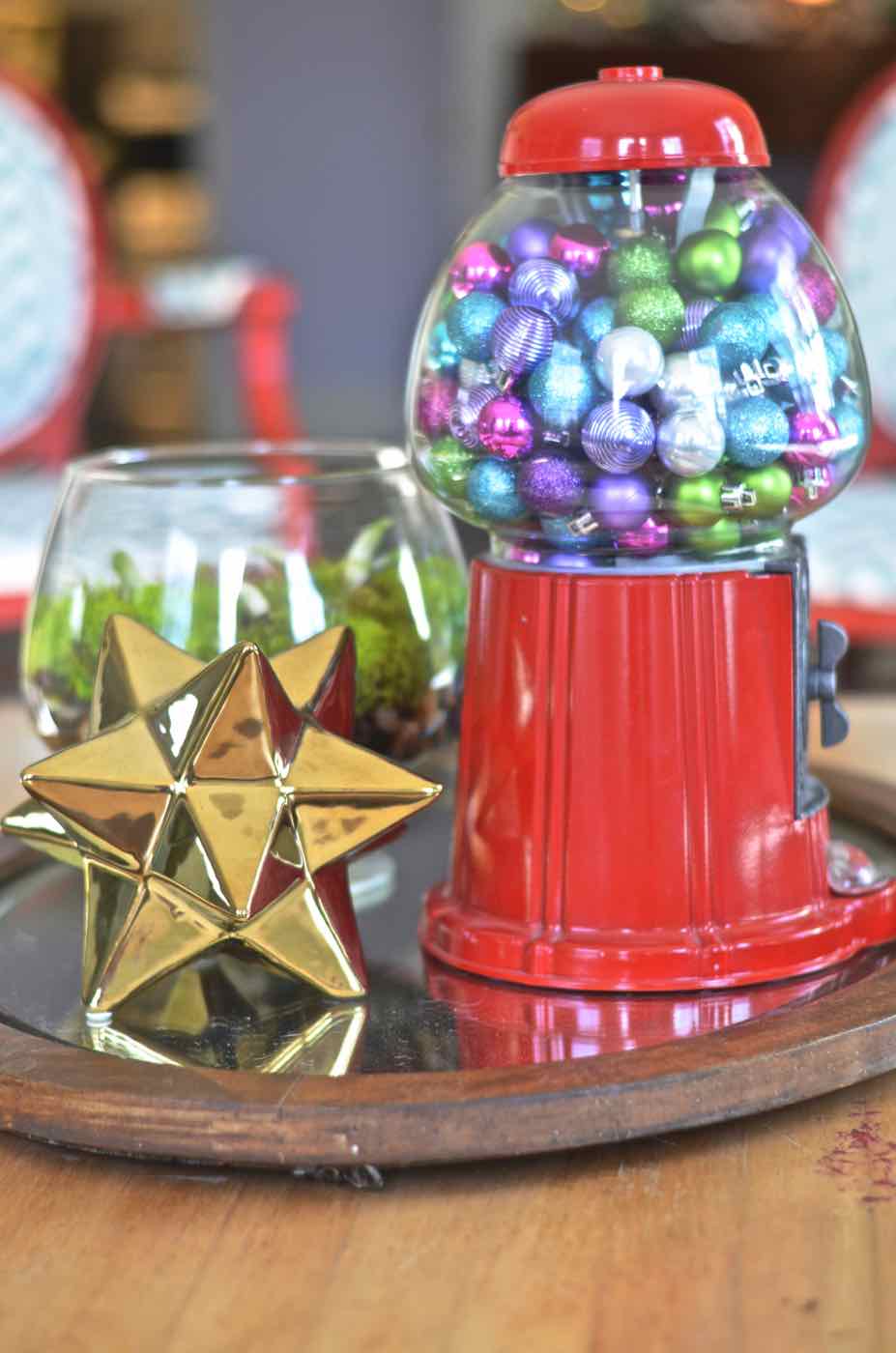 Our painted red sidetable has an amaryllis bulb along with these lovely green agate bookends that I gold leafed. That red paper garland is from Ikea and I love the simplicity of it just draped over… not your typical holiday scene, but an unexpected little bit of green and red.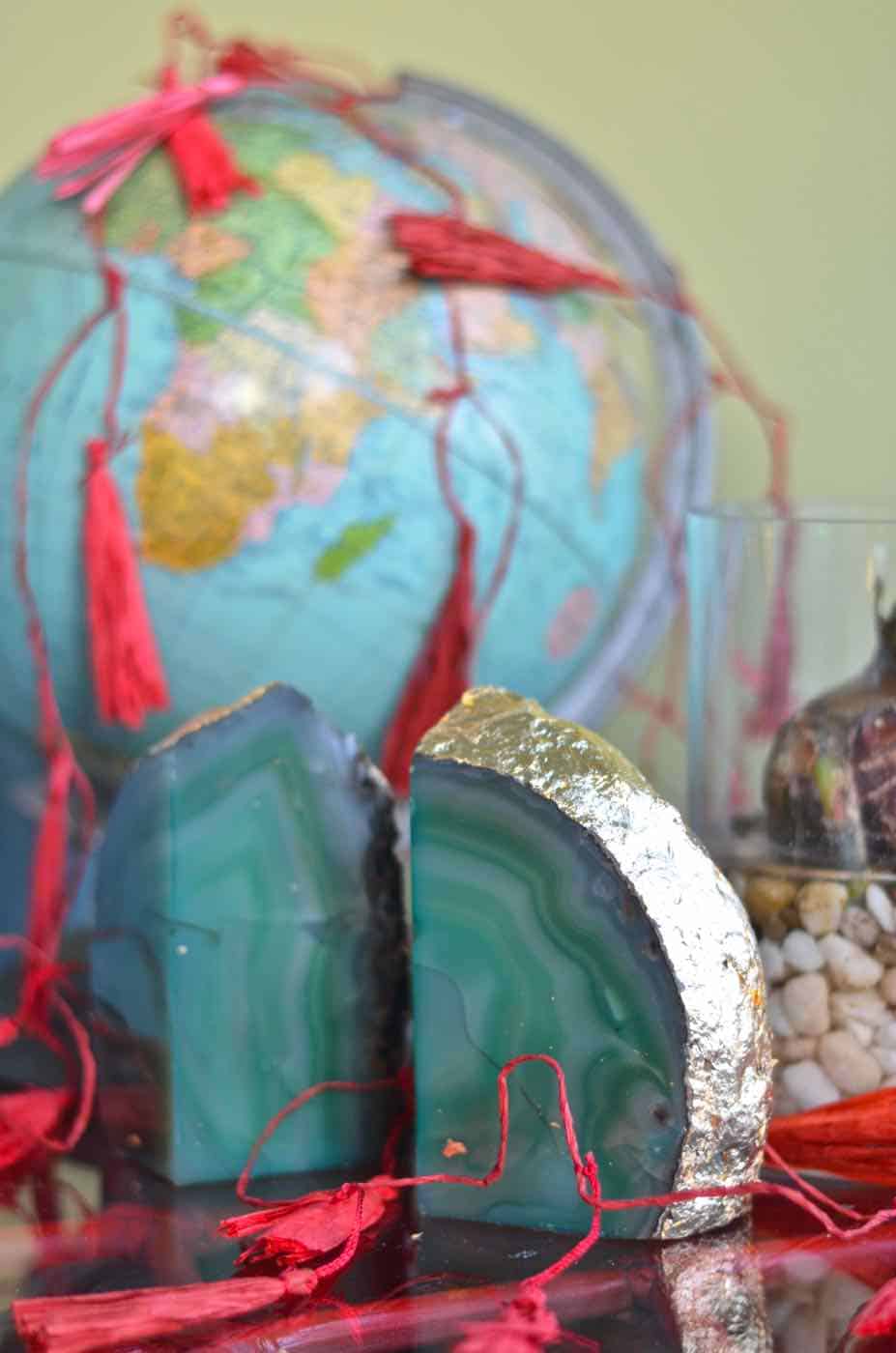 My next vignette is on our old desk against the stairs… again, weeeeelllll out of the way from Martha hands and Oliver feet. I found this strand of metallic lights at Homegoods and plunked them into this large hurricane.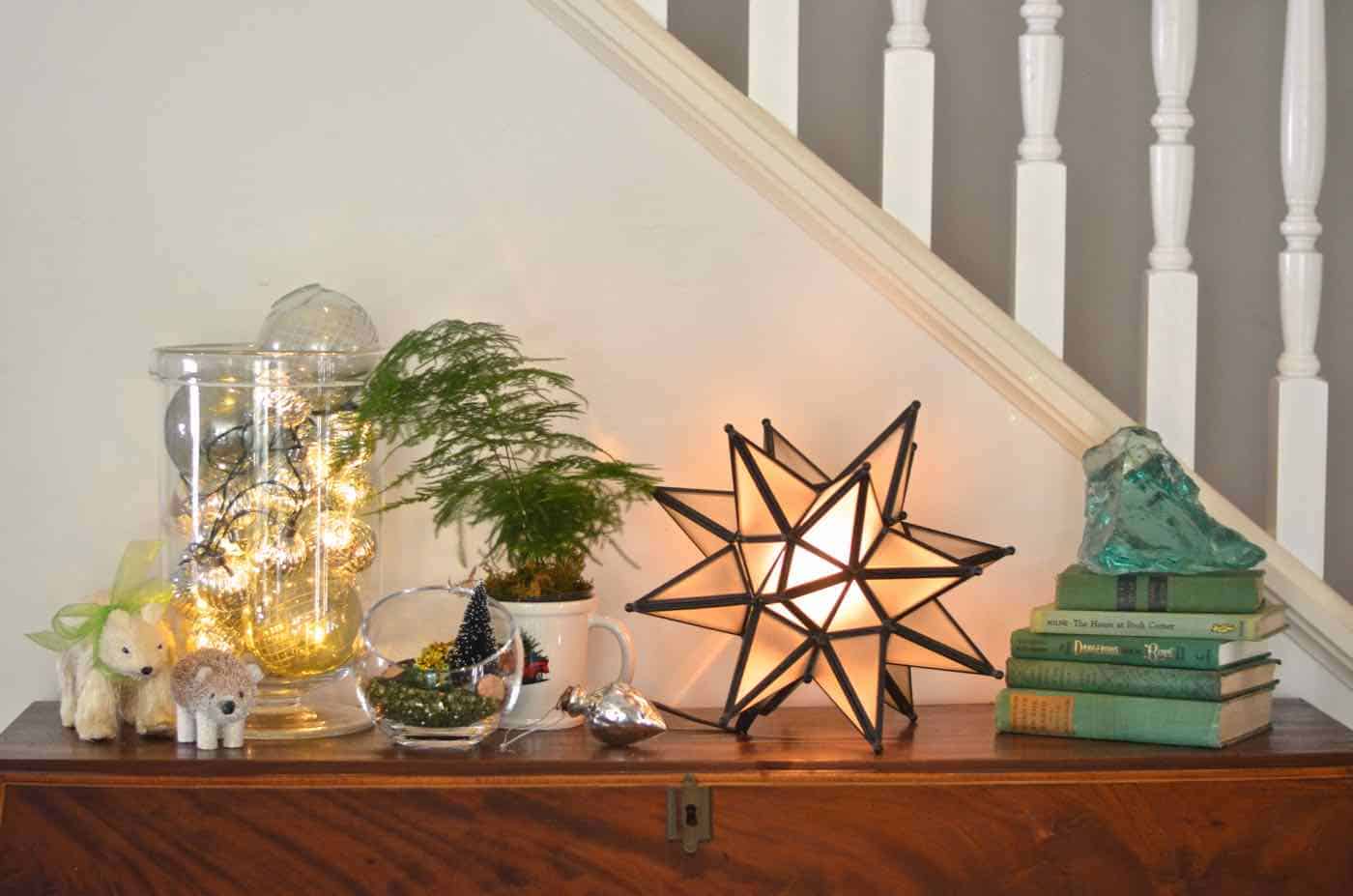 For this sweet little Christmas scene, I found this green decorative glass in the plant section of Ikea and filled this little glass orb (another Homegoods find); a bristle Christmas tree, a couple of miniature presents and a few slices of a large twig complete the scene.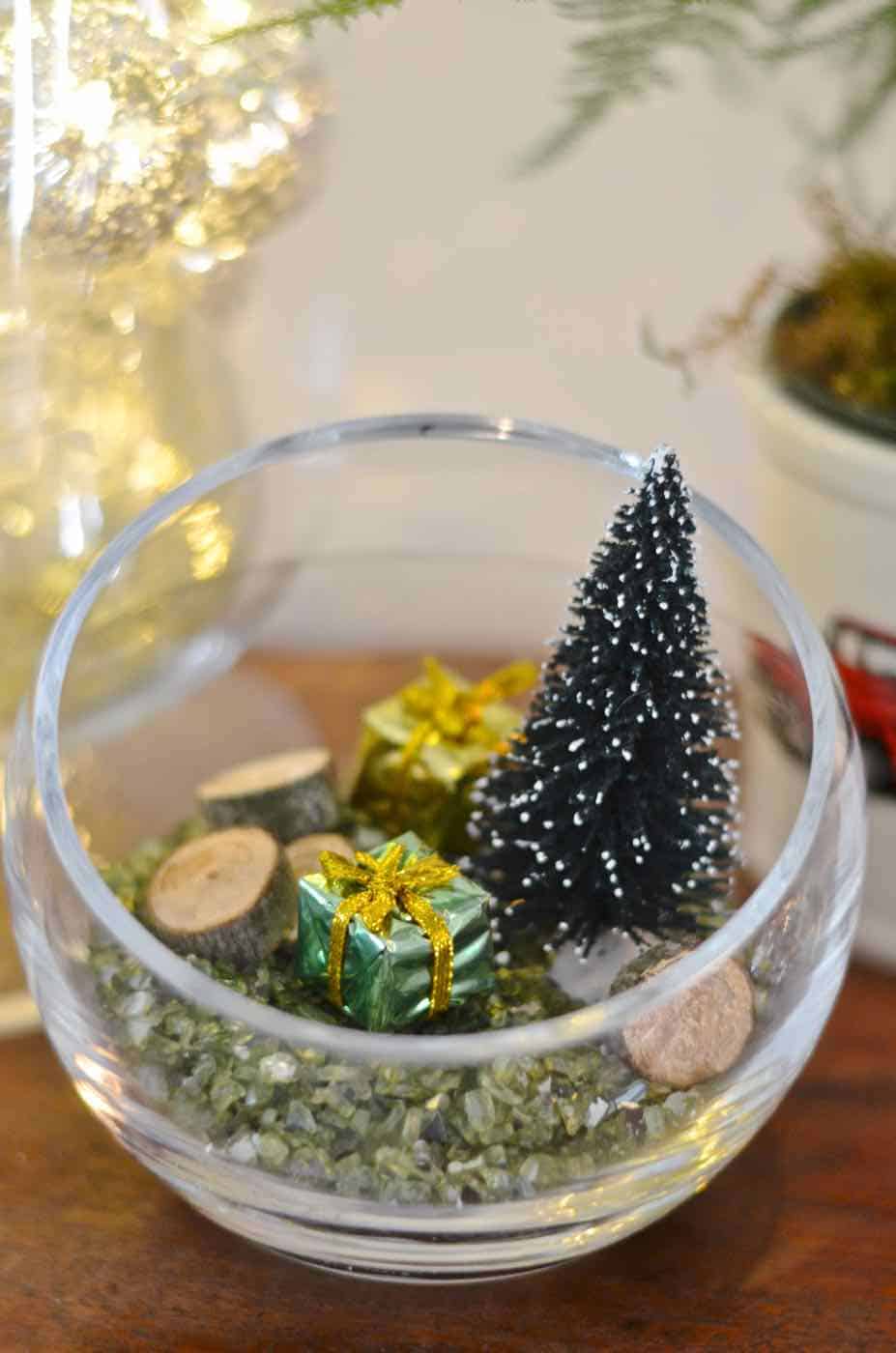 On another table in our no-mans landing, I plunked the copper Christmas tree along with the bowl that I made for $3 and posted about over at VRAI Magazine.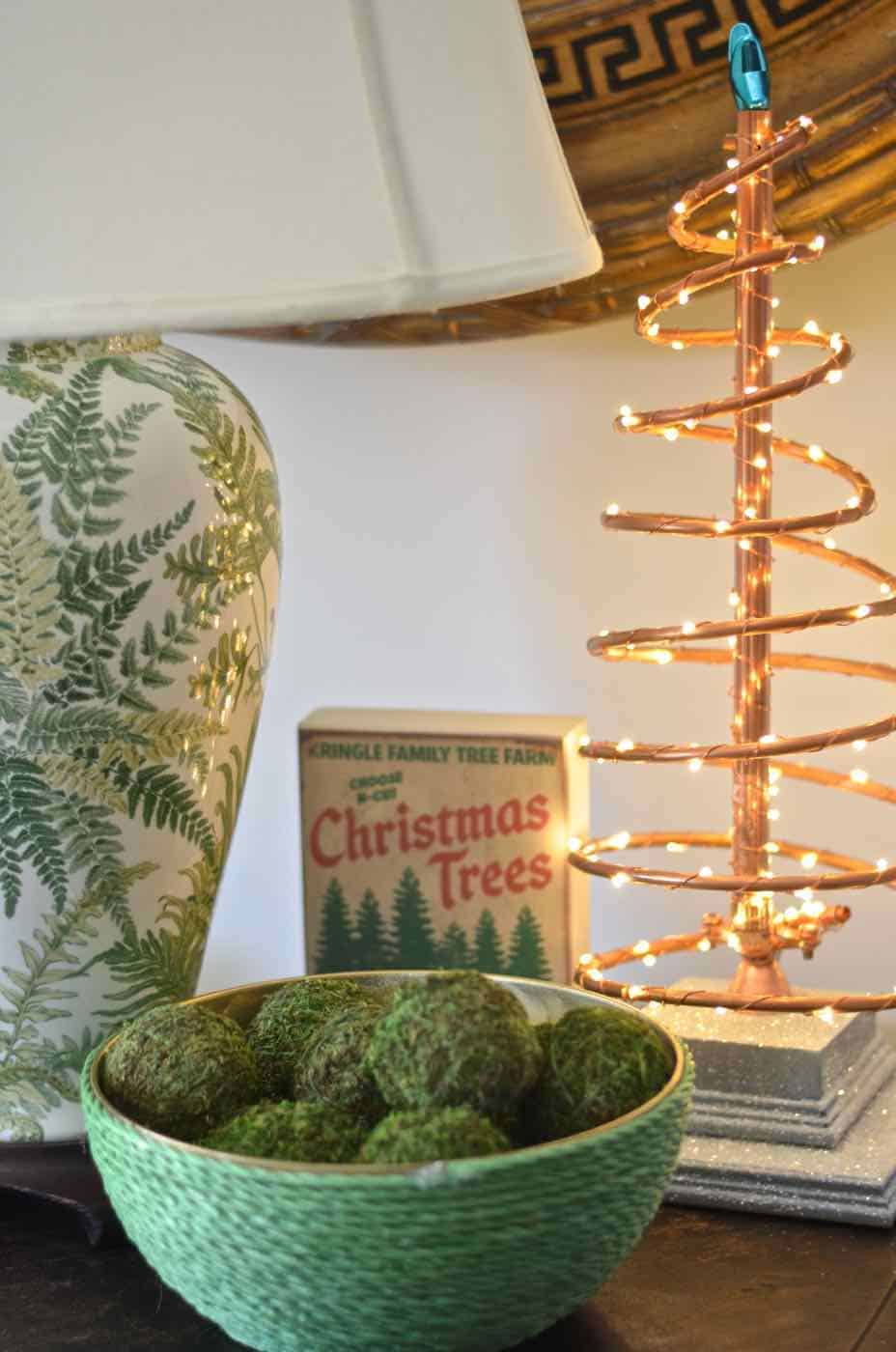 On our foyer table, this woodland scene greets visitors when they come in out of the cold. And by visitors, I mean our UPS guy, Jerry because he's pretty much the only person who comes into our foyer everyday besides the immediate family.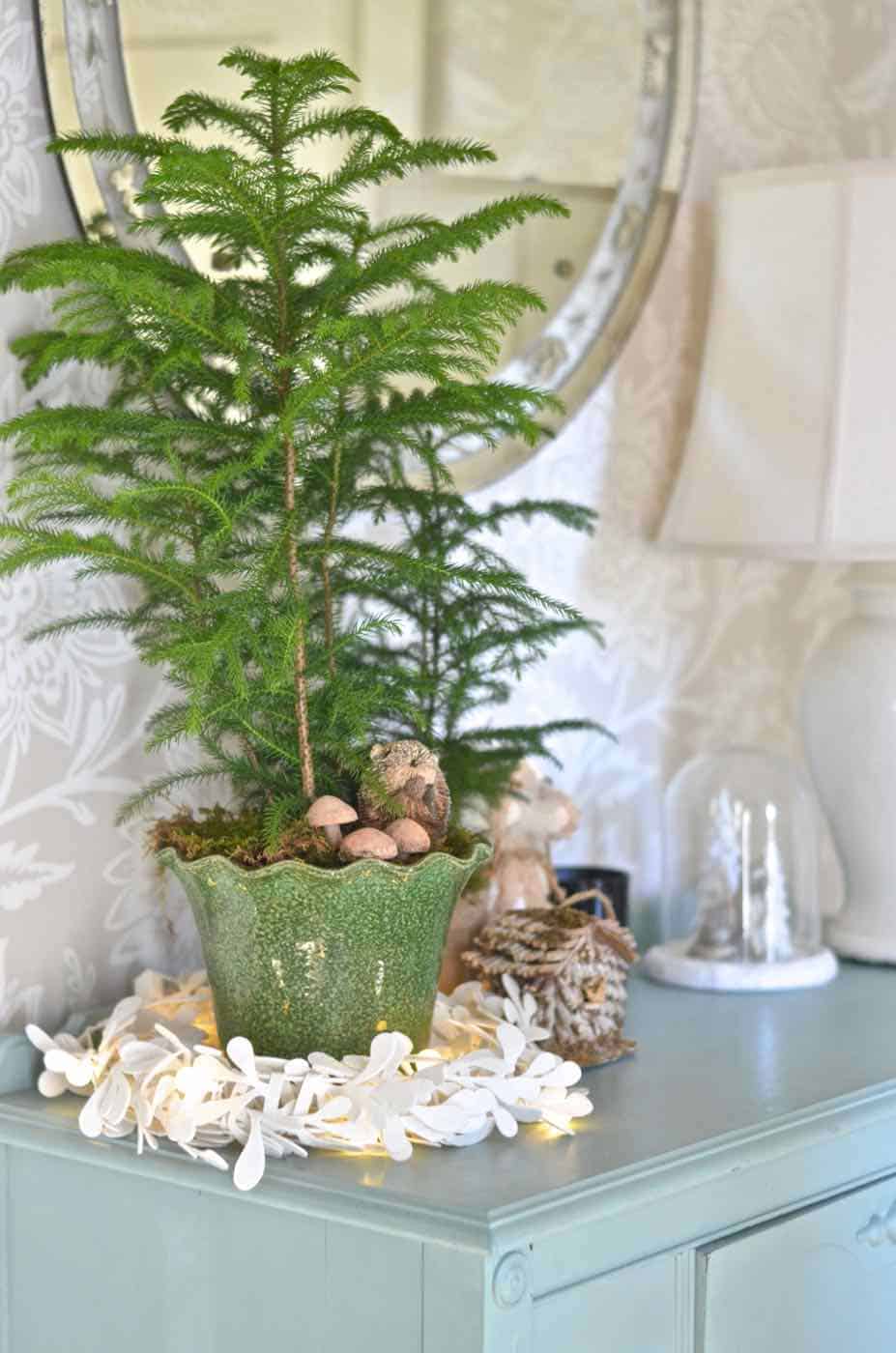 The greenery are Norfolk Island pines courtesy of Home Depot and I arranged them with one of my Santas, a log cabin ornament and then a cloche I found at Homegoods. The squirrel is also an ornament and came as a pair from TJMaxx and those little mushroom caps came from Terrain.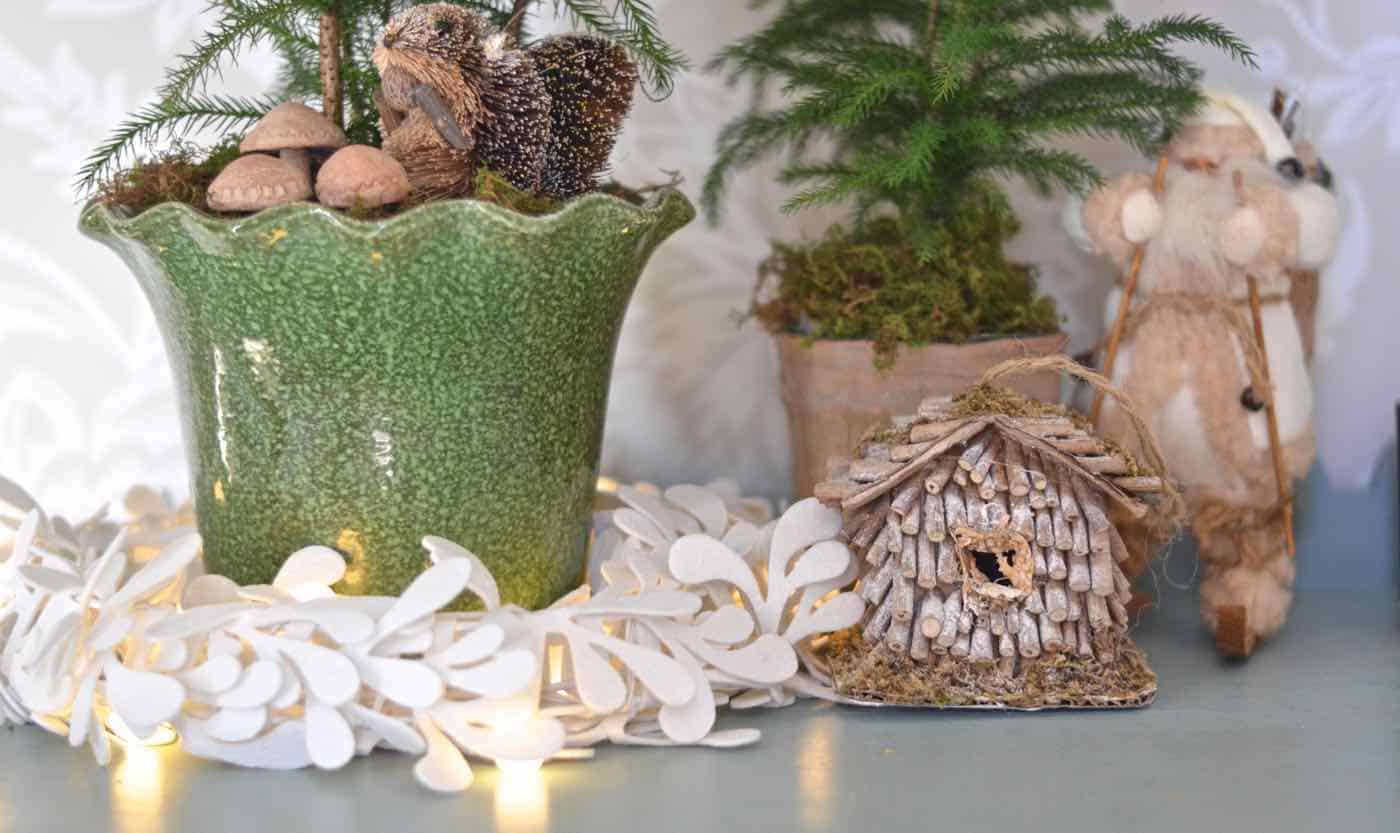 I made the mistake of hanging my flea market sleigh bells where the kids could actually handle them, but for the most part they've been relatively restrained with their Jingle Bells.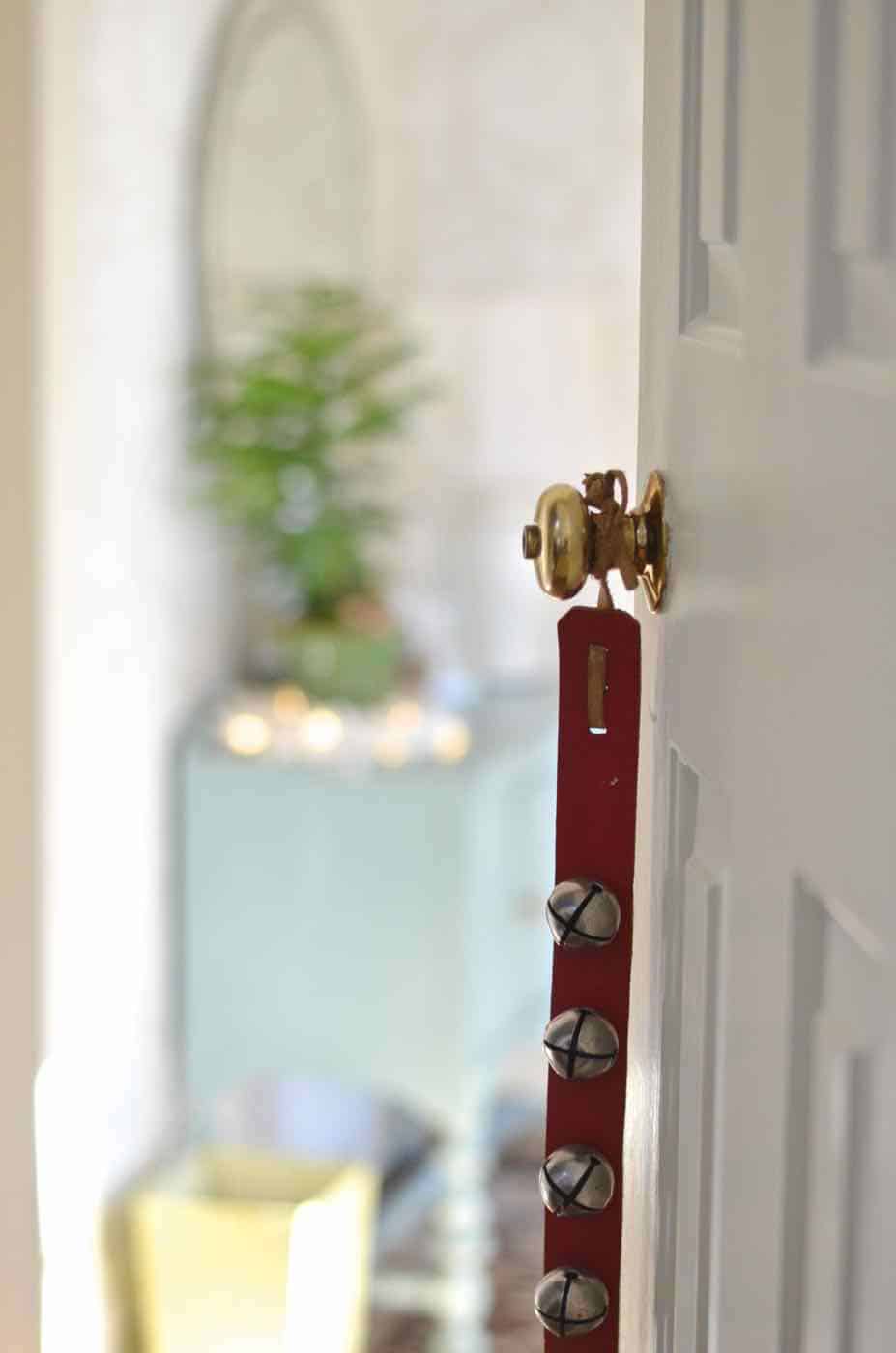 I found these large wire balls on sale a while back and wrapped them with some simple LED wire lights… displayed in this basket they look lovely all lit up.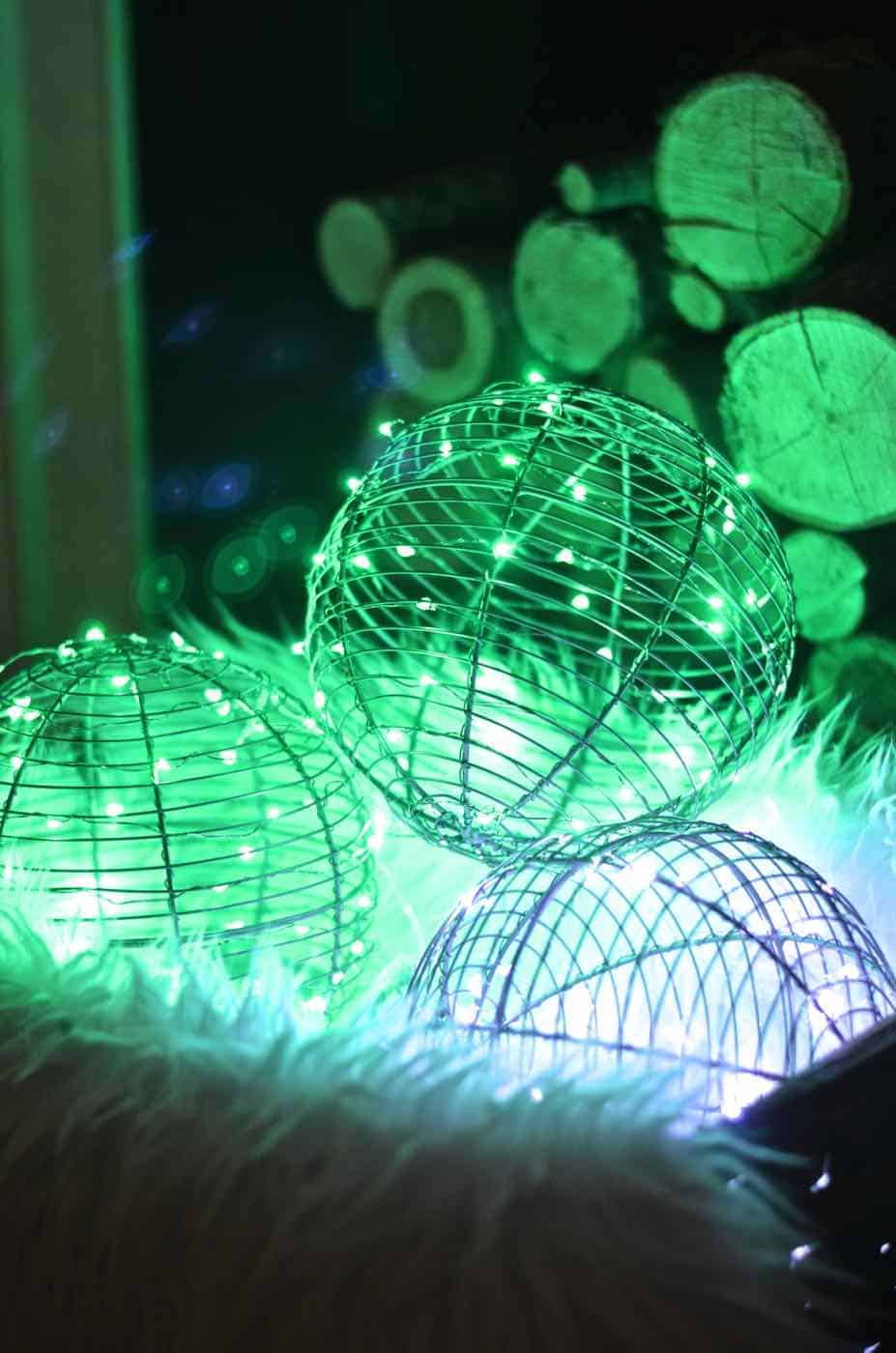 The last and biggest vignette is in our family room tucked over in the corner. There are baskets of toys below which seems to have effectively deterred the kids, but the month is young. A couple more Santas hold down the fort with those two little evergreens on either side. I mentioned that Target cloche on Instagram and I'm in love. But the star of this vignette is that killer copper table light from Ikea. When it's not lit up, it looks amazing, and when it IS lit up, well… watch yourself.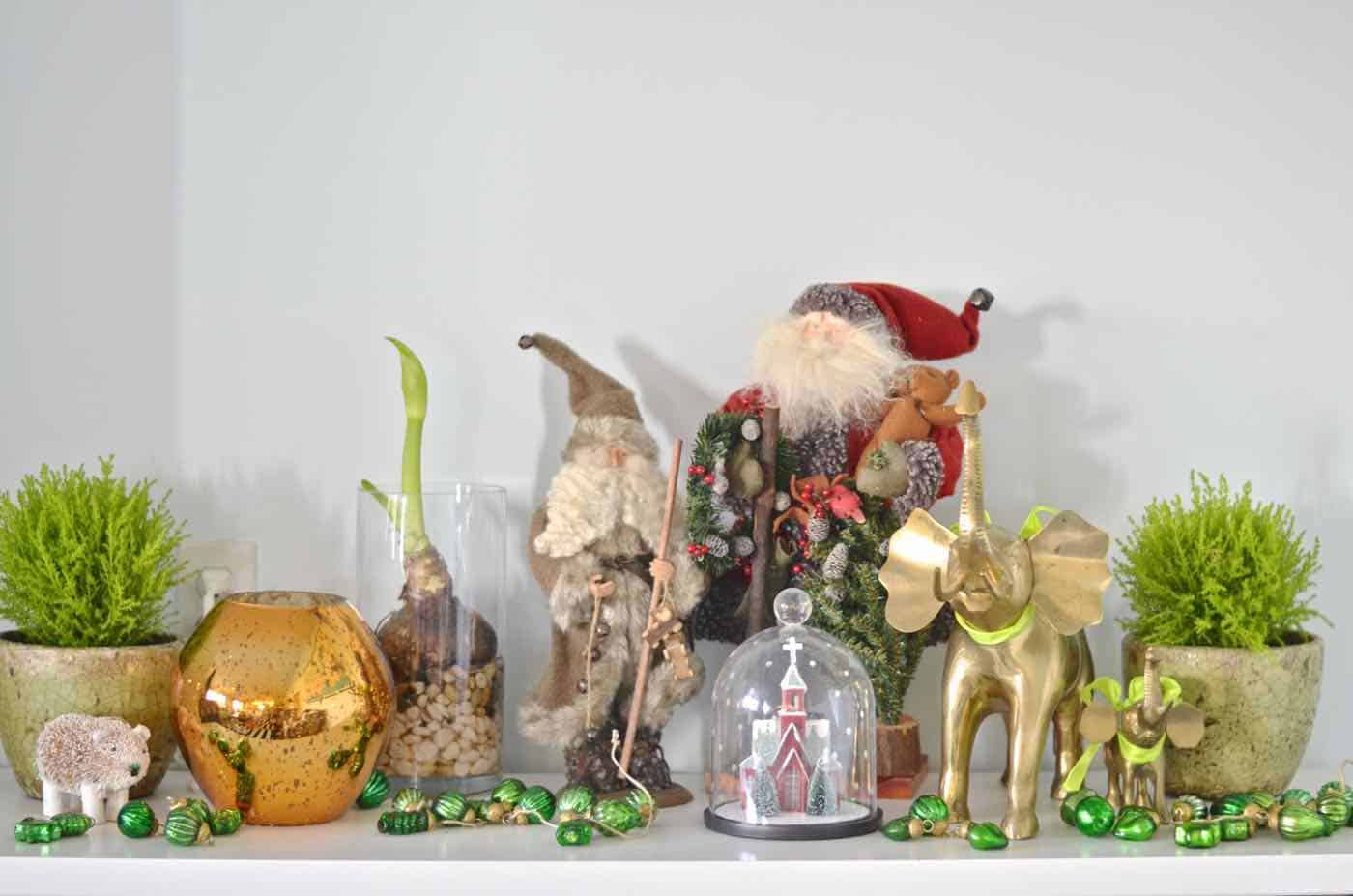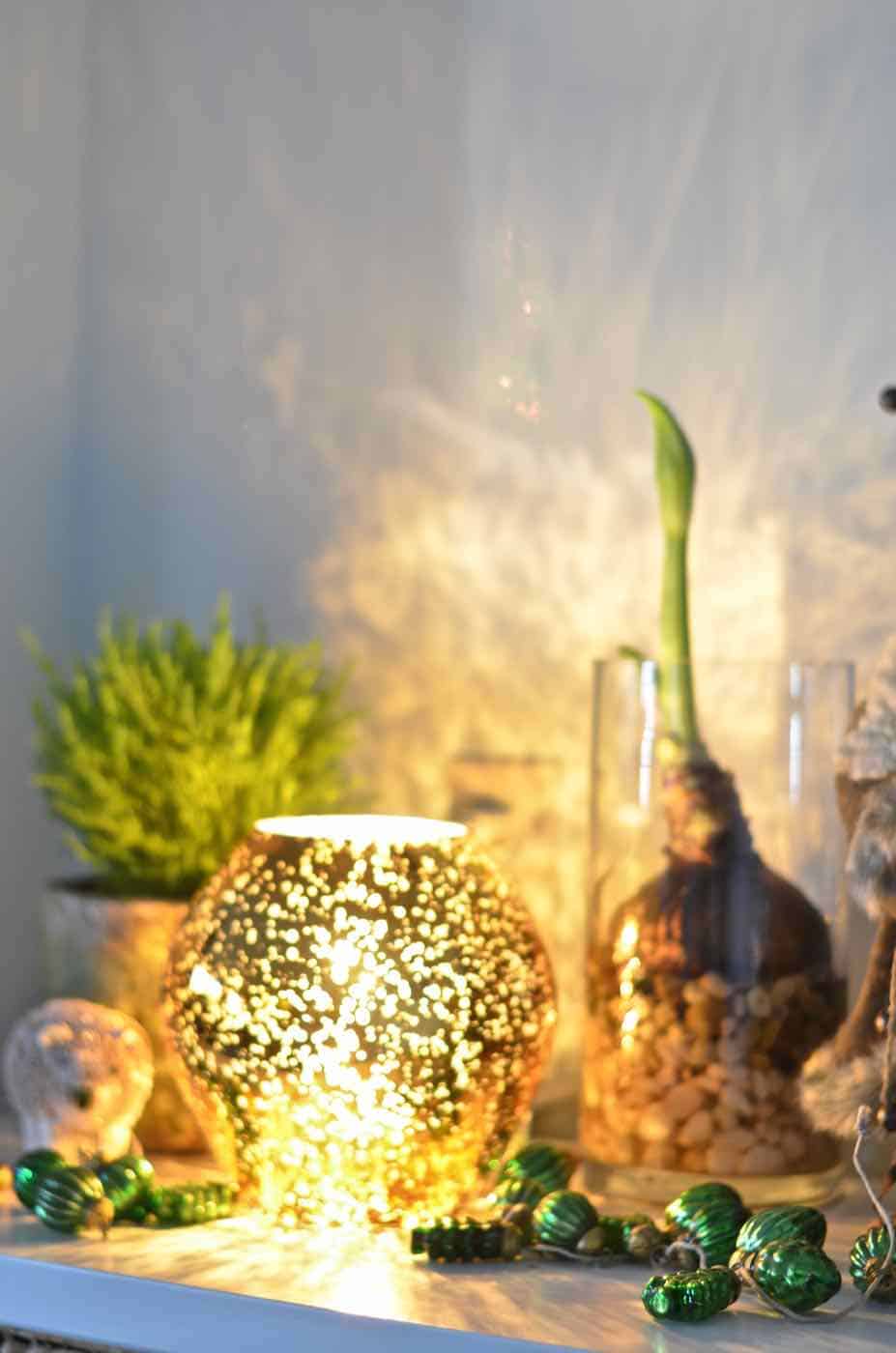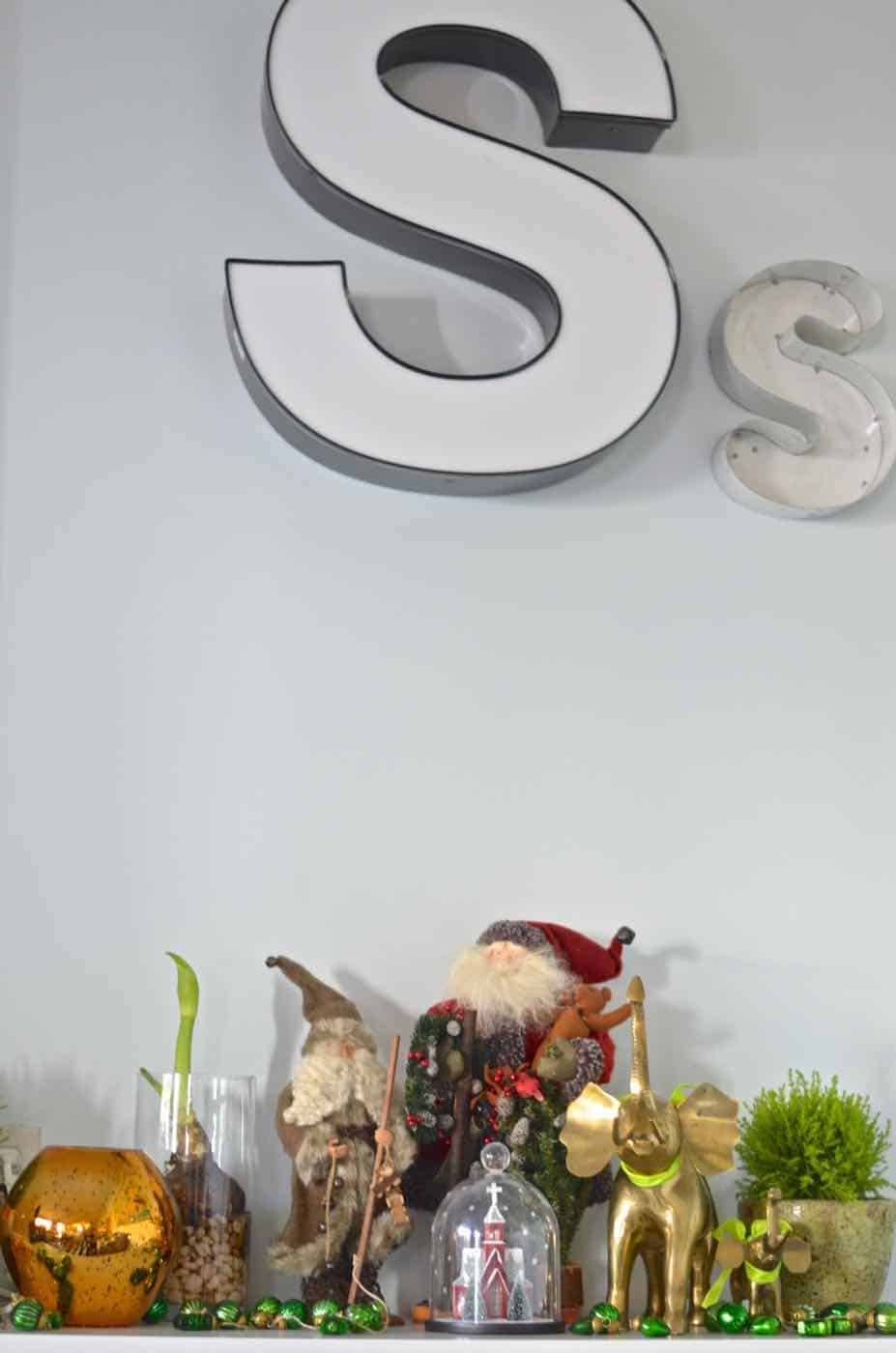 There you have it… A very merry Christmas. A series of little Christmas scenes scattered amongst the zoo that is our house at any given moment.  Tree went up this past weekend so it wasn't quite photo ready for the home tour, but know that our approach to tree decorating is trying to cram as many of our family/ homemade/ inherited ornaments as possible.  Hardly decorator approved…
Monday:
The Happy Housie | Everyday Enchanting | Maison de Pax | Life on Virginia Street | Unskinny Boppy | Setting for Four
Tuesday:
rooms FOR rent | Town and Country Living | On Sutton Place | Design, Dining and Diapers | At Home with The Barkers | Cottage in the Oaks
Wednesday:
House by Hoff | Jenna Sue Design | Love Grows Wild | Craftberry Bush | All Things G&D | DIY on the Cheap
Thursday:
Rain on a Tin Roof | Making Home Base | The Wood Grain Cottage | Capturing Joy | Making Lemonade
Friday:
Migonis Home | Just a Girl and Her Blog | Fox Hollow Cottage | City Farmhouse | At Charlotte's House (ME!)