Doing Up Your Dorm Room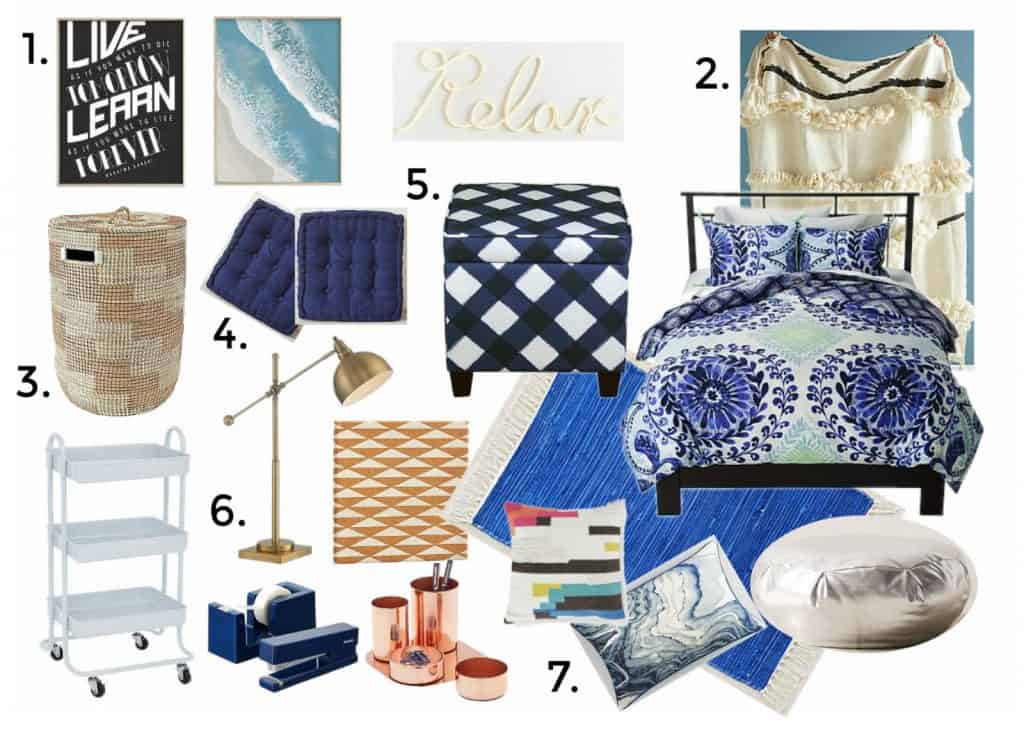 Disclaimer: I have not been in a dorm room for…. a while. And when I WAS in a dorm room, my decor consisted of precisely 3 items: an old Claude Monet poster with holes all around the corners from past thumb tacks, a duvet I sewed from a twin sheet, and an old white wicker trunk. It sounds stellar, right? Thankfully, we've come a LONG way in dorm room decor… Today I have my suggestions for what to look for to make your dorm room look RAD. (Are the kids still using that word?)
Obviously there are LOTS of limitations when it comes to decorating your dorm room: tiny space, cinder blocks, fire codes and… big chunky furniture. But, have no fear… there are lots of ways to beat the system! I've got you covered…
Tip 1: All the Walls



Granted, a dorm room probably has limited wall space and fire codes that might dictate what you can hang, but… make use of whatever wall space you have! Employ Command Strips if need be or simply rest frames on flat surfaces. I've also linked a removable wallpaper. If you're wall are cinderblock, wallpaper might not work, but… the back of your door or the drawers of your desk could get a temporary makeover! Cover those walls!
Tip 2: Bedding!
Make it fun. Make it colorful. You WILL have a bed, so gussy that old gal up! Grab a fun duvet cover. Get a cozy throw. It's likely that your bed will be 50% of the real estate in your dorm room so… make good use of it style wise!



Tip 3. Sassy Storage



When I was in college, I had a FULL car load of stuff to unpack into my room. Shoes and hats and gloves and other silly things like text books and school supplies. The desk I was given had precisely 2 drawers so… there was a major need for storage. The cuter, the better!
Tip 4. Easy Compact Seating



Assuming there's ever an occasion to socialize between studying… it's nice to have some space for your friends to hang out. Besides your bed, that is. And your desk chair. Floor cushions and poufs and cushy ottomans are your FRIEND! Get them! Get them ALL!
Tip 5: Dual Purpose Stuff



What if one of those comfy ottomans doubled as storage? I mean… that would be even better, right? How about a really stylish cork board? Great! Utility cart that doubles as a bedside table? Why not?! Reversable rug? Duh?! Think multipurpose. Think 'kill two birds with one stone'. With limited space… make your things work extra hard for you!
Tip 6. Deck Out Your Desk



My desk had a jar of pens and that was it, but… these desk accessories are too good to pass up. A stylish desk lamp and some chic desk accessories will help make that boring ol' laminate furniture a little more bearable.
Tip 7: Easy Accessories



For a final touch of dorm room awesomeness… grab some cool throw pillows… a few fun toys and get ready to soak up the next four years!