Sharpie Tie Dyed Shoes
I made these rainbow tie dyed shoes using Sharpie markers and rubbing alcohol.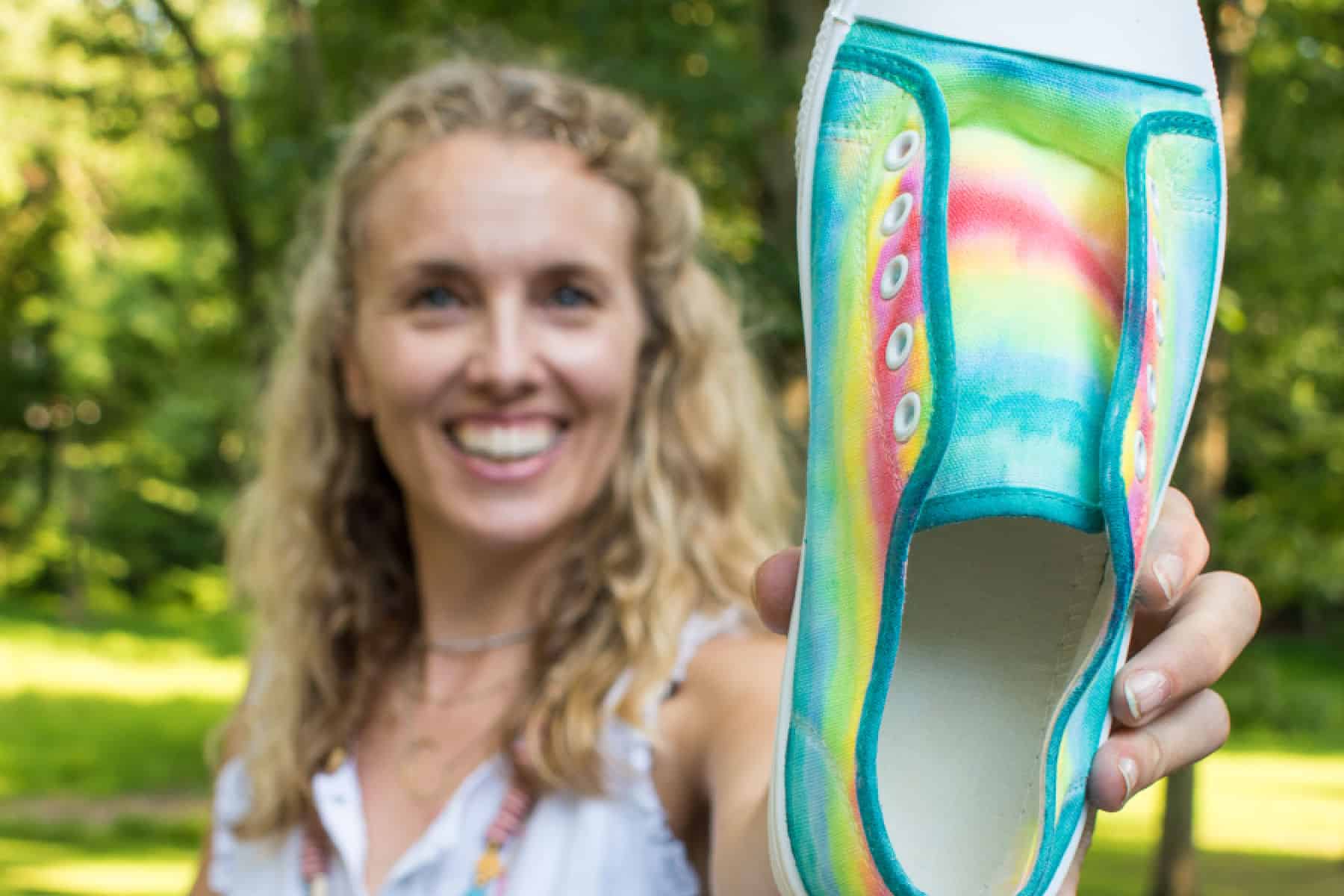 I've had white canvas shoes from Joann in my craft closet for… a while. (These are similar!) What better time than a global pandemic to make them look all pretty! Spoiler: this project was totally easy and super fun. In a different time, these shoes got me thinking about how fun it would be to grab a bunch of these and have a rainbow party and decorate shoes and t-shirts and things. One day… (Full materials list at the end of the post.)
Step 1. Decorate the shoes
Using the Sharpie markers, color your shoes! Consider which colors will mix well with each other when decorating the shoes. When you "tie dye" the shoes, the colors will run together a bit so keep that in mind! I found that a striped pattern was REALLY easy to do but I'd love to see how polka dots or flowers or something graphic would look! (I removed the laces first…)
Note: I left the canvas trim unpainted in this stage of the shoe decorating.
Step 2. Spray with Rubbing Alcohol
Lightly spray the shoes with rubbing alcohol. The alcohol turns the sharpie almost into a watercolor and the colors will run together! Start easy and then go back with more alcohol as you deem fit!
Step 3. Color the trim
Once the rubbing alcohol had dried a bit, I went back with a darker Sharpie to color in the trim. The colors from the shoe bled into the trim a little bit so I was happy to clean them up by covering them with the darker color.
After the first shoe, I learned that some of the Sharpie colors change a bit or dilute more than others when sprayed with the rubbing alcohol. I'd suggest testing the colors FIRST before diving into the shoes just to see how they look once in contact with the rubbing alcohol. I've also read that it's a good idea to "heat set" the Sharpie ink… for fabric or clothing, that simply means popping it in the dryer. For shoes this isn't a great idea. I didn't do anything, but I wanted to mention.
Materials:
Safety Notes:
Do this in a well ventilated area… rubbing alcohol is SMELLY
Rubbing alcohol is also flammable… so keep it away from open flames.