One of our favorite restaurants in town has an amazing pendant light in the ladies' room made of wine bottles similar to this (affiliate). I love the repurposed chic of it! Well, this isn't the same thing by any means, but I credit that restaurant pendant with giving me the idea!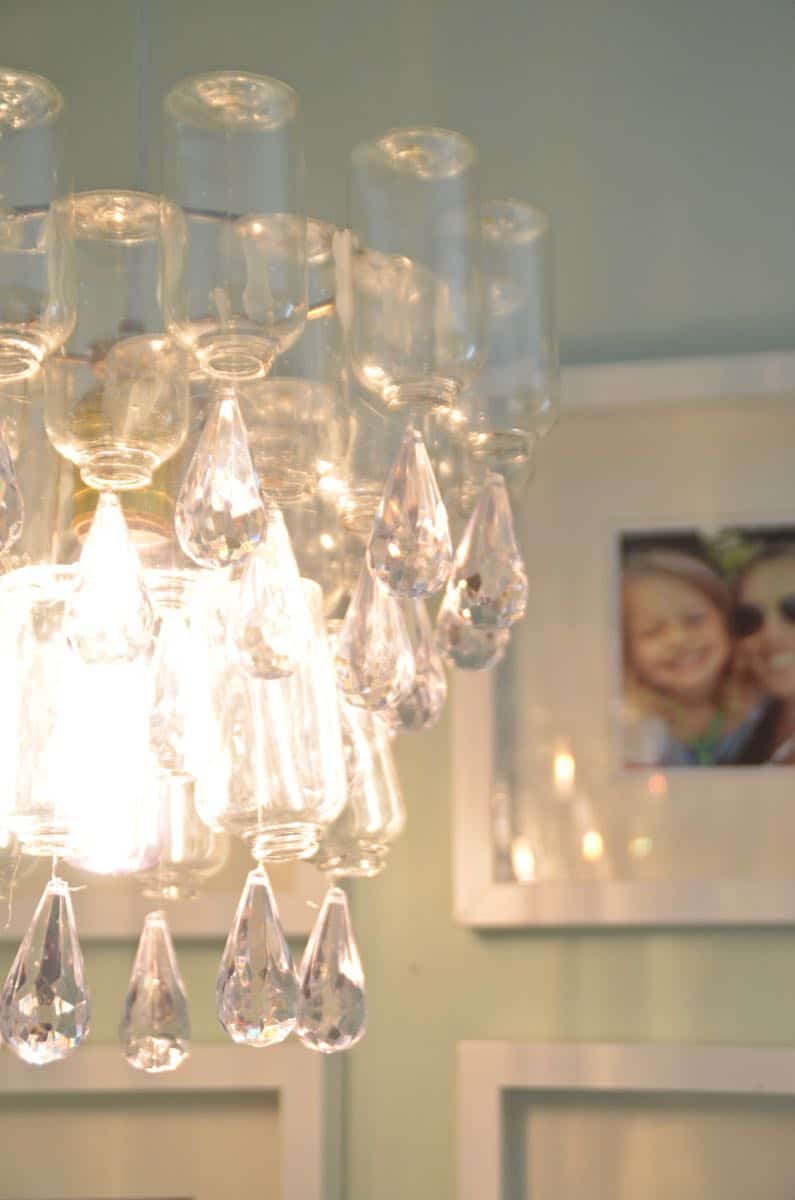 This, my lovelies, cost $20. Max. While cruising around the dollar store, I saw these travel bottles. 3 for $1.25. A pendant light in the making.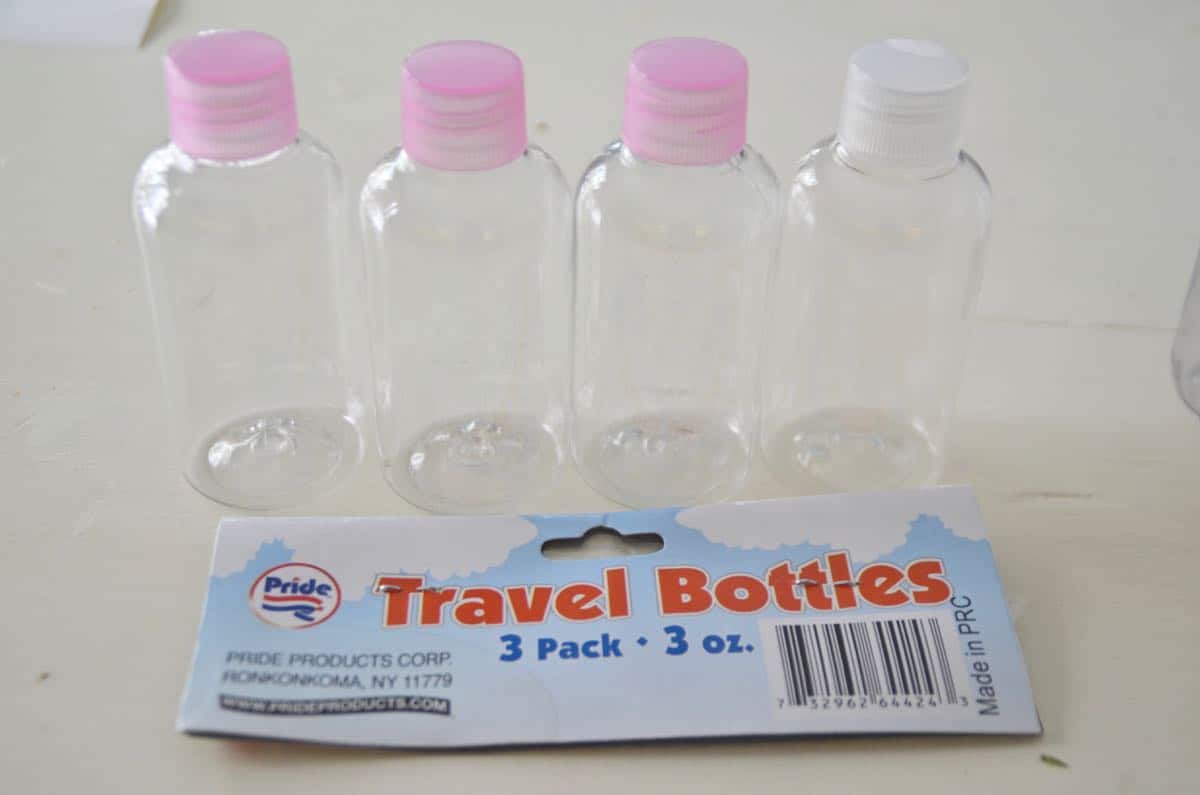 I started by lopping off the neck of the bottles with our miter saw so that they looked a little less like plastic travel bottles. I quickly ran a flame over the edge to melt down any rough spots.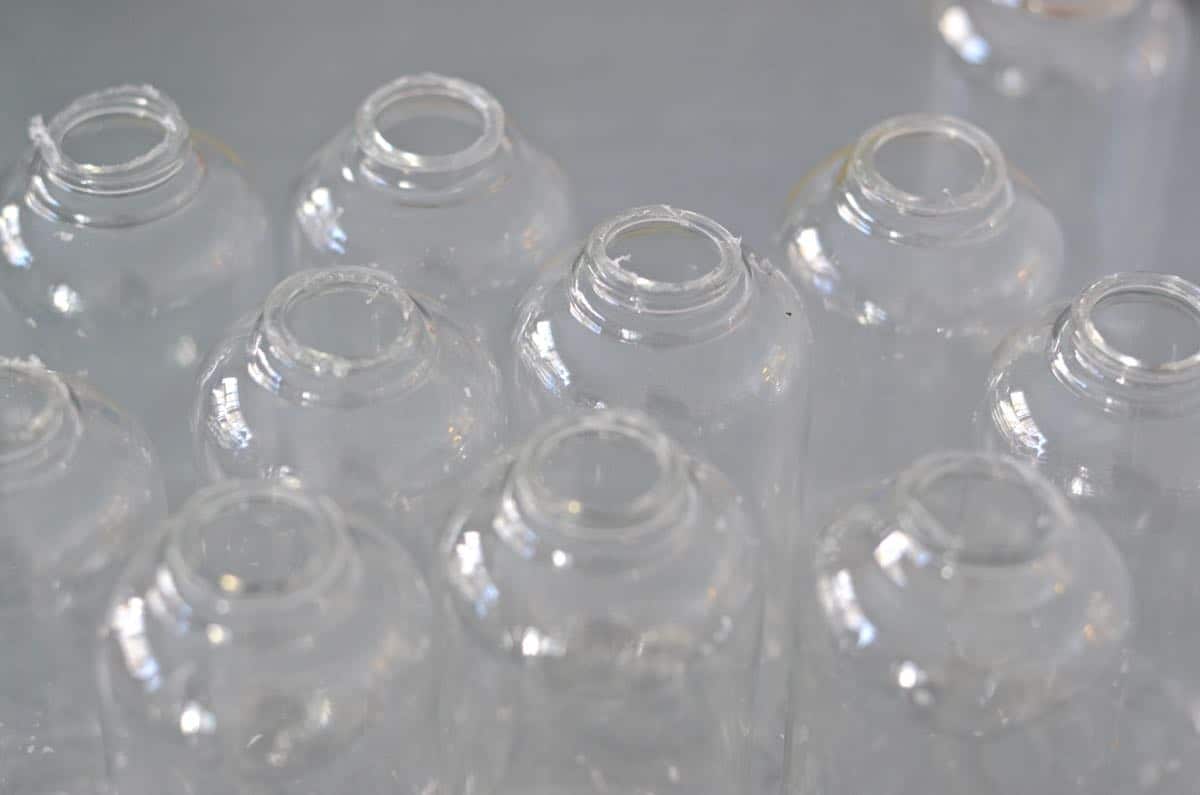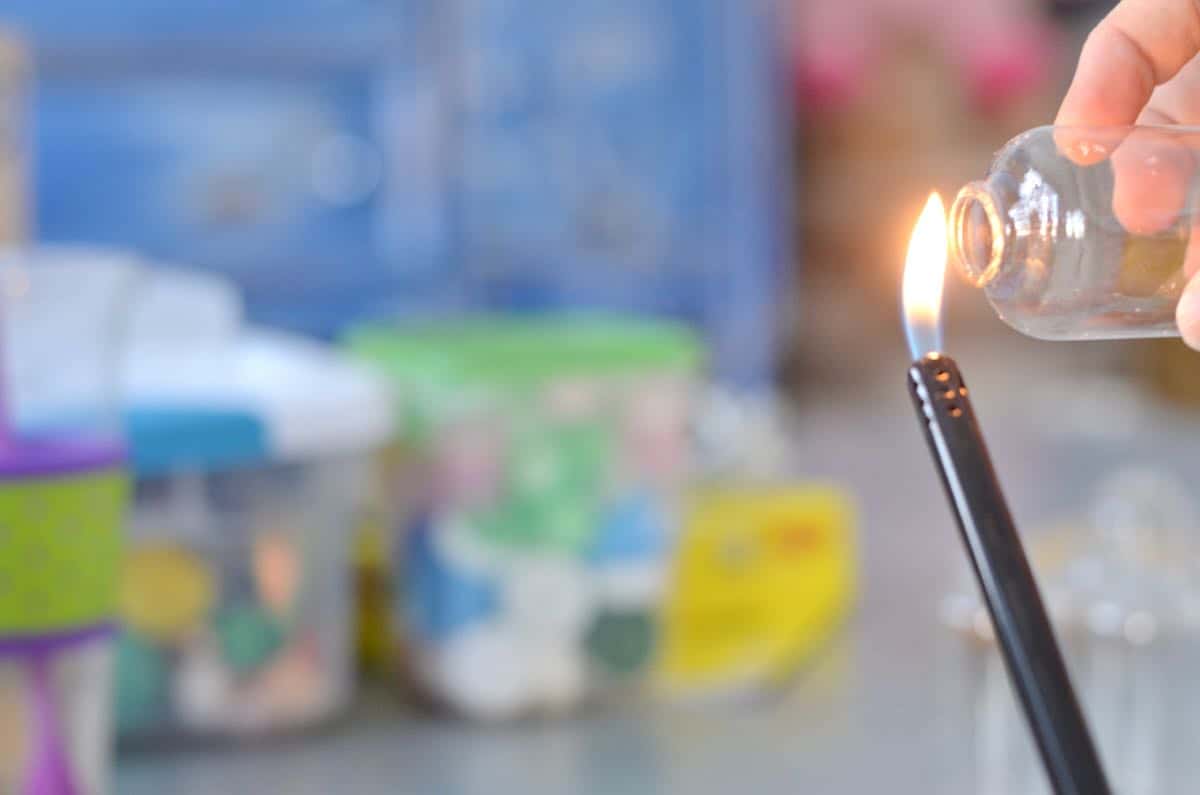 When I started arranging all my lopped off bottles, it was clear that they could use a little more sparkle. Thankfully Amazon provided these plastic baubles
 (affiliate) for the right price ($8). I drilled a hole in the bottom of each bottle and used a small bead to secure my clear thread and then tied off the hanging crystal. (Crystals… that's luxury right there, folks. Just in case the hacked off travel bottles weren't fancy enough for you…)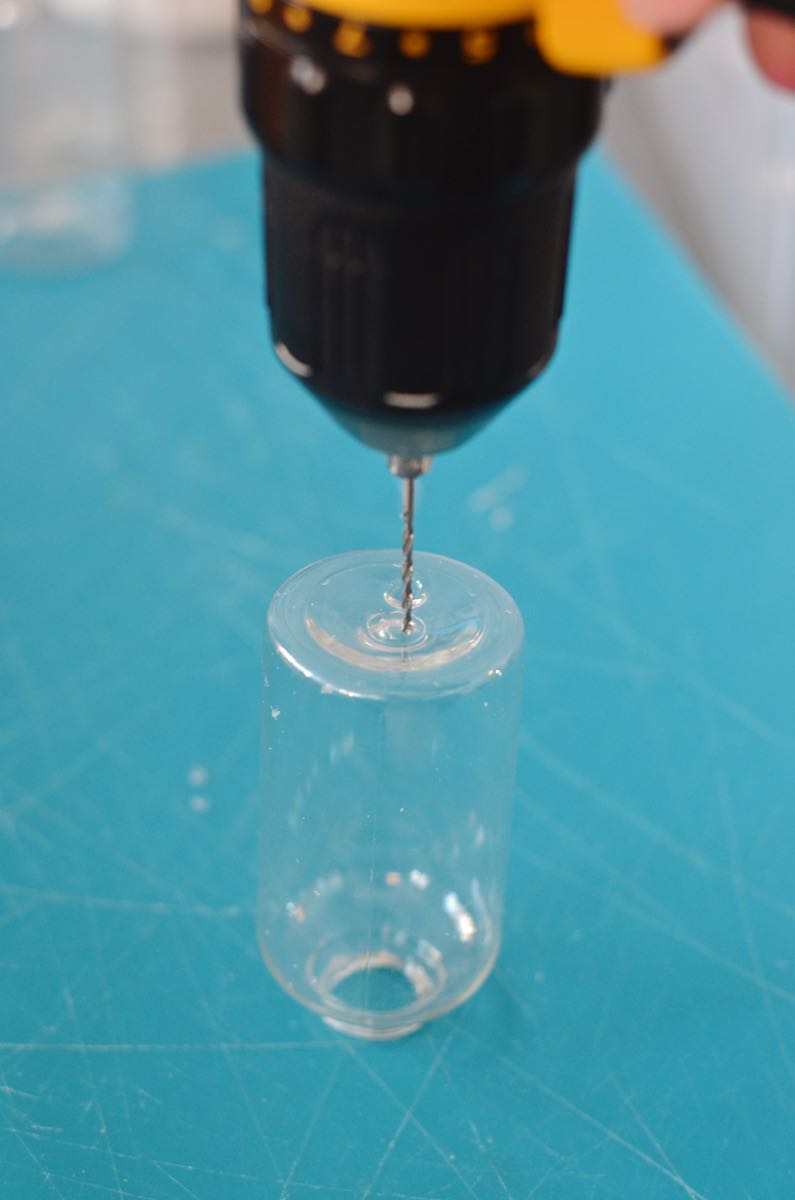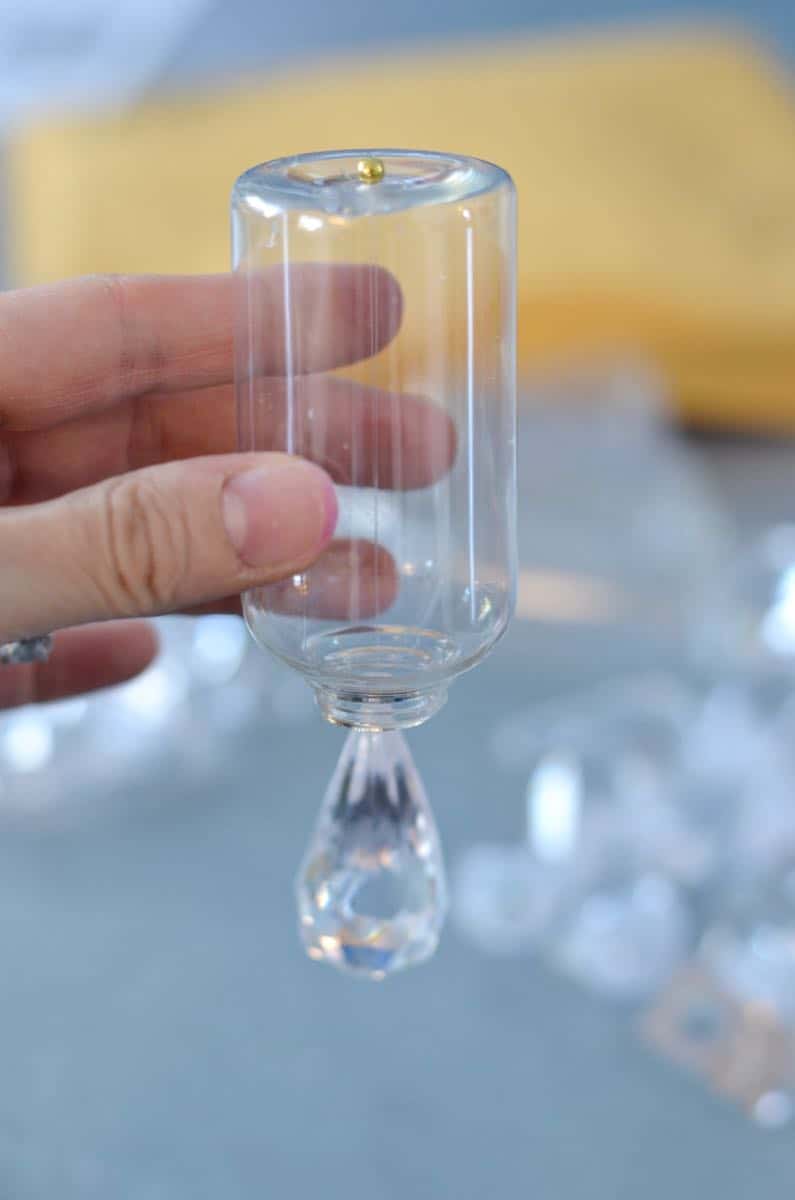 For the light socket itself, I grabbed a socket like this and some lamp wire at the hardware store… they're like $5 (Update: you can also buy an actual pendant light socket
as is!). If you've never wired one of these, don't be scared. (Obviously don't be reckless either, but I bet you can figure it out is what I'm saying!)
1. Remove the cap on the socket.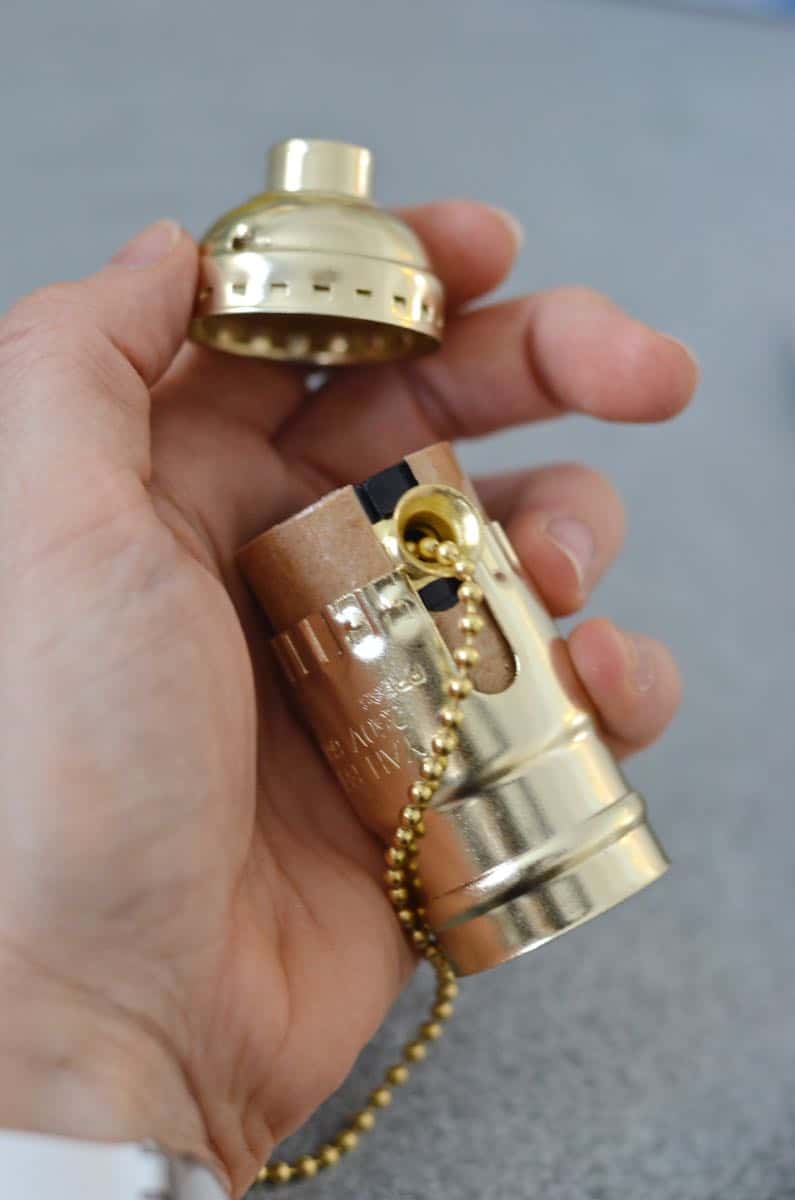 2. Pull the sleeve and the cardboard off of the socket base.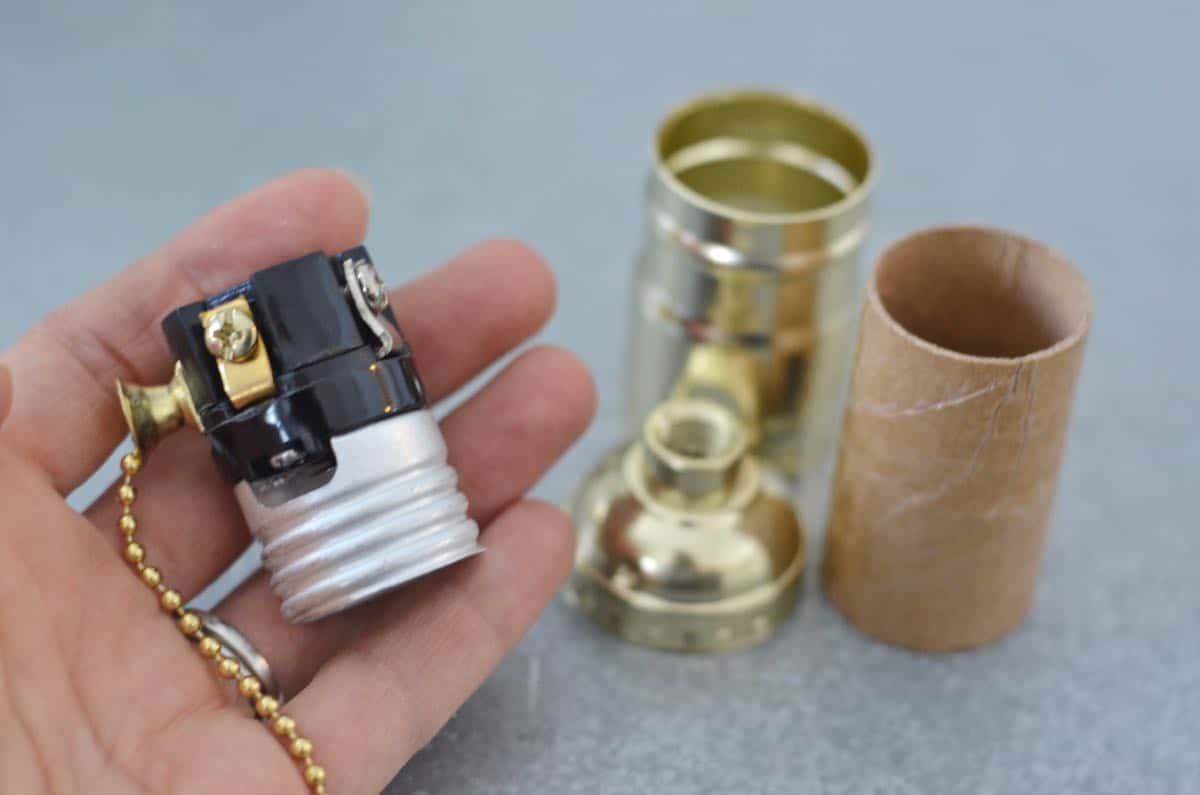 3. Thread your wire through the socket; notice that one side of wire has a slight ridge along it, and the other side is smooth… this will be important to note in the next step. There are 2 screws on the socket base that you'll need to loosen… one is brass and one is silver. If your lamp wire isn't already, split about 3″ with a sharp blade and then strip the plastic sheath away from the last 4/5″ to expose the wires. You're going to wrap the ridged (neutral) wire around the silver screw and the smooth (hot) wire around the brass screw.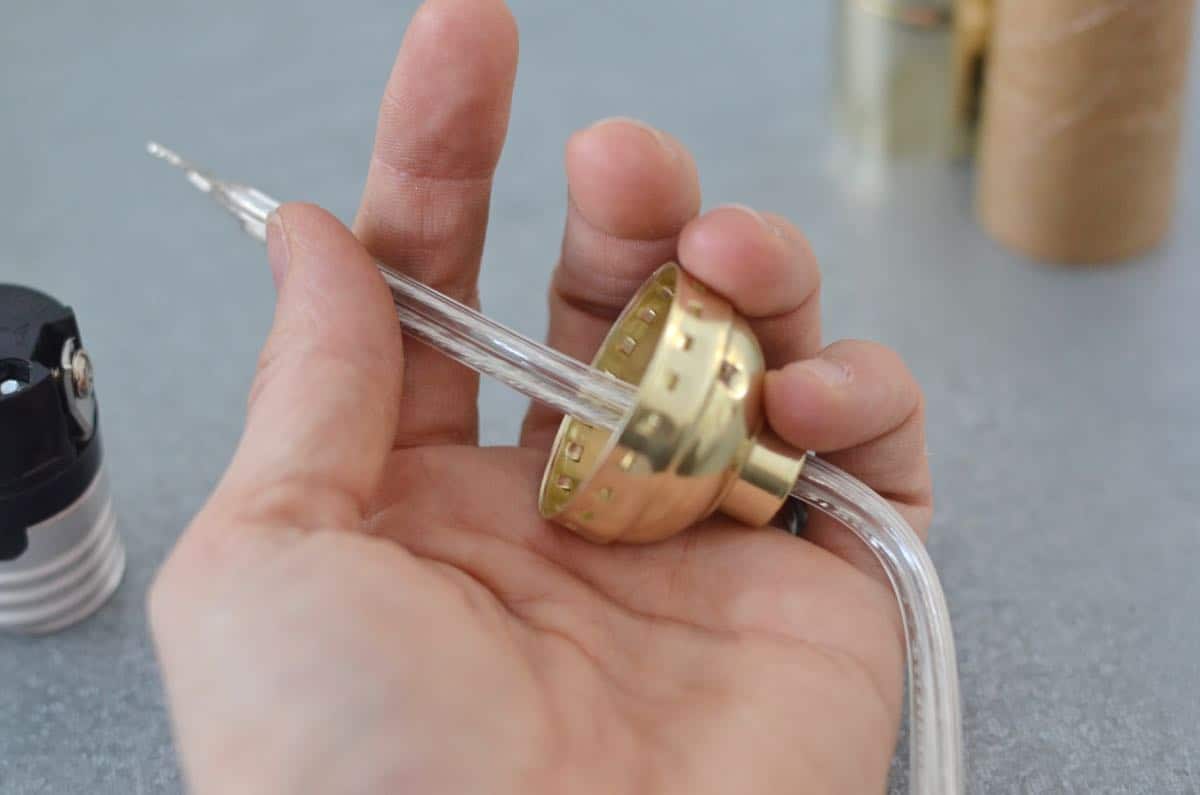 4. Last, make your wire into an underwriter's knot so that the weight of your pendant is on the wire and not the wrapped connection around the screws.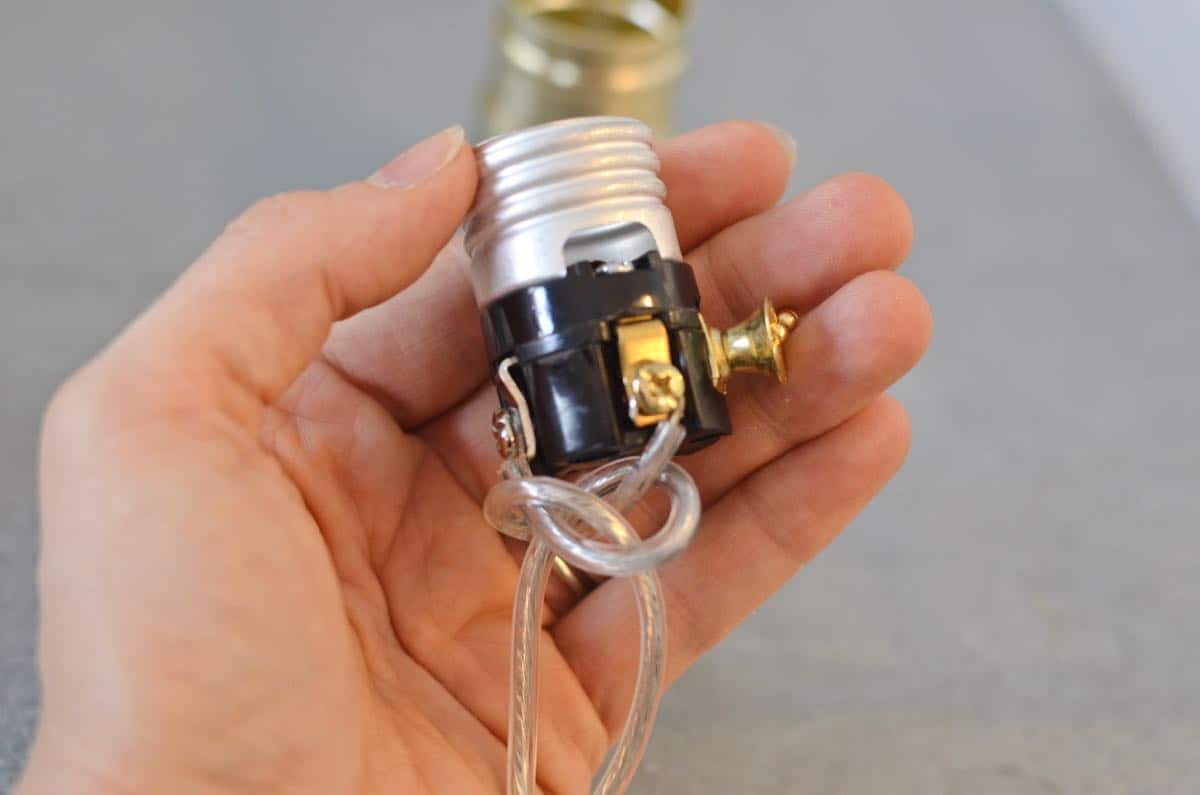 Once I had a zillion of these bottle/ crystal rigs, it was time to bring them all together into all their pendant glory. I wish I had seen this post earlier, as Jen nailed it with the infrastructure of her chandelier… but I just used this thrift store lampshade.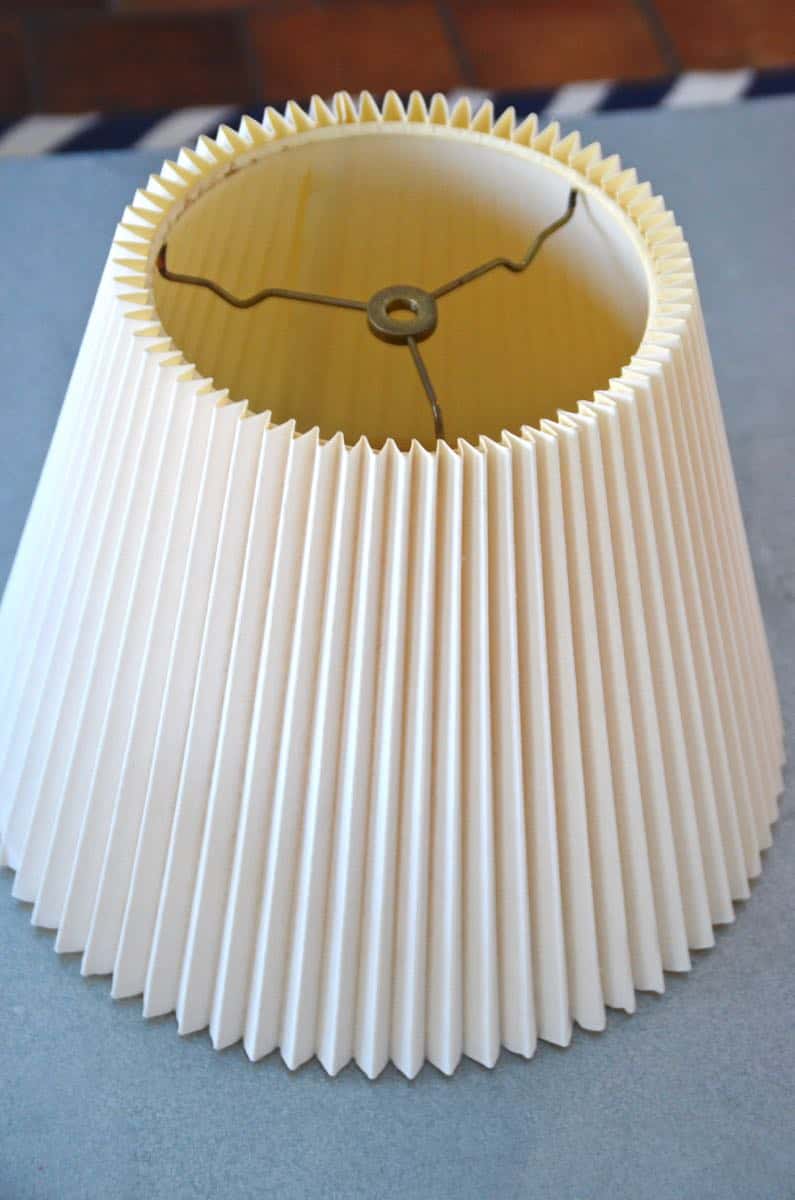 Okay, so recap… I have a pile of chopped off bedazzled dollar store bottles, and a stripped down shade…. next step? I pondered the idea of stringing up all my bottles, but… then I got lazy. So I tested whether or not a hot glue gun would do the trick. Like I should have questioned the trusty hot glue gun. Worked like a charm.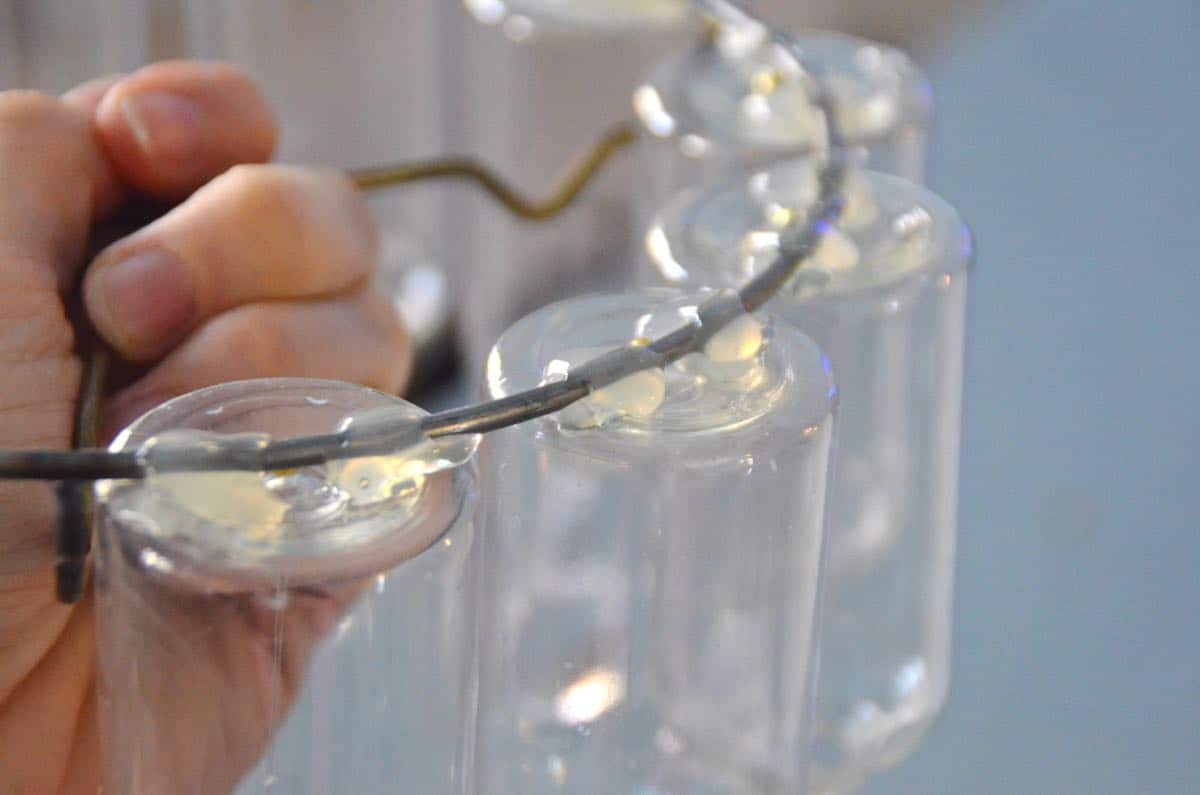 I started by hot glueing (hot glue gunning?) a row of bottles directly to the lamp shade frame.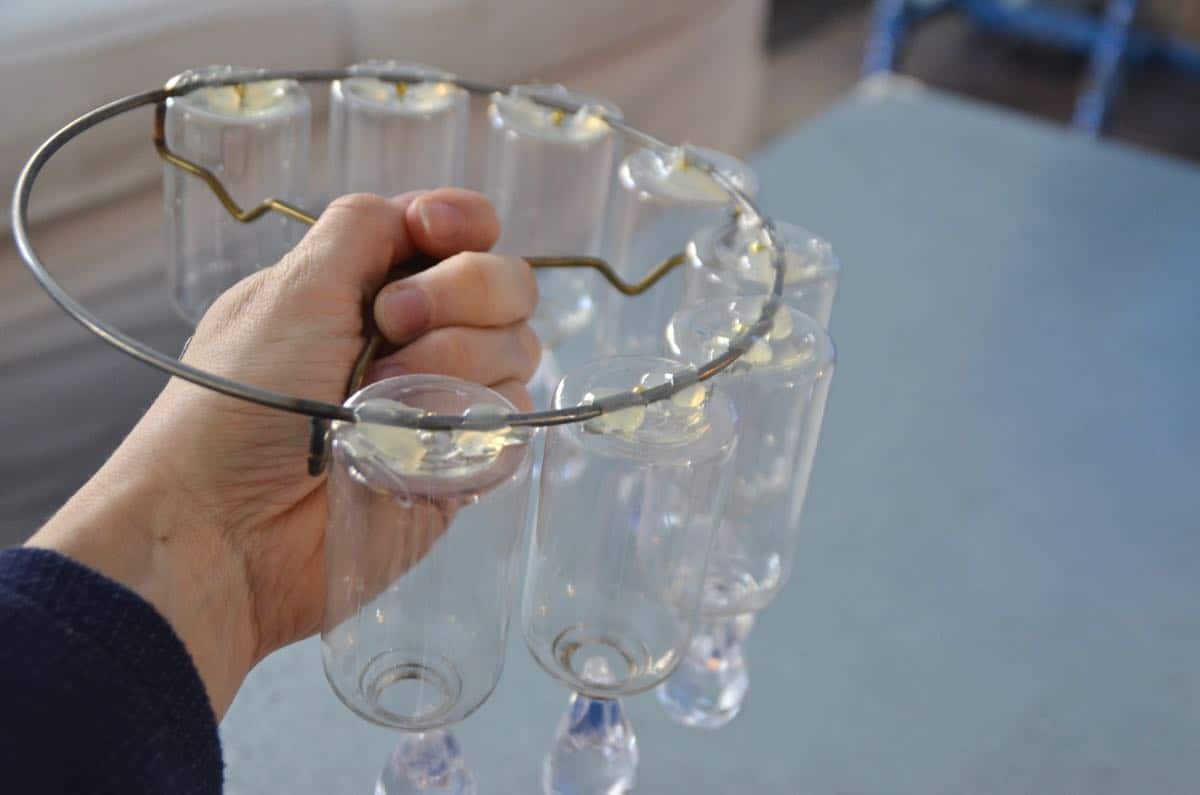 Then, working from there, I kept adding layers of bottles by hot glueing them directly onto the first row of bottles. I glued a row on the outside, and then another on the inside… I wanted to make sure there was room for the lightbulb to hang without touching (and possibly melting) the plastic bottles. These bottles are SUPER light so the hot glue was plenty strong enough.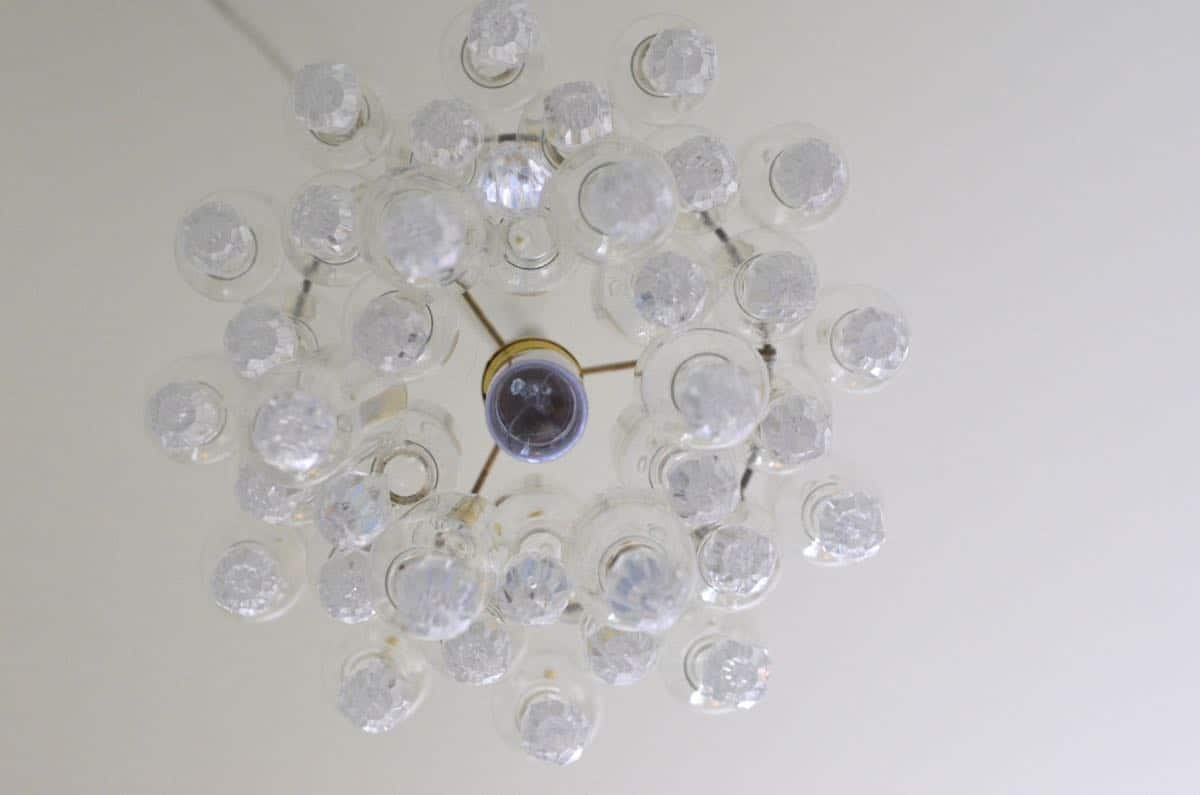 Update: lots of people have been worried about the heat of the lightbulb melting the bottles… I totally get that. I have a pretty low wattage bulb in there, but you could also use an LED bulb. Use your common sense. I don't keep this light plugged into for hours at a time and have never had any issues.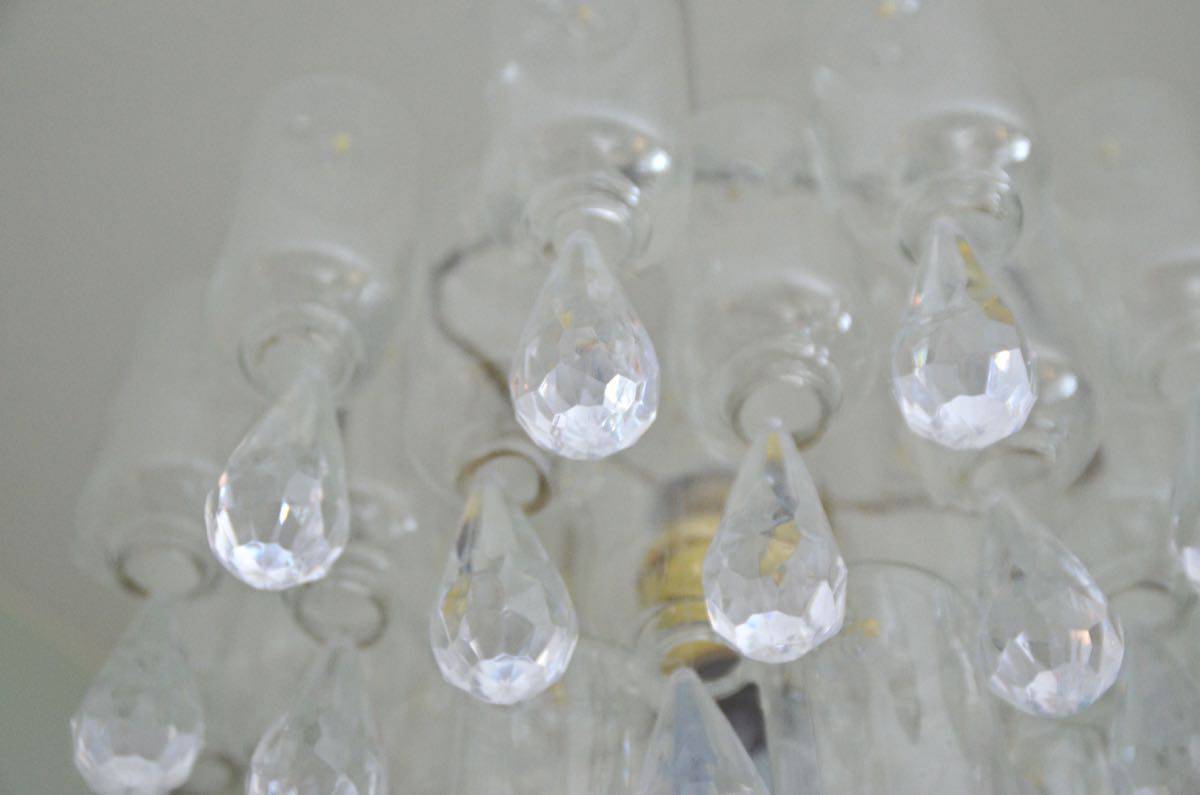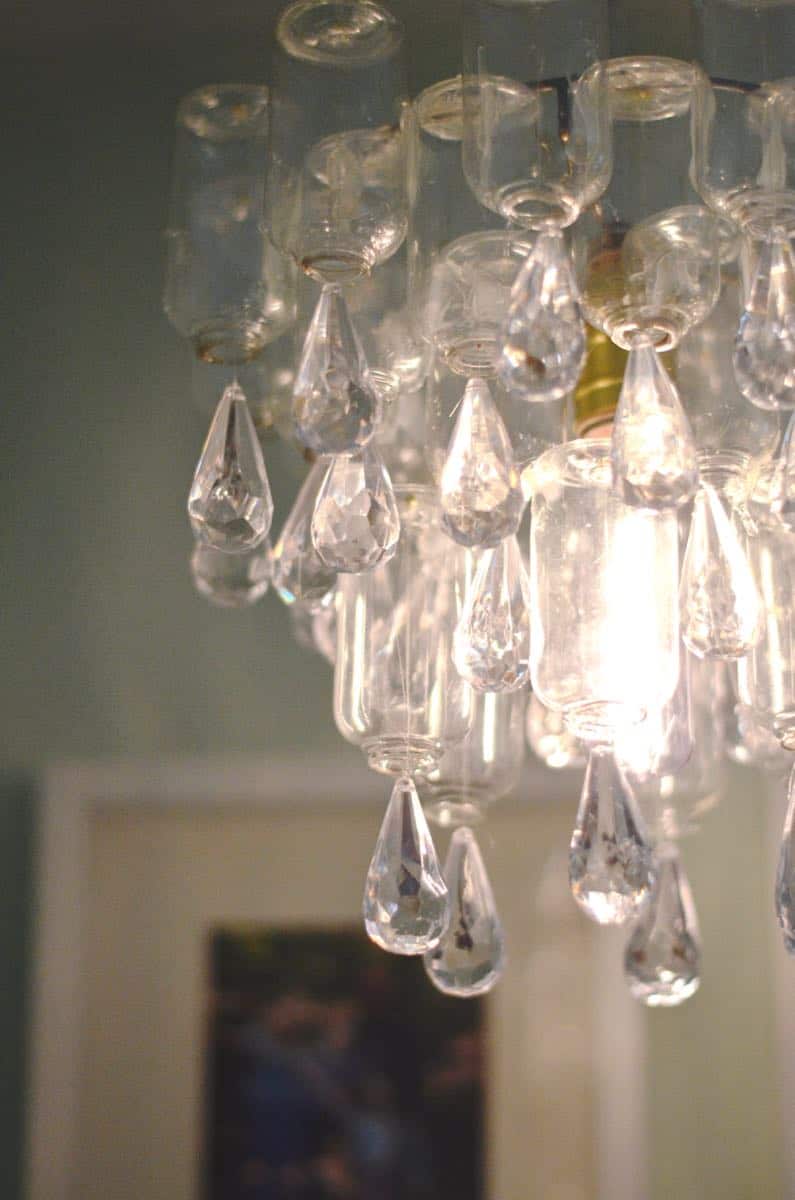 This is a plug-in pendant light which isn't ideal because you always have a cord dangling, but it's a much easier solution for renters or anyone who doesn't want to pay their electrician $250 to add a hardwired socket… I used a simple cup hook into a stud on the ceiling to hang this and then some Command Cord Clips
to keep the cord flush to the corner. You can definitely still see it… but what's a DIY gal to do.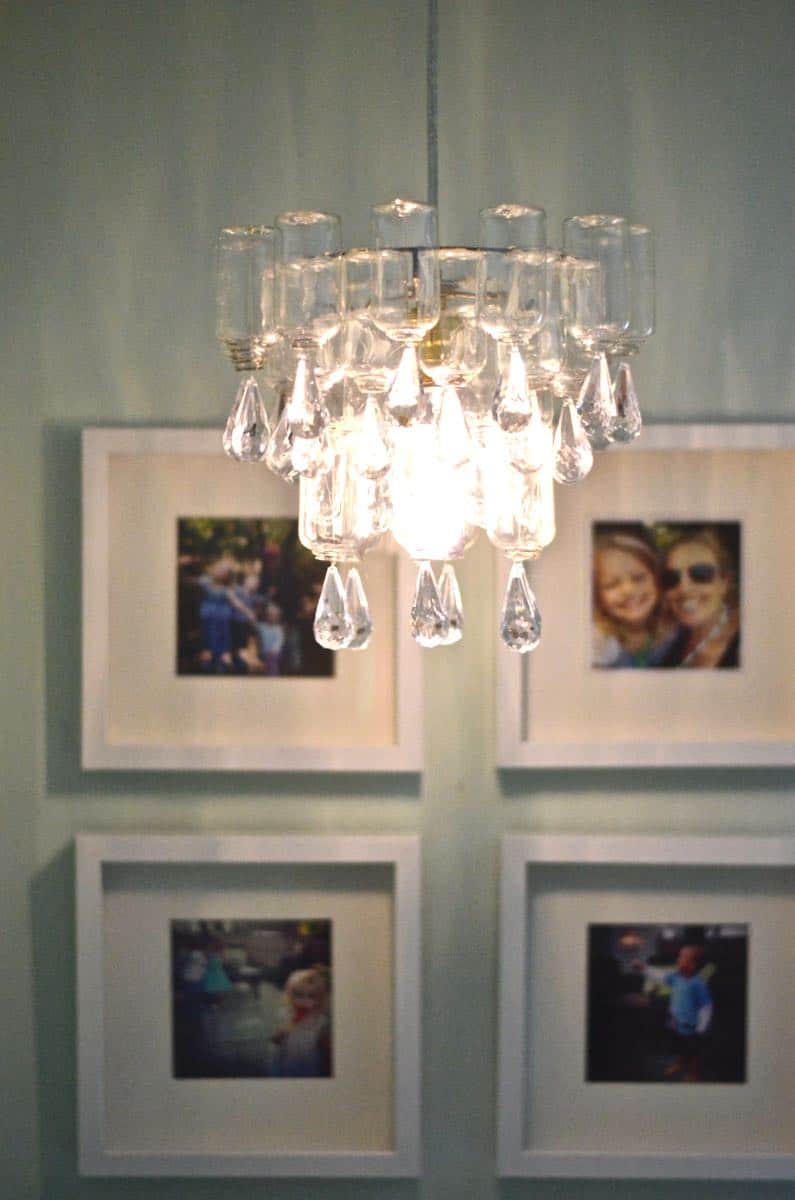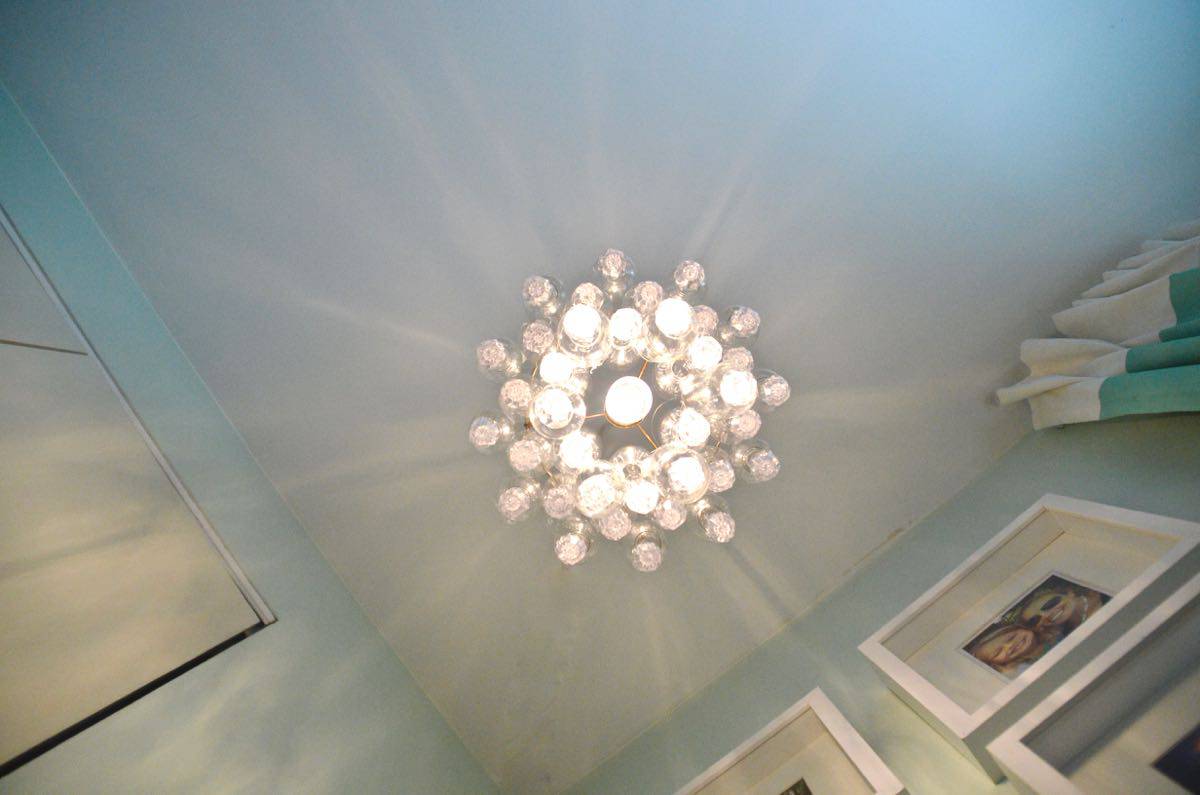 Confession. I love this thing. It's not perfect. I'd love to tweek it and make it bigger. But the concept and execution came together like that picture in my head. When it's not turned on, you don't really notice it tucked into the corner, but when it is turned on, it's just like a real glass chandelier with all the sparkles and reflections and prettiness.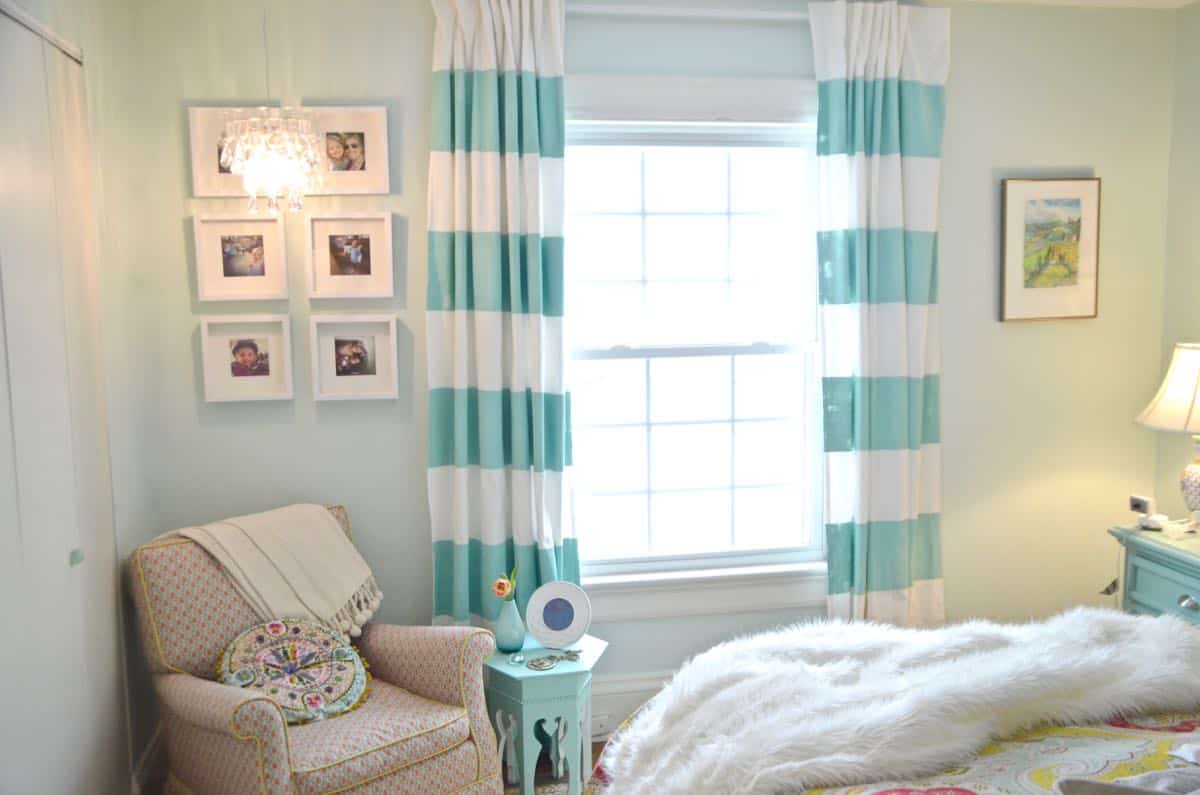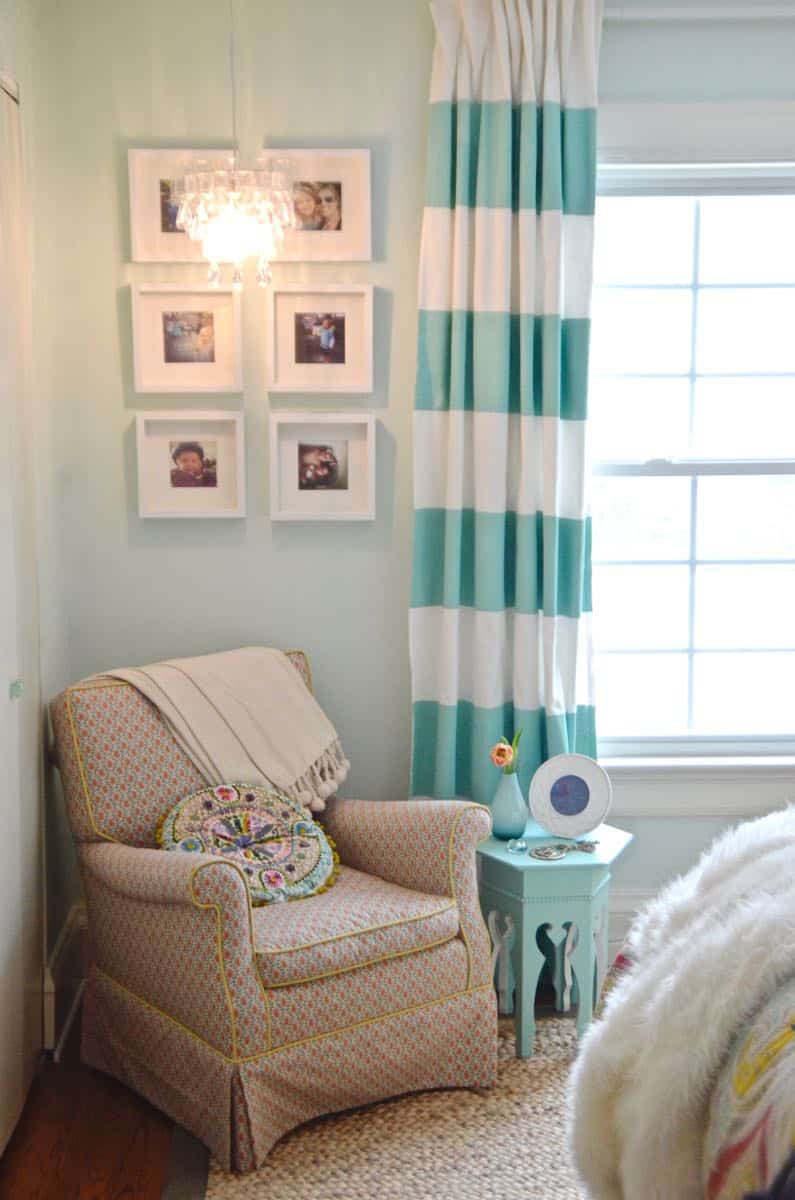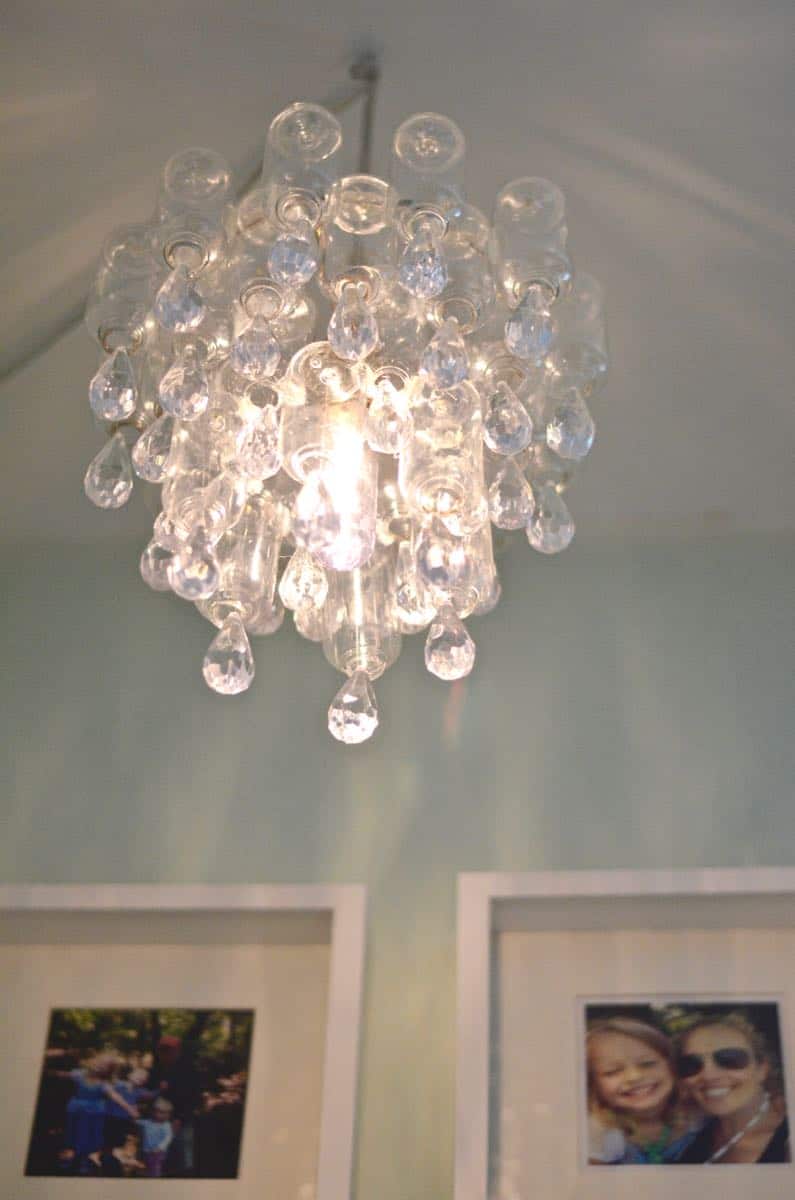 This could be such a sweet little light for a nursery or a craft room… and for, um, UNDER TWENTY DOLLARS, sort of hard to go wrong.