Using a Garbage Shed to Clean up Outdoor Toys
This cedar trash can shed is the perfect thing for outdoor toy storage.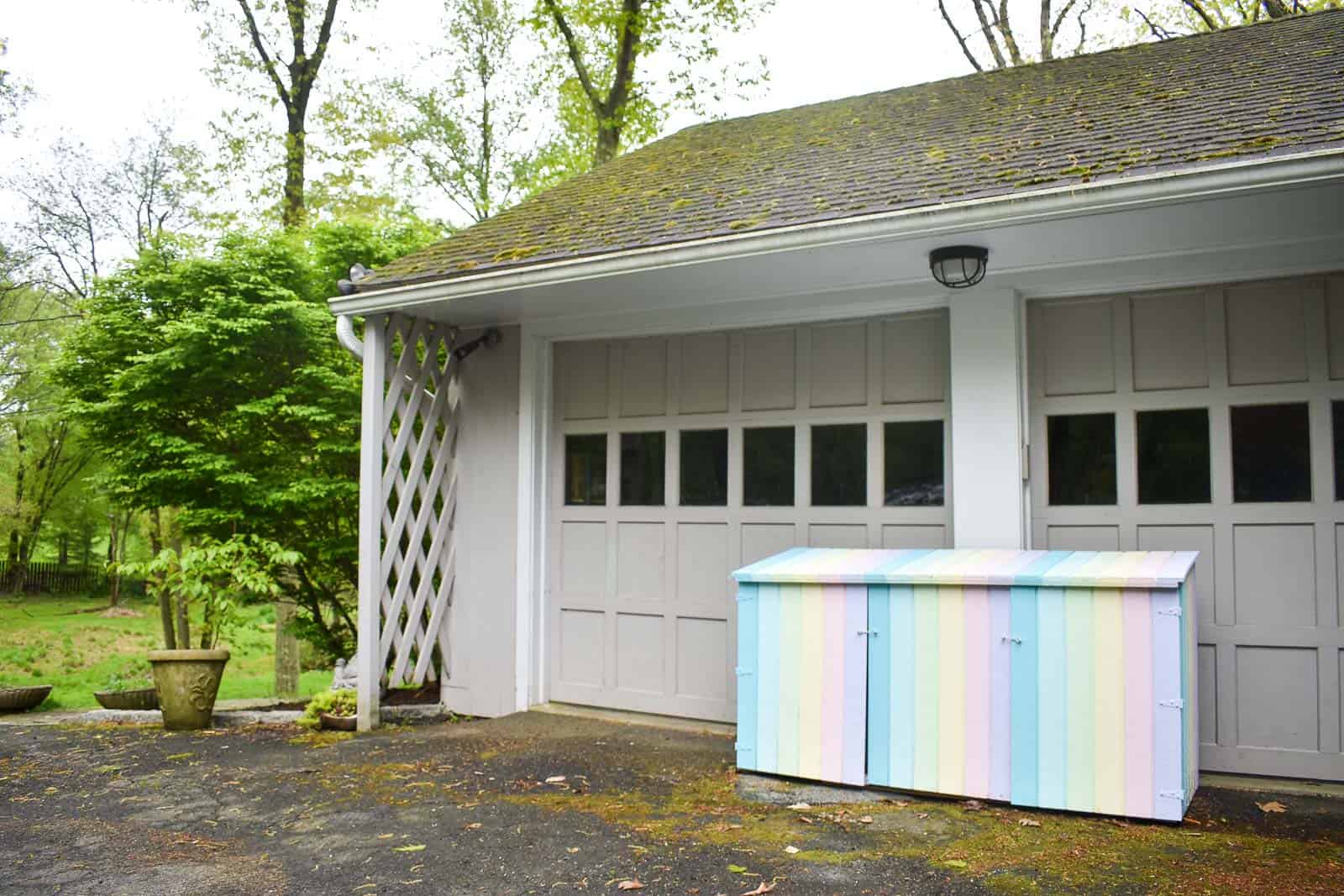 We moved into our rental in late January and quickly learned that the critters were VERY interested in our garbage cans. With a garage full of furniture and boxes, the trash cans had to be outside and we needed a quick solution fast! Our local hardware store, Rings End, offered to send over one of their cedar trash can sheds and some paint!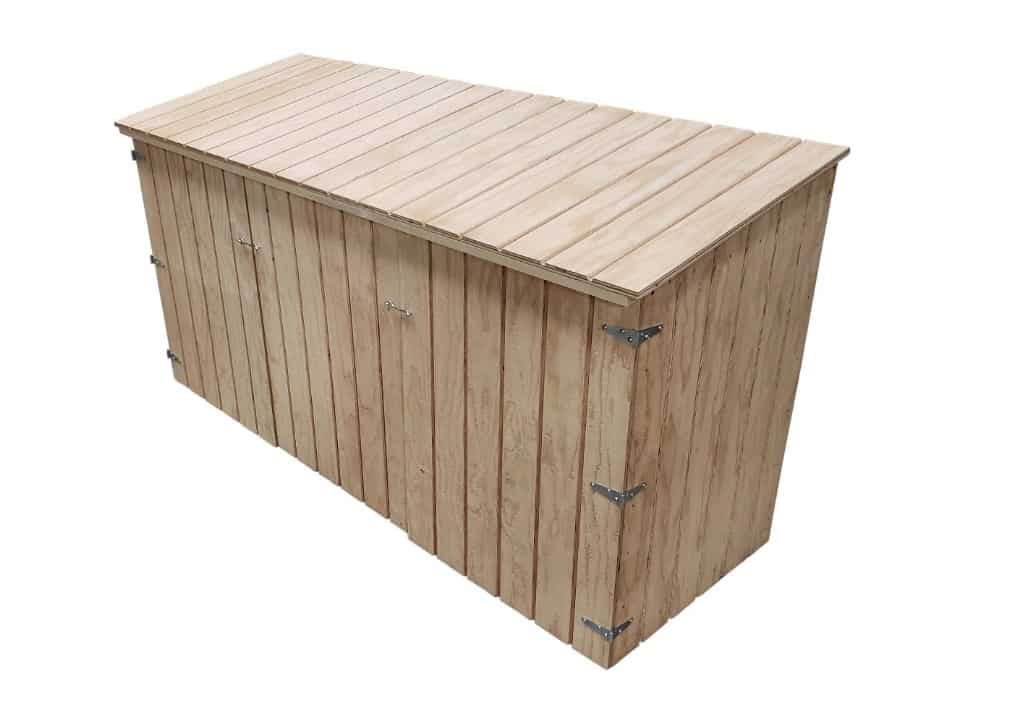 Here's the thing… since we received the storage shed… I've cleared out the garage quite a bit so our trash cans now live inside, but this shed is serving a purpose that I didn't anticipate: OUTDOOR TOY STORAGE. Can I get an A-men?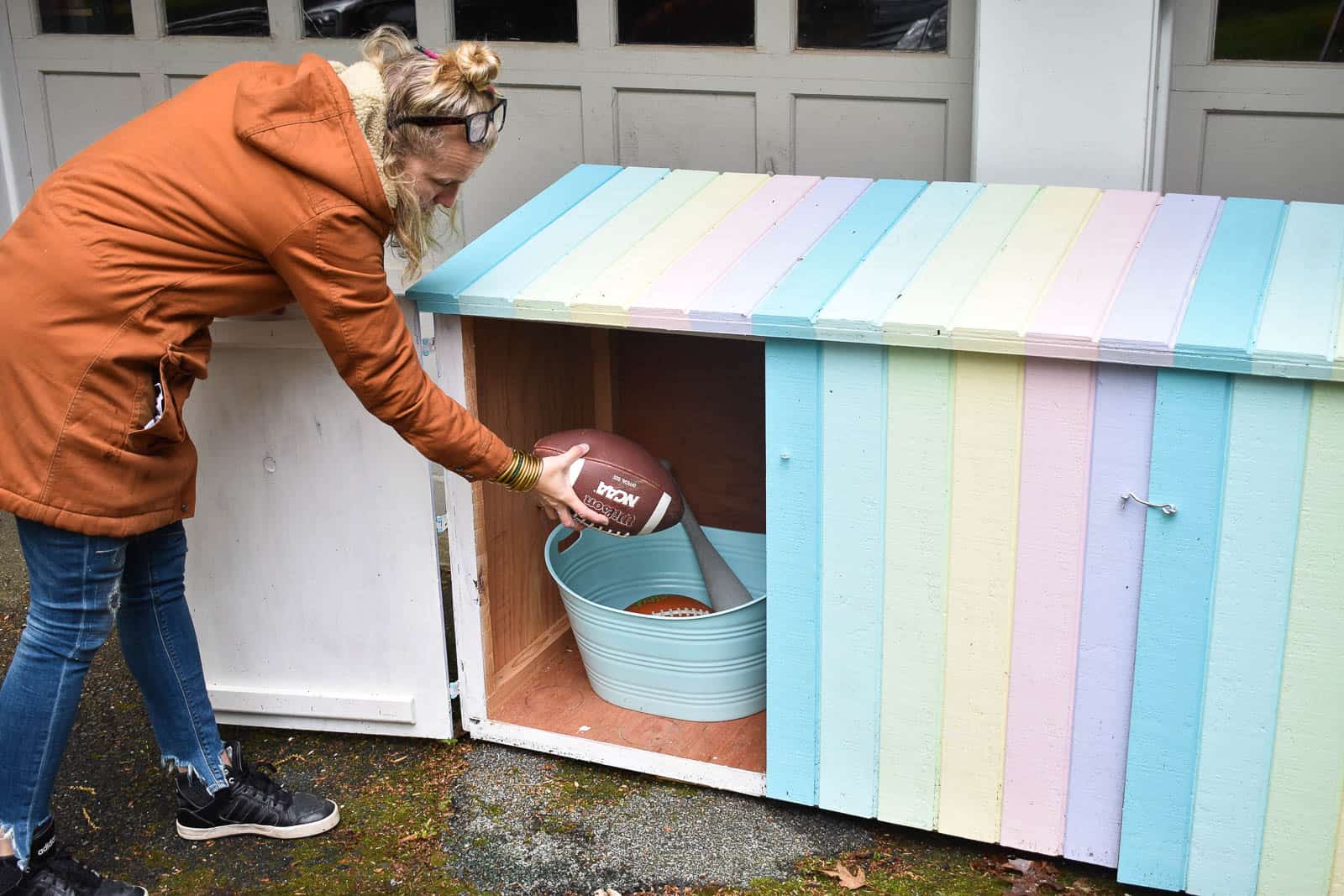 To make this feel a bit more festive… I wanted to give it lots of color. Because this is an outdoor shed and it's made of cedar, I needed to prime it with an oil paint. Unlike latex paint, oil paint does not clean up with soap and water so I rarely use it. But cedar is the perfect wood for anything outdoors because it resists rot and I didn't want to risk any bleed through so… oil paint it was.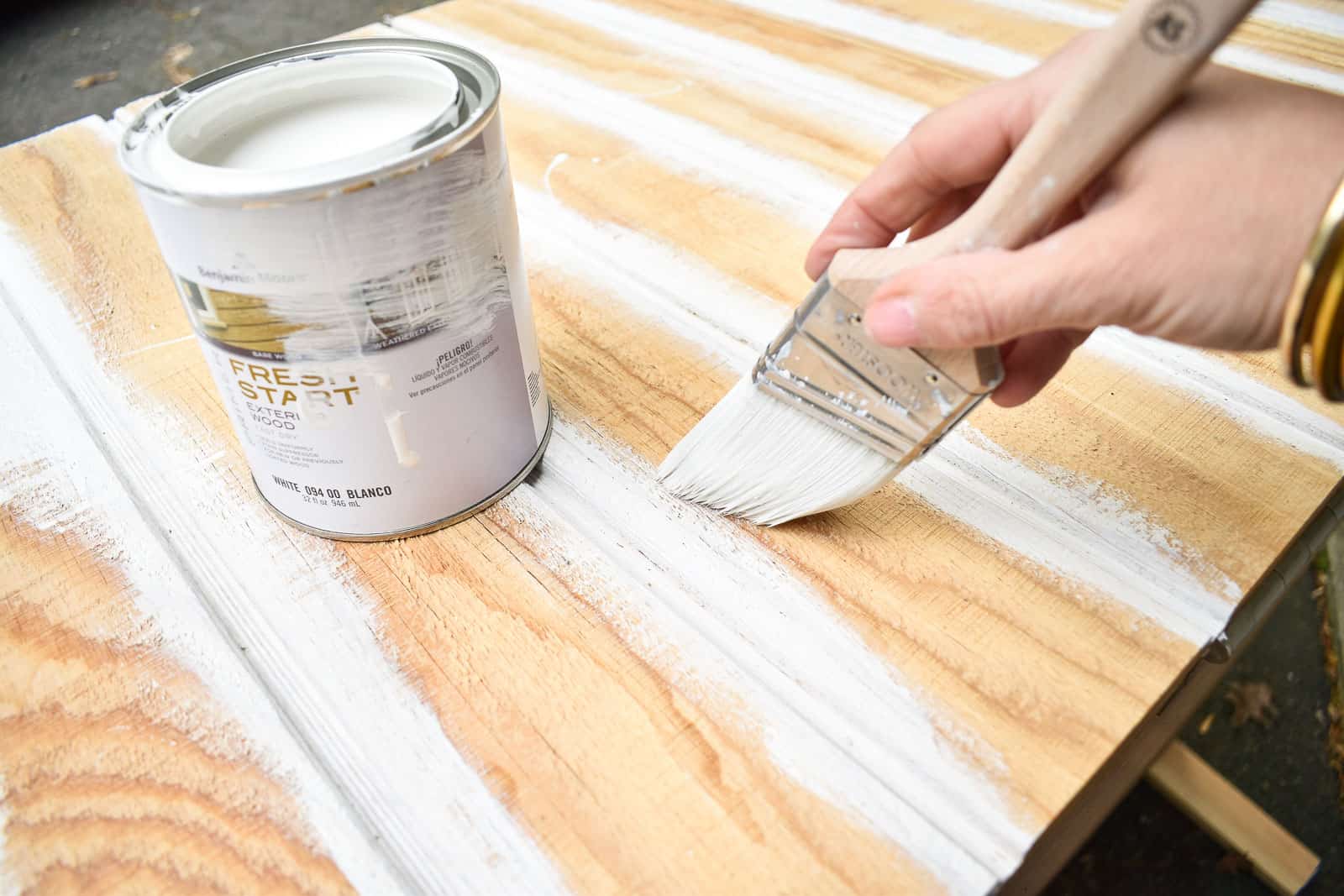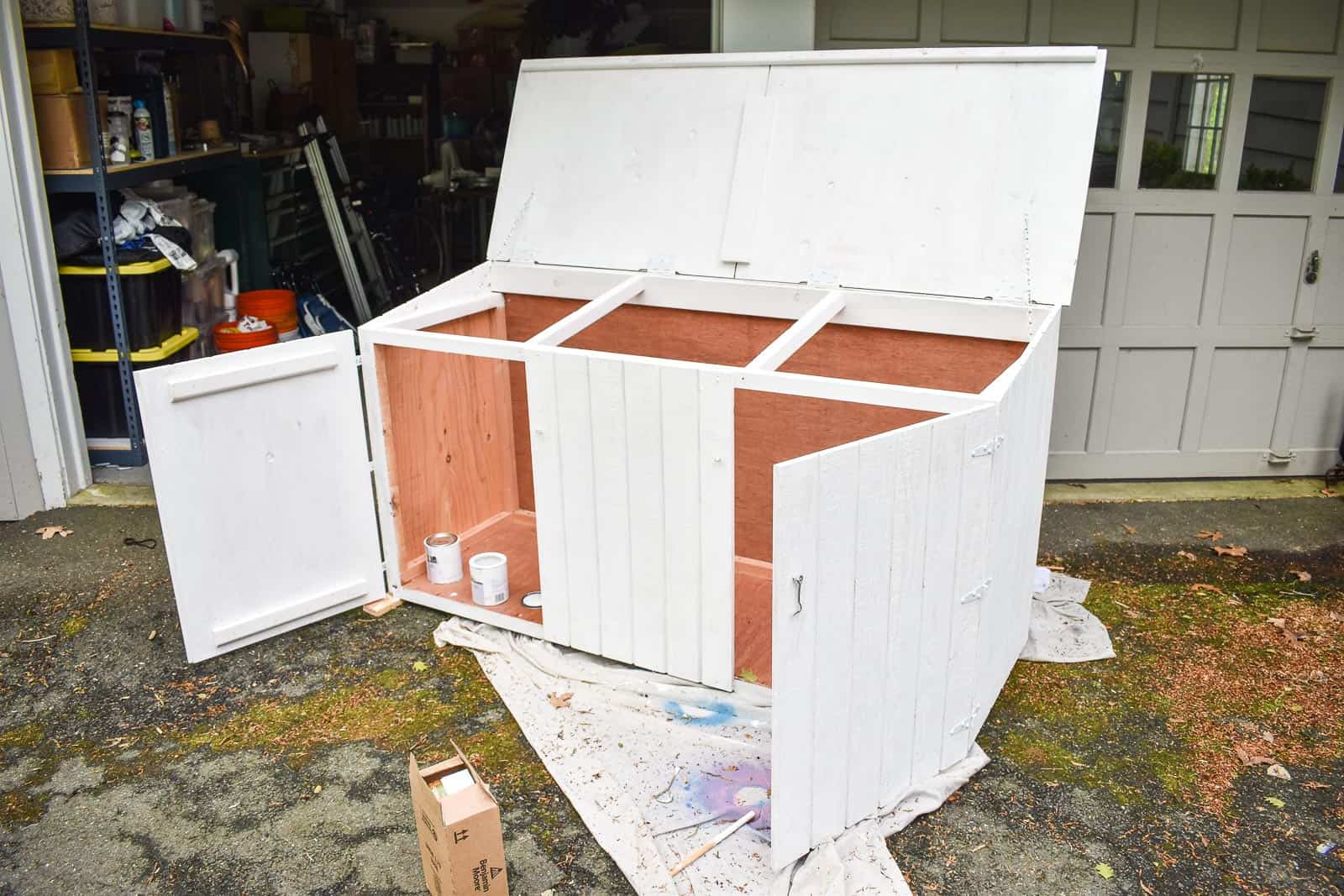 For something like this, I figured go big or go home, so I selected a handful of pastel colors. (I can't get my friend Ashley's beautiful staircase out of my head!!)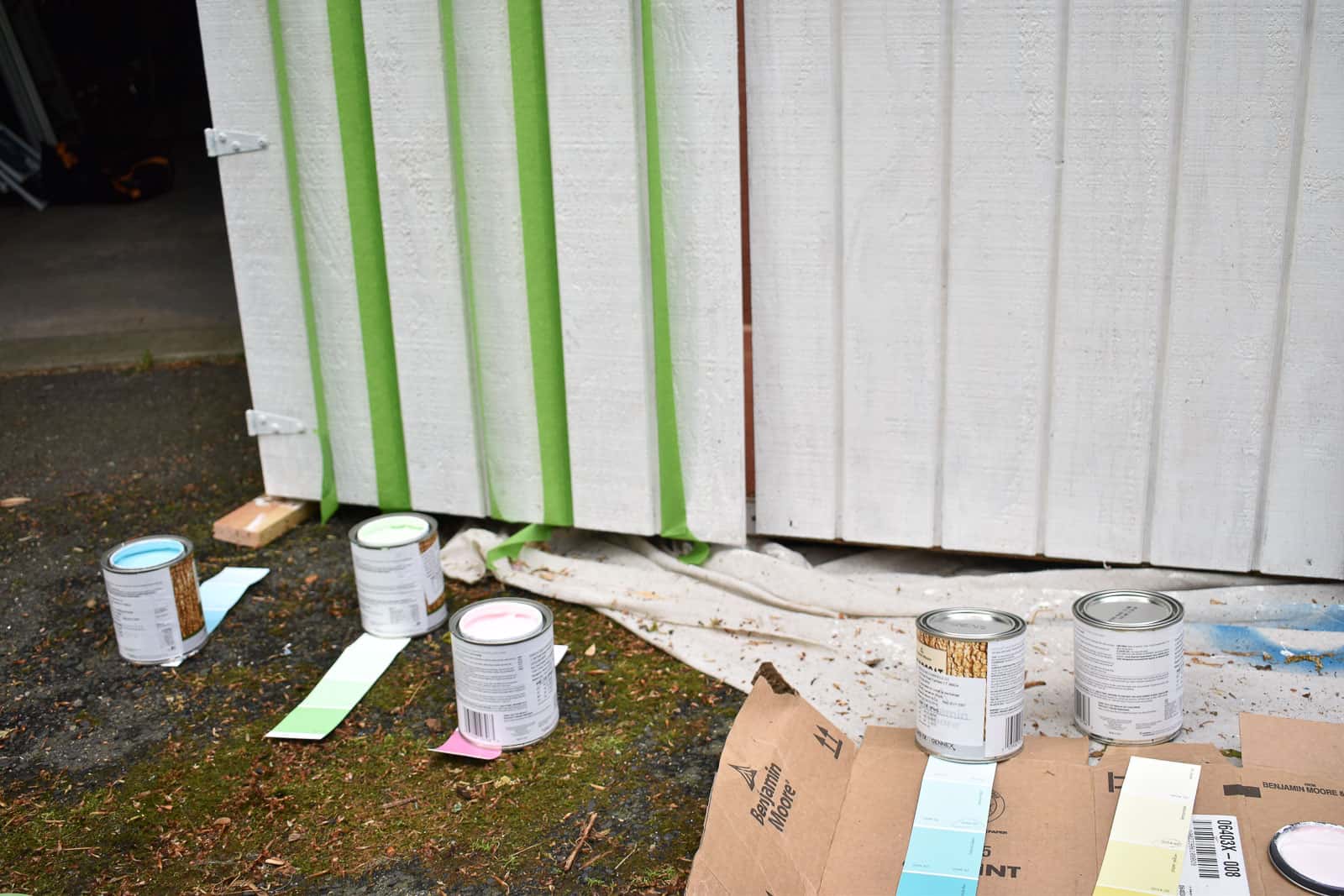 It made sense to paint stripes so I taped off each slat of the shed and alternated painting stripes. I was able to use latex exterior paint for the stripes which made the whole process go much faster than the priming.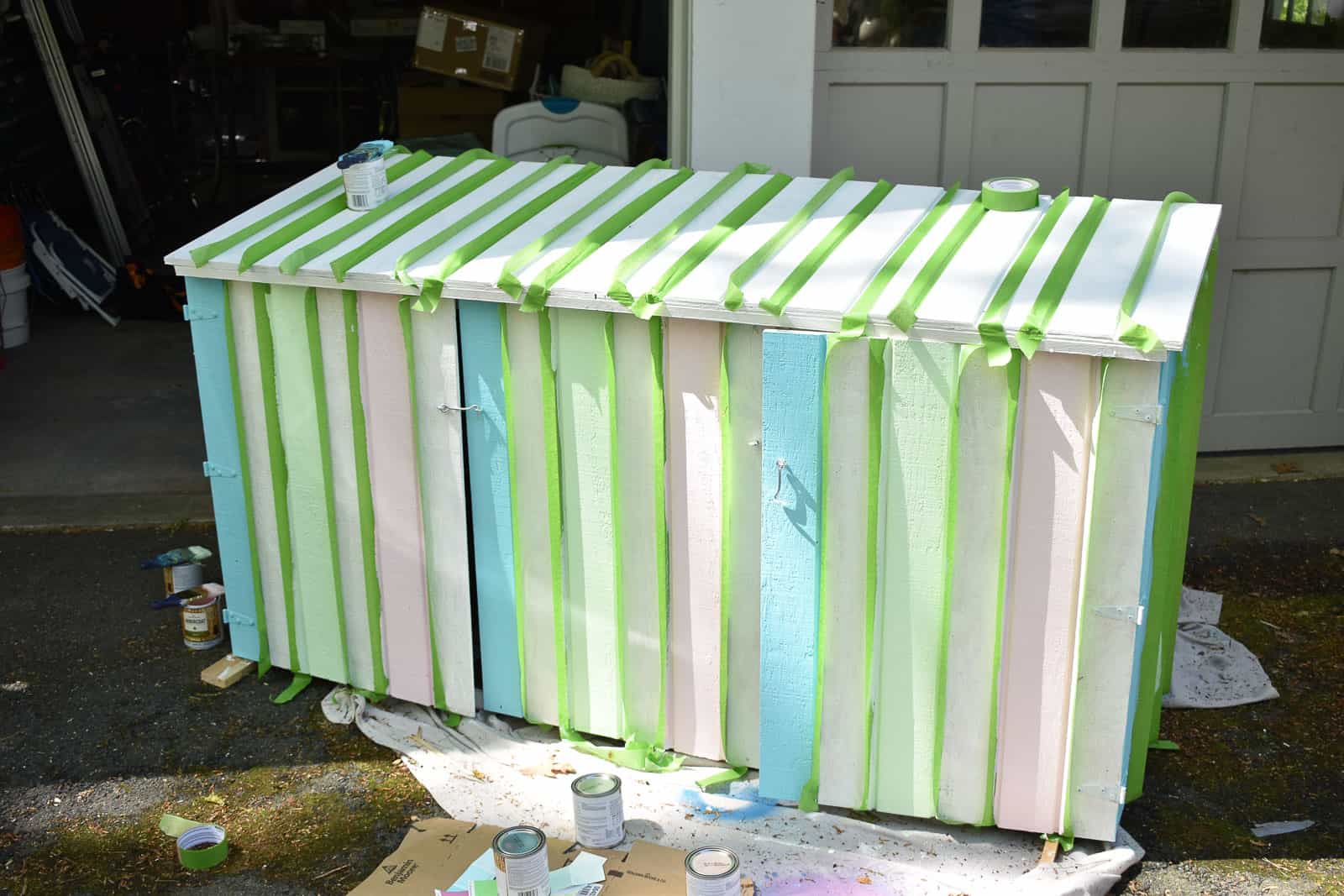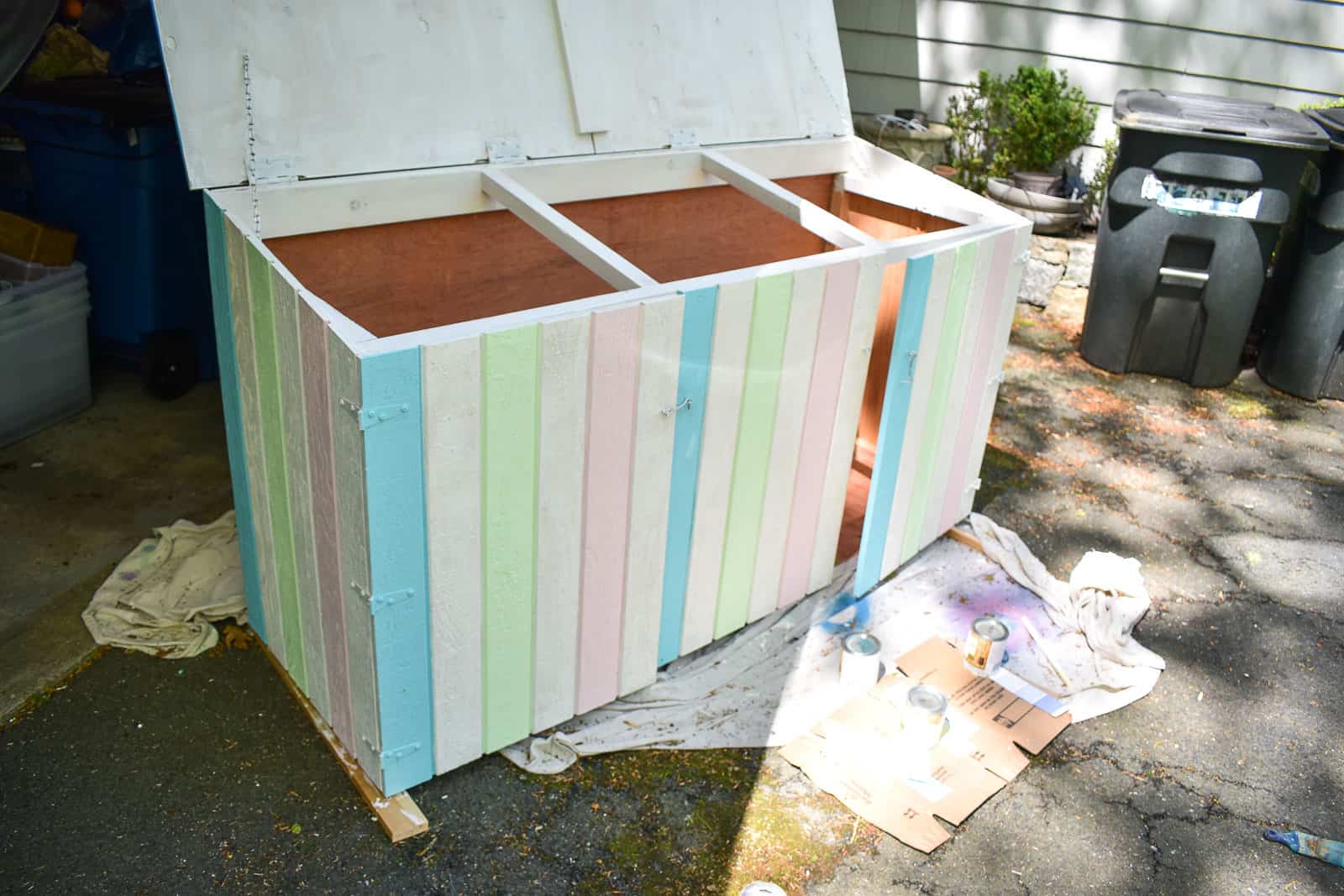 We've had about 19 weeks of straight rain in Connecticut so I'm amazed I had a couple of days to finish painting. My plan for this is to have it accessible to the kids with bins inside for their balls and baseball bats and such. It's weather proof so things inside should stay dry. The lid doesn't have any sort of safety latch but they kids won't be able to lift it anyways! I'll shim up the lid just a bit so that the two front doors will open and close easily. They have a simple hook and eye fastener so the kids shouldn't have any problems getting to their toys from the front while the lid stays in place!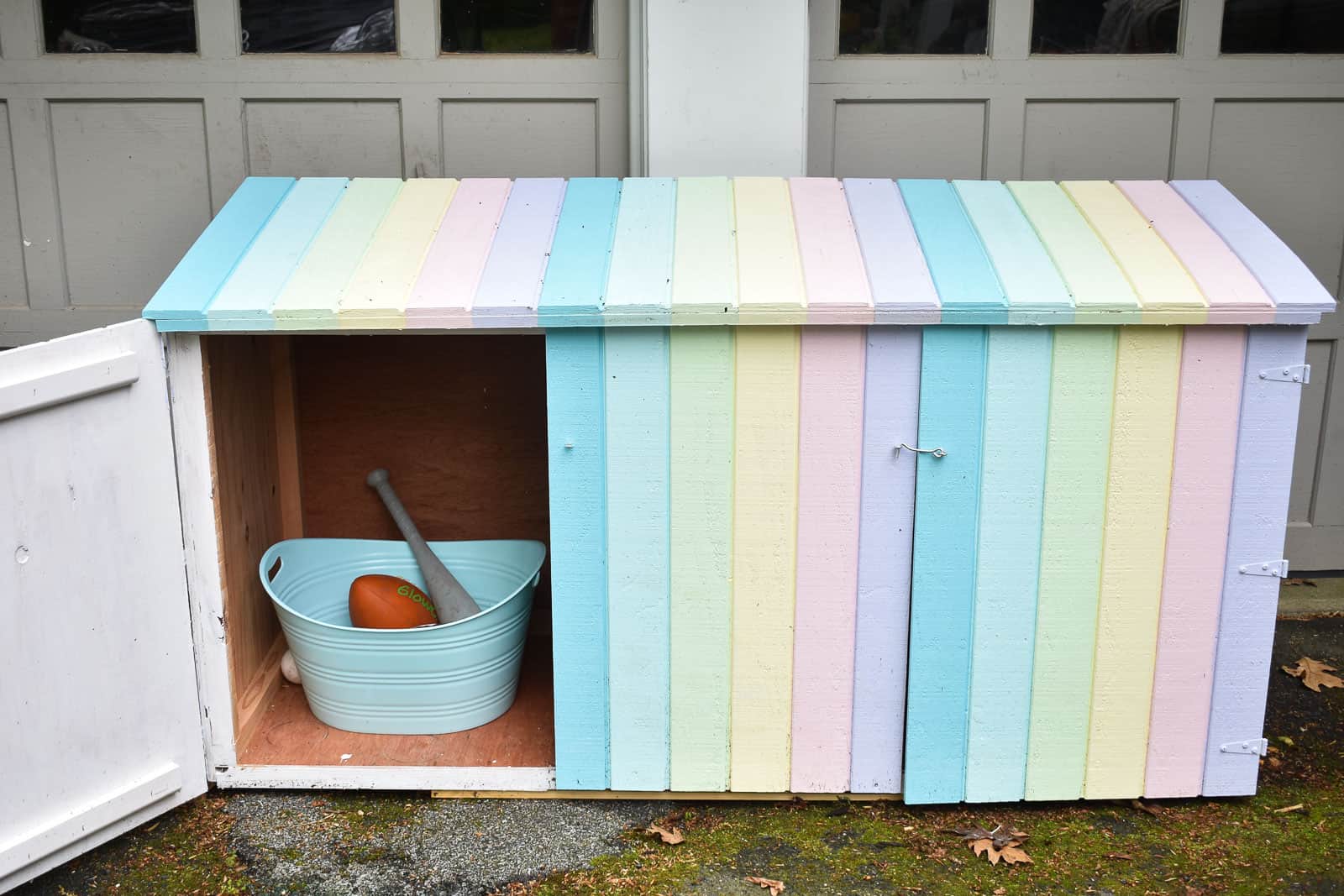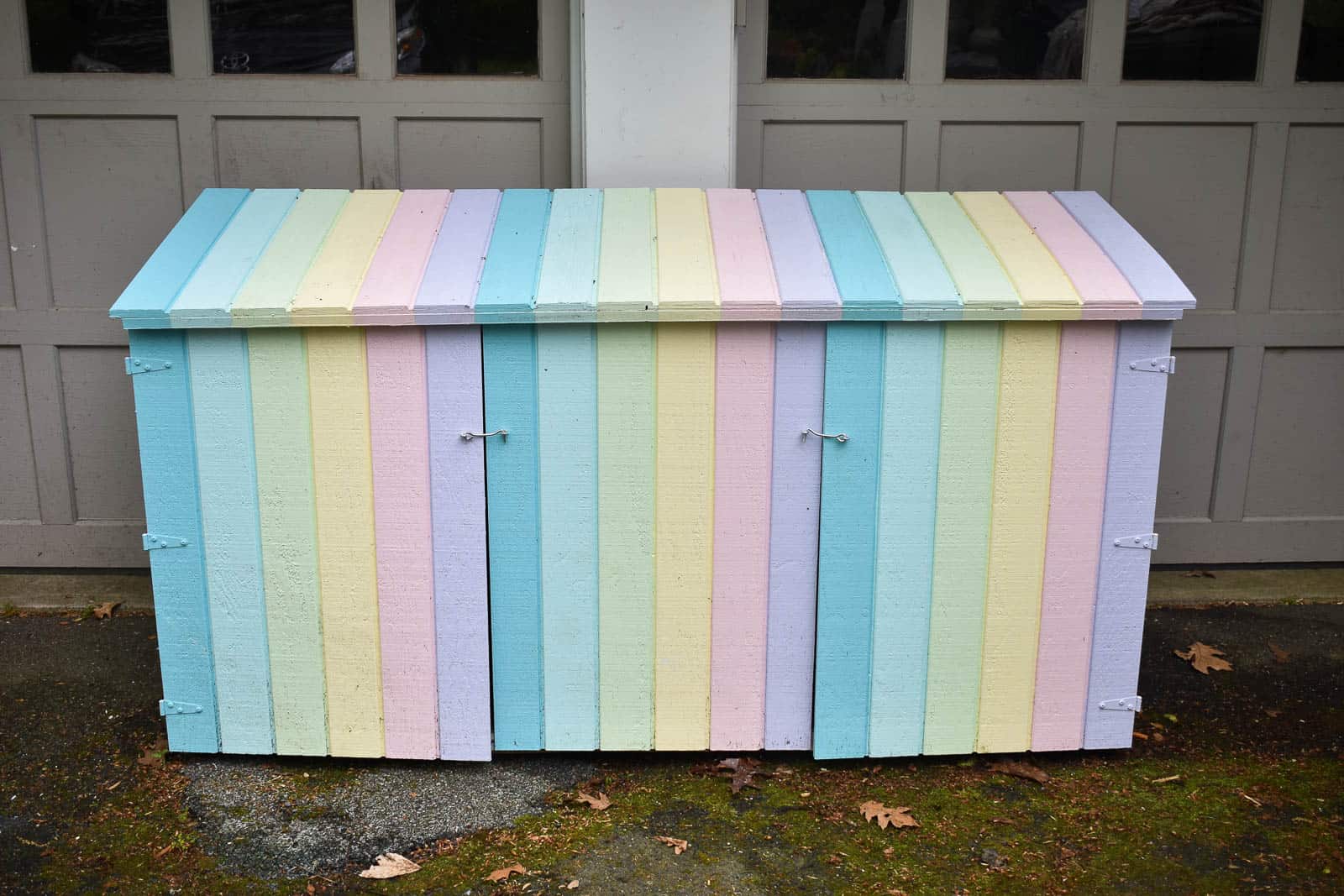 This is the shed I painted (really affordable!)… turns out, it's a little too low for the larger trash cans we were provided by our town, but they'd easily fit a standard round trash bin. And just in case you're curious… we also use these amazing gadgets to keep the critters away when we have to bring our trash cans out each week for pick up!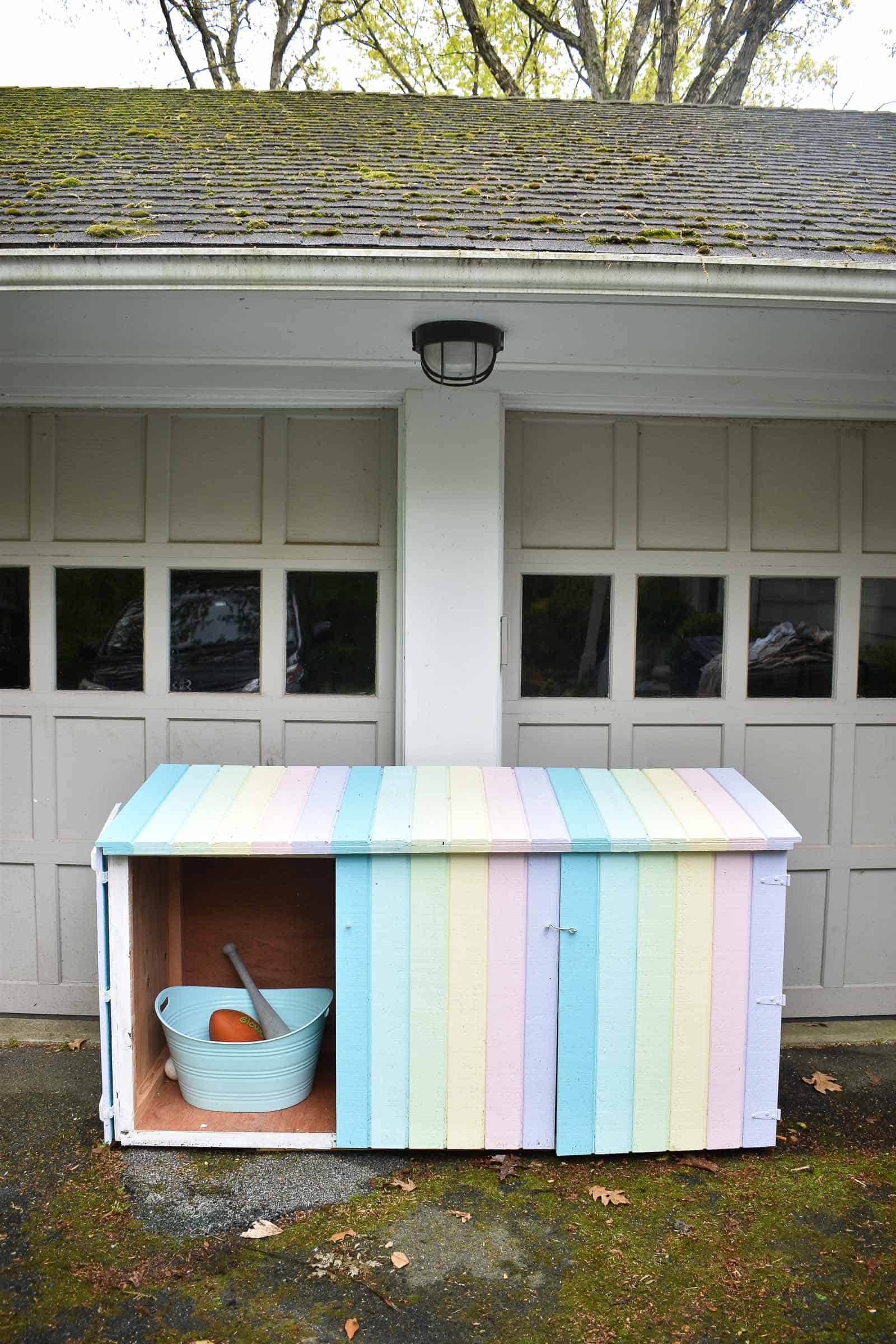 This project was so fun and simple and I'm *hoping* it will keep our yard from looking like a pinata has just burst… In the past I've had bins for the balls and bats, but they always end up soggy and mildewy from weather… fingers crossed this will be a perfect solution to our cluttered yard.