We have this adorable chandelier snagged from a consignment store. At one point, I'm sure I envisioned it as a bright kelly green somewhere, but it ended up in our 'formal' dining room and the metal tone made more sense. I love the whimsy of the birds, and I love that it cost $40. But… right when we listed our old house for sale, the bulbs started to flicker. At first we assumed it was a bulb but over time we realized that the same bulb was always 'out' and then another and another. I tried some simple little tweeks but nothing… clearly it needed an operation.
Rewiring an Old Chandelier is Easy!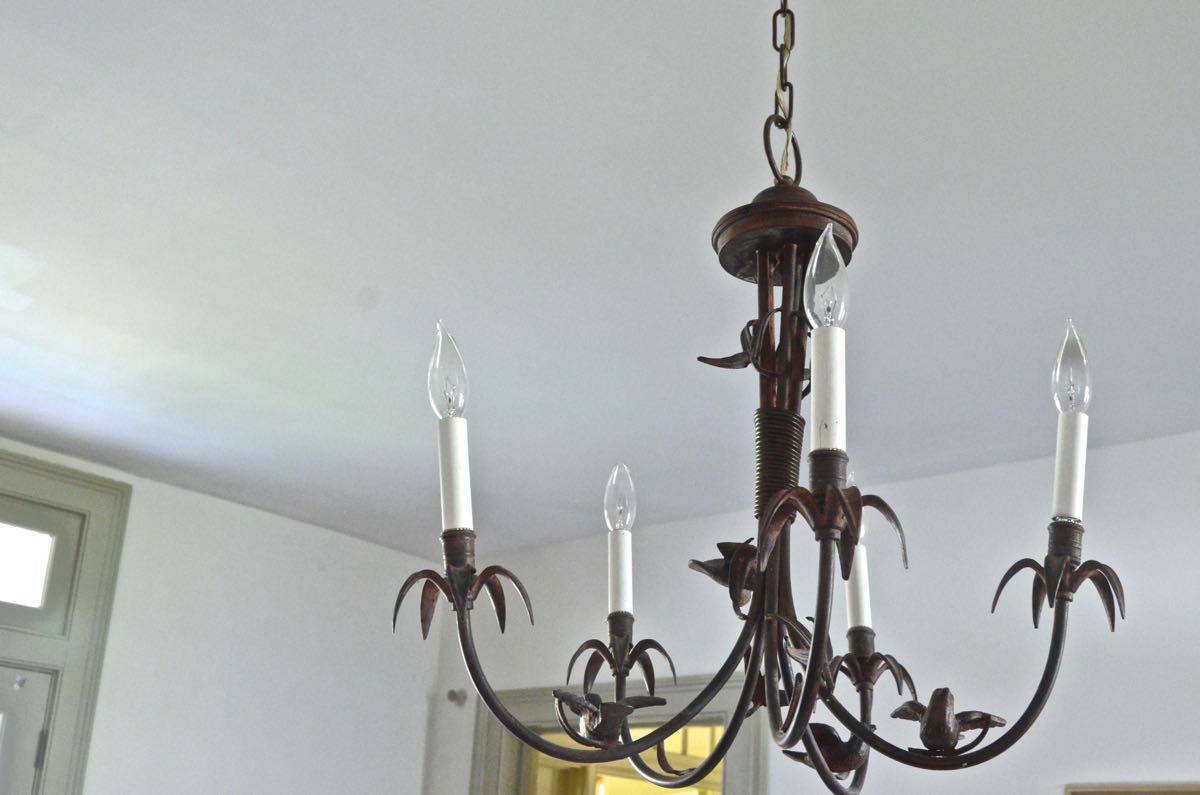 When we moved, the chandelier came with us, and before we hung it back up… time to rewire. Guys… rewiring a chandelier is MAD easy. Next time you see that KILLER pendant at a yard sale but worry it won't work… just get it. Basic electric supplies are pretty cheap and the process is fairly basic. At least it was for this light. (Full source list at the end of this post.)
(Disclaimer… I'm a lot of things, but electrician I am not. Take these instructions as my personal opinion. In no way am I responsible or liable or asserting to be a licensed professional.)

Steps to Wiring a Chandelier
Unscrew what needs to be unscrewed to get to your wires up top. Typically a chandelier hangs from a threaded nipple in the ceiling that supports the weight, but you might have an added piece. You'll probably see a web of wires all winding together and then capped off in two different places… don't be skeered… just unscrew the cap, and pull all these wires apart.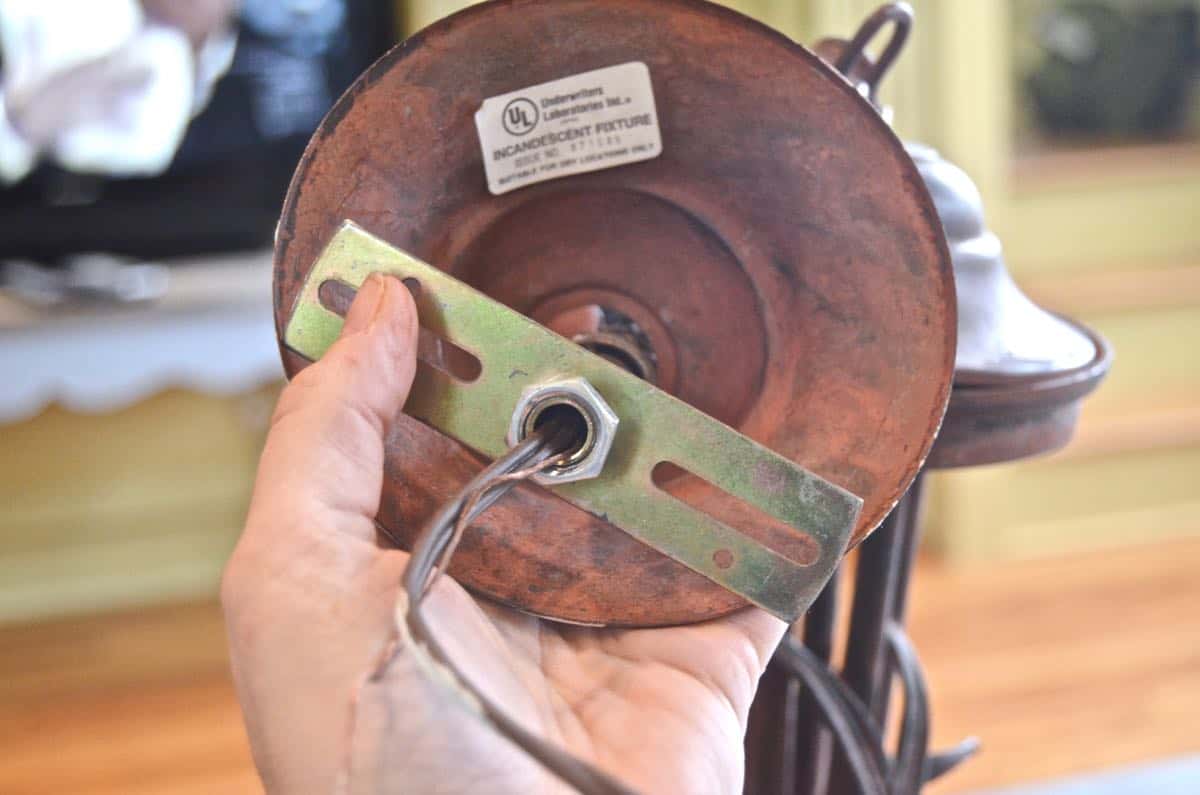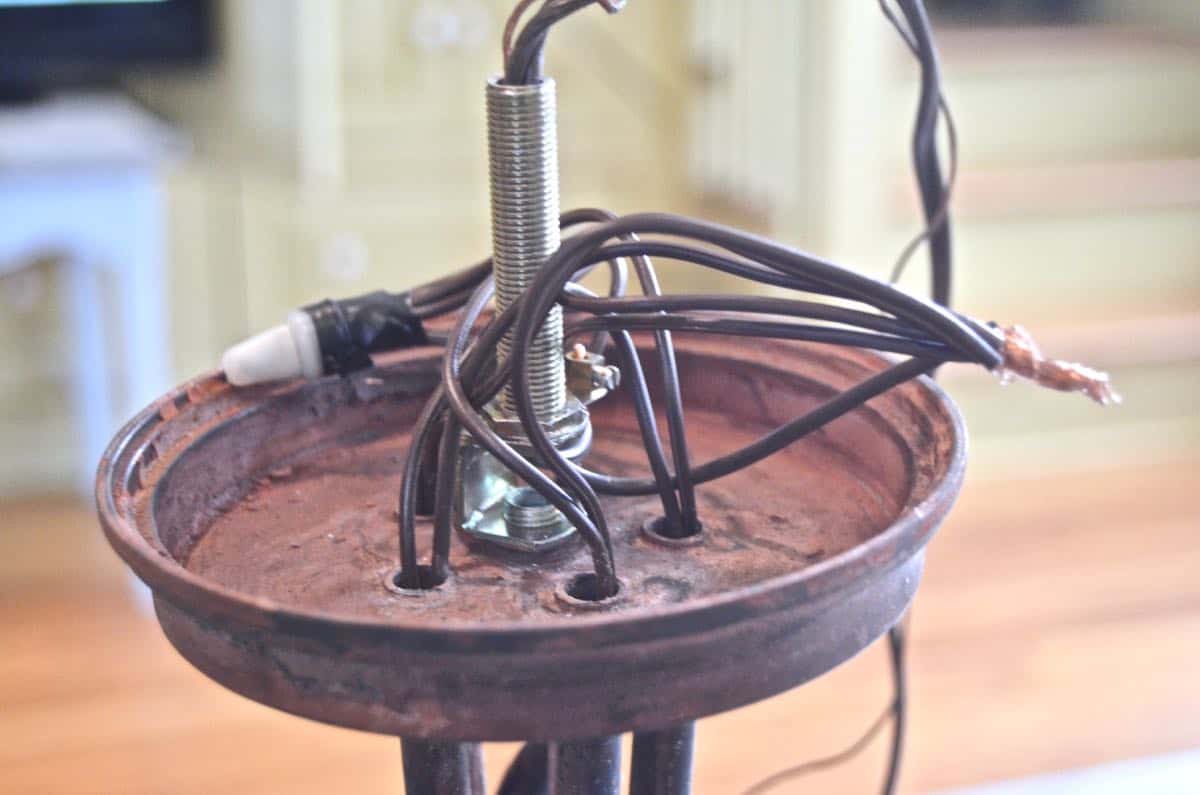 Next, get to your wires around the lightbulbs. Unscrew the lightbulbs (duh) and then remove the cardboard sleeve. It might be a little stiff, but ideally it will slide right off. You should be looking at the candelabra sockets of your chandelier. With a screw driver, loosen the screw on either side, and unhook the wire that's wrapped around each side. The socket should unscrew from the chandelier.

If you've done everything right, the wires should pull right out of the arms of your chandelier at this point. Head on over to your local hardware store and grab some lamp wire, some new candelabra circuits, some electric tape and some of those wire caps
that screw in to cover the exposed wires. I also grabbed a wire stripper
… made life much easier. (FYI, our Home Depot didn't have candelabra sockets so I ordered mine on Amazon.
)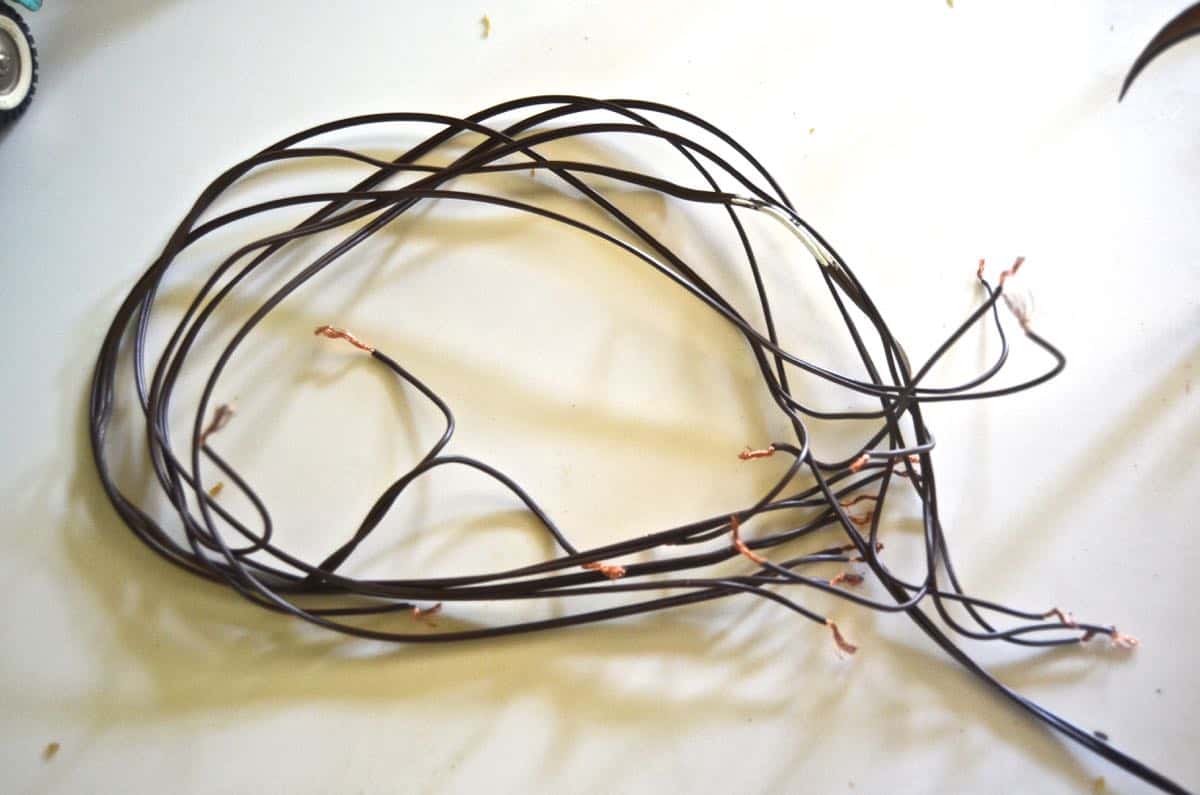 Okay. Time to bring your chandelier back to life.
Step 1. Thread new lamp wire
Cut your lamp wire into pieces and thread them through the arms of your chandelier. Mine threaded through way easily, but you might have to push a smaller piece of wire through first and then use this to pull your larger lamp wired back through the arms.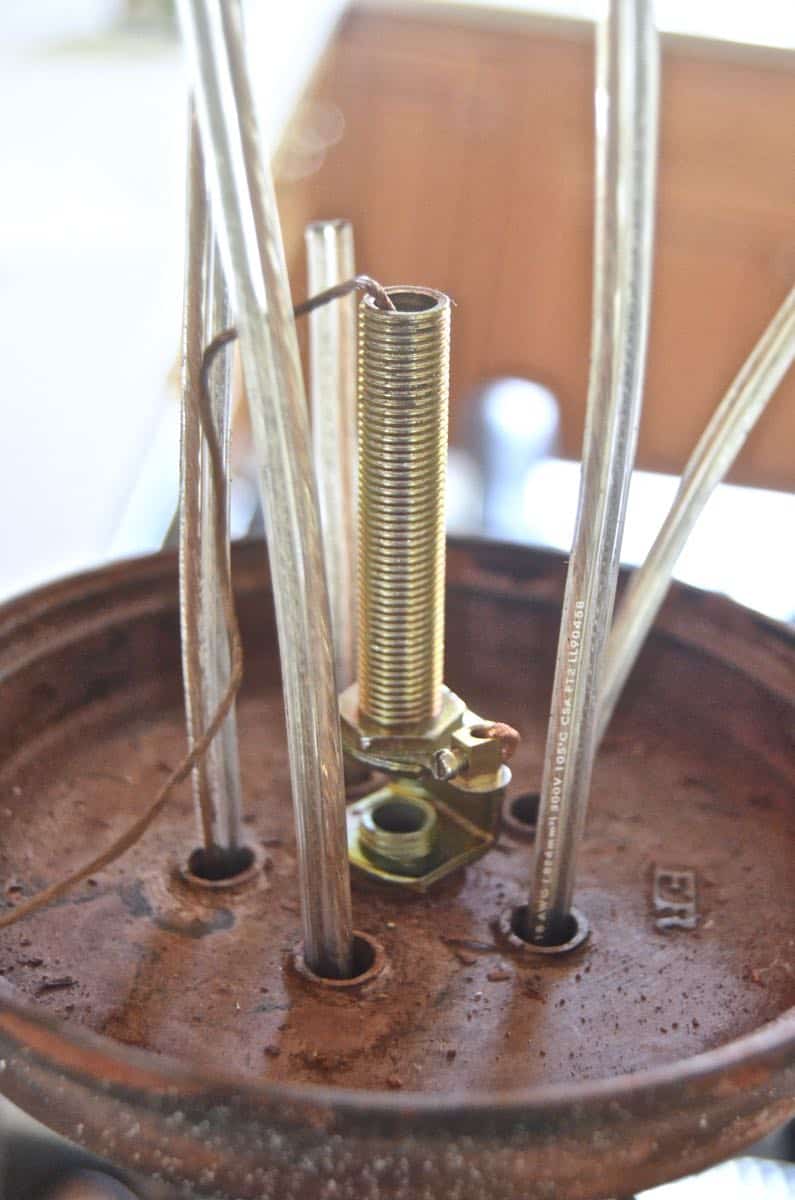 Step 2. Screw in lamp sockets and prep wire
Screw in your chandelier sockets and split the lamp wire. Strip 1/2 an inch of the plastic to expose the wire underneath. If you bought the stripping tool, it's super easy… just pinch the wire between the right sized holes on your tool and pull to remove just the plastic and none of the wire. If you only have pliers, then be careful how much pressure you apply when pinching the wire and just strip it this way.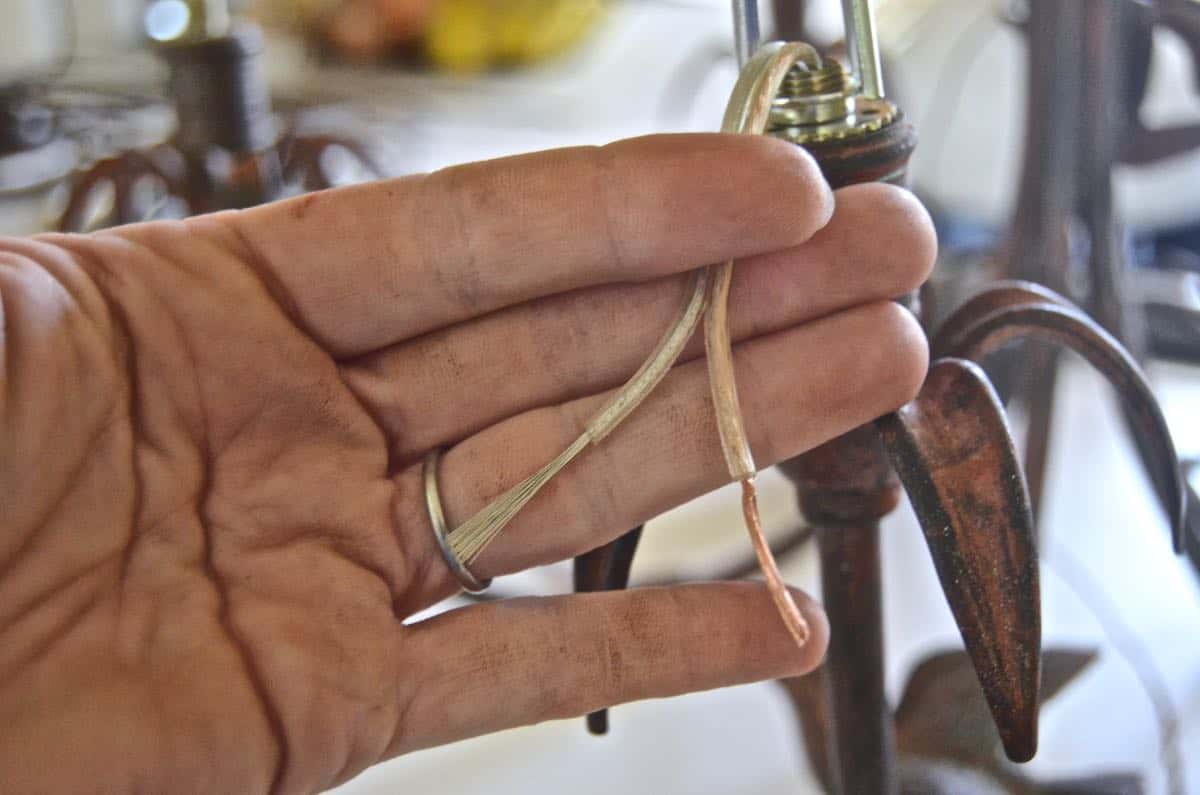 Step 3. Wire the chandelier socket
I used clear lamp wire with 2 clearly marked sides (copper and silver). If you go with a different wire, then look for one side to have writing or perhaps a ridge… it's important to note which is which…one is your hot wire and the other is neutral. (Typically the smooth side will be your hot wire…) My sockets had the same copper/ silver color coding as the wire so it made it easier to wrap my wire around the right screw. Twist the 1/2″ of your exposed wire, wrap it around the screw clockwise and tighten the screw. Repeat on the other side and replace the cardboard sheath. Continue until you've replaced all the chandelier sockets.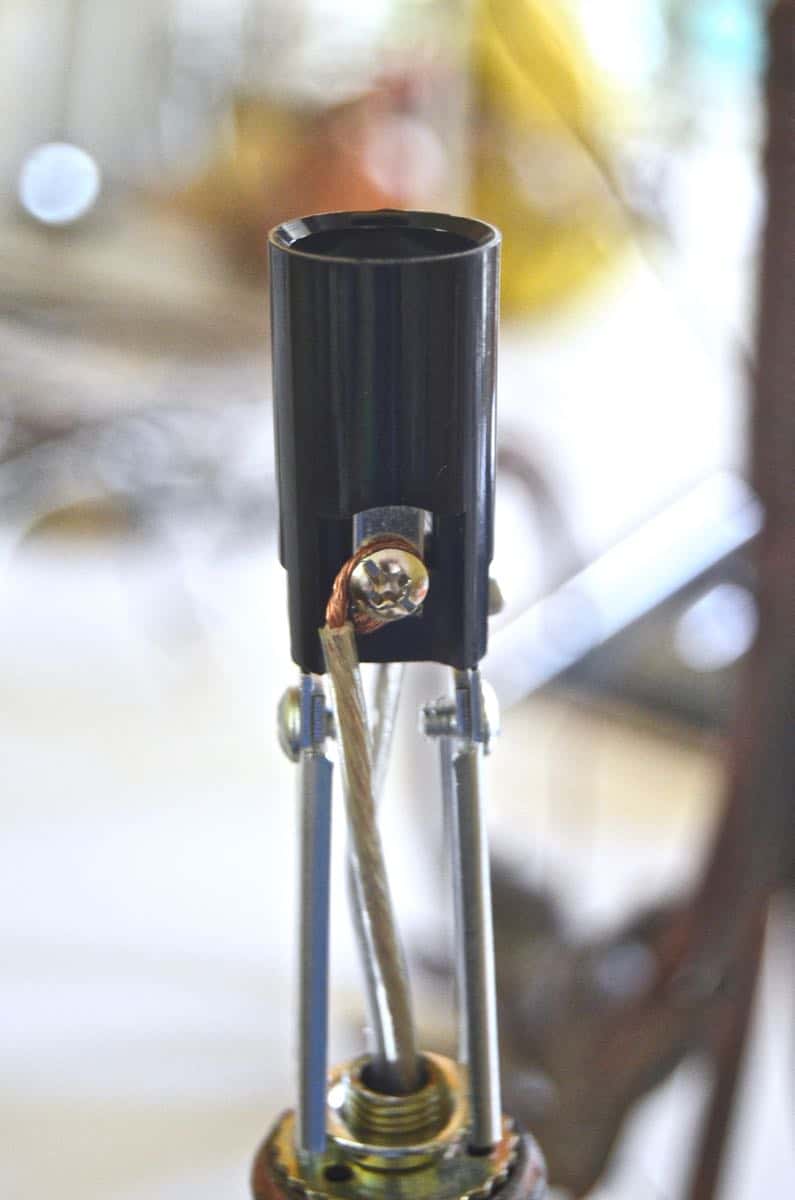 Step 4. Wiring the top of the chandelier
Remember that web of wires on the top of the chandelier? Time to tackle these… again, I promise it's not as gnarly as it looks!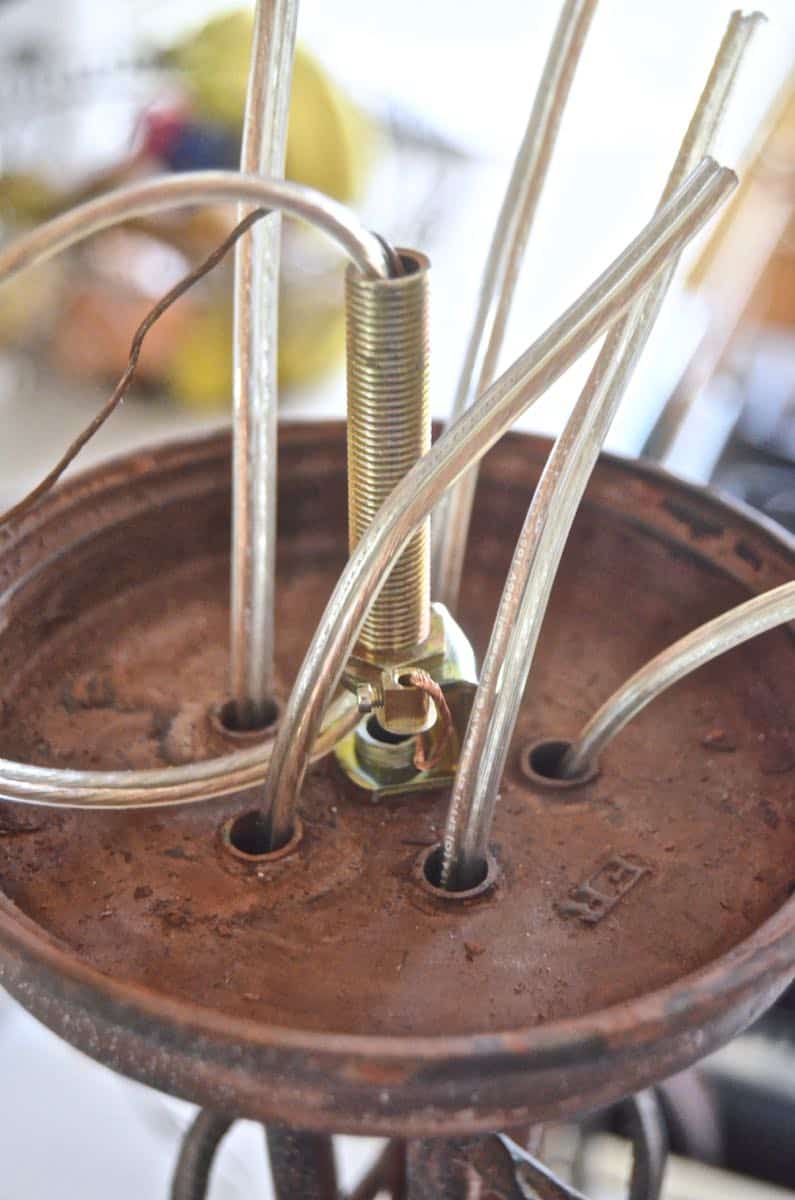 Step 5. Split and strip wires.
Split each of your wires like you did with the candelabra sockets. Expose the last 1/2″ of wire from the plastic sheathing.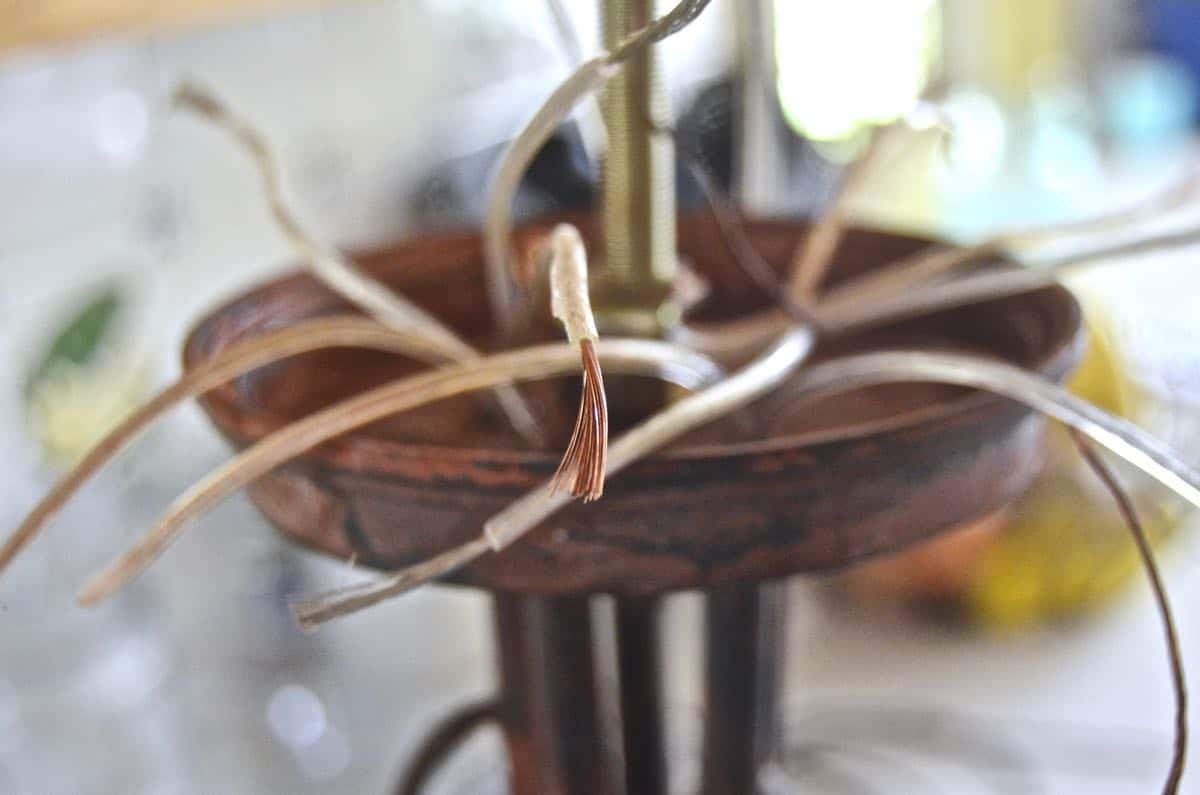 Step 6. Wire the chandelier
8. At this point, you'll also need to feed a wire down through the main nipple of your chandelier… this will connect the chandelier arms to the hard wire in your ceiling. Gather all your neutral wires and twist the ends together. Again, for me… this meant all the copper wires in one clump, and all the silver wires in another.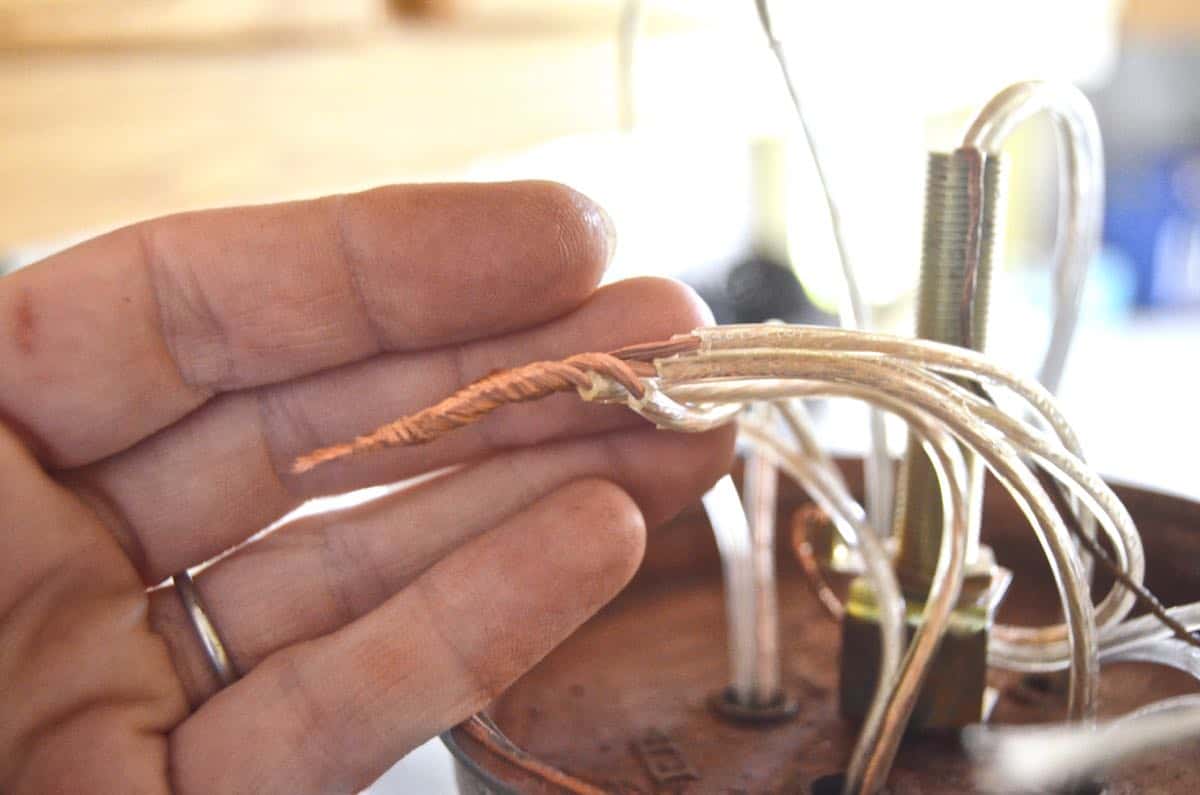 Step 7. Cap off the wires
Cap them off and tape them up for good measure. Repeat with your hot wires. (My chandelier has 5 arms, so I was wrapping 6 wires at a time… the 5 from the chandelier arms and then one more going up to the ceiling.)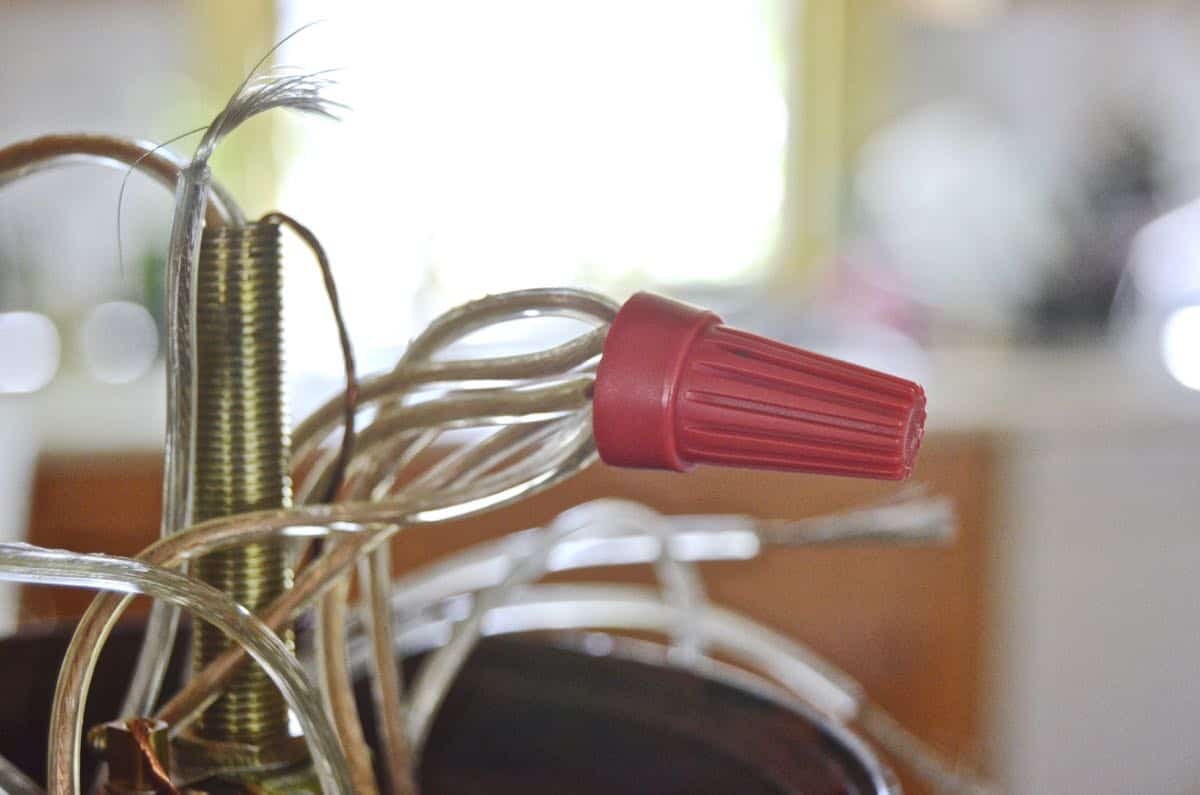 Step 8. Rehang Chandelier
That's it. You've done it! Reattach your chandelier to the ceiling and revel in your electrical prowess.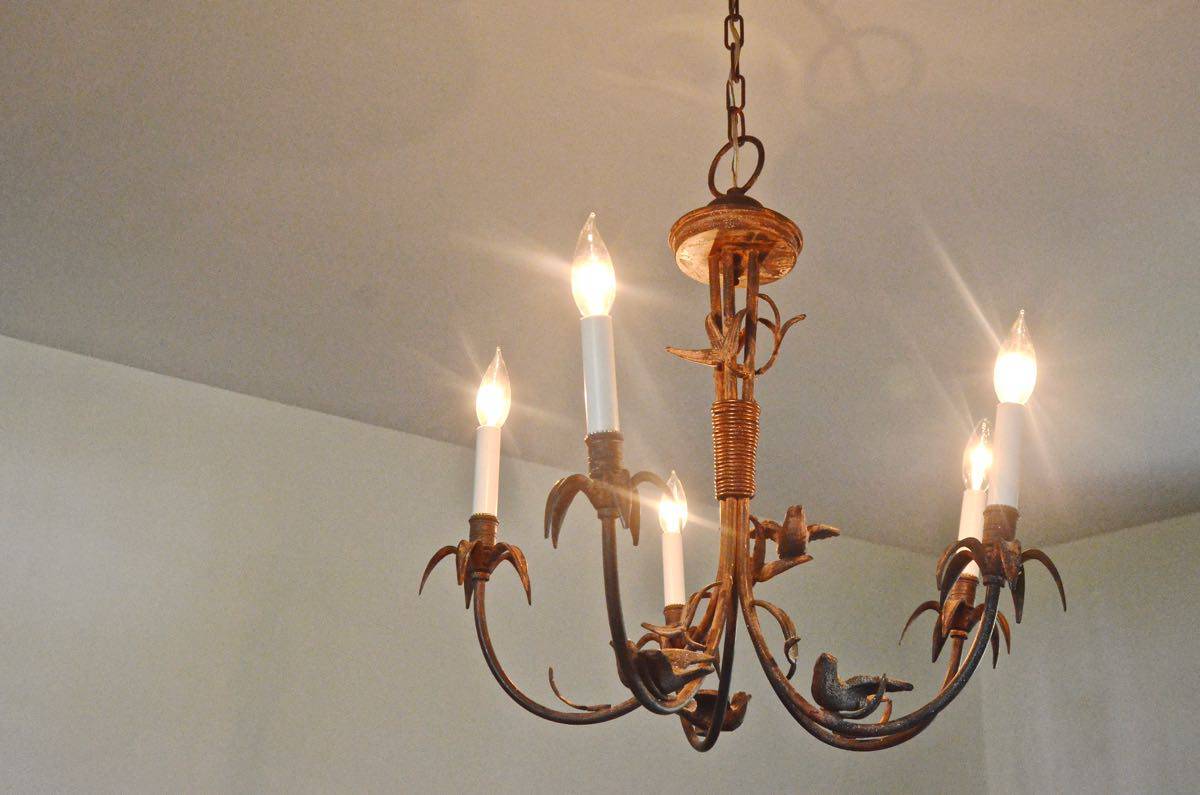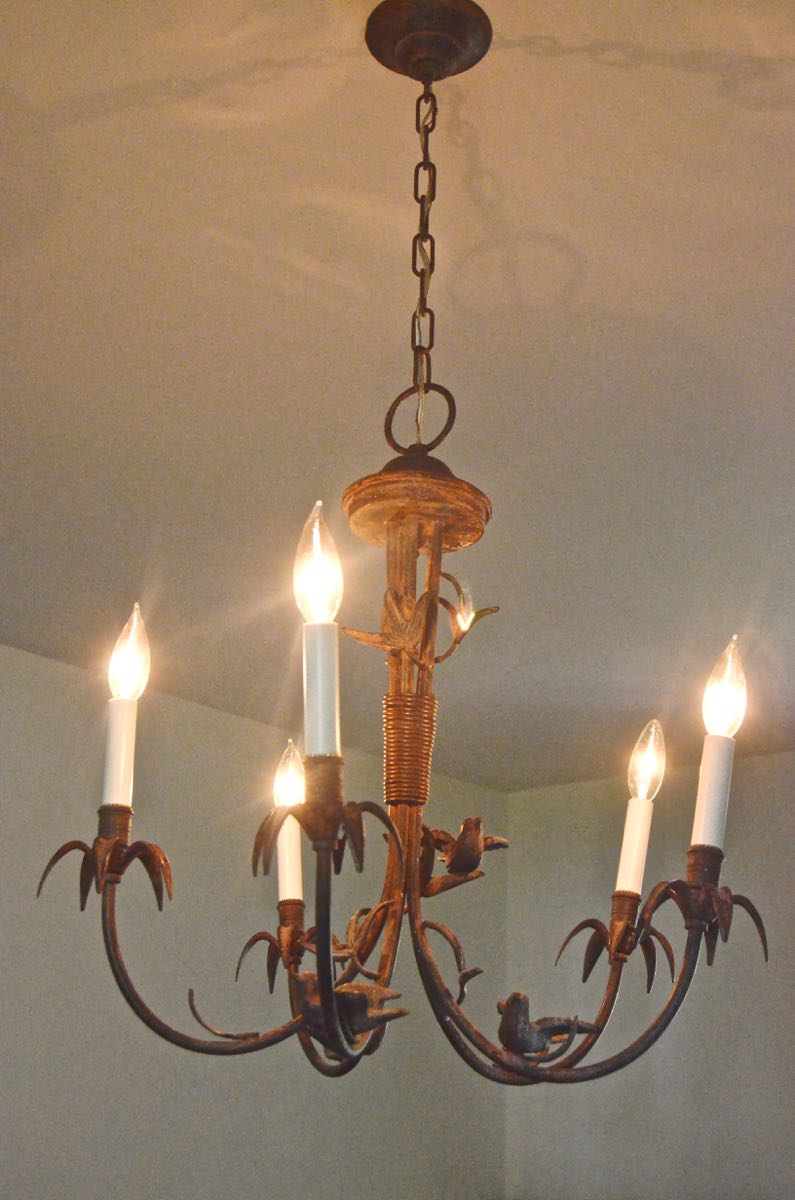 Supplies
(Affiliate links included for your convenience)