We all have that space. The one that made a sharp left turn months ago and is now just layer upon layer of all the crap that doesn't really have a home. Honestly, there are about 12 of those spaces in our home, but over the holiday, I decided to tackle just ONE of them… the vortex under the sink in our master bathroom.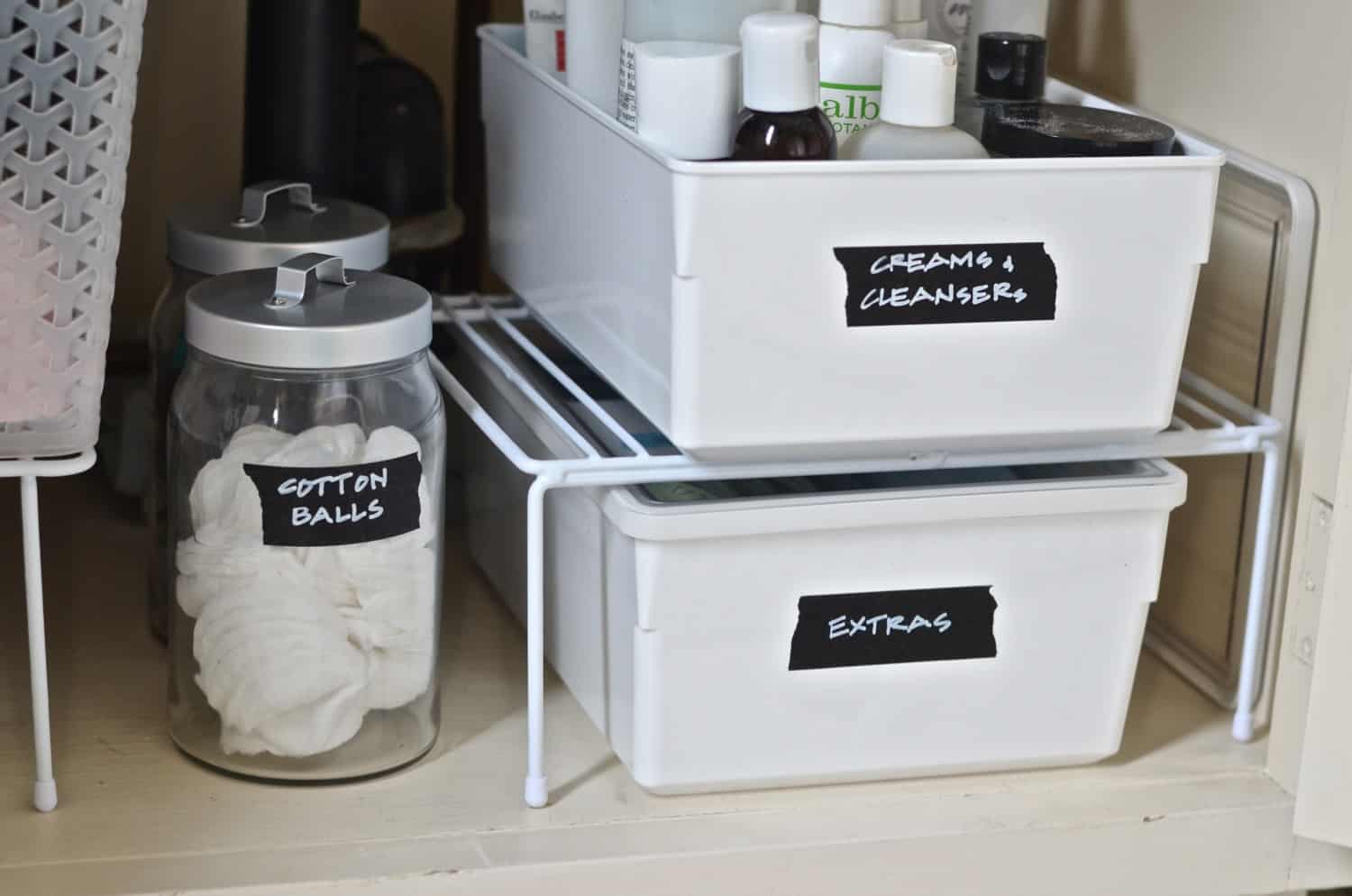 Organizing Under Your Bathroom Sink
The master bathroom is one of the spaces in the new house that could stand to be updated. But it's fine for now. If you throw me a sack of money, I'll spend it on some new tiles and stripping wallpaper and new curtains, etc. but… until then, everything works and it's not awful to look at. Just dated. Part of that 'historic charm' means no storage… no drawers, no shelves. Nada. One miniature medicine cabinet for all our travel sized storage needs, but nothing useful for the larger stuff. Except, of course, for under the sink. (Some affiliate links included in this post for your shopping convenience.)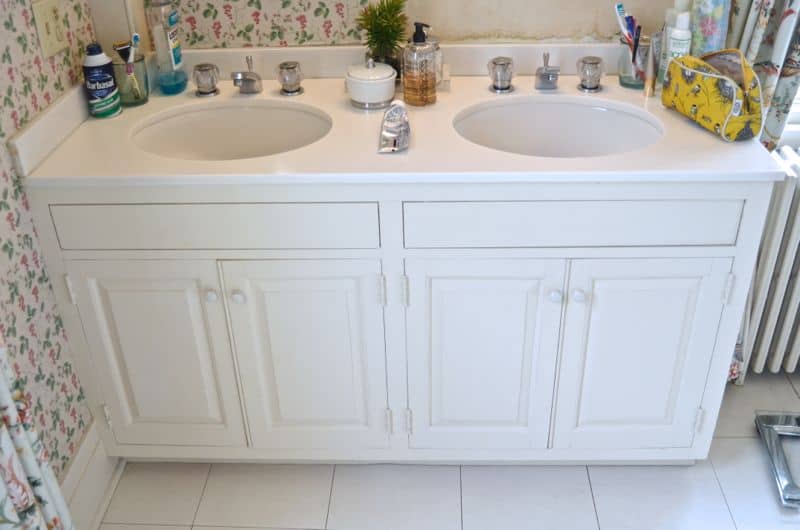 Here's how it looked before. Piles of mismatched containers doing nothing more than corralling the junk. A rogue basket here and there to overflow with larger junk. It was at the point where just opening the cabinet door was an experiment in physics to keep everything from exploding onto my non-pedicured toes.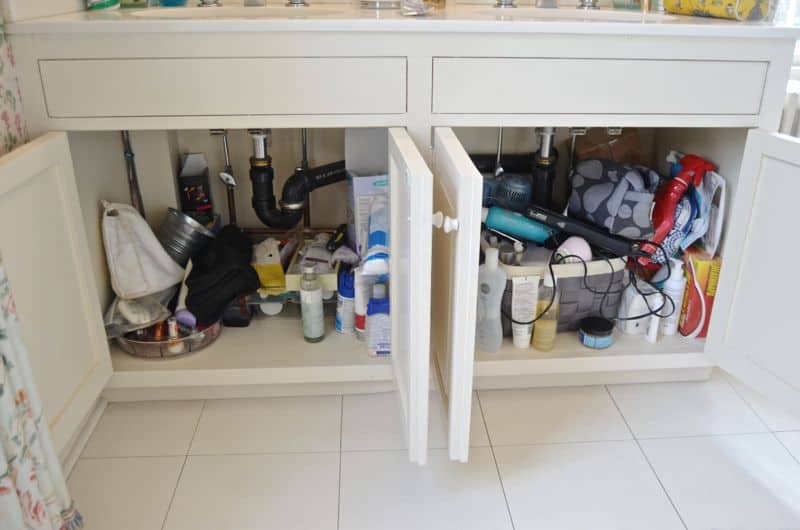 First step with any organizational binge is emptying out the space and make sense of what you have. I love this step because inevitably I find my missing drivers license from 1993 and that pancake whisk I misplaced last Sunday.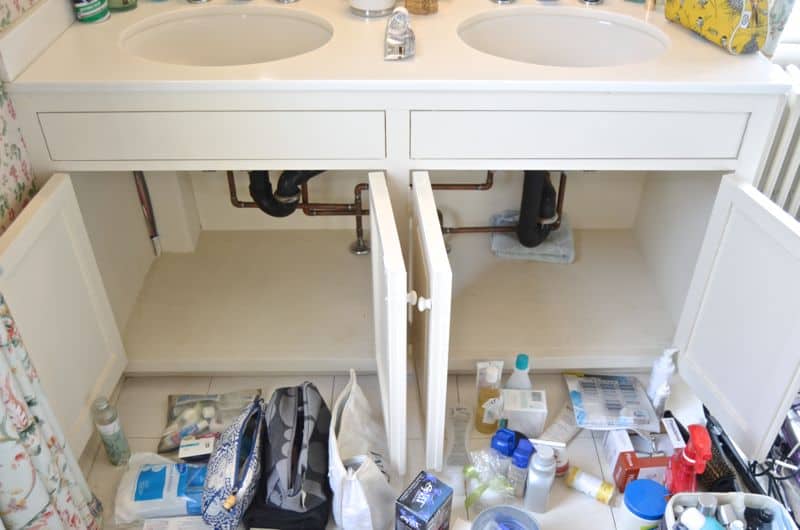 My assistant was not impressed.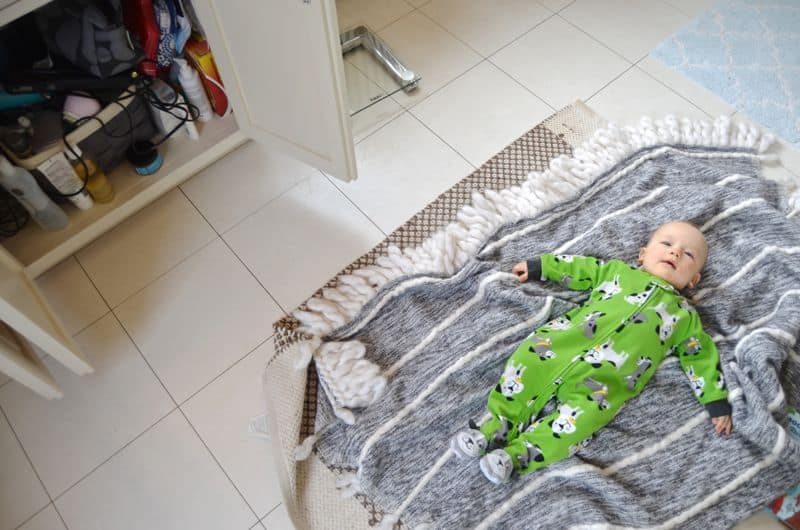 At this point, I try to sort things into categories… e.g. first aid, hair accessories, creams/ lotions… I also take a looksee at the expiration date on things. Turns out 2012 is long behind us.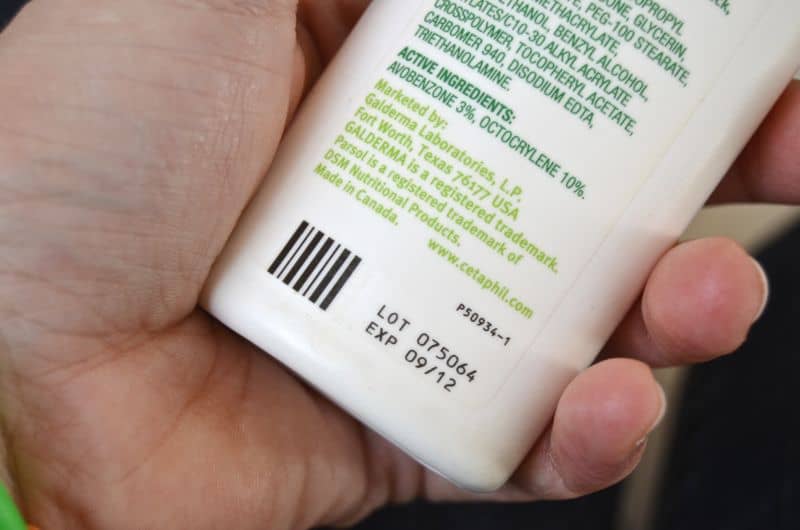 Unfortunately for Mark, the bathroom looked like this for about a week. I tend to be a ninja about starting a project but somewhere during the process, I shift gears into more of a yoga mode.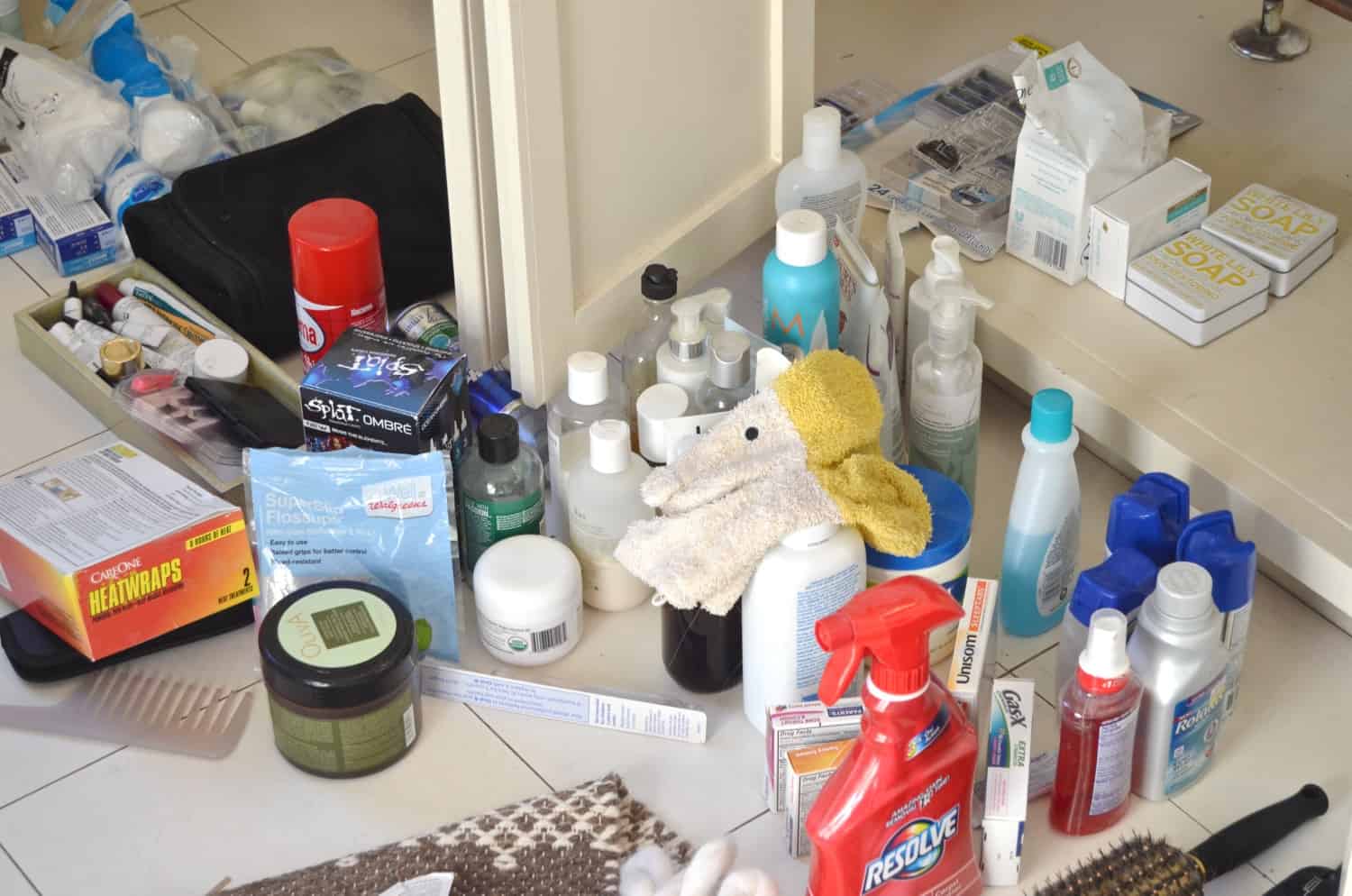 The biggest challenge with any organization project is figuring out WHAT you have to store and HOW you want to store it. That cute set of magnetic ramekins won't do you much good if you need to store 5 tubes of extra toothpaste, you know? My junk fell into a few categories:
– Extra stuff like toothbrushes, soap, deodorant… the usual.
– First-aid-ish stuff… aspirin, Neosporin, Tums.
– Face creams, cleaners, masks
– Hair accessories
– Mark's stuff
– Things with cords: curlers, hair dryer, etc.
Each of these items required a slightly different type of storage.
Let's start with Mark's side of the sink.
I snagged these small drawers from Bed Bath and Beyond (Updated: those drawers are no longer available, but these seem similar). They're perfect for the first aid and extras… easy enough to access and readily available without much fuss. (I originally ordered these ones, but they were about an inch too long. Womp womp.)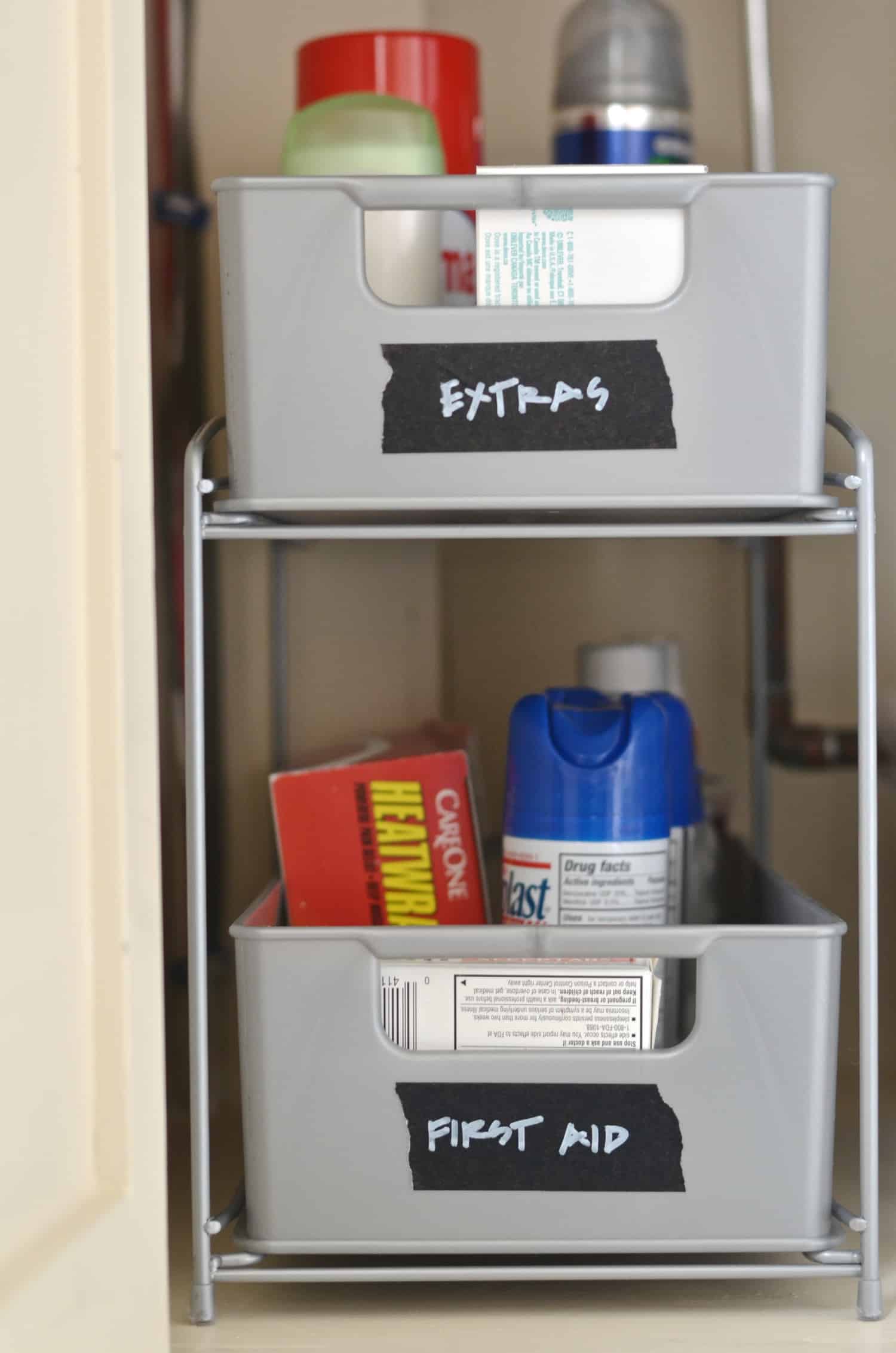 Our toilet kits probably don't need to live under the sink because, let's be honest, we're not going anywhere. But I had the room, so they're in a larger bin underneath all of Mark's stuff. Since we don't really need to get to them more than half a dozen times a year, it doesn't matter that they're somewhat buried. Anything that Mark needs on a regular basis (shaving cream, deodorant, hair gel) is in the medicine cabinet, so the items in these bins are things he needs, but not often. (Like hair accessories, obvy.)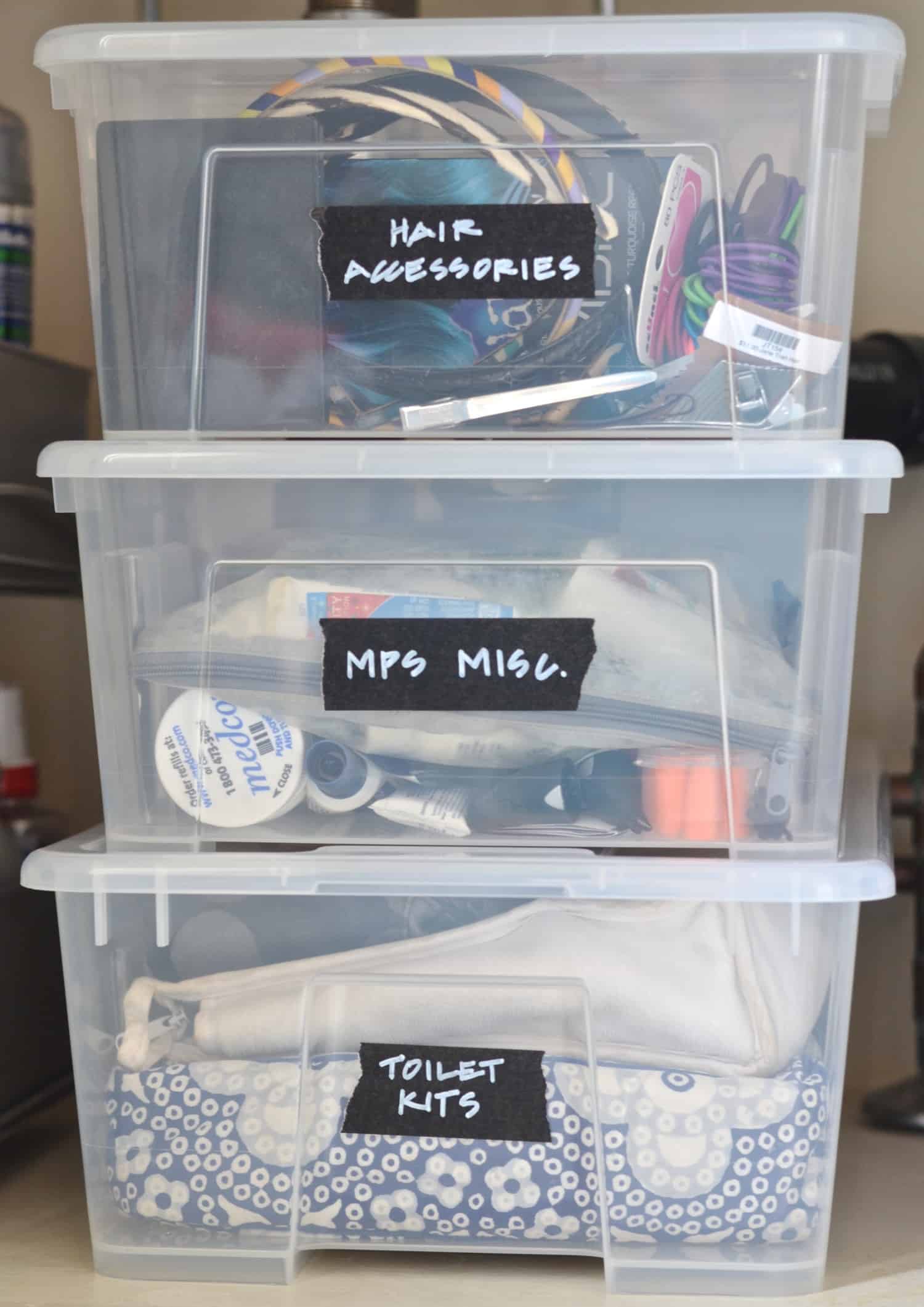 Moving over to my side…the goal was to find storage solutions that could best fill the space but also provide easy accessibility. As pretty as it looks to stack boxes, getting to the bottom box isn't something I want to deal with each day. So these simple raised storage trays are great for items that I reach for somewhat regularly.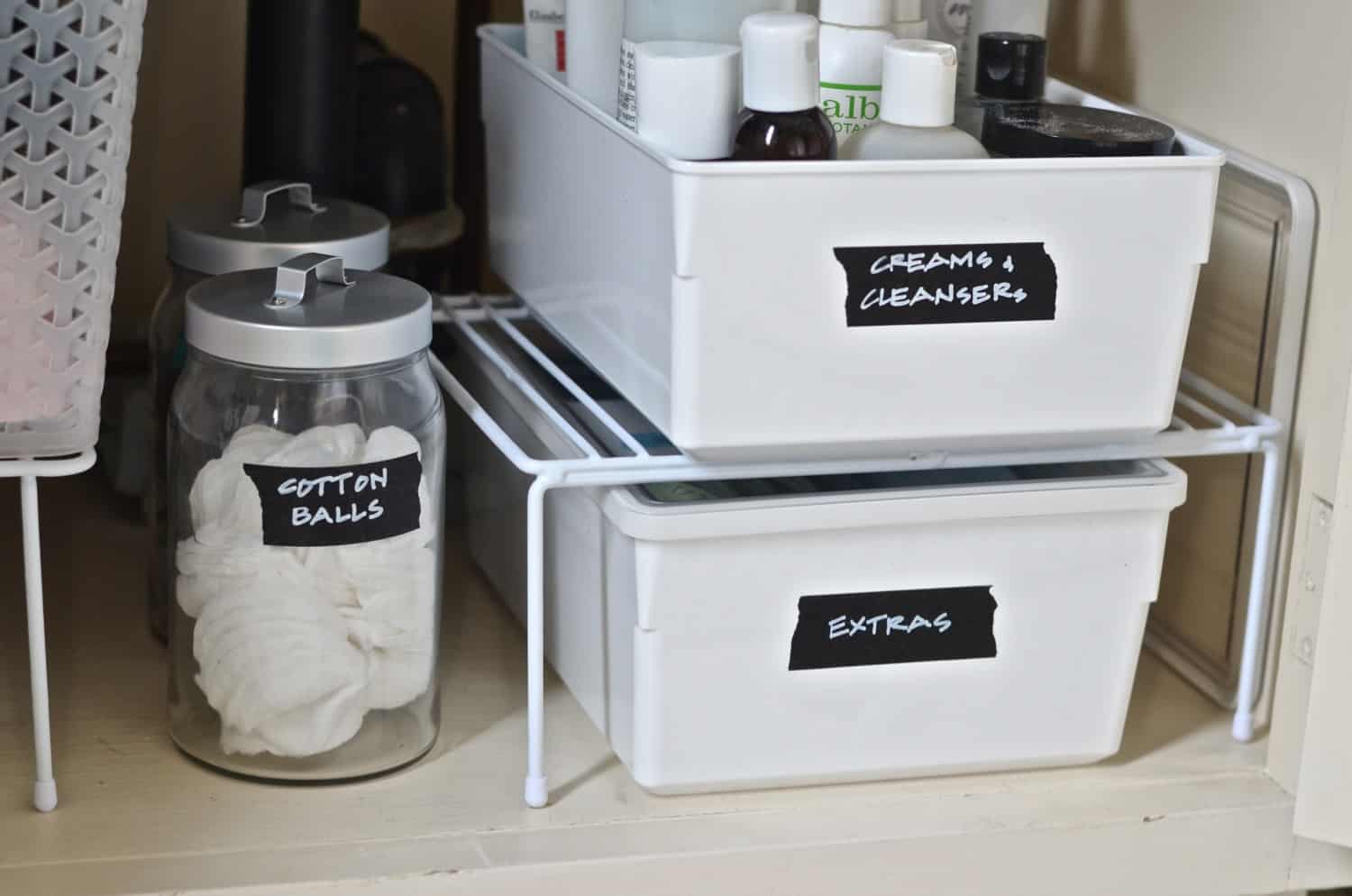 The one in the middle of the vanity allows me to tuck cosmetic samples and nail polish underneath and have an open bin up above for my hair dryer and hair curler, etc.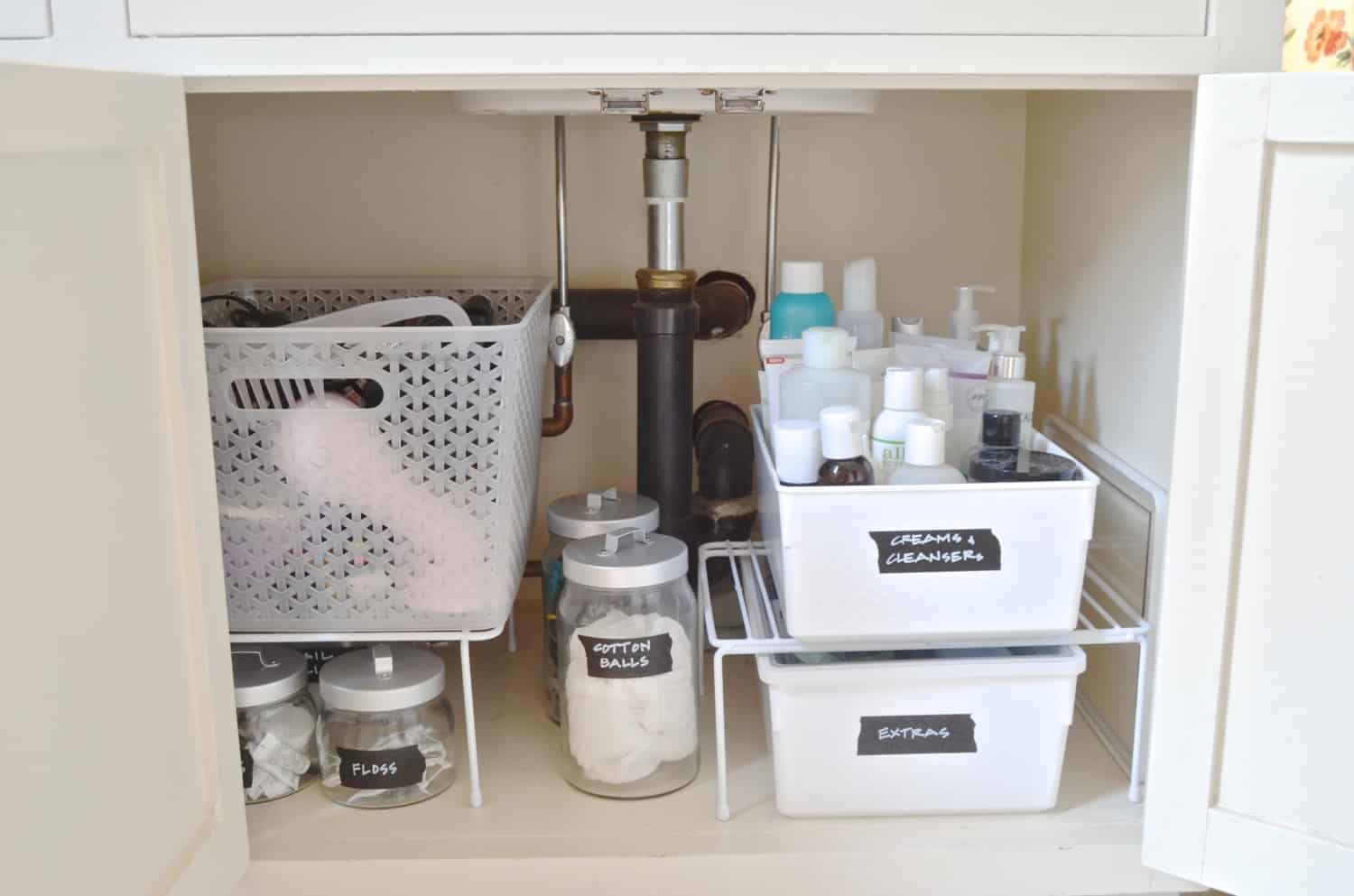 Finally, I used these great jars from the kitchen section at Ikea to hold smaller items like hair elastics, cotton balls, and those dental floss thingies.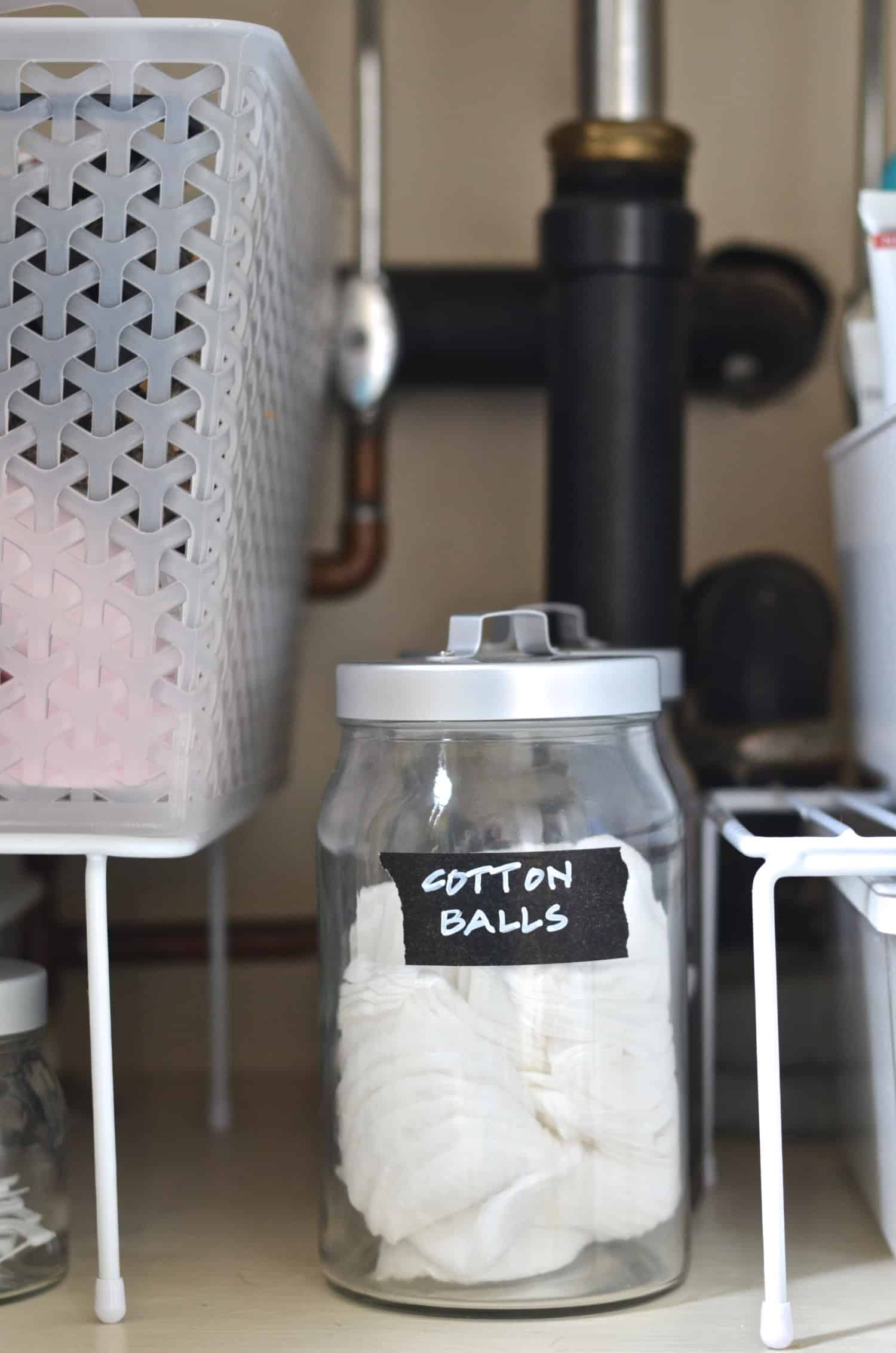 Last but not least, I have two more boxes for face creams and lotions that I don't use very often, or extras. And then a box for all the face washes and day creams that I reach for fairly often. I started to tuck them in so that I could put the lid back on, but decided that it was important for all these to be upright for easy dispensing.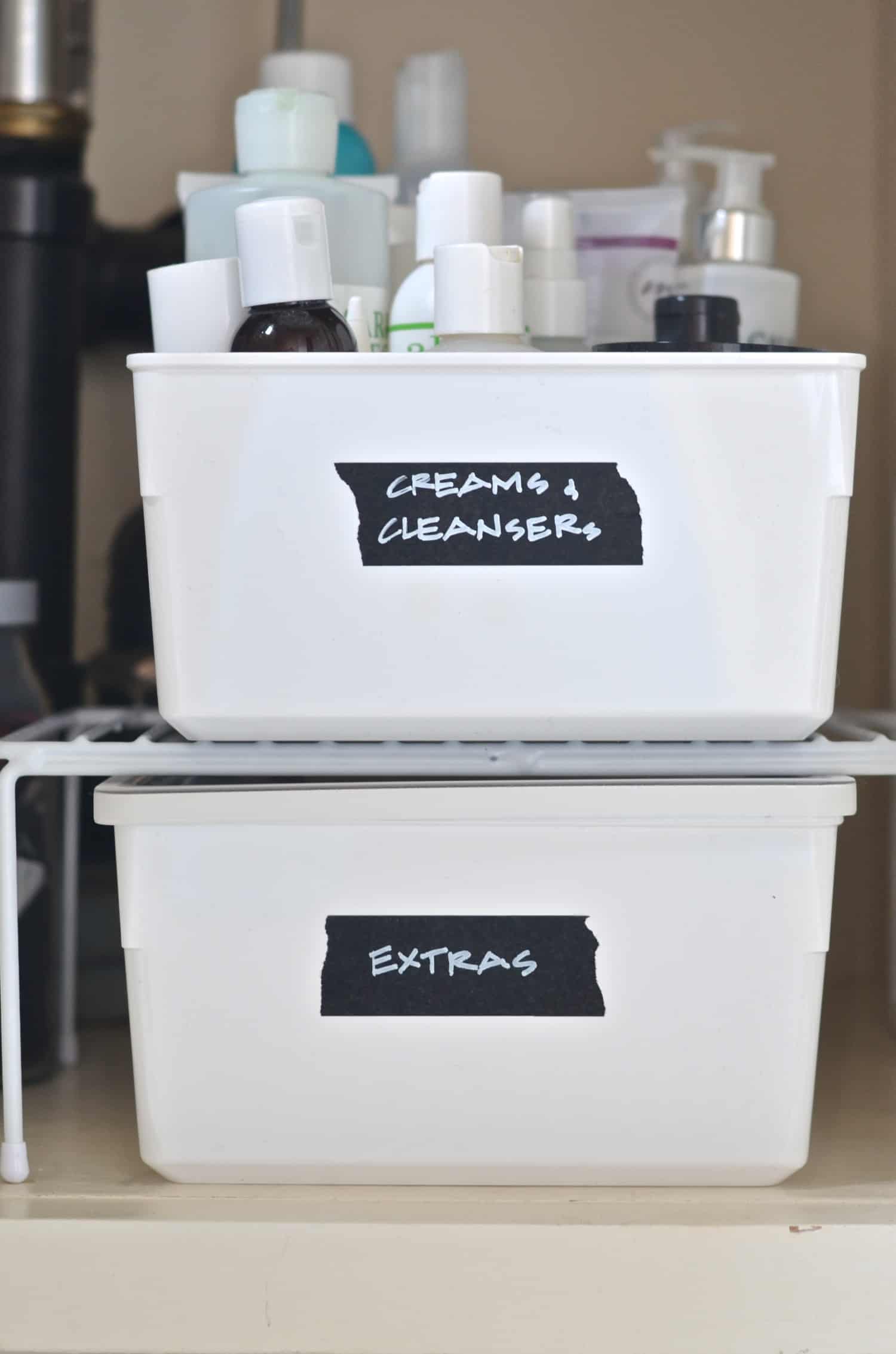 And because I'm still not 100% with my Cricut… I just used some chalkboard tape and a white marker to make those labels!
There you have it! A little taste of my organization 411. I apply these same tenets anytime I have a potential hoard on my hands: empty the space, throw out what I can, sort, figure out storage needs, and put everything back! What a difference!
Again, BEFORE: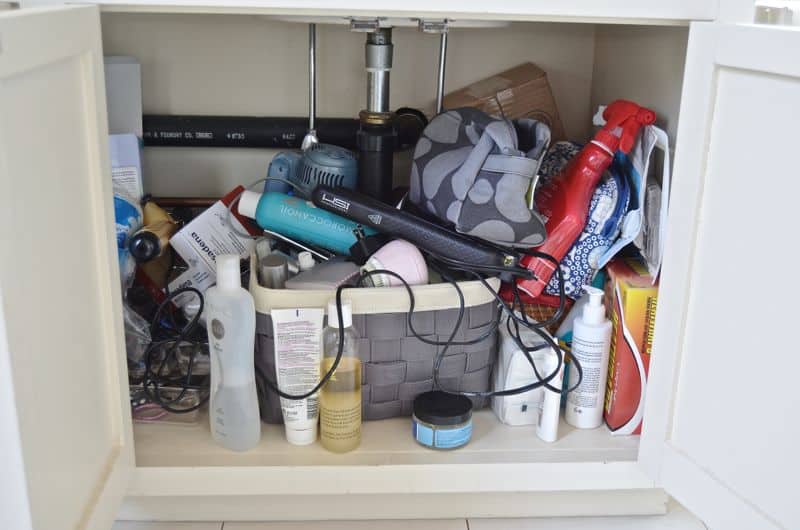 And AFTER: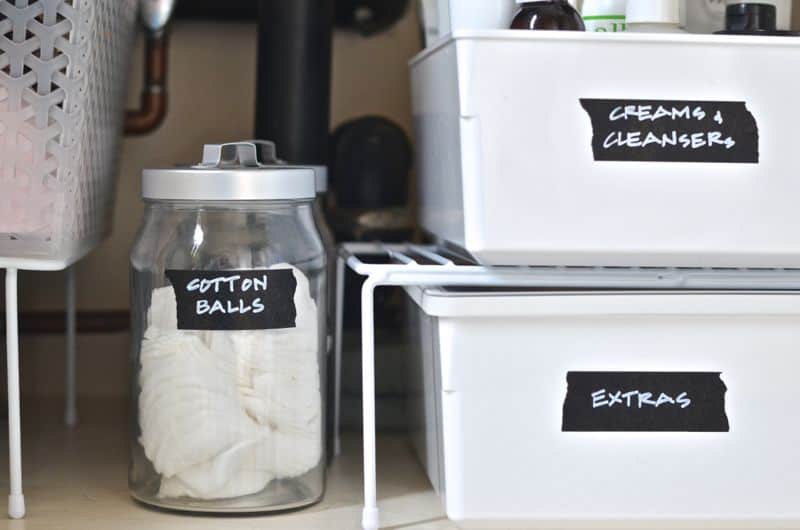 BEFORE: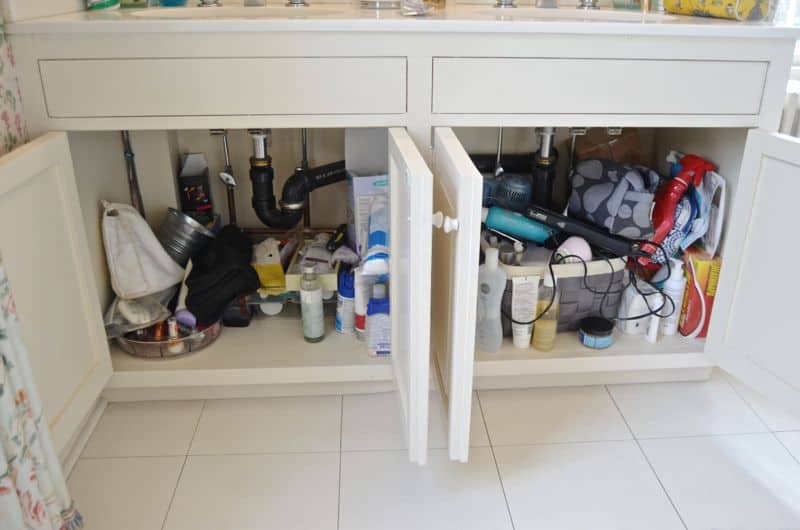 And AFTER:

Pin it for later!