DIY Cork Board and Update to our Homework Area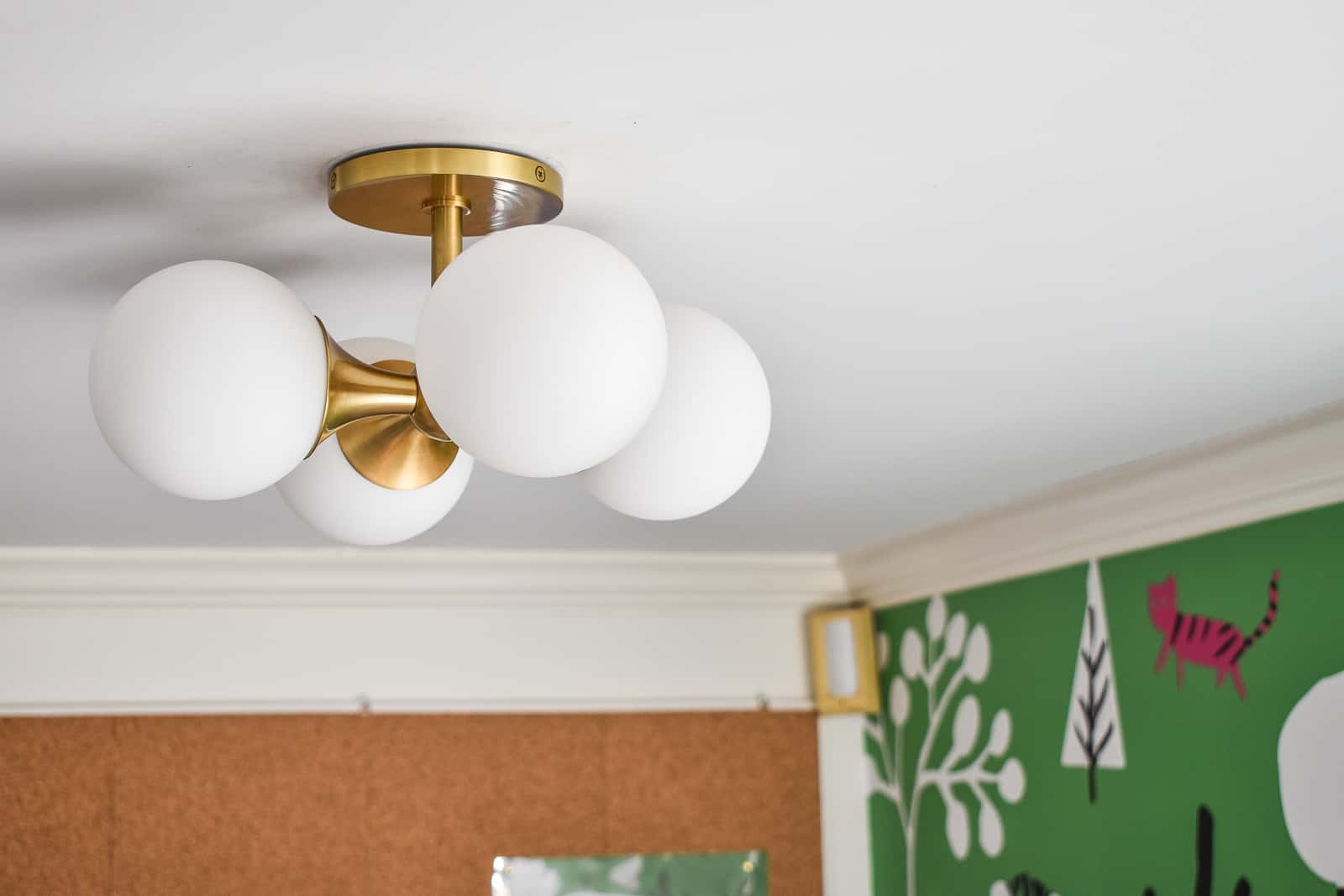 I have a confession to make. I'm in Atlanta right now for WorkbenchCon and I've already finished and photographed the homework area and it's ALL I CAN DO not to show you the reveal!! But, that wouldn't be fair to all the other ladies participating so I'll sit on my hands and simply share a little update with you. But you will DEFINITELY want to come back next week because the space looks so so so cute!
This week, I'm going to share two of the bigger projects I did for the makeover but also sing the praises of the two sponsors who provided product: Hudson Valley Lighting and Minted.
Let's start with Minted because I've already teased them a few times. I got this removable wall mural from them and it is the focal point for the space. It comes already cut and measured so all you have to do is align the first piece on the wall (use a level to make sure it's vertical). Once the first strips is in place, you simple line up the next part of the mural and repeat the process. This fit our wall almost perfectly, but I did have to trim a bit on the top and bottom.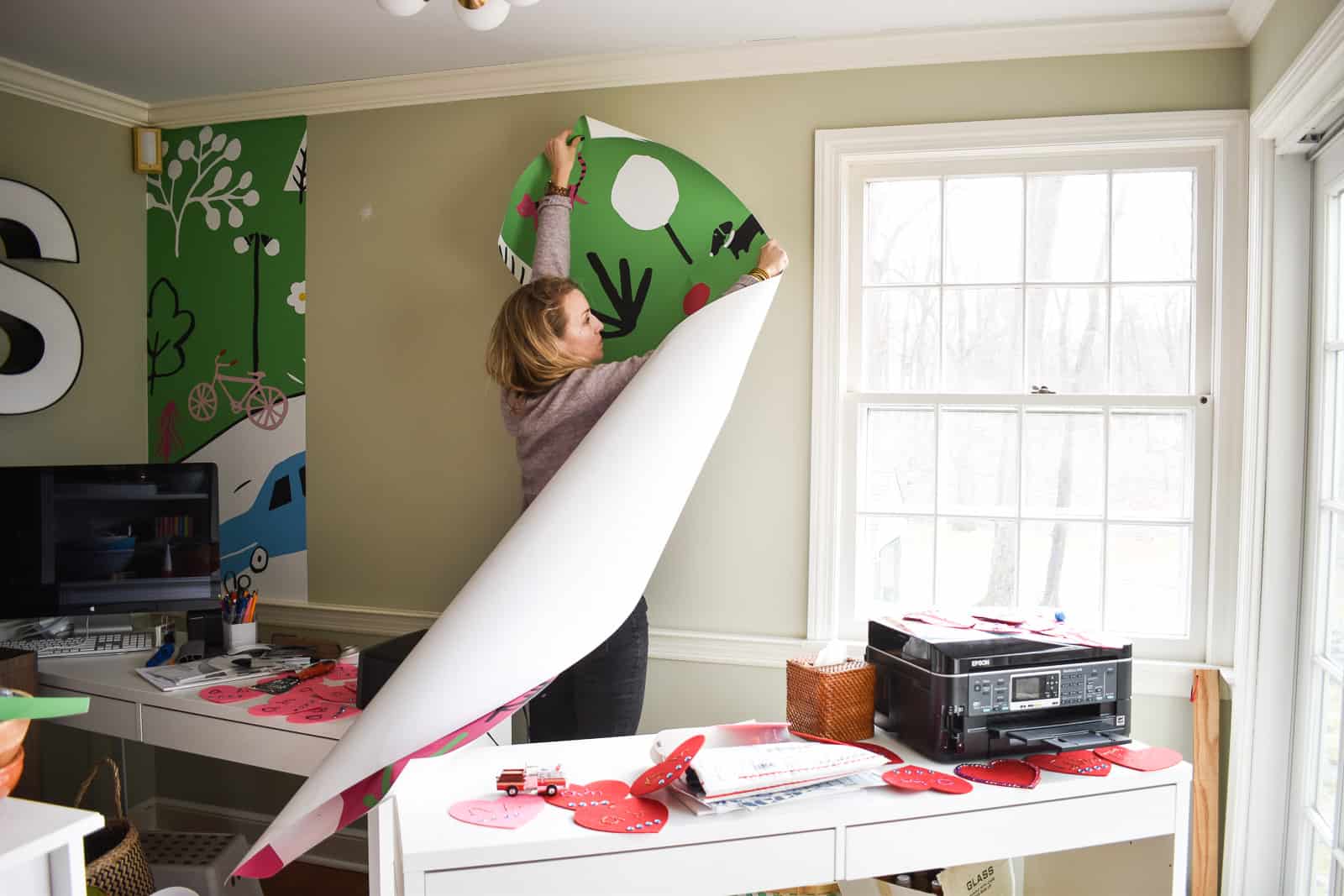 I was originally going to hang some prints on the mural wall, but when I realized how bright and amazing the mural looked, I couldn't bear to cover even an inch of it, so I expanded the scope of this homework room around the corner to this wall next to our dining table. Which also, incidentally, meant painting 1/2 the room because white walls looks SO much better. Two of these prints are photographs and the middle image is actually a drawing but they're on theme for a homework station which is why I chose them. I've typically used Minted's custom framing, but this time to work within my budget I ordered the prints on their own and popped them into an Ikea Ribba frame.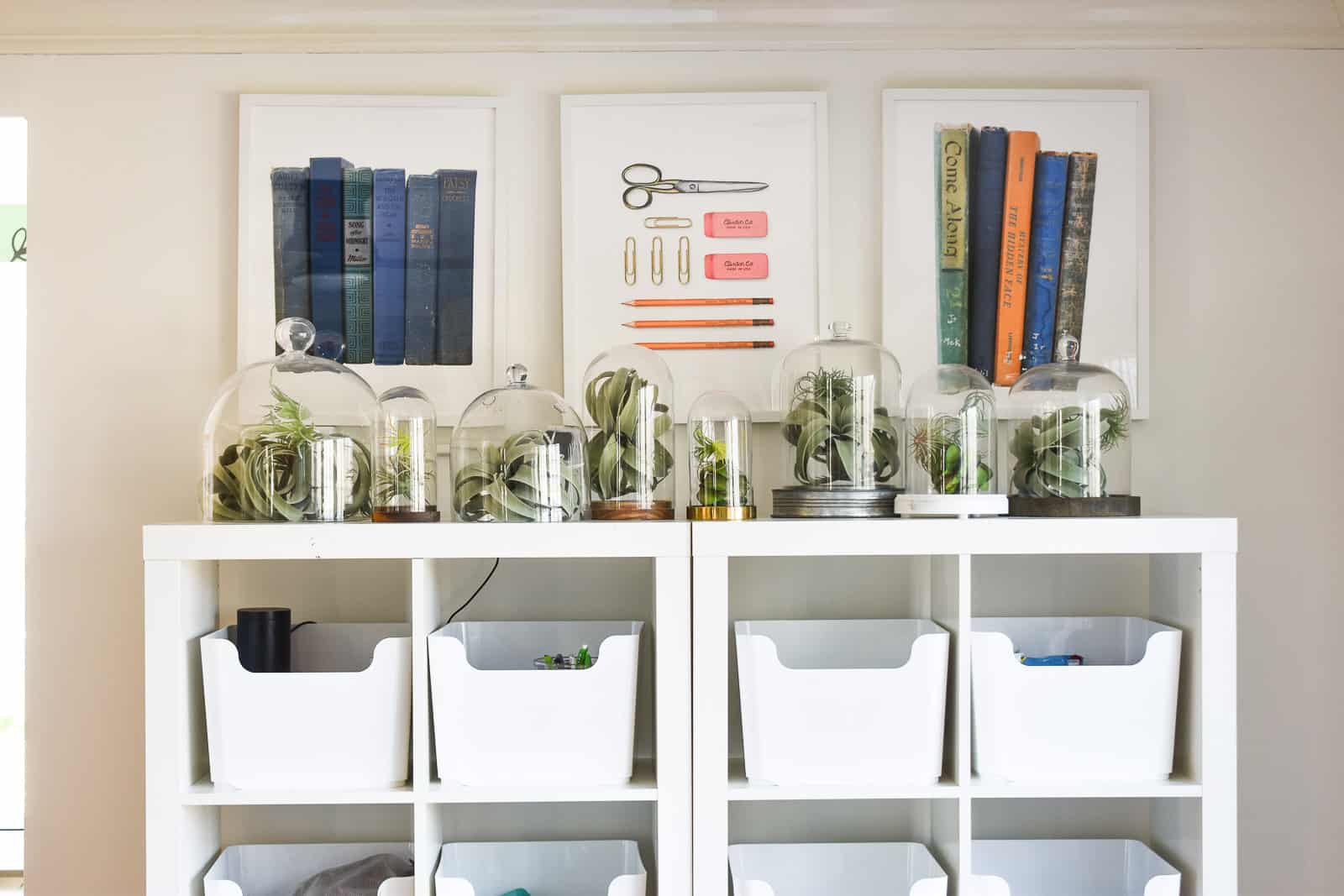 If you don't believe me about the walls… see how different this space looked with the old sage/ gray paint: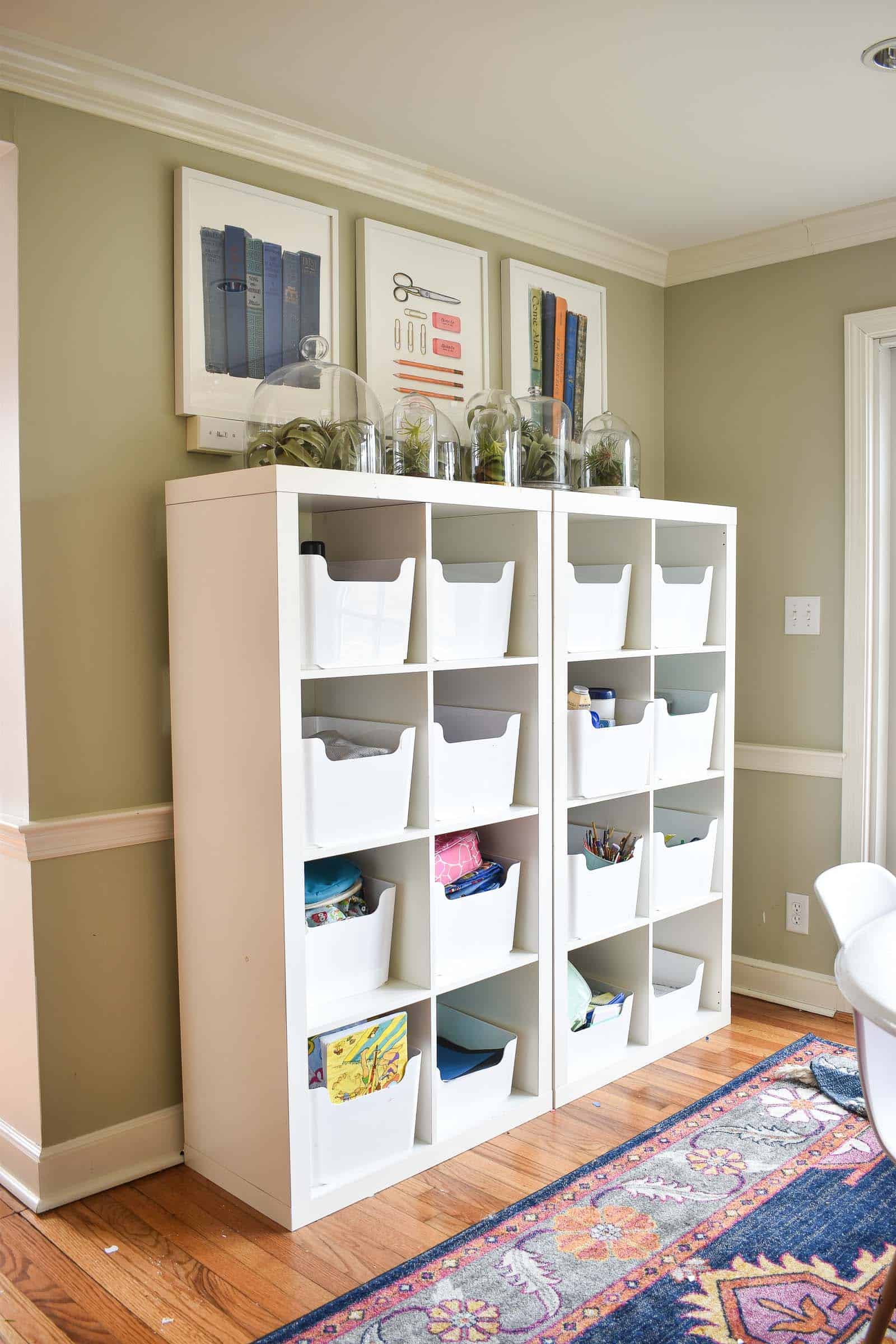 And now!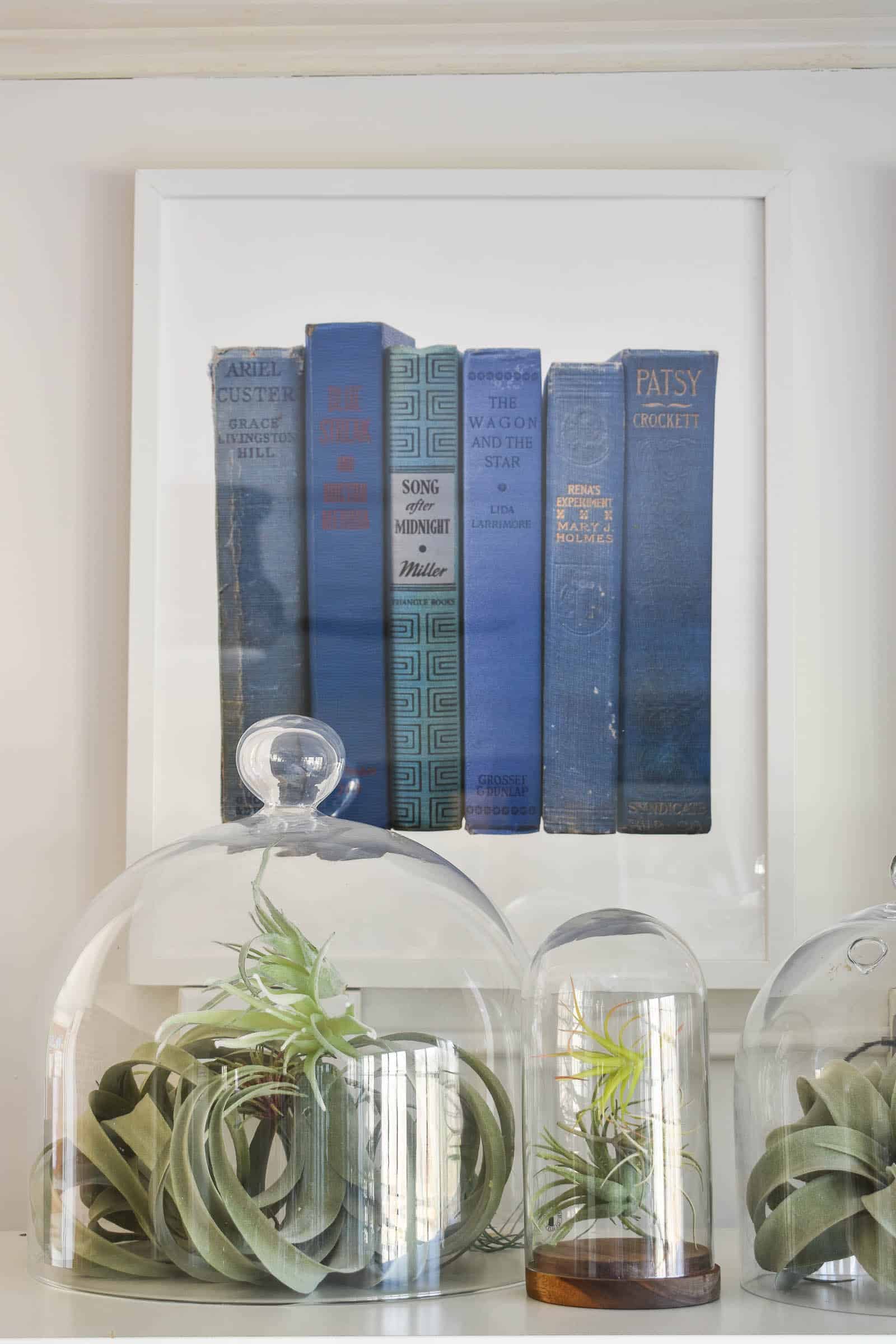 OK, lighting. When we first saw the house, this room was intended to be an eat-in area so there was a single chandelier hanging fairly low in the space. We removed that and replaced it with this amazing Astoria flush mount by Hudson Valley. If you go to my Instagram "How To" highlights, I showed how easy it is to replace a ceiling light (especially on a modern electrical system!).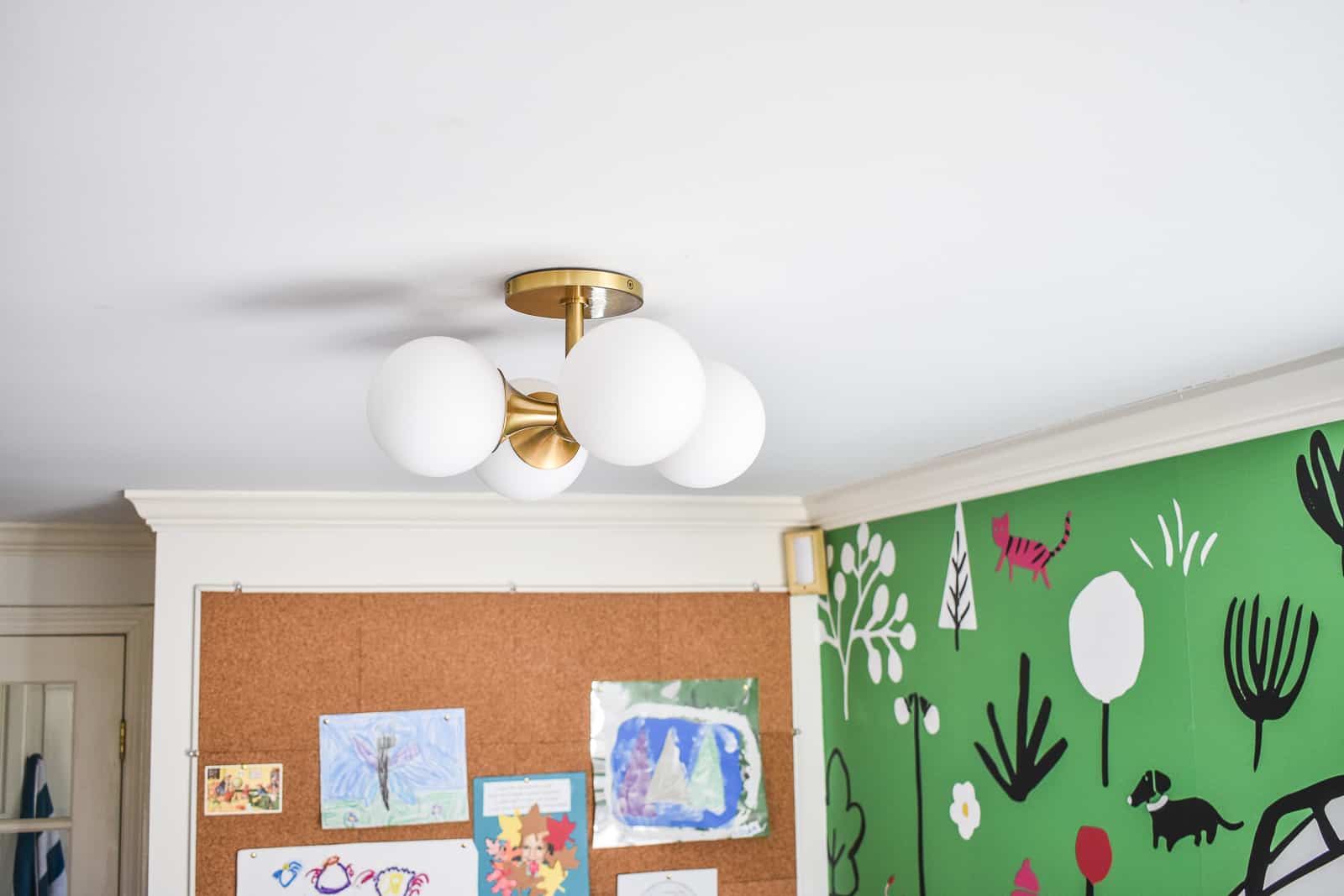 This pendant is dimmable, diminutive but still so stylish and I love how it looks in this small colorful space!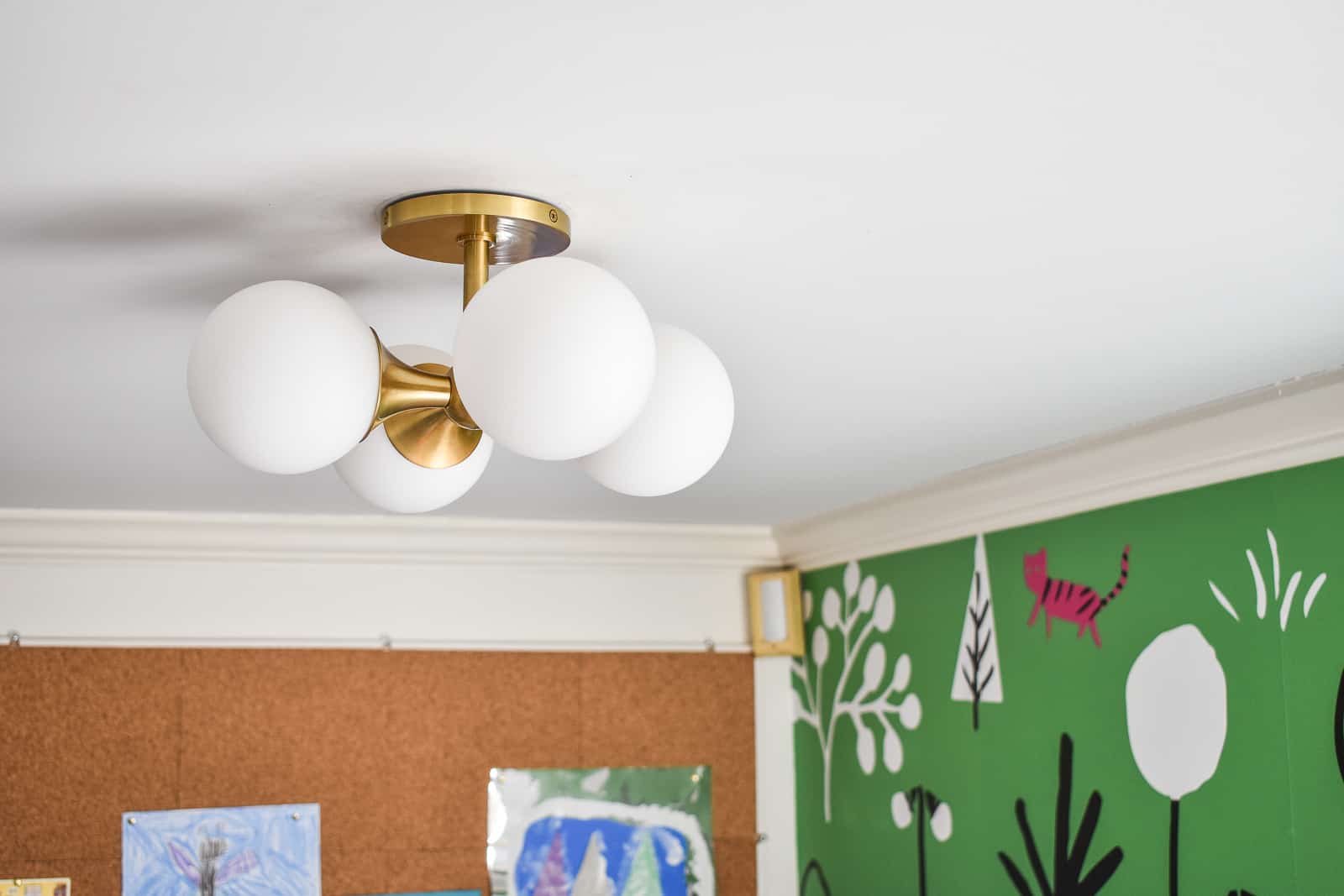 Last thing I'll share with you today is that cork wall. I wanted a place for the kids to display their art, but obviously I needed a solution that would be renter friendly. I used this spray adhesive to mount these cork tiles onto a 4×4 sheet of underlayment.
Next I used 1/4″ mirror clips to mount it onto the wall. I DID have to drill into the wall in order to attach the clips, but I don't get too fussed about smaller holes in the walls because they're so easy to spackle and paint over.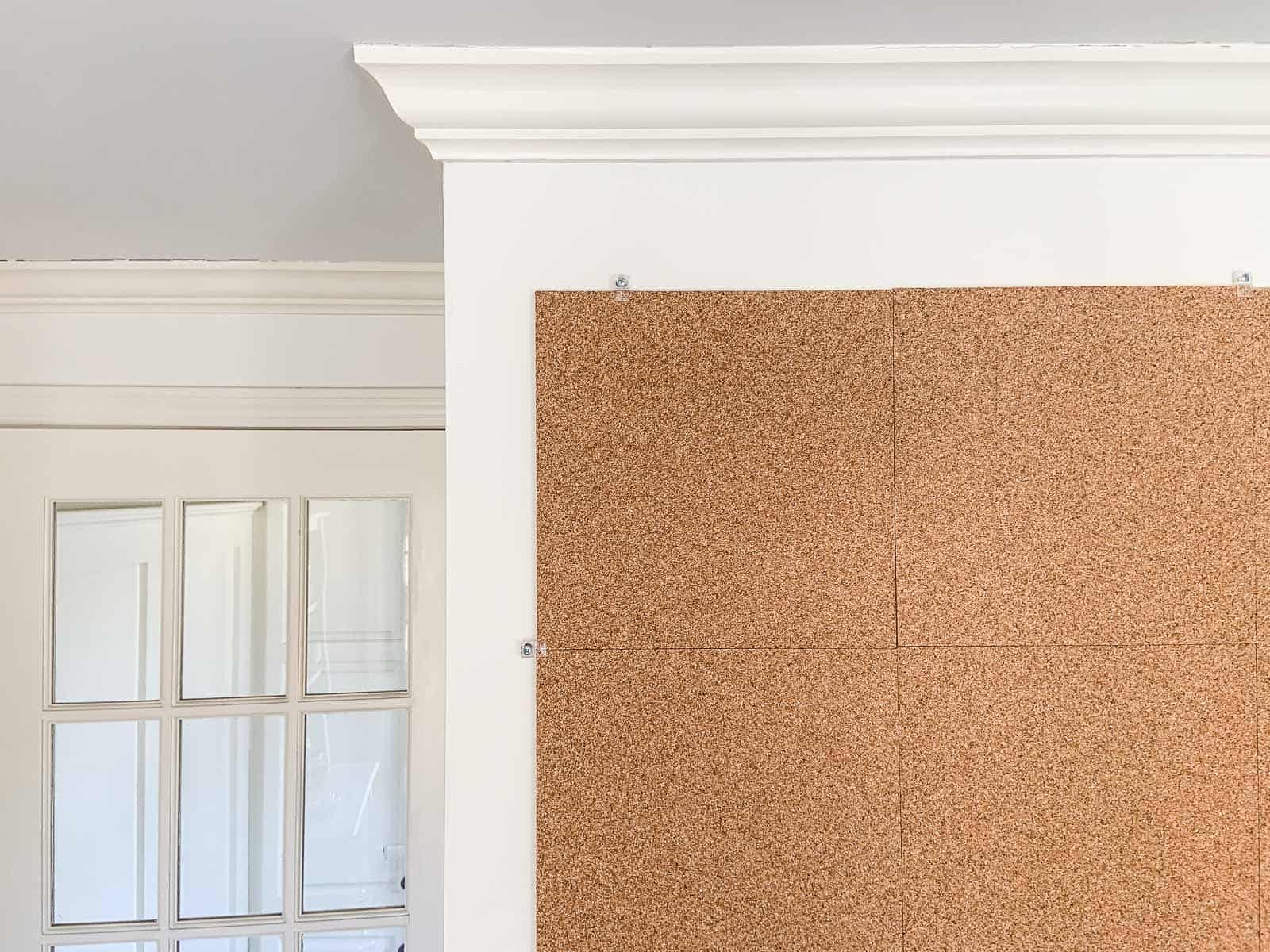 To finish the edges of the cork board, I added a small piece of trim. The mirror clips weren't quite wide enough to hold the trim, the cork AND the underlayment, so I cut the trim around the clips and attached it to the cork board with hot glue.
Yes… I painted in this room too, and with every wall, I'm reminded of why I love a clean bright white space against my colorful belongings… so much crisper and happier! Make sure you check out everyone else's progress by clicking the links below. Thanks again to Jewel for organizing this motley bunch and don't forget to COME BACK NEXT WEEK to see the full reveal!
Jeweled Interiors | Haneen's Haven | Dimples and Tangles | PMQ for Two | House Homemade | Rain on a Tin Roof | Pencil Shavings | Our Fifth House | Kaleidoscope Living | The Pink Clutch | At Charlotte's House | Effortless Style Blog