Building a Side Table and Adding Wallpaper

I was scrolling through Instagram the other day and up popped a sponsored post for a SALE at one of my favorite wallpaper brands, Hygge & West. (I have it here in Arthur's room.) I obviously don't have any walls to wallpaper at this point, but I couldn't resist bringing home one single roll of an otomi that was somehow marked as faulty. But what to do with a single roll of wallpaper? Cover a table! Disclaimer: I couldn't find exactly the right table and I had some scrap lumber so… I built one. But you can TOTALLY look for one on Craigslist or at a thrift store that would save you a step!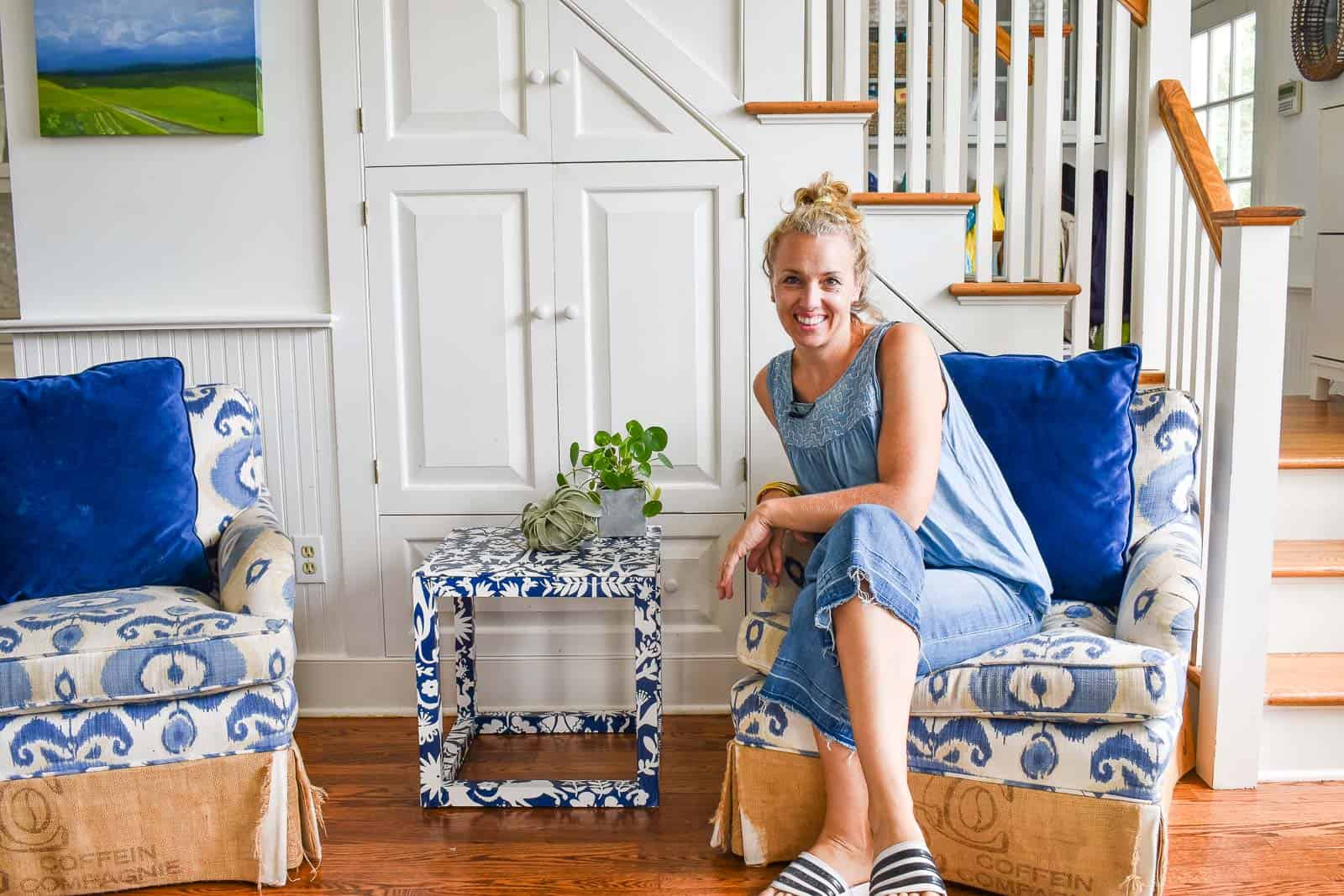 Step 1. Measure and cut your 2x2s.
In order to fit a table into two 2x2s, I made the table 18 x 18 x 18. I needed my four vertical corners to be 18-inches and then the eight cross beams to be 15-inches.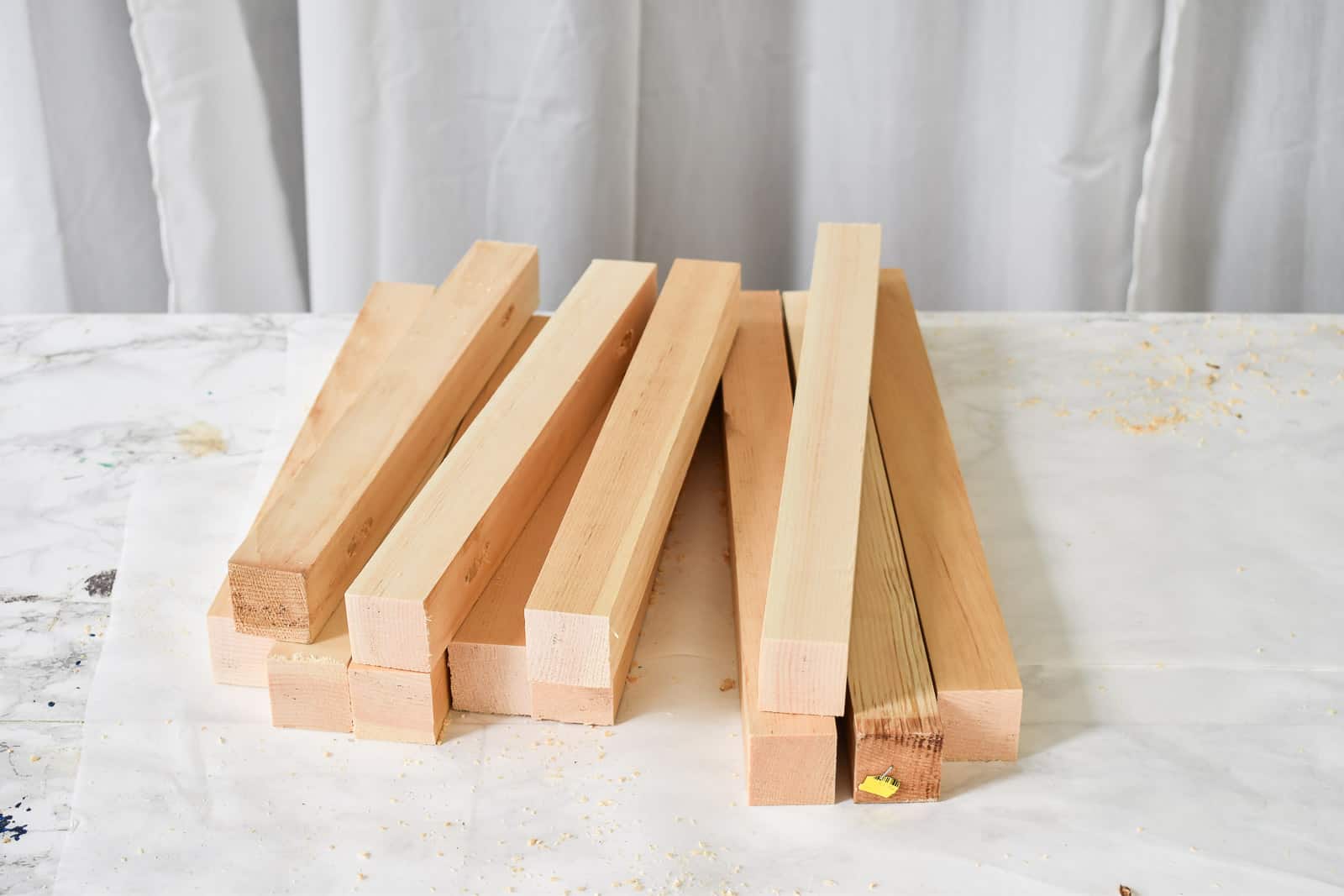 Step 2. Add pocket holes.
Because my lumber was so skinny, I drilled a single pocket hole in the underside of each of the shorter pieces. Without a second pocket hole, these pieces can twist a bit, so I made sure to use wood glue as well.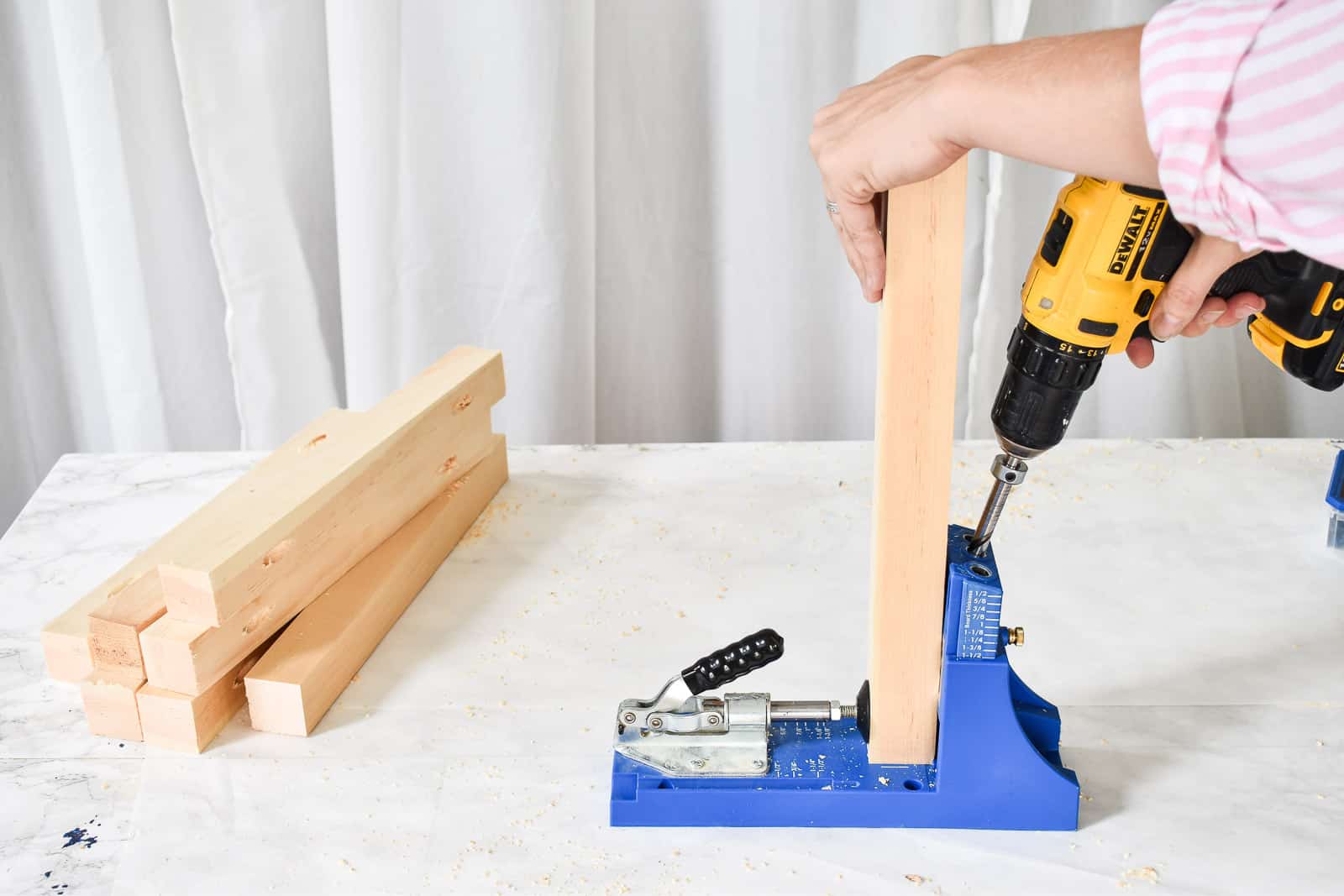 Step 3. Assemble, sand and prime
Assemble the table as shown. To provide a non-pourous surface for the wallpaper, I made sure to sand and prime the table before tackling the wallpaper.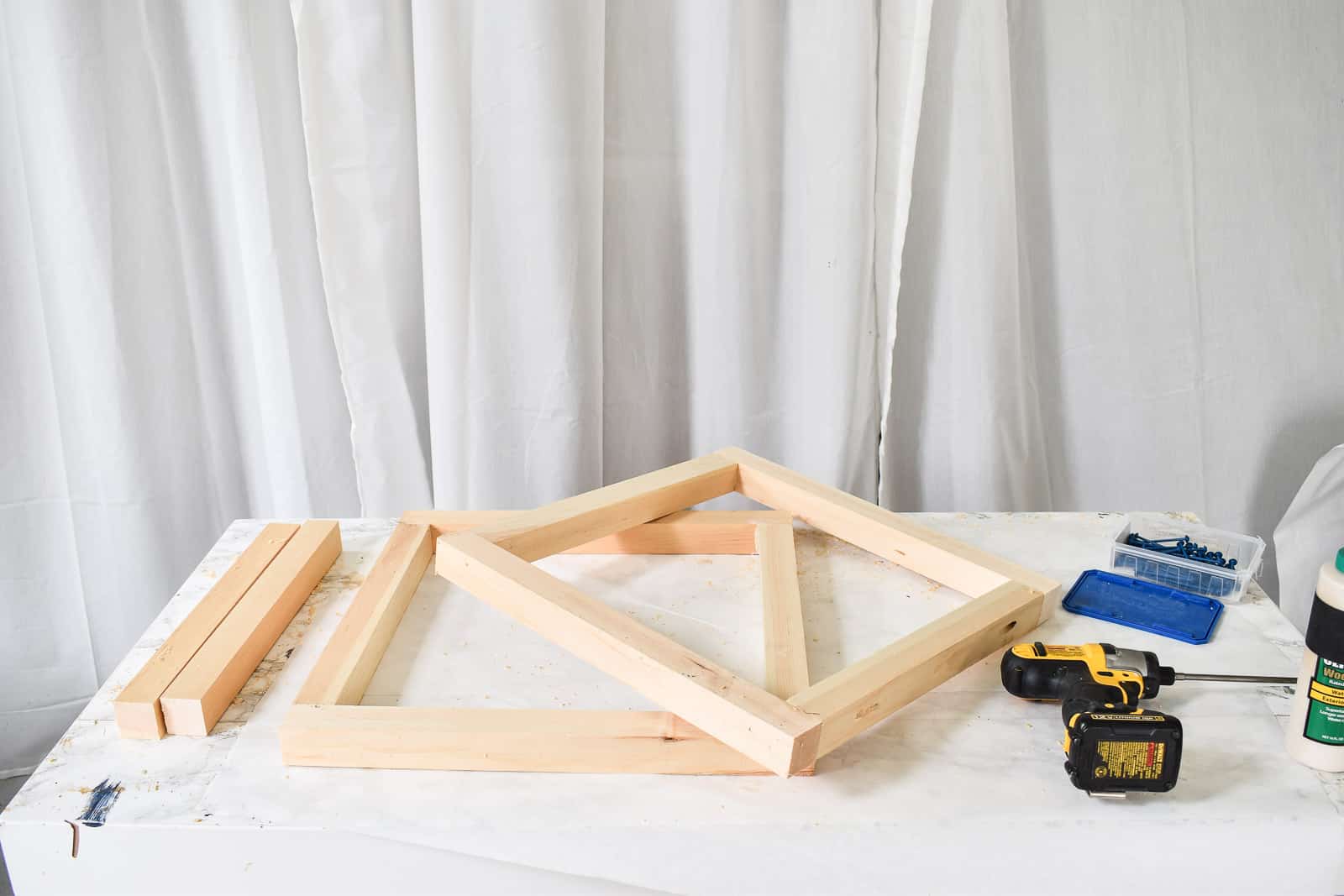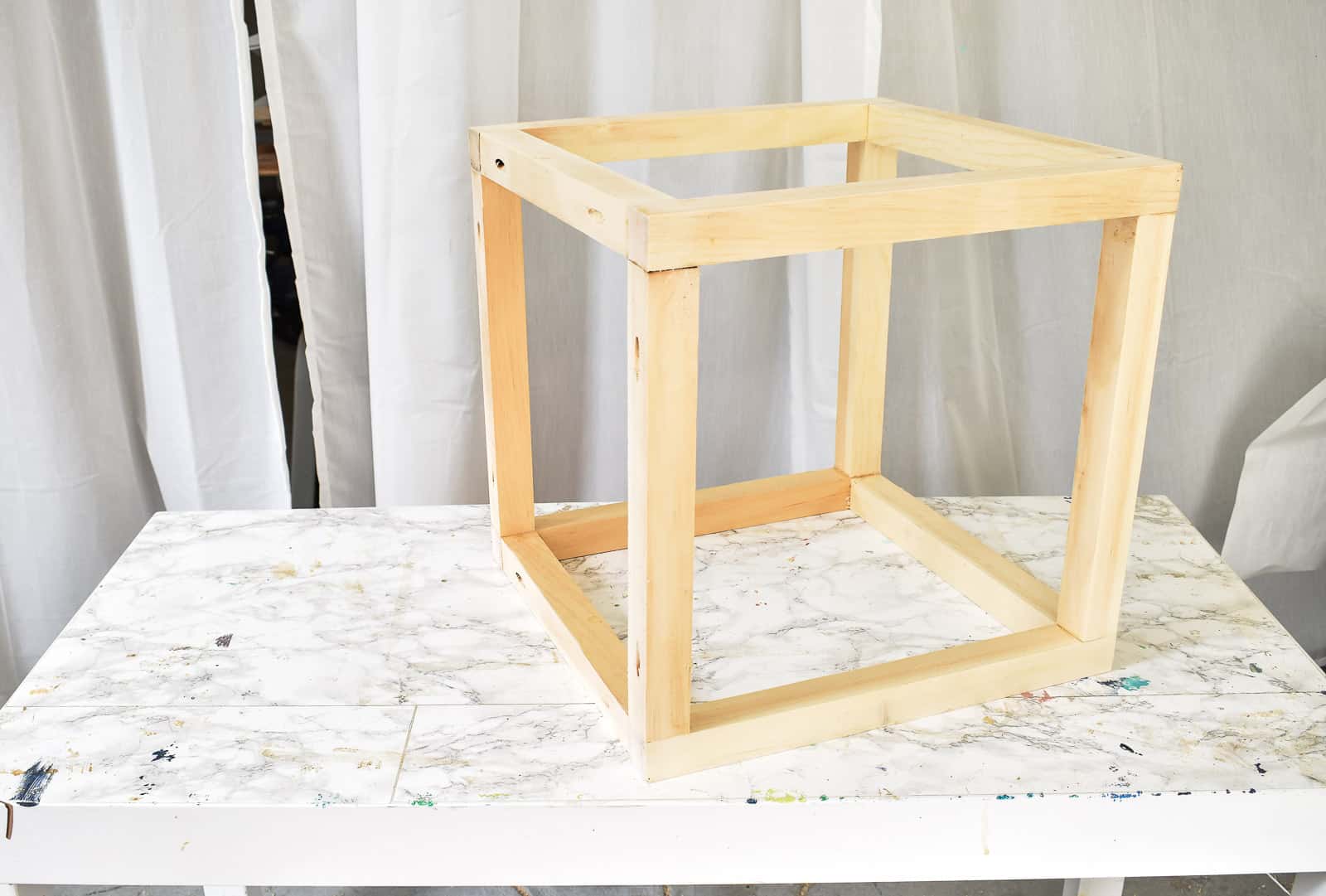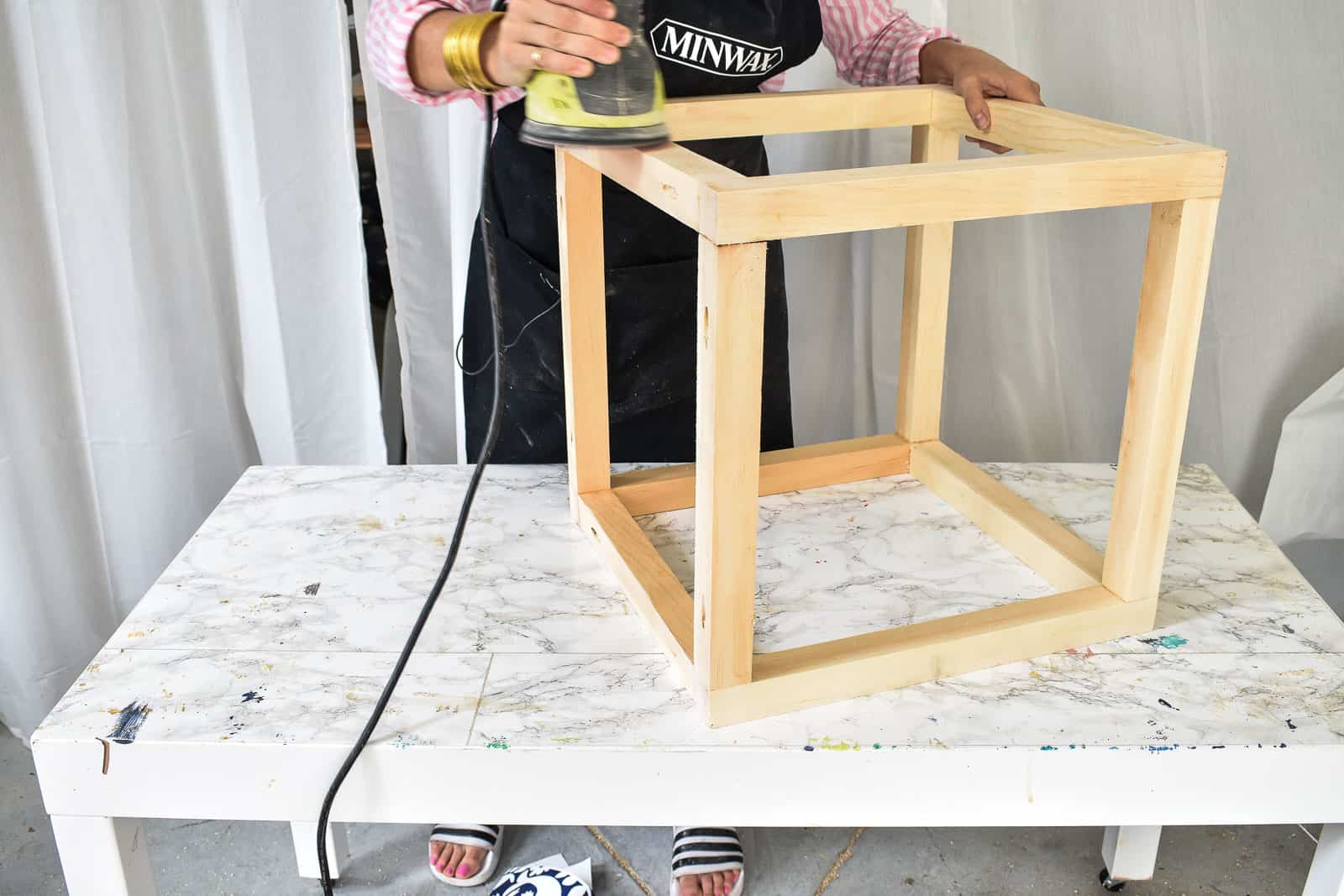 Step 4. Measure and precut the wallpaper
The shape of my table meant I wanted to essentially wrap a strip of wallpaper around each piece of wood. In order to make this neat and smooth, I determined that I should notch out the ends and fold the paper in advance.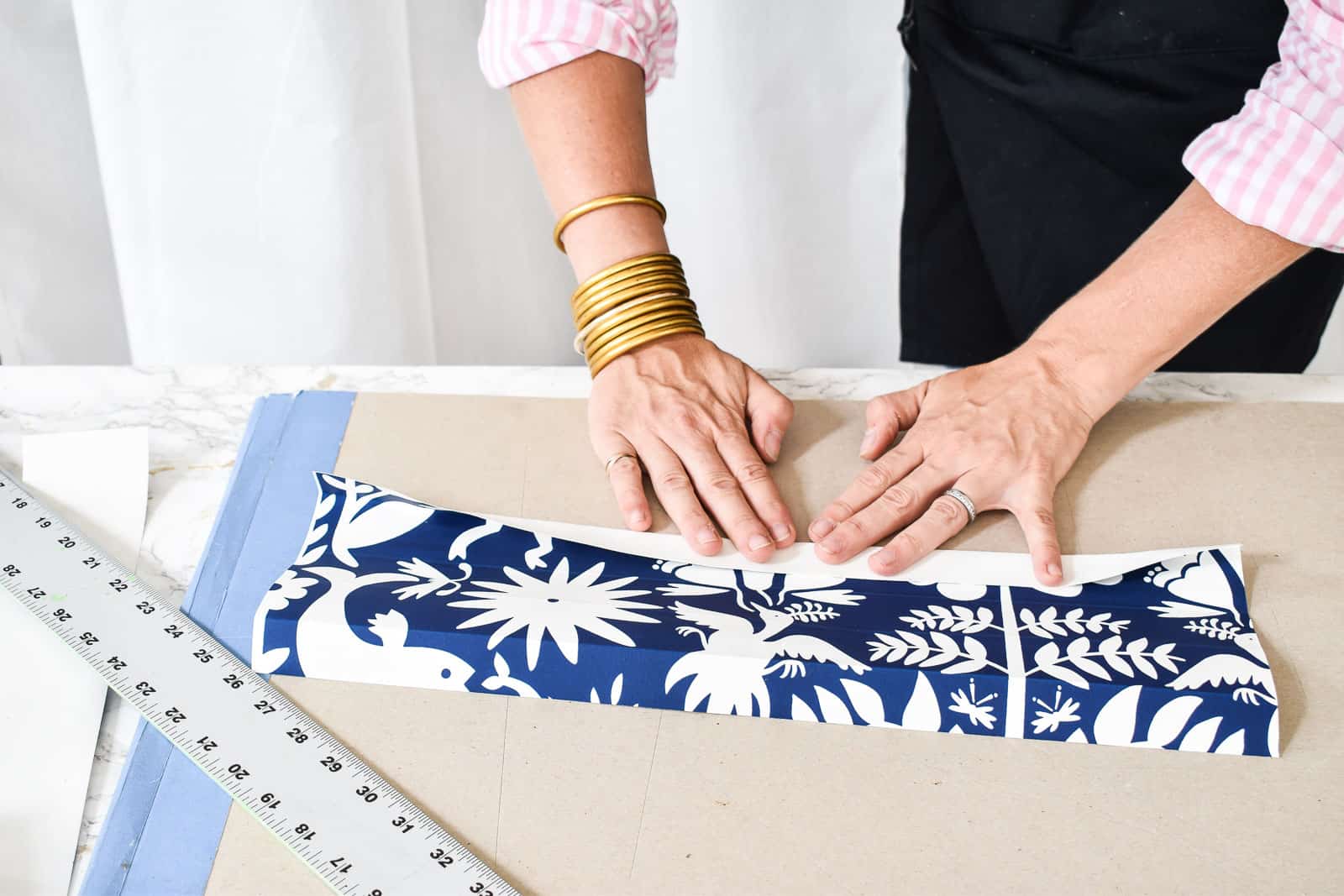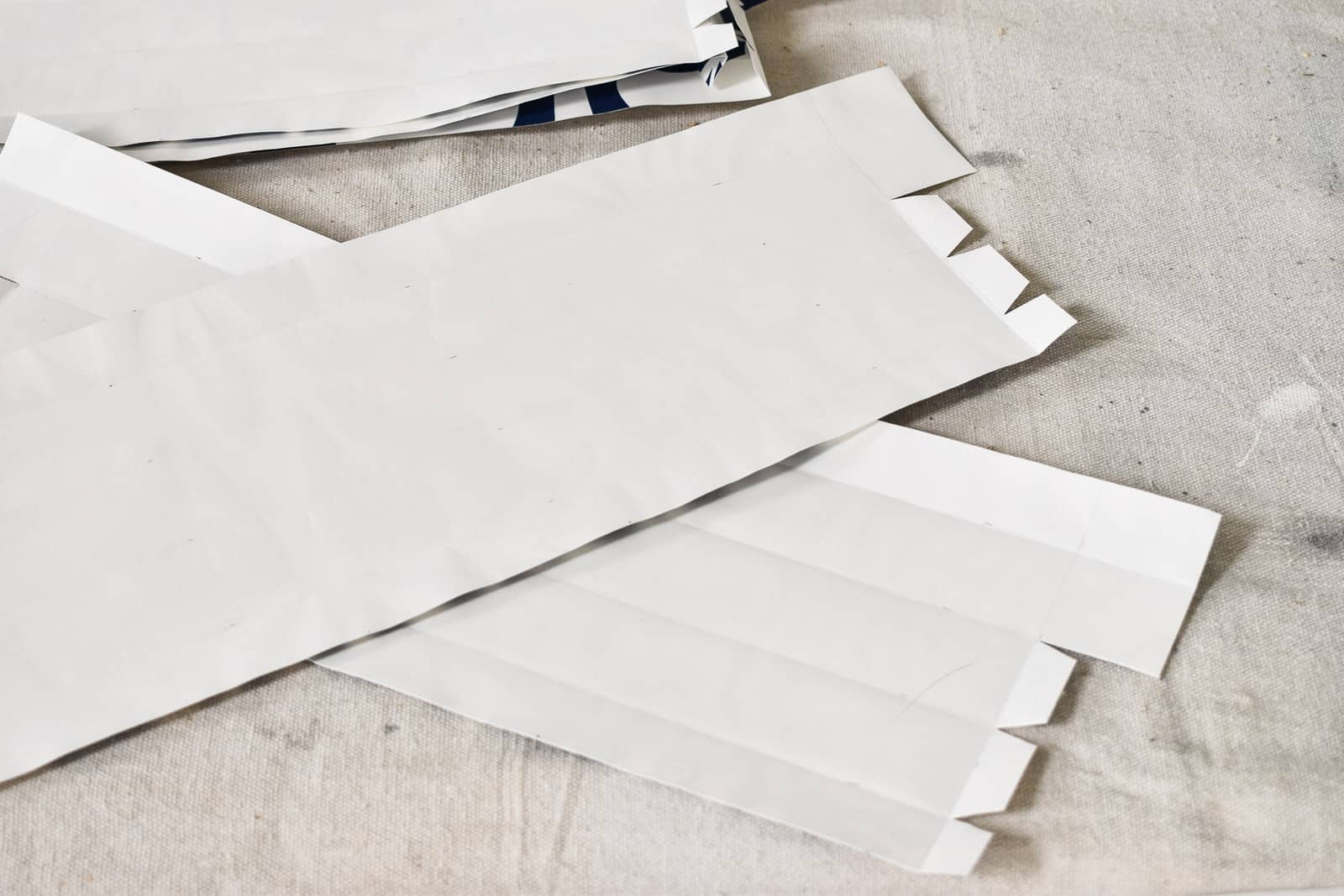 Step 5. Apply paste/ wallpaper adhesive
Confession. I thought this wallpaper was prepasted, so I was expecting to dunk each strip in water and then apply to the table in the same manner as I applied wallpaper to walls. Alas, the paper wasn't pasted so I reached for my polycrylic. I tested it on a piece of scrap lumber first just to make sure the polycrylic didn't cause wrinkling or bubbling. Once I'd confirmed that the wallpaper was thick enough to withstand the polycrylic, I brushed it onto both the table and the wallpaper itself and then I used a straight edge (and my fingers) to smooth it out as best I could. I went over the top of the wallpaper with polycrylic as well and kept smoothing until all the edges were adhered.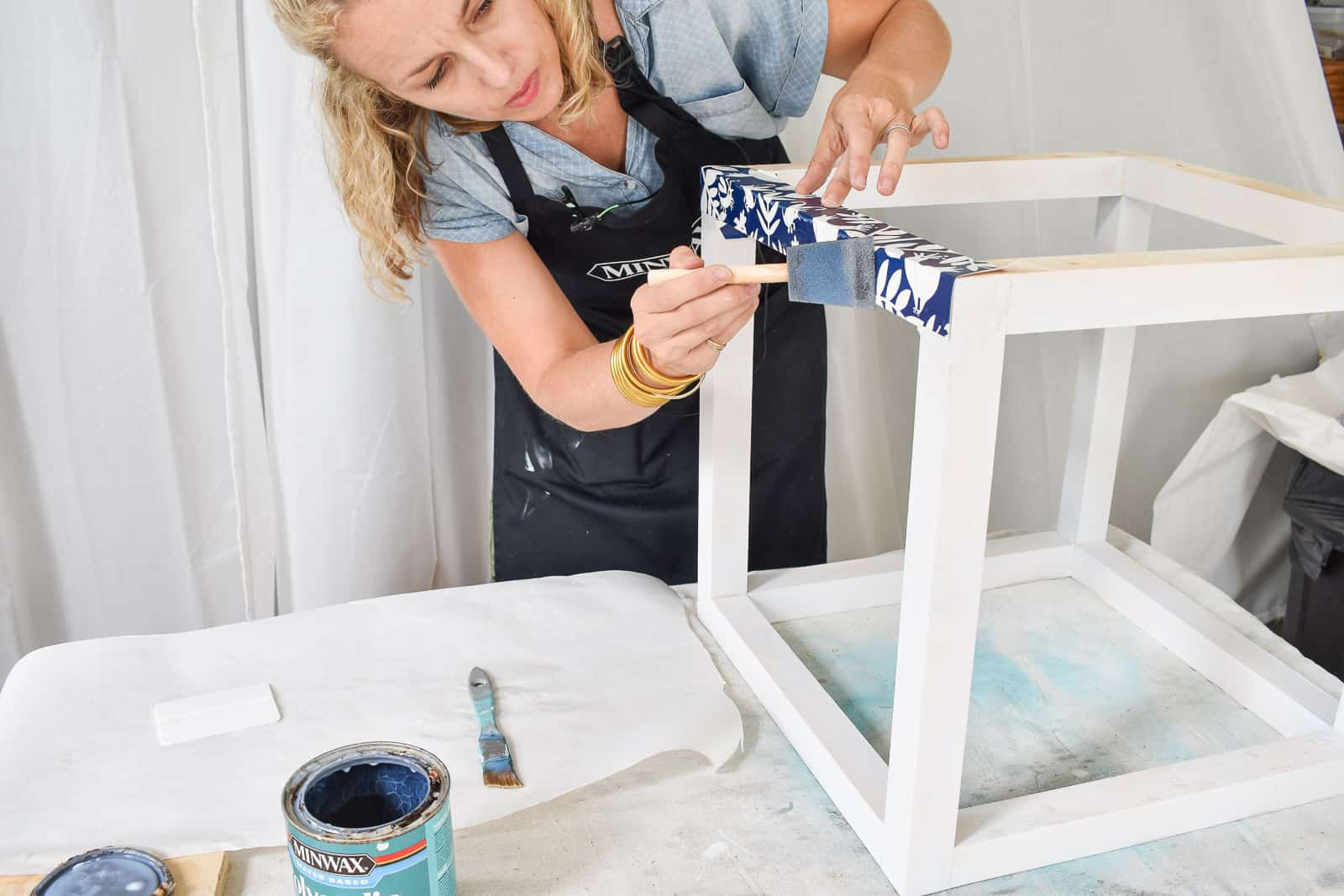 I applied wallpaper to the top four horizontal pieces first, let it dry, and then turned the table over, rested it on scrap boards and applied wallpaper to the last four horizontal pieces. Finally, I added the vertical strips. I hid the seams of the lower four lengths under the table and for the top four lengths, the seam is facing inside the table.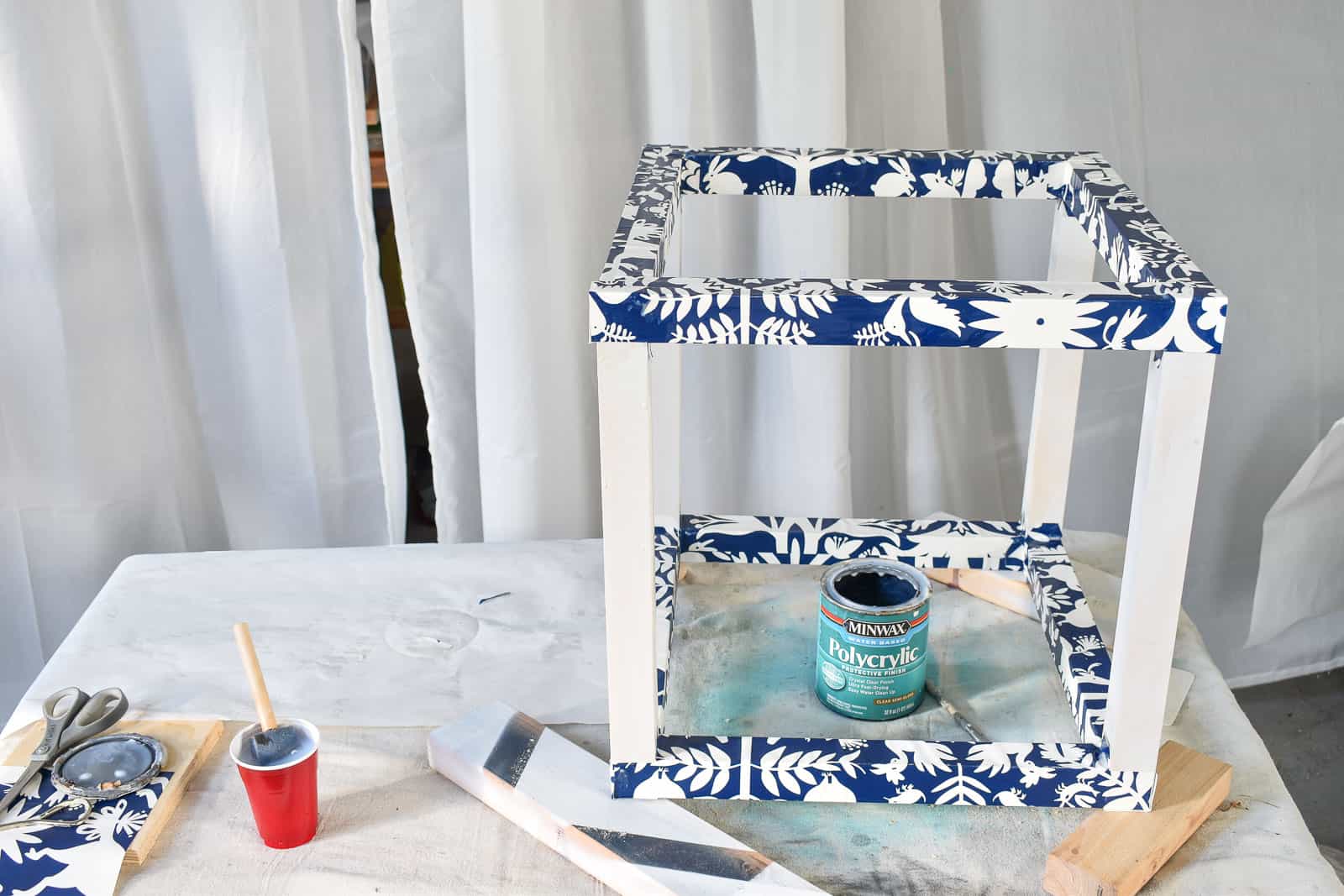 Step 6. Make a Table Top
I traced my table top onto hardboard, used a jigsaw to cut it out and repeated step 5. Note: When I assembled my table, it wasn't exactly square which is why I just traced my table rather than simply cutting out an 18 x 18-inch square.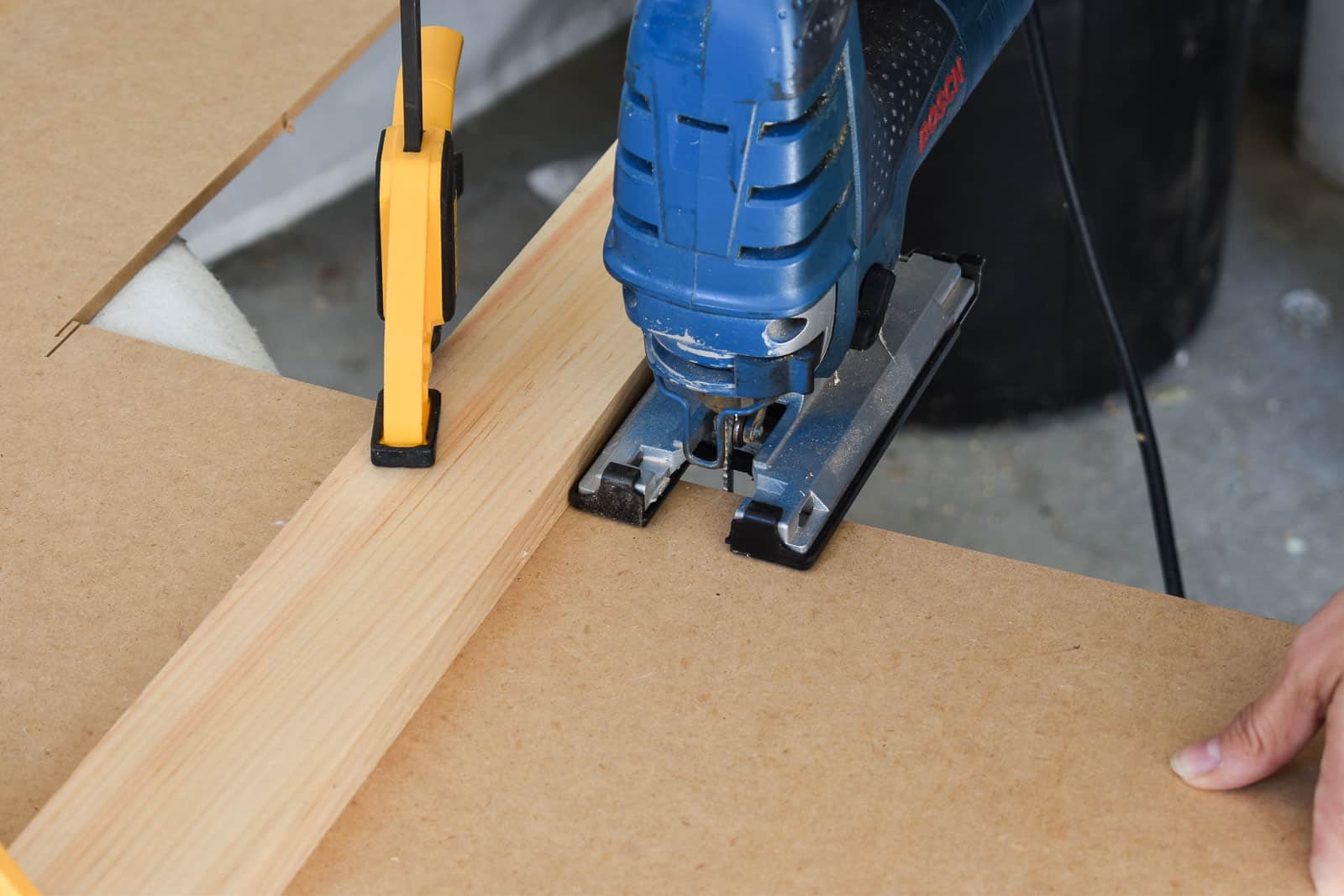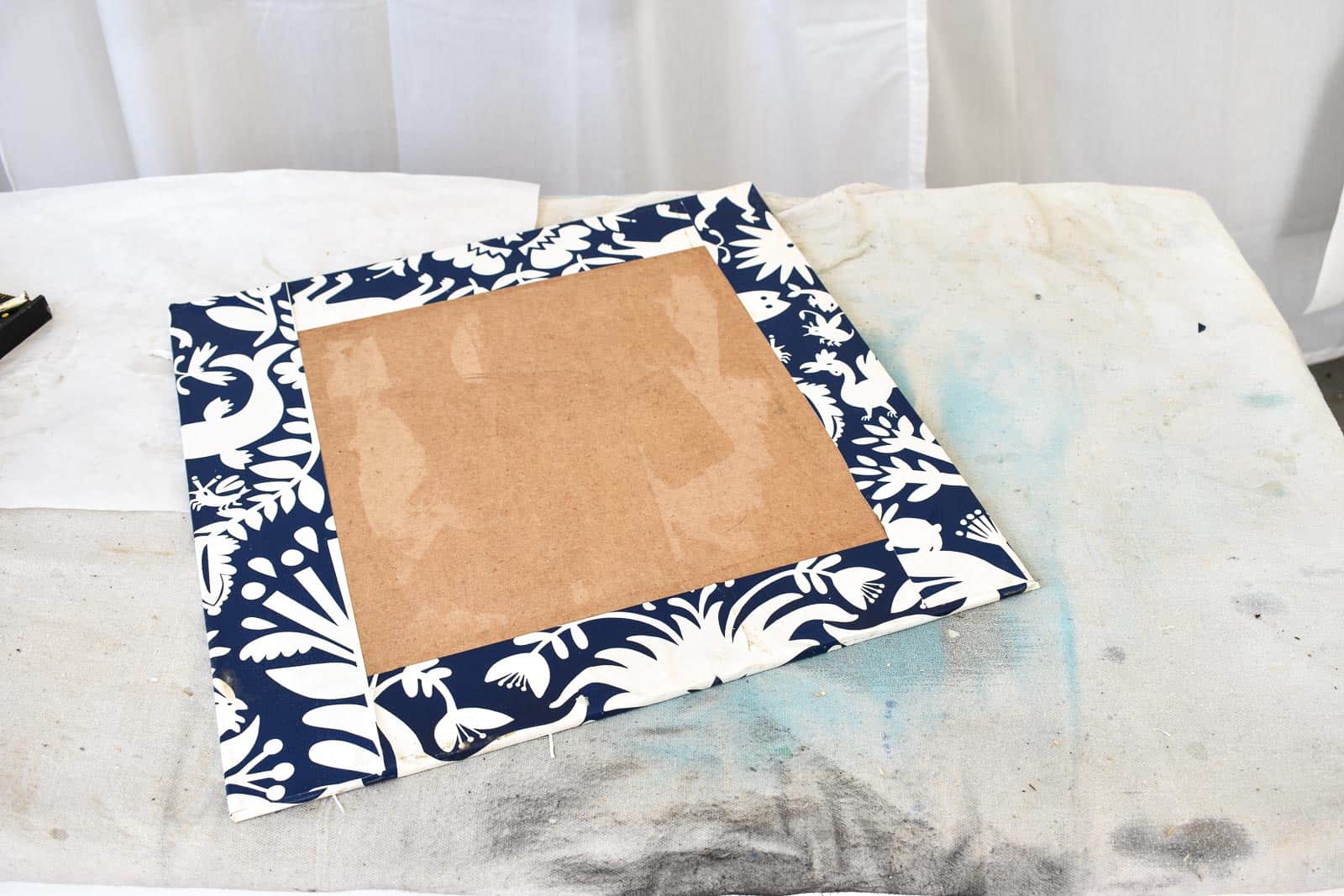 Step 7. Attach top to table
Using wood glue and clamps, I attached the table top fo the table base being careful the polycrylic wasn't still tacky. After 2-4 hours, remove clamps. I was too eager to photograph this project, but I plan to go back and apply a couple more coats of polycrylic.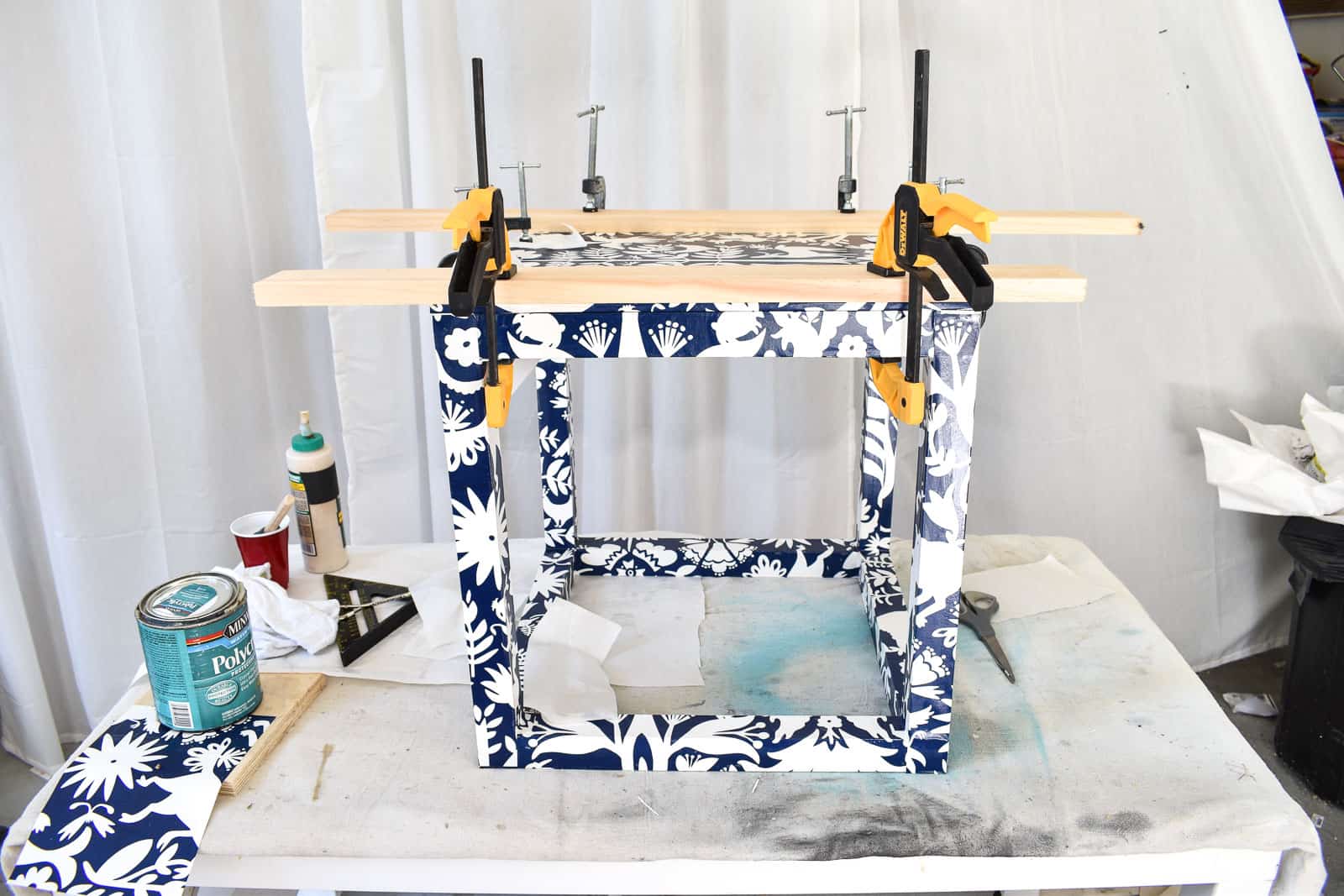 I set up the table in our family room, but I'm not sure that's where it will live. The polycrylic certainly protects it, but I'm not sure it can stand up to spilled juice and drippy sippy cups sitting there all night. Again, if you *don't* want to build your own table, you DEFINITELY don't need to… find a flat paneled piece of furniture, and follow these steps. In fact, for a bookshelf or dresser, it would be even easier, because you wouldn't need to cut and fold and wrap the wallpaper! Let me know if you've used wallpaper to update a piece of furniture… I LOVE the results!