As some of you may have seen, the Living Room was featured on apartment therapy recently (yay!).  Although most of the comments were very positive, some of them articulated one of my question marks about the room… the abundance of seating.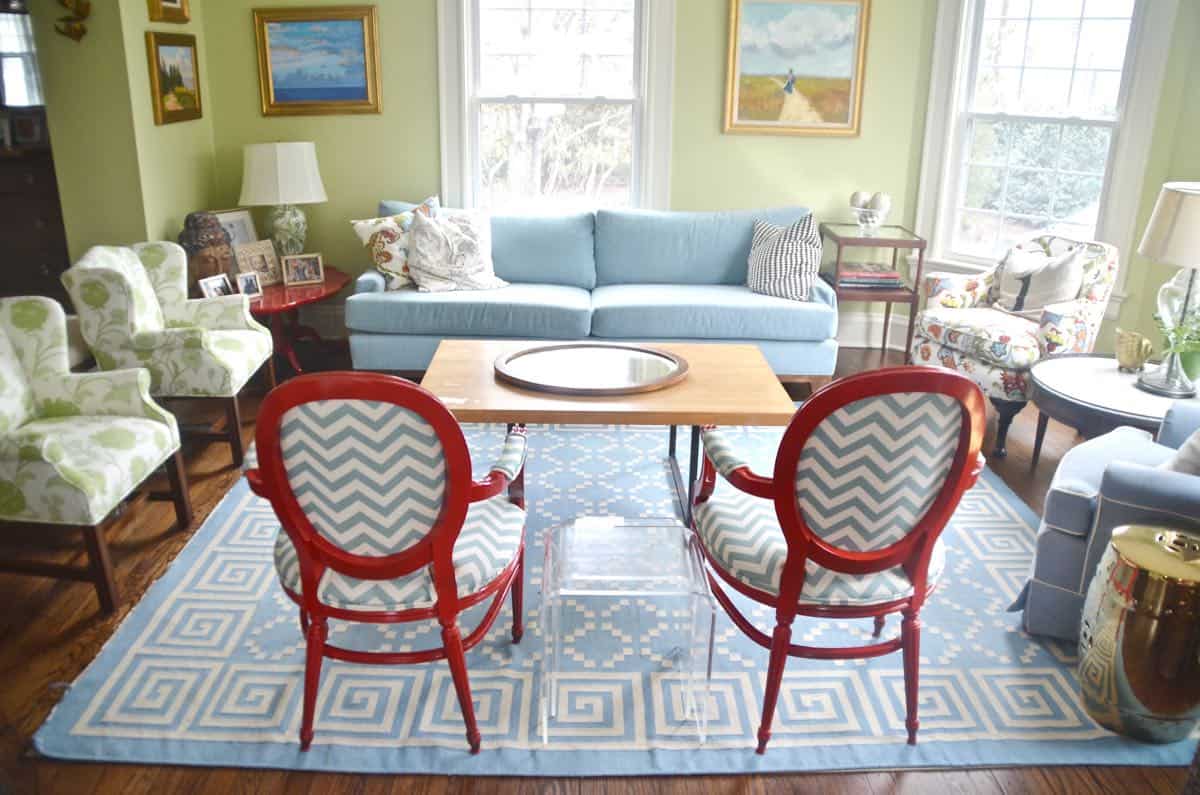 One commenter observed that it looked like a space ready for a group therapy session, and I couldn't get that image out of my mind.  Don't get me wrong, I'll stick to my guns if I really agree with and like the design, but this room in particular has been tricky because of all the seating.  I wanted the space to be open and inviting, but I also love that it accommodates so many butts when we occasionally entertain.  Ultimately, I agreed with the comment.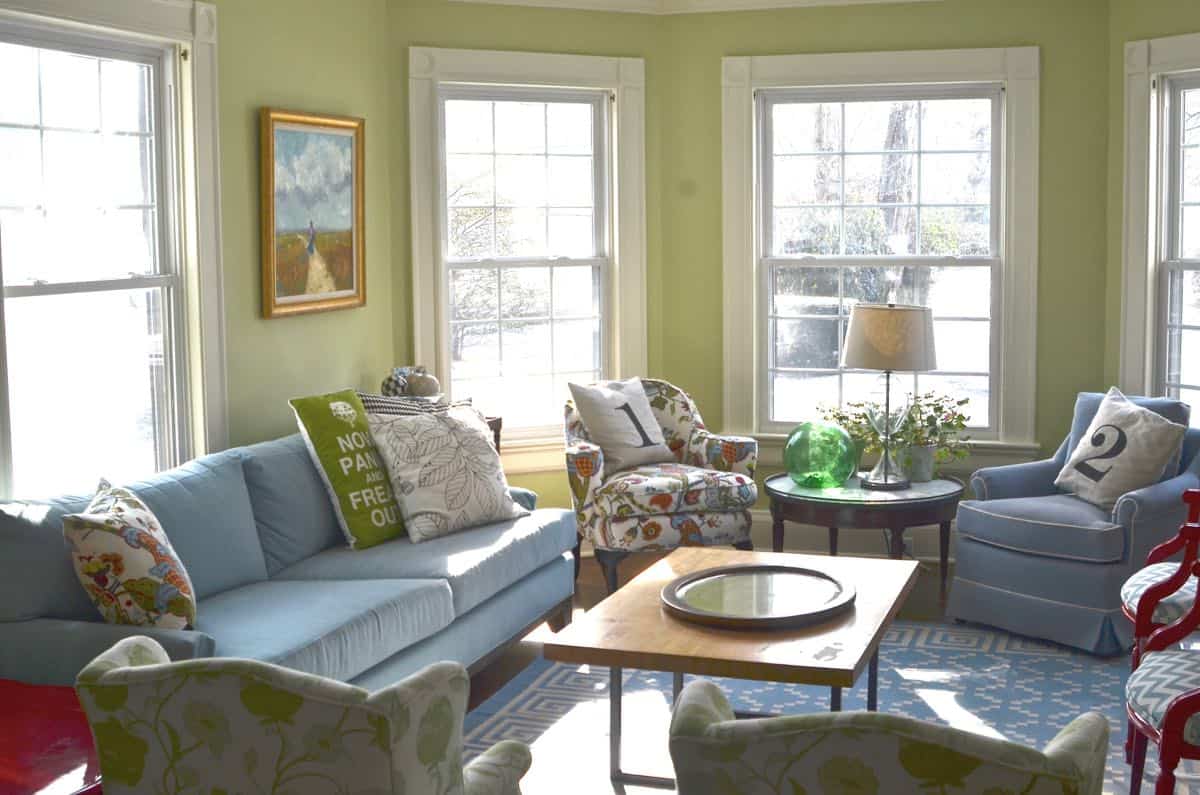 Back to the rearranging board.  I spotted this loveseat on Craigslist and loved it.  But it was $150 which is more than I typically like to spend on CL.  Call me cheap thrifty.  But after a night with the piece percolating, I had to respond the next day and plead my case for $120.  Sold.
I love cane furniture… and so does Martha.
With any upholstery project, the first step is carefully removing the old fabric and staples. Remember to save your old fabric pieces as templates.  This one was in amazing shape and actually had springs on the seat so it's super plush and comfy.
I had help.
After the old fabric had been pulled off, I could see what the previous fabric had been… now THAT's a loveseat I would have gone for!
Before I could upholster, I wanted to paint the frame.  There's finally a retailer near our house that carries the magical Annie Sloan chalk paint so I decided this could be my chalk paint debut.  Anyone who likes themselves a DIY/ Home decorating blog knows about Annie Sloan and her paint.  I'd already dabbled in milk paint, but never chalk paint (not to be confused with chalkBOARD paint.. which is similar but not what I'm working with).  In a nutshell, you paint chalk paint right onto your surface- no sanding, no stripping, no priming- and then you apply a soft wax on top to seal the paint in. Like magic.
The man at the store assured me that I could paint "anything" with this paint, including cane, as he pointed to a lampshade to prove his point.  I was a little nervous about paint collecting and dripping on the cane, but a little looksie on google and it turned out I wasn't insane and cane can definitely be painted with a brush. I chose Paris Gray chalk paint.  A neutral (gasp).   It went on just like everyone said it would.  Two coats, not a lick of prep and so pretty. This is after the first coat. (I painted the cane by 'swirling' the brush in circles in order to get into all the nooks and crannies.)
The second step to chalk paint is waxing. There wasn't a ton a surface area to cover so it didn't take too long, but I could see that for a bigger piece there's a lot of 'wax on, wax off.'  I used an Annie Sloan wax brush and rubbed the wax into the wood, then immediately wiped off the excess with an old sheet. I applied two coats 24 hours apart. After the 2nd coat had set for 24 hours, I buffed the piece to give it a little more shine.
After my foray into upholstery with these chevron chairs, this loveseat was a walk in the park. The foam was in great shape so all that it needed was a new fabric and some gimp to cover the staples.  (If you're wanting more info on how I reupholster, see here.) Snacks are key.
As I mentioned above, I used the old fabric from the seat as a template for my new fabric. (I actually didn't grab enough of the green velvet so I used a separate fabric for the back of the loveseat… a pale blue I had on hand.)
Here's a closeup of all the layers for the back of the loveseat. Back fabric first, then batting, cardboard, foam, batting and the front fabric.  I stapled the back fabric on first, then created the batting/ foam/ cardboard sandwich with the front fabric keeping it all together.
After stapling the fabric and trimming the excess fabric, I used a hot glue gun to cover the staples with my gimp.
Into the living room this beauty goes.  Technically this loveseat could fit 2 people if we want to get really cozy, but it opens up the space and makes it look less like a chair showroom.  And, it's A-mazing.
Like any space, I'll live with this new layout and see how a feel after staring at it for a while, but it already feels a lot less like therapy than the previous setup!
I also love the blue on the back… such a simple little tweek that adds a fun element of interest.  For your viewing interest, here's the before and after again. Remember that TV show, The Swan? Yeah… this is like that. But with less gauze.