Rainbow Adirondacks and a Sweet Treat
*DIsclosure: I'm partnering with POLYWOOD on this post. They provided me with the colorful furniture of my dreams, but all opinions are entirely mine.
Spring in Connecticut is a long time coming and the minute April arrives, I'm always eager to be outside enjoying our yard and generally breathing fresh air! Part of getting ready for spring is always schlepping a bunch of patio furniture out from storage after a long winter, etc. and generally trying to revive everything that's been put away all season!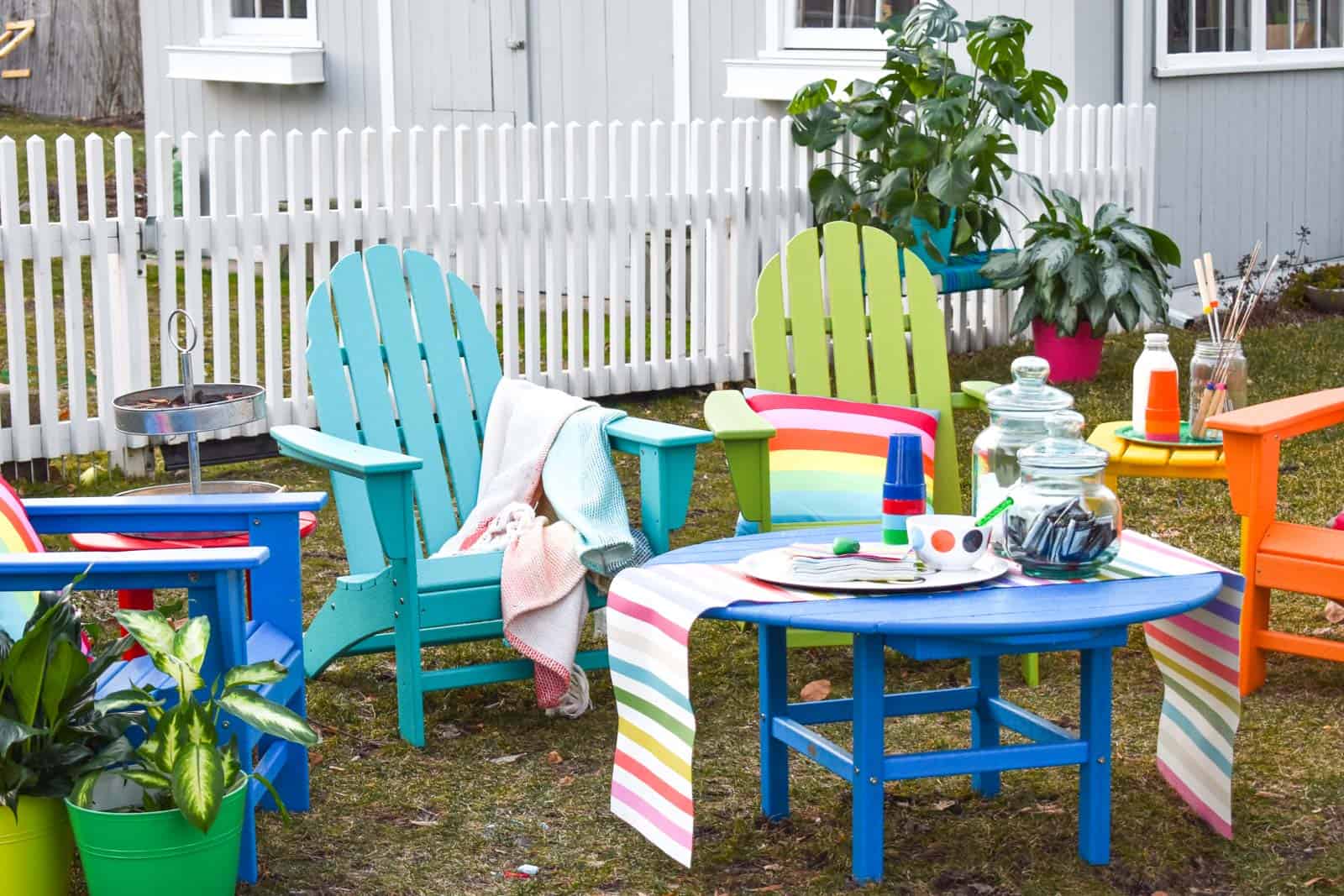 Why do we care about ANY of this, Charlotte? Because… YOU GUYS… I'm working with POLYWOOD for this post and their patio furniture can be OUTDOORS forever. It's made of unicorn hair or something because it's all-weather, 20-year warranty, fade resistant… like music to this New England mama's ears!
I buried the lead a little bit, because the other thing I fell in love with was all the bright glorious COLOR. Don't worry… they also have dozens of neutrals, but these Adirondack chairs in ROYGBIV were all Jerry Maguire and had me at hello.
I picked out one of each color in their Vineyard Adirondack chairs and then a pair of side tables (one circular, one more rectangular) to round out the rainbow. They are fairly light weight and it took me maybe 10 minutes to put together each chair.
The new seating was the PERFECT excuse to set up a decadent s'mores party for the gang. As much as I dislike daylight savings, the Smith kids have been taking full advantage of the daylight hours and we've been clocking lots of time zipping around the driveway on bikes and roller blades and scooters… needless to say, when I told them we were headed out after supper to make s'mores, there were zero complaints.
I bought fun marshmallow roasting sticks for everyone and used the new seating to justify bringing out every last rainbow accessory I could find. The blue coffee table is the perfect size and height for a tray full of appetizers (or rainbow sprinkles) as well as smaller plates and cups. (I.e. an entertaining goldmine!)
My hope is that these chairs will also allow for easier adult supervision when the kids are outside playing on the driveway… (no more leaning against the tree), as well as a more permanent s'mores set up!
We learned the hard way what happens when the fire pit is sitting on the lawn… but we don't use it enough to leave it on our patio all summer long. This colorful seating area will hopefully make for lots more family bonfires. And s'mores. Did I mention the s'mores?
Obviously this rainbow selection may not be for everyone, but I LOVE the idea of taking something as classic as an Adirondack and giving it a little jolt of bright and vibrant color! I mean… imagine a bright green pair of these chairs on a classic old front porch… or red and orange chairs against the fall foliage… or that stunning blue on the beach against the ocean waves. I could go on for days… (If you need more ideas, call me.)
Back to my rainbow… one of the things I'm MOST excited about is seeing these chairs in the gray snow of winter. I mean, we're certainly not seeing too many signs of spring quite yet but imagining those cheerful chairs popping up through the snow (because… "all-weather") or just having some color to look forward to next January… they're truly seats that keep on giving.
Thanks to POLYWOOD for helping this color-loving mama throw the most epic s'mores party this side of New York City and for giving me a place to rest when the next scooter performance is happening. Technically the historic district commission in our town doesn't have jurisdiction over paint color so who knows… maybe that barn will get a matching technicolor makeover one day…