Building an Emotional Tool Bag for Your Kids
We created an actual tool bag for our kids to use when they need help navigating big feelings.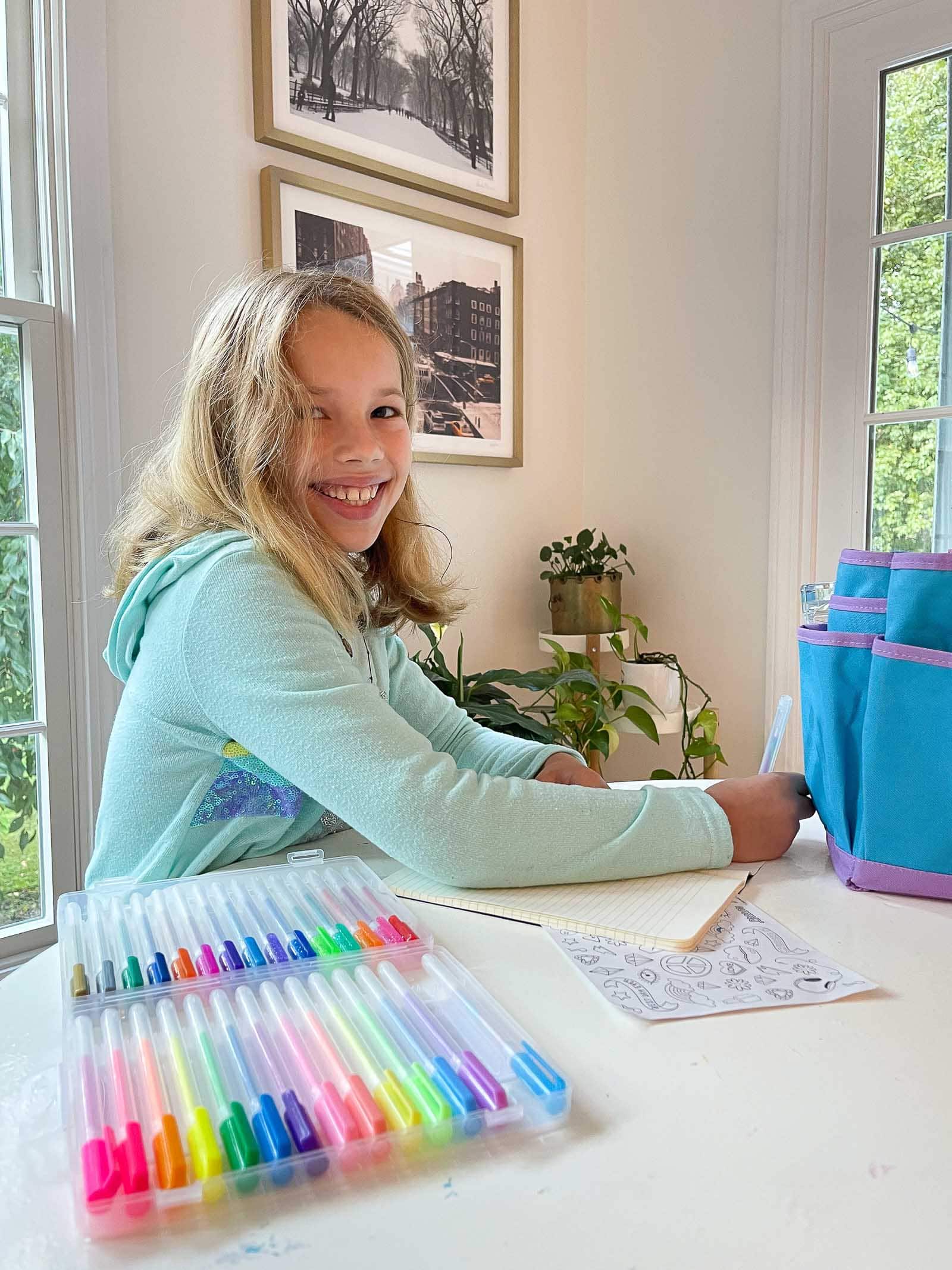 With five children, there's always someone deep in their feelings. Sometimes it depends on age and brain development, sometimes good ol' sleep deprivation, but sometimes it's just a personality trait! One of our kiddos has been feeling big feelings lately and I can't always be present or dialed in to help her move through these feelings. Part of parenting is giving our kids the necessary tools to be independent, so this tool box is a resource that she can turn to when she needs help navigating big feelings. I'll share what I included in our tool bag (with affiliate links), but note that what YOUR child needs could be totally different! I asked my Instagram followers for other suggestions that I'll share at the end of the post too!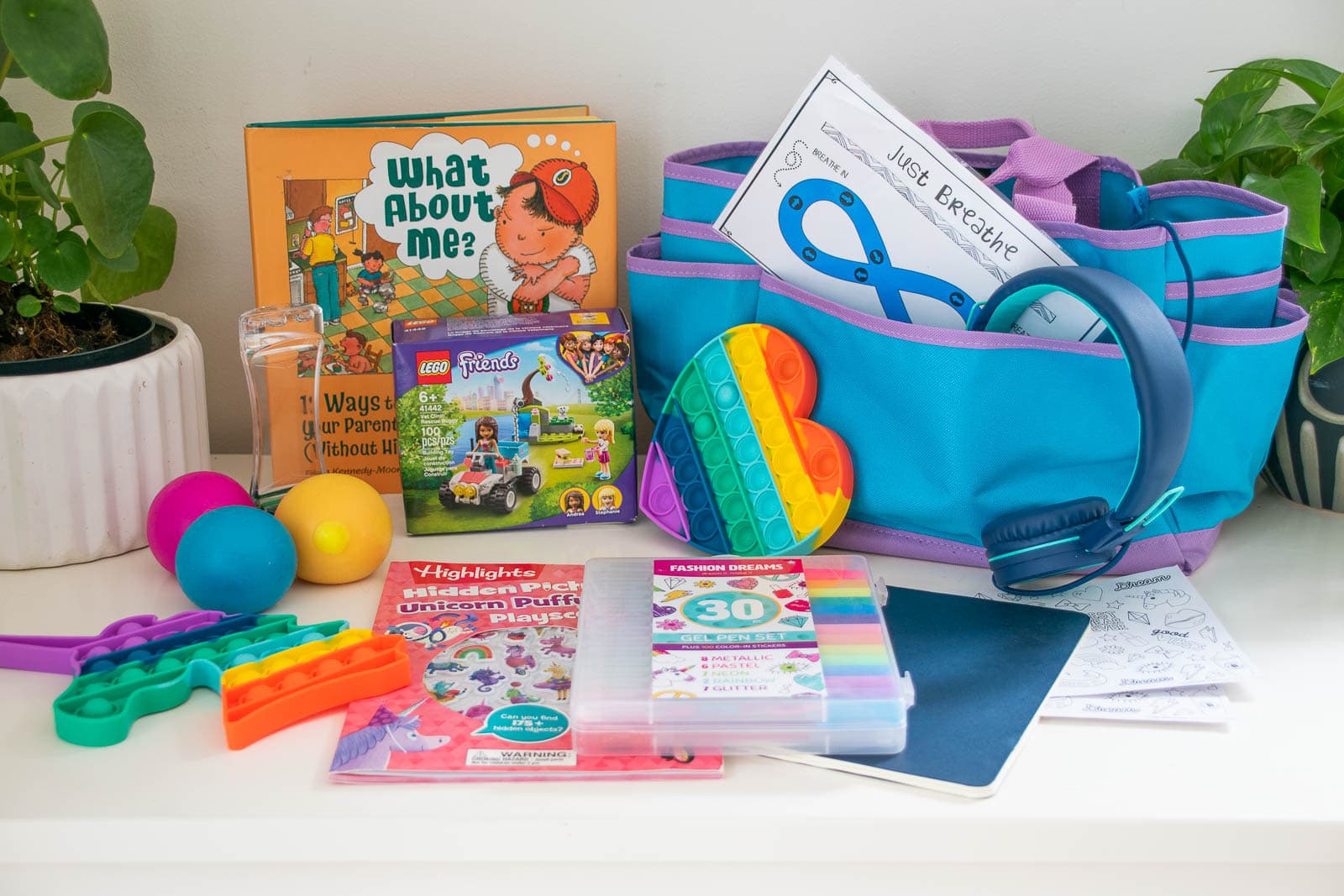 A quick note about this tool bag. I don't ever TELL her to go use her tool bag nor do I micromanage what she's engaging with in the tool bag. I SUGGEST and REMIND her that the tool bag is there. My goal is to empower her to manage and navigate her feelings… ultimately she has to engage independently. Likewise, it's up for her to decide what items in the tool bag will help her best in the moment. Afterall, I can't tell her how she's feeling. She needs to find the right tools for her emotions in the moment… one day she will internalize these skills and will know that when she's feeling X, she should go sit quietly with a book. Or if she's feeling Y, it's time to go for a run. This tool kit is a reminder that we all have ways of navigating big feelings.
I found this one on Amazon and loved that it was our daughter's favorite color. I wanted this tool bag to feel special for her so it was something she was excited to go sit with.
What kid doesn't love fidget toys nowadays… I ordered a couple new ones that live in her tool bag. I also added some sensory balls that change color when you squeeze them and one of these motion bubbler toys. All of these serve the same purpose: they give her something to focus on that will helpfully allow her to take some deep breaths and calm down. They distract her and allow her to slowly move away from whatever was bothering her.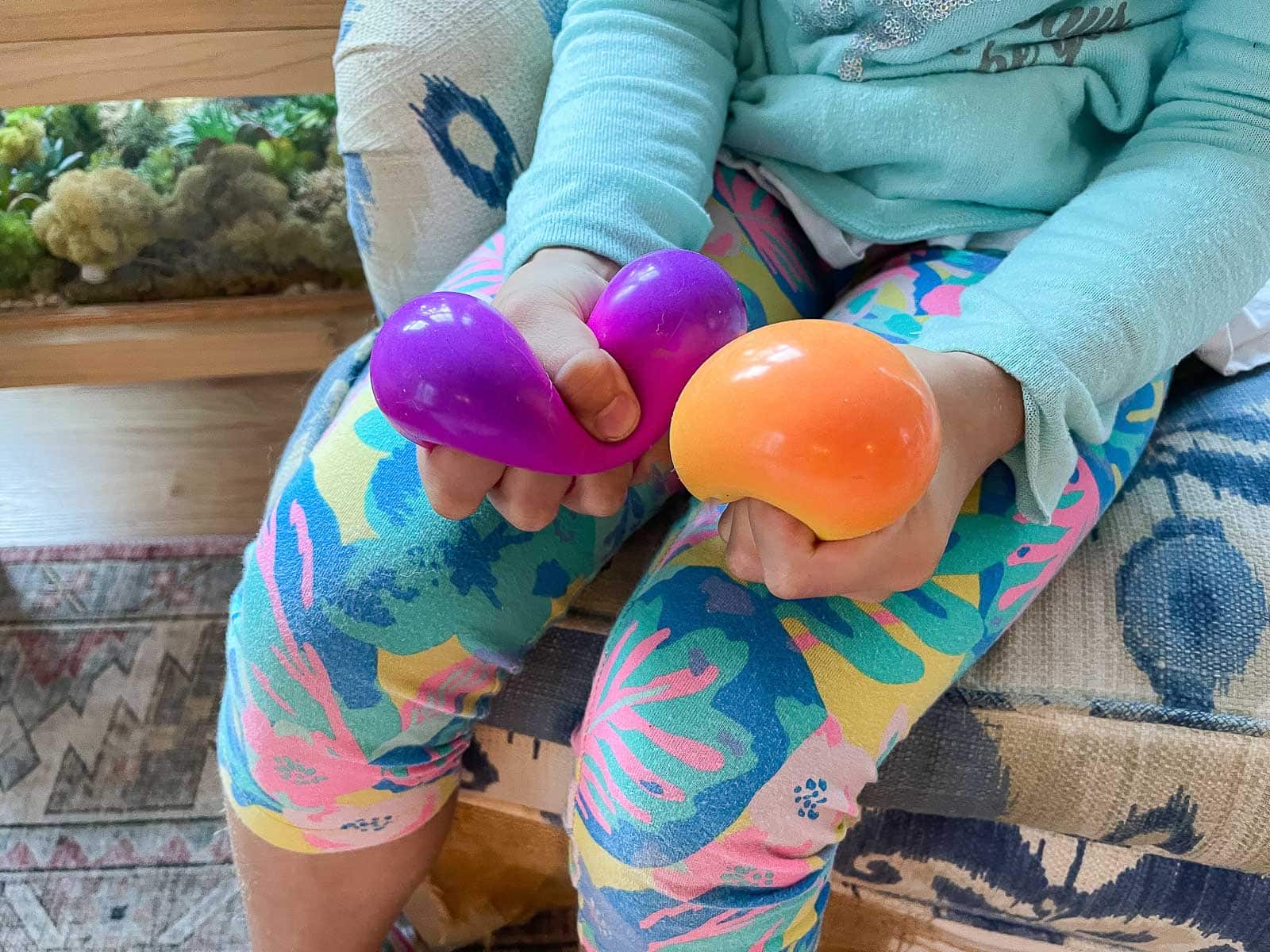 For lots of us, finding something quiet to do is a nice way to settle our big upsetting feelings. Our daughter loves art so I included a coloring book with some special tool bag markers and stickers. Notice that all of these items are meant to be special and unique to the tool bag so it incentivizes her to make use of it!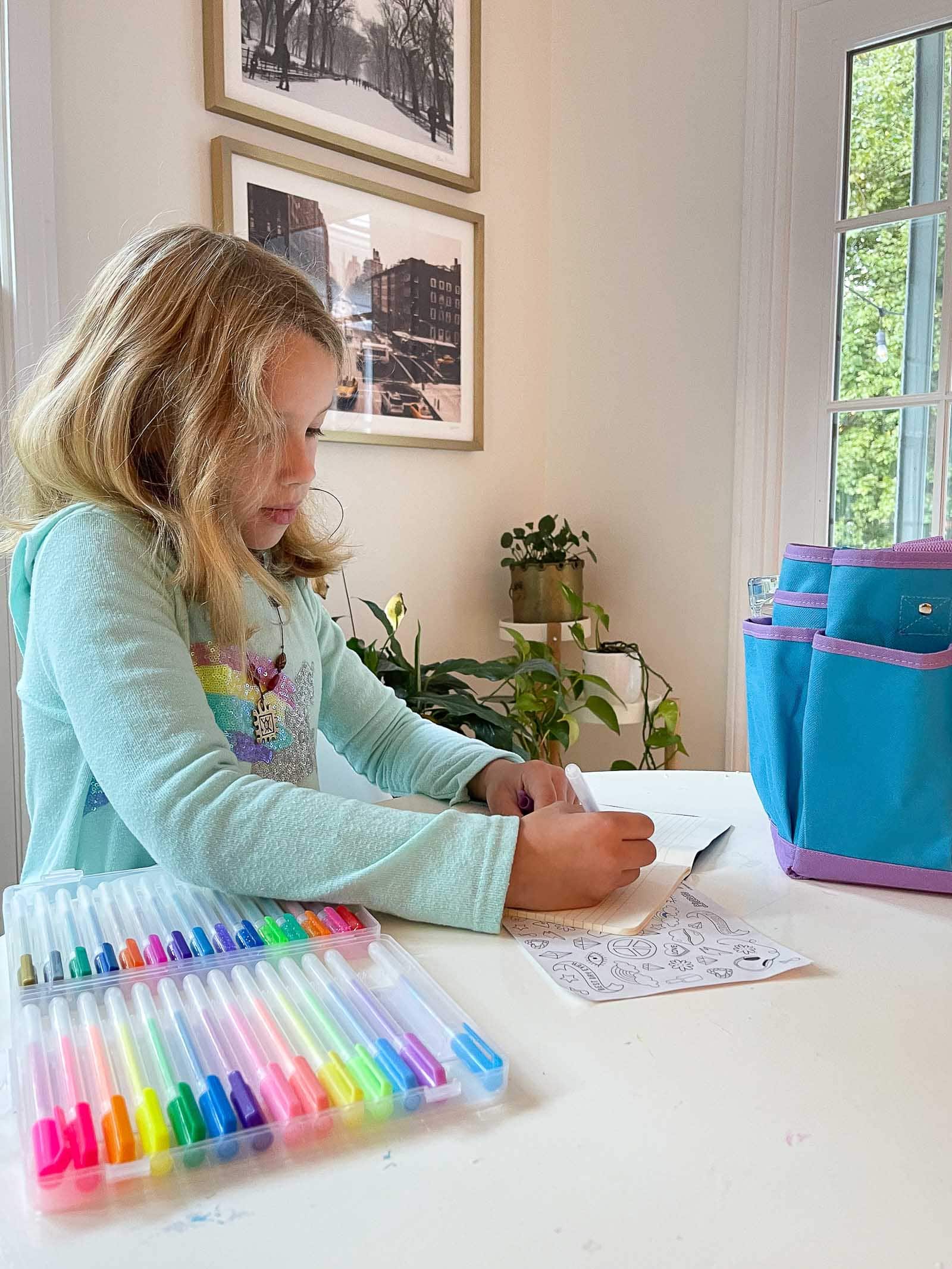 Dancing and listening to music on our Echo devices is often how our kids have quiet time. Whether a podcast or singing along to Hamilton, the act of listening to something else can be super effective in snapping you out of a mood and giving your brain something more positive to focus on. We included headphones as a reminder that going to listen to music or a podcast somewhere might feel calming.
My kids love reading and looking through books. As a former teacher, I find that teaching through literature is an invaluable way of exploring more abstract or complicated concepts like feelings… so I included a couple of my favorites in the tool bag since Louisa is a pretty good reader. For younger kids, a favorite picture book would be perfect.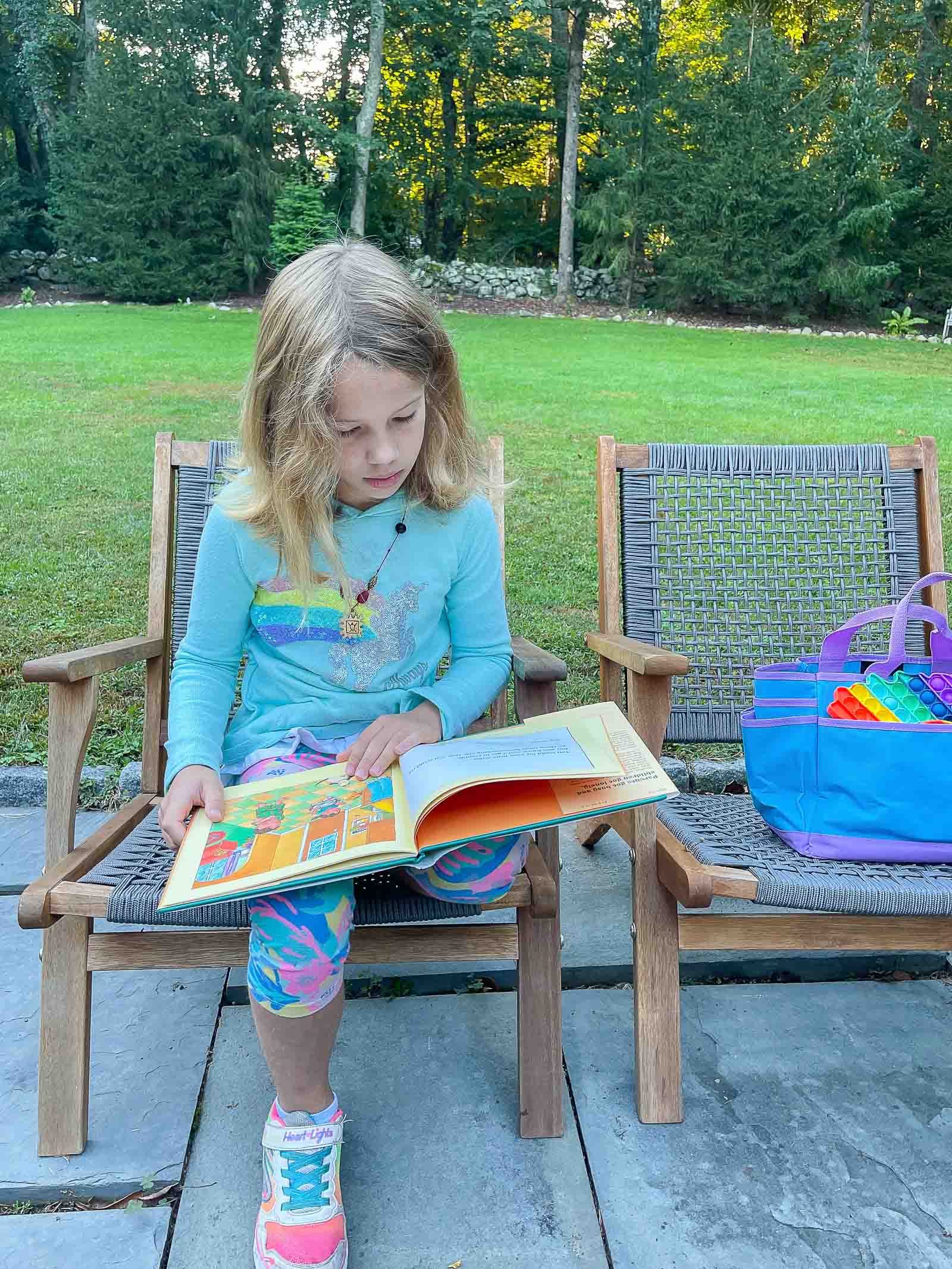 The journal isn't always the most appealing option, but I find my kids appreciate a journal when they want to complain about someone or something. It allows them to gripe without consequence. As they get older, I'd love them to use the journal just to help process or write about other feelings too!
Any project that requires a bit more concentration is a good way to pull you out of your thoughts. I included a small lego kit for her to use if she wants a distraction. A sticker by number book is also a favorite around here.
READER SUGGESTIONS:
These were suggestions by my incredible Instagram audience. Lots of them mentioned their kids/ their own struggles with ADHD/ anxiety/ feelings so lots of these ideas come from experience! There were also lots of suggestions but therapists and counselors. I linked anything I could. Feel free to leave me a comment with other suggestions and I'll periodically update this post!
A family pet
Homemade glitter jar (tip: hot glue the lid in place!)
Holding an ice cube for as long as possible… this activity helps connect you to your body and away from your thoughts
Taking a bath
Pokemon cards (or other hobbies/ special interests)
Blowing Bubbles (I LOVE this one… a pinwheel is another option… it forces children to take a deep breath before blowing and getting that oxygen to the brain is a proven calming technique)
Getting outdoors
Cosmic Yoga on YouTube
Favorite stuffed animal
Hugging yourself and tapping hands on opposite arms in 1-2 rhythm
Breathing techniques (Counting breaths or breathing in through your nose and out through your mouth are two common exercises)
Time alone
Maze Balls (Our ADHD child LOVED this… required focus and concentration and he was working towards a goal