I've gotten to the point where I'm pretty precise when it comes to taking measurements.  I've turned the corner from operating in quarter inch increments to embracing the 8ths. And the millimeters.  Point being, I measure twice and cut once. (Unless it's molding, in which case I cut 17 times.)  But doors.  Doors are a different beast.  They require measurements to the fractional millimeter.  They also require hours.  And HOURS.  Which was TOTALLY worth it for this salvaged door I made over for the powder room.  I. Love. It.
Adding a Glass Panel to a Solid Door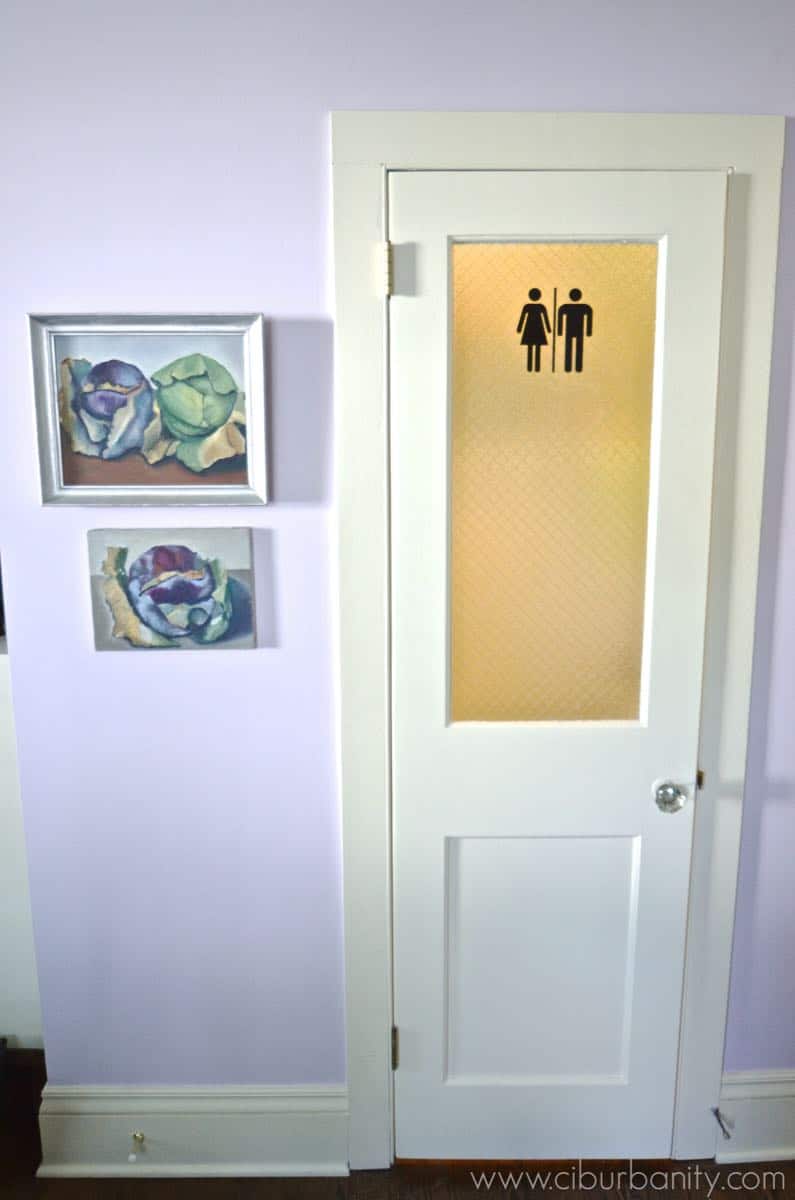 Here's a peek at where this powder room door started (this was the ONLY picture I could find… I never included that door in pictures obviously…).  One boring, drap, HOLLOW, cheap door. When I was evaluating this tiny space, it was hard not to consider the door as a possible makeover!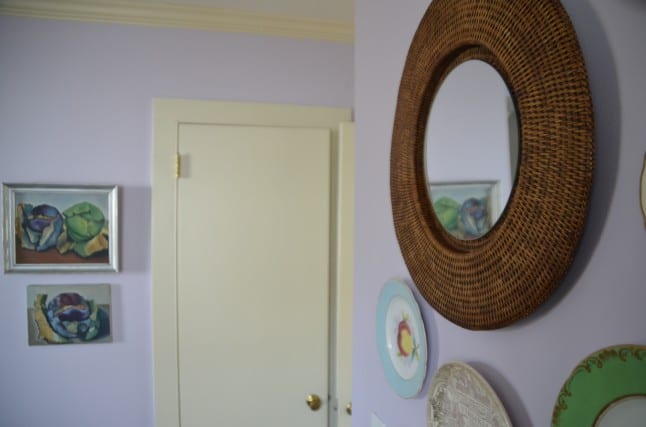 I was thinking of swapping the boring hollow door for a more interesting paneled door and then… my mind wandered.  What if the panel could be opaque and allow some natural light in?  A quick visit to google confirmed that swapping out a wooden panel for a glass panel was totally possible.  Score one for the powder room.
I found the perfect 2 paneled door for $75 at a salvage store up the road.  Measurements were the same aside from the hinge placement and I was recklessly confident that this would be cake.  I lugged it home and started in on the panel.  Best case scenario, the wood panel is held in place just the way a piece of glass would be… by 4 pieces of molding.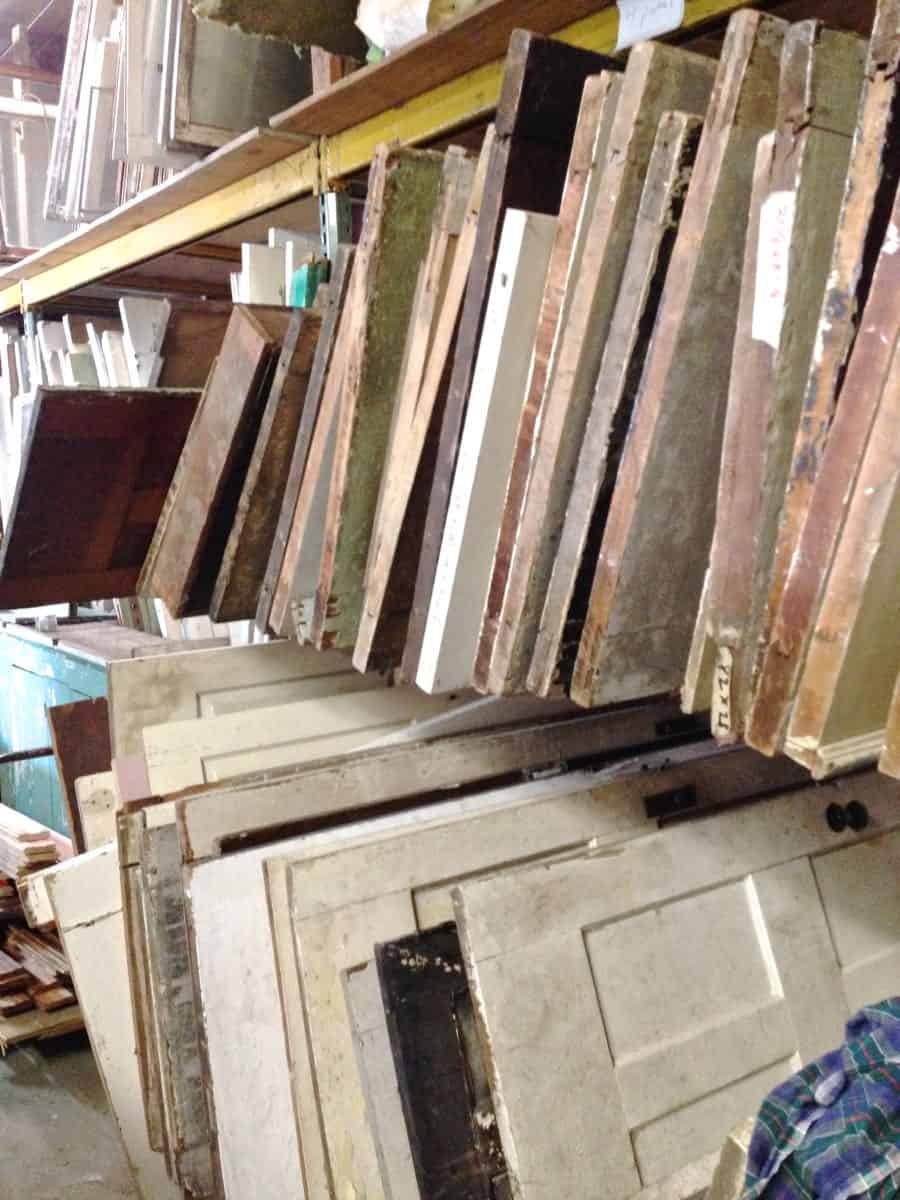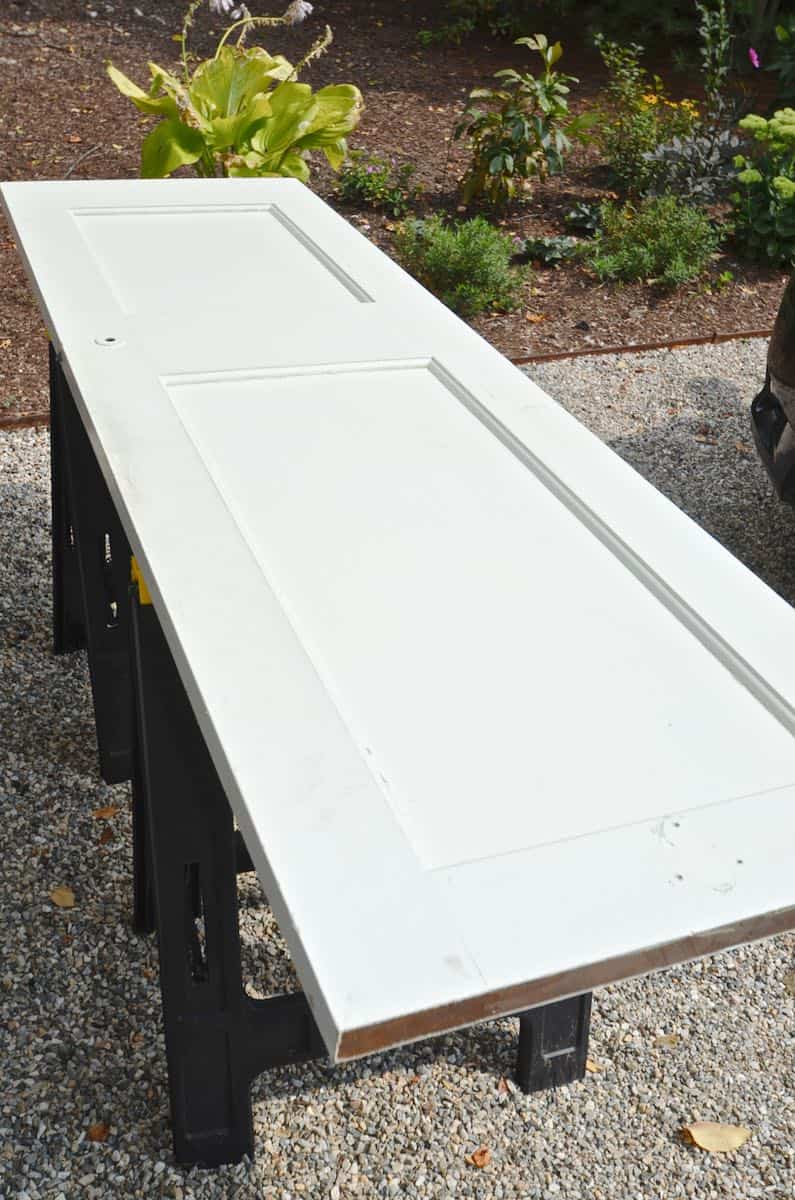 Using a sharp blade, I scored around the molding where the caulk would be and gently tried to pry it loose.  Nope.  Big fat bummer.  The molding didn't budge which meant it was actually a routed edge and not separate pieces of molding. (In this picture you can see the wood actually splitting… no separate molding coming loose.) Whomp whomp.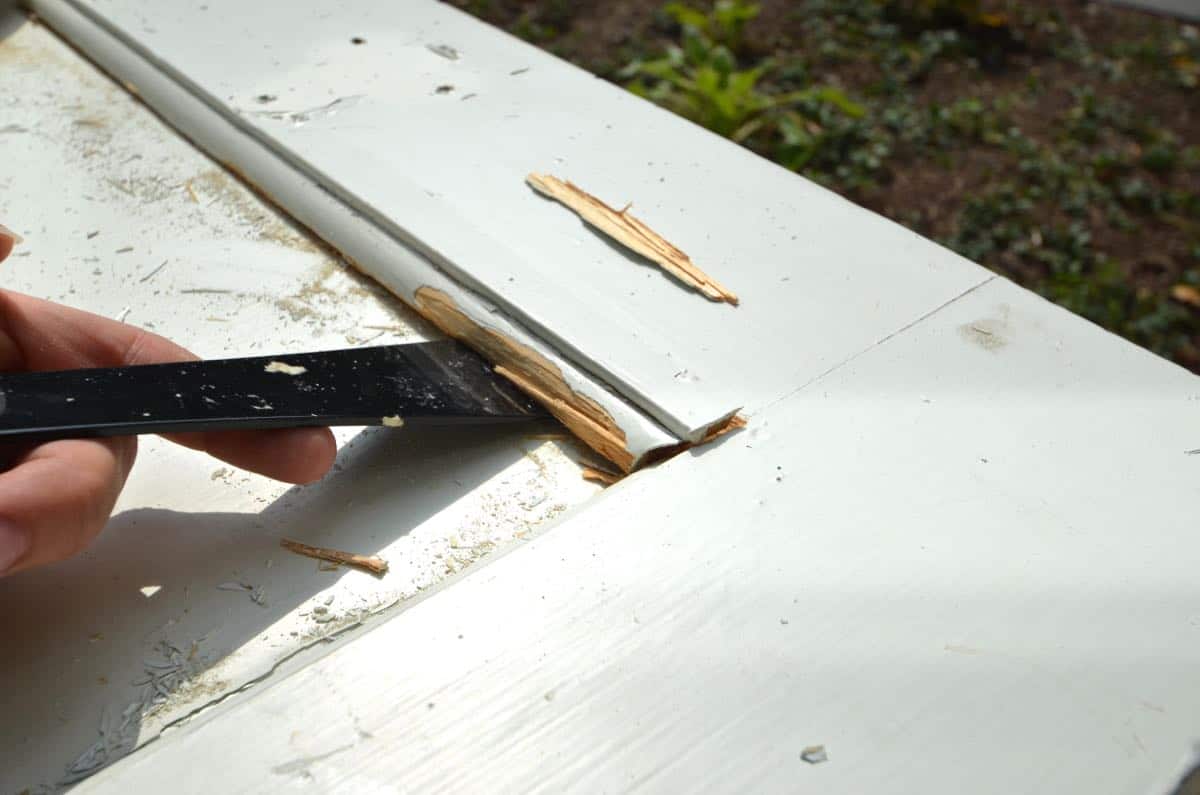 I added an extra step that probably isn't necessary, but ultimately, you'll need to cut partially through your door frame removing the panel but leaving an edge on one side so that there is something to rest the glass on.  I started by cutting through with my Dremel Multi Max.  Once the panel was out… it was easier for me to see what depth of cut I needed to make next.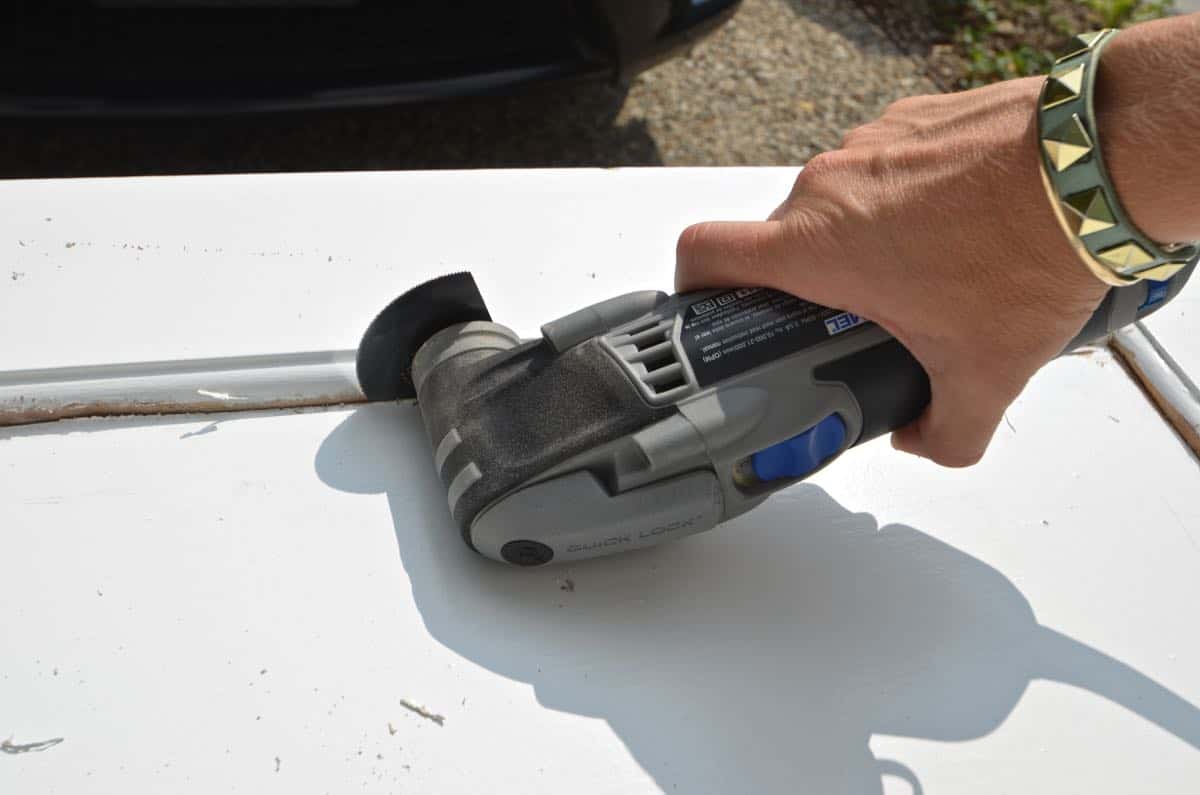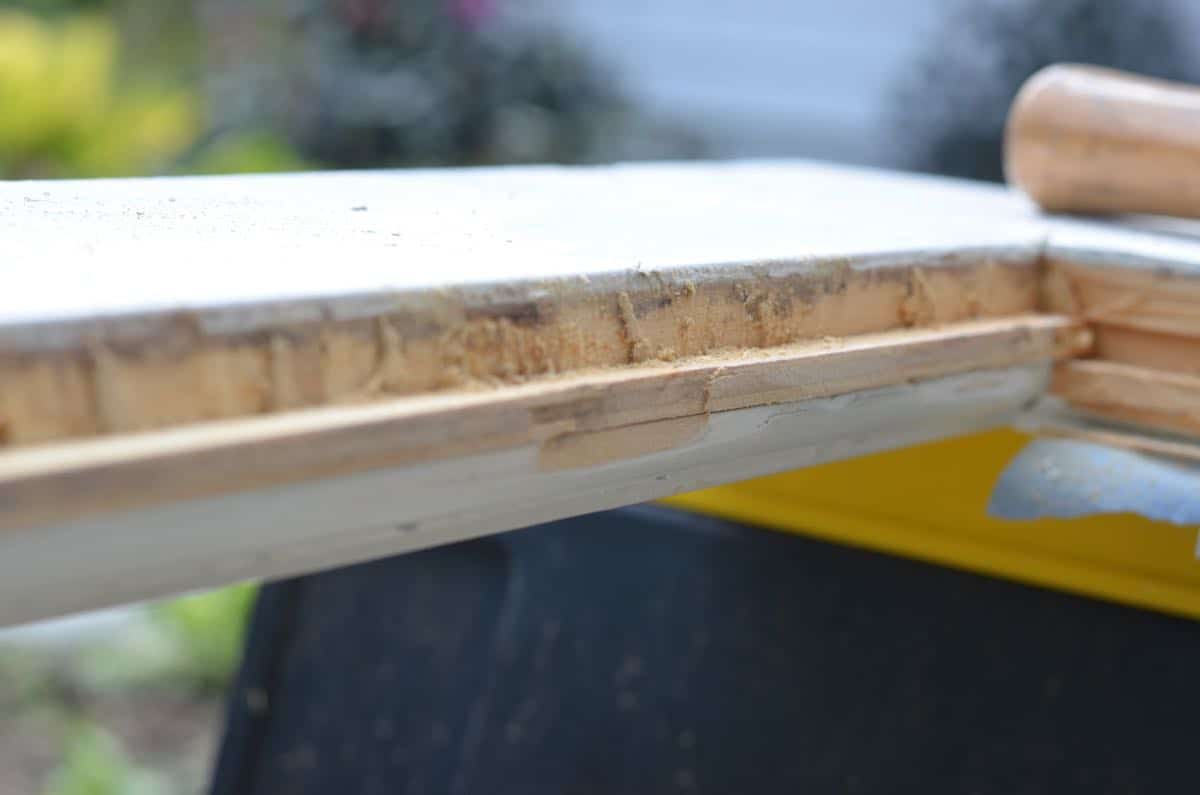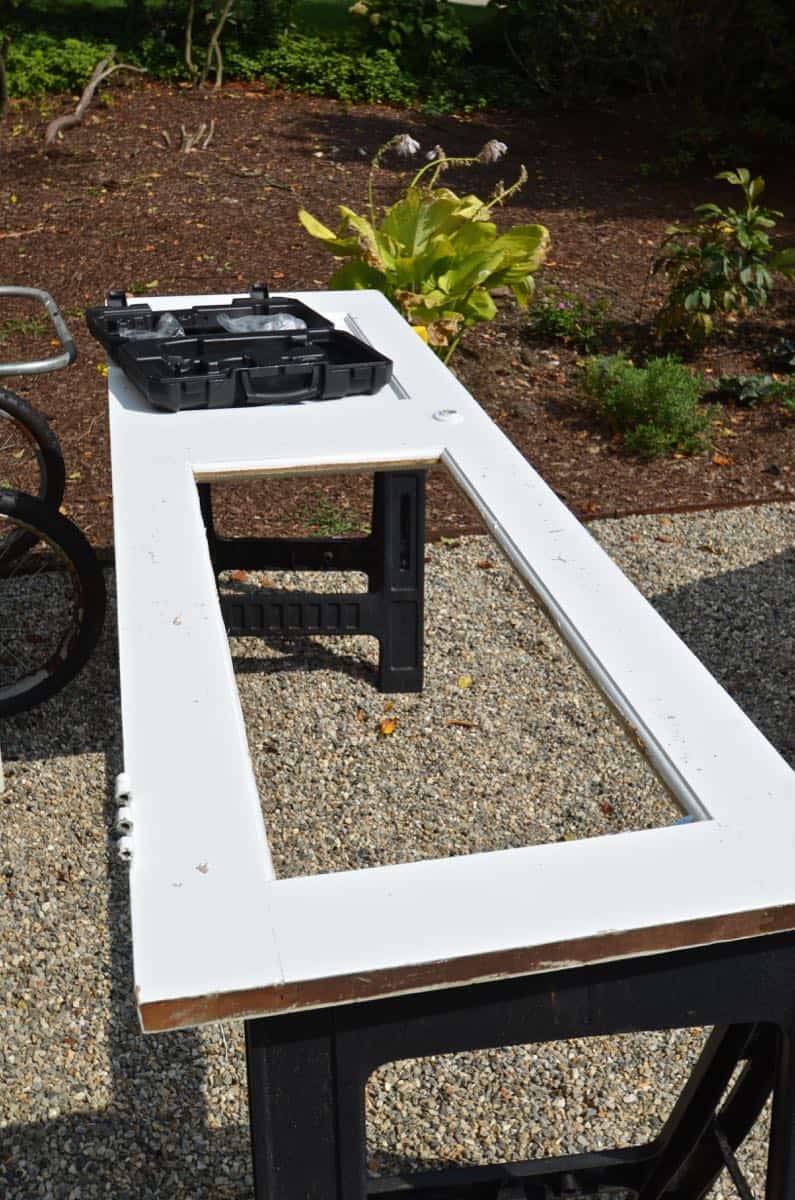 A circular saw worked for me… first I set my blade depth so that it would cut through the 'molding' piece on the topside of the door but not go through the 'molding' piece on the underside of the door. (I.e. I needed to cut halfway through the door…) Next I clamped a guide along the edge of the door so that I would cut a straight line. (Sorry… no pics which I know is zero help…) Now I had a door ready for some glass!  Here's where being a geeky blogger has it's advantages!  I called our local glass shop and described what I was looking for.  Think high school locker room door… One thing lead to another and turns out they were looking to learn about and gussy up their wordpress site… um, bartering FOR THE WIN!  One piece of the PERFECT glass installed and this door is in business!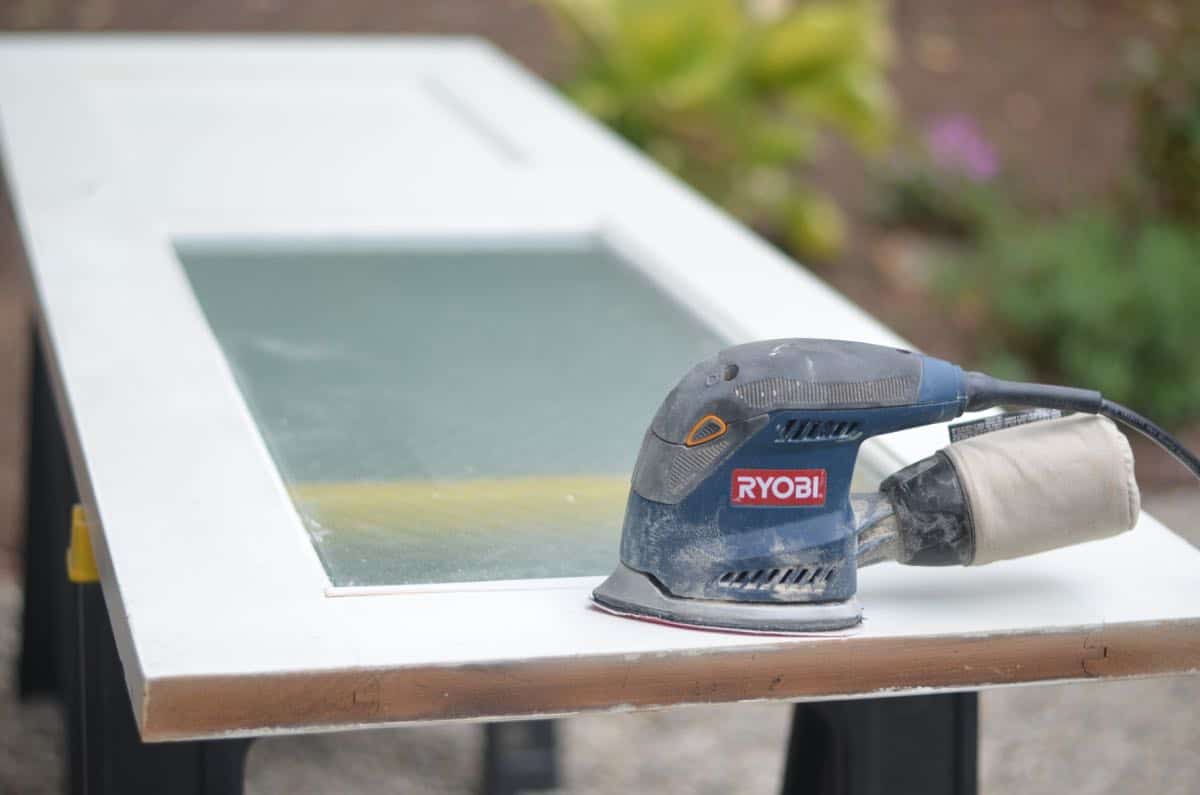 They puttied the glass in place and installed the trim (luckily a basic 1/4 round from Home Depot matched the shape on the front).  My cutting wasn't quite as precise as I would have liked so the front and the back trim doesn't line up exactly, but I doubt you can tell.  Although now I just told you so you'll be looking for it.  Shoot.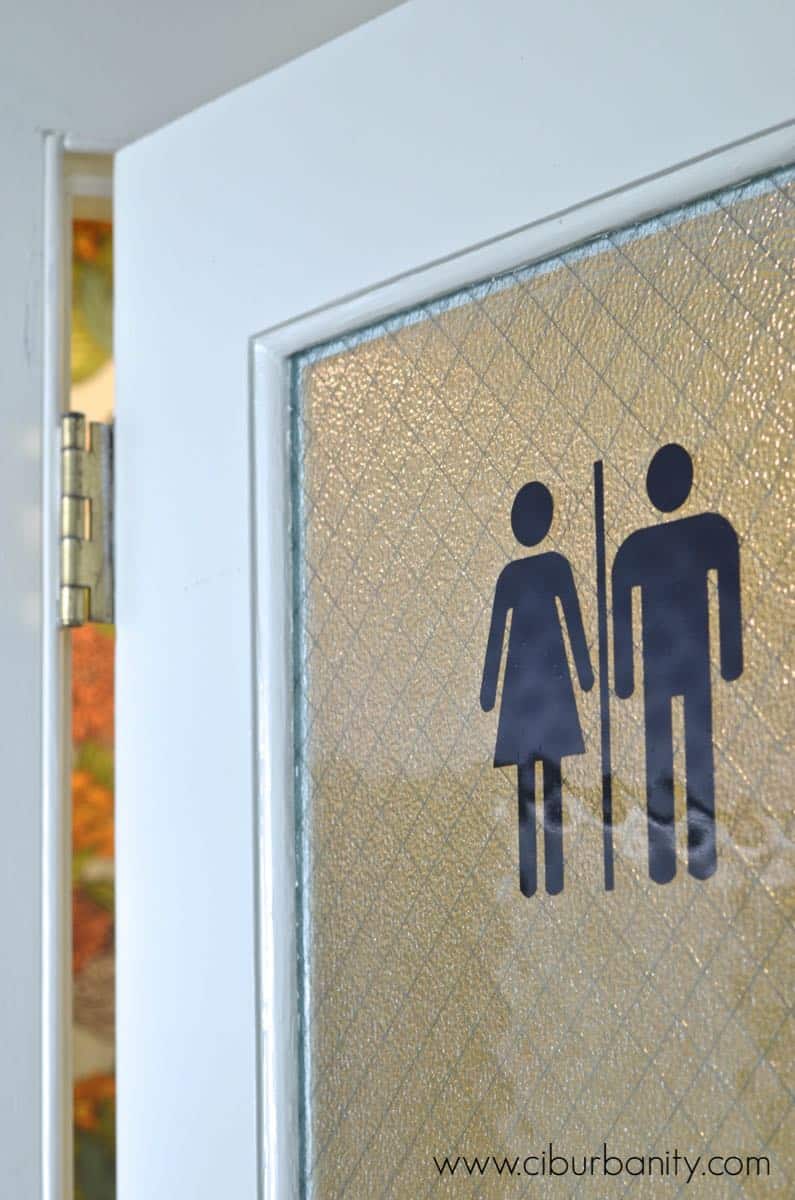 Remember how I said that a door comes down to fractional millimeters?  And remember when I said the hinges didn't line up with the door I was replacing?  Well here's what I've learned about what to do and what NOT to do when moving the hinge location on a door.  First, leave the hinge on the door frame and move the hinges on the door itself.  Use the old door to help determine your hinge placement on the new door. I traced the hinge location from the old door and used a chisel to cut out the new hinge location.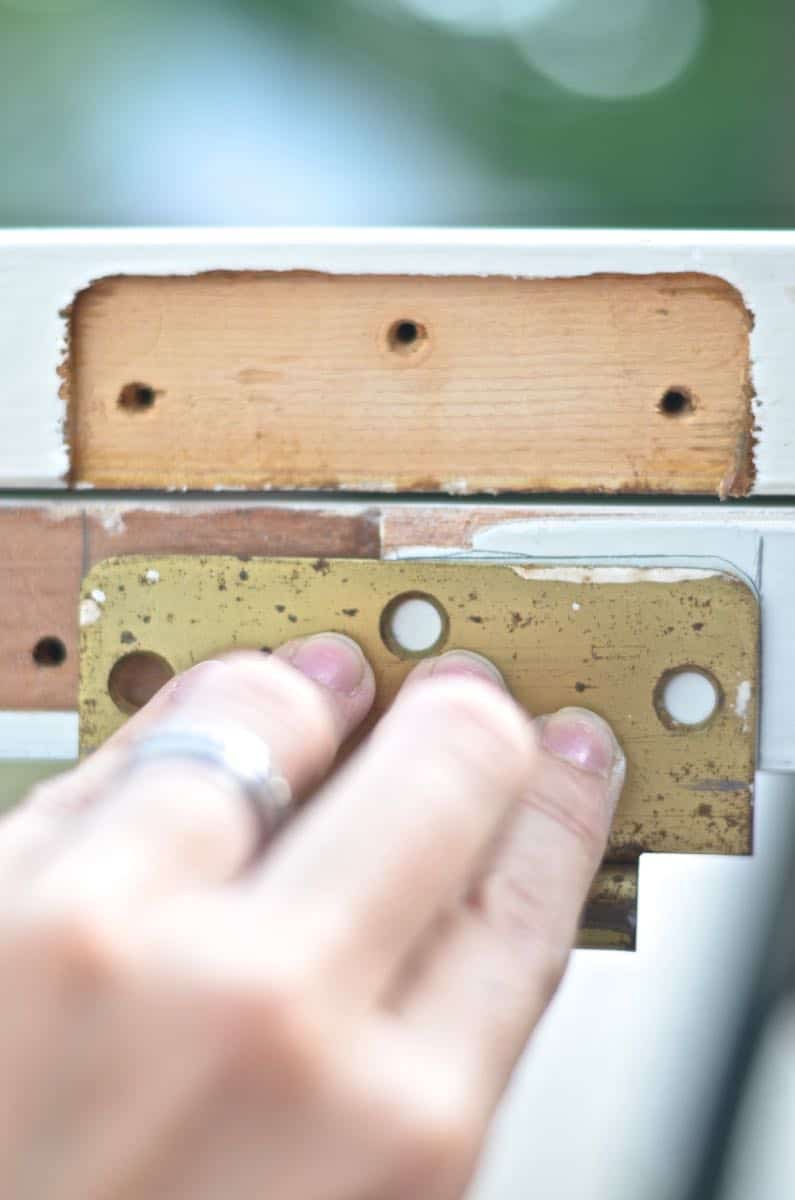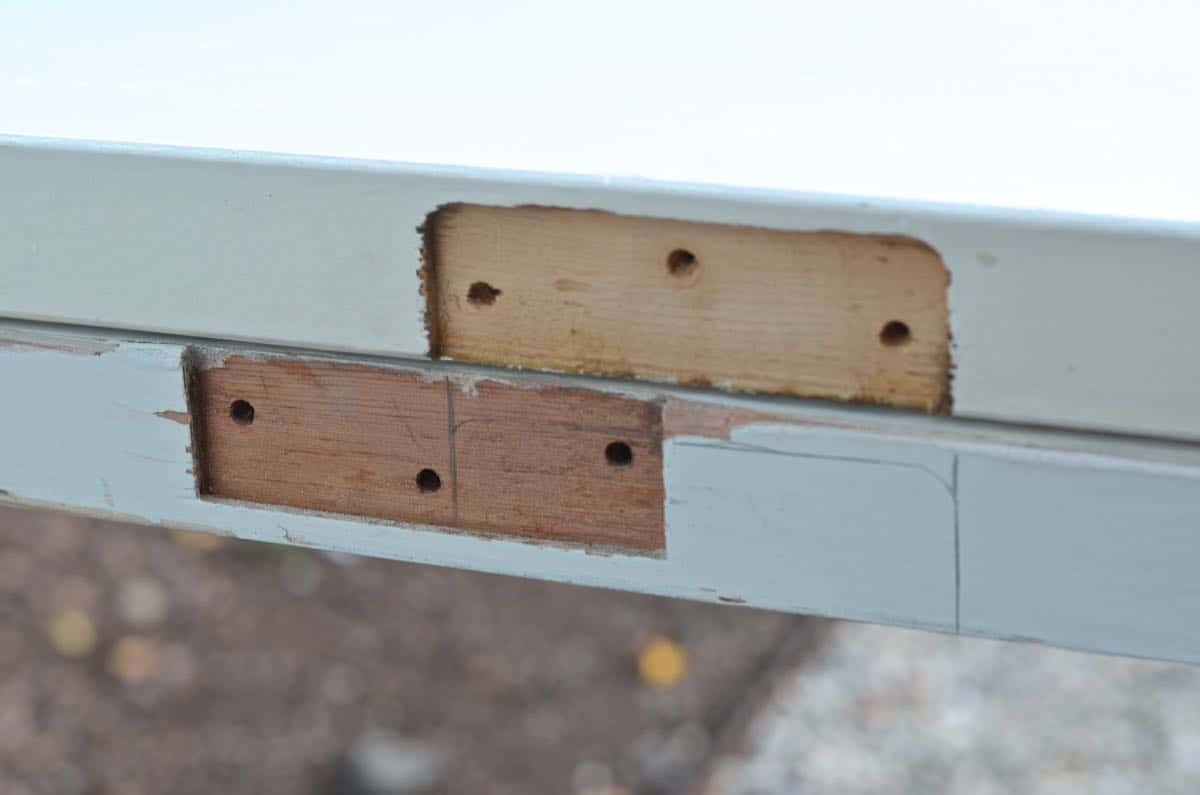 You'll want a SHARP chisel or else you'll pull up more wood from your door than you want.  It was actually easier for me to use a sharp utility knife to mark the edge of the new hinge location and then I went back with the chisel to remove the wood.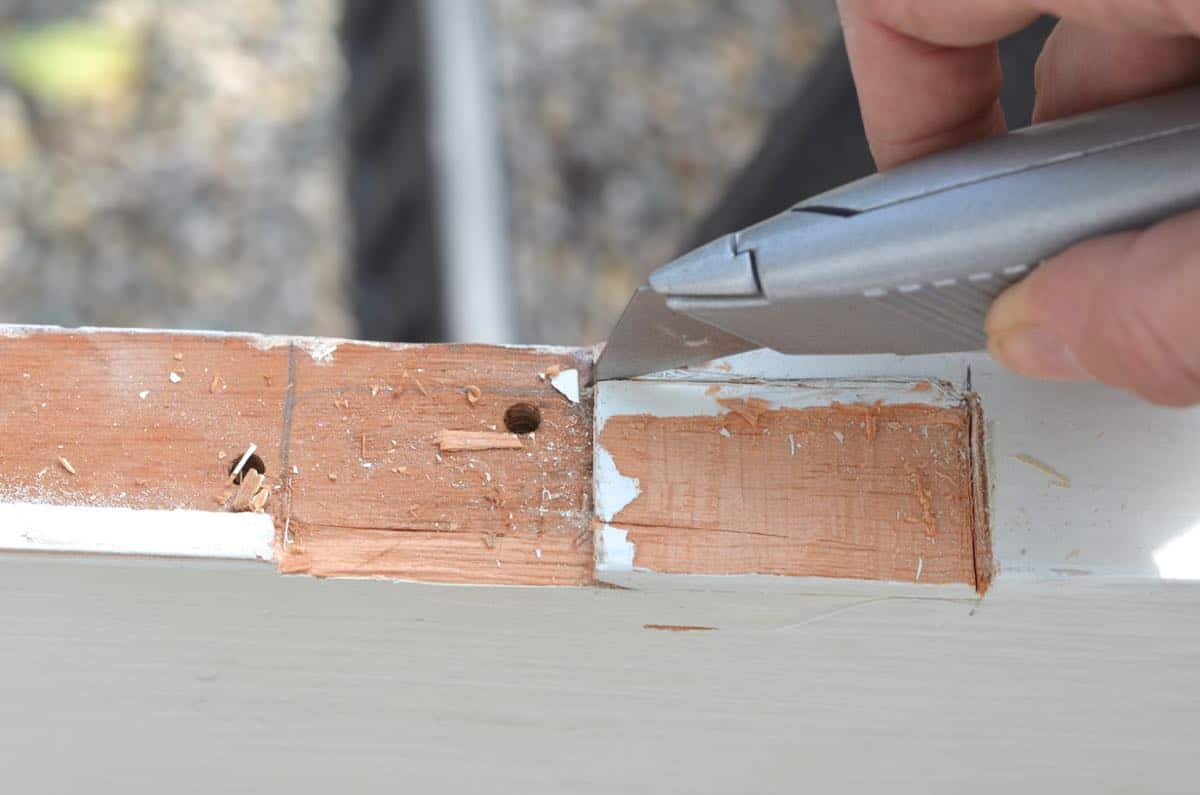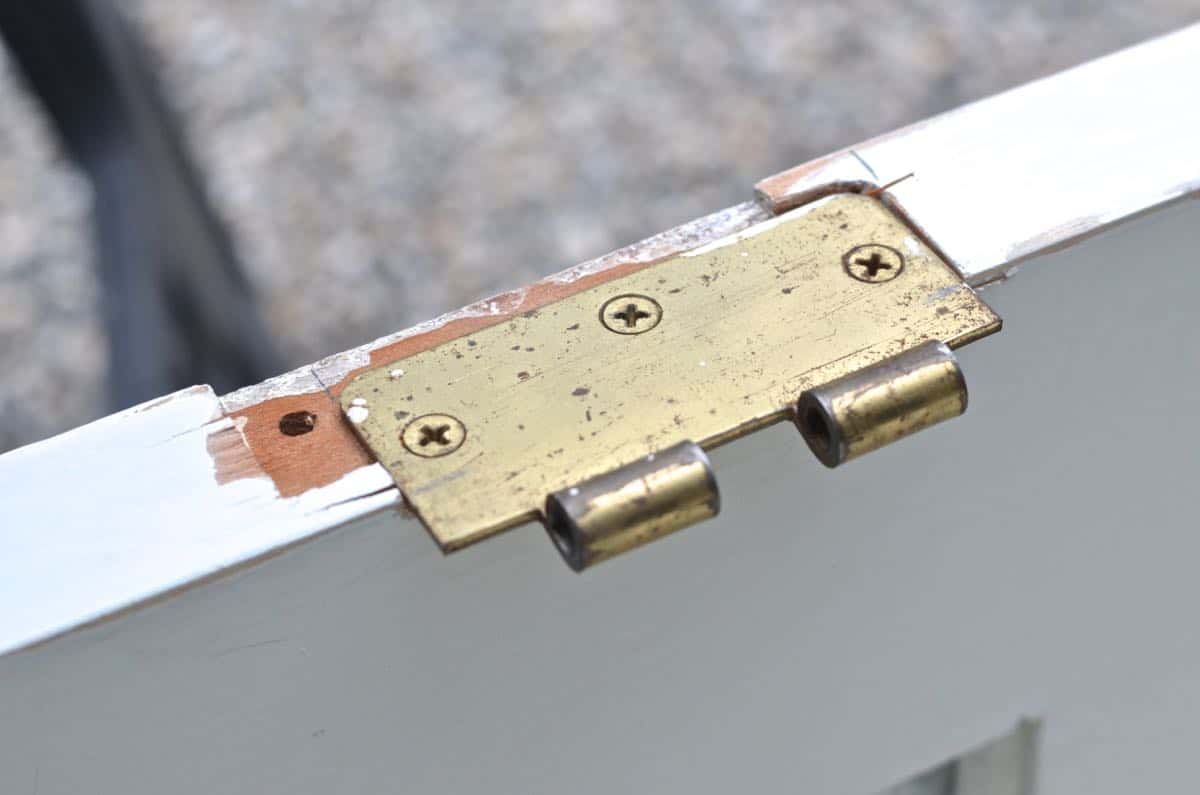 Here's what I did wrong… I drilled too soon.  Here's what I think would have worked better.  Screw in the top hinge and bring your door into the door frame and hang it.  Install the pin for the lower hinge, and THEN mark where you should screw it into the door.  Hinges don't have any 'give' so you need it to align perfectly for them to fit together.  (Unless you're cool with bringing the door in and out of your house half a dozen times… if that's the case, then drill away!)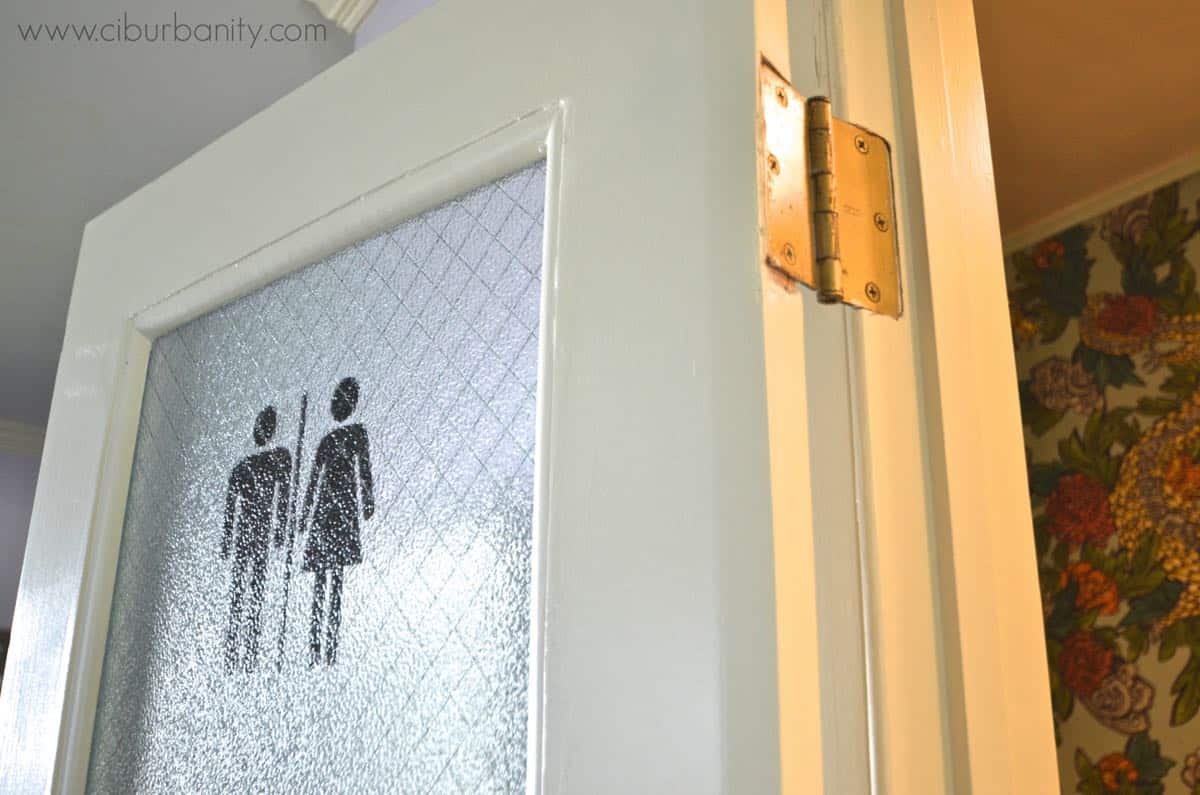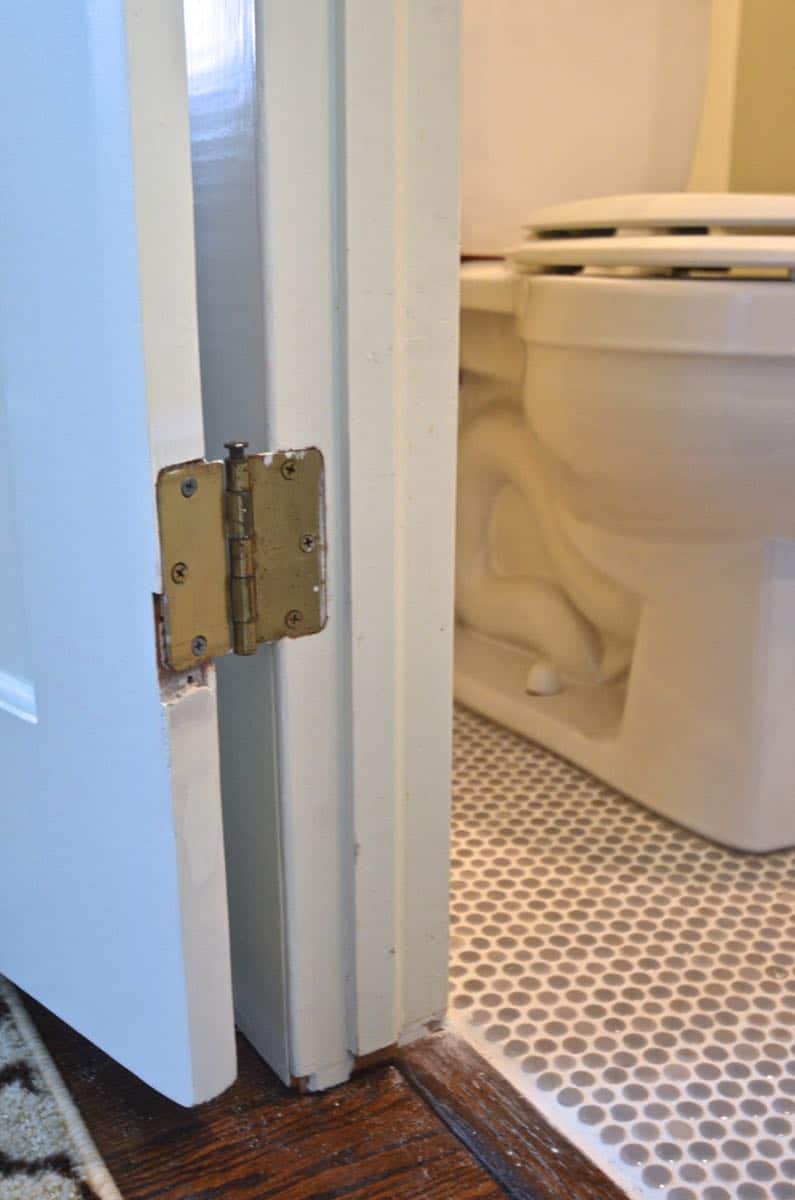 Once you're confident your hinges are lined up, fill in the holes on the door left from the hinges with Bondo. And then close your door to see how it fits. Mine was a hair thicker than the doorframe so I had a date with this guy.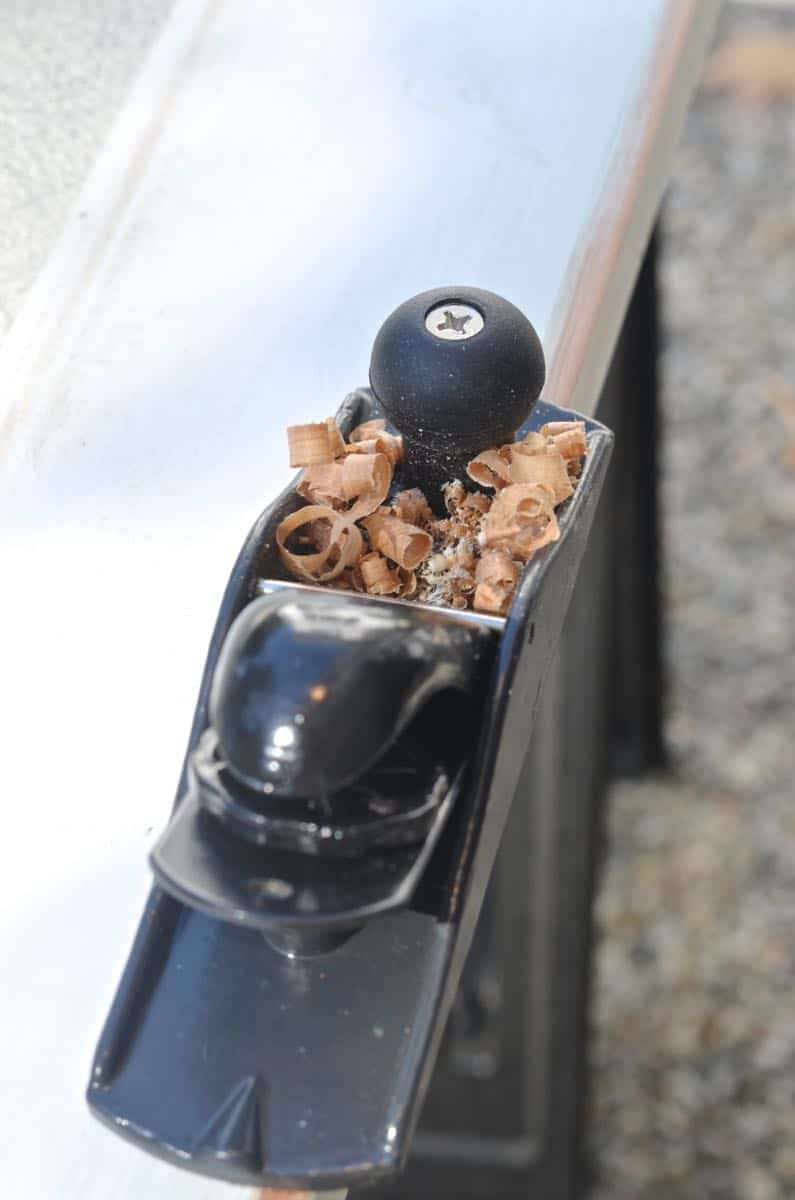 This is an older door so I tested it for lead… red means lead. Wear a mask, protect your work surface… be careful! I had to sand, sand and sand some more and then I primed and painted. The hinges are reused from the original door and I happened to have this glass doorknob in my stash which is perfect here.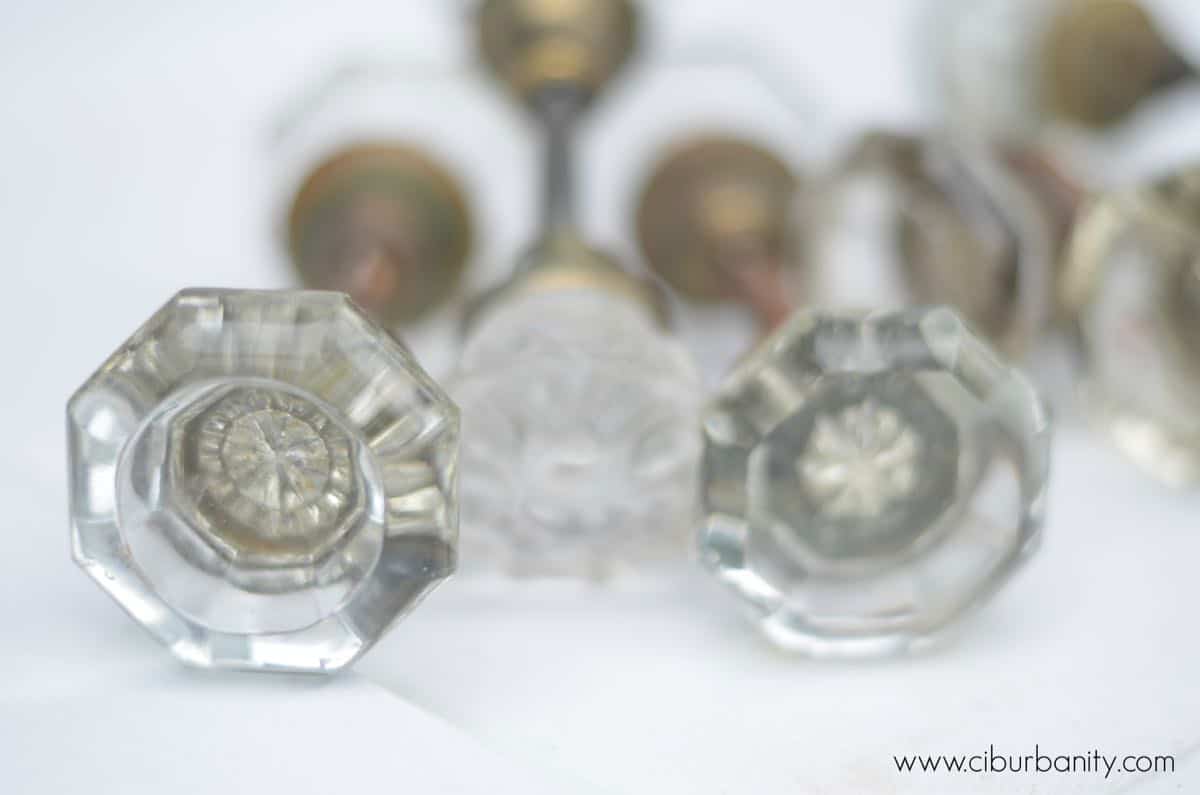 I could have adjusted for this, but I gave up… the latch doesn't align with the plate on the doorframe (and as it turns out, it doesn't quite reach either…) So rather than carving out a new hole for the latch AND carving out space for a larger latch in the door… I installed a $2 hook and eye. Kenny was right, y'all… you've got to know when to hold 'em and know when to fold 'em.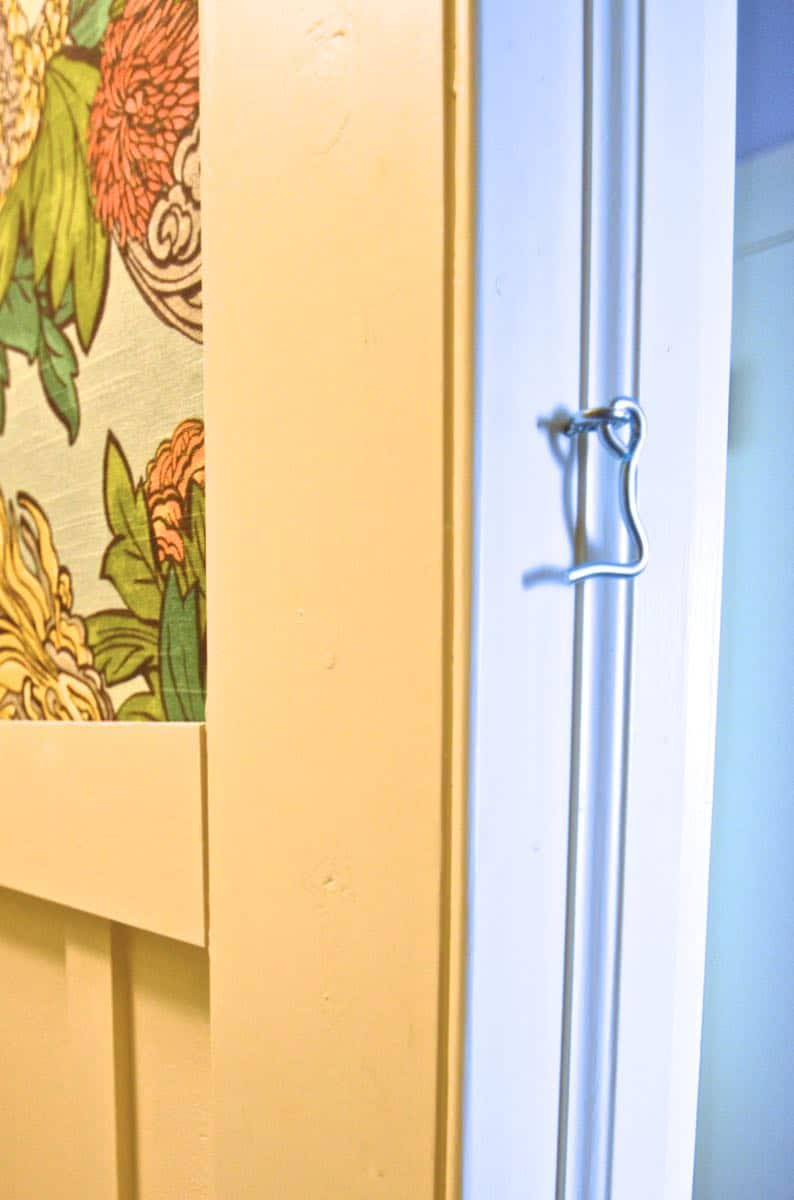 For a finishing touch, I found this fun vinyl label from etsy.  Like I said… locker room chic.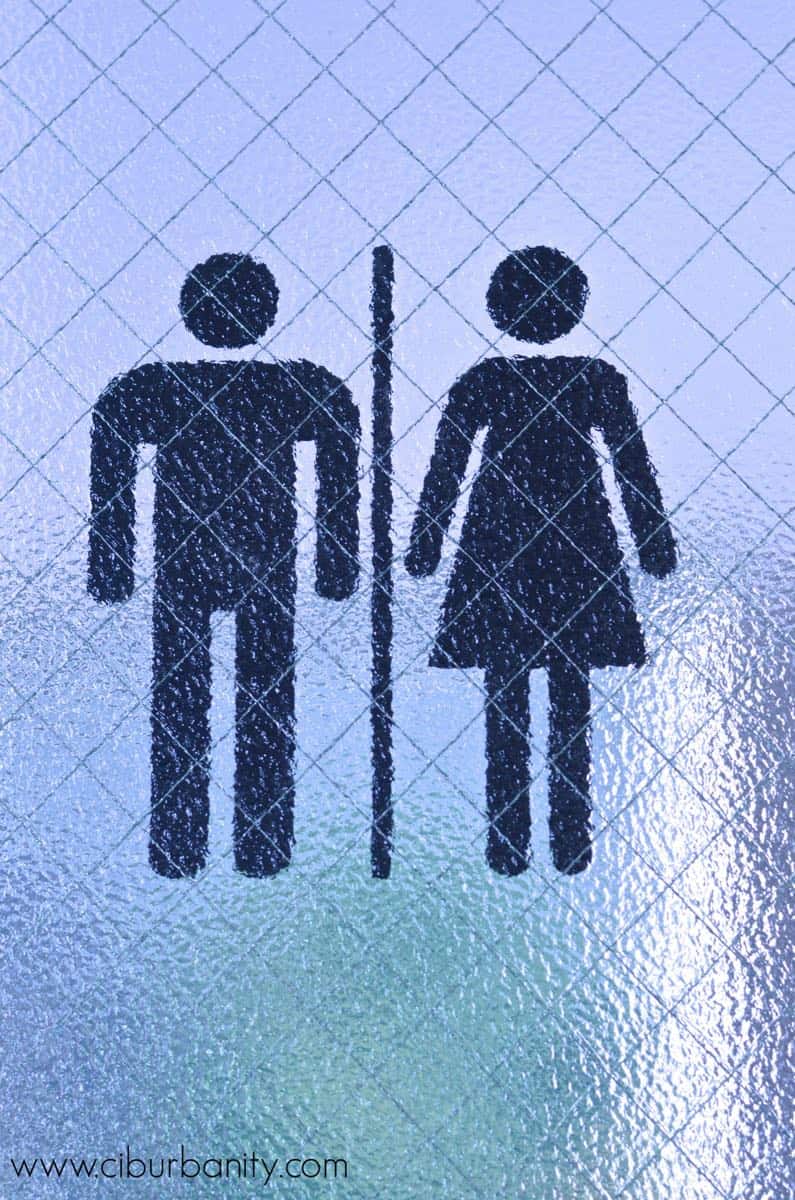 Not only does this new door look more fun but it makes the interior of the bathroom less like solitary confinement and brings in some natural light.  And that's a good thing.