The day has come. Whether #1 or #2, this room is for you. I've been taunting you with smaller details like the sink, the vanity, and the door, but today is the big reveal. Picture Ty Pennington with a megaphone screaming "MOVE THAT BUS!" Grab your reading material of choice, and come on in! (Or attempt to… this room is TINY.)
Oooohhhh. Ahhhhhh. Right?! Let's go back to the glory that was the 'before' of this powder room. Blue tiles. Blue sink. Blue toilet. Hollow door. And wallpaper I installed before I'd even started this blog, so it was showing my inexperience and peeling off in all SORTS of places.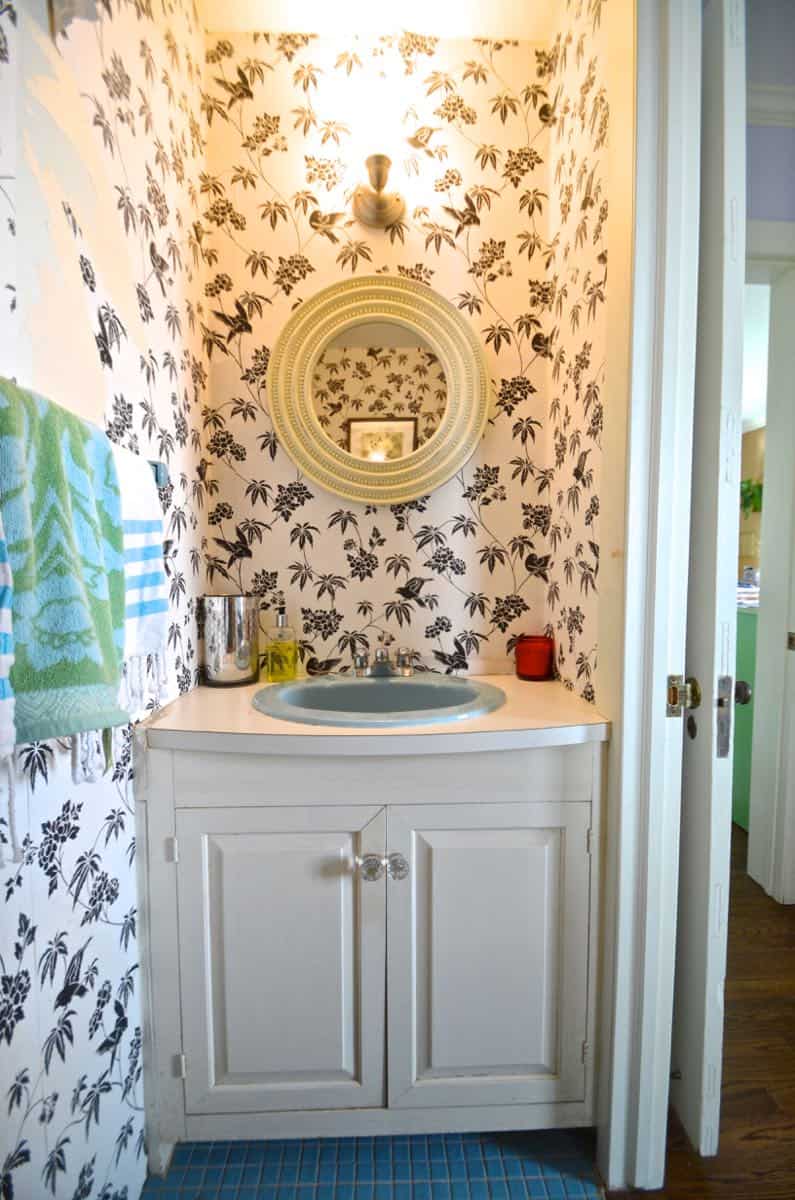 If you've been following along, then you know I replaced the tile with this amazing penny tile from Home Depot. I painted the sink and replaced the faucet and gave the counter a concrete facelift. And I painted the vanity.
The door was transformative and one of my FAVORITE parts of this makeover. I love the improved function of adding the glass panel and the whimsy of the sticker/ chicken wire. (Full tutorial here.)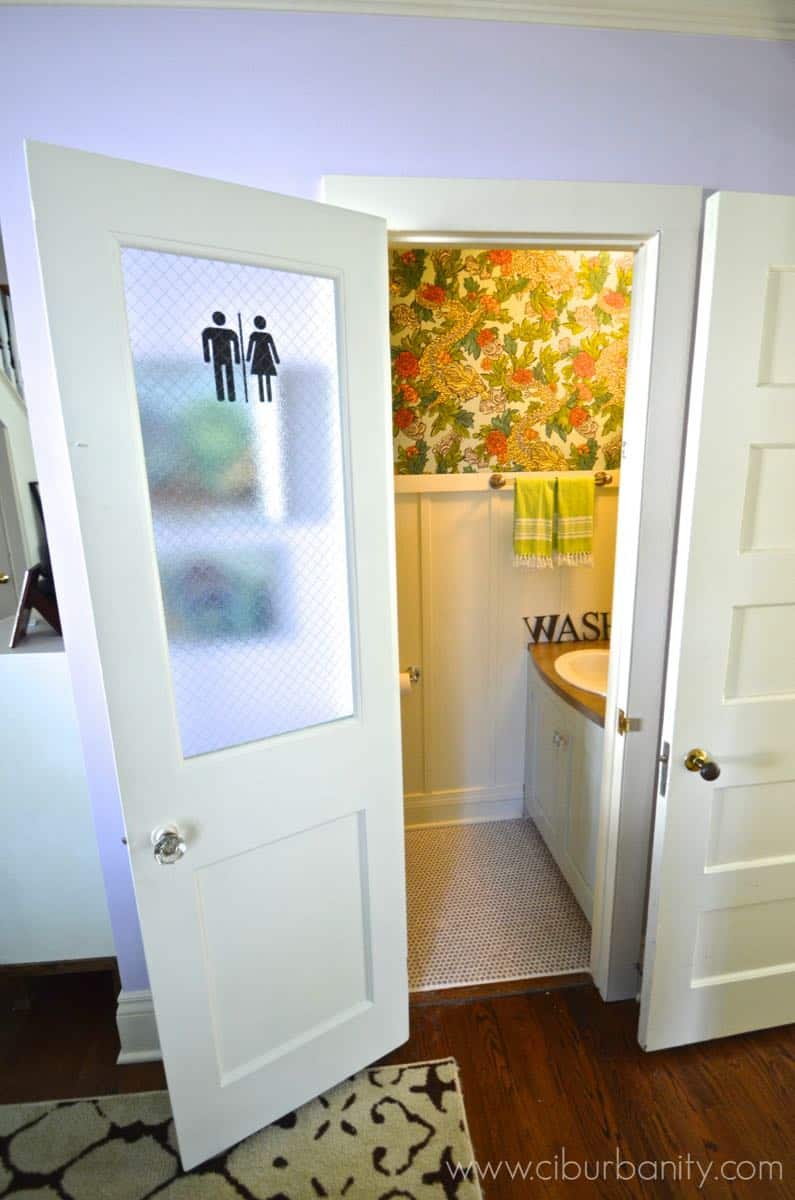 Here's what you HAVEN'T seen yet. The walls. I may or may not have had lunch in this room just so I could ogle the walls. Kidding… I didn't… I haven't sat down for lunch in years.
The walls are Robert Allen's Ming Dragon from the Online Fabric Store. Yep. They're FABRIC. Did y'all know you could put FABRIC on a wall?! Leave me a comment if you want more intel on the subject, but the quick and dirty is that you use liquid starch and a paint roller. The challenges? Cutting a straight clean line on the fabric, and lining up the pattern. You need to SATURATE your fabric for it to stick (and this is a heavier fabric suitable for upholstery so I suspect a dress or quilt weight cotton would be easier). Bottom line: an amazing substitute for wall paper with NO hassle to remove if you change your mind.
This fabric is busy. (And expensive enough that I didn't want to do the ENTIRE room…) So I installed this faux board and batten on the lower portion of the walls. I've never done a decorate wall treatment like this, but it was crazy easy. The drywall in this room is like Louisa's belly: not flat. Which was a challenge. But nothing 2 quarts of caulk couldn't fix… I followed tips from John and Sherry and used 1x3s and lathe with simple baseboards. The trim in the whole house is Benjamin Moore's Spanish White. It's not my first choice, but making a change is WAY more extensive than I've ever wanted to take on. So that's what I used in here for the board and batten.
The toilet is new and improved. I had to get the smallest one Home Depot had to offer because of the space, but it works great. Read this post to learn about swapping out a toilet. Don't be intimidated, because it's not as impossible as you'd think.
The ceiling got a fresh coat of Modern Master's metallic paint. (Custom mix of Warm Silver and Snowflake.) I toyed with changing that awful exhaust fan, but this one is old enough that it's about twice as big as the current ones… patching the ceiling and reworking ductwork was NOT in my wheelhouse, so I gave the cover a coat of white spray paint. Better. (Not great.)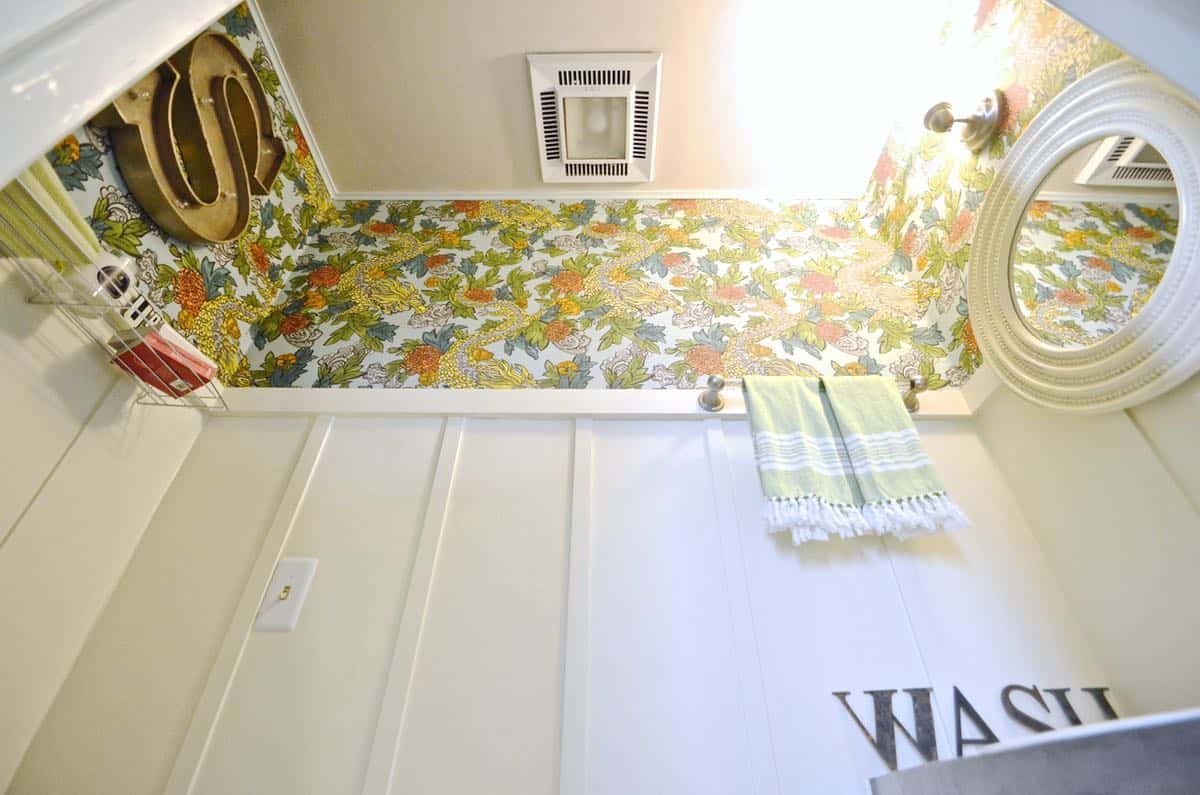 For styling, I reused the old mirror. It matched perfectly. The shelf was grabbed at the flea market and is intended for a peg board. But I loved that it was light an airy but could also hold the stray roll of toilet paper or some extra hand towels. (These pics are with my wide angle so some of them get a little distorted!)
The towel rod is nuts. It's glass and amazing and another flea market score. Ditto all the letters. I was going to hang the larger metal letters, but I wasn't sure how and I couldn't bear to hammer into the fabric after I spent the time to get it all nice and smooth.
The "S"? Oh, that 'S' was a gift from the Homegoods Gods. I had been chatting with my blogging besties about what to put up there to no avail. And then I saw it beckoning to me from across the Decorative Art aisle. It was originally an aged blue that wasn't awful, but wasn't quite the right color. So I painted it with the leftover MM Warm Silver and I think it works much better. It's battery powered and perfect.
Did I miss anything? The light fixture. That's old. We put this in a few years ago when we bought this house, so I didn't bother with it. That might be something I swap out down the line. Wanna hurt your eyes with the before pictures again?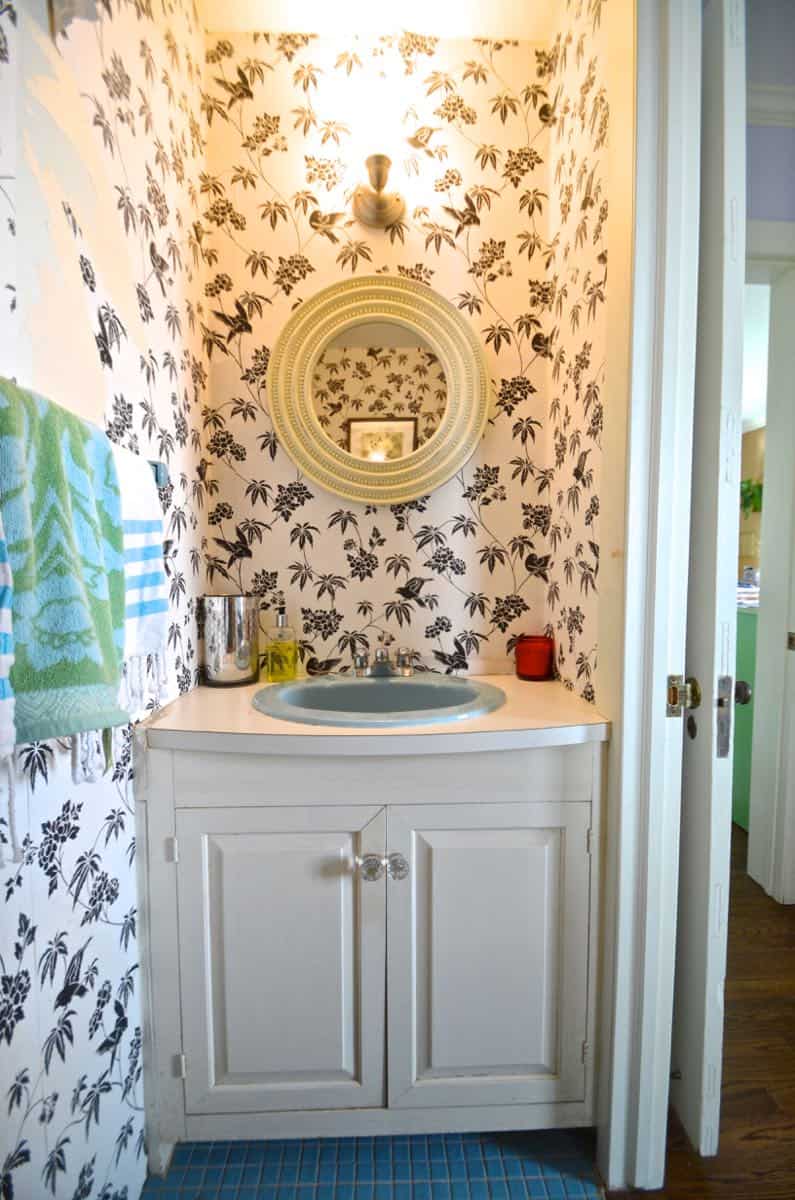 And after.
Cost? Not as much as you'd think for totally new bathroom. The fabric was the biggest expense at $23 a yard and the tiles were right around $125. The board and batten was maybe $25? Grout/ caulk/ paint/ thinset/ cement backer board… let's round up to $100 (and I have enough leftover to do 8 more bathrooms). The paint for the sink and the concrete for the vanity was another $40 (I also have a TON leftover). And I chose to replace the faucet with a $50 model. The toilet was $85. Oh, and the door was $75. Rough total= $640.