DIY Embossed Valentine's Towel
One of my lazy ways of 'decorating' for the season is to swap out my dishtowels or handtowels. These linens are seen every day and are a super easy thing to rearrange for a holiday! Case in point… my fun new embossed Valentine's tea towels!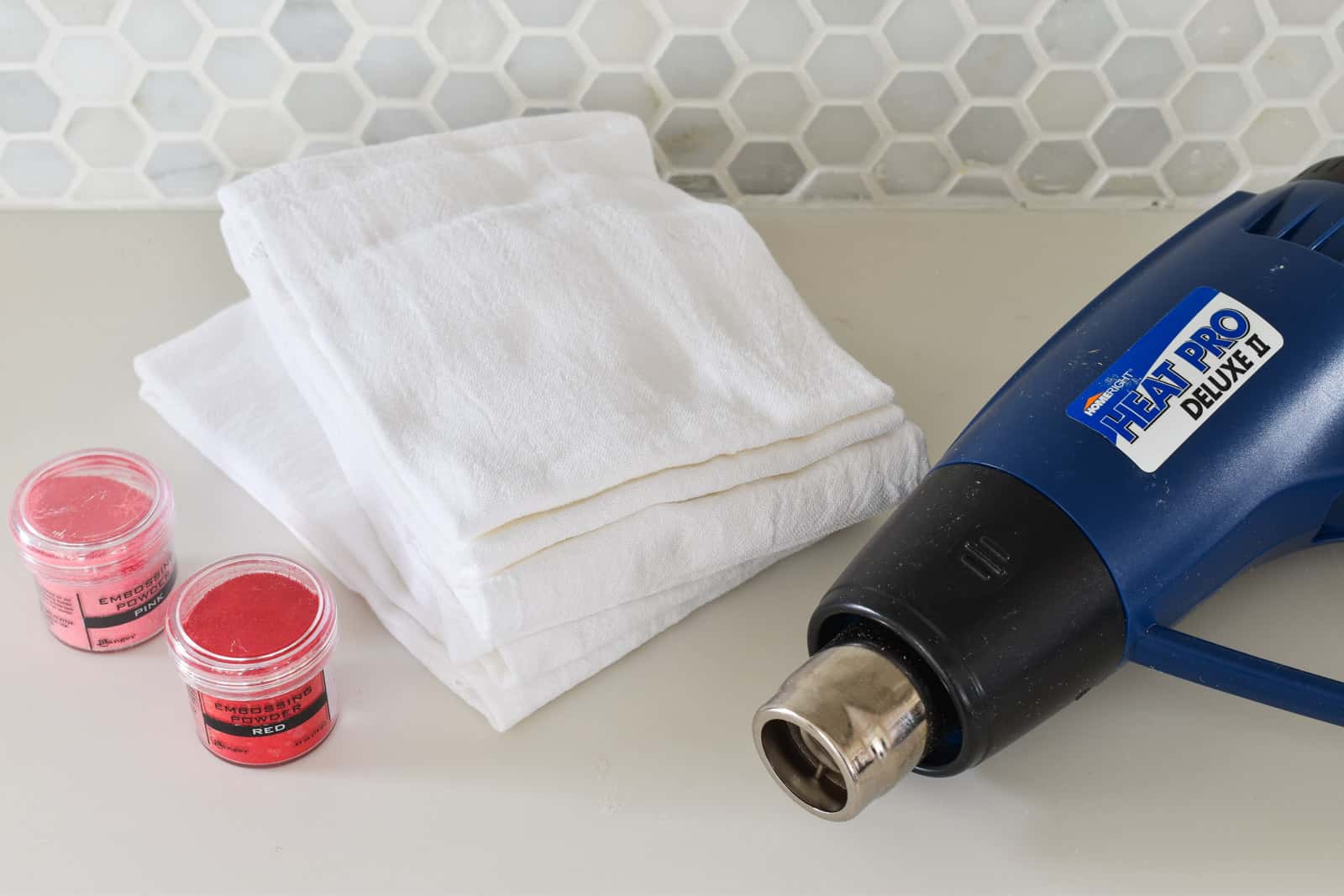 Disclosure: I'm thrilled to be partnering with HomeRight on this post. I'm using their Dual Temperature Heat Gun and it's a super fun project!
Step 1. Make a stencil out of adhesive vinyl
I found this fun design on the Cricut Design Space and downloaded it for 99¢. If you don't have a Cricut machine, then you'll need the same adhesive vinyl and an exacto knife. My Cricut cut out the design and all I had to do was use transfer paper to adhere it to my flour sack towel.
Before transferring, I pulled off the negative space of the stencil where I wanted the embossing powder to be.
Cut out a piece of transfer paper and remove the backing paper. Place on top of the stencil.
Step 2. Place stencil
I used a ruler to make sure my design was in the same place on each cloth. Peel off the backing paper on the stencil and stick it onto the dish towel. Smooth out the stencil and then remove the transfer paper.
Step 3. Mod Podge
With a sponge brush, stipple mod podge across the stencil. Because the grain sack is so thin, place a paper towel underneath it to protect the work surface.
Step 4. Sprinkle Embossing Powder
Gently sprinkle the embossing powder onto the stencil. Tap the powder into the Mod Podge lightly to make sure it's set into the adhesive. Shake off the excess powder and carefully remove the stencil leaving behind your design covered with embossing powder.
Step 5. Heat Heat, Baby
I played around with the temperature and ultimately found that hotter was better. The heat gun heats up immediately and is super easy to control. My flour sack cloths were so thin, that I had to keep the heat gun moving to prevent browning the fabric. With the heat gun about 8 inches from the fabric, I moved it back and forth over the stencil. You can see the embossing powder melting and it's super satisfying… look for slight bubbling and for the design to turn 'shiny'.
Done. That's it. I haven't washed these specific towels yet, but I've embossed beach towels and laundered them a ton and the embossing stays put even when put through the dryer.
Materials:
(Affiliate links included for your convenience.)
If you want to see how it all came together, check out the tutorial on YouTube. While you're there, don't forget to subscribe to my channel!