Updating Our 70s Kitchen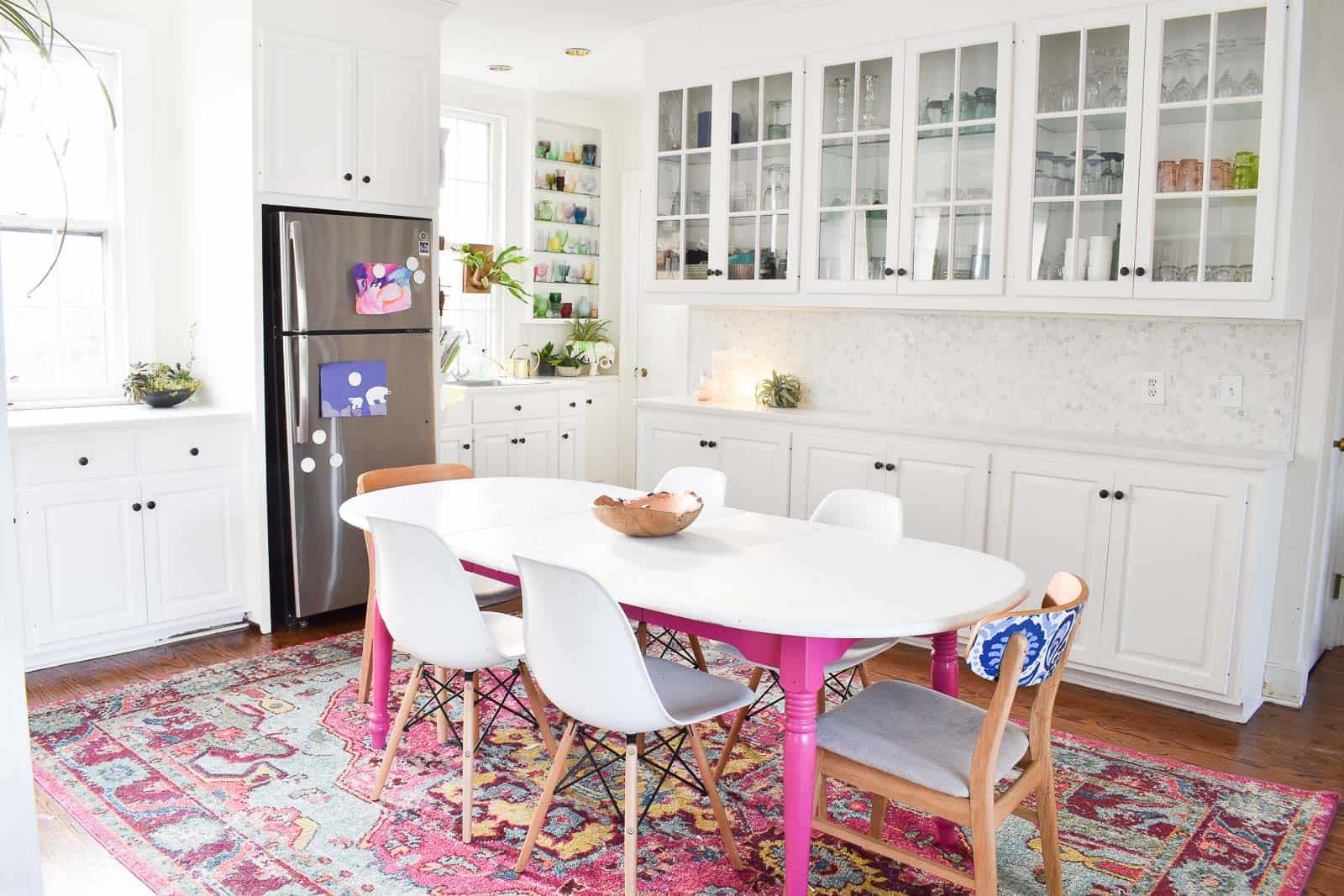 Disclosure: I am SO grateful to GE Appliances, Liberty Hardware and The Home Depot for sending me products to make this kitchen update a reality. Like , so so grateful. Opinions and 21st century images are all my own!
Frankly I'm surprised I didn't share this with you at 4:30 in the morning the day I finished taking the pictures! But self control is clearly my super power so today's the day. Feast your eyes on our new and improved renovation-free KITCHEN!
Let's back it up to when we first moved in. The remarkable color of the walls… the unmistakeable green tone of the floors… the dated pine cabinets… fruit and vegetables on the backsplash.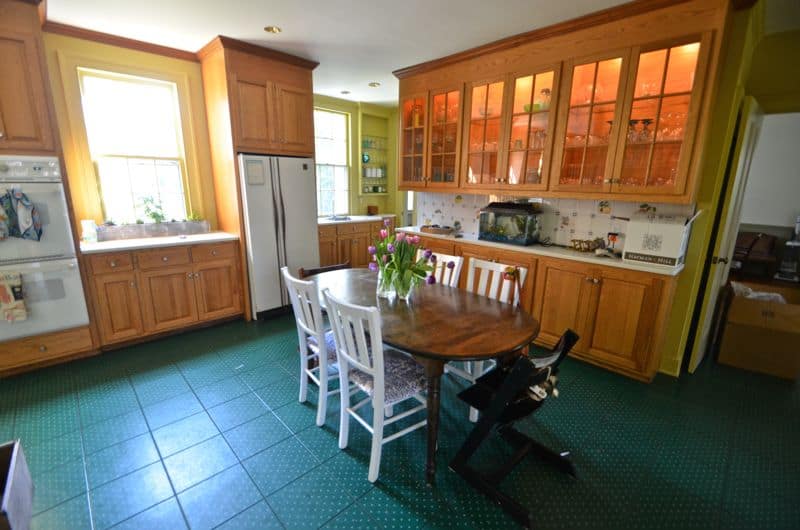 A full kitchen renovation was never in our budget and, honestly, I don't mind the layout. I love having the working part of the kitchen tucked away a bit from the site lines of the family room. The open area is plenty big enough for a table around which we can all sit, there's great counter space, great storage… so the aesthetics were really the biggest problem.
Lighten and Brighten
This summer we had our painter paint the cabinets, then I replaced the backsplash, and then we pulled up the green floor tile and put in the same hardwood that was in the rest of the room. New hardware and a couple of new appliances and that, my friends, is how we do that!
You've already seen the backsplash here. The smaller hexagon tiles are much more contemporary and stylish and I LOVE how it gives the space a little neutral depth. It's not perfect, but… my eyes don't zero in on the imperfections quite as much as they used to.
I'm SO grateful to Liberty Hardware for providing me with knew knobs… when I chose those black hexagons, I had no idea that I would echo that shape with my tile selection. I mean, I chose them both so I guess it's not a huge shock, but I didn't do it intentionally! The black knobs bring a clean modernity to the space that I love. There was nothing wrong with the old silver knobs, but swapping out the hardware always changes the mood of a space and I love these new ones.
Modern Additions: Updated Kitchen Appliances
Last but certainly not least… I owe the folks at GE bed in breakfast for a year! They provided us with a new fridge and a new dishwasher both of which make the whole room feel like it belongs in the 21st century! When we bought the house, there were already two refrigerators in the kitchen and that's been a handy feature for our family of seven. We had to replace one right when we moved in and landed on the GE Monogram. When the second one started misbehaving, I reached out to GE Appliances who provided me with this smaller one that fits the space perfectly.
As for the dishwasher? I'm mildly obsessed. Say tuned for a post on all the things you're screwing up with your dishwasher… I maybe kind of was. GE Appliances sent us this cafe model to better coordinate with the monogram fridge handle and it's whisper quiet and has a setting for everything. It fits allllllll the things and looks so so so pretty.
It's In the Details: Colors and Furniture
What else? I shared that fun makeover I did on our chairs a few months ago. They're in perfect shape (except for a few footprints on the seats) and I love the surprise pop of pattern on the back. That table was $70 on Craigslist. I used my favorite glossy paint on the top and then gave the legs a fun coat of pink paint to match the rug.
I'm still not great at it, but I'm trying SO hard to keep the counters clear in here. I made those marble canisters for  coffee grinds and reusable keurig pods.  Our command center is still getting HEAVY use and I added a round tray to the counter to help corral the rest.
Undoubtedly some folks would walk in and balk at our kitchen because it doesn't have sleek new countertops or updated modern cabinets or a temperature controlled peanut butter drawer. Granted I've never lived in an updated kitchen, but this space is proof that paint, finishes, and some accessories can make a room feel completely new and improved without demolishing things down to the studs.
I cannot thank my friends at GE Appliances, Liberty Hardware and The Home Depot enough for helping to get this kitchen over the 21st century finish line…. Just a reminder of how bad things were, here's the before again:
And the beloved AFTER:
Another…
And After…
Last one! Promise… nothing like seeing that yellow burned into your brain one last time, huh?!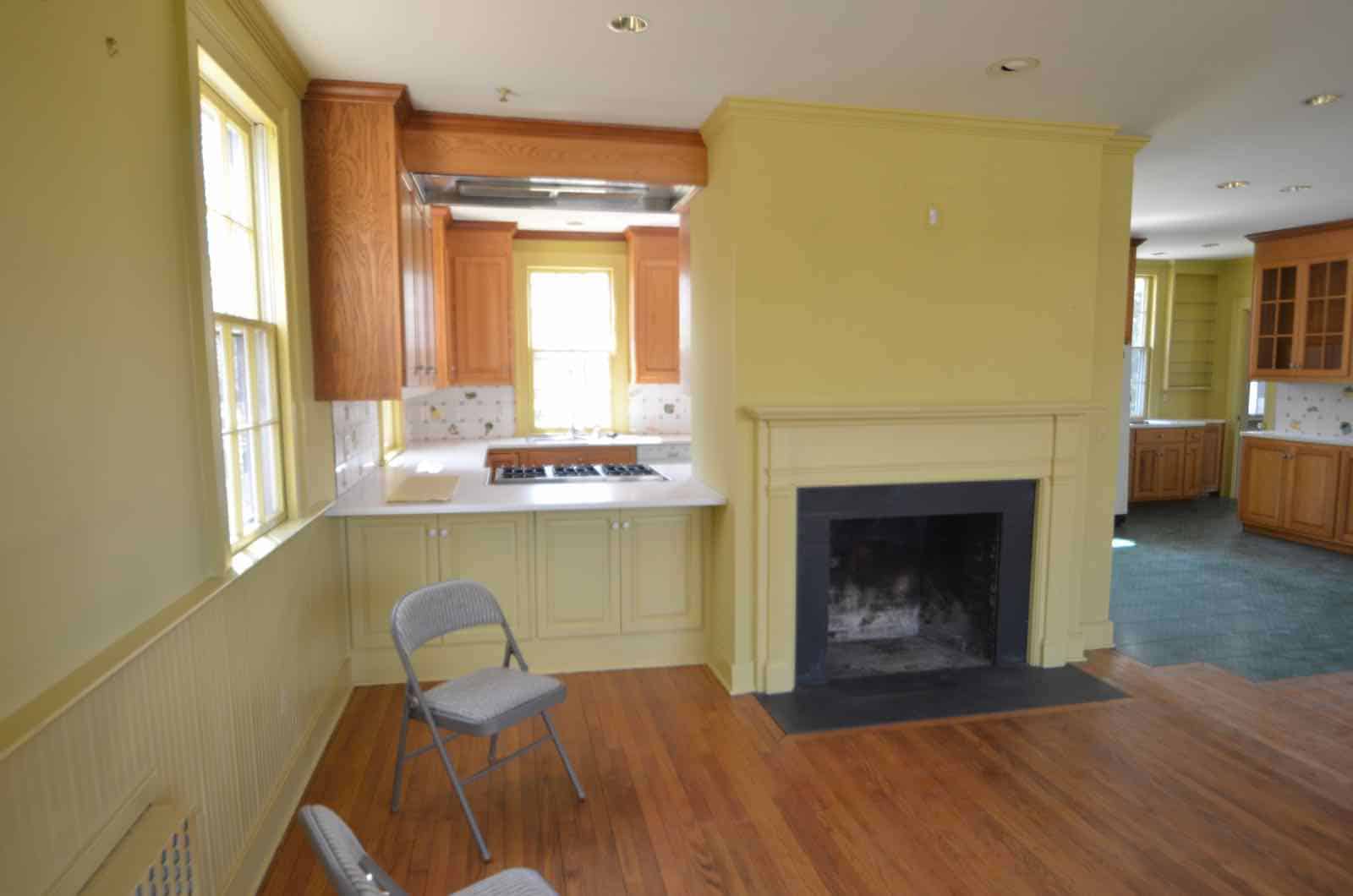 I swear it's the same space. I swear we didn't do any major construction. The biggest project was replacing that green tile with hardwood floors (we had someone else do that!). Smoke and mirrors I tell ya! If you want to shop similar items from this space, click the images below… I tried to gather up all the things I used to update our dated kitchen!



Looking back through all the rooms when we first saw the house makes me want to share a before/ after post with you so keep an eye out for that. It's AMAZING what some elbow grease and new vision can do to a house.