What You Need to Know Before You Visit the Wizarding World of Harry Potter
Psssst… this post *might* contain affiliate links: see my disclosure here.
Everything You Need to Know About the Wizarding World of Harry Potter
A couple of weeks ago, we surprised Eleanor with a trip to Harry Potter World in Orlando for her 10th birthday. After two days scouring Hogsmeade and Diagon Alley, we discovered lots of tips and tricks for navigating the theme park.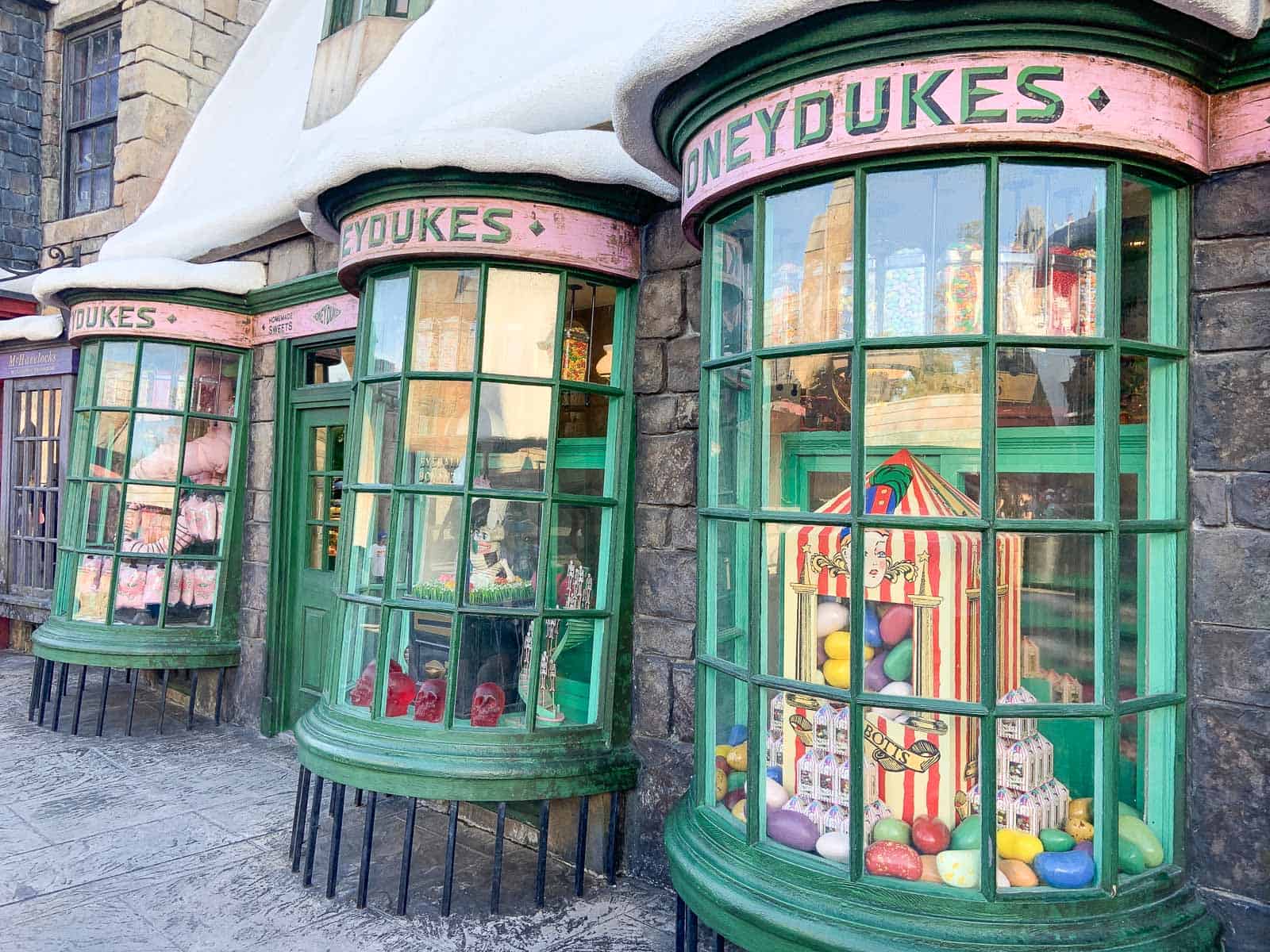 The Basics
First things first, Universal Studios is NOT Disney. I was a little foggy on that fact so figured I'd throw it out there. Universal Studios consists of two separate but adjacent parks: Universal Studios and Islands of Adventure. Hogwarts Castle and Hogsmeade is in Islands of Adventure and Diagon Alley is at Universal Studios. Naturally… you have to pay extra to have access to both.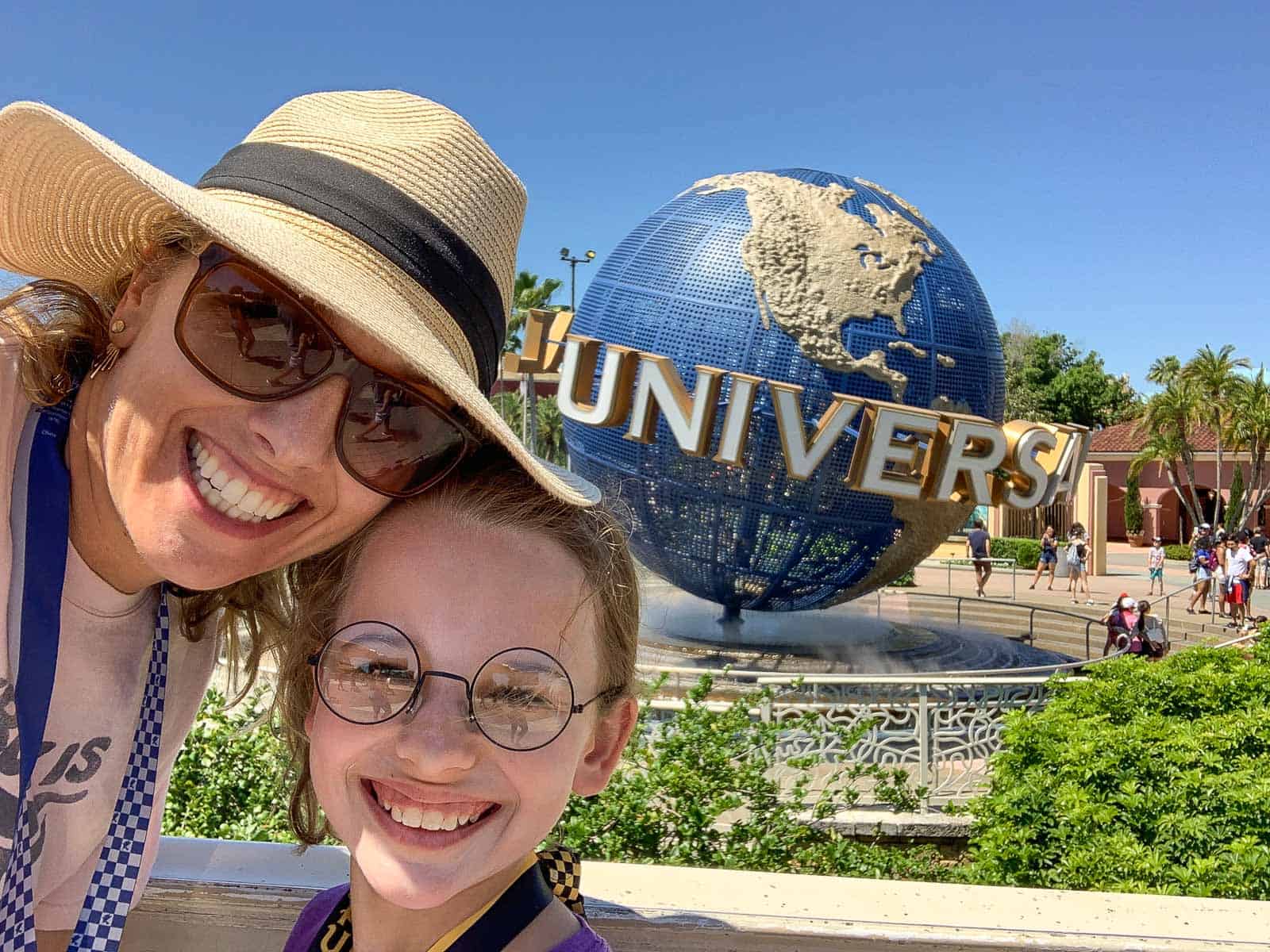 We were there for essentially 2 full days and it was MORE than enough time to really experience Harry Potter World. Eleanor probably could have stayed for a month, but in our 2 half days and 1 full day, we rode all 4 rides associated with Harry Potter and walked every inch of both Hogsmeade and Diagon Alley.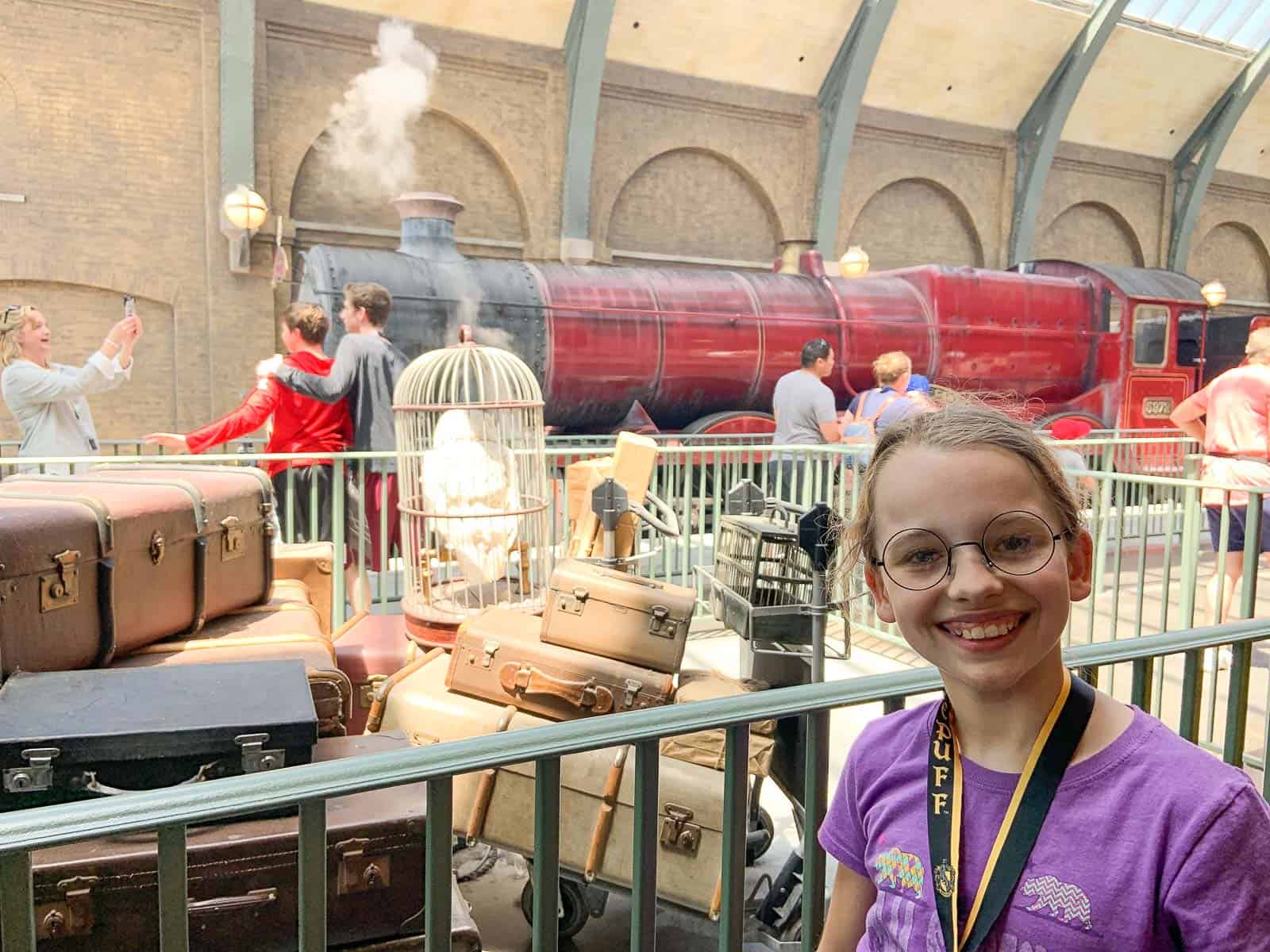 Logistics
Universal has a handful of hotels that are considered 'on site.' We were staying at one of them, Sapphire Falls. There were a couple of restaurants in the hotel, a large pool, movie night for the kids, an arcade, and probably lots more that we didn't get to know. The best part about staying 'on site' is that you get admission to the park 1 hour before everyone else. Obviously there are plenty of people staying at these hotels, but it was still VERY quiet in Harry Potter World for the first hour both days which was really nice. The hotels are a quick 10 minute walk to the park OR they all have sweet shuttle boats that leave every 10-20 minutes. We ended up walking to the park in the morning to avoid the lines at the ferry boats, but took a boat home every day.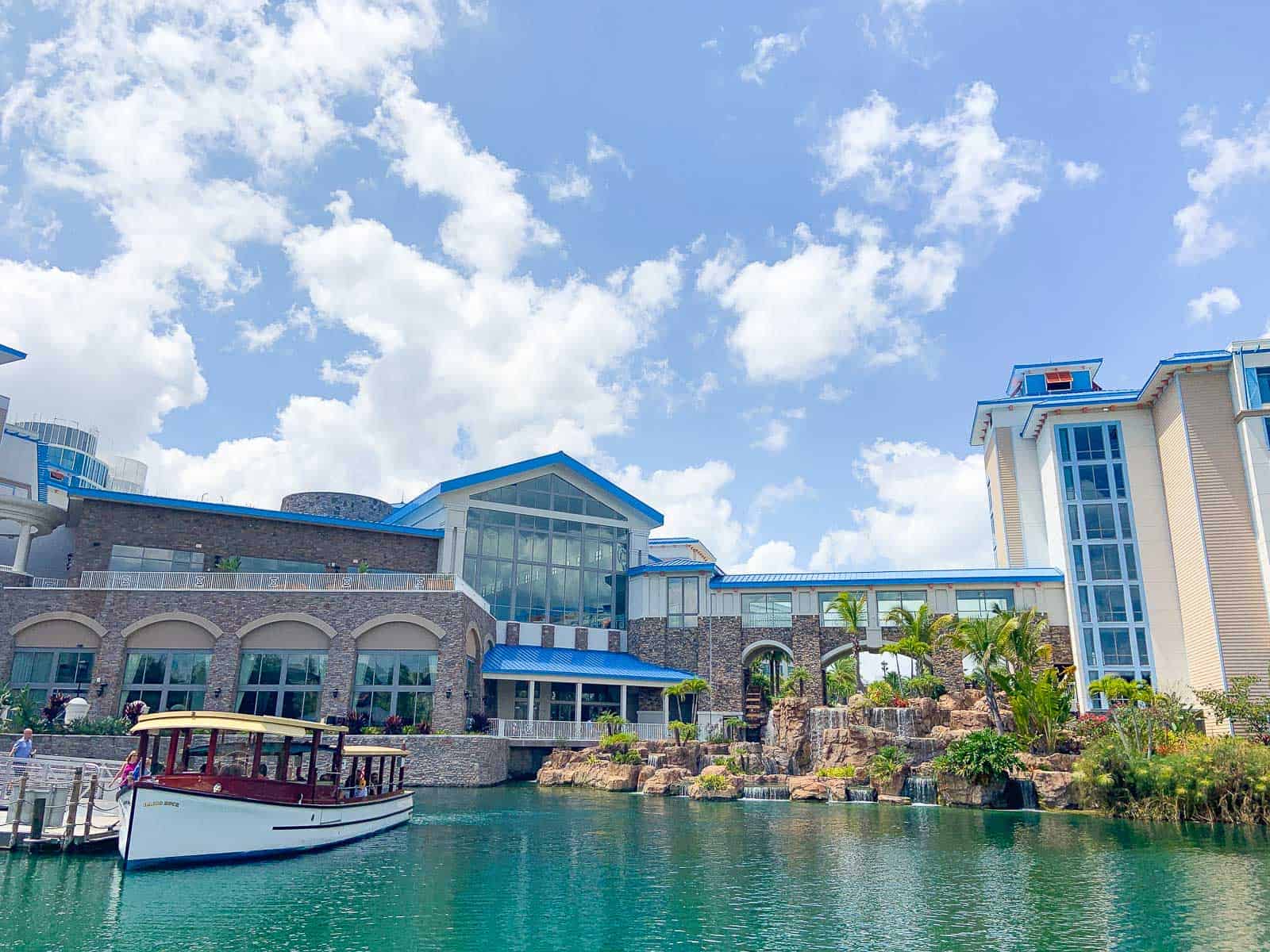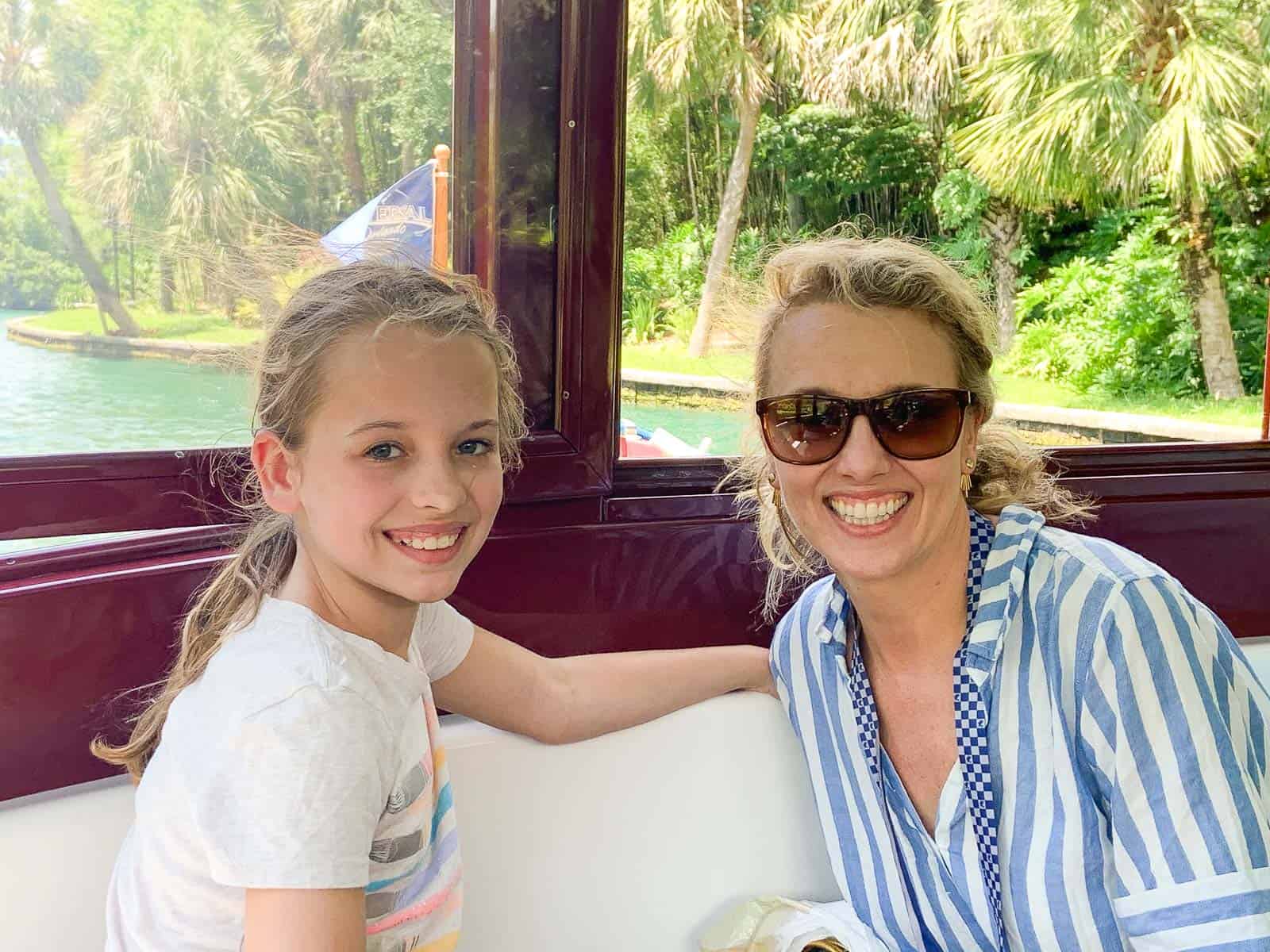 Park Rides
I'm a theme park newbie so this may be obvious intel, but… the lines at these parks can be INSANE. There is an estimated wait time posted at the end of each ride which was SUPER helpful, but you can also purchase an express pass which allows you to cut the line in half (typically). Our package gave us unlimited express passes, but there's another tier that allows you one express pass per ride each day. Honestly? I can't imagine taking on the park withOUT an express pass. The rides that we went on were amazing, but they were also like 3 minutes long. Waiting for TWO HOURS to ride something for 3 minutes feels insane. The nice thing about the Harry Potter rides, specifically (with the exception of the Hippogriff one) is that there are definitely fun things to see and enjoy while you're on line winding through the castle or Gringotts Bank. Update: I gather the wait times vary according to the season, so keep this in mind if you're visiting during the 'off' season.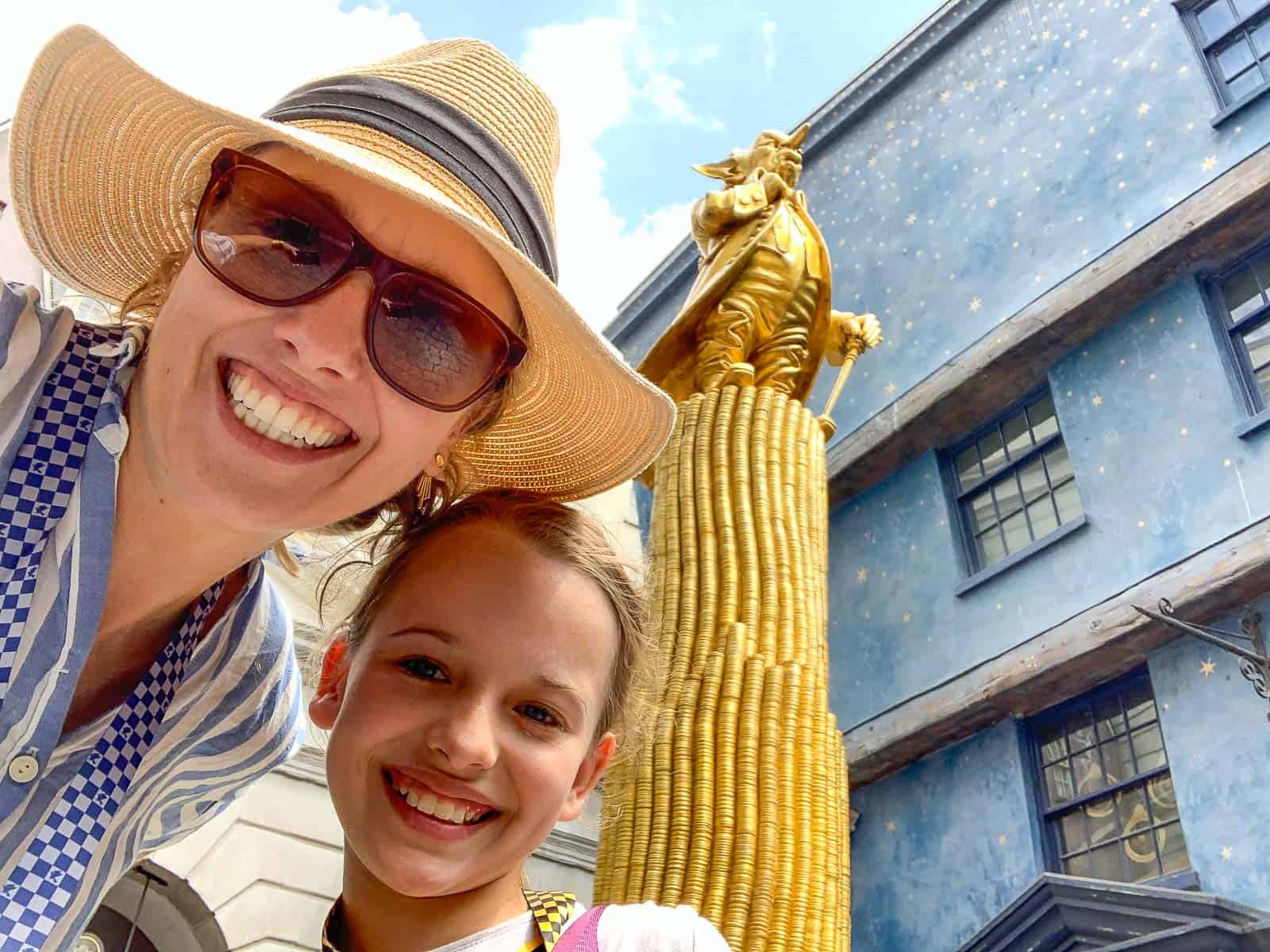 If you have a smaller/ younger child… double check the ride parameters… most of the rides at Universal have height limits so you wouldn't want to book your trip and then realize your child is too small for all the rides.
Many of the rides will require you to check your luggage. I wore a fanny sack with a secure buckle and was able to keep this on the entire time which was a big help/ time saver. I suspect shoes like flip flops would be an issue too so consider footwear, floppy hats, etc. when you head into the park!
There are only 4 rides in Harry Potter World: Escape from Escape from Gringotts, Hogwarts Castle (Harry Potter and the Forbidden Journey), Flight of the Hippogriff, and the Hogwarts Express (this train ride is how Universal Studios connects to Islands of Adventure so you can't go on this ride unless you have a ticket to both parks).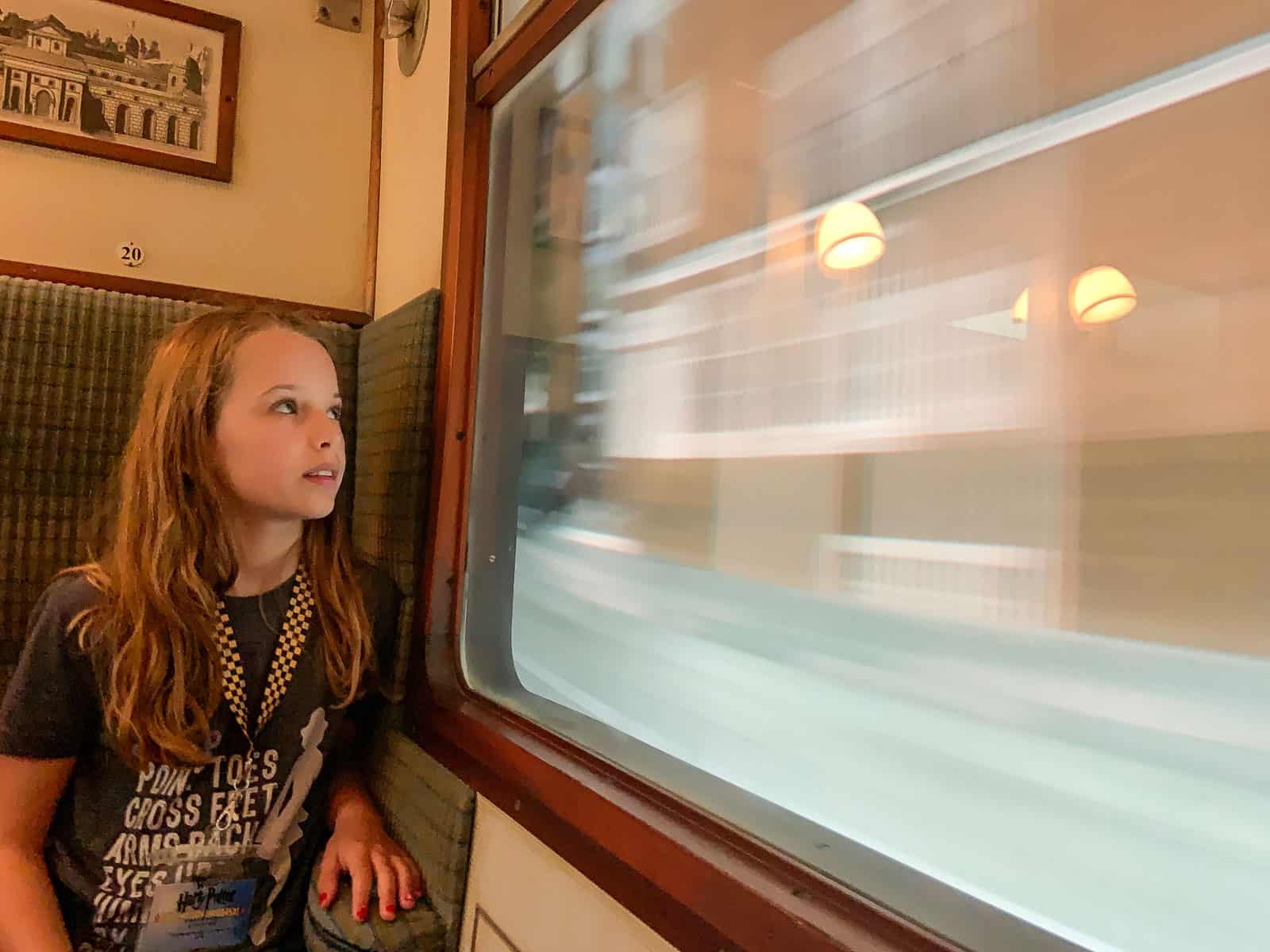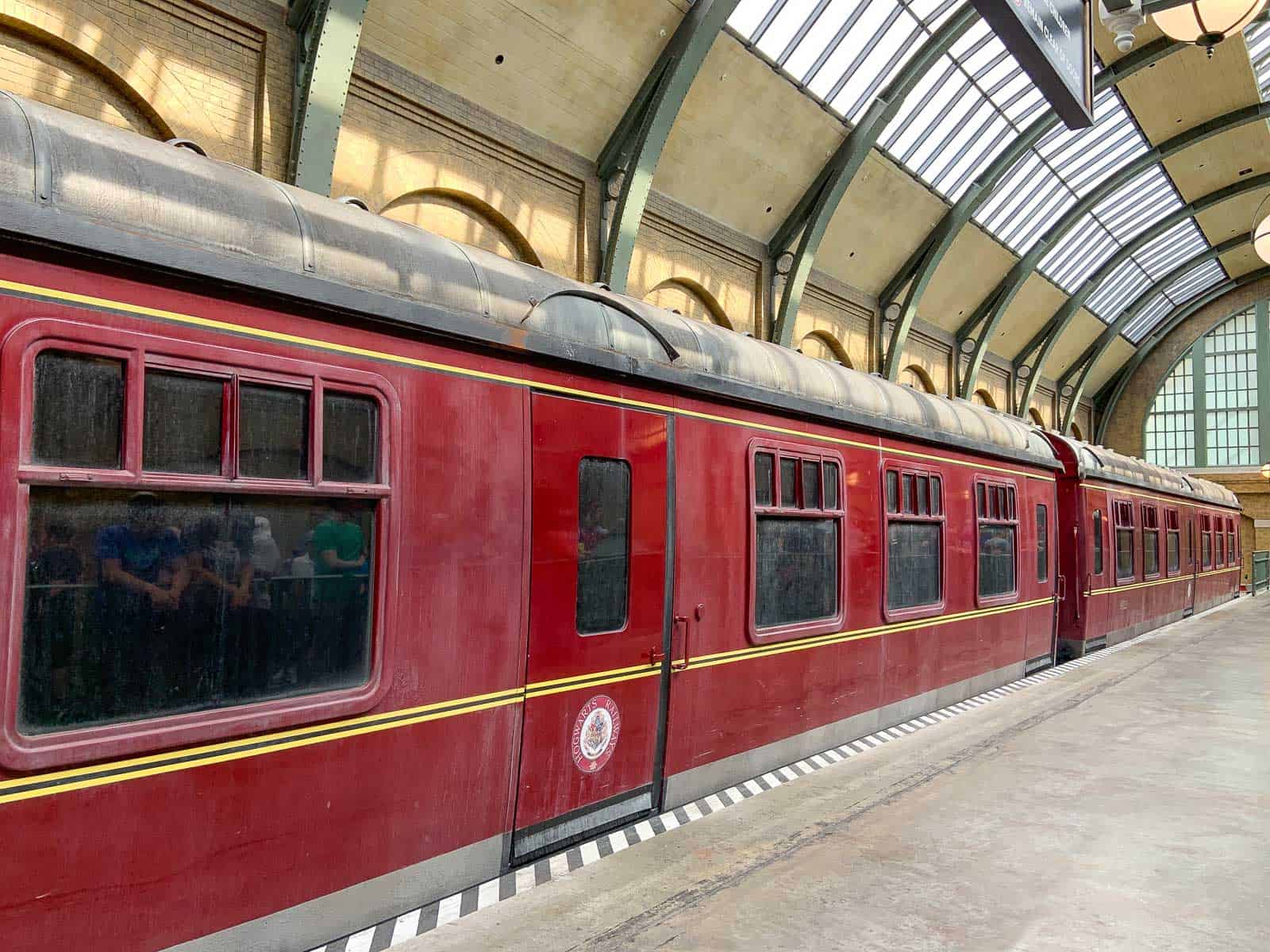 We did every ride once, and some rides more than once. The Hogwarts Express is super fun, but it's definitely a glorified Harry Pottered train ride. Flight of the Hippogriff is a classic roller coaster, but definitely geared towards a younger rider. Both Escape from Gringotts Bank and Harry Potter and the Forbidden Journey are an amazing combination of 4D technology and animatronic special effects. If you're prone to motion sickness, these rides definitely give the sensation of moving all around, but both of us loved all the rides and went on these two more than once!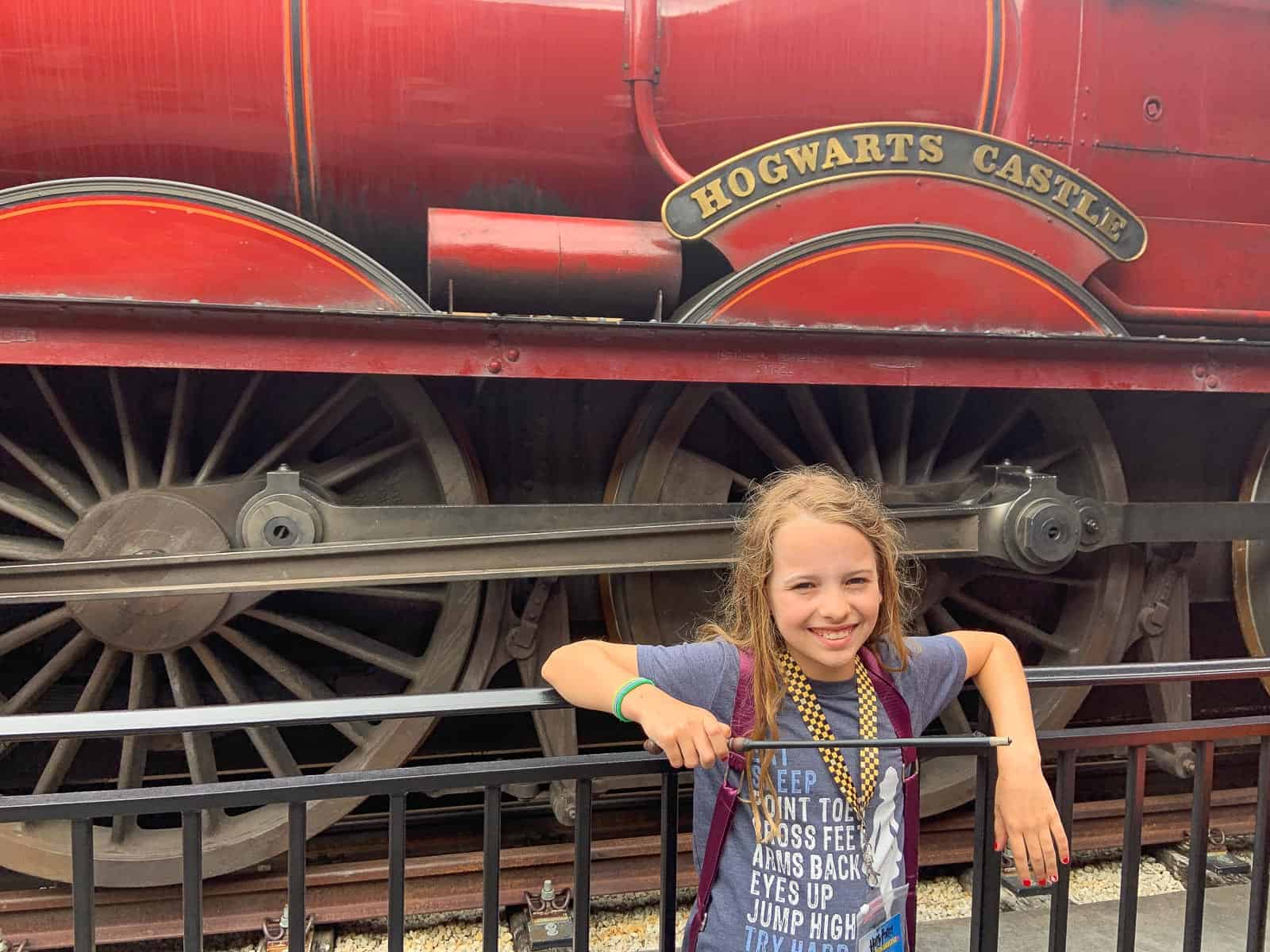 Harry Potter Experiences in Both Parks
Ollivander's Wand Shop.
We purchased one of the interactive wands ($50) and it was one of the most special aspects of the trip.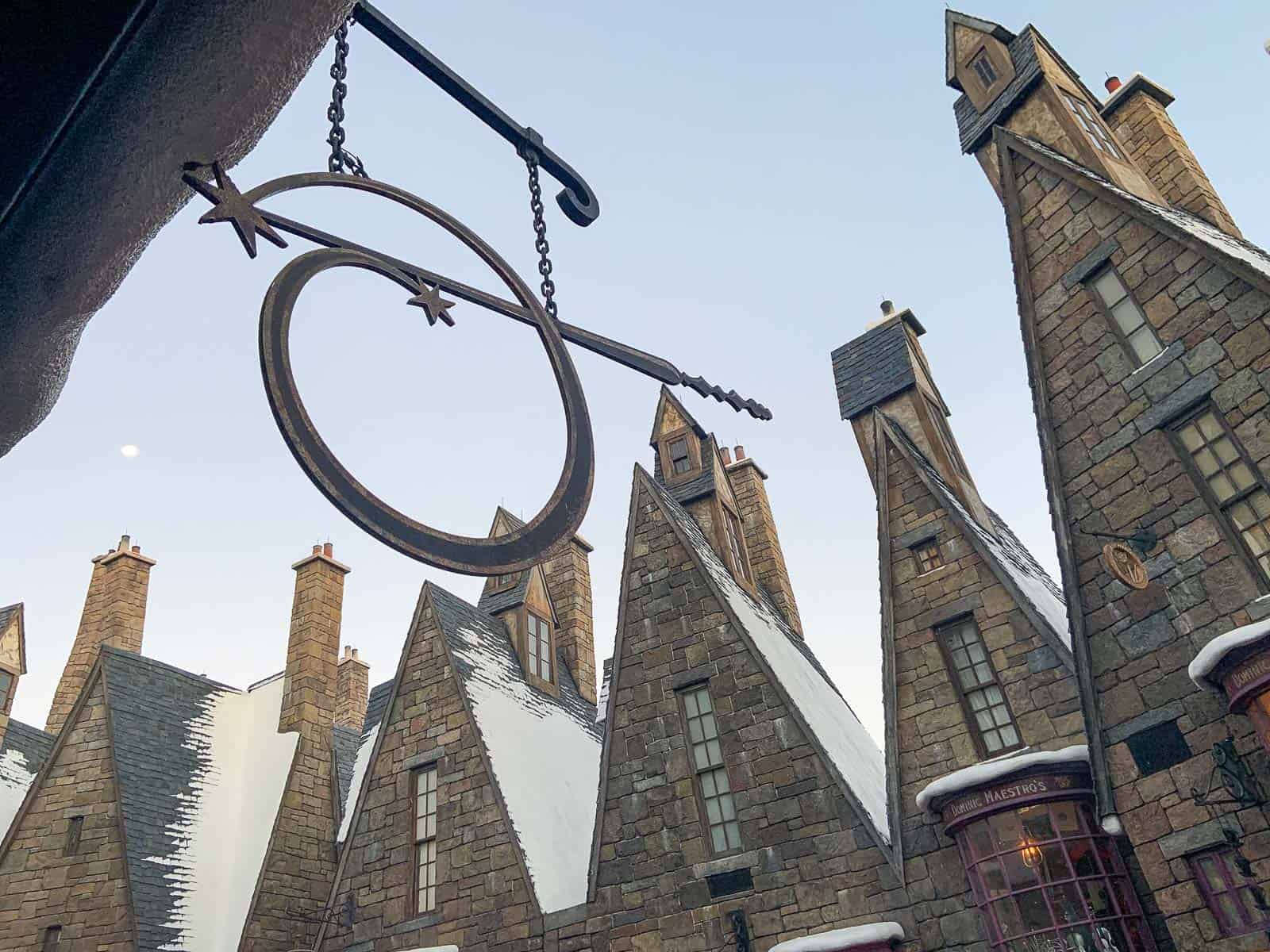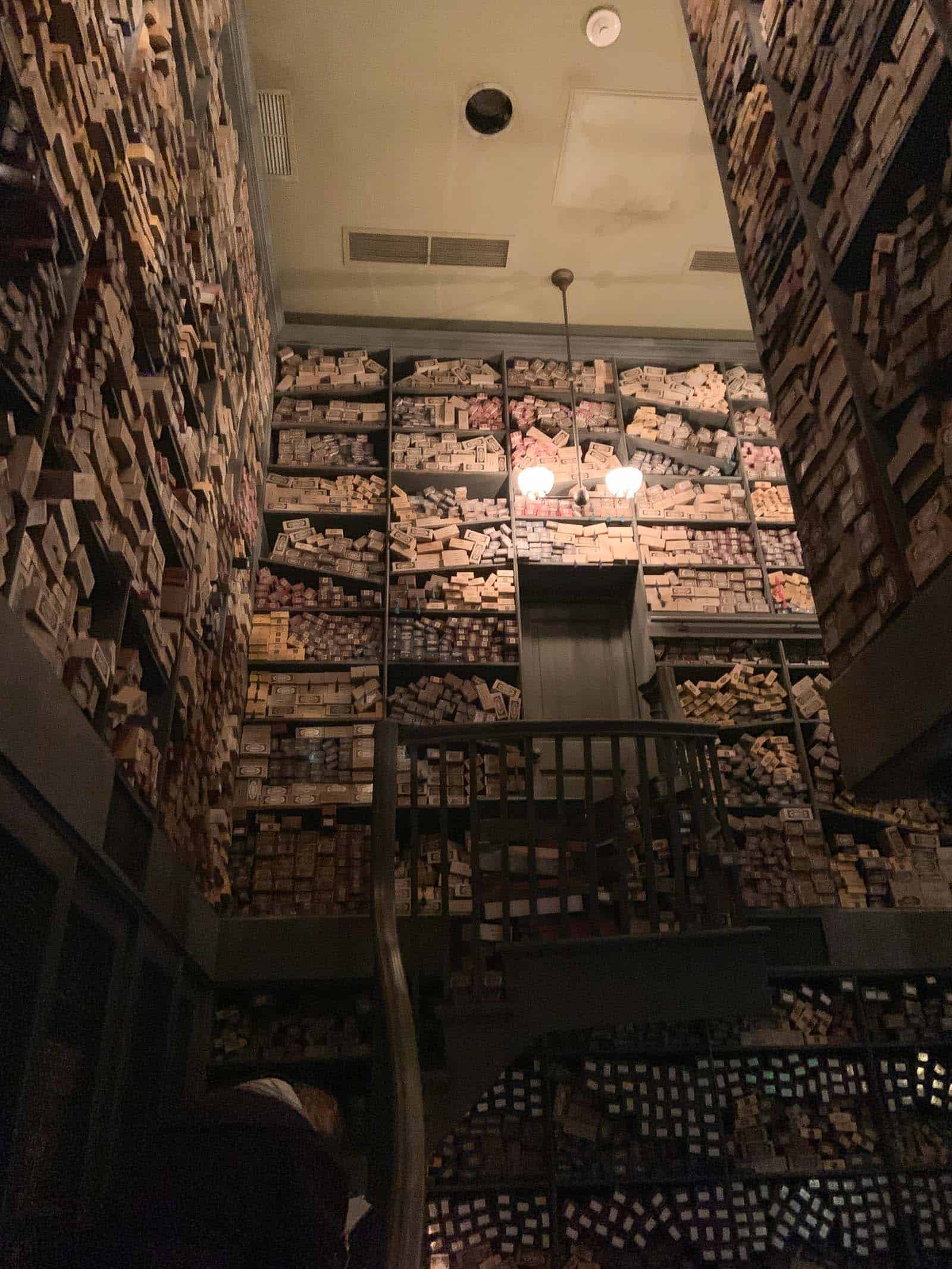 Embedded in the cobblestones around both Hogsmeade and Diagon Alley are brass plaques with instructions for 'casting a spell' on the shop window above. When you stand on the plaque and move your wand as directed, something in the window will move or tip or spray or squeak. The wand comes with a map so you can keep track of all the magic windows so we spent time both days making sure Eleanor had cast her spell on every possible display.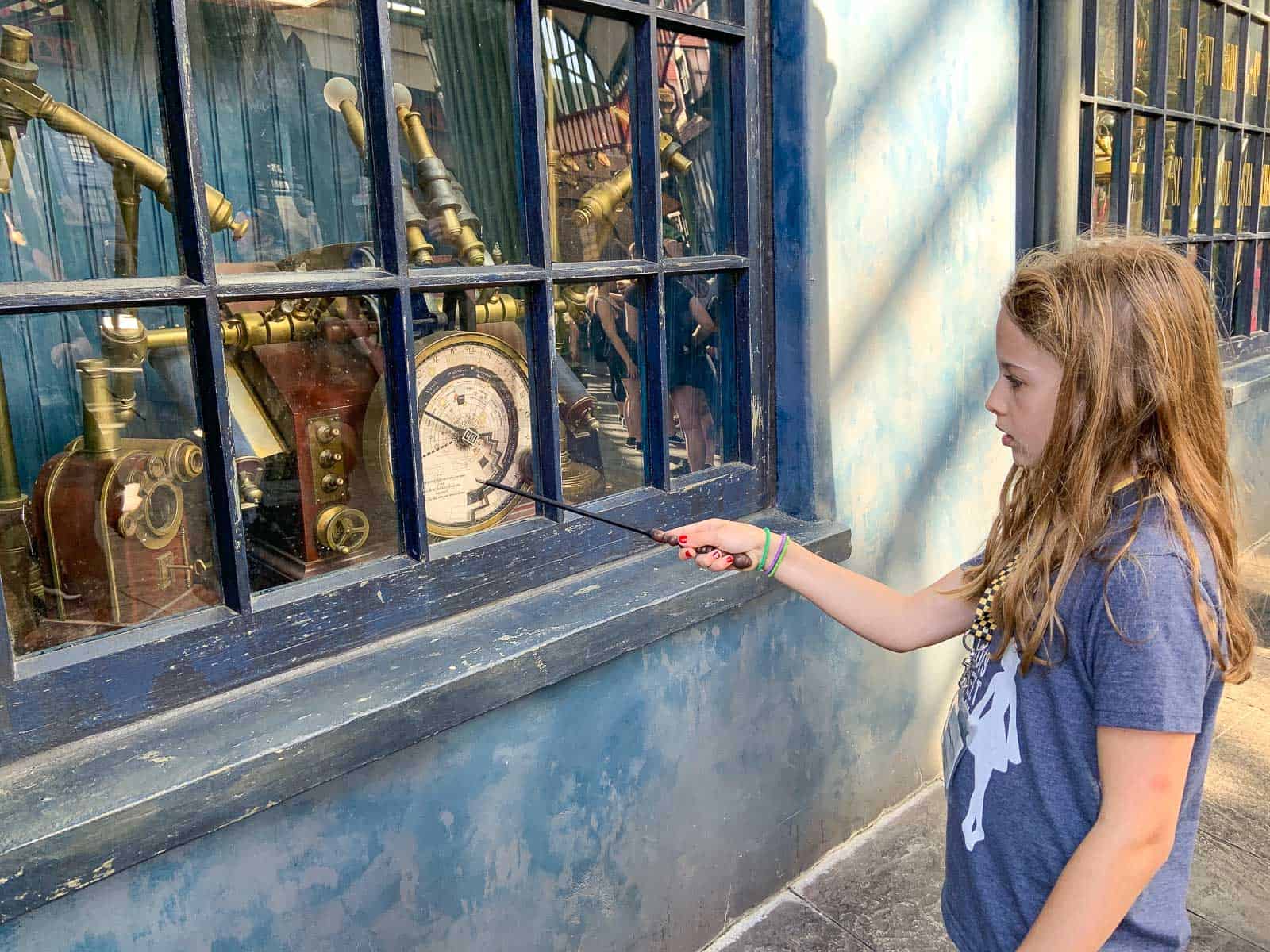 In addition, there is a short 10 minute show in Ollivander's wand shop (there's one at both locations- Hogsmeade and Diagon Alley) that we loved. Just like the real Harry Potter, the wand chooses the wizard… in the wand shop, Ollivander will choose a member of the small audience and select a special wand. Eleanor had already purchased her wand, so as we were leaving the wand shop, Ollivander stopped to make sure Eleanor's wand was suitable for her. Can you feel the wonder in her eyes??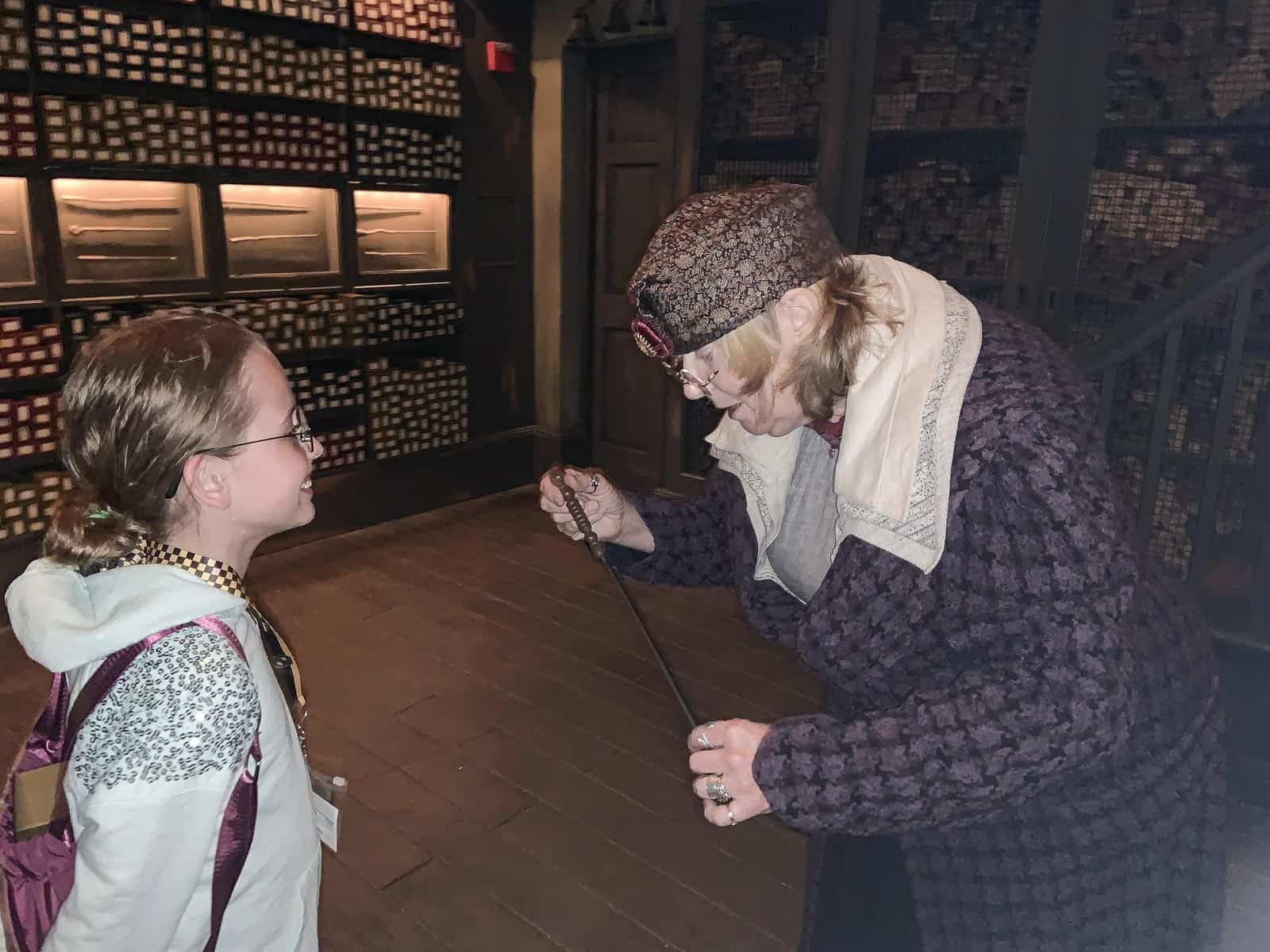 Performances:
There are a handful of public performances at both Harry Potter locations throughout the day. We stumbled into all four of them so we sat to enjoy, but it didn't seem like something anyone was actively waiting for. They were all adorable and included the Hogwarts Frog choir singing, Triwizard Spirit Rally, Celestina Warbeck and the Banshees and a performance of the Tales of Beedle the Bard.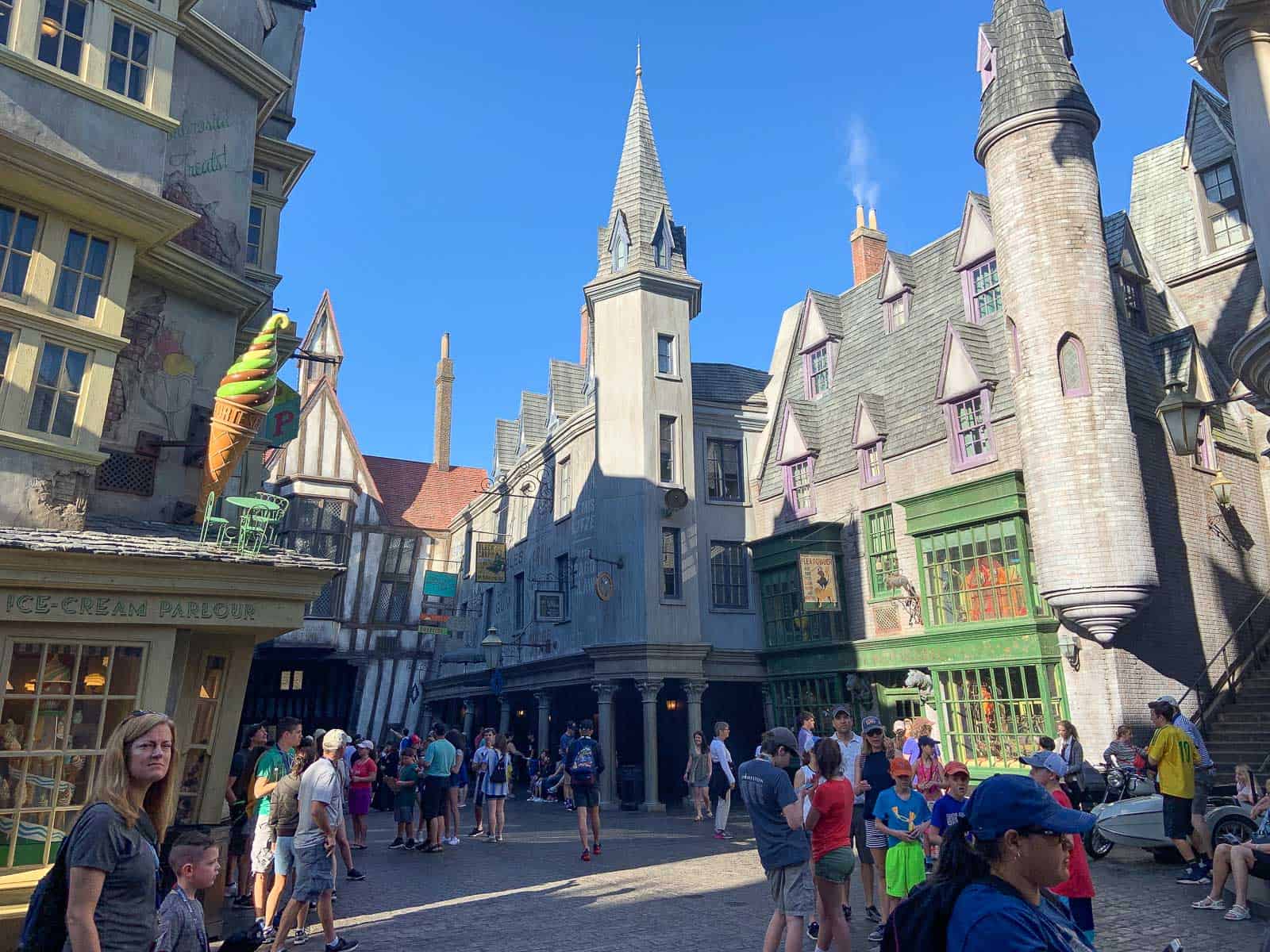 Experiences at Diagon Alley
Ministry of Magic
Before entering Diagon Alley, you will notice the red phone booth that the wizards use to go to the Ministry of Magic. If you dial 62442 (MAGIC), you can hear a secret message from the ministry. (Be prepared… it's a rotary phone so children will be confused. Haha.)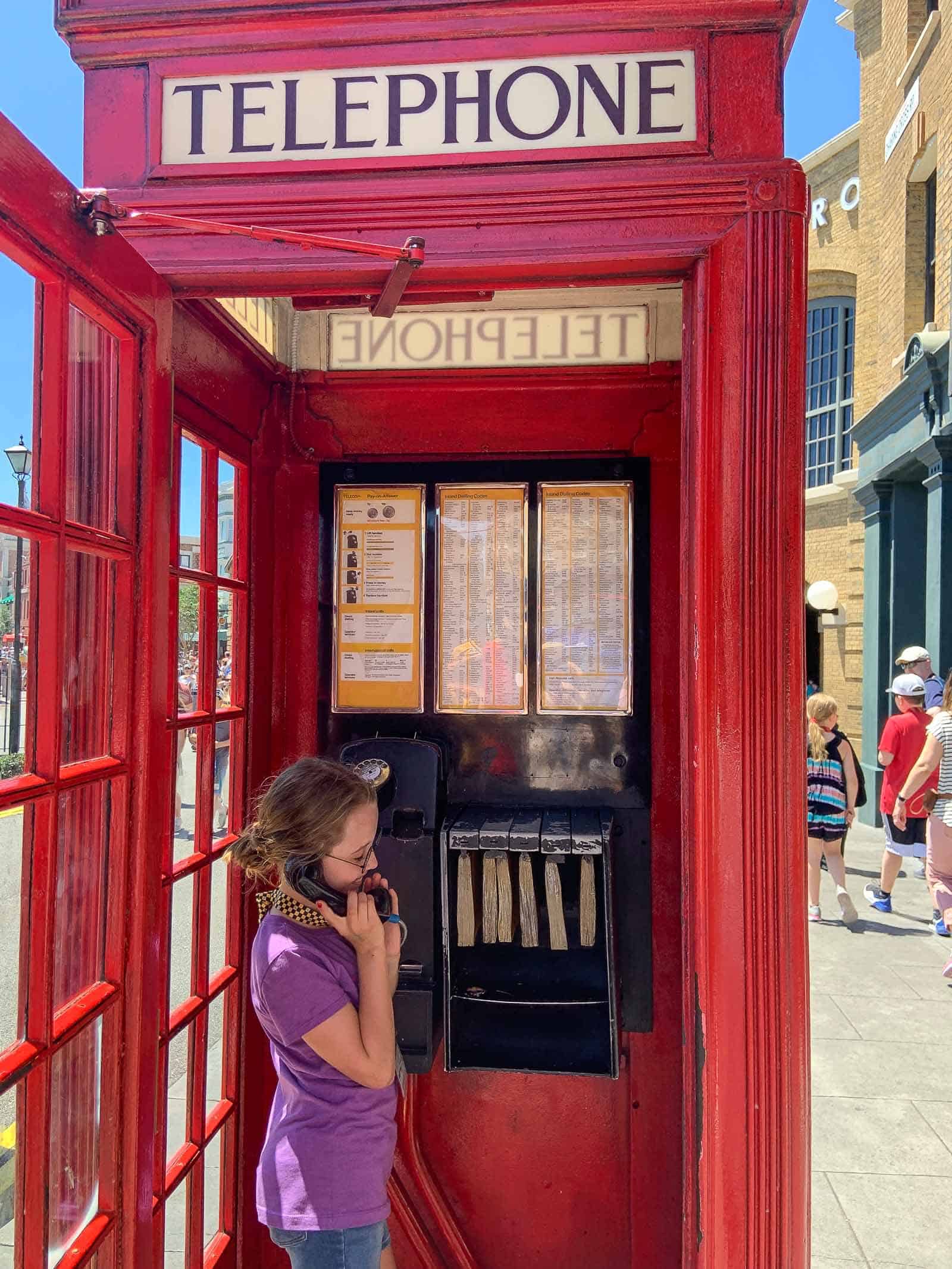 Night Bus
Parked outside of Diagon Alley is the Night Bus. Make sure you go and chat with the shrunken head driver and his assistant. Very amusing.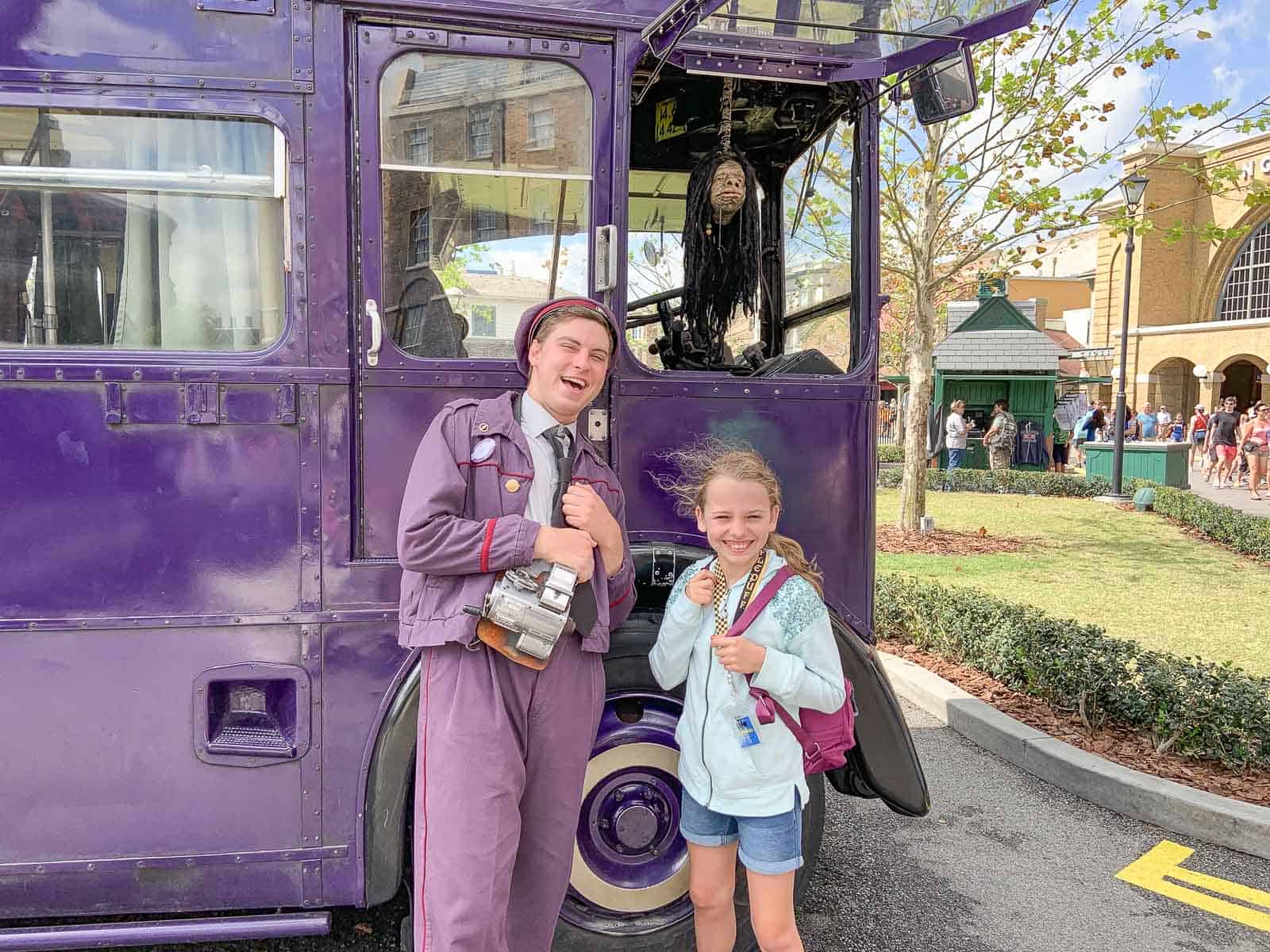 Grimmauld Place
If you walk a little past Diagon Alley, you'll arrive at 12 Grimmauld Place, home of the Black Family. Look upstairs to the second floor window and you'll notice Kreacher the House Elf peering out periodically.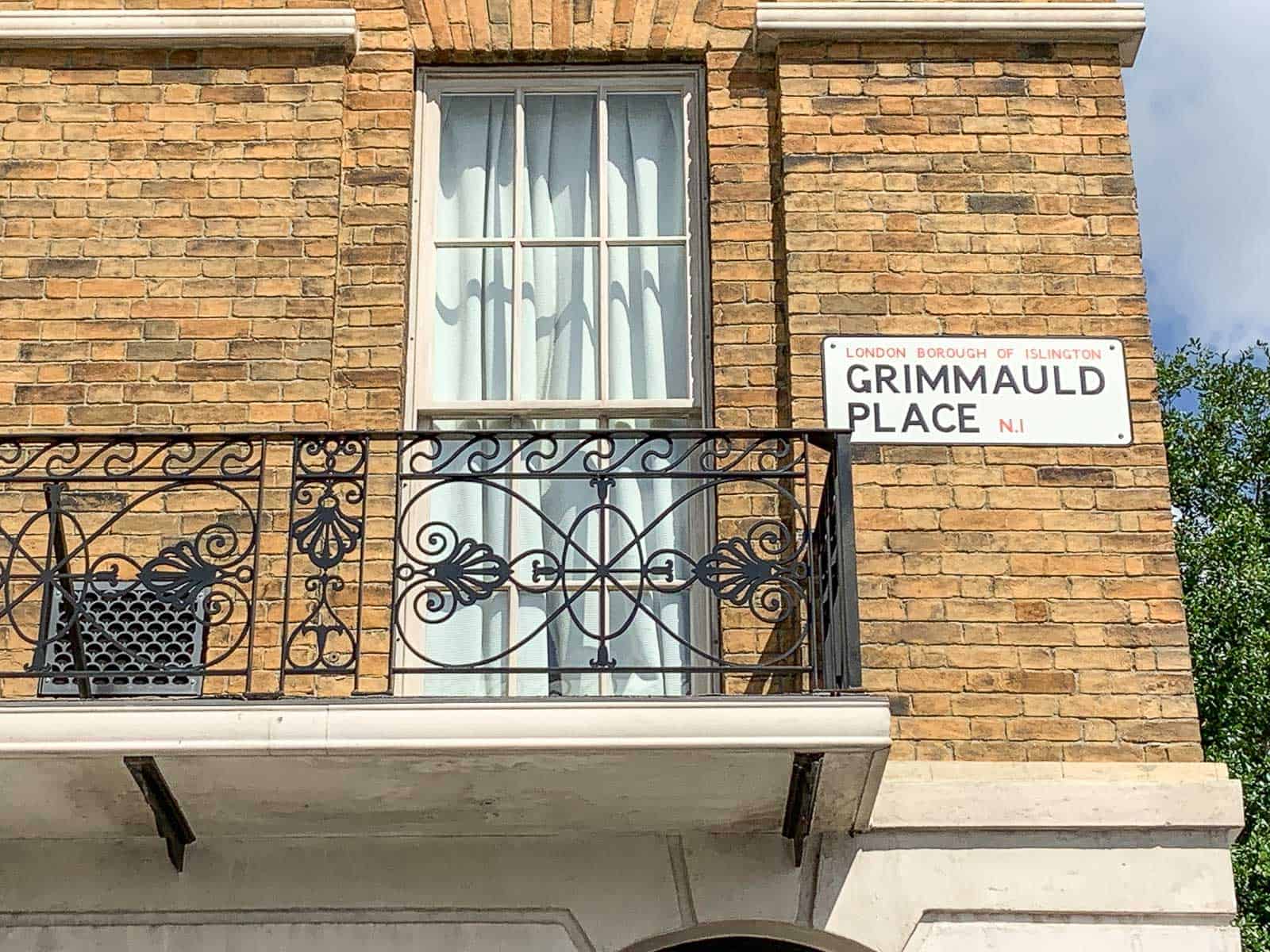 Gringotts Dragon
Once inside Diagon Alley, you can't miss the dragon perched atop Gringotts banks is the largest most realistic dragon you will ever see. Every 10-15 minutes, you'll start to hear a grumbling and 10 seconds later, a burst of flames will come out of the dragons mouth. Usually you can tell by the people gathered with their phones up to catch the moment, but we could recognize the dragon rumbling after a few hours in Diagon Alley.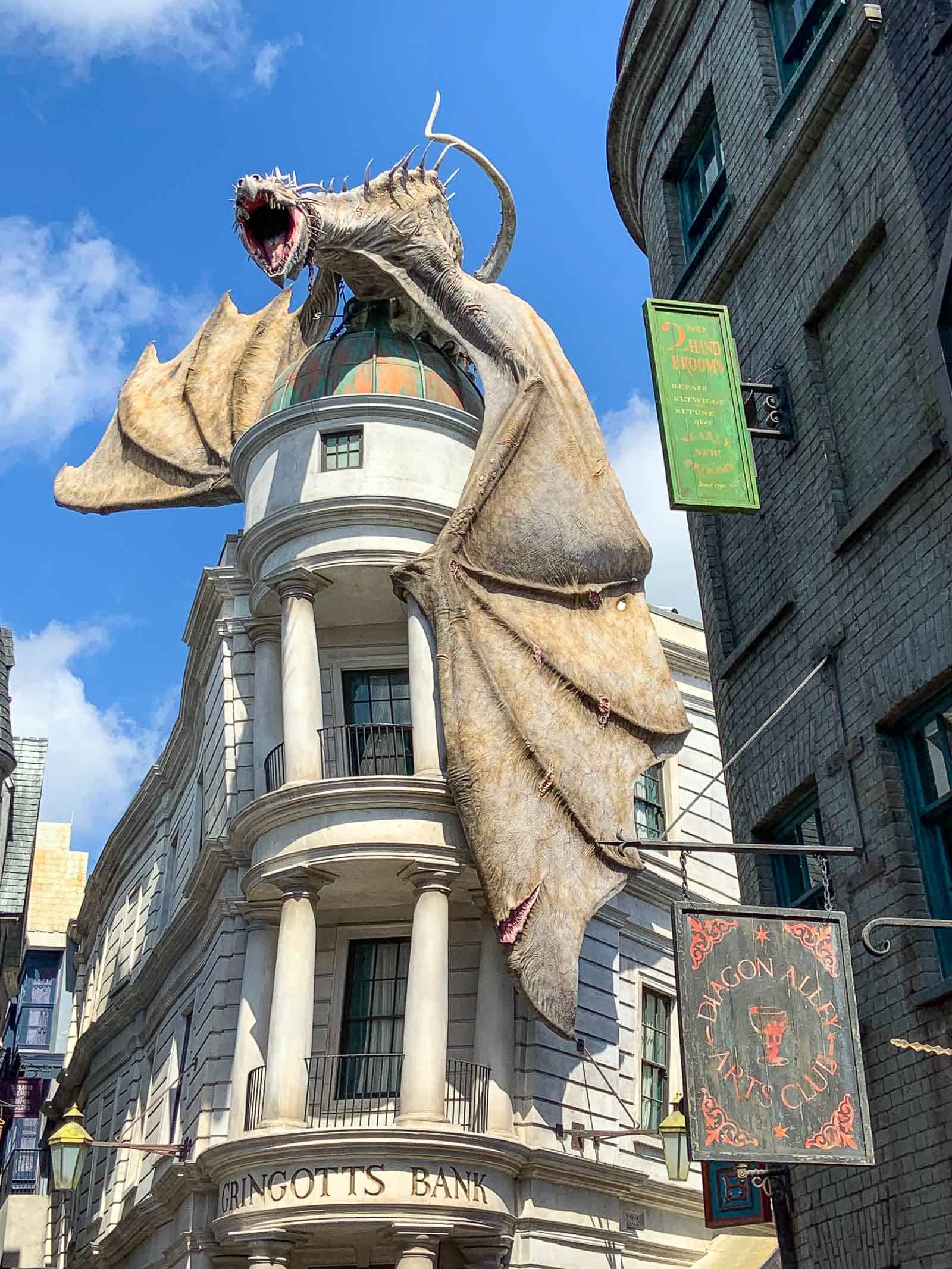 Knockturn Alley
As every Harry Potter fan knows, Knockturn Alley is a place for the dark arts but head down here with your want ready and pull out your map. Black lights in the alley will illuminate secret messages on your map.
Money Exchange
Stop by the Money Exchange and turn in your money for Gringotts bills. These are accepted throughout the park so don't forget to spend them. While you're there, ask the goblin a Bank Teller a question (how old are you, tell me about the dragon, etc.)
Experiences at Hogsmeade
Owl Mail
If you're organized and bring a piece of mail with you, you can stamp it and mail it via Owl Express from Hogwarts. We were not organized so we bought a pile of postcards and had them use their ink stamper to mark them from Hogwarts. We'll put our own stamp on them and mail from home.
Evening Light Show
On certain nights of the week, they have a light show ON the walls of the castle. You gather along the edge of the park walkway and enjoy the narrative and the lights and then fireworks. We were in line for the ride at Hogwarts when one of these started and it seemed pretty cool, but we were too tired to go back the next night to see the entire show.
Food and Treats
Butter Beer
There's obviously the OG of Harry Potter treats: Butter Beer. It's offered anywhere and everywhere and definitely worth trying! It's NOT alcoholic, don't worry. I can't describe it, but it's fuzzy and I enjoyed it! They put a marshmallow type whipped topping that was too sweet for Eleanor but once we asked for it without… all good.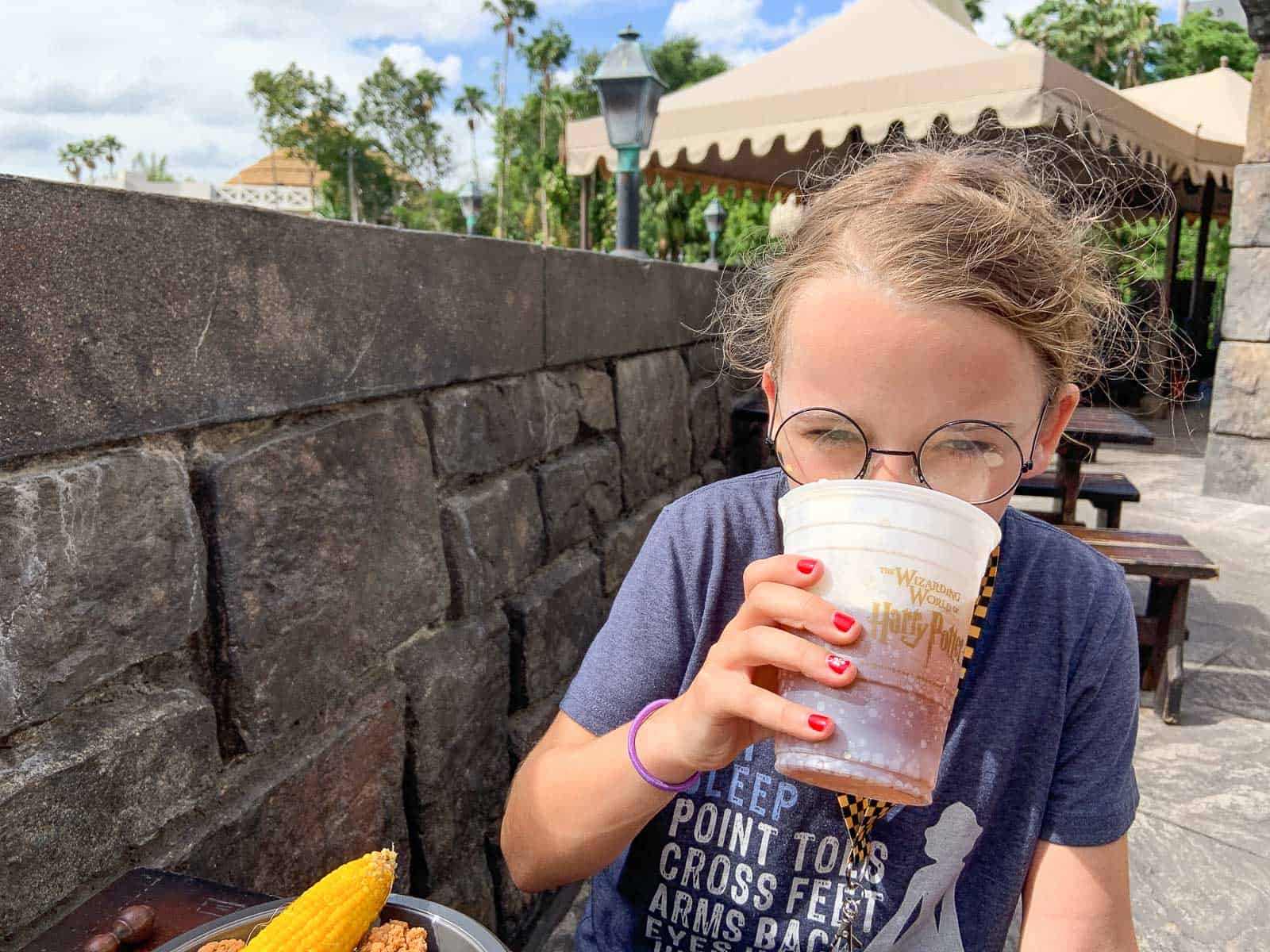 Florean Fortescue's Ice Cream Parlour
In Diagon Alley, there's Florean Fortescue's Ice Cream Parlour… they have flavors like Peanut Butter and Jelly, clotted cream, and more. Definitely worth a taste. Or three.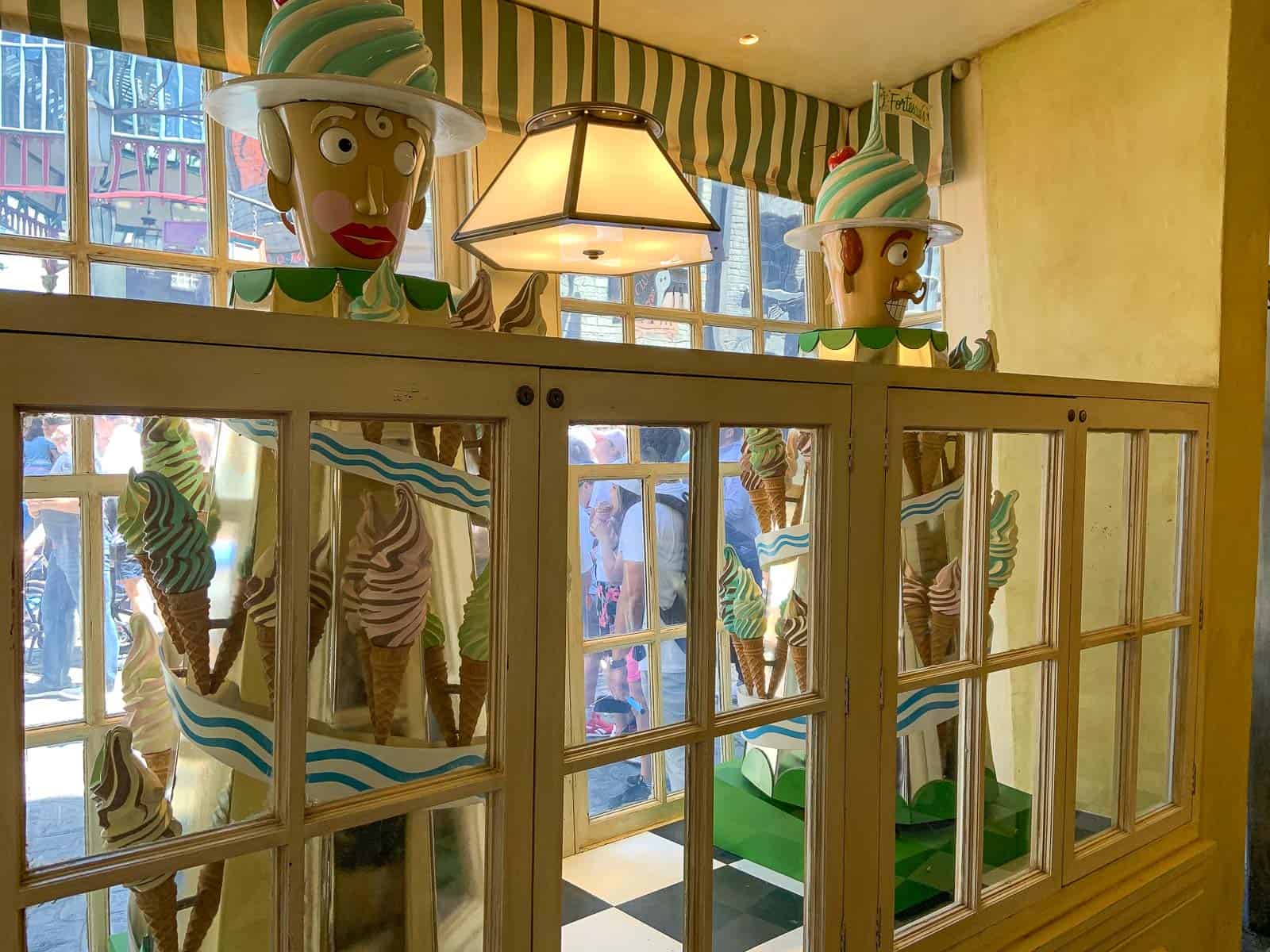 Leaky Cauldron and the Three Broomsticks
We had lunch at one and breakfast at the other. Both are self service-ish and the food is… okay. I decided to try the Pumpkin fizz soda and totally enjoyed it for what it's worth. They both have kid-friendly options (chicken nuggets, etc.).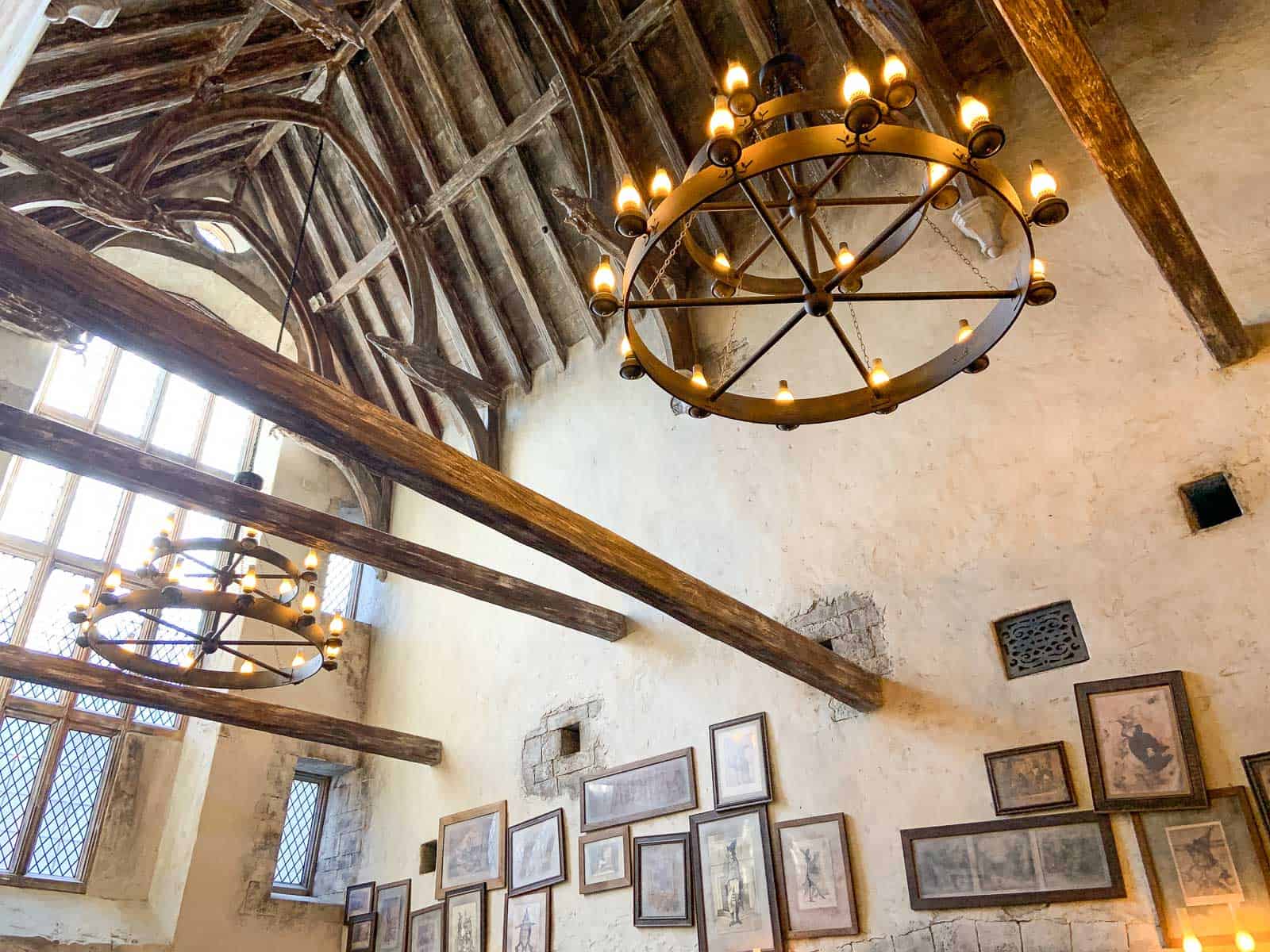 Magic Potions
We noticed one of these kiosks in Diagon Alley, but I wouldn't be surprised if they have one at both places. You can purchase colorful potions (flavored syrups) to add to your water. We brought some home for the little kids and enjoyed having a taste test. They were pretty affordable and kind of a fun little treat.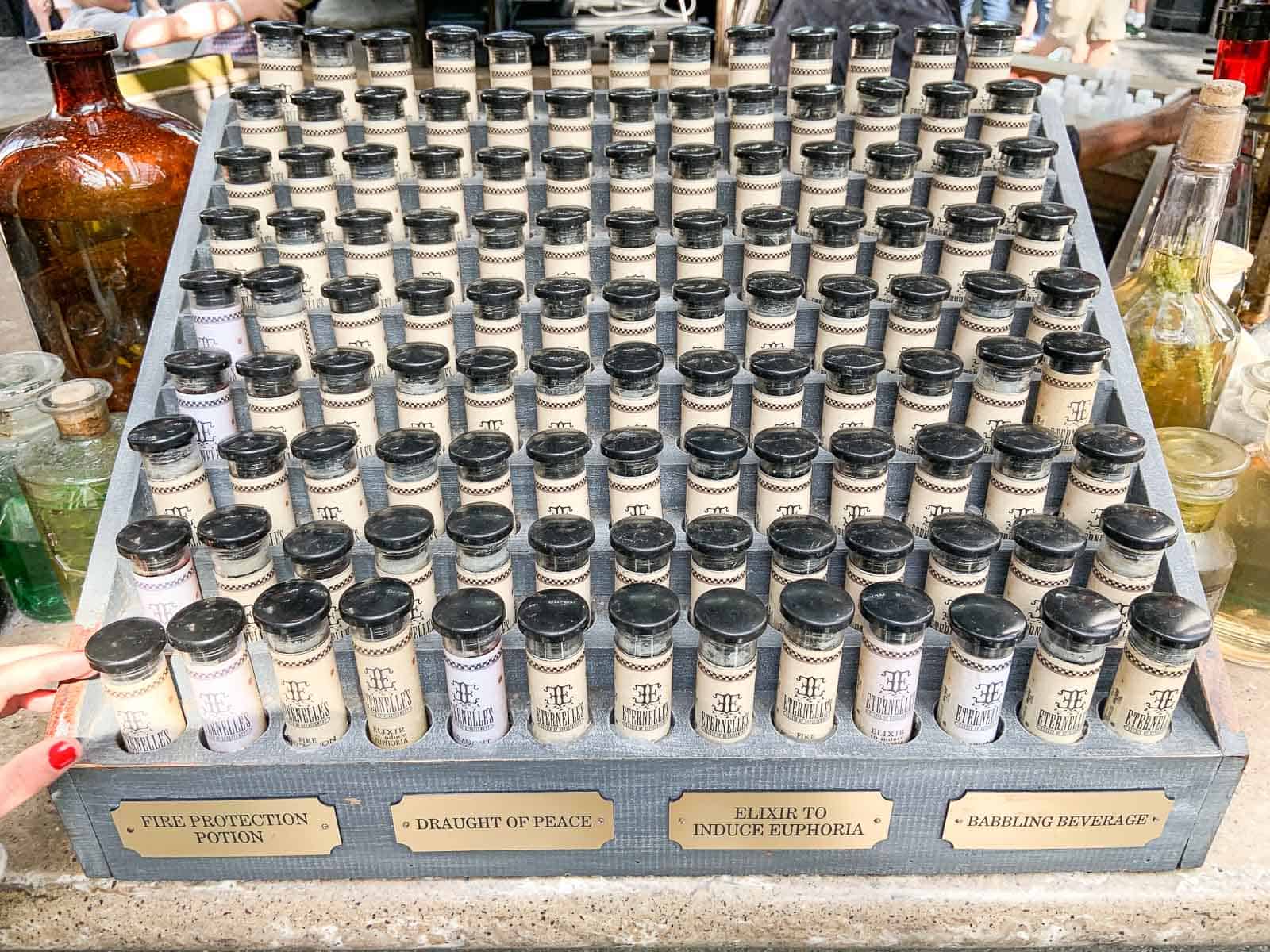 I'm sure these photos don't convey the wonder and awe that both Eleanor and I felt when we entered Harry Potter World. Every. Single. Corner is SO authentic. She is such a fan that simply walking past the store fronts and just being in the park was really half the magic. We were amazed at the attention to detail that went into the park and we were so happy to have discovered lots of these 'hidden' gems throughout Diagon Alley and Hogsmeade.