Progress On My Eclectic and Bold Office Makeover
SO much progress on in my office makeover for the FrogTape® Paintover Challenge.. painted walls, decorative molding, furniture makeovers… a fun ceiling treatment… I can't wait to show you everything I've done to take this space from disheveled chaos to eclectic and bold.
Disclosure: This post was sponsored by FrogTape® as part of the Paintover Challenge.
Holy progress, Batman!!! Once I started on this space… it was hard to stop! First step was to paint my gorgeous accent wall. I chose Behr Marquis Jet Ski to best match the wallpaper I selected and I LOVE it. I used FrogTape® to help protect the window trim, baseboards, ceilings and adjacent walls.
Once the wall is taped off, it's SO easy to smack down a couple coats of paint!
Best part? Peeling off the tape to reveal a perfect SHARP paint lines. Every. Time.
With the back accent wall taken care of, time to make some faux molding. We're renting our current house, so… no *actual* molding for this girl. Thankfully, with FrogTape® delicate, I can fake it! Here's how:
Step 1. Measure and lightly draw guidelines with pencil on walls
I started by painting the three other walls in the office with some leftover White Dove I had from painting the family room. Using a level, mark you walls lightly with pencil so that you have a guide for your FrogTape®. I made sure to sketch out the design I wanted on scrap paper first!
Step 2. Tape one side of the molding
I was able to use FrogTape® delicate to carefully tape off my "molding" even this soon after painting the wall (less than 24 hours).
Step 3. Use the width of your tape as a guide
To make it easier, use the width of your FrogTape® as a guide. I put another line of tape just inside the first line to mark the width. This line doesn't have to be perfect… it's simply holding the space. Finally, I put a third row of tape inside the space holder to act as the inside edge for the faux molding.
Step 4. Remove the middle line of tape
Remove the middle strip of FrogTape®. The outside and inside strips of paint will act as edges to your faux molding!
Step 5. Carefully paint between the lines with a lighter color
Remember how I said I had JUST finished painting that wall? With FrogTape® delicate… no worries! I painted between the tape lines with a glossy plain white and was easily able to pull the tape away for a flawless sharp line. I LOVE how easy it was and, for a renter, it was the perfect way to achieve the look of molding!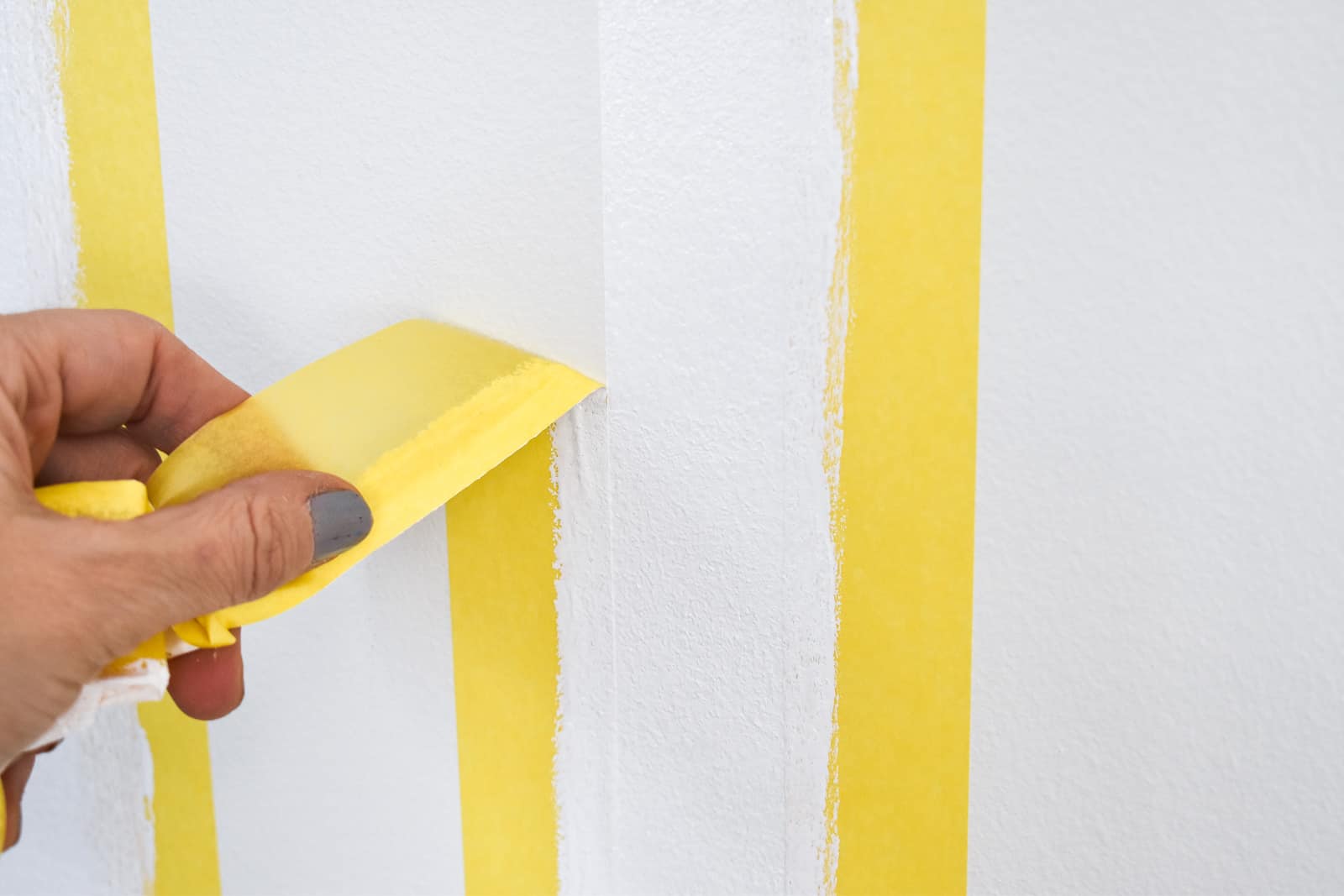 Other projects?
I have to mention the ceiling… I was able to hang regular wallpaper on the ceiling in a rental. How? Liquid starch. Stay tuned for a tutorial on that coming soon. Let's just say… it's a HUGE part of the room and I'm thrilled I was able to pull it off!
I had some storage baskets for a pair of new shelves… but they seemed awfully plain. Guess what FrogTape® sticks to? Baskets. Crisp sharp clean line? You betcha!
Other things I learned FrogTape® sticks to?
Fabric:
Cork:
Mirrors:
I can't WAIT to show you the finished office next week! It's beyond what I had hoped for and I LOVE how it turned out!! You won't want to miss this one! Make sure you head back to WEEK 1 to see how the space was when I started.
And reminder that after the reveal, I'll be pestering you (graciously and gently) to vote. The winner of the Paintover Challenge gets to donate $10,000 to the charity of their choice and I'm SO hopeful I can do something for my friends at the Amos House in Providence, RI.