Paintover Challenge Eclectic and Bold Office Reveal
It's finished! I'm so excited to share my eclectic and bold FrogTape® Paintover Challenge office reveal with you all.
Disclosure: This post was sponsored by FrogTape® as part of the Paintover Challenge.
Truthfully, I'm not sure where to start with this reveal! There are SO many fun layers to the space and I'm thrilled with how they are all weaving together! Baby steps to an awesome office! Obviously, the biggest elements of the space are the amazing blue accent wall, the faux molding on either side of it and the ceiling! (Update: dropping this in right up front to save you the scroll… vote here. ☺ )
I love the way that painted dresser looks in front of the blue wall. I wanted the blue to shine so layering the blue piece in front of it adds a wonderful bold punch to the space. I have all my paints and glues and tools stored in those drawers so it was the perfect combination of form and function for this space.
I pulled colors from the rug and from the ceiling to transform those thrifted busts… They're a little bit of whimsy and fun for the top of the dresser. Whenever I'm putting finished touches on a room, I love to add a whimsical one-of-a-kind element… like spray painted busts!
Let's move over to the faux molding wall. I LOVE this rental friendly way to add some architectural details to the space. Obviously FrogTape® was the key to pulling this off because PERFECTLY sharp crisp lines were essential. To keep the room from feeling *too* symmetrical, I hung those gold frames in a haphazard gallery wall overlapping the faux panels.
The ceiling. I wasn't sure I could pull this off, but it's such a powerful moment in the room! On camera, you don't see it so it doesn't impact my video work, but in person… it gives an otherwise basic space… SUCH a lovely fun detail. Stay tuned for a tutorial on how I was able to hang regular wallpaper in a rental… this ceiling will come RIGHT off without leaving a mark. I hung that pendant from our old house for the final icing on the cake!
Moving along on the office tour… storage. SO MUCH STORAGE. My friend Emily from Next Level Organizing helped me make sense of the closets and shelves in here so I was able to fit all my paints and yarns and tassels and papers in this one little office! I used FrogTape® to tape off these Ikea baskets and add some color. Just to highlight the point… I TAPED a BASKET and the line is sharp and PRISTINE.
In the corner is another storage piece… I had this one in my old office and it was gray and black. NOT okay in this blue bold eclectic office space. So, obviously I had to paint it! Once again I grabbed my FrogTape® and taped off a line along each side of each basket. Needless to say… another home run with perfectly clean lines. On a fabric box. With paint. And to pull in some texture from the rest of the space… I made some colorful tassels for each storage cube.
Did you notice those cute old mirrors? They weren't all that cohesive so… I taped off the mirror and spray painted them to bring in some of the colors from around the room.
To give me a place to tack up inspiration or notes or… whatever, I added some small cork boards to the inside of those closet doors. Whenever I can tie a color into the entire space, I go for it… so using leftover paint from the wall seemed like the easiest solution. FrogTape® to the rescue again. Stuck to the cork so I could paint the frame without a problem and pulled right off without damaging it.
A makeover I haven't shared too much is that office chair. It *was* a worn ikat so I reupholstered it with some vintage brocade fabric and added that blue coordinating trim and I LOVE that it's the tiniest bit of texture… but the fabric is also  small enough in scale that it doesn't steal attention from the ceiling or the rug.
This makeover checked so many fun boxes for me! I Obviously did a few things to create the 'shell' for this makeover… FrogTape® faux molding, accent wall, wallpaper… and then I was able to layer in things I already had! Some of those things got a makeover (storage, desk chair, mirrors), but a lot of things were part of my stash! I was able to reuse our old desk, that wonderful dresser, the storage cubes, a chindi bench from the old house, those flokati chairs, the moravian star pendant light, artwork and more!
I love that one side of the room can accommodate video work and is a bit more neutral, but then… the view when you walk in the door is full of eclectic bold color and pattern and fun projects. I love that the storage is just as pretty as the decor and that the blue and white color palette is so nicely balanced with pops of fuchsia and green and purple.
My budget was $1000… so where'd that go?
One gallon of blue paint, one quart of high gloss white….. $50
Two storage shelves from Ikea….. $120
8 White storage bins from Ikea….. $36
4 baskets from Ikea…..  $52
Thrifted busts….. $50
Gold mirror….. $40
Wallpaper….. $290
Art print by Leslie Weaver….. $55
Rug….. $250
Yarn for tassels….. $20
Vintage fabric for reupholstered chair from etsy….. $16
Frames….. $20
TOTAL= $999
And just for full transparency… here's what I already had on hand: the dresser, the desk, the desk chair, most of the art, the storage cubes, the pendant light and the lamps. But c'mon what a transformation from this cluttered disorganized chaotic Before…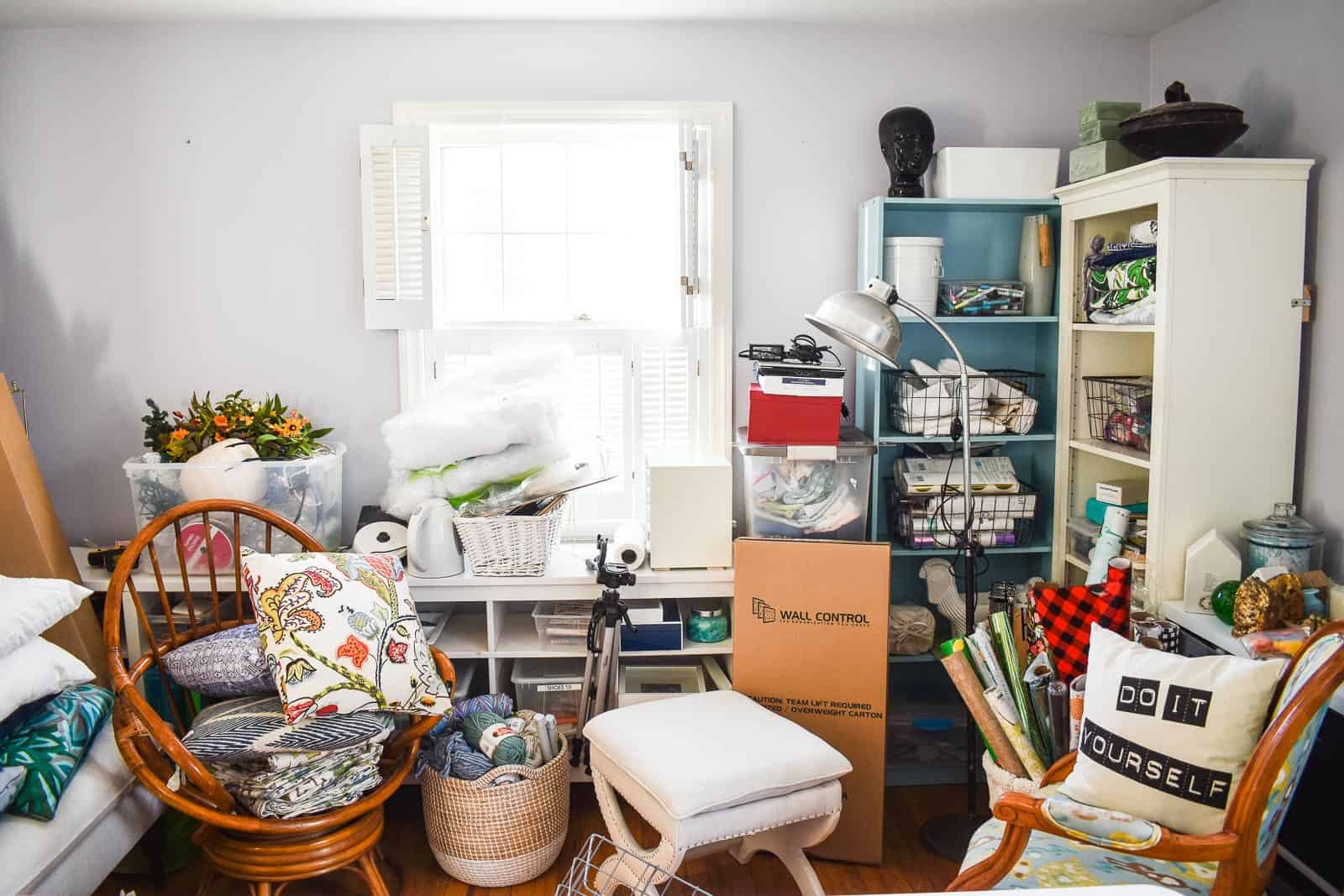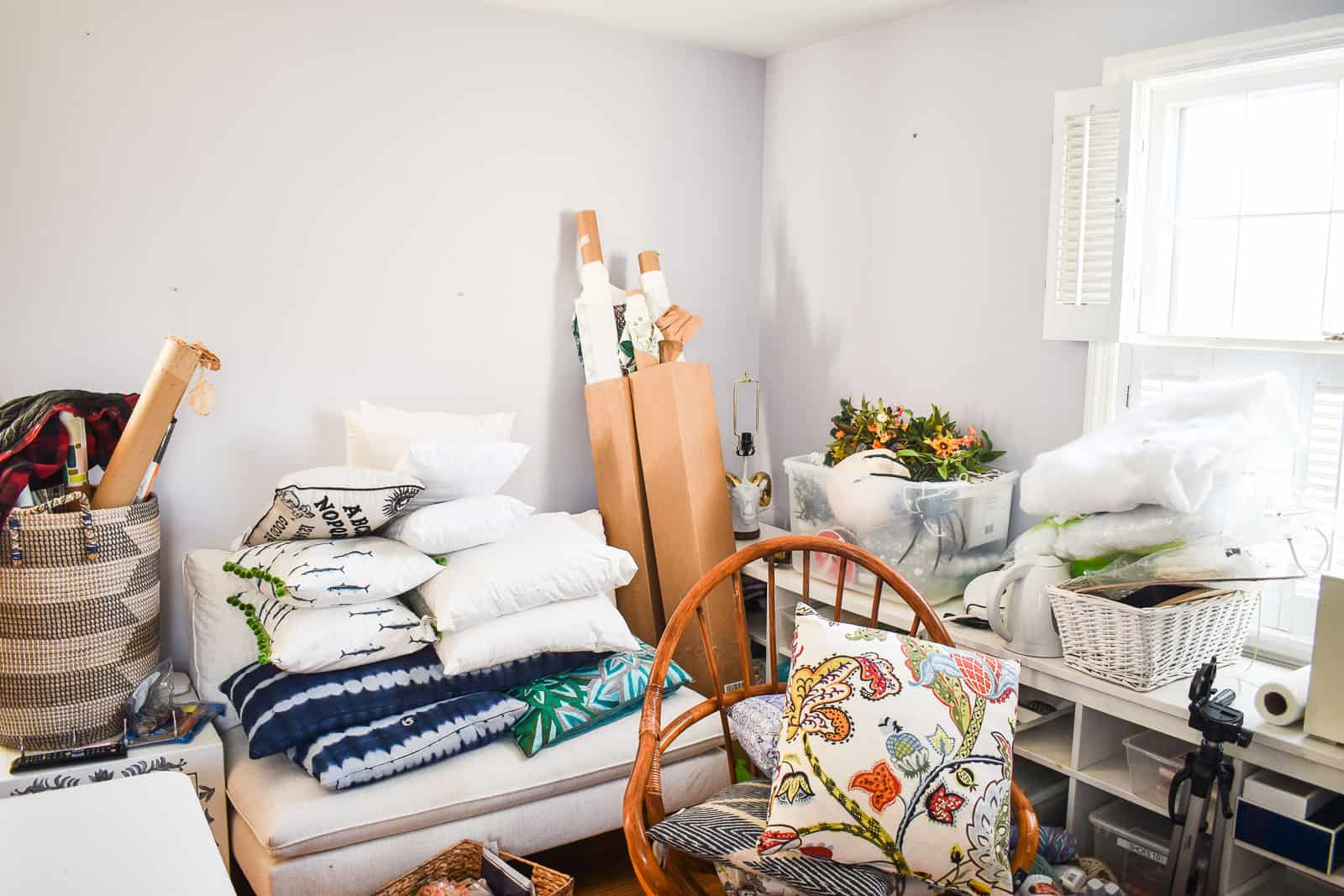 To this eclectic and bold after…
This might just be the favorite space that I've every worked on. With every room I design, I feel like I get better about weaving together the various elements. My favorite part of any makeover is being able to reuse and repurpose lots of items that I already own or have thrifted. FrogTape® is key to those makeovers and I won't work with any other brand! To quickly recap:
Check out how the room looked before HERE.
For details of all the projects and to see how amazing FrogTape® is when being pulled off… click here.
Here's where you come in. The winner of the Paintover challenge gets to donate $10,000 to CHARITY. I've selected the wonderful Amos House in Providence, RI (the same organization I partnered with this past fall) and will be reminding you ever so nicely to vote A  LOT in the coming weeks. #sorrynotsorry I am so grateful to you all for your kind messages and comments and DMs and really hope and I can do a little something to help this amazing organization!