Neutral Boys Nursery Design
Disclosure:  This post is sponsored by The Home Depot and I can't wait for Baby Preston to arrive so he can see it for himself! Head over to The Home Depot blog to see the post there too!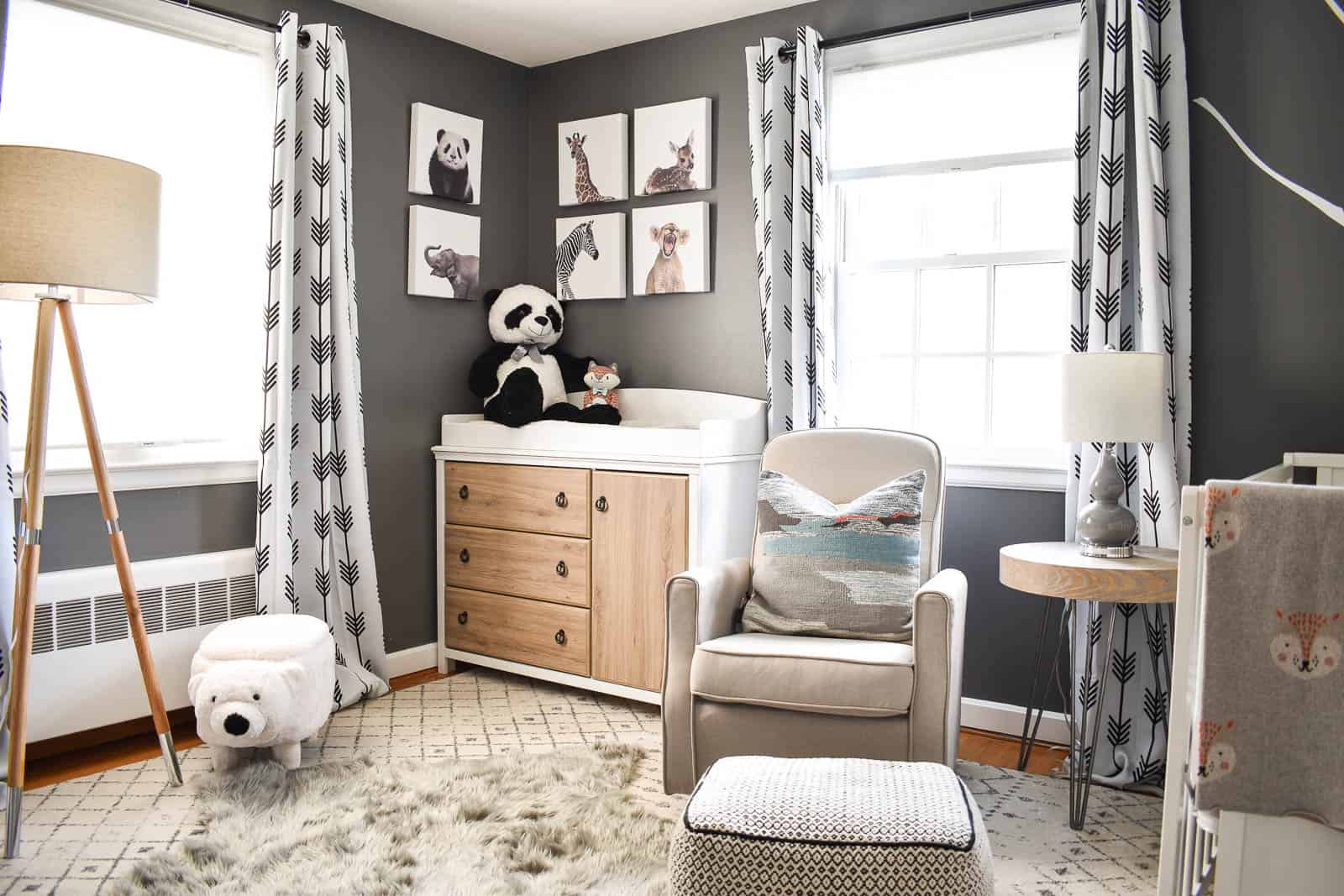 A few months ago I had the privilege of helping my friend Lauren announce her pregnancy on air… I was so touched that she asked me to help and was obviously THRILLED for her and her husband! We started talking about nursery plans and one thing lead to another and I reached out to my amazing friends at The Home Depot and… LOOK WHAT  THIS NURSERY IS LIKE NOW!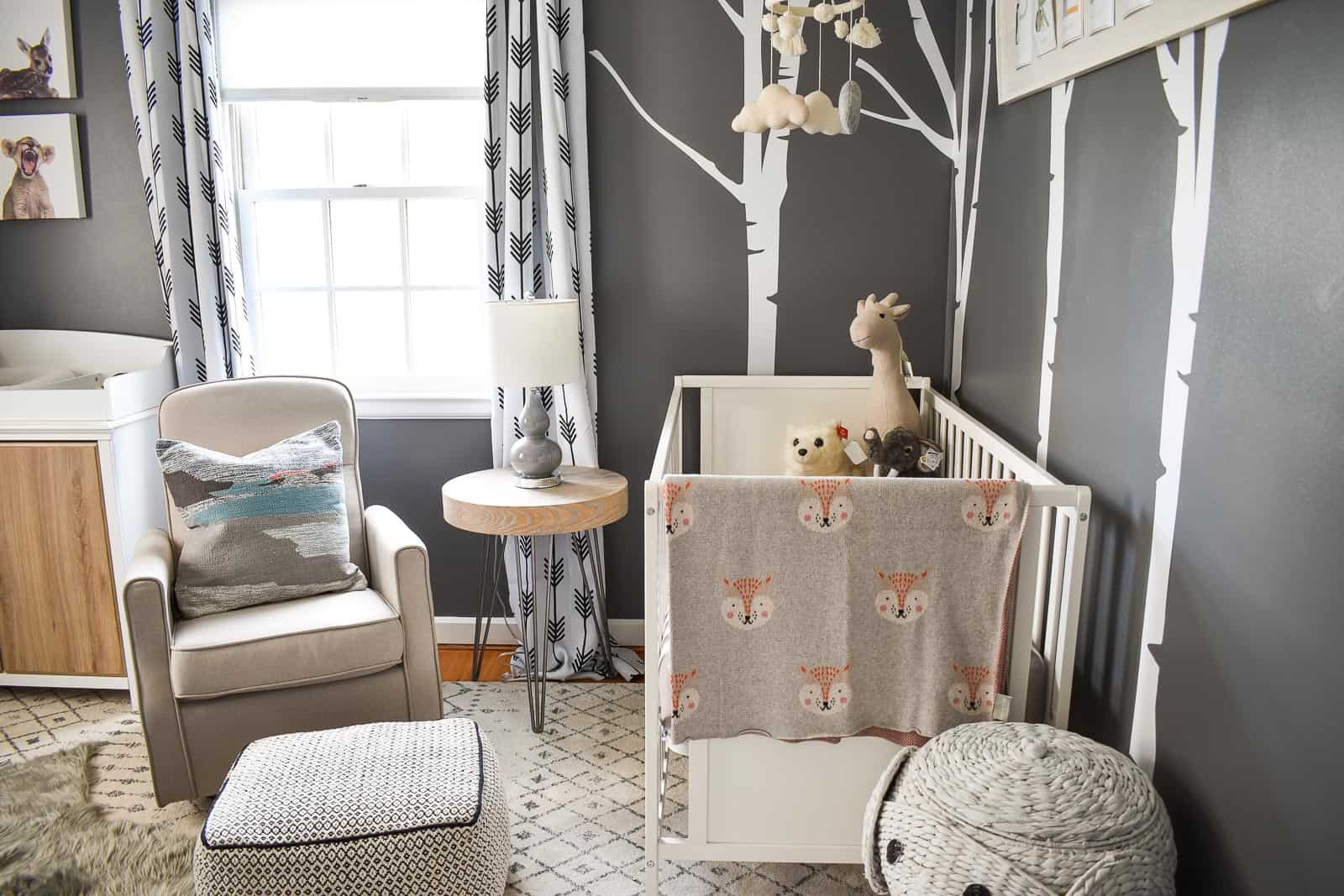 Let's back this train up a bit… Lauren is a bit of a color phobe. And when I say "a bit" I mean, she really really really prefers a neutral pallet. Her inlaws had just painted the nursery a gorgeous deep gray so I was actually excited to embrace the grays and wood tones and blacks. This was the original vision board I sent to her.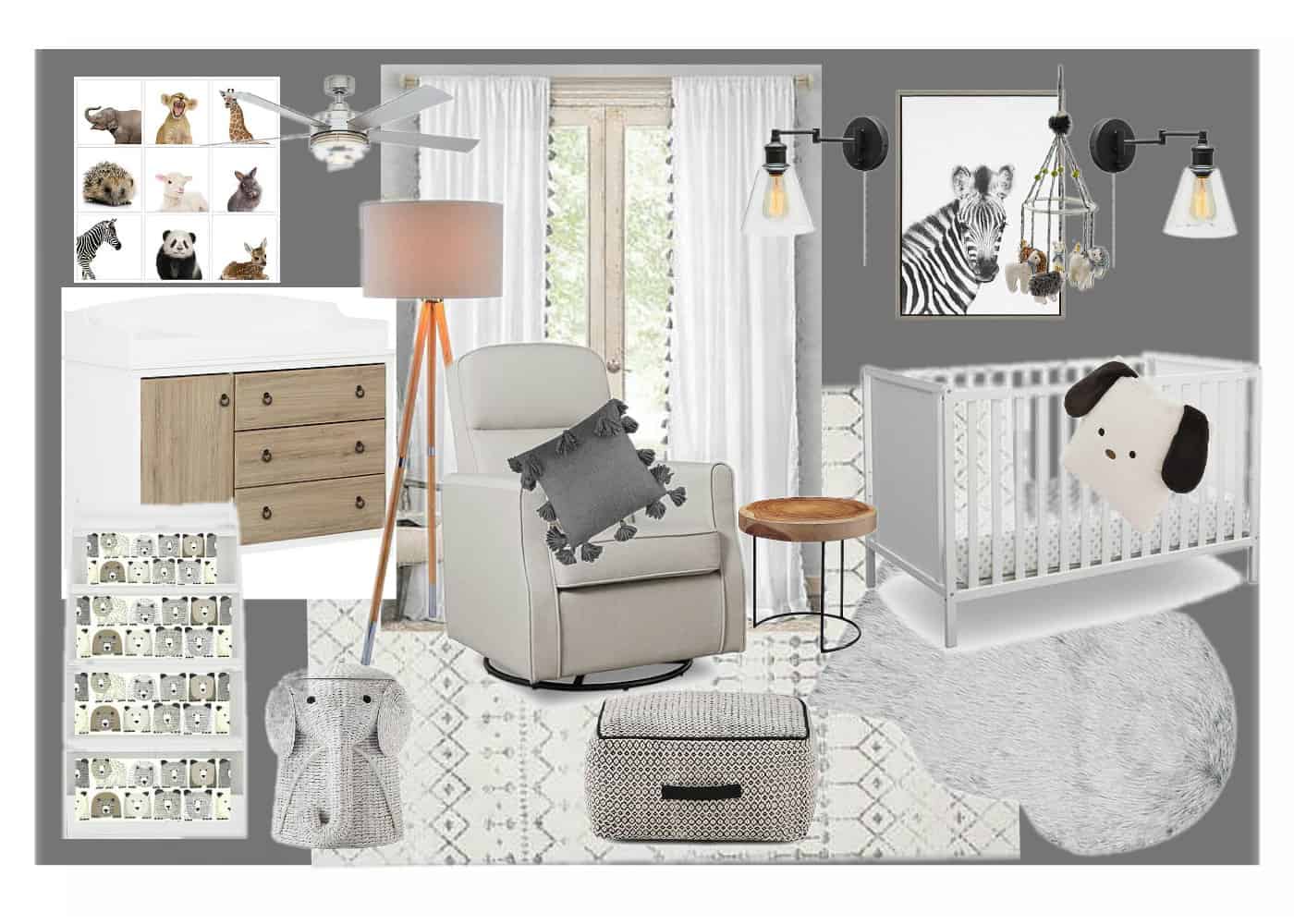 The absolute best part of this project was that all I had to do was order the stuff and show up to make it look pretty. Lauren's husband gets full credit for assembling every piece of furniture! Here's how the room look when I arrived: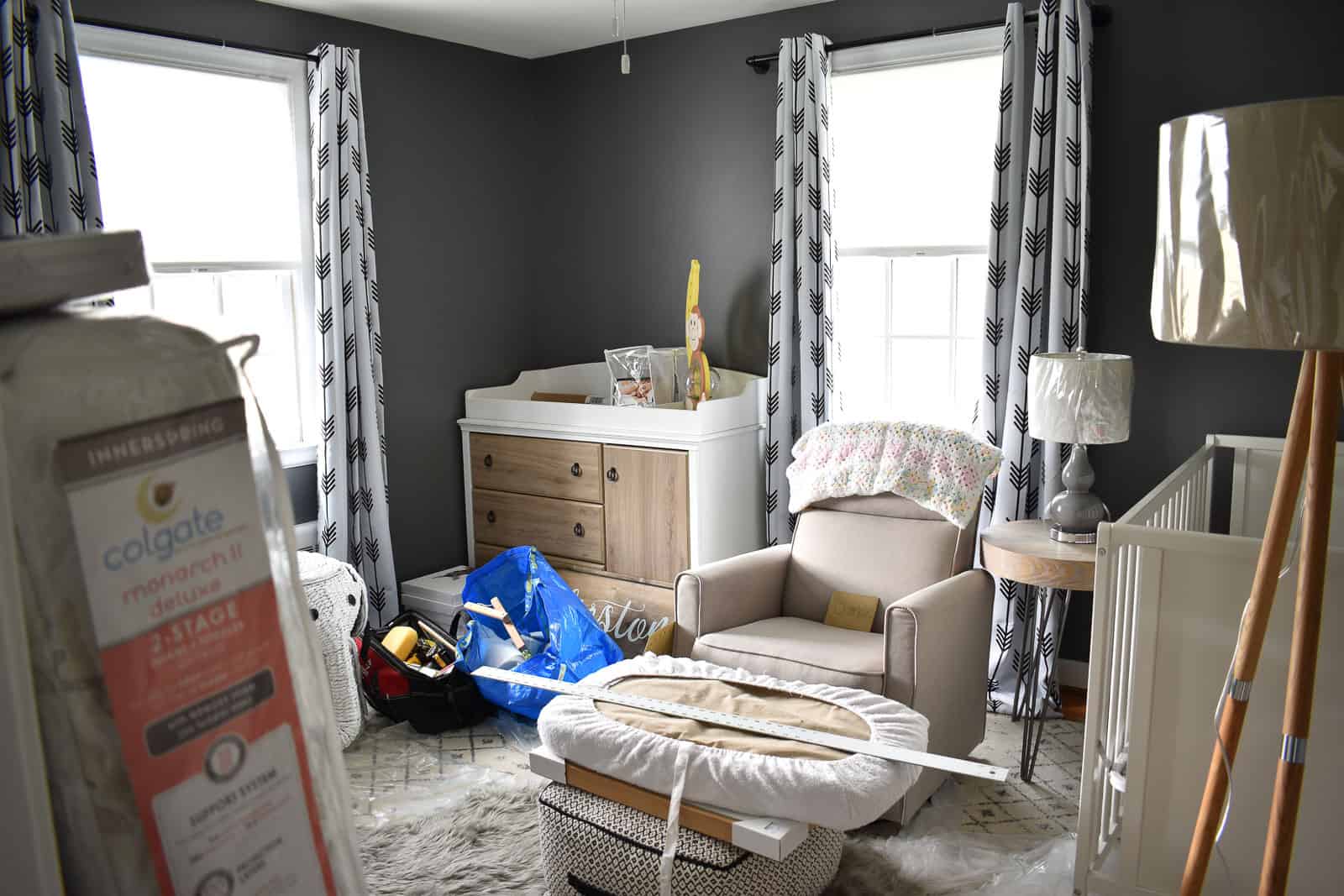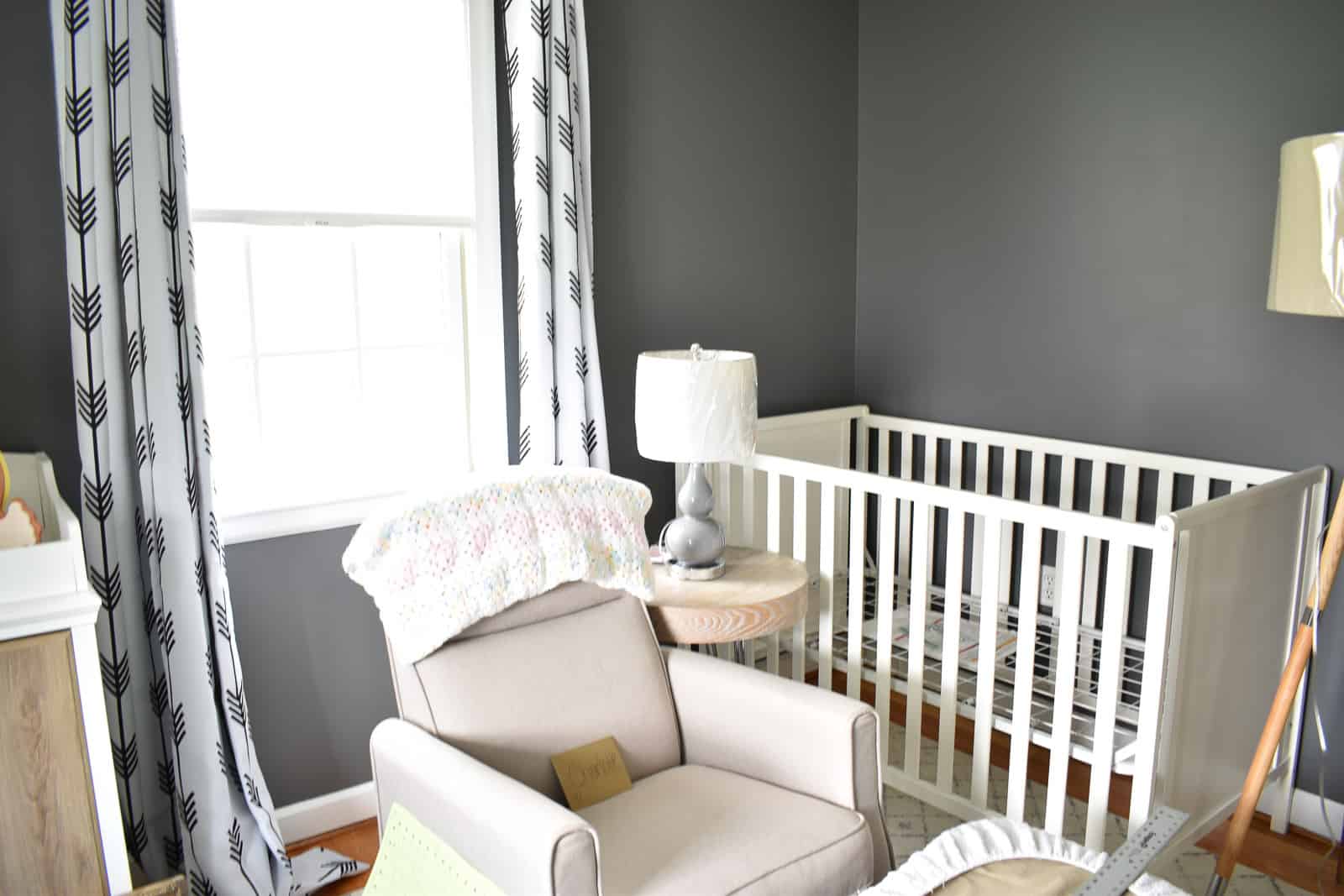 Lauren wanted storage options, she loved the loose theme of those baby animal photographs and really really wanted a faux sheepskin rug! I layered the smaller rug on my favorite neutral area rug.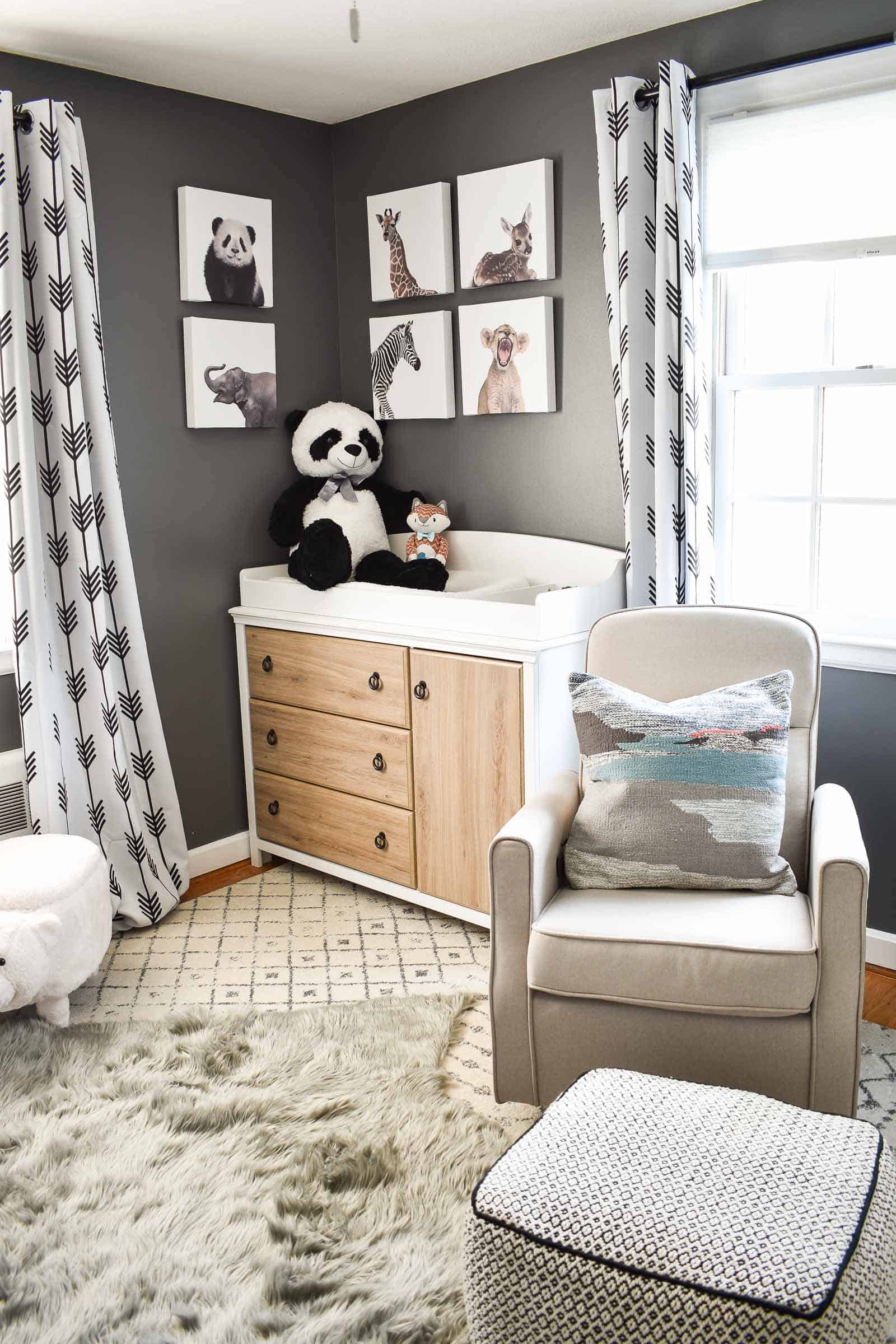 There wasn't any one focal point for this project, but I quickly looked for some ways to bring in a bit of pattern. As nice as tone on tone is, it can quickly turn flat and a little boring without something else, in my opinion. This wallpaper with the cute bears was the perfect accent for the back of that bookshelf.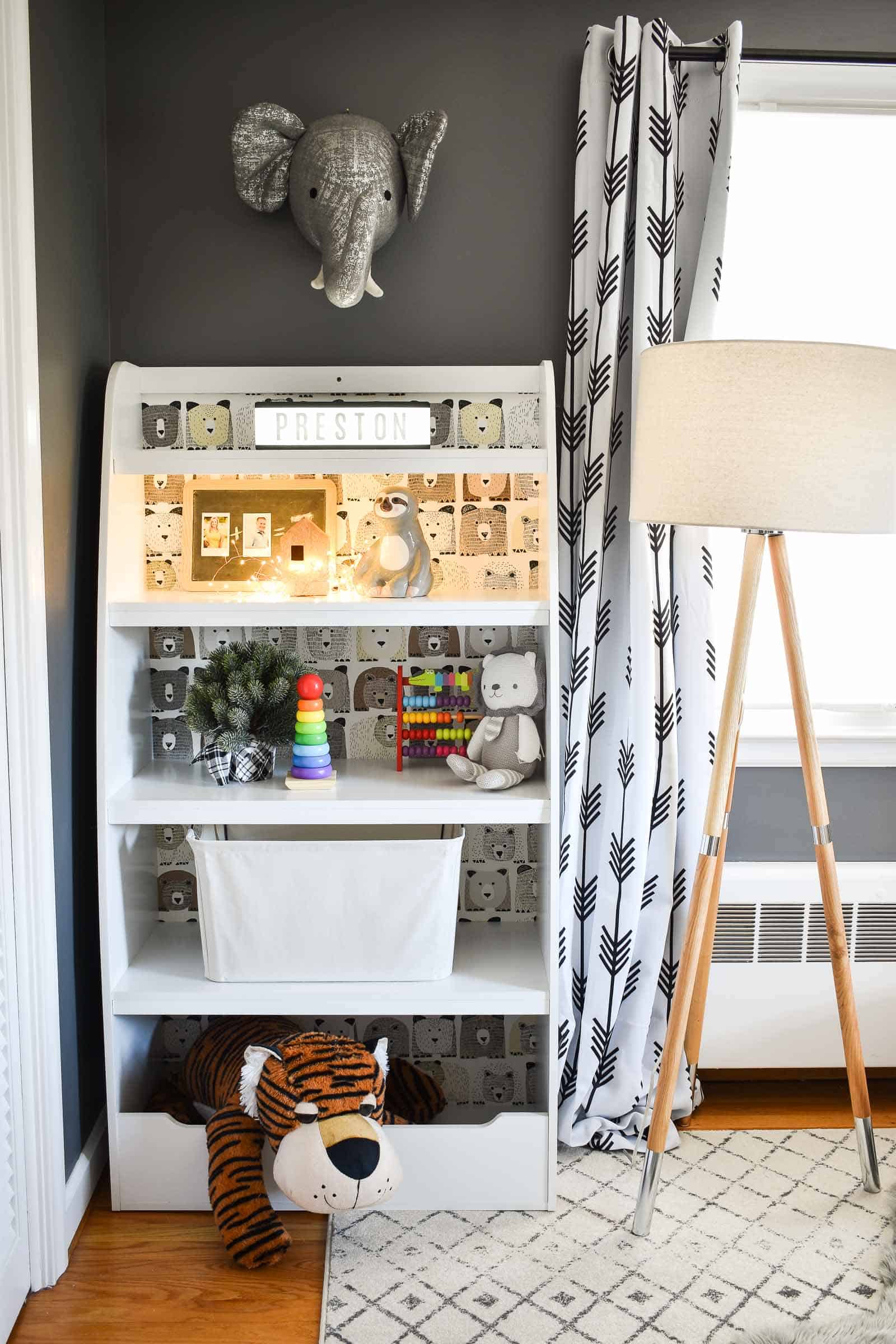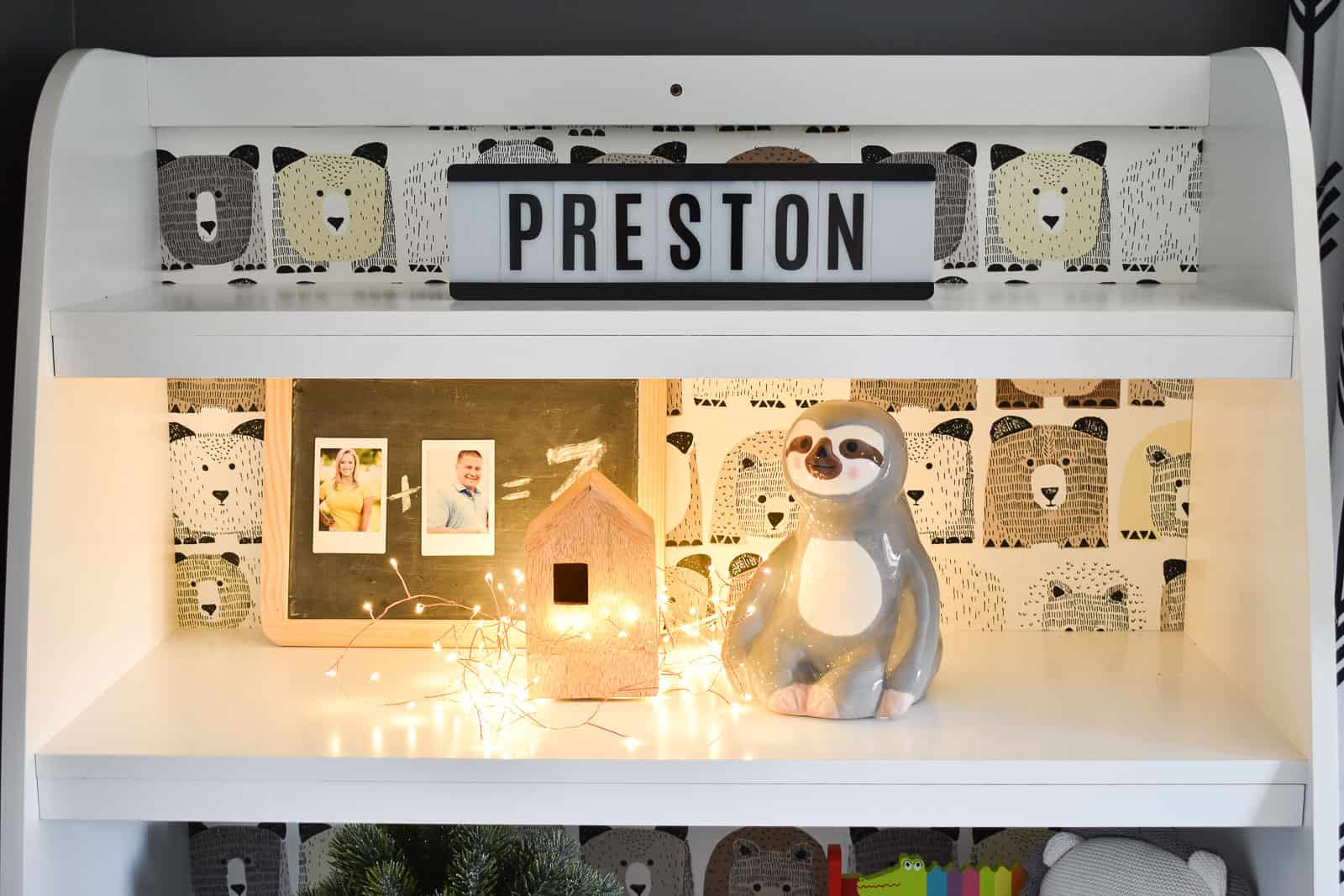 My original plan had different curtains, but those black geometric ones were a happy accident when the ones I'd spec'd were unavailable. I'm so happy with them and love that they bring both black and pattern into the space. I paired them with that rustic pipe curtain rod.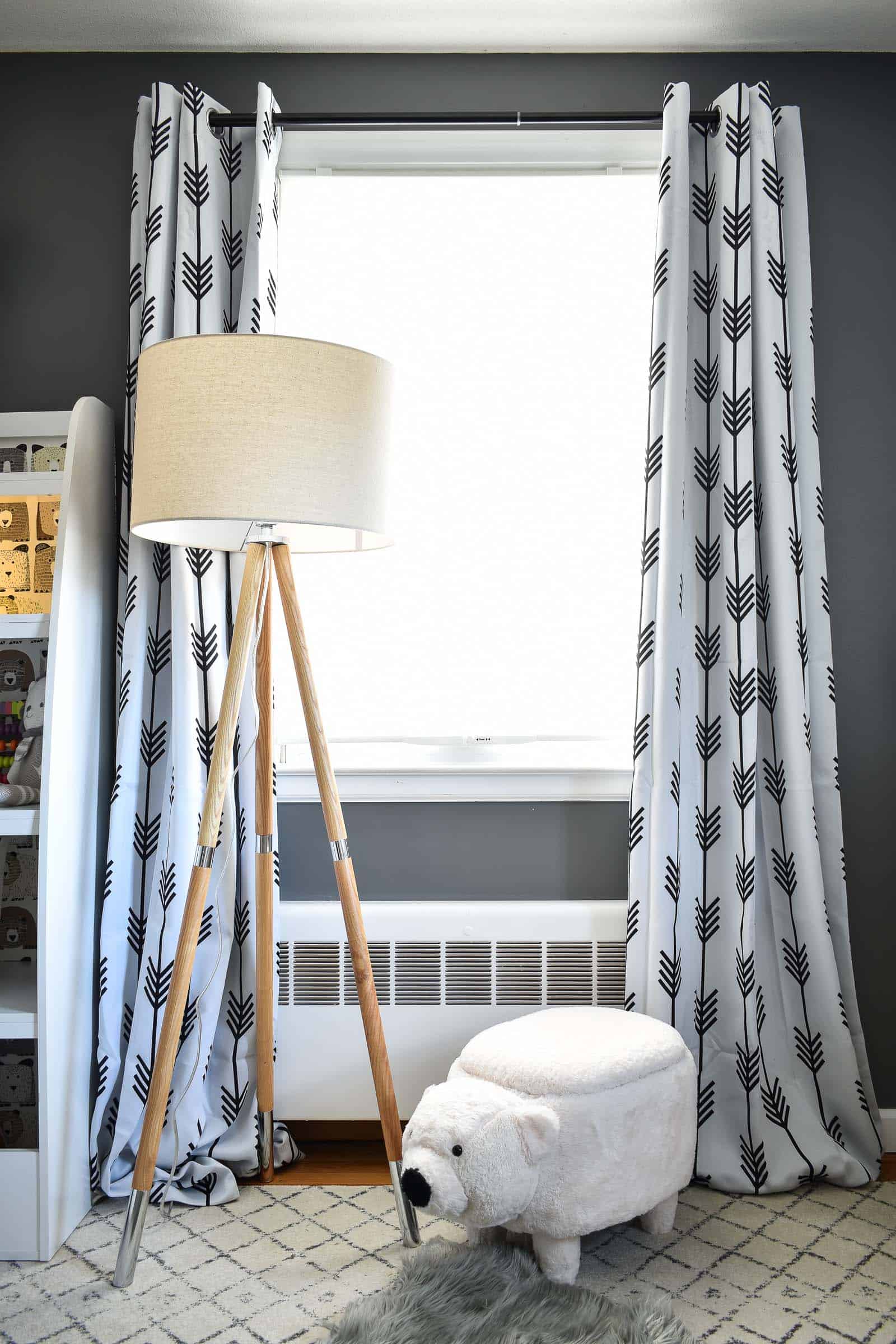 To compliment the curtains, I picked that black and white woven ottoman. The glider looks SO luxe and is the perfect size for this smaller room. When I had kids, the only gliders available were the size of a Suburban so ours took up most of our tiny NYC nursery.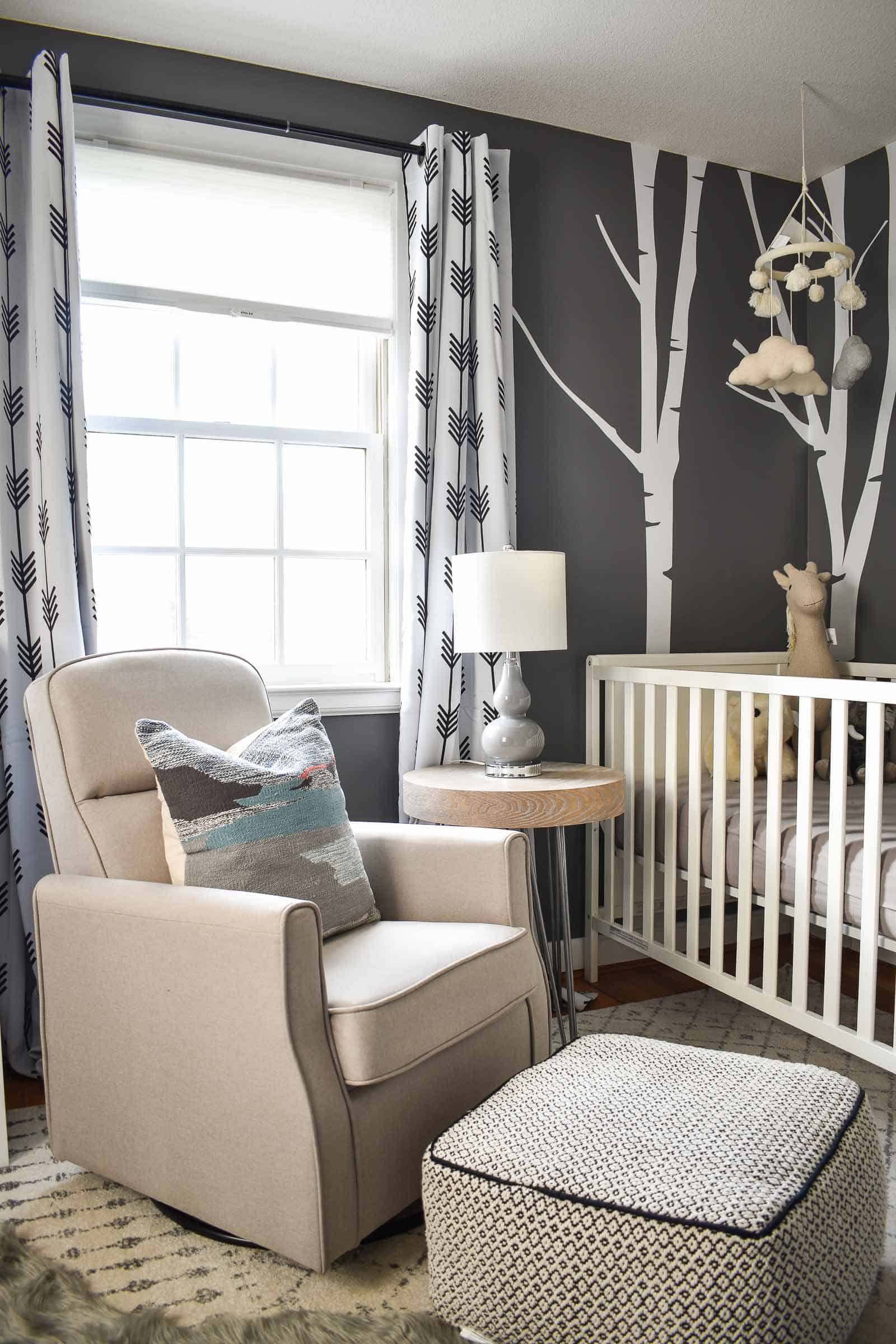 Lauren does not have the gift of height so another happy accident is the height of that cute crib. It's lower than the one I had for my kids which means she can easily reach in to pick up the baby or change the sheets.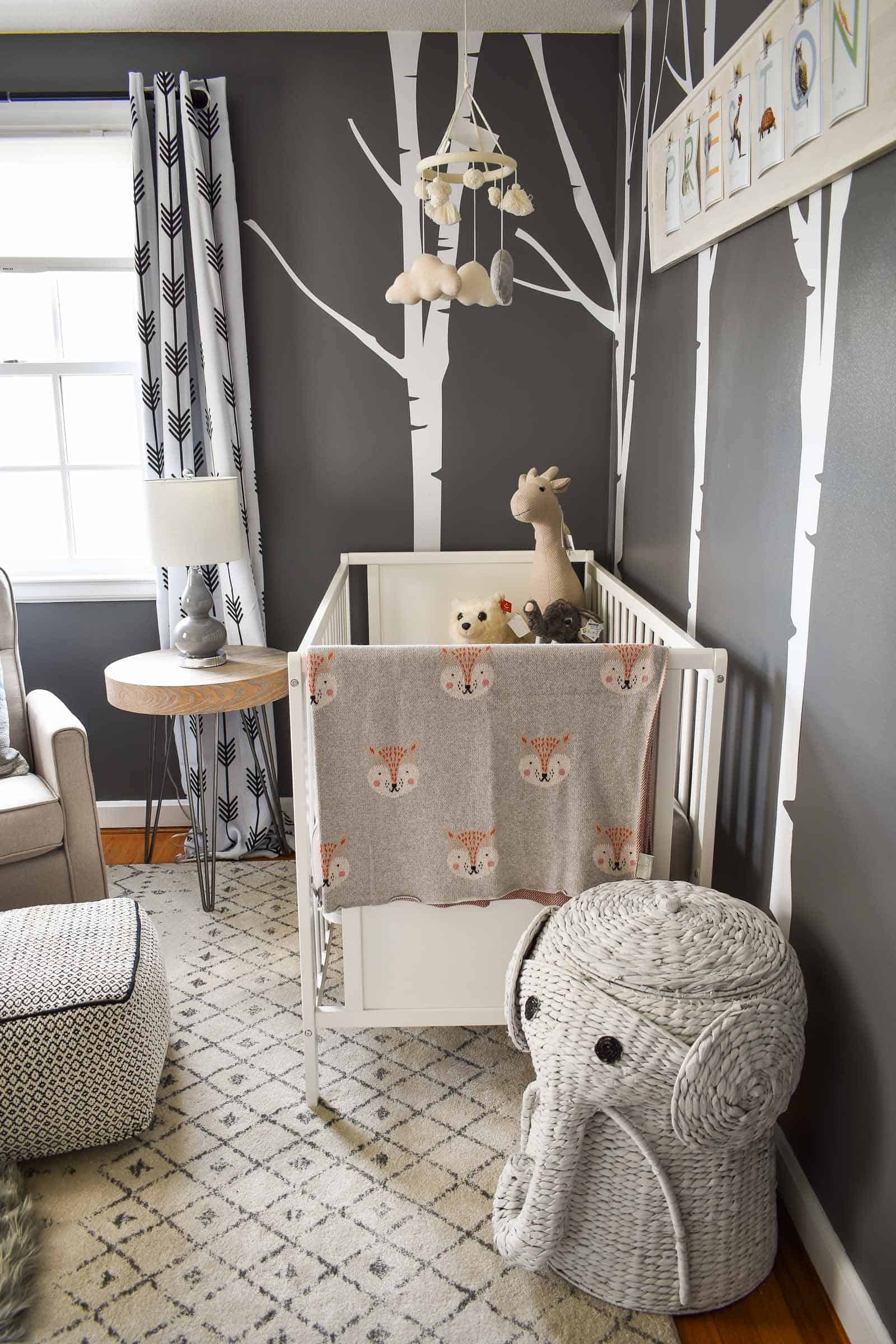 Another thing that she was *really* excited about was the vinyl tree on the wall. I'd never worked with vinyl like this and it couldn't have been easier to apply. Her walls had a the slightest texture and I probably could have prepped them a little better than a did… there were a few small branches that were peeling off a bit, but I'm hopeful that by really rubbing them in place they'll stay put. They certainly look terrific so I'm really pleased with the results!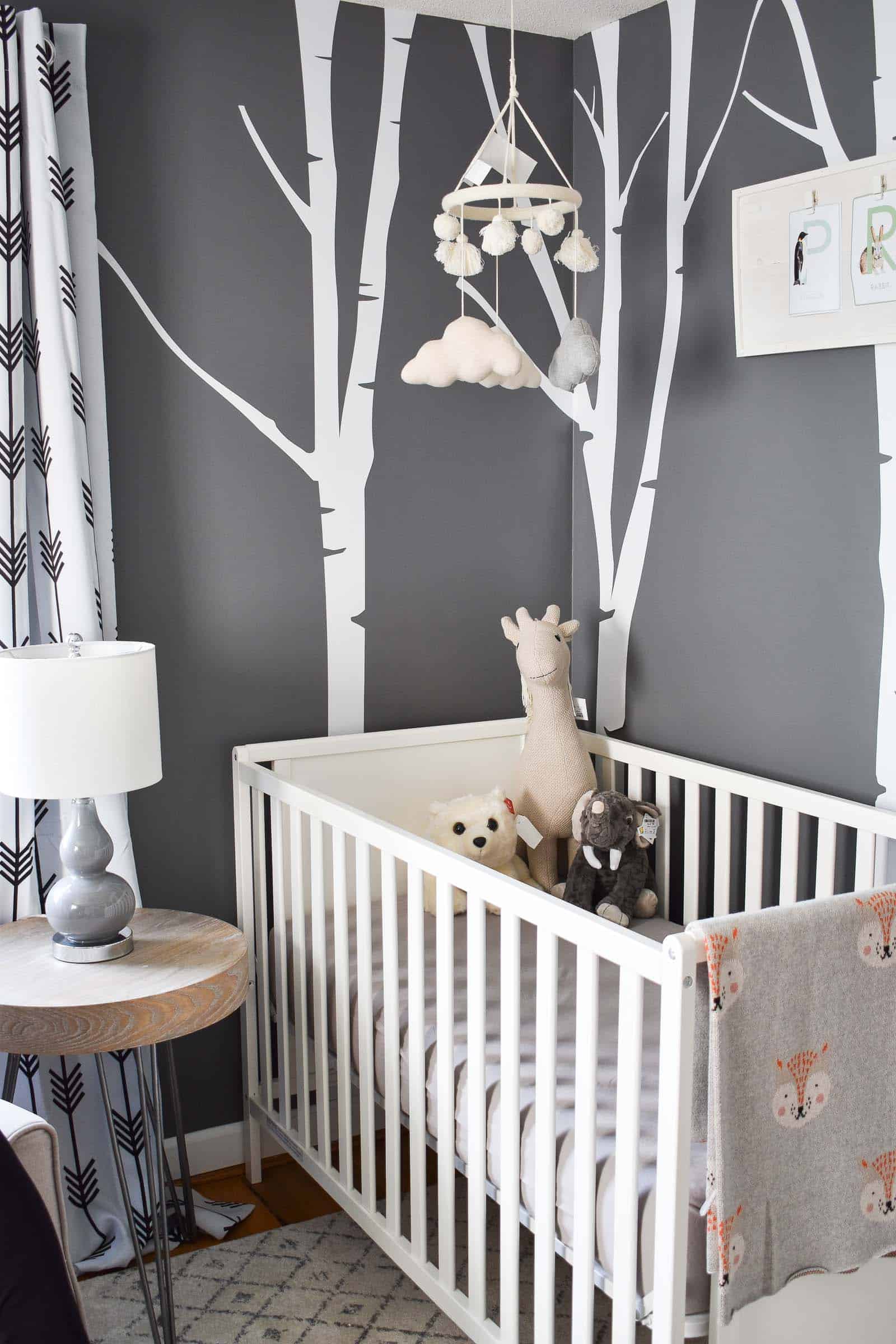 The changing table has that wonderful wood grain finish to warm up the space, and we chose a side table that is almost a perfect match. Obviously when the baby gets bigger and is more mobile, that little lamp may have to be relocated, but for now it will be a nice little light for midnight nursing or bedtime stories. There's an overhead light in the room, but sometimes I think that can be a bit harsh so I also picked up that GORGEOUS floor lamp for the opposite side of the room.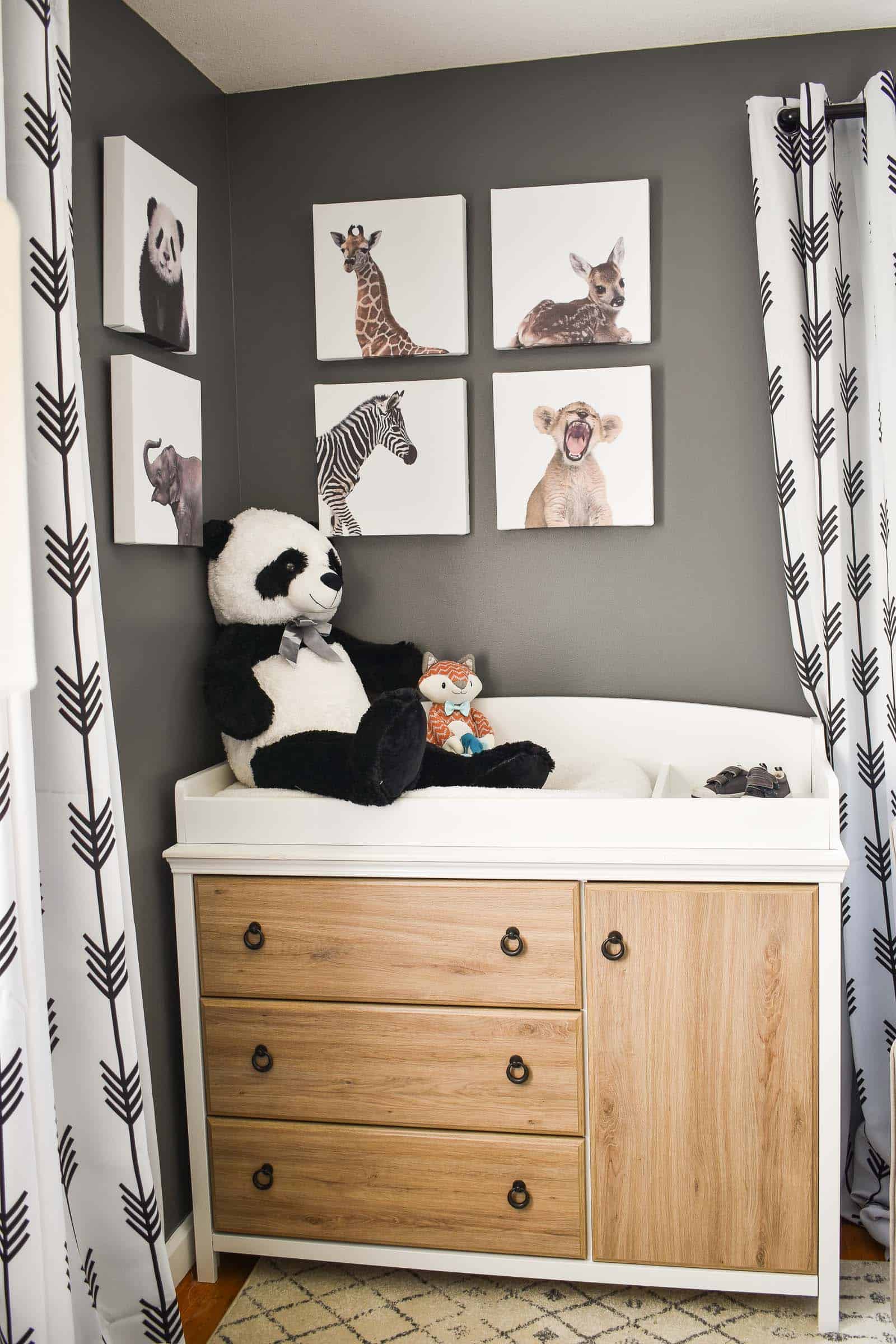 Lauren already had that amazing wire shelving set up in the closet so I ordered her that set of gray storage bins to keep the space looking a little more streamlined. The polar bear against the window is also small storage so hopefully this room can handle all the stuff that comes with a baby!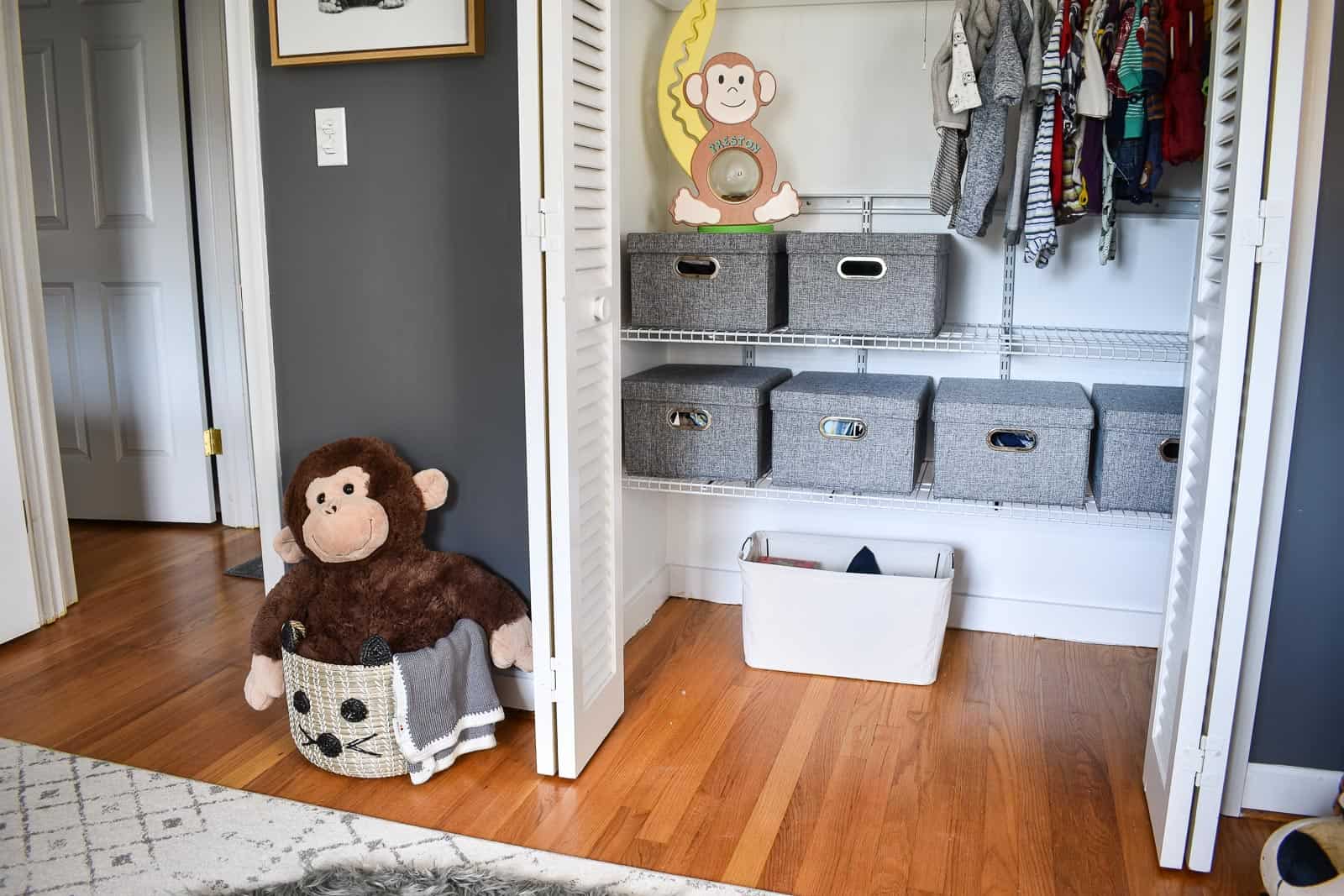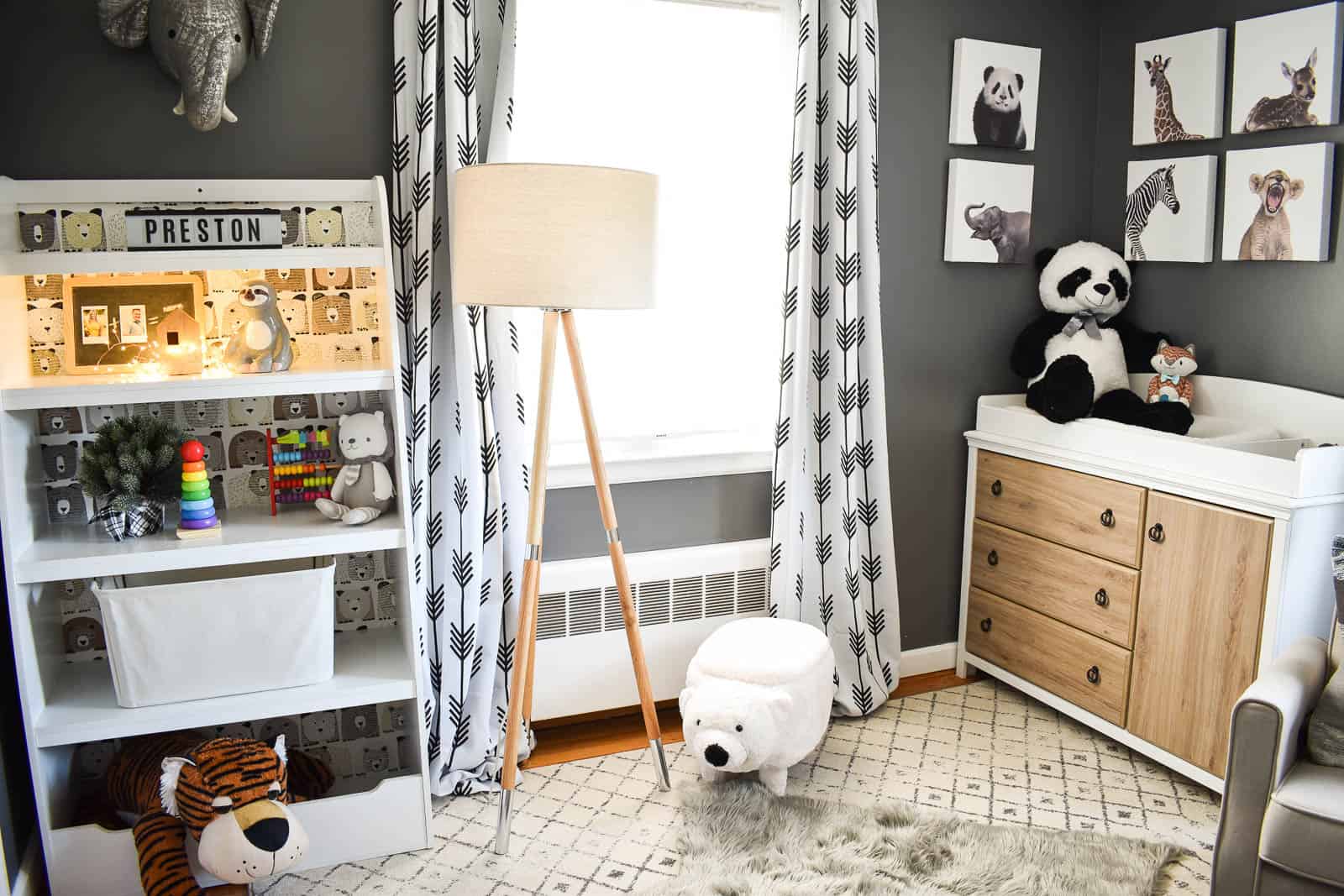 At the foot of the crib is one of my favorite laundry baskets. The inside bag velcroes right in and out so you don't have to drag the elephant all around the house. I think it's the cutest little detail for a nursery!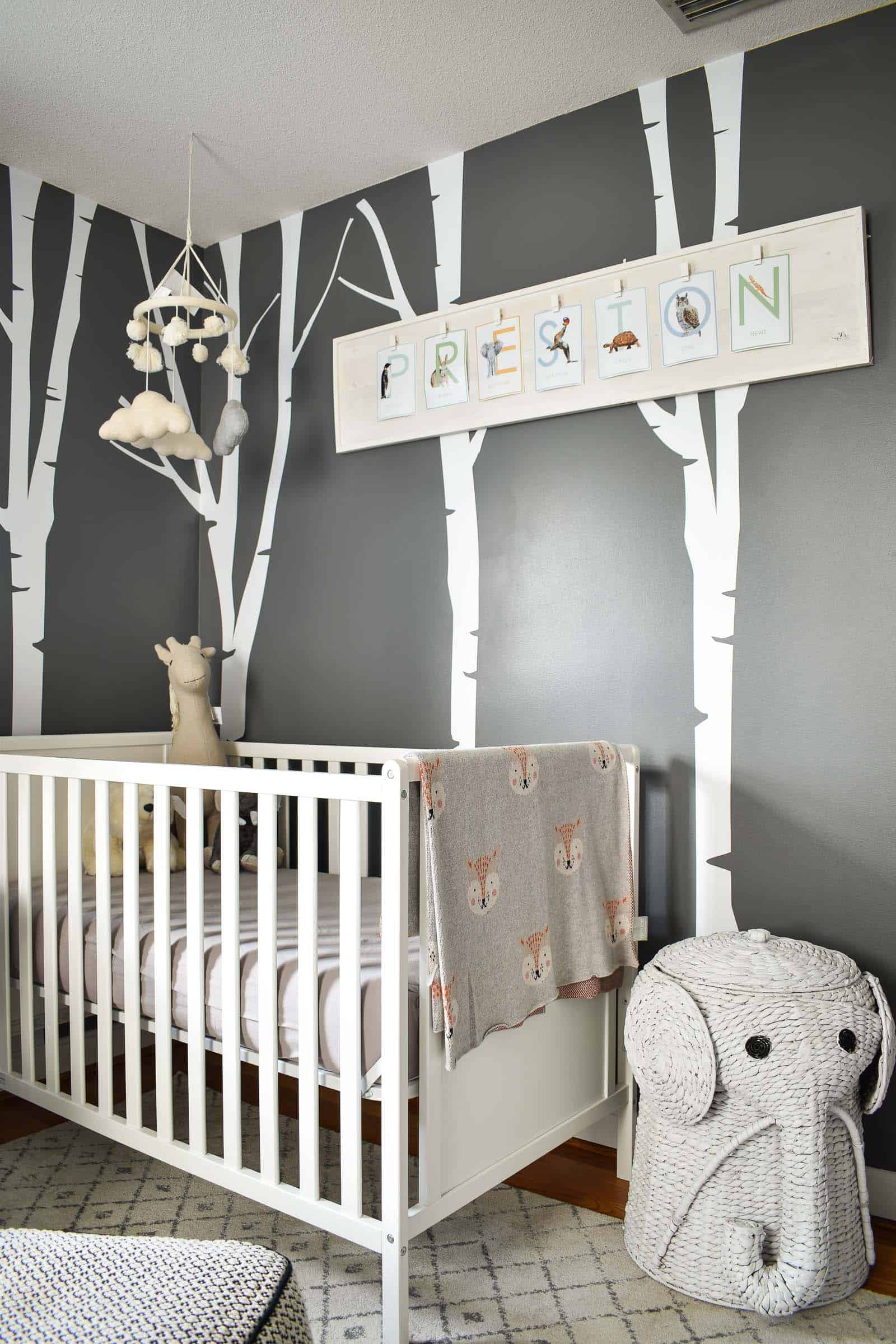 I made them that sweet sign (tutorial coming soon) for over Preston's crib. The crib is pulled away from the wall a few inches and again, when baby is more mobile, the sign might have to be replaced with something a bit softer.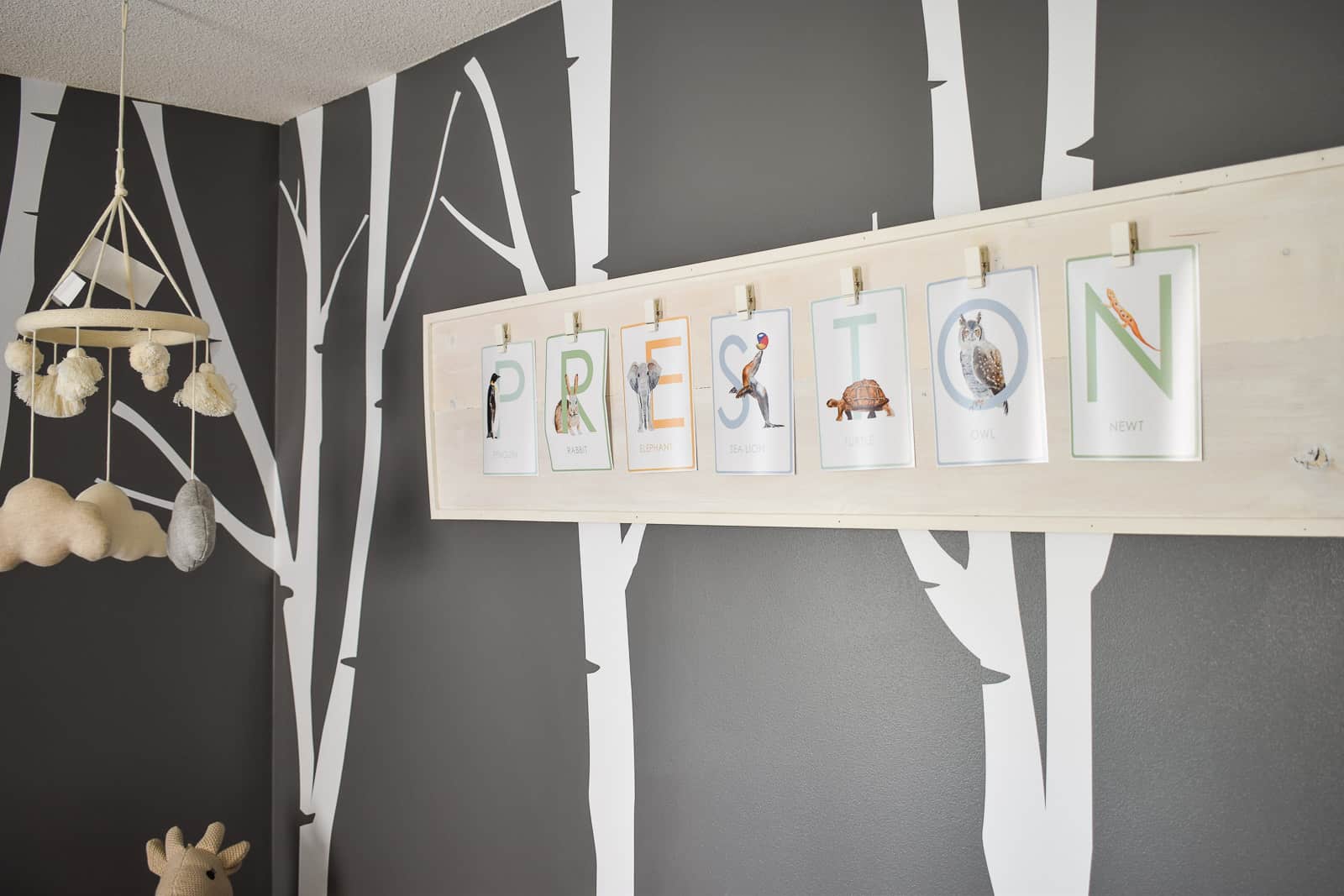 To say that I'm obsessed with this little nursery is an understatement. I LOVE how all the neutral tones and patterns came together and cannot wait to come back and see it with a baby in residence! Even though we have 5 kids, the only nursery that I've ever 'designed' for our house was Arthur's!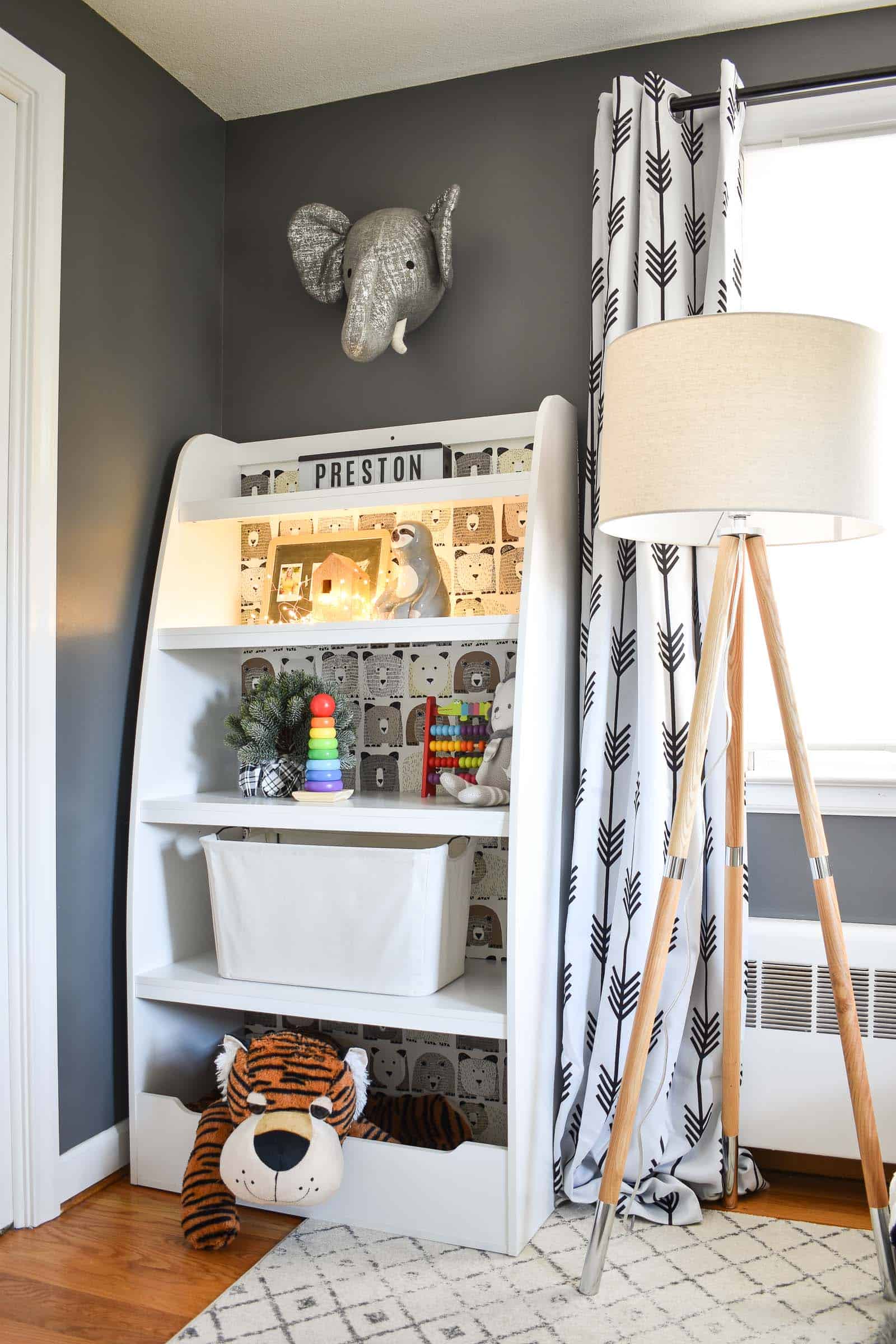 Thank you so much to The Home Depot for being so awesome with this project. Everything is from their website: crib, rugs, changing table, glider, lighting, bookshelf, wallpaper, vinyl tree storage… I've tried to link to everything in the post so make sure you go back and click on each item to see it on their website!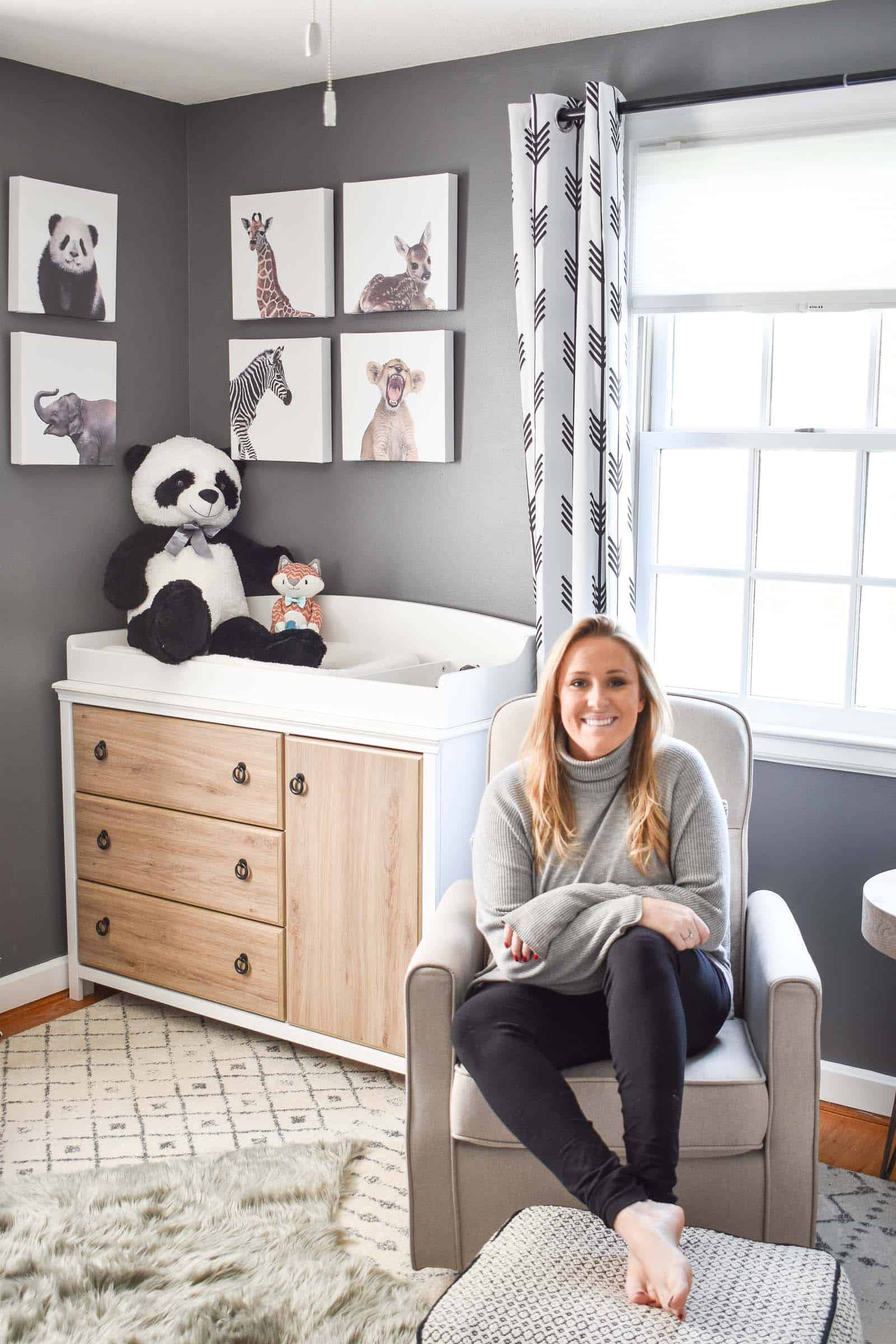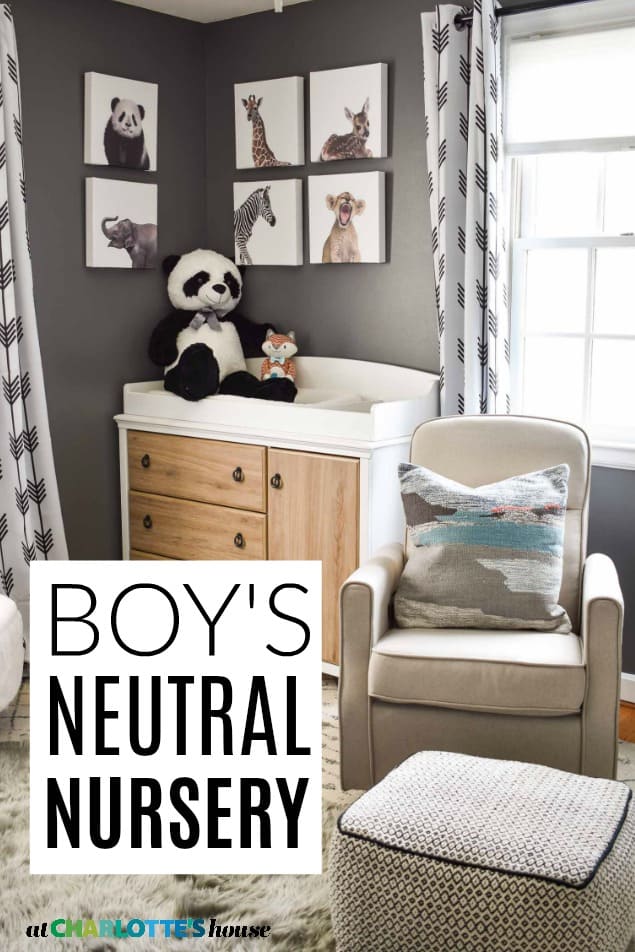 I acknowledge that The Home Depot is partnering with me to participate in the promotional program described above (the "Program"). As a part of the Program, I am receiving compensation in the form of products and services, for the purpose of promoting The Home Depot. All expressed opinions and experiences are my own words. My post complies with the Word Of Mouth Marketing Association (WOMMA) Ethics Code and applicable Federal Trade Commission guidelines.