If you found me from Pinterest, HI! WELCOME! Check out some of my most popular posts here. And feel free to stalk me here!
DIY Wood Plank Wall for a Nursery
Just in time to welcome Baby Arthur, I shared the finished nursery on the blog! And I promised to post about the gorgeous plank wall. Good news… it was SO simple. Without further ado, here's a play-by-play on how to install your very own!
Materials for Plank Wall
(affiliate links included for your convenience):
Step 1. How large is your plank wall?
The first thing you'll need to do is figure out your rough square footage. I decided early on that I couldn't manage the logistics of an actual reclaimed wood wall… 8.5 months pregnant and dismantling pallets do not go hand-in-hand. Also… there are funky chemicals that sneak their way onto pallets on occasion and for a nursery… better to play it safe. So new wood it was. Our wall was about 96 inches long and about 96 inches tall. Reminder that a 1 x 4 is actually NOT 4 inches wide… it's more like 3.5 inches wide. Meaning… I'd need 28 boards (each 96 inches long) to cover the wall.
I started by staining all the wood with Minwax Classic Gray. Working outside because of the fumes, I painted the stain on with a foam brush and wiped it off almost immediately. I made sure to paint the sides of the boards but didn't worry about the backside of the boards, obviously. This step took maybe 1.5 hours? (Updated: wood stain has a fairly potent odor so make sure to work outdoors or in a well ventilated space per the product instructions.)
Step 2. Prep Wall for Plank Installation
With wood stained, I was ready to start the installation. Unless you want to anchor every board (I did not), find your studs and mark them on the wall. We have an old house, so no guarantee that the ceiling and floors are level. Double check that your ceiling isn't way crooked, and then start there. If you have any weird angles or need to make up some small gaps… you'd rather have this be against the floor rather than up high against the ceiling where everyone can see. I FINALLY got a chance to use the amazing Ryobi airstrike nail gun for this project. This was sent to me months ago, but the decision to put our house on the market put a kibosh to the outdoor shed I had in mind for it. The powerstrike is biiiig. It's heavy and not the easiest tool to fling around, but… for a project like this it's ideal. I didn't need to drag out our compressor or wind a mile of tubing up to the nursery. The airstrike is a stand alone pneumatic nailer and worked like a charm for this plank wall.
Step 3. Install wood planks
My system for this plank wall was to randomly cut 3 or 4 boards and nail them against one side of the wall making sure to nail them into each marked stud. Next, I measured the necessary lengths to complete the row and scrambled downstairs to cut the next few boards with the miter saw. I learned early on, that I could only work a few boards at a time or else I risked having gaps between the boards. I also wanted to stagger my cuts so it looked somewhat random. Going back and forth I slowly worked my way down the wall.
Every once in a while, I would nail in a board and find a gap like this… nothing a crow bar and a little realignment couldn't fix.
I needed to split my board in half with a jigsaw to fill the last small gap along the baseboards. I also found that having a rubber mallet was helpful for sneaking in some of the tighter fitting boards. Because I was using new wood, the boards were all fairly flush to each other, but I went over the wall with some sandpaper to smooth out any corners or splinters that I could see.
And that's it! Finished in one short afternoon. I was super tempted to measure well ahead of myself and install a dozen boards at once, but was glad that I slowed down to go a few rows at a time and measure each one. Promise, it's as easy as it sounds!
Wanna see how the whole room looks? Here's my original post about it.
I've shared a few other kids' rooms in this new house. Eleanor helped me with hers: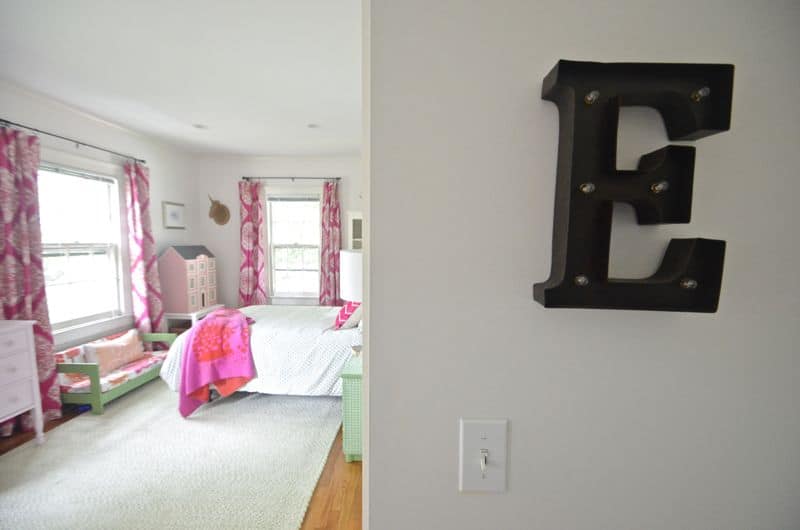 Oliver mostly likes that he has Superman featured in his, but otherwise it was a quick project to pull his space together: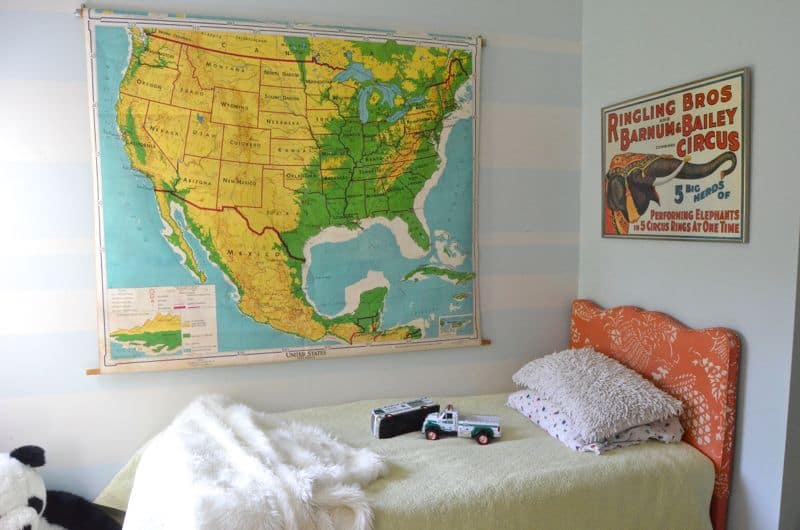 And Louisa's room is just like her: bright and cheery:
Stalk me on social media and follow me on Facebook, Instagram and Pinterest!