When I first posted about Louisa's room in my Before Home Tour… I didn't think I'd do much in there. And, I haven't done muuuuuuuch, but after tackling the other kids' spaces, I had to give sweet smiley Louisa something! It all started with a bookshelf. She had this one lame Ikea thing between her windows and I wanted something more. I found a perfect wooden one at the flea market for $12 and that sort of sent me off to the races. Don't ask. (Full source list at the end of the post.)
The rug in Louisa's room is my favorite… colorful, fun… so many directions to go with it. I wanted the bookshelf to be bright and SUPER colorful. I asked you guys what you thought and the consensus was green or blue. Sorry, folks… I have a TON of green in this house, I was worried the blue would look too baby girl/ baby boy with the pink walls so I went out on a limb and chose yellow. The brightest yellow I could find without going neon (which I considered…).
You know the "If You Give A Mouse A Cookie" books? Well… this was that. Since I was doing the shelf yellow… I decided to bring the yellow over onto the gallery wall and tape off some frames to go around the, er, frames.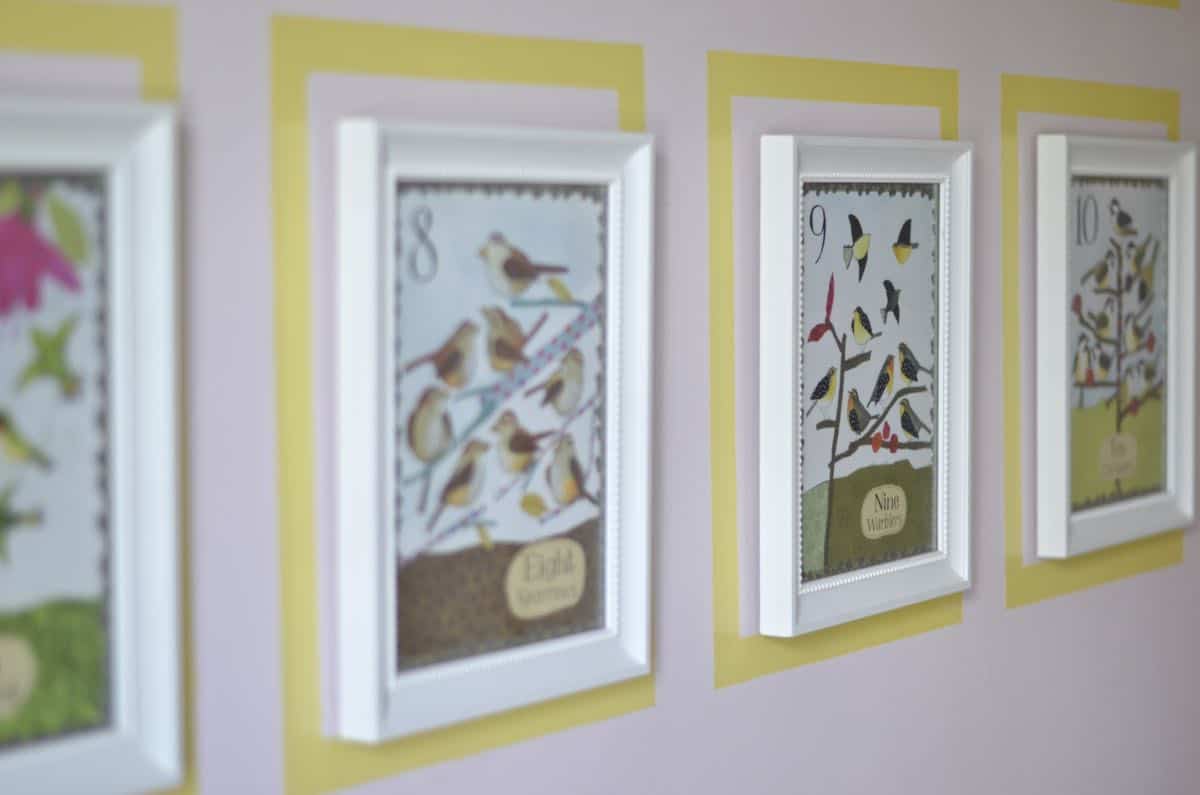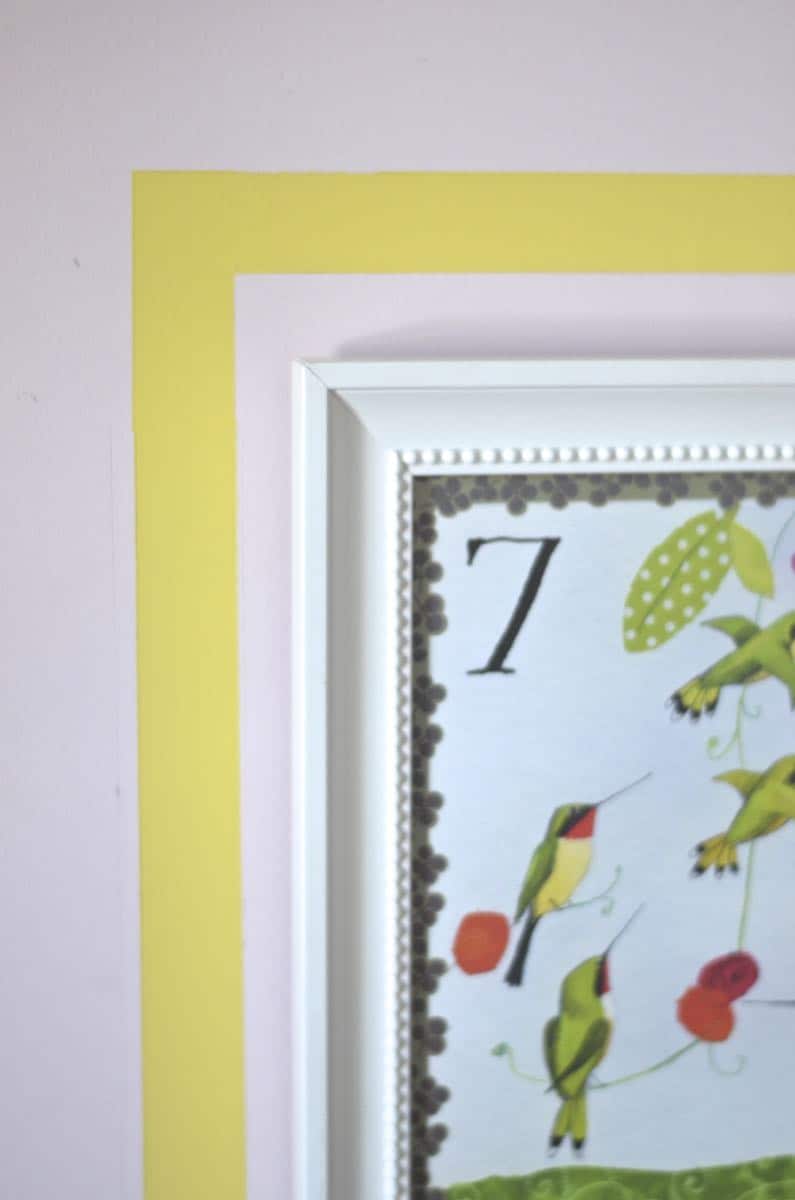 Then the wall over Louisa's crib needed something… I didn't want to put anything that could fall down and hurt her. Originally I considered a mural of sorts. Then a wall treatment like washi tape or Sharpie. But I'm kind of digging the woven wall hangings that I've seen popping up here and there…one thing lead to another and I remembered the extra Ikea rugs I had leftover from our $50 staircase runner at the old house.
I sewed two together end to end and ironed on some freezer paper. The text was just my super sized handwriting that I cut out with an exacto knife. The rug is pretty bumpy but the freezer paper ironed down well enough for me to stencil… and then I went back over with a small brush to fill in any areas that needed a bit more paint. (Update: I wrote up a better tutorial for this tapestry here.)  This post was what I followed to make the tassels. Tassels make everything better, right?
The corner by the door is alllllll flea market magic. Originally I figured I'd paint the hanging lamp, but I couldn't bring myself to… I swapped out the yellow cord for this clear one and hung her up!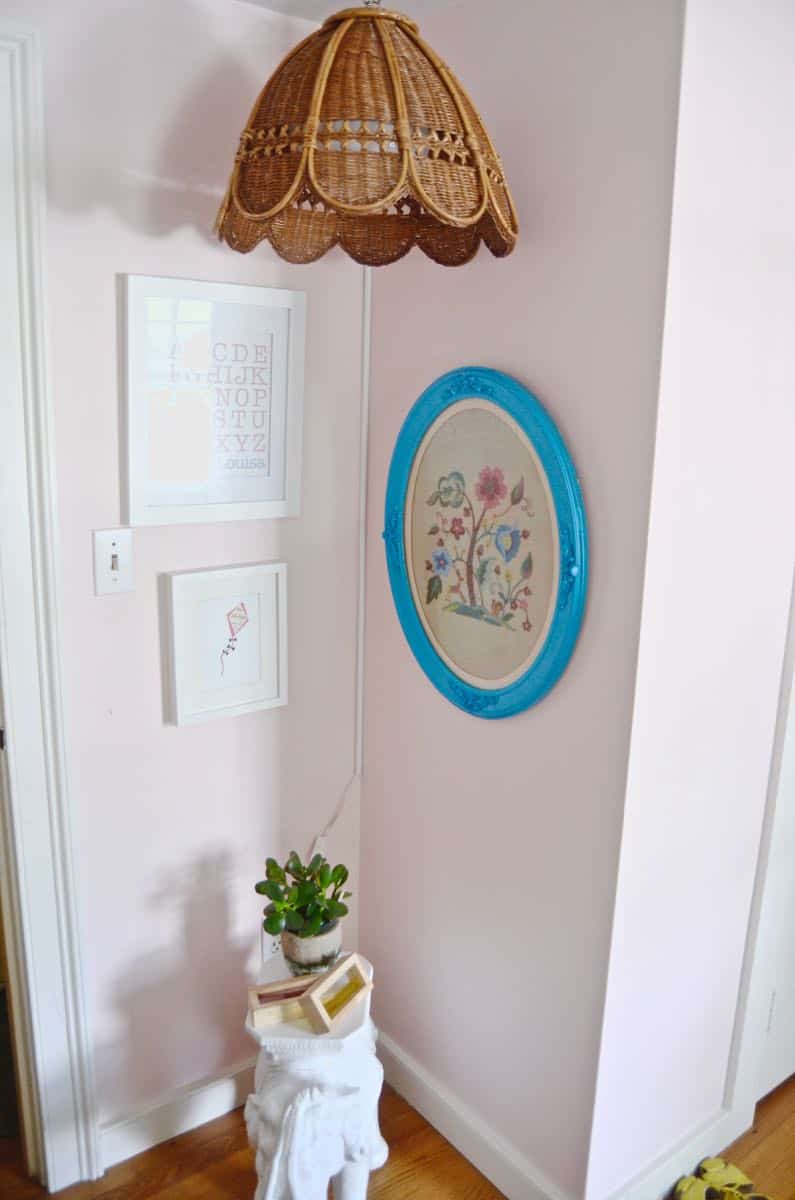 That amazing crewel art was in a chipped and dreary gold-ish frame. A coat of shiny blue spray paint and bam. So pretty. Louisa loves this one! "Mummy paint."
I had some random curtains in there to start, but they didn't work with all these changes. After sewing a million panels for Eleanor's room, I wasn't in the mood for a major project, so I picked up some table cloths at Homegoods for $16.99 each. I cut each tablecloth in half and then hemmed the cut edges adding this amazing ball fringe (affiliate) to the long edge. (My bumper sticker could be I break for ball fringe.)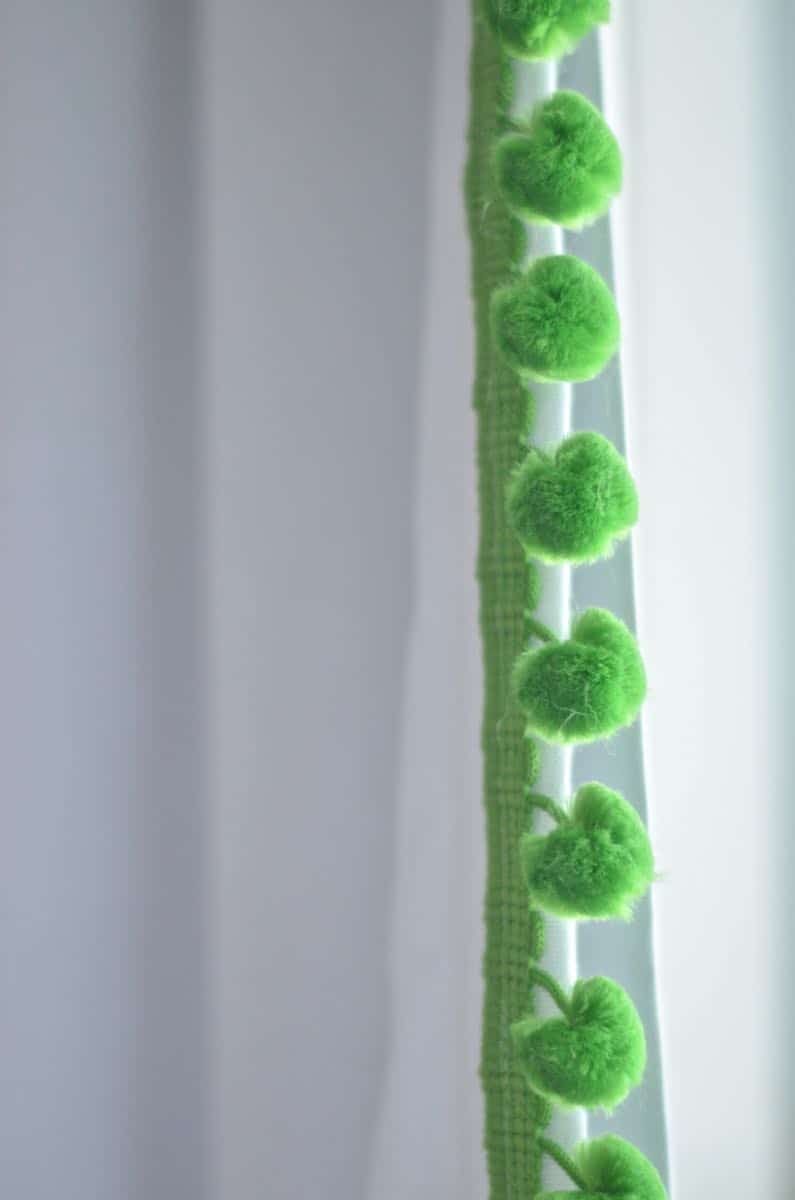 I hung a graphic print from Homegoods over the bookshelf. The lamp is a Goodwill snag from a while ago. Louisa says it's Mummy and Daddy.
Did I miss anything? The chair came from our room… stay tuned for what will be replacing them in a few weeks. That changing table is Pottery Barn and has been with us since Eleanor was a baby. And there you have it! This room is quirky and eclectic and came together in a couple of weeks… my favorite type of decorating!
I almost forgot to show you the before and after side-by-side!
Louisa's not even 2 years old but I tell ya what… she knows that this room is hers and has been all spiffed up and she LOVES it. Grinning from ear to ear! You like?? More importantly… where's your favorite place to put a tassel. Wait… don't answer that!