How to Make an Oyster Shell Mirror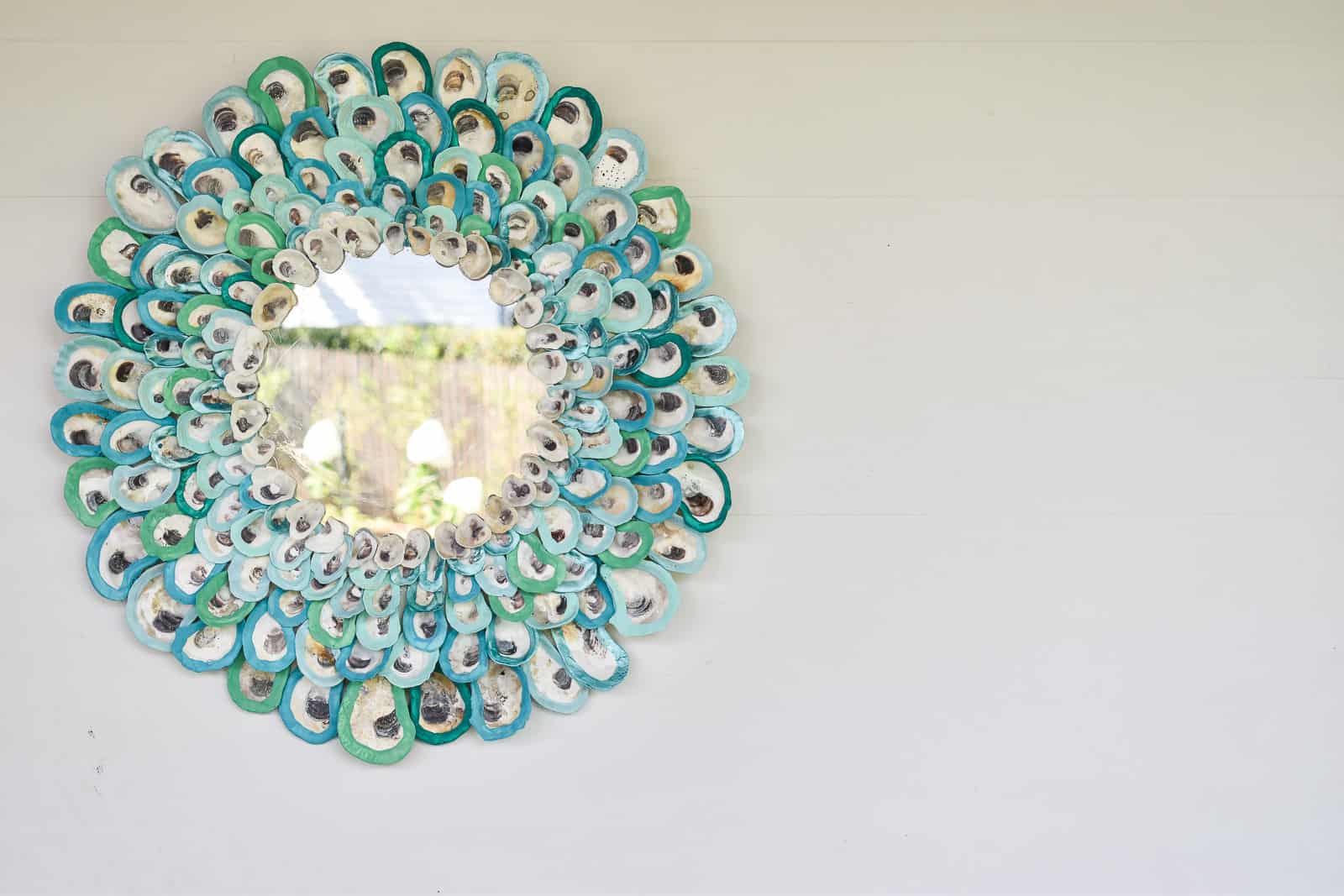 Two weeks ago, we went to the beach. And all along the beach were these shells. I think they're oyster shells, but I didn't really care, because they just looked… like potential. I filled a bucket with them, and brought them home. My style isn't nautical nor is it neutral, so the first thing I wanted to do was add color! Which is how I ended up with the colorful oyster shell mirror DIY you see above!
Step 1. Add Color
I pulled out my craft paint and selected all the colors I wanted to use: blues and greens. (Spoiler alert- I originally started with a handful of other colors that I ultimately didn't use: greens and gold.) I started by sorting the shells, and then I used a 1/4 inch basic craft brush and gave each shell a colorful outline and left each shell to dry.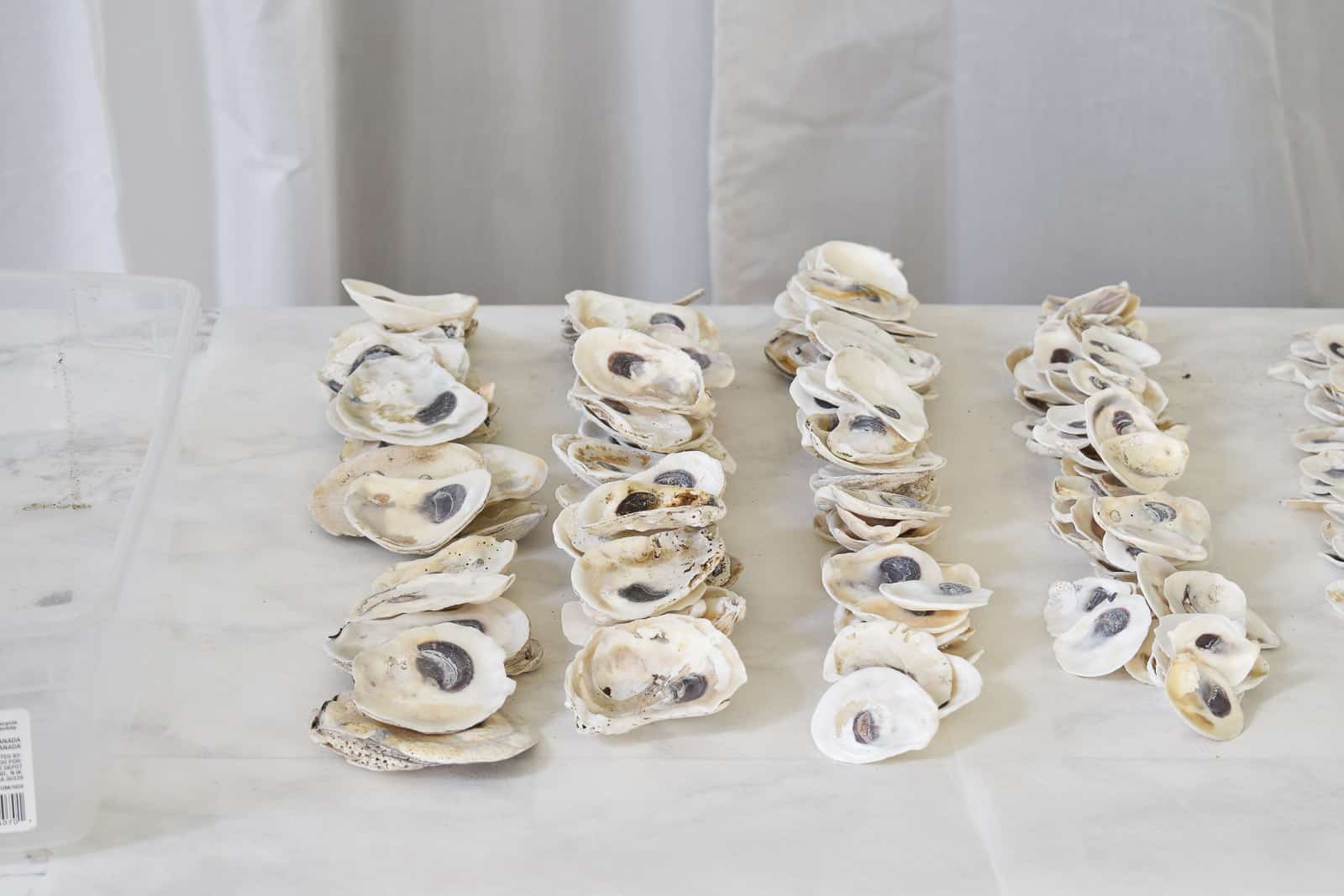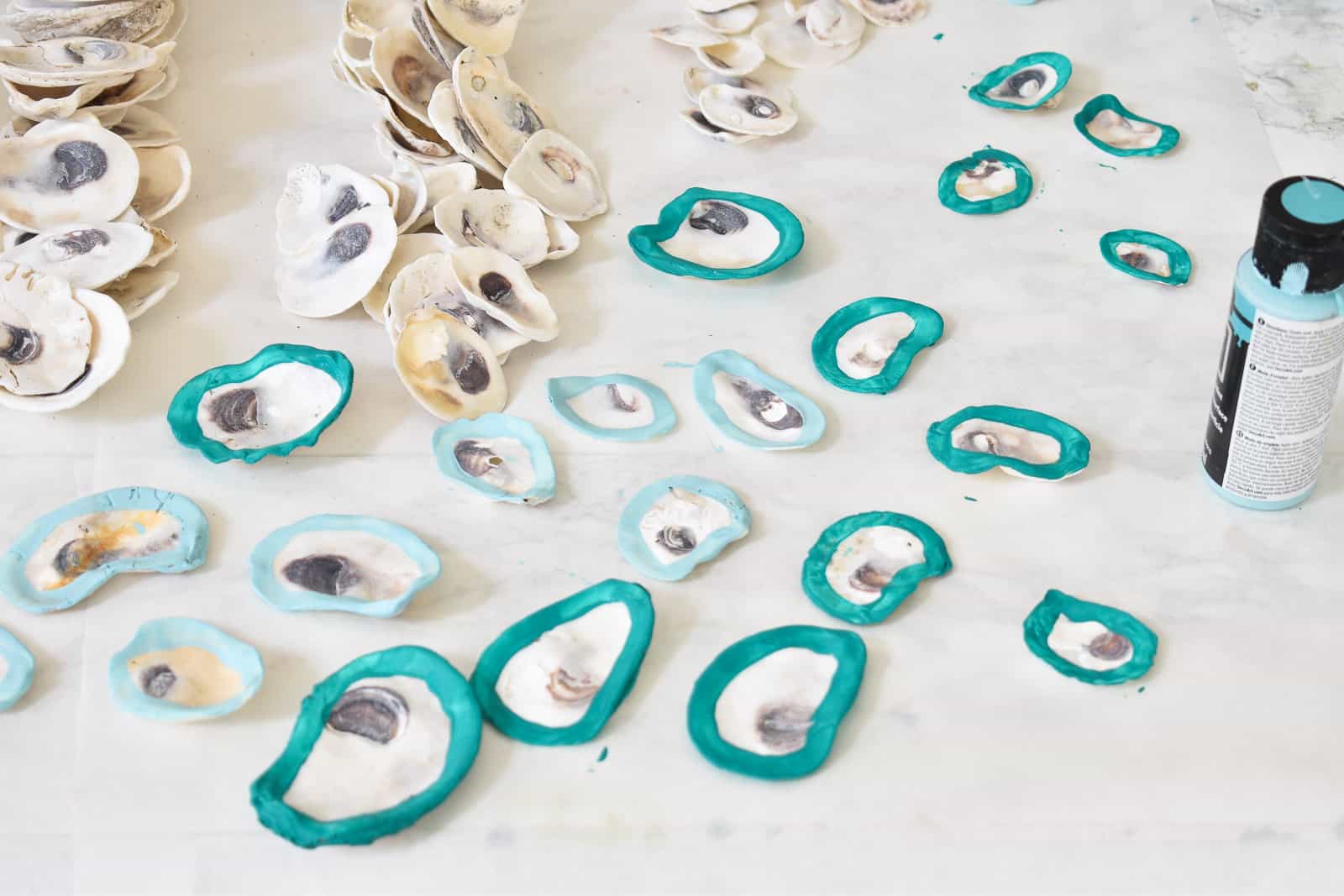 Step 2. Make the Mirror Base
I had some scrap wood, but… this wood is a thin piece of 4×8 plywood from Home Depot that will cost maybe $10. I made a quick compass by grabbing a piece of scrap wood and screwing one end loosely into the plywood to be the center point. I drilled a hole in the other end (10 inches from the center point) large enough for a pencil and then… voila, I was able to draw a perfect 20-inch circle. I cut it out with my jigsaw.
Step 3. Prepare the Mirror
Because the shells are white, I quickly painted the plywood (front and back) white. Then I centered and glued the mirror onto the board with craft glue. I used a 10″ mirror similar to this one (affiliate).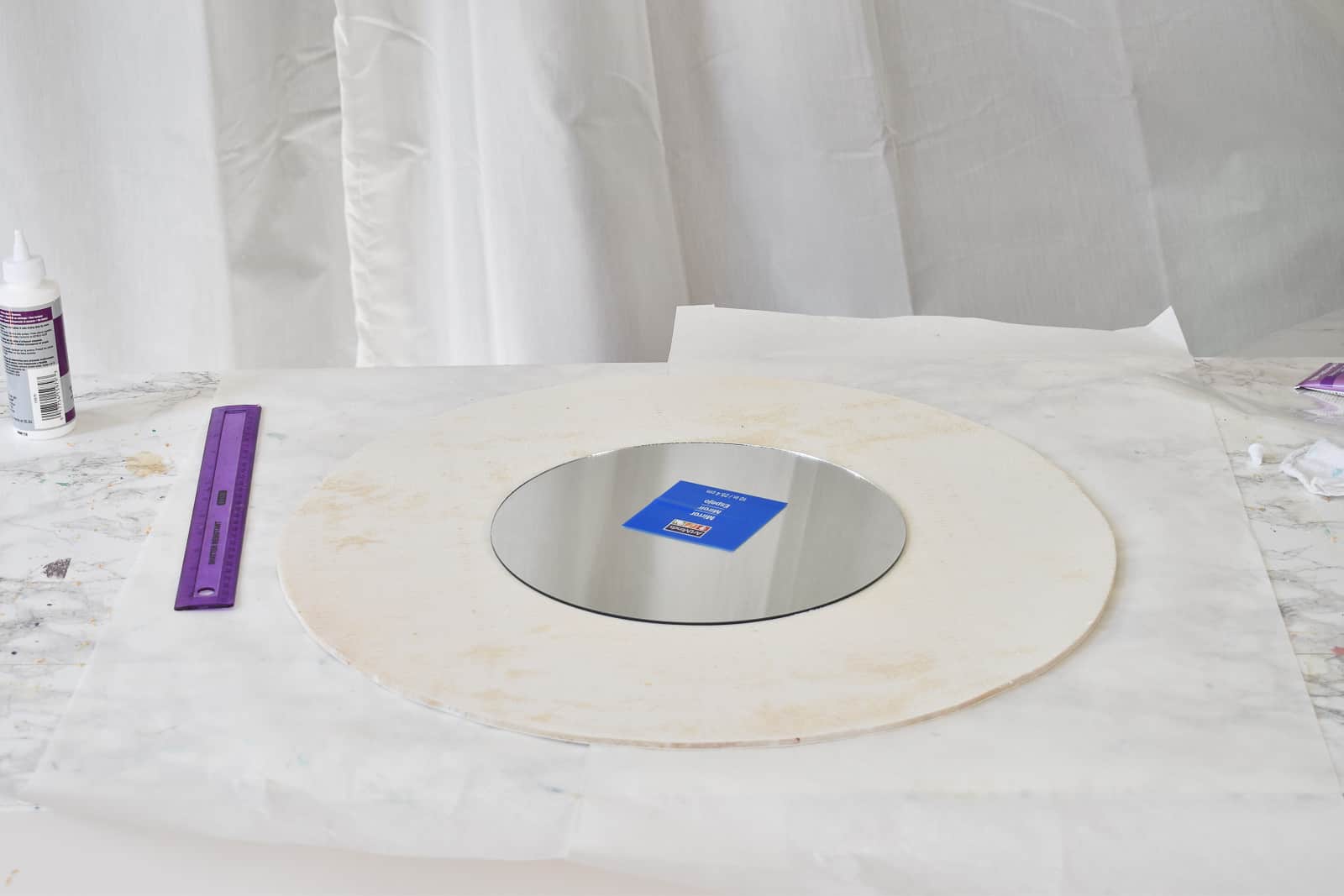 Step 4. Attach the Shells
Remember how you sorted all your shells? Your shells should be separated into 4 categories: extra big, big, medium, small. I used a hot glue gun to initially attach the largest shells around the outer edge of the mirror, leaving about 1.5 inches on the plywood, and the rest overhanging. The hot glue gun will allow you to place the shells, but I went back with some craft glue to make sure they were extra secured.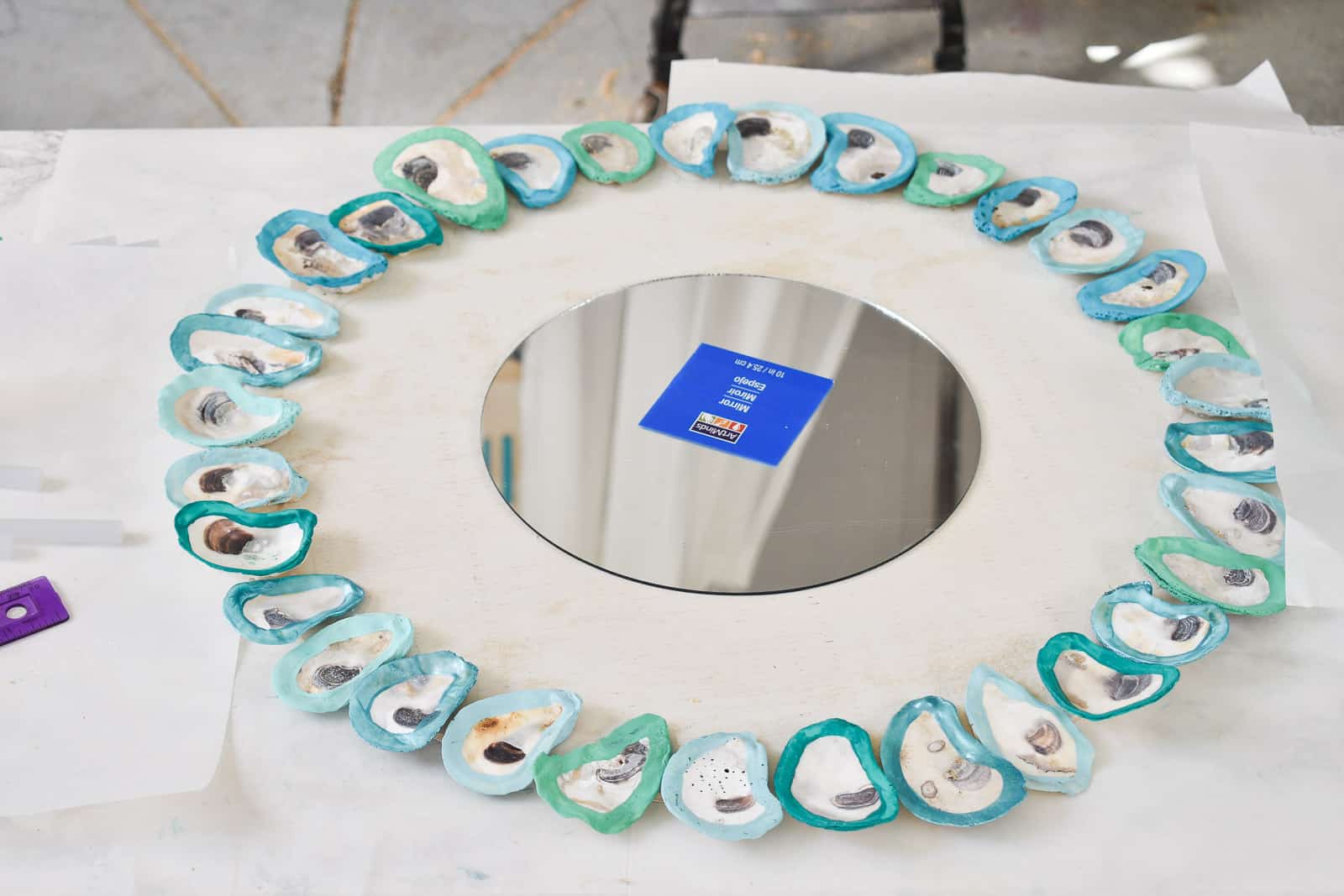 Next you're going to glue the less big shells just inside that outer ring being careful to alternate shells to cover the seams between the outer ring shells as much as you can.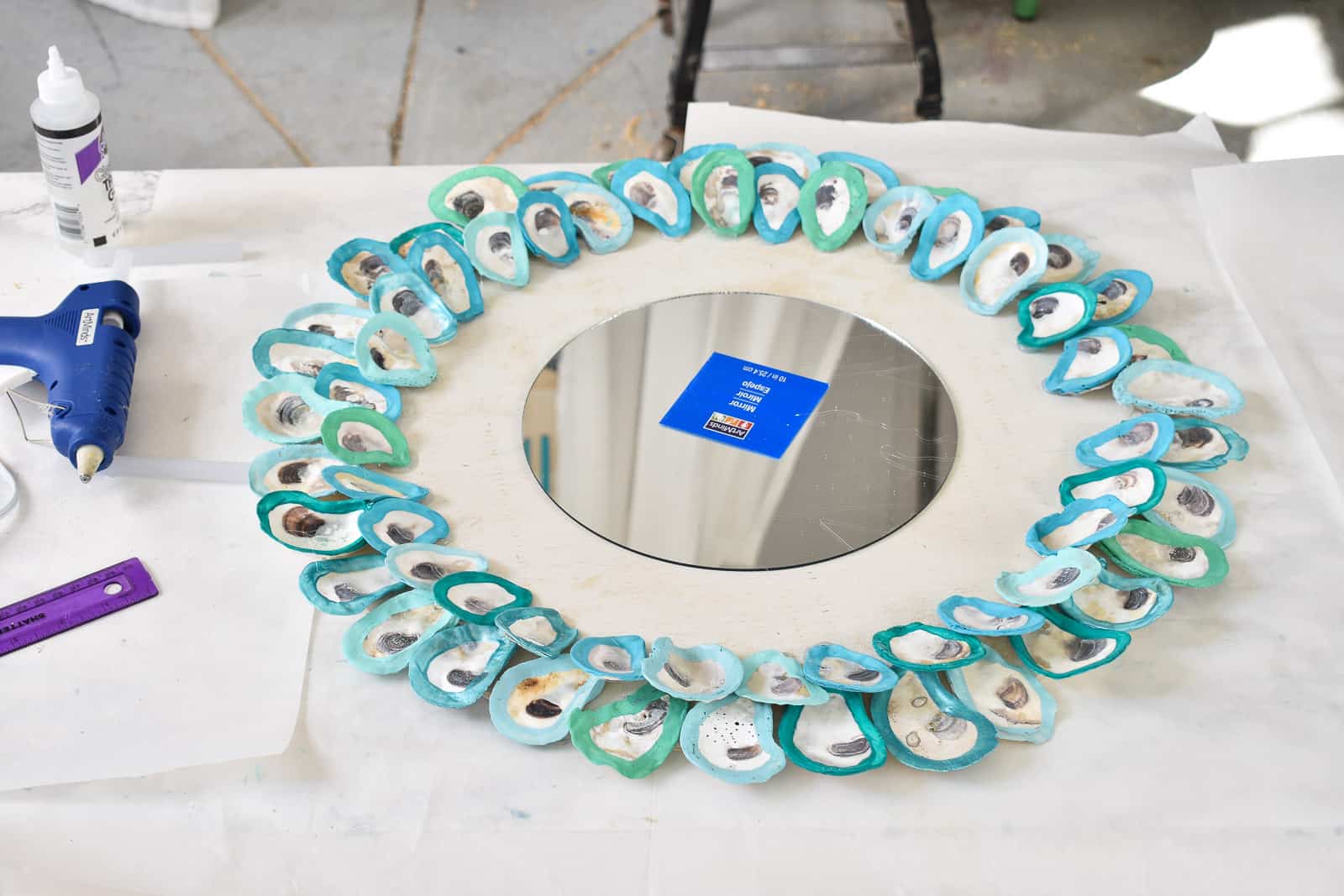 Continue adding rings of shells until you've covered the entire mirror. I decided to add one last ring of UNPAINTED tiny shells gluing them right on top of the mirror itself to help conceal the edge of the mirror.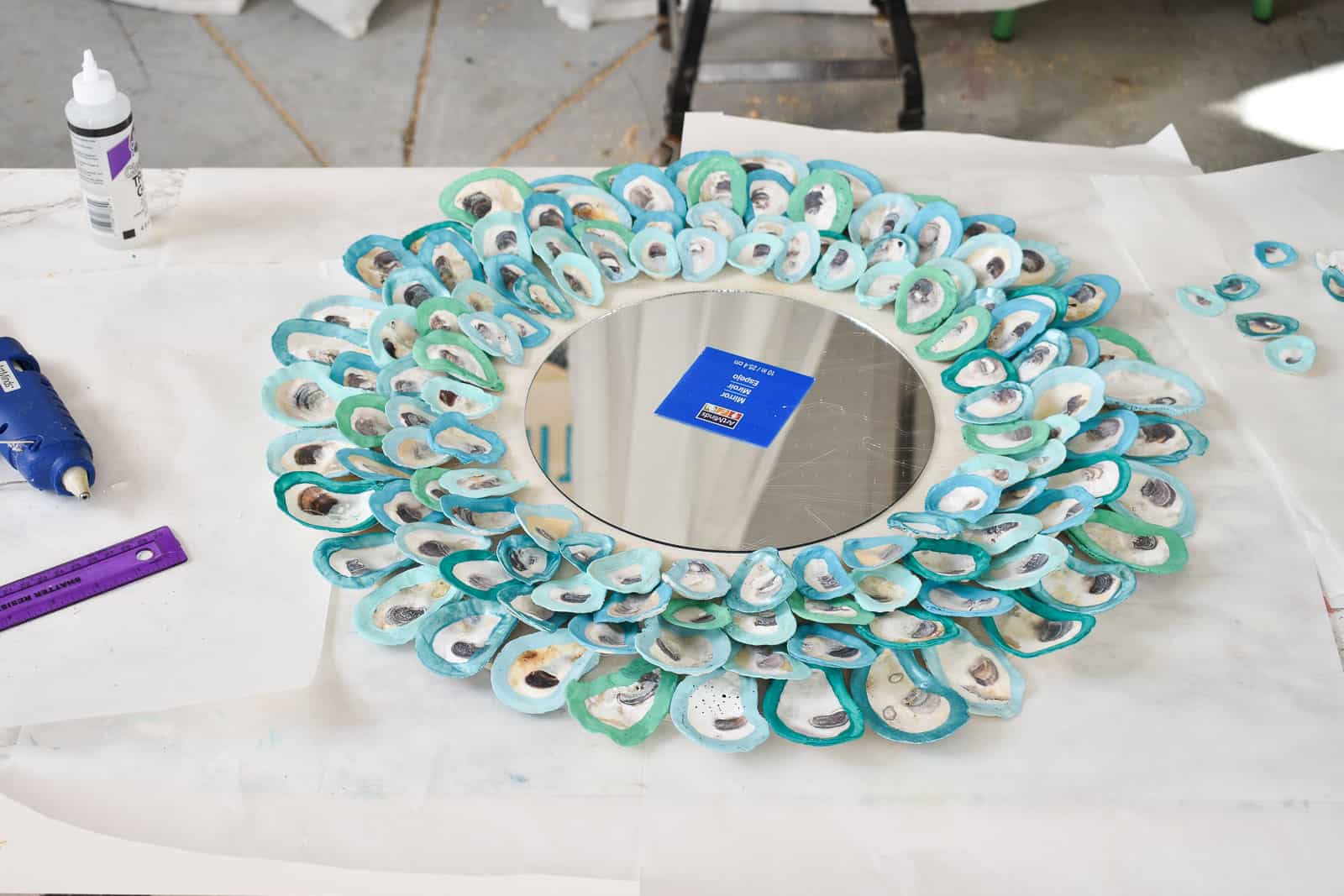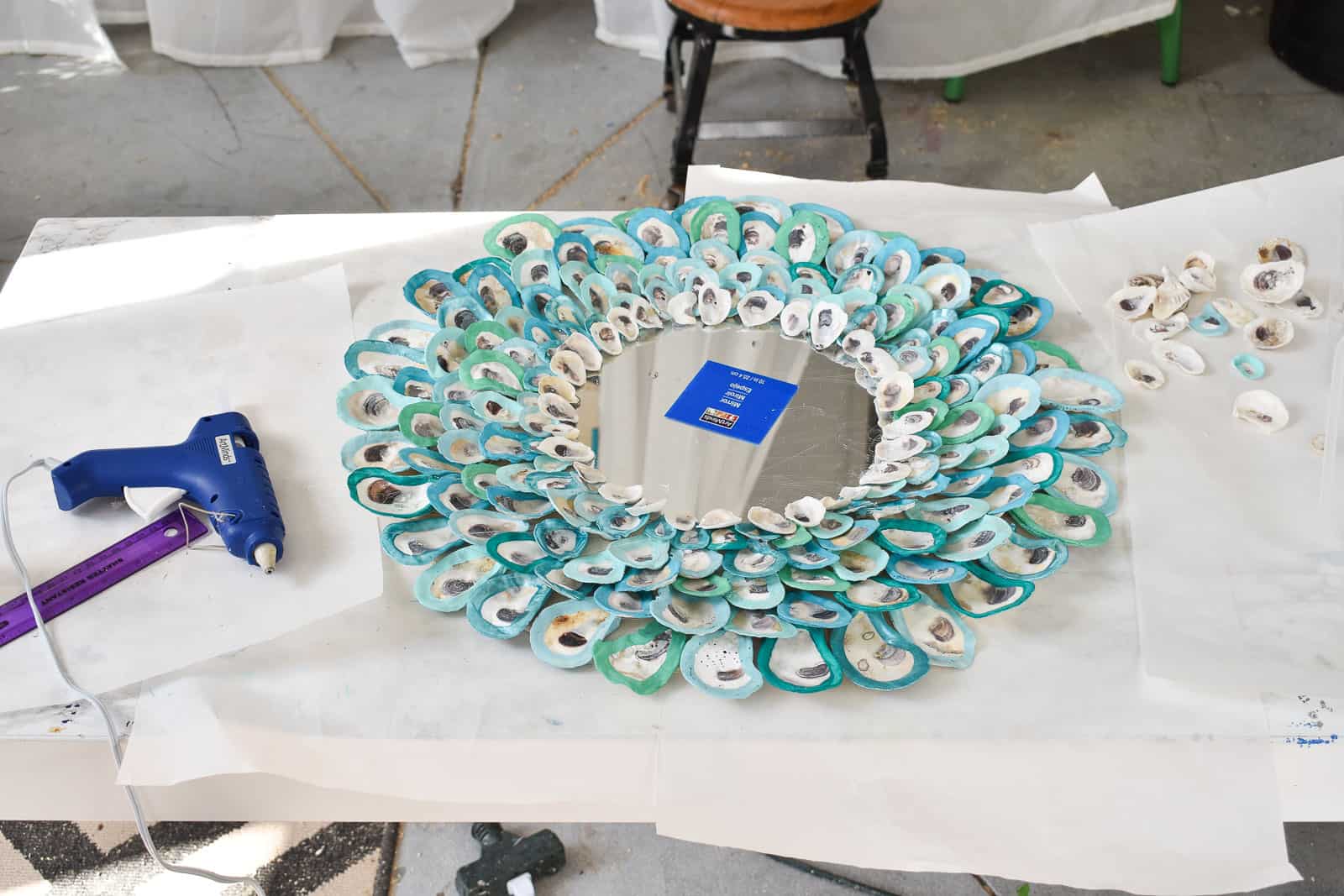 Tip. Because you're working with so much hot glue, there's a pretty good change you'll have lots of those whispy hot glue strands all over the mirror. Run a heat gun or a hot hair dryer over the surface and those strands will disappear… poof.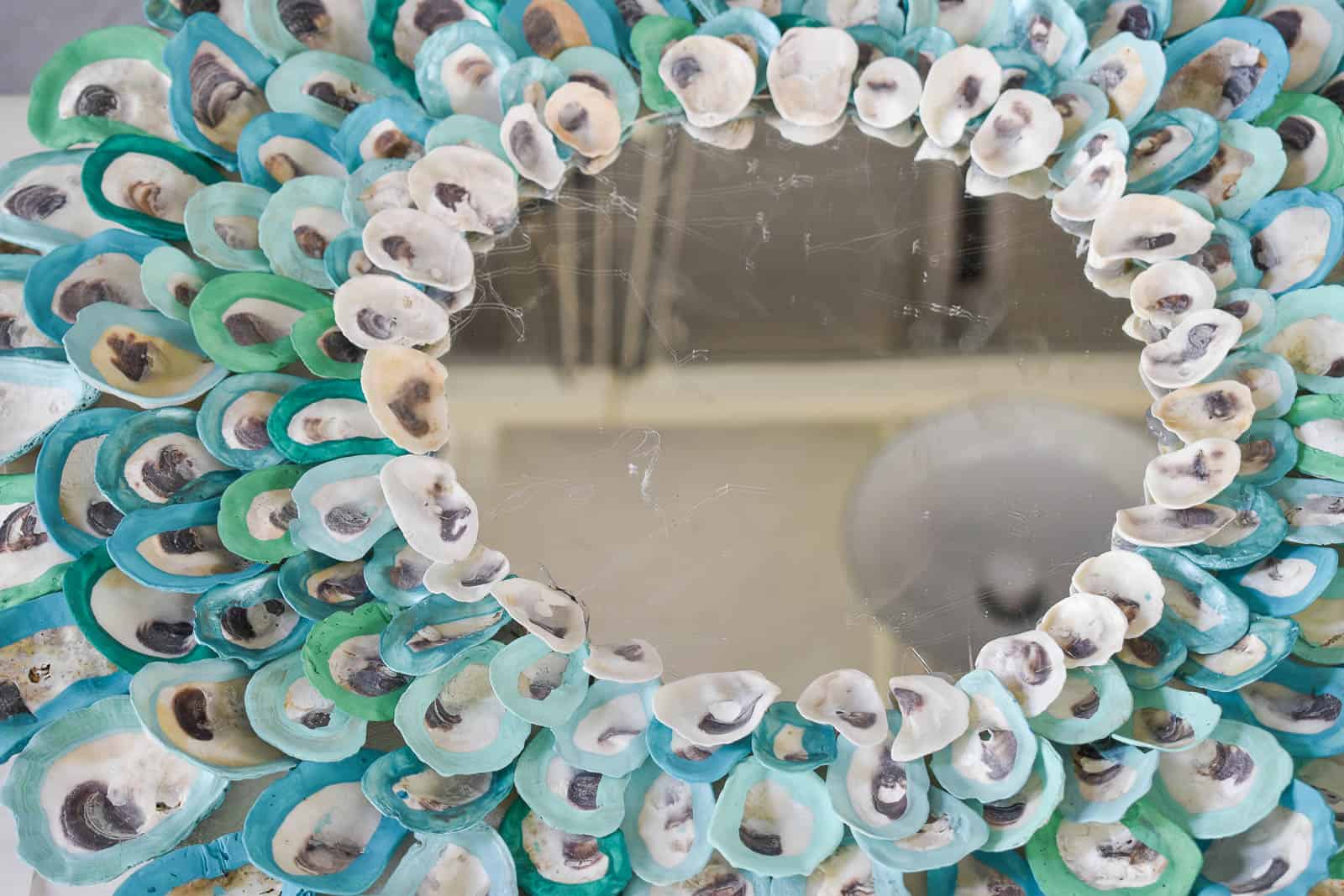 Step 5. Add the Hanger
In hindsight, I might have added this first so I didn't have to juggle the mirror with the shells, but… I also liked having the mirror lie flat when I was assembling so I'm not 100% sure. I flipped over the mirror and rested it on a can of paint. I took a length of scrap wood (maybe 10 inches?) and screwed in 2 D-rings. Then I used wood glue to attach this to the back of the mirror. My plywood was super thin and the shells are fairly light so I think this will be plenty sturdy. I ran picture wire between the D-rings and hung on our porch!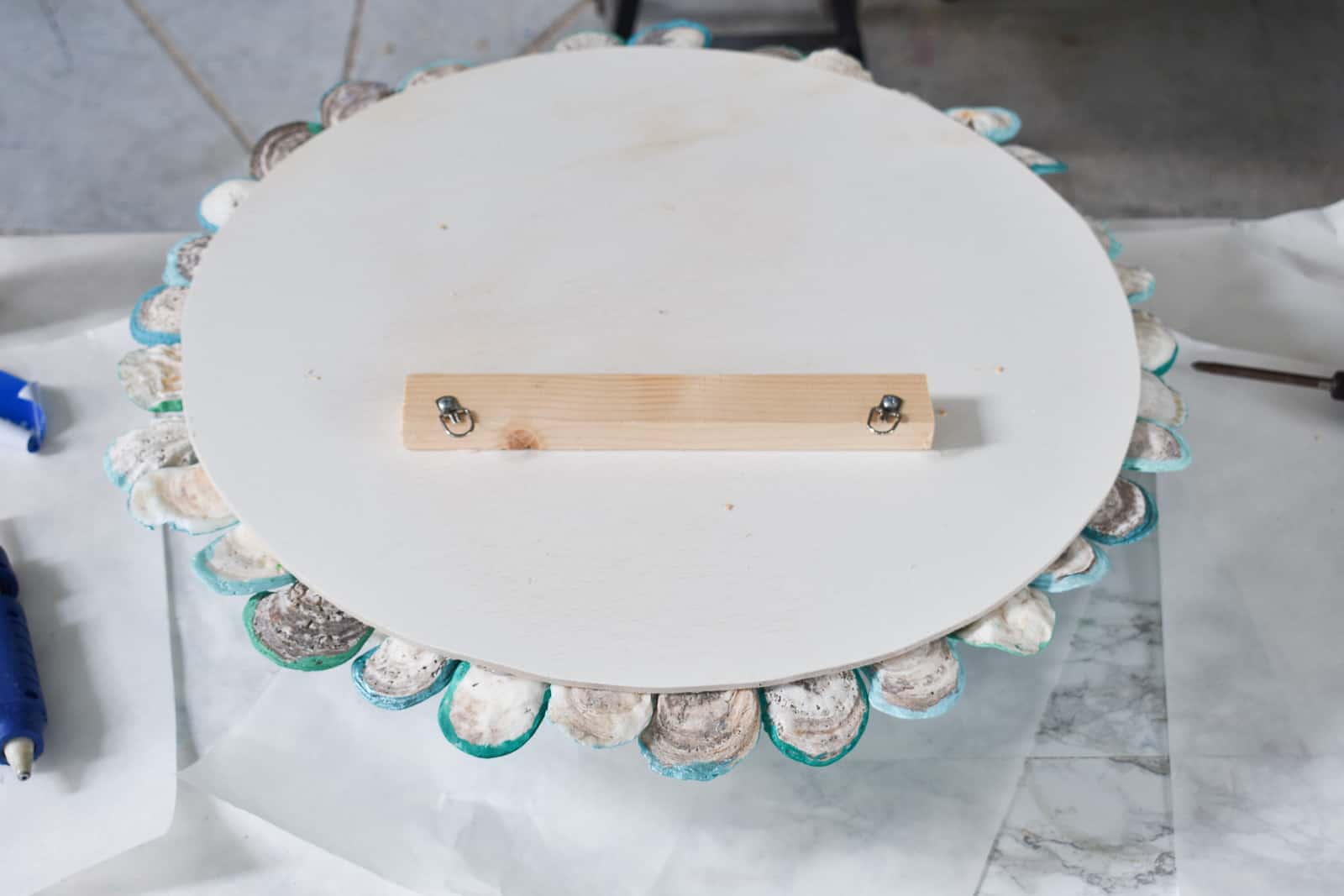 Obviously this mirror needs to go somewhere out of the way so it won't get bumped into. I'm not sure if it will stay out here on the porch, but the colors are PERFECT. At the very least, it looks amazing in photos! I'm hopeful that it will hold up over time, but I'll update this post if something happens and the glue doesn't hold.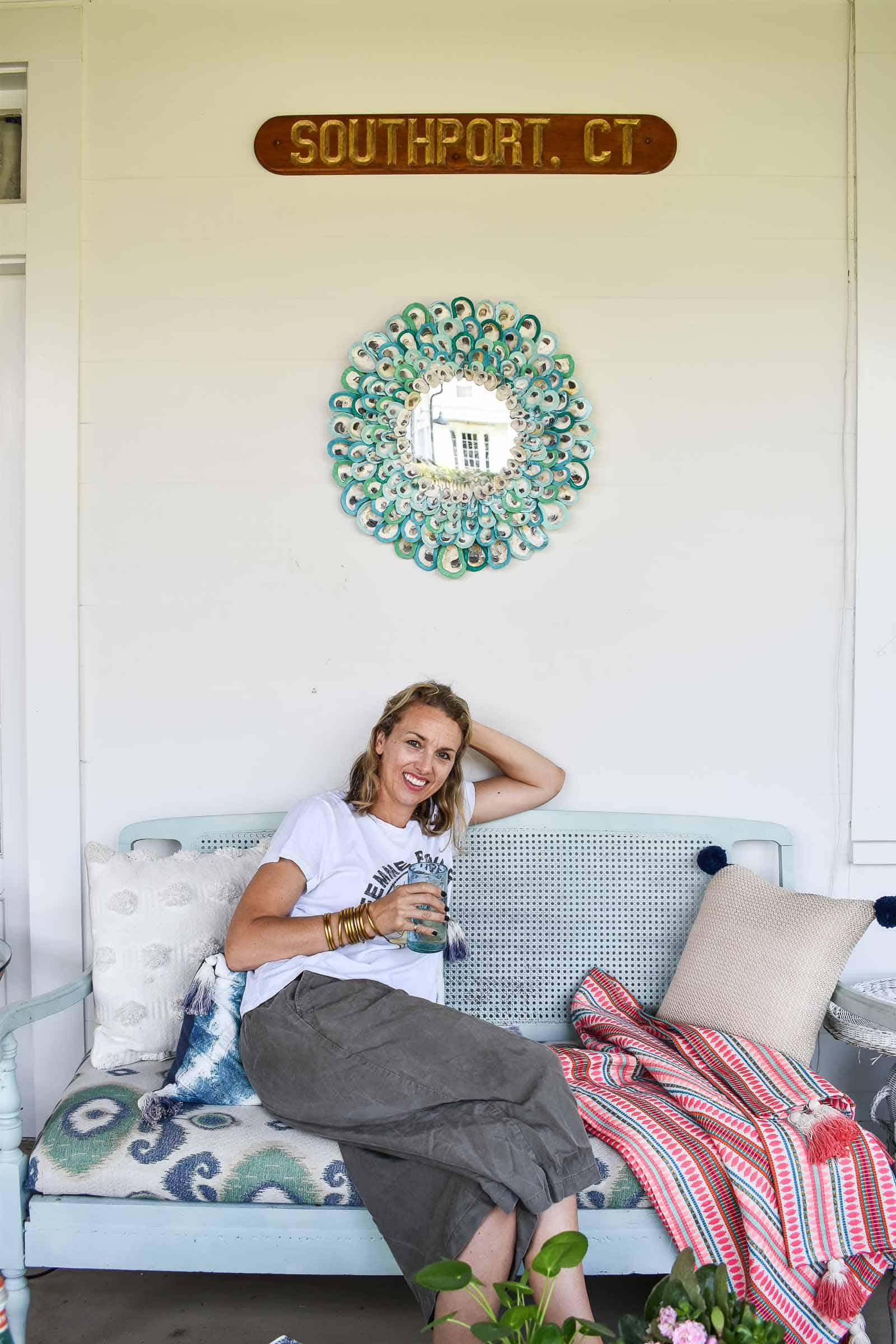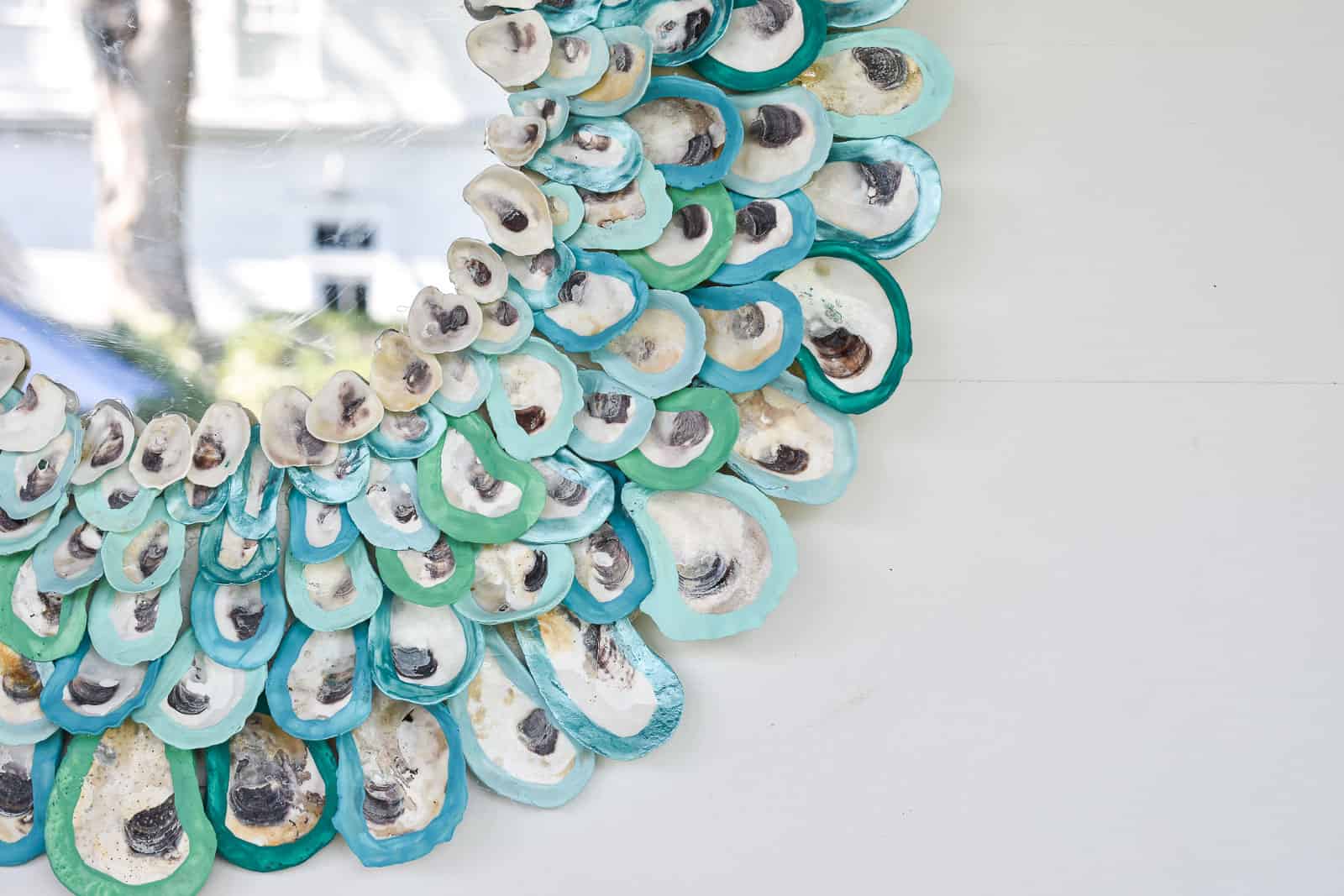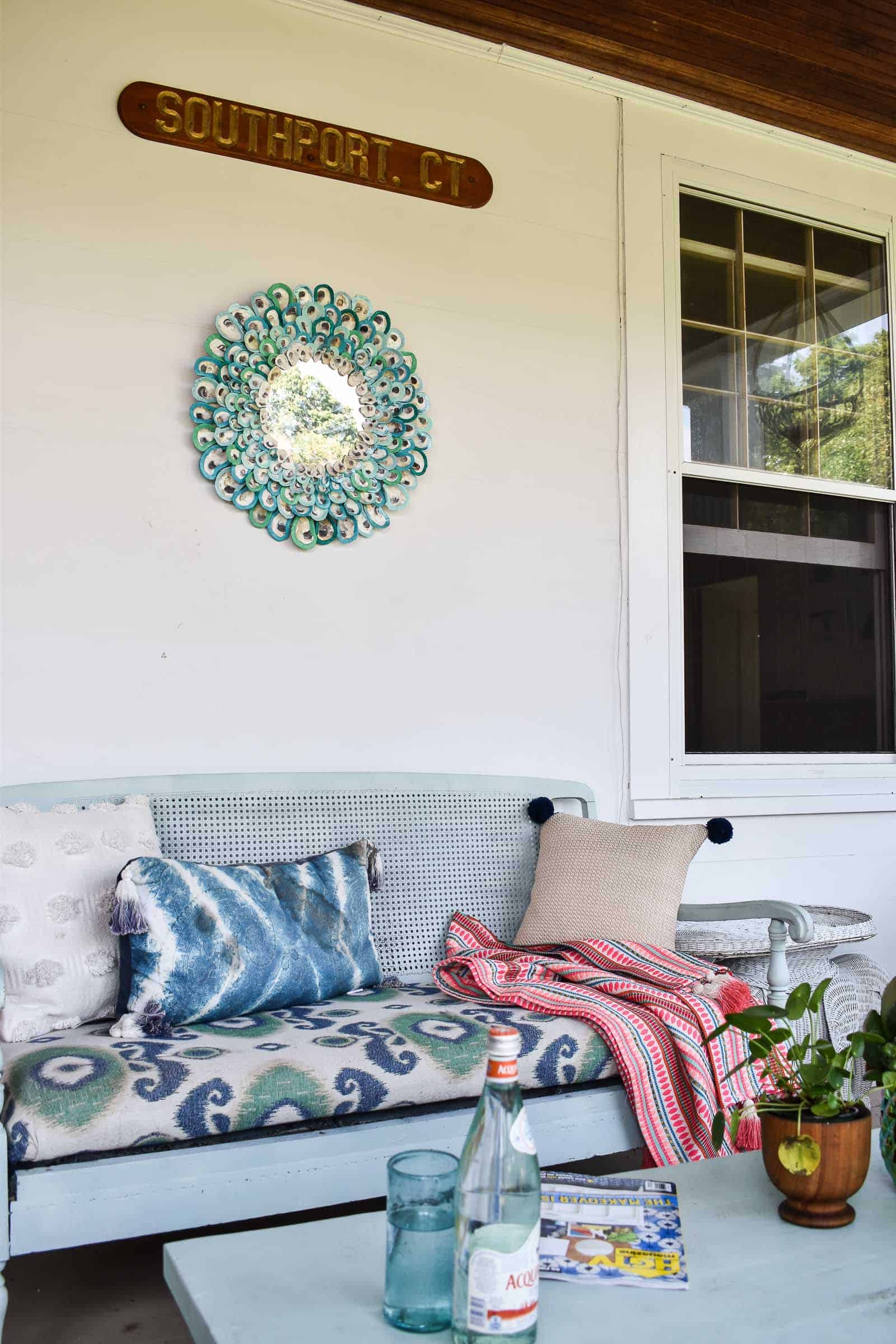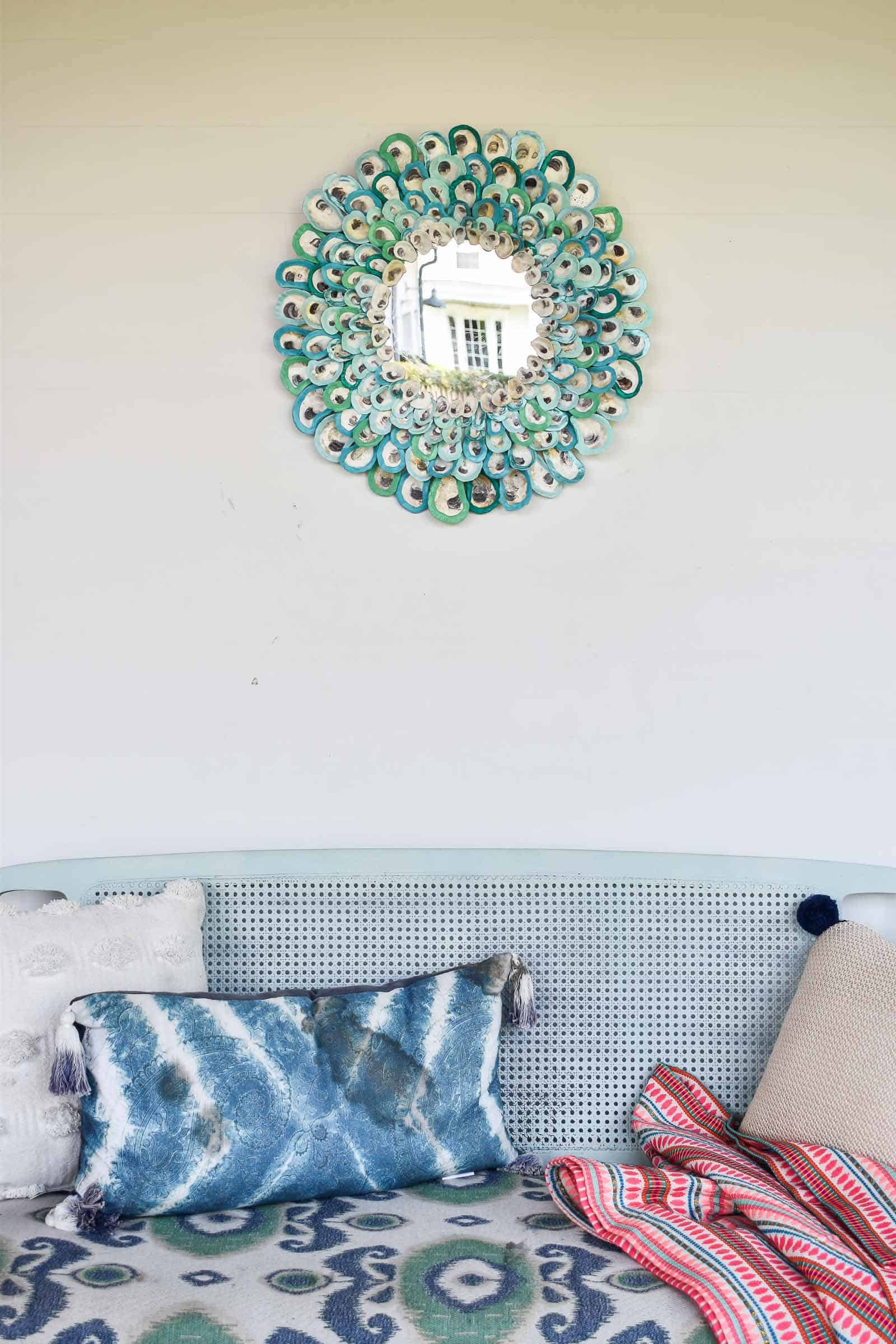 Do you prefer a video? Well I got one! Click below to see it all come together!