Rusty Furniture Makeover with Rust-Oleum Stops Rust
I used Rust-Oleum's Stops Rust spray paint to transform these beat-up thrifted finds.
Disclosure: This post is sponsored by JOANN and I am thrilled to put this Stops Rust paint to work!
I've tackled a lot of furniture flips in my blogging career, but the ones that make me the MOST satisfied are ones that start out with disastrous "Before" pictures. One of the most challenging things to "fix" in a makeover is… rust. Not only can it continue to erode the metal well after you've paint something, but it can also bleed through lots of paint and ruin the finish. Someone less valiant than I would have walked away from this $5 stool. Paint flaking off, rust on the seat, rust on the legs, rust on the… well, rust everywhere. But I was confident this old guy had a future.
The first step when making over any piece of furniture is to PREP the surface. For something like this stool that was soooo rusty, I started with my multitool scraper to remove the obviously chipping paint. There was a lot.
Next I went back and forth between my wire brush for the corners and tight spots and then steel wool for the rest of the stool. My goal was to remove as much of the flaking paint and flaking rust as possible.
Given the condition of this stool… there was NO way I could sand off all the rust. With lots of metal items, going over the rust with steel wool will remove the rust and you're good as new. But this stool was well beyond that. I sanded and scraped until there was no more rust coming off on my fingers when I rubbed them over the stool surface, but the stool still had visible rust stains and had to be painted.
Before painting, make sure you remove all dust from the surface and protect the surrounding area. (Spray shelter for the win!) Follow the directions and recoat time on the can as it's a little different than standard spray paint. I gave this stool a few light coats and let it sit outside for a day or two before bringing it inside.
It's sitting at our homework station to give the kids an extra perch when they want to look over a sibling shoulder.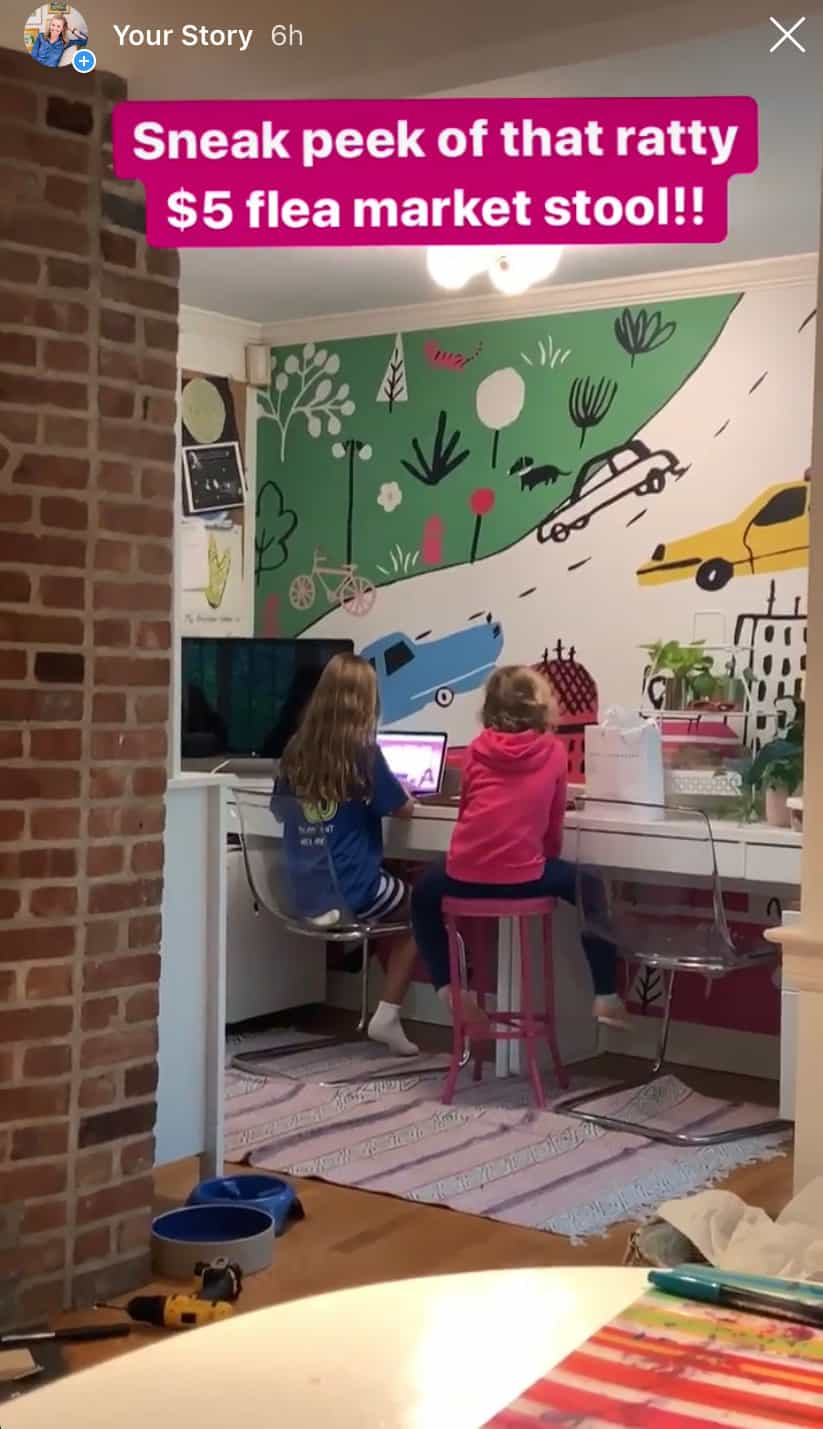 The same morning I brought home my rusty rusty stool… I also picked up this dreary drab little magazine stand. The seller said it used to have an ashtray that sat on top, but he'd lost it so I got a good deal. After the disaster that was the stool… this metal tray / magazine rack was a piece of cake.
I followed the same steps… sanded down with steel wool and my wire brush. It looked like this piece had a coat of gold spray paint on it, so I was just trying to remove any peeling or flaky paint and to make everything as smooth as possible.
Just like with the stool I gave my magazine rack/ paper tray a few light coats of Stops Rust and let it sit for 24 hours to cure. It has a clean fresh white look now and is perfect as a plant stand! Typically when a piece of furniture has a dark stain or visible rust, I would never dream of painting it white because of the risk for bleed through, but this Stops Rust paint (affiliate) seals in the rust so the top coat is picture perfect!
With the right materials, furniture flipping can be the MOST fun! I mean, for $12… I'd say I have two really useful pieces on my hands now!