Come see our new house!
Who's ready to hear the story of our new house? Truthfully it's not very exciting, but it certainly wasn't what we thought we'd be doing in 2020…
Back in the spring we reached out to our landlord about renting our current place for another year. We wanted to save up a little more money and, honestly… with COVID we just weren't sure how we could possibly look at houses! Turns out our Connecticut market caught on FIRE with everyone coming out of the city and our landlord decided to put the rental on the market. Typically it takes 90 days to buy a house so we started to scramble to find a place to buy! We actually found a place early in the summer that would have been great but after weeks of waiting (the seller's bank was involved), we got out bid and had to go back to the drawing boards. Our biggest challenge with this home search was that we haven't had time to build up enough savings to consider homes that would require any heavy lifting/ construction. Our last two homes needed a lot of TLC and we loved the idea of bringing them back to life. And we certainly looked at a handful of these, but we kept coming back to the cost of renovating or adding a bedroom or replacing a roof and, once we'd factored in the down payment, we just didn't have enough leftover.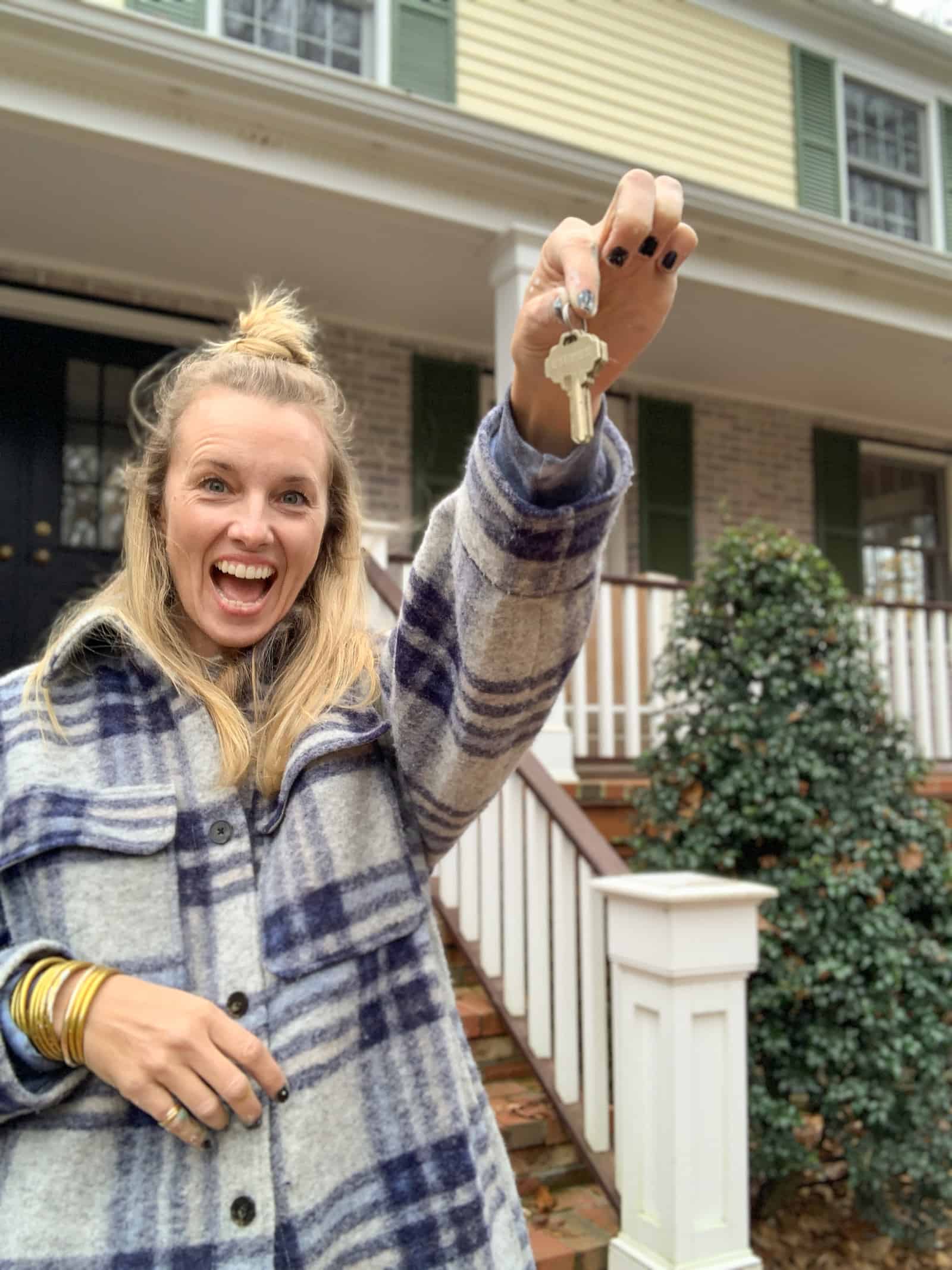 Which meant we were looking for homes that felt a bit more "safe" than we were used to. In fact, the first time I looked at the house we ended up buying… I didn't like it. At all. It felt… basic. After our first two historic homes, this 1970's house seemed to lack some of that charm. But then we looked at a dozen other homes and, for our budget, they were all way too small or way out of town or needed way to much work. So back we went to the house with the porch, this time with the goal of "undoing" the details I didn't love. And this second time around, knowing how much was missing from allllllll those other homes we saw, this house felt like a real option for us! I started picturing our stuff in the various rooms and thinking about how I could bring in some charm and fun. Fast forward through submitting offers and counter offers and inspections and… we're scheduled to move in at the end of the month!
Enough about the back story… I suspect you all are eager to see how the house looks! The front is lovely and I'm excited to have a porch to decorate again! I never felt like I was very good at it in our old house, so I'm hoping to improve on my porch styling skills.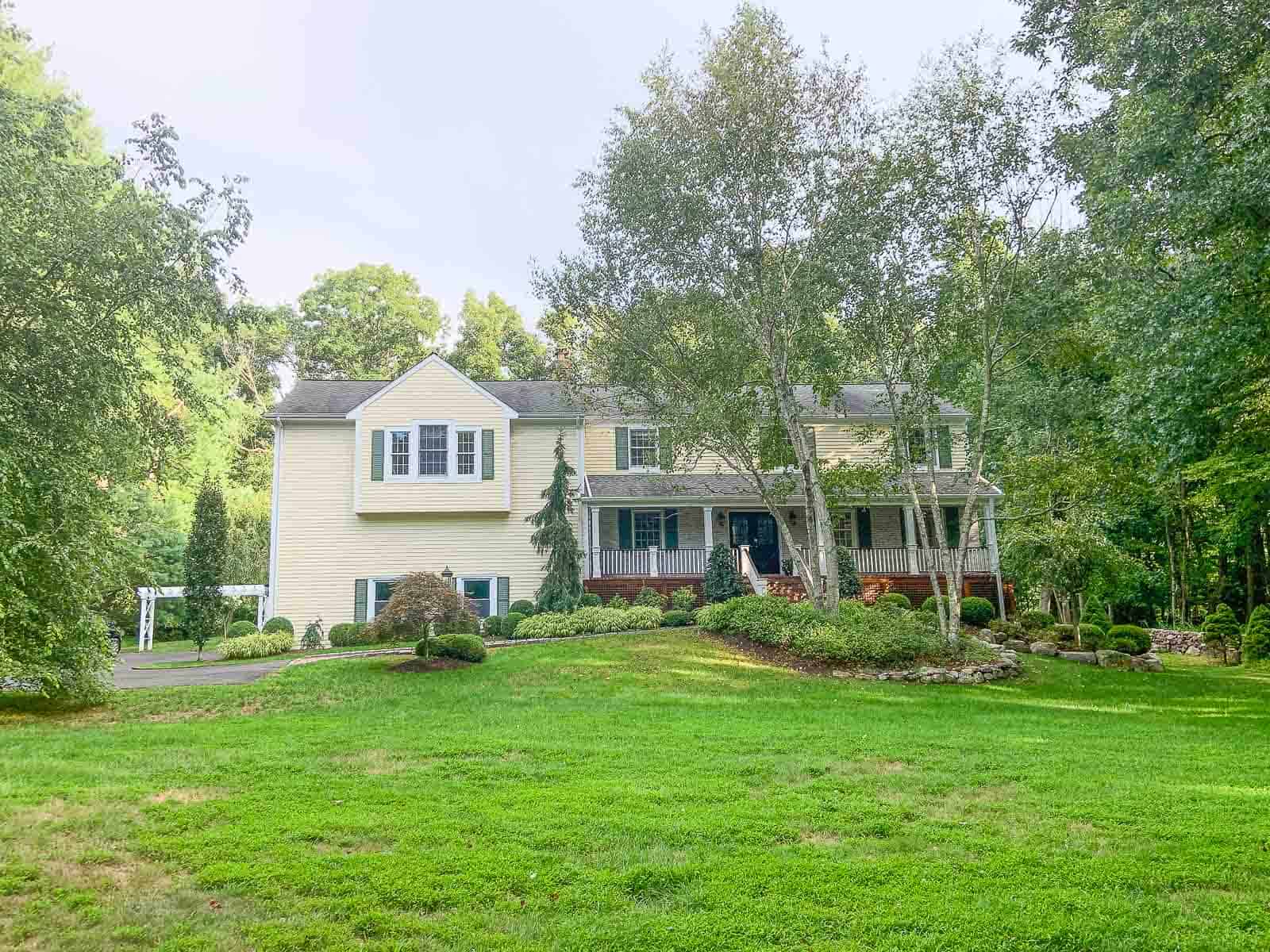 One detail on the front of the house that was hard for me to get past was the random 80's bump out. This is in the main bedroom and there's NO reason for it other than some architect got cute back when this addition was put on. To remove it would mean reworking the roof line which would be spendy… so I'm planning to get some chunky corbels to help it look a little better.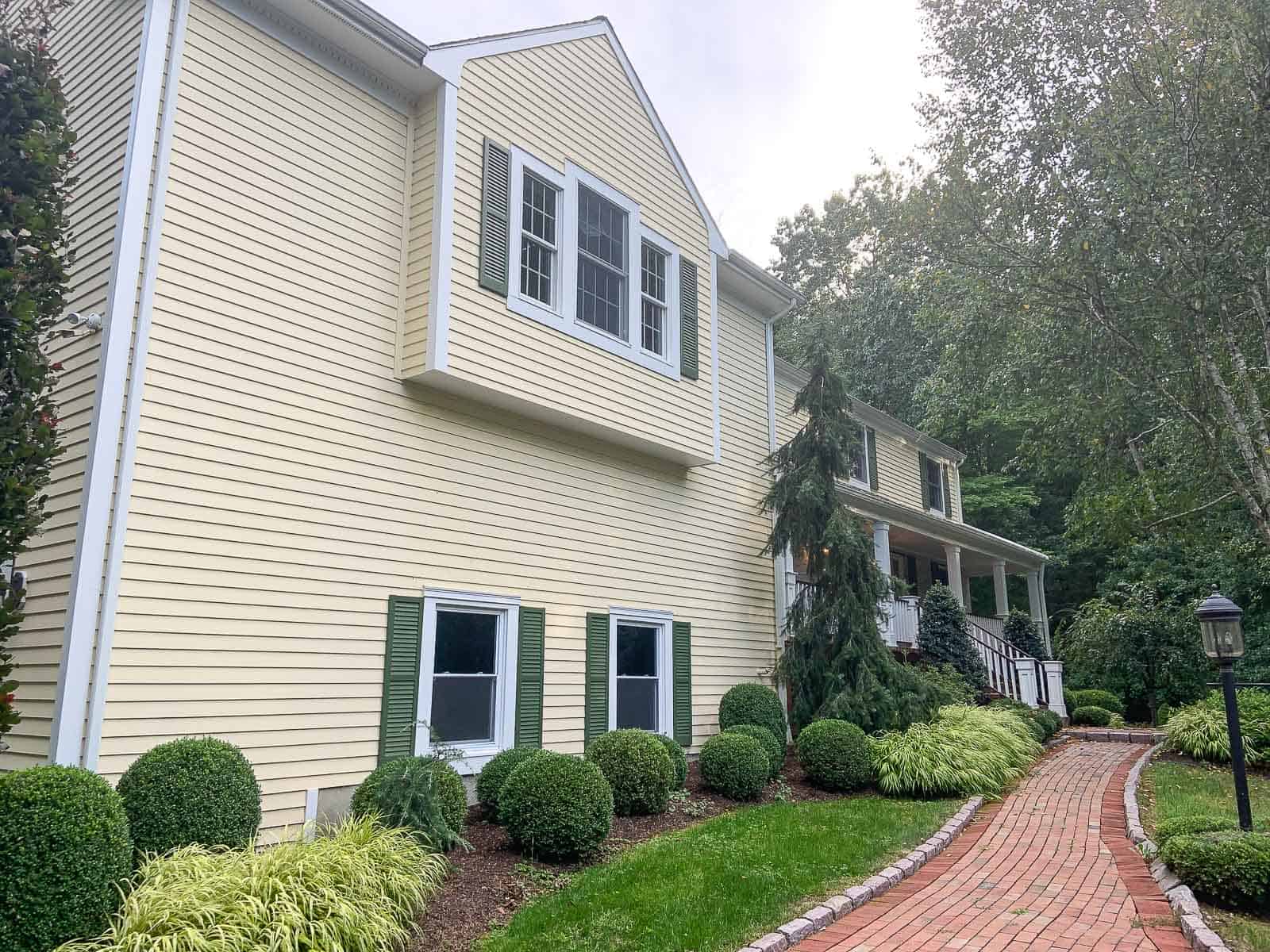 Walking into the house, the foyer is quite small but I have plans to pack a big punch with this space. Straight ahead is the kitchen. The living room will be to the right and the family room will be to the left. (You can see the hardwood for the kitchen piled up in the living room acclimating…)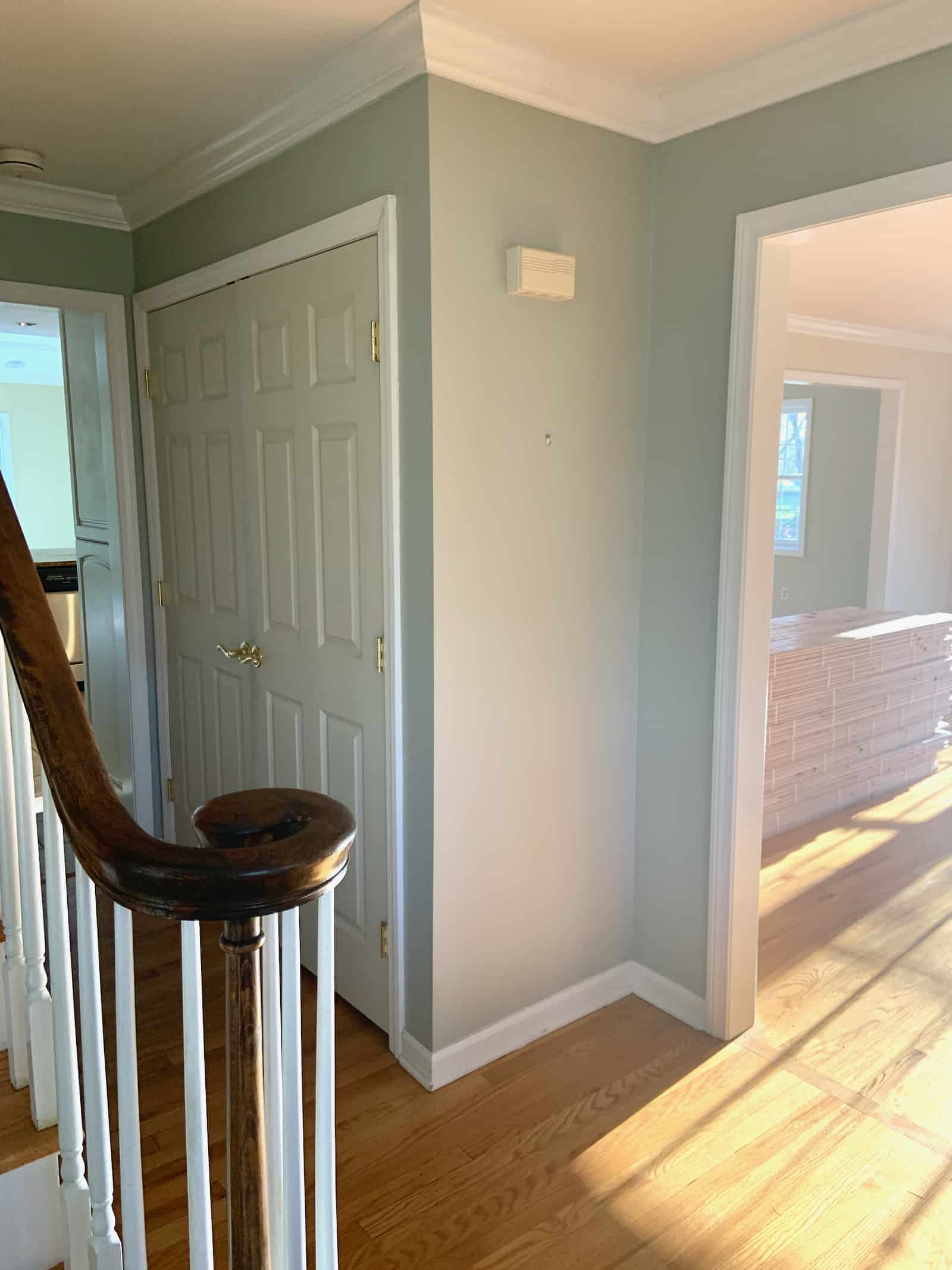 The living room has a lovely sunny bay window. The furniture layout is a bit tricky in here because of the two cased openings and the windows, but I think I have a layout that could work.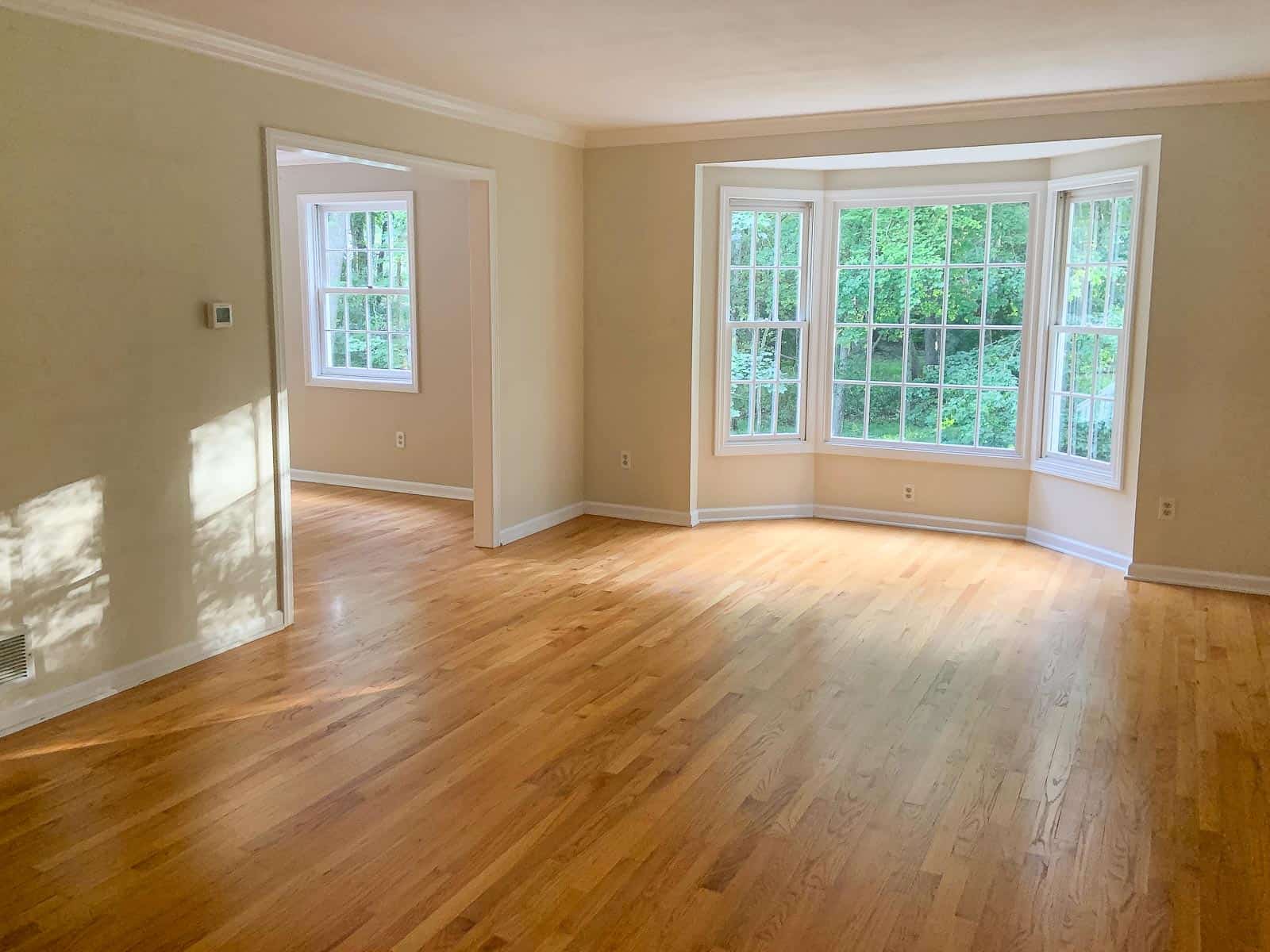 The family room has a working fireplace that we're excited about using this winter. I don't love how it looks so that will be a project down the line. I've already removed the corned cabinet as we're hoping to mount our TV over the mantel.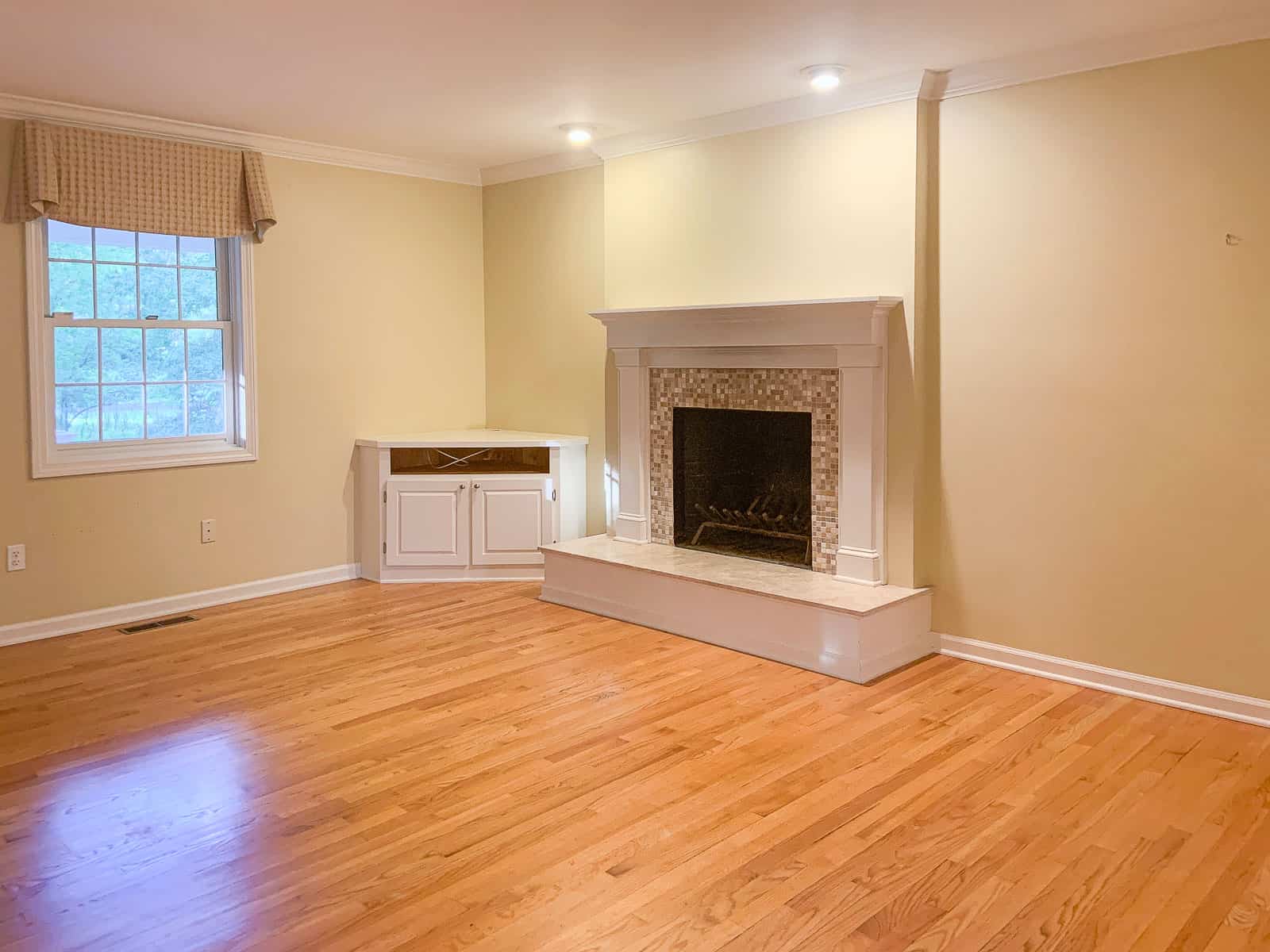 We definitely don't have any room in our budget for a kitchen makeover, but the counters aren't my favorite nor are the color of the cabinets. One thing we were able to do before we move in was to replace the cracked tiles in the kitchen area with hardwood to match the rest of the house. I'm hoping to take down the orange of the finish for something a bit more natural, but the floors are red oak so we may need to bleach or play around with a white wash. Regardless… this space already looks so much more elevated with hard wood floors in place.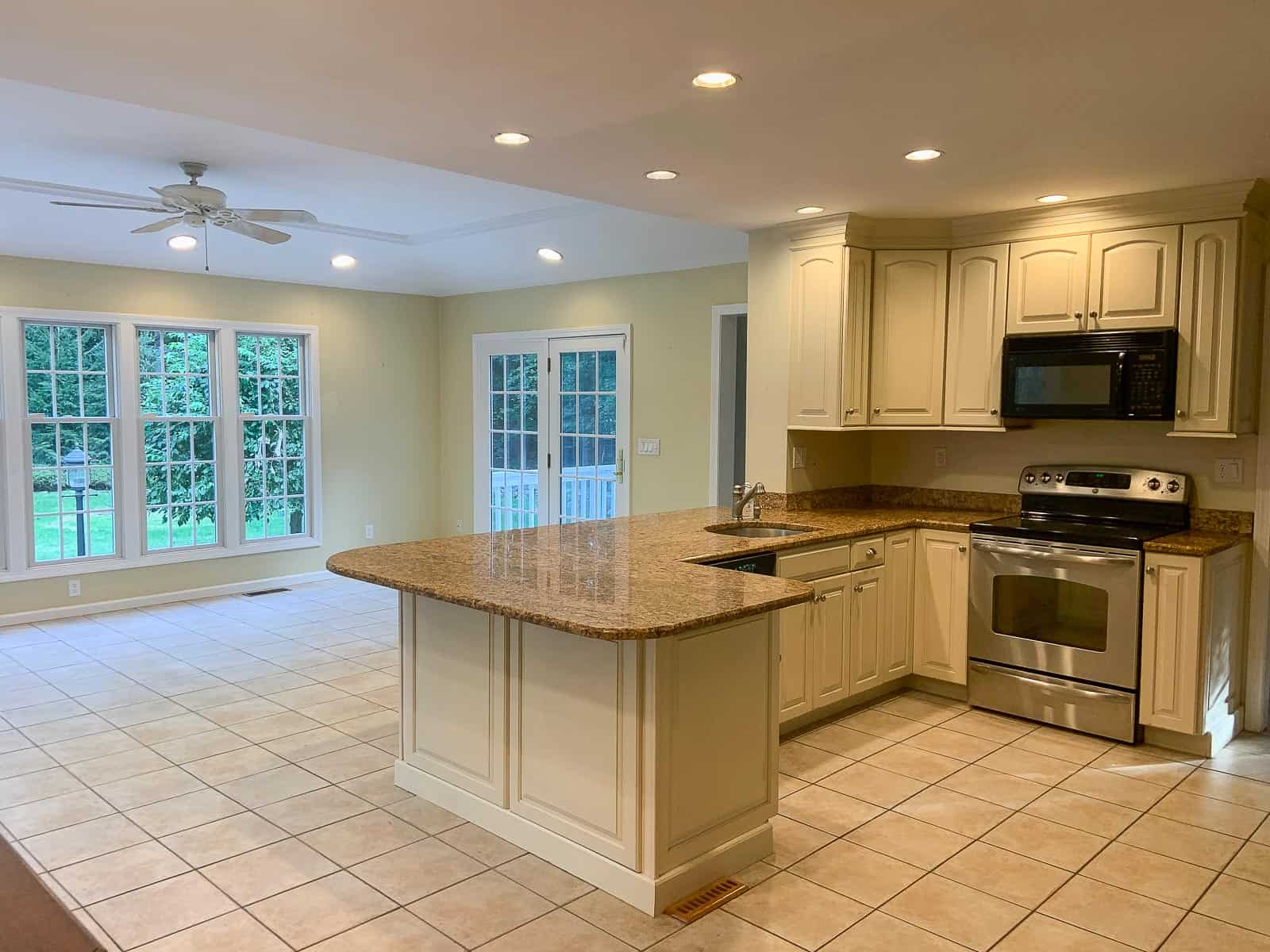 I'm not sure when I'll get to this, but I have plans for the ceiling in the sitting area of the kitchen. That molding and alllll those recess lights need to go. Picture that space opened up with maybe a skylight or two? So much better!!!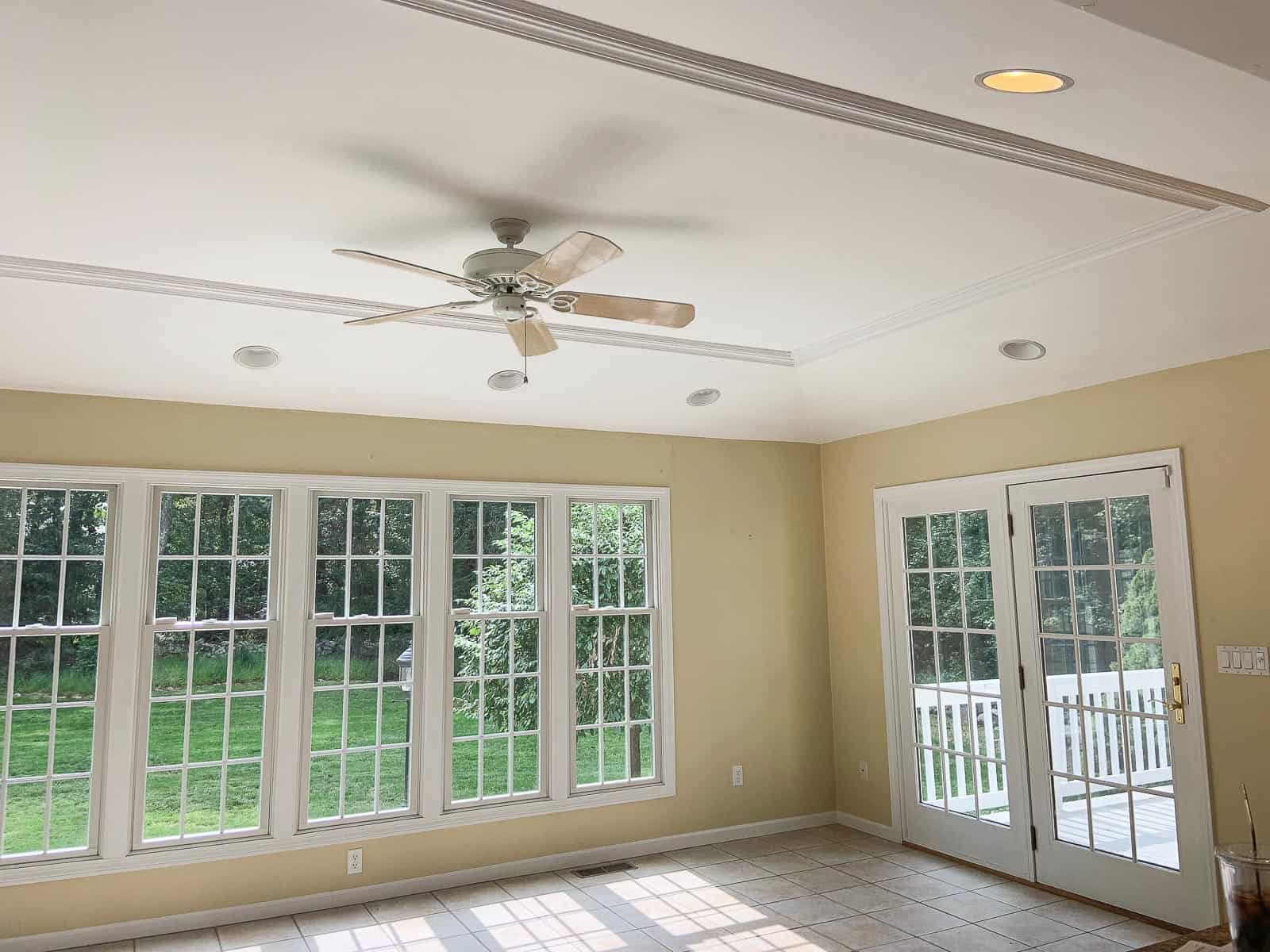 The dining room is a nice bright room. I'm excited to hang one of my fun chandeliers from the old house that never had a spot in the rental!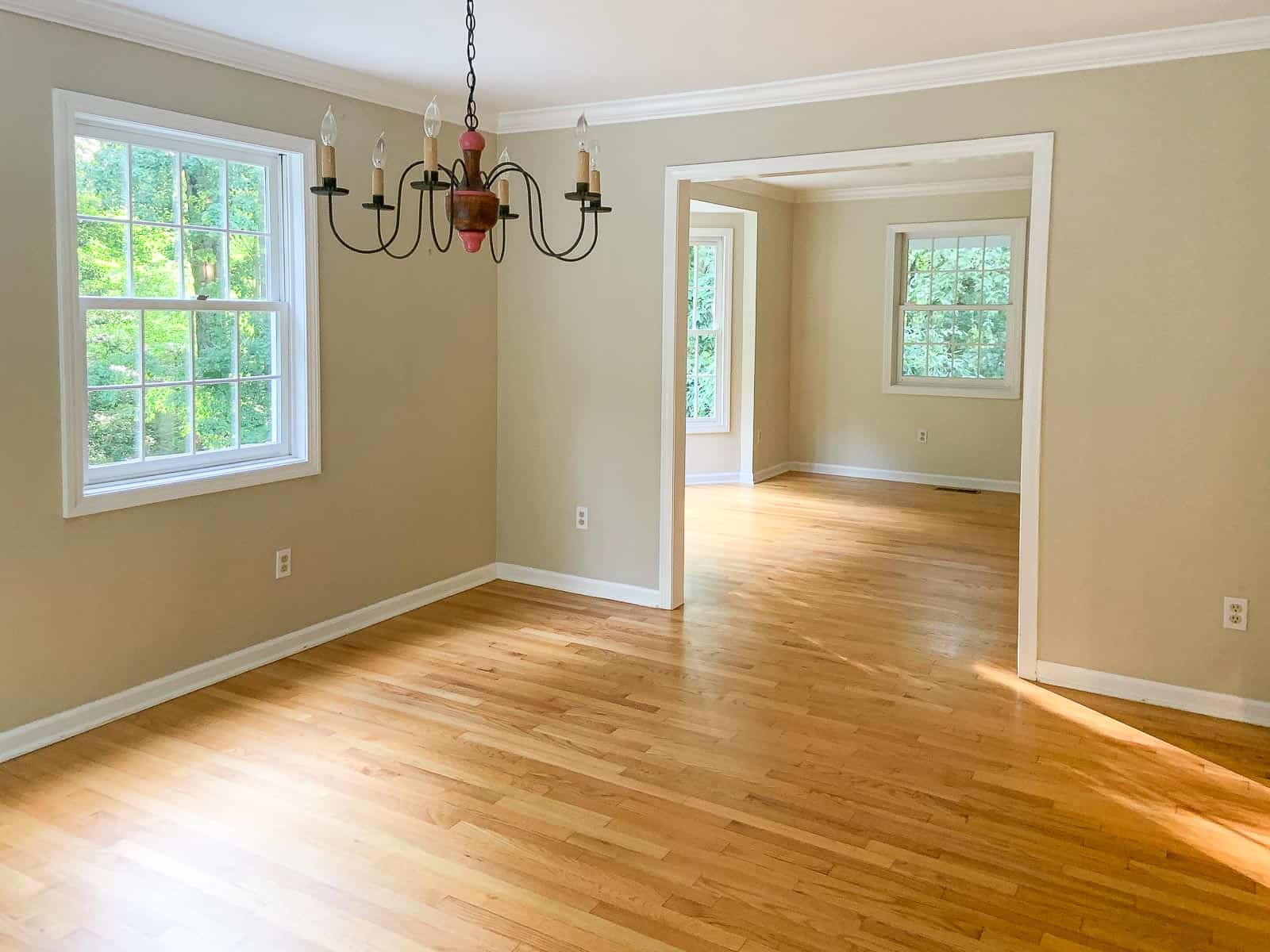 There are five bedrooms upstairs which means, for a family of seven, that two of the kids will have to share. Louisa and Arthur are so sweet together, but thinking ahead… Louisa and Martha are the closest in age and I think they'd have fun sharing a room as they grow older. Martha wasn't quite as eager, but we're going to hang cloud wallpaper and a swing and make curtains for the bunk bed so she's on board!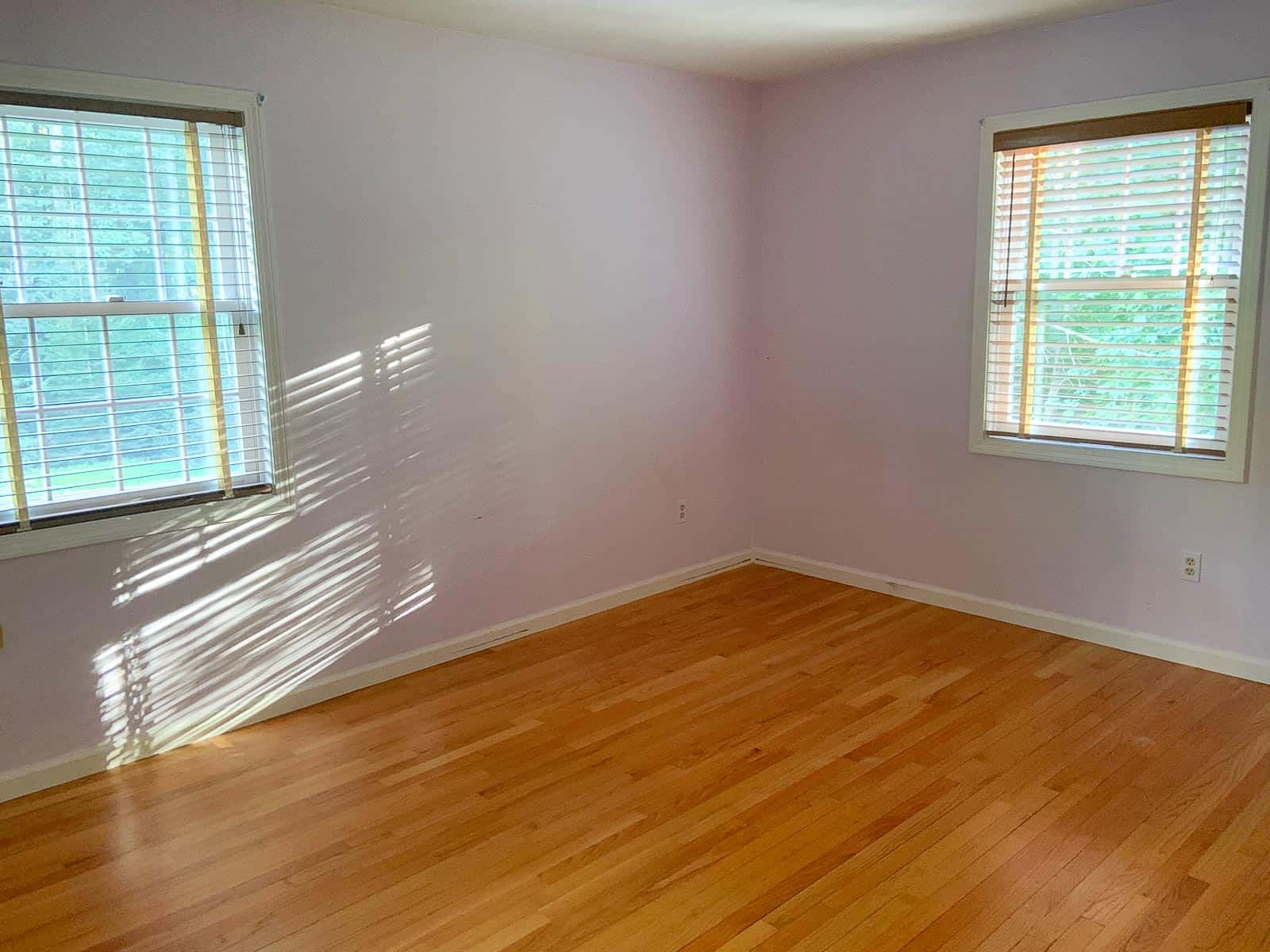 The other kids have sweet rooms that should fit their stuff. Oliver's desperate to have his pop-a-shot again so…. get ready for a room filled with a giant basketball net.
Our main bedroom fells obscenely big. Compared to all of our previous bedrooms, this is about 2x bigger than all of those! I'm not wild about the tray ceiling in this space, but I think painting it to match the walls will take away the focus a bit. I've also considered going moody dark in here, but truthfully this is the last space I've thought about in the new house.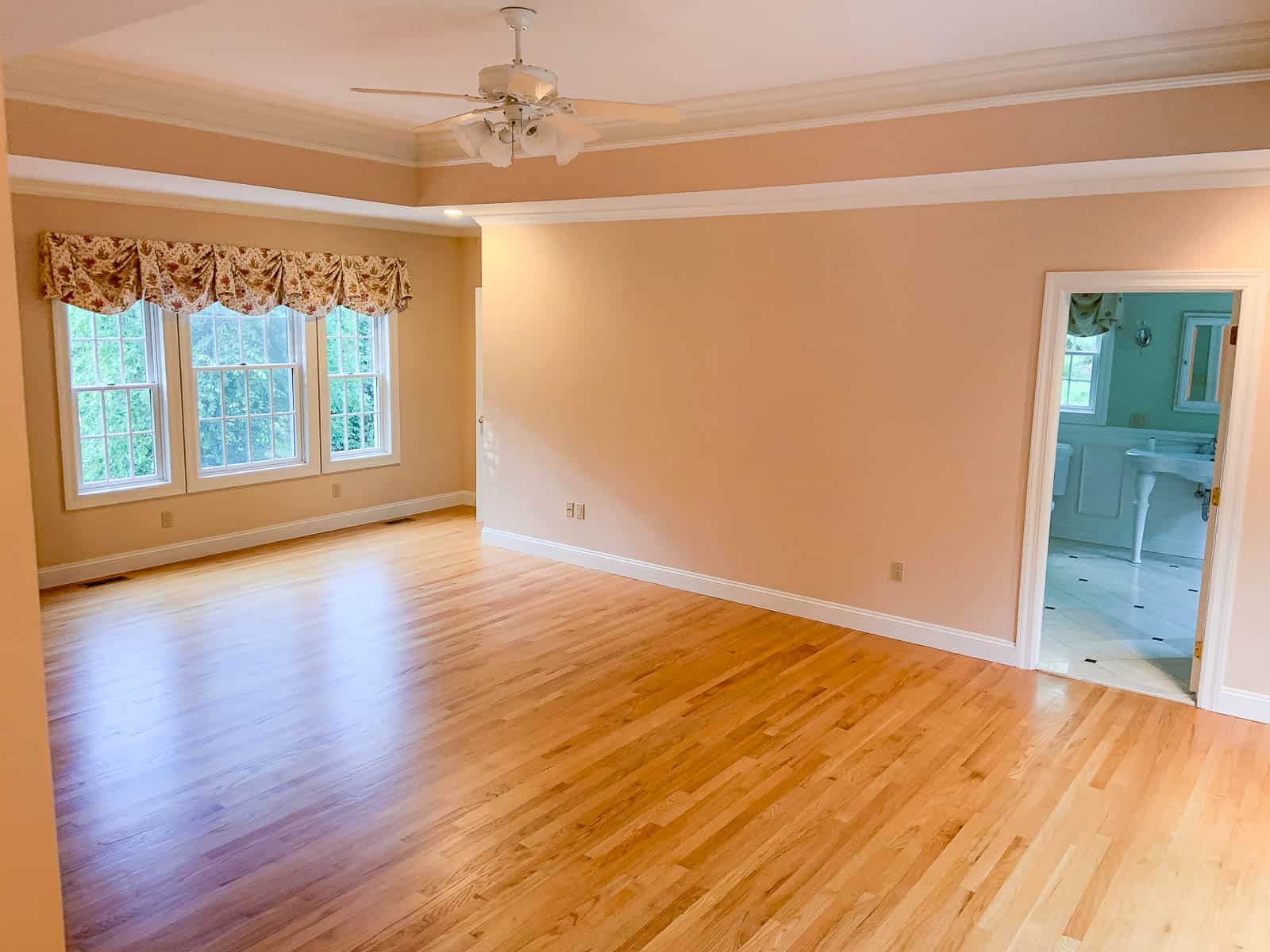 The main bathroom is a good size, but that vanity feels out of place to me. It seems like the wrong scale or shape or something. (Does anyone else see drumsticks?) I'd love to bring in a vintage dresser for a vanity maybe.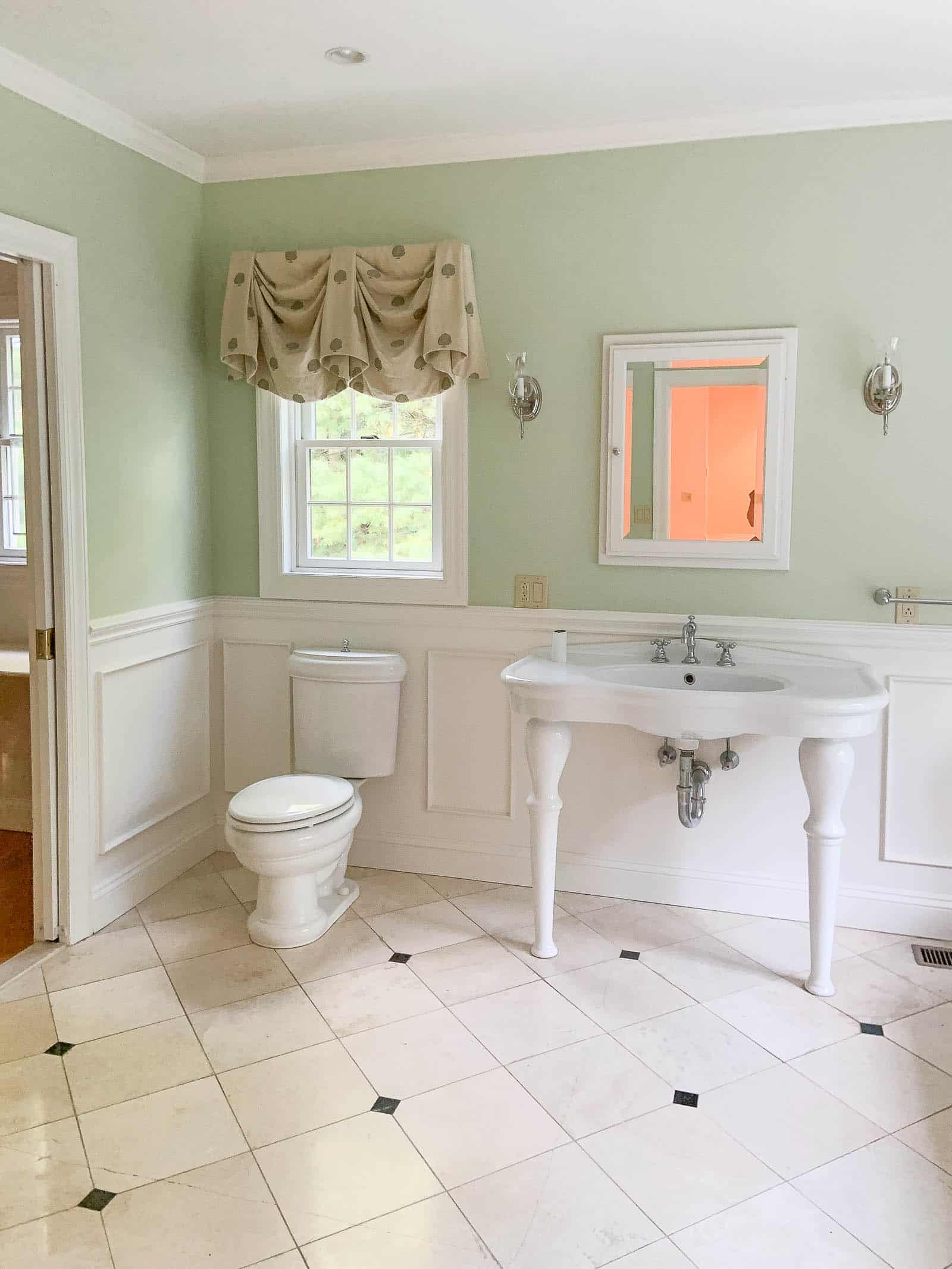 Last but not least is the basement. We've NEVER had a finished basement so this space is what I'm most excited about. "Kids go downstairs!!" has such a nice ring to it!! I'm hoping to set up a few areas down here: one with desks for projects and homework, sofas for watching TV, our daybed, legos, dress-ups…. the playroom my kids never knew they wanted!!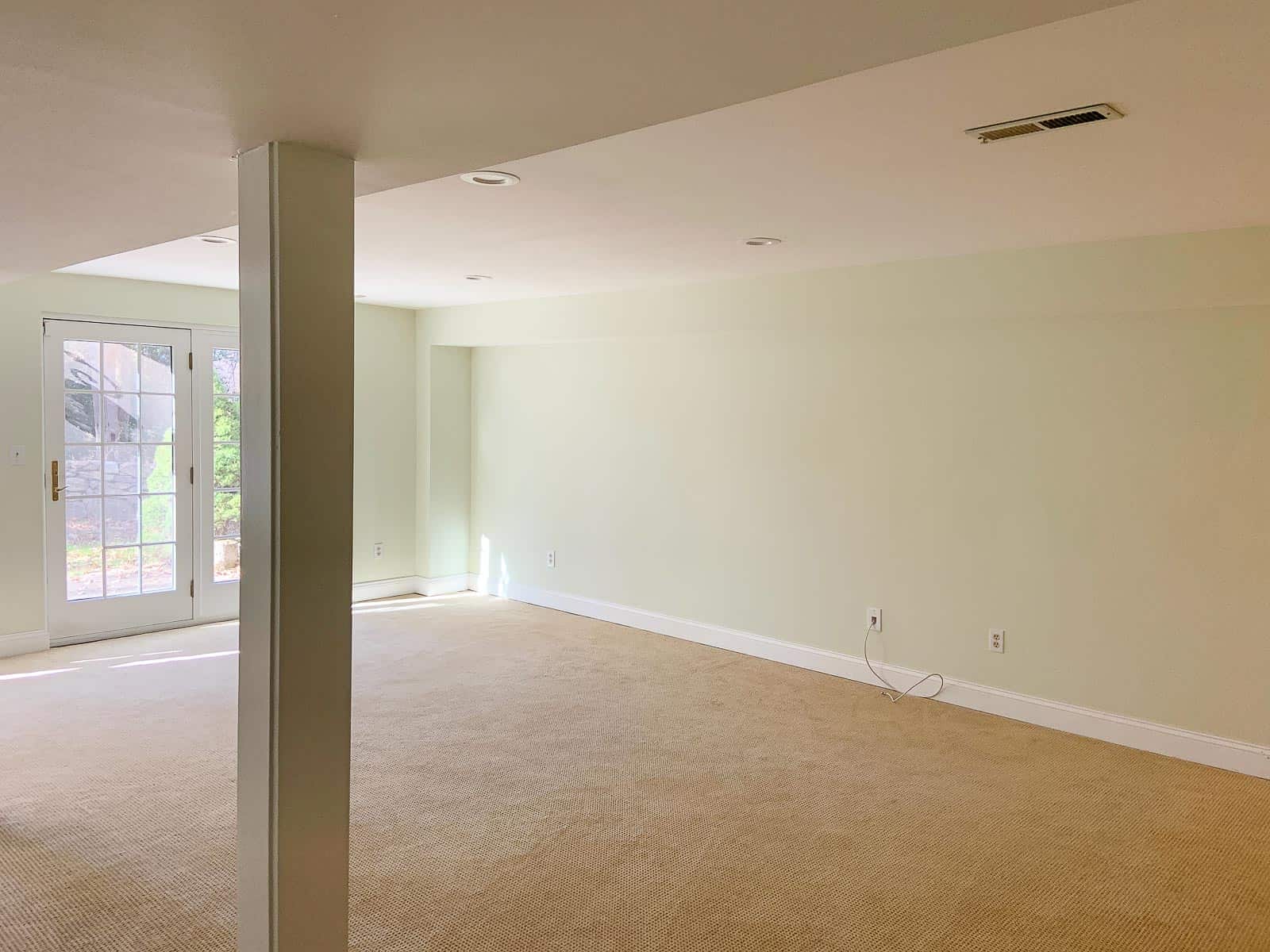 The only thing this house doesn't obviously have is a mudroom. There's a furnace/ storage room when you come in from the garage that will serve as our mudroom. I'm planning to bring in some IKEA storage items as well as a DIY element as well.
The garage and exterior needs a little love, but that will probably have to wait. For now… I'm trying to figure out where all the furniture should go and plotting which rooms to start on first. They allllll need paint so that's something I'll have to tackle piecemeal. We wanted the floor guy to get in there first so there's not much time to paint in advance. But that's OK… I'll take on a room at a time!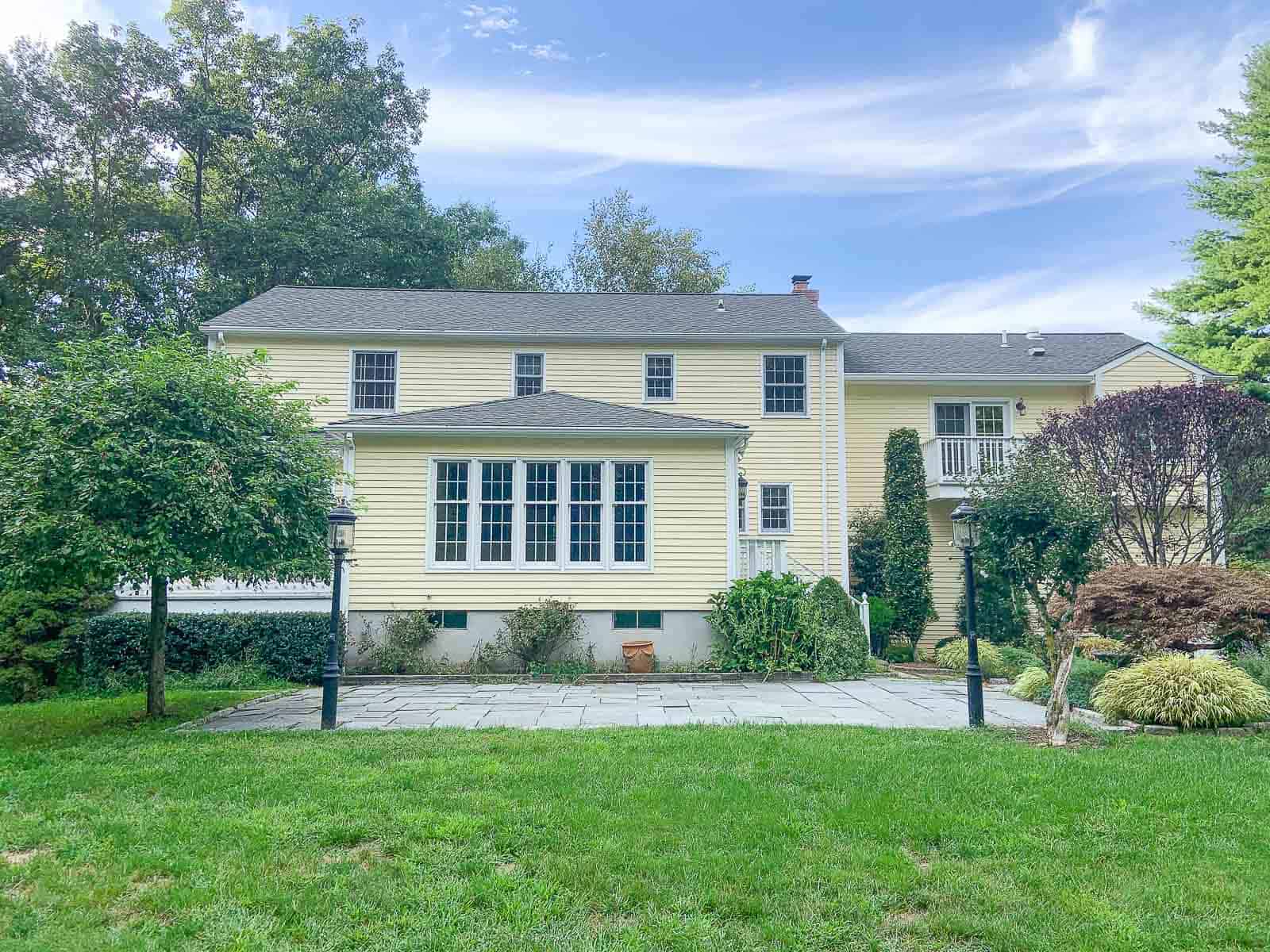 I can't wait to share this new home with all of you as I slowly bring in some color and life! I feel like you all have been cheering us on for the past few years so this is an exciting new chapter for all of us!
To be continued…