Bedroom Makeover for a Tween Girl
Disclosure: I'm partnering with Lamps Plus to bring in some fun new furniture, lighting and accessories for my daughter's room.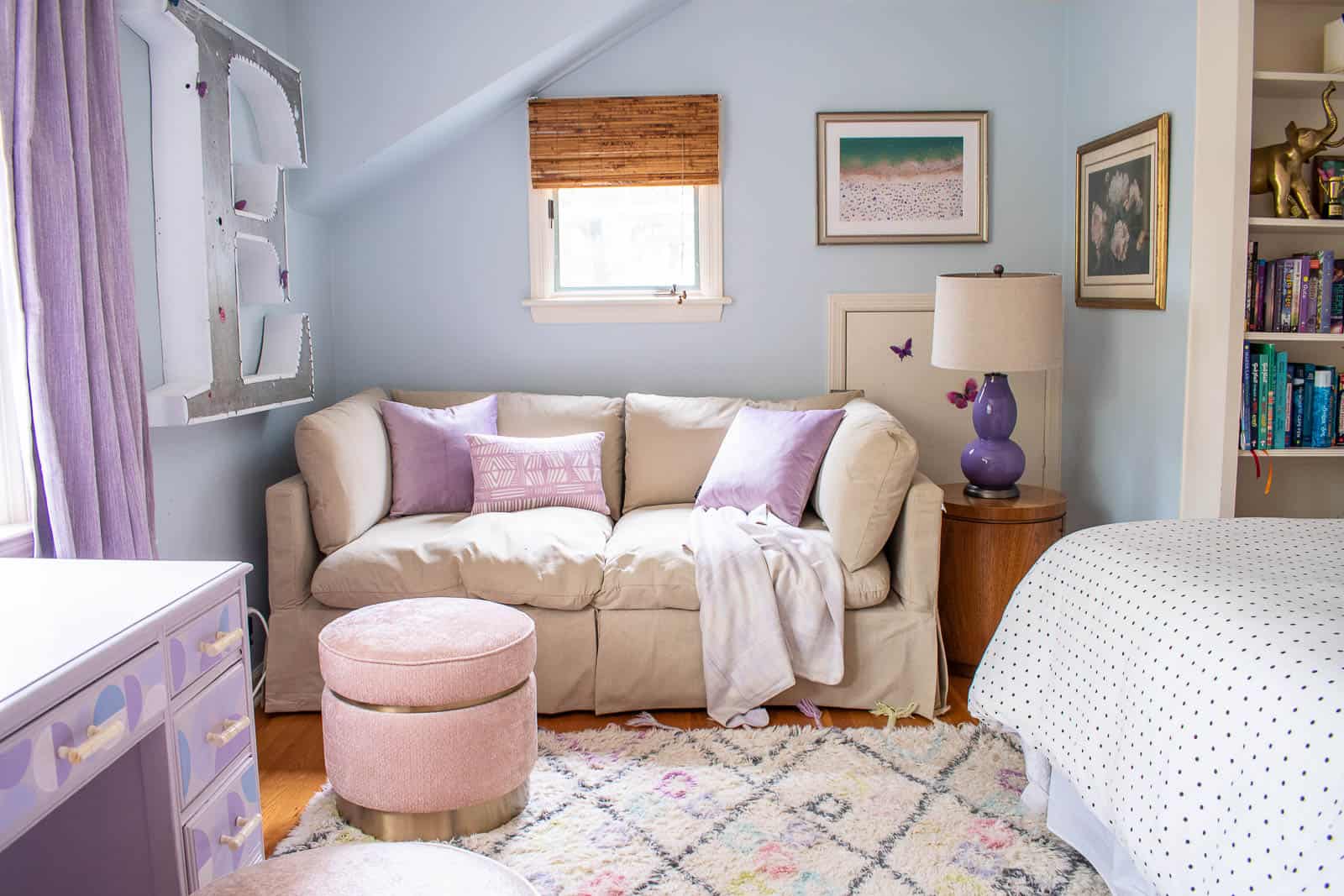 Our oldest daughter is now in middle school which means she has… opinions. Thankfully she has a great sense of style so her opinions made for a fun chance to work together and update her room a bit! Her favorite color continues to be light purple/ lavender so we continued to work with that. Other things we wanted to fix: lighting, a desk makeover, a bigger mirror, and a cozy place to sit (and work). (Full list at the end of the post!) Here's where we stood a couple of months ago. Not awful. Not great.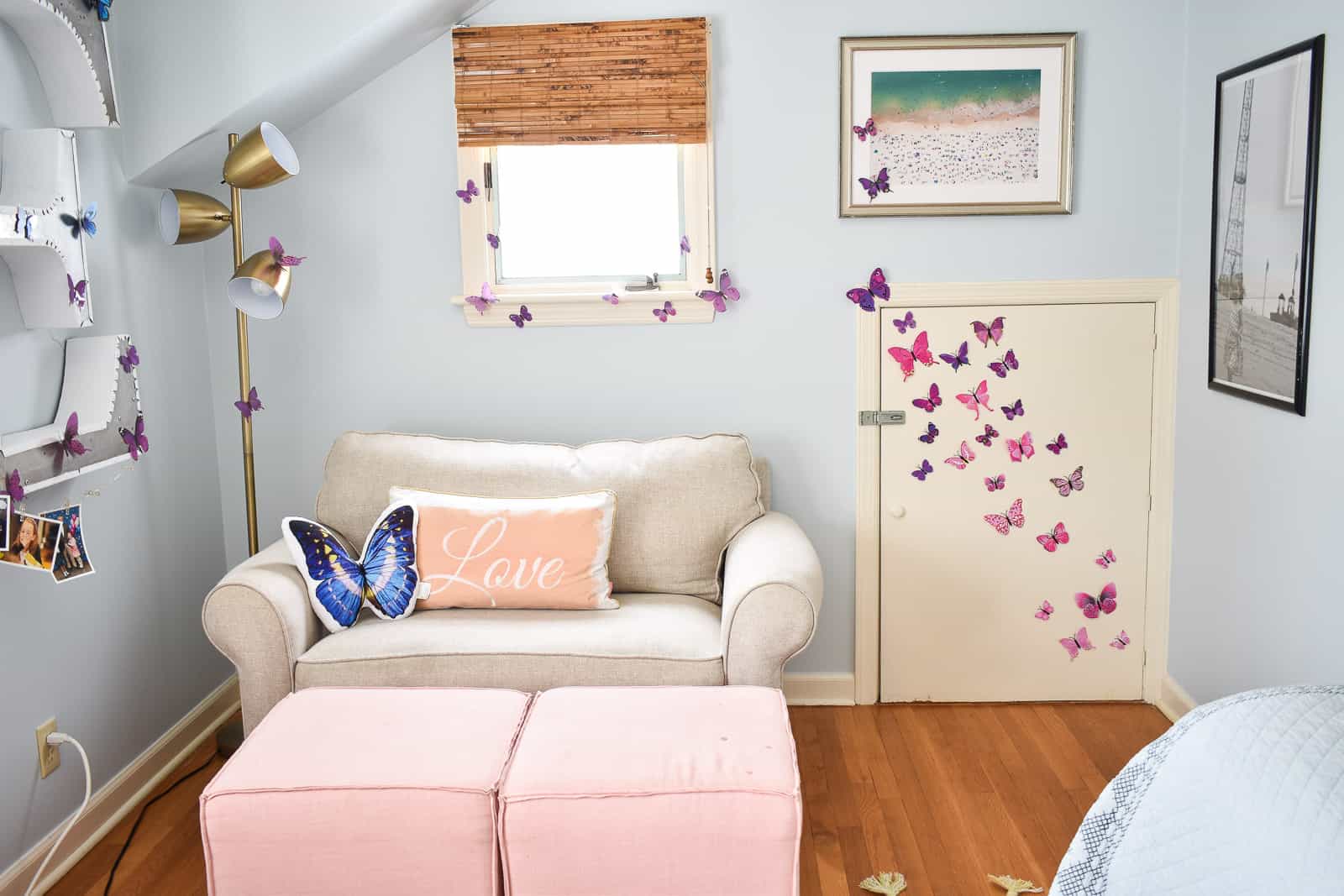 Eleanor is home for distance learning three days of the week so that big deep loveseat in the corner is a GREAT addition. We paired it with those two pink round ottomans and it's the perfect nook in which she can set up shop. Laptop on the ottoman, book in her lap, blanket over her shoulders… taking full advantage of school in her bedroom.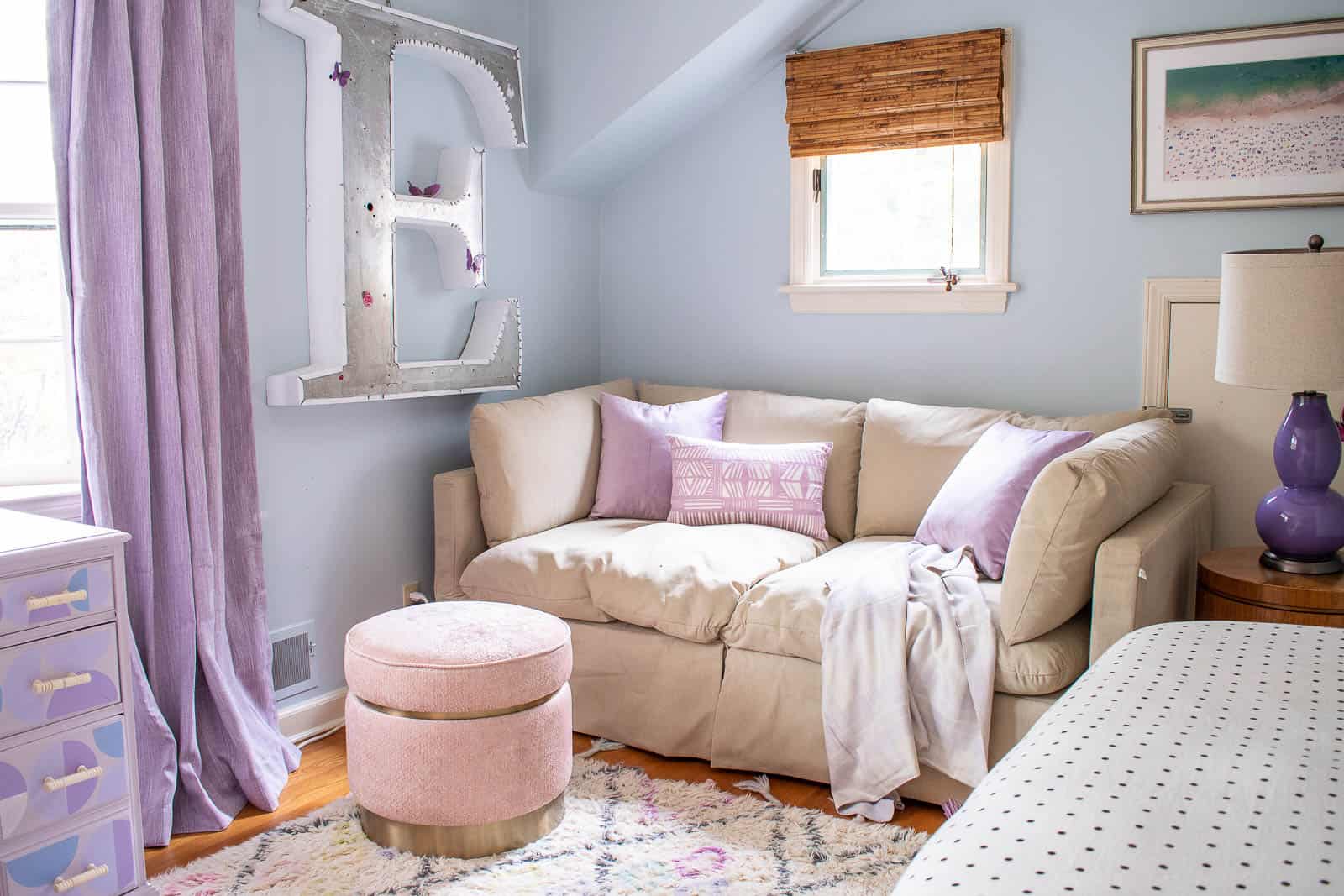 Notice the amazing purple lamp? Lamps Plus has lamps in almost every shade of the rainbow, so naturally we took advantage and snagged a lovely lavender one. That side table is thrifted and Eleanor wanted to keep it, but at least now she has a little more light for when she sits and works.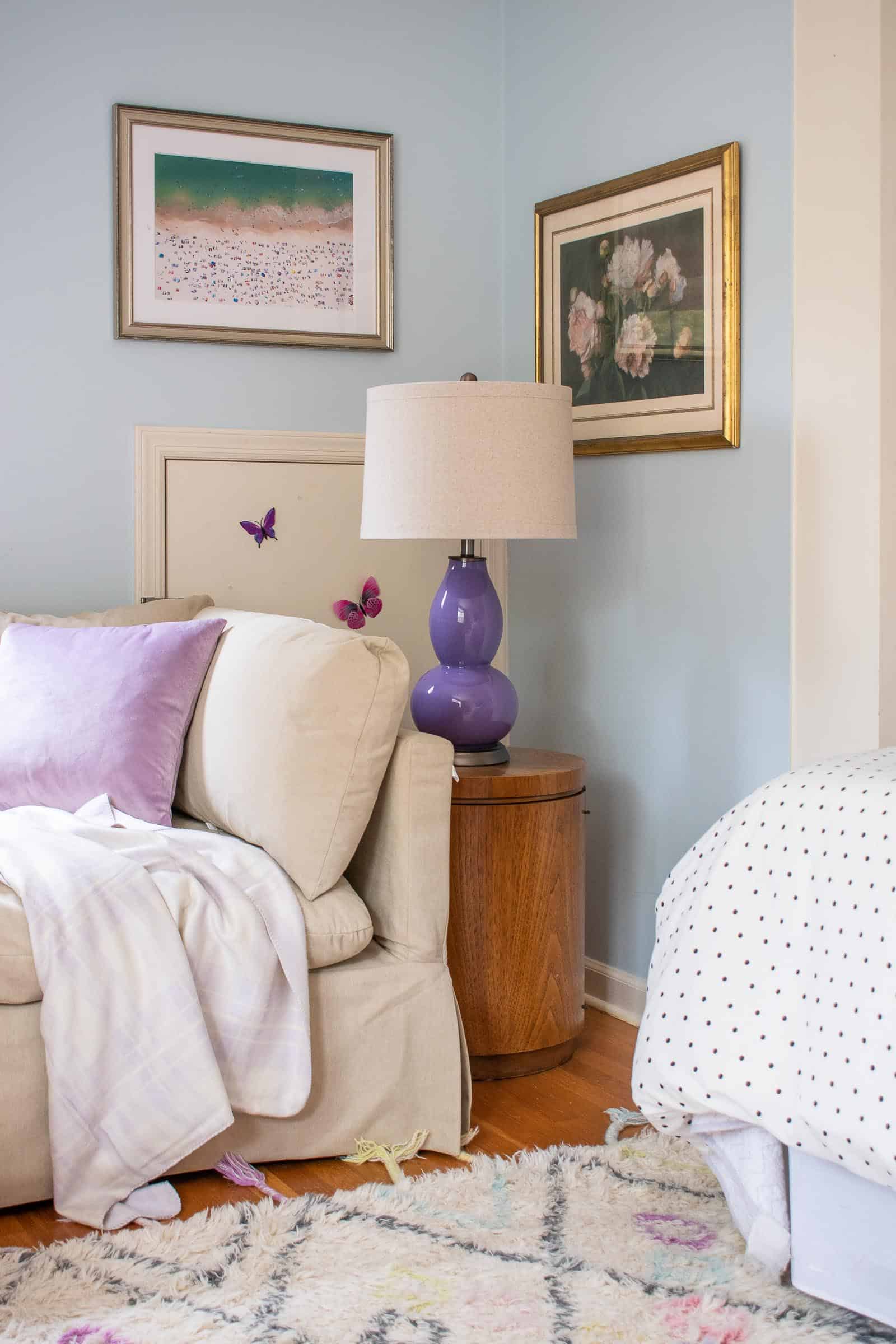 We DID bring in a new nightstand, however and it's so sweet over by her bed. She doesn't need it for much more than a book or a glass of water so we didn't want anything that would take up too much room. I also love that this side table could work elsewhere in the house one day because of its clean lines and chic brass feet.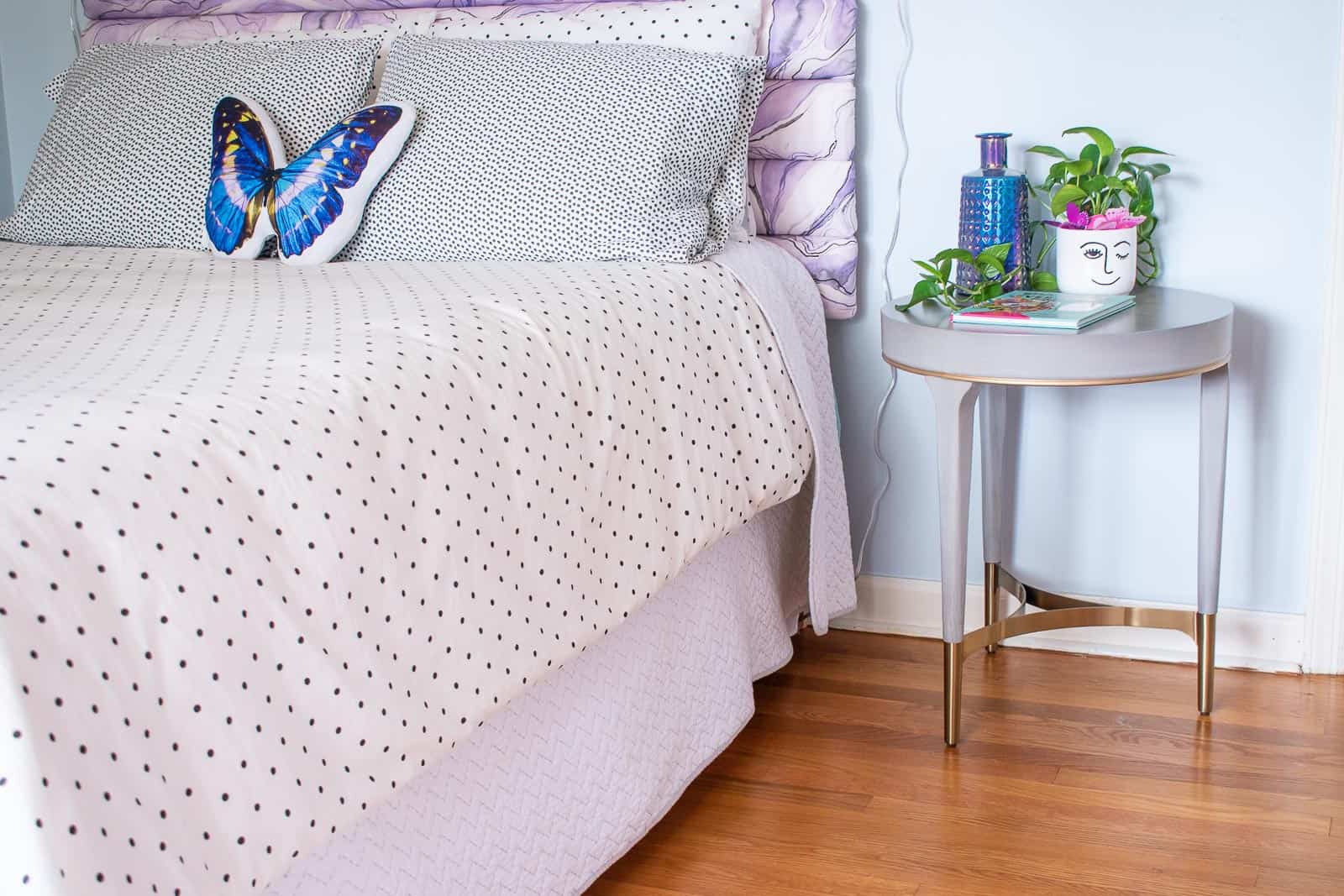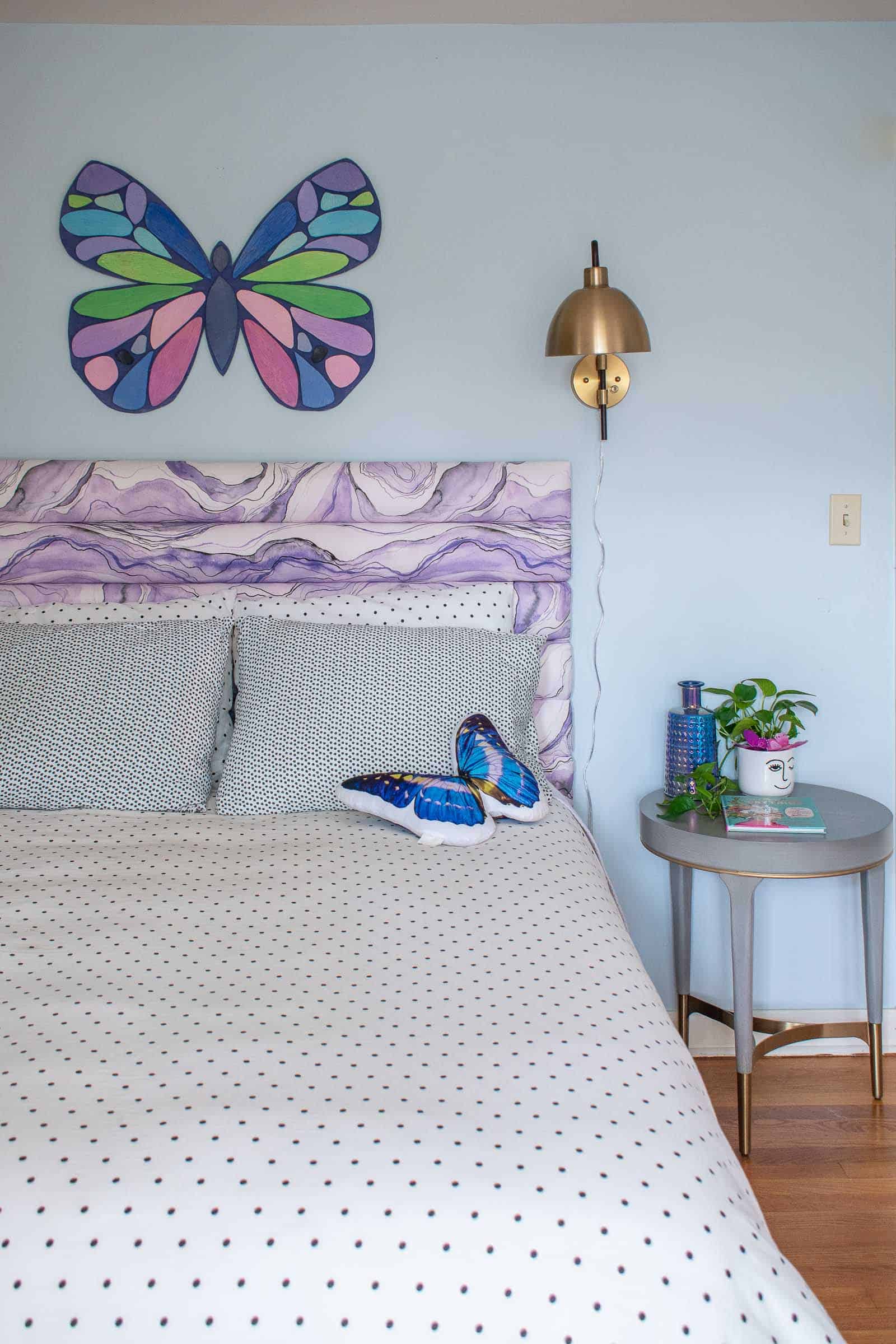 Notice anything different over the bed? I hung these plug in sconces and she LOVES them. They swivel so she can move them wherever she wants. Because they are wall mounted, it also frees up space on the nightstand and means she can have one on either side of the bed. For small spaces, this is a great way of bringing in light!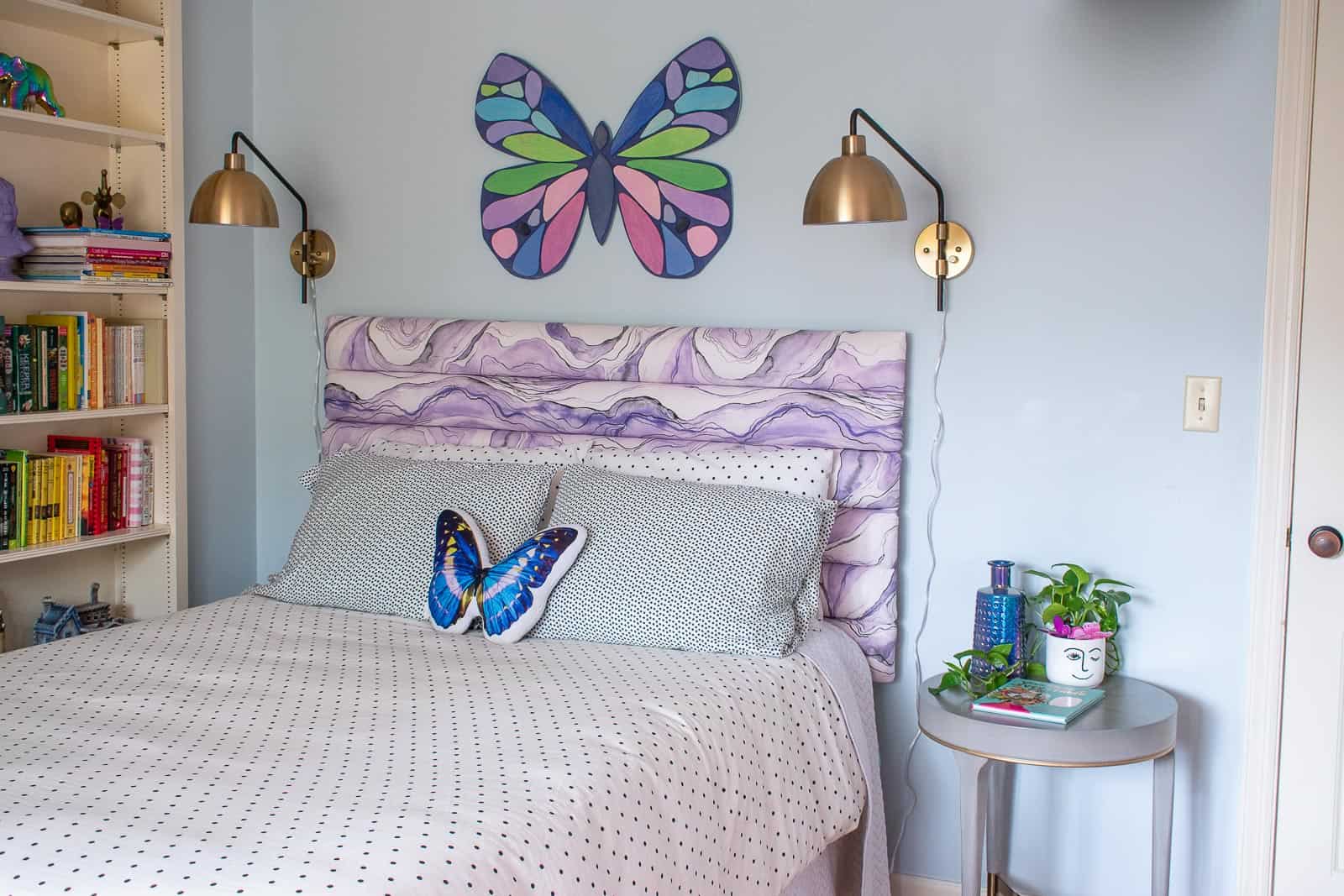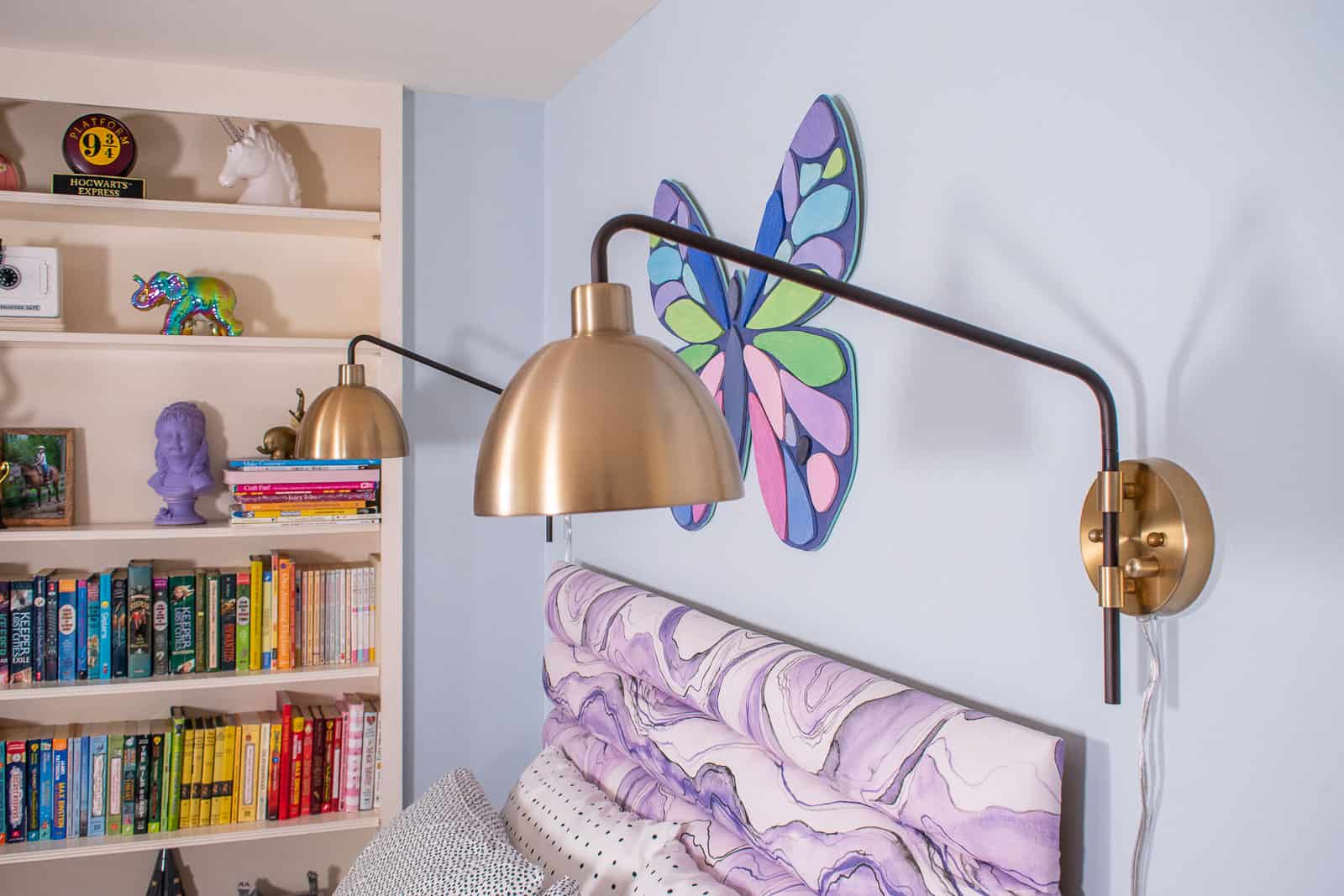 While I'm on the topic of lighting… Eleanor's room has an overhead light fixture but… it was a dreaded 'boob' light. Builder grade and basic. No fun. So she looked through the flush mount light options on Lamps Plus and fell in love with this whimsical pendant. I have to agree with her… the magical branches and crystals are perfect for the space. Another easy but major improvement!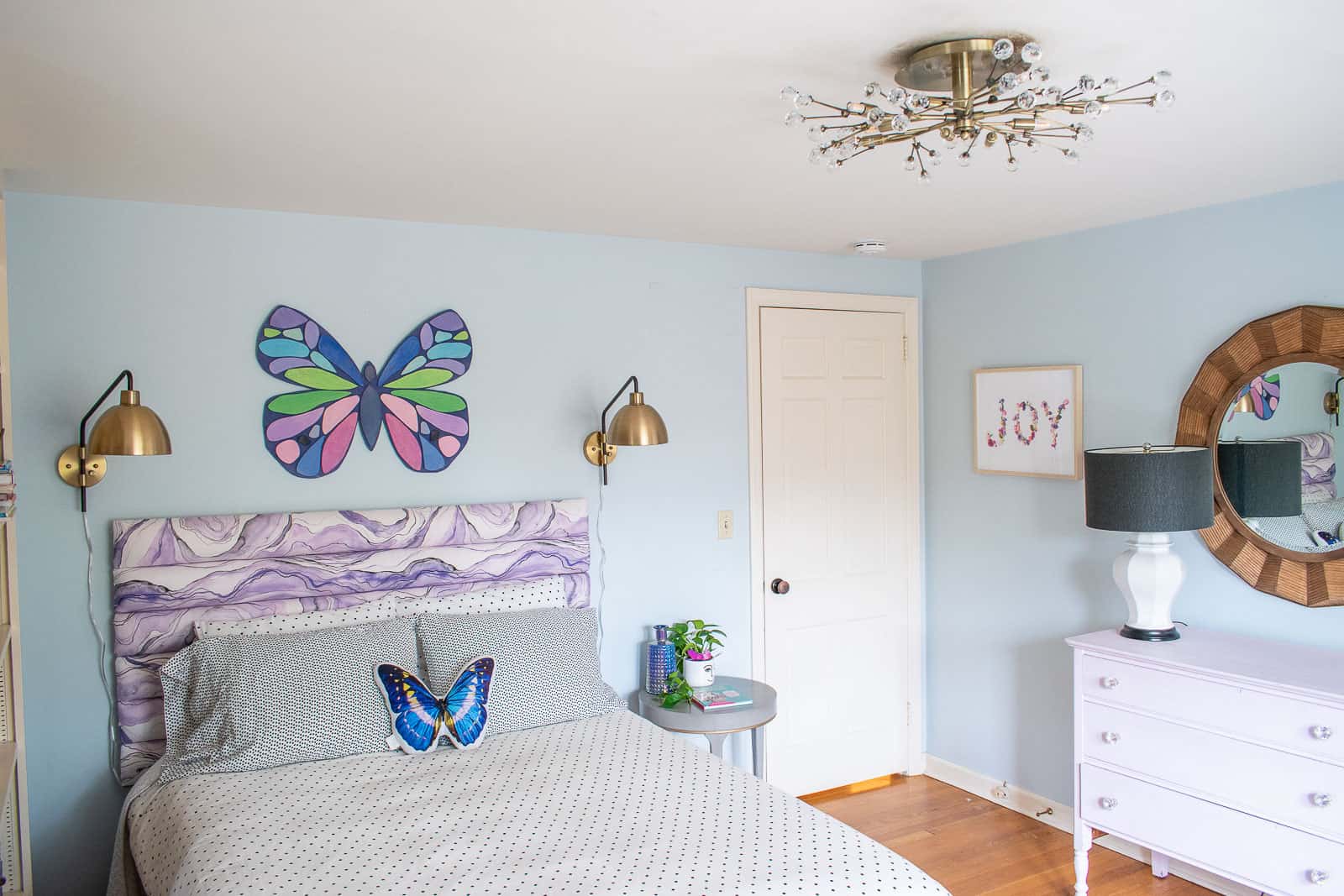 Let's talk about her desk a bit, shall we? She didn't want to get rid of her thrifted desk because it fits all her stuff and she liked having the storage. It needed a bit of makeover, however so I sanded it down and repainted it with that fun mod pattern. (See the full tutorial here!) Because it's a small desk, finding the right desk chair has been challenging- most are too wide. Thankfully, one of the pink ottomans works perfectly so she slides it over when she wants to work at her desk (which isn't very often…).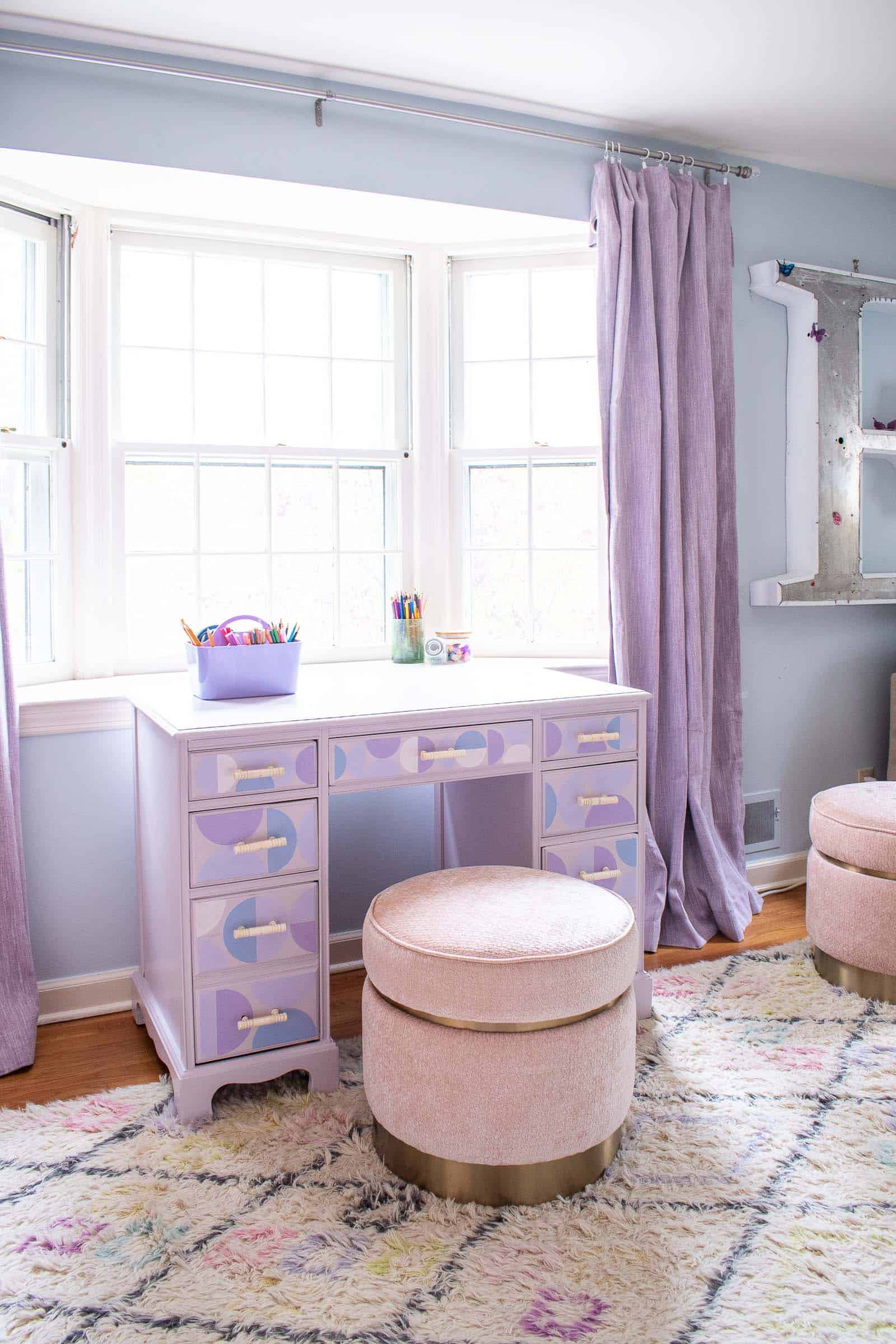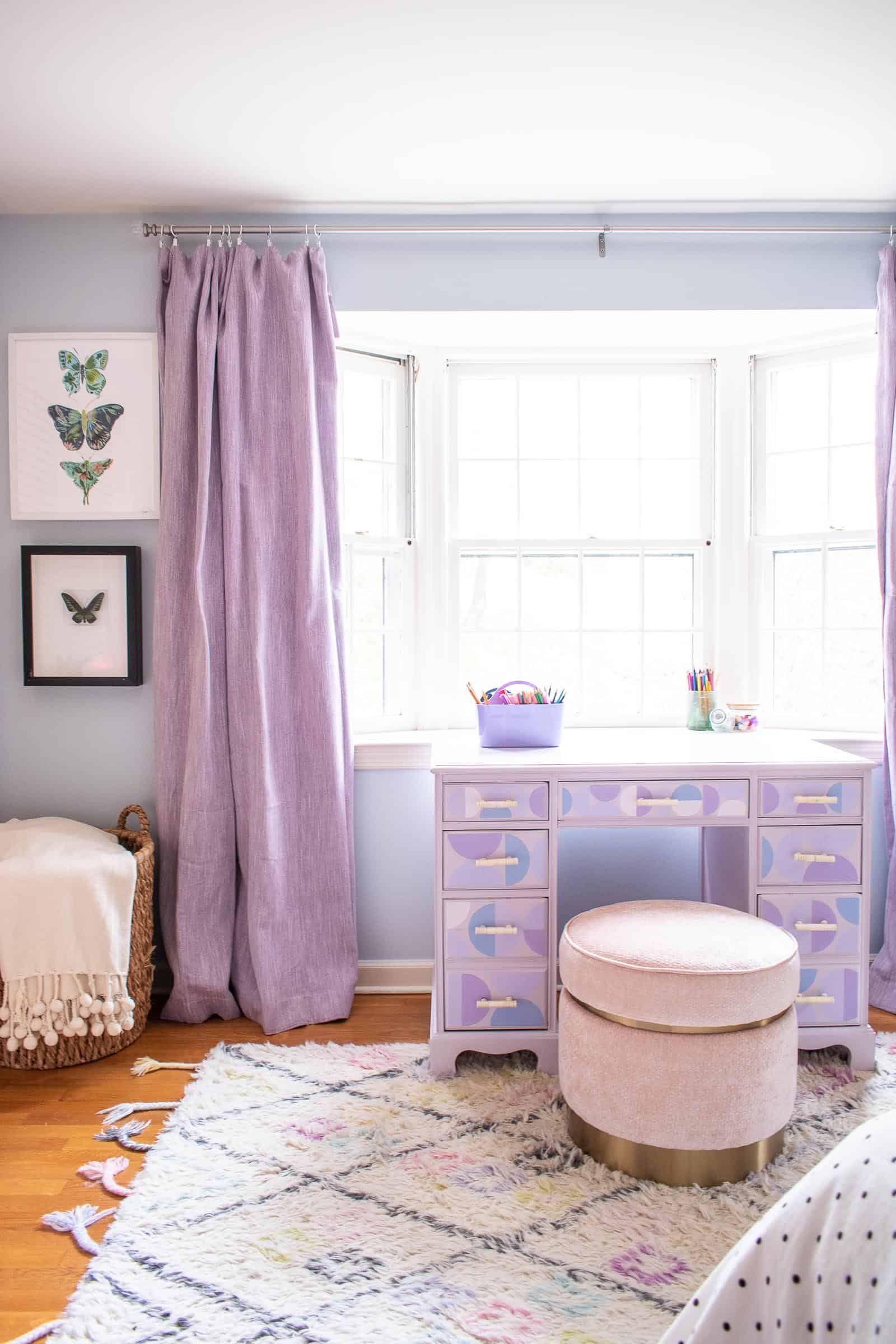 The last item, Eleanor wanted was a bigger mirror. This rattan mirror over her thrifted dresser is GORGEOUS! It's a great size and the texture keeps the room from being too cutesie. She loves it and so do I!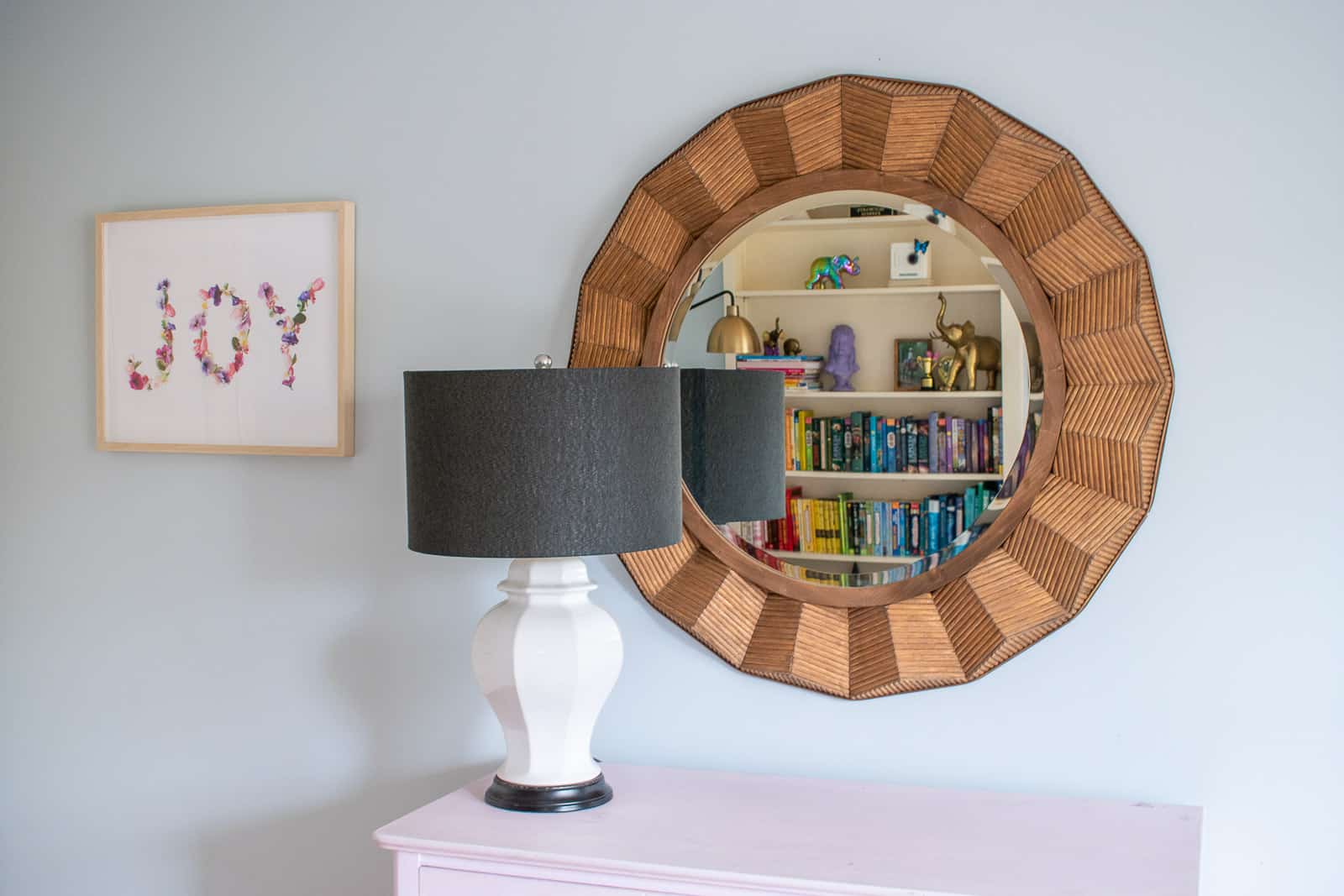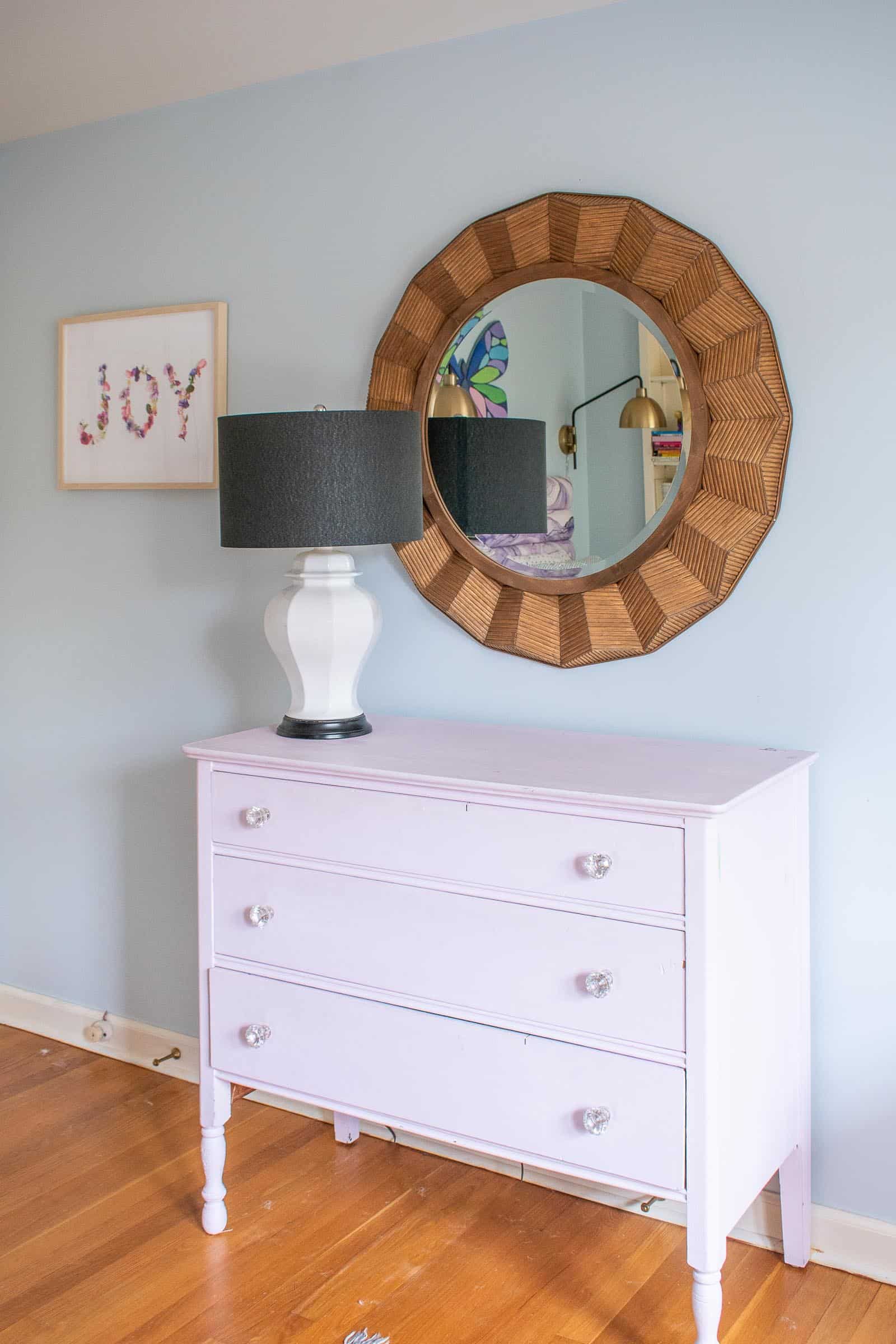 Needless to say, when you walk into Eleanor's room now it still feels like the old space but… it's WAY better! We didn't change anything too drastically, but the whole thing feels a bit more grown up and cohesive. And judging by the amount of time she spends in there… I think she loves it too!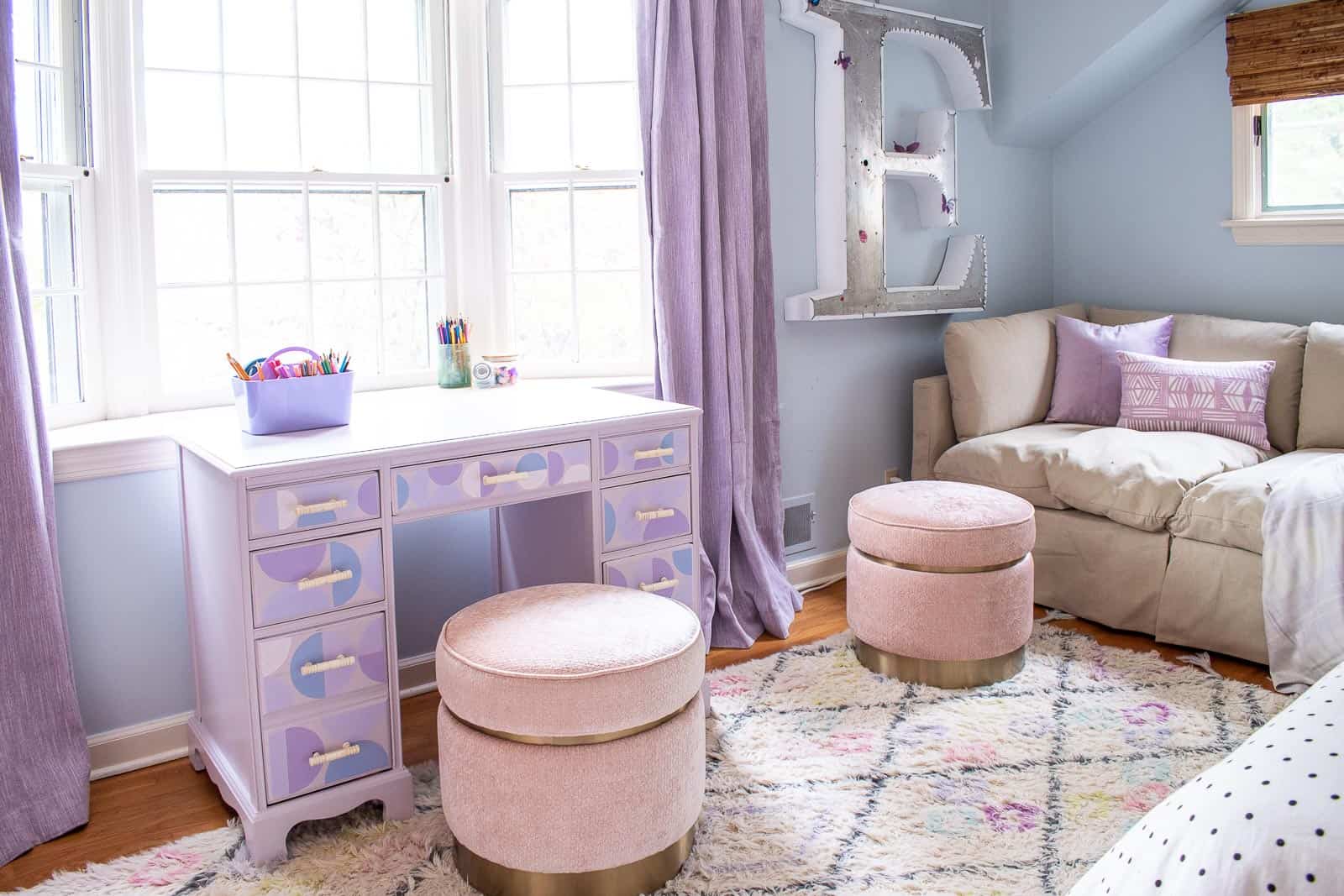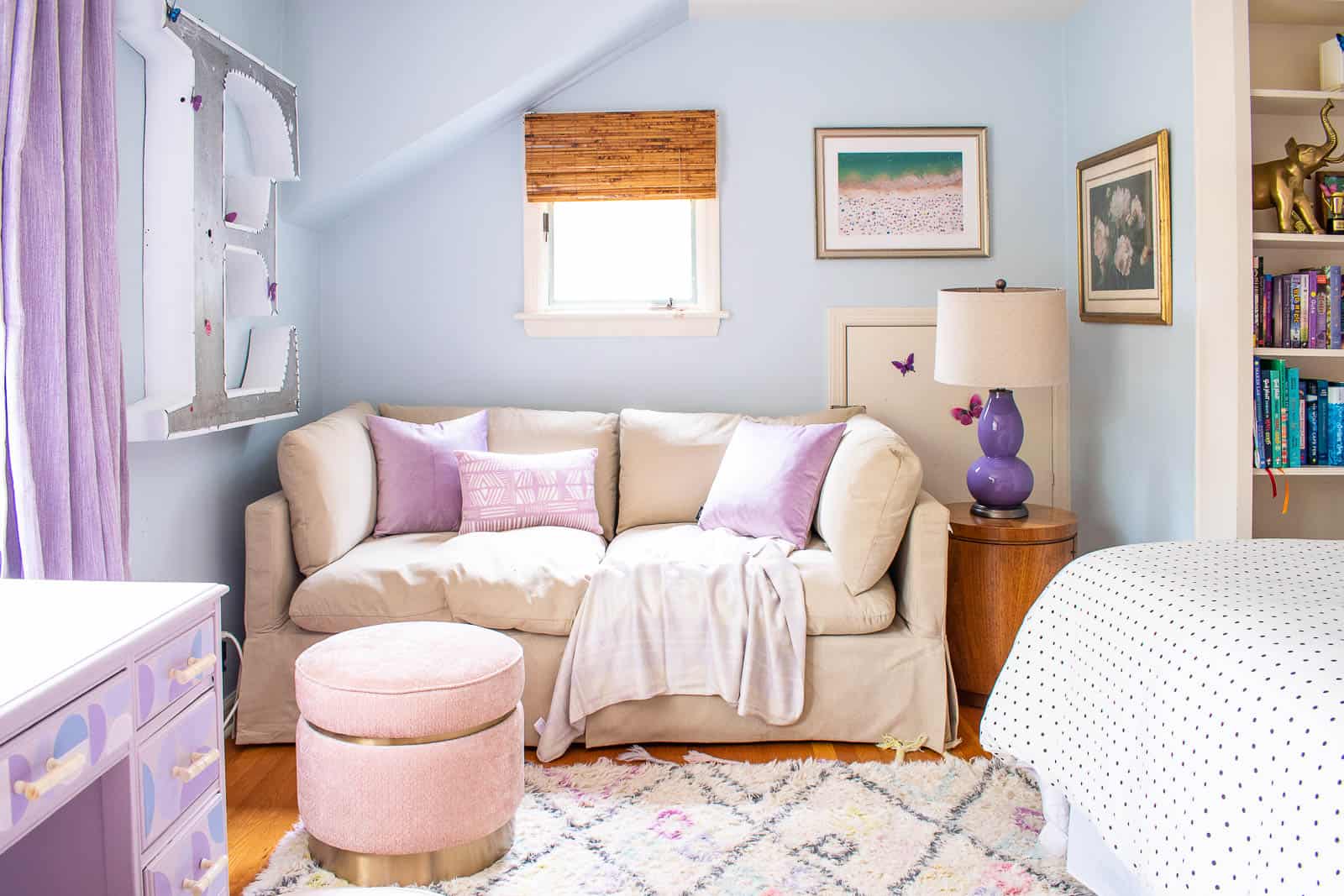 New Additions: