Okay you guys.  This is big.  BIG.  So get ready for a long post.  There are two areas in this house that I rarely show.  The downstairs bathroom off of the dining room and…. our kitchen. Both places are dated and ugly.  I've spit shined them a bit, but we have bigger plans so I haven't bothered to get too carried away with makeovers and projects. (Update… I took it one step further and actually tackled the powder room here!)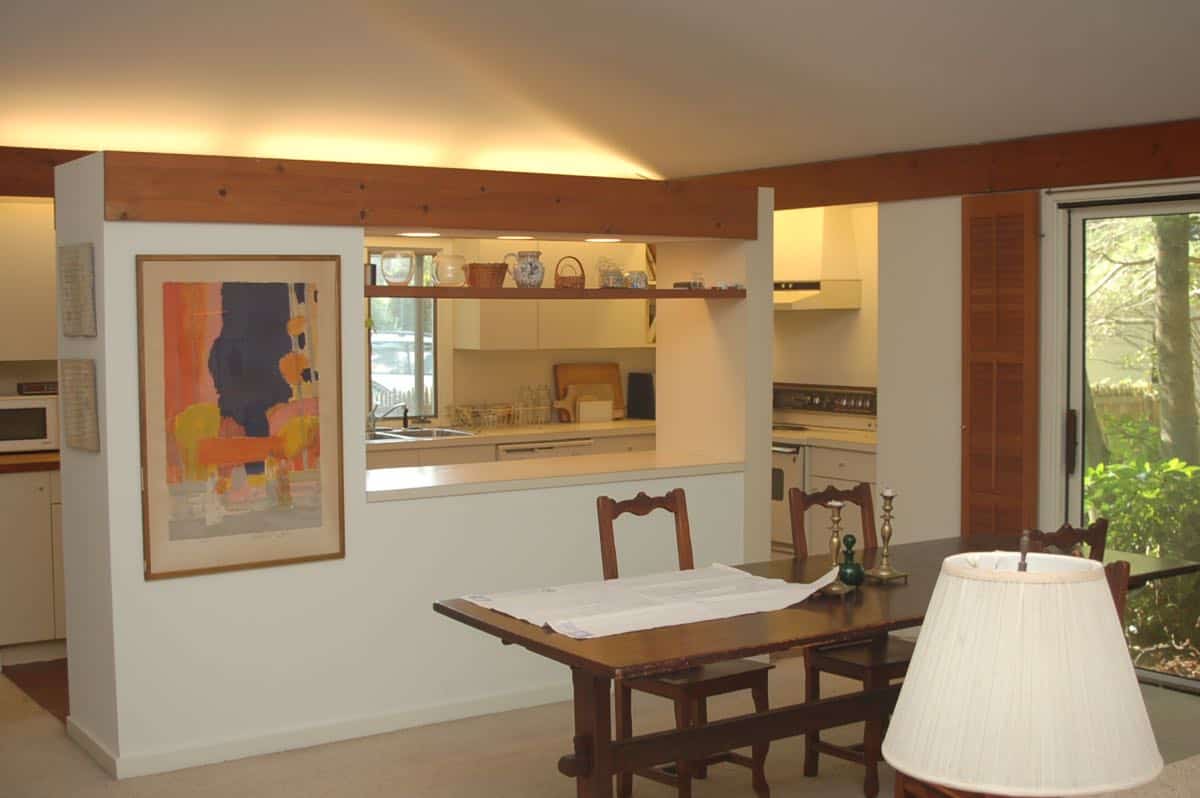 As for the kitchen… We DEFinitely have plans to send this dated space to melamine heaven, but this will require literally raising the roof.  I swapped out the knobs, added a chalkboard and painted… but beyond that, it was just our little bit of the 70s.  Until NOW!  Booya!  Nope, not a major kitchen demo, but an amazing little transformation that I am THRILLED about.
The double-decker kitchen island was the most dated thing about this space in my opinion.  Because the fridge is part of the island (behind the large painting), we couldn't obviously tear it down… until NOW.  I'll admit to bringing in the experts on this one… not because it's wildly complicated, per say, but because it would take us WEEKS… and having a kitchen in disarray for weeks ain't in the cards for this team.  And the peace of mind knowing that such a high traffic area is solid and sturdy is probably worth the extra expense.
They pulled down the double decker island. (You can see that we'd already replaced the vinyl tile 'sheet' with hardwood so that was also a big improvement.)
Fast forward a few days and… buh bye 2-story island!
We took advantage of this little update and bought a new super sized refrigerator.  The one we'd been working with fit the tiny little space in the island.  Read: not big enough for a family of 6.   We had to run a power line to move the SSF (super sized fridge) against the wall.  And then adios 70s island and hello, Fantasy Island. (That hutch right next to it is a discontinued Ikea model that I scored off Craigslist when we moved in.)
Because we had invested so much in a new fridge and spent the money to have our general contractor handle the construction, I was all about cutting financial corners for the cabinets, etc.  The island was 9 feet long and counter depth wide (24″) and we wanted to keep the same measurements so the wood floor didn't require any patching.  I was SUPER lucky to find a set of 5′ base cabinets at the Restore for $140. They were solid wood doors, smooth sliding drawers and structurally solid.  I consulted a couple of experts on how they paint cabinetry and it's fussy work… but easy work.  Check out the links above if you want detailed instructions, but here's the quick and dirty (affiliate links included for your convenience):  1) Remove the doors, drawers, hinges and knobs and gather materials.  2) Use wood filler to patch any holes (especially if you're replacing hardware that might have different measurements and require you to drill new holes) and sand. I went over my sanded cabinets with some TSP and then a tack cloth to remove any residual grease, grime and dust. 3) Prime.  I used Zinsser 1-2-3 which will work on things as shiny as laminate so I figured it would hold up on my wood cabinets.  Read the label  on your primer for specific instructions, but I gave my cabinets one coat using a brush for the nooks and crannies and then a foam roller for the flatter areas. After 24 hours, I 4) lightly sanded my primer, 5) went over the cabinets again with tack cloth, and gave them 6) two coats of paint.
The guys at the paint store suggested an oil based paint, but I politely explained that the likelihood of keeping my children away from tacky oil paint for a full 24 hours was as likely as my application for the Bachelor being accepted.  So I went with their Insl-x CabinetCoat in Benjamin Moore's HC-120Van Alen Green after seeing this image on Houzz.  The laminate cabinets in the rest of the kitchen are an off-white which I don't love but we're stuck with 'em.  Remember, this is a little nip/ tuck… NOT a full kitchen face lift.  I thought the color on this island would be sort of fun as well as a great dress-rehearsal color scheme for our big boy kitchen down the line. (Check out the color on Houzz as it's clearly better than any of my pictures!)
Before…
And after…
I replaced the hinges and the drawer pulls.  I also used some plain white adhesive contact paper to brighten up the inside of the drawers.
My Christmas present to Mark was that wine fridge that I found at an estate sale.  Wine fridges are a little dicey because they typically come with terrible reviews, but fingers crossed this one will last for us.
The wine fridge is 2′ wide so with the 5′ base cabinet, we were shy of our 9′ target length by about 2′.  12″ of open shelving on either end was an easy way for our contractor to make up the difference and provide some great storage.  I have cookbooks on one side and some matching Homegoods baskets on the other to hold dish towels, baking needs, and cake decorating paraphernalia.
For the countertop, I went with Ikea.  They make a few solid wood models that can be cut and stained.  Because the countertops were going to be exposed on both sides (vs. sitting against the wall), a standard countertop measurement of 25 5/8″ wasn't quite wide enough.  We needed more like 27″ to give an  adequate lip over the back construction and the front knobs.  Of the solid wood options, the Varde model was the most cost-efficient.  I thought about staining, but got a little gun shy that the stain would be blotchy and weird so I settled for a basic butcher block conditioner. This finish also means I don't have to go over with a coat of poly to product any food from coming in contact with the stain…
Update… this counter has had some user-error glitches.  It started splitting in random spots almost immediately which is most likely because we installed it too fast without letting it acclimate, but… I suppose it's possible that it could just be a thin inexpensive butcher block.  I had to go back and patch in places with wood filler.  Not the biggest deal since this countertop is somewhat temporary, but probably means I can't stain it down the line and, well, the principal is irritating.  You get what you pay for and I'm glad that this isn't our permanent kitchen countertop.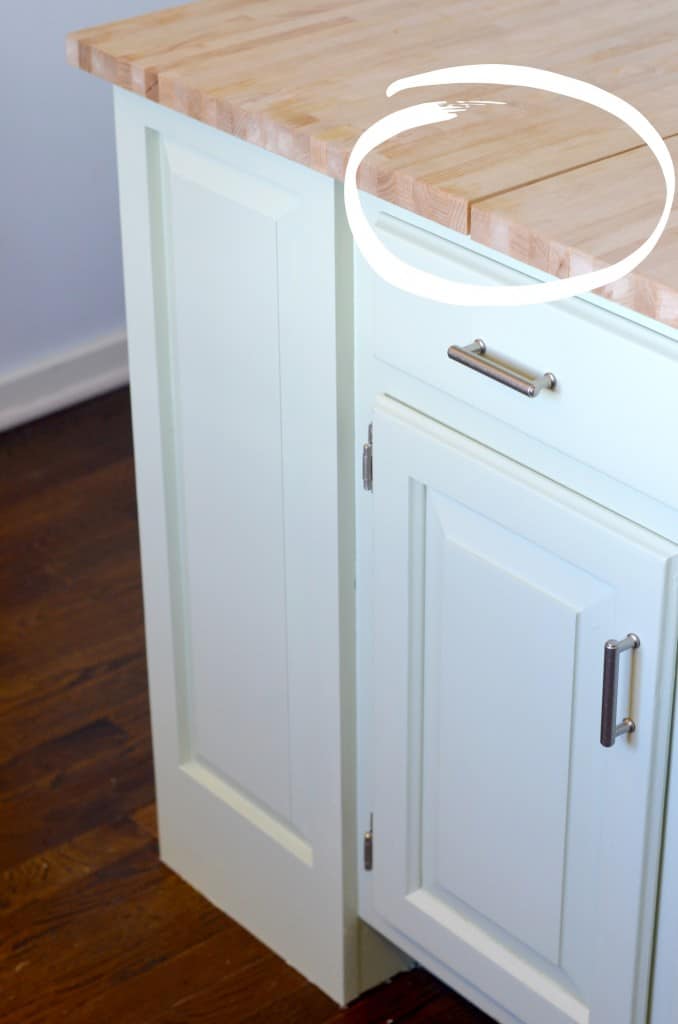 The fridge is a counter depth model intended to be framed and integrated into cabinetry (we were thinking ahead to our final kitchen plans)… until it lands in its final spot, we had to create a frame to cover the mechanicals that aren't meant to be visible.  Not ideal, but not awful either.  And well worth getting a more updated island and more refrigerator space!  I painted this in Benjamin Moore's Spanish White which is the same off white used on all the trim/ molding in our house (it's not as yellow as it appears in these pictures…); we didn't choose this color, incidentally… the previous owner had a love affair with all things off white but we weren't about to REpaint over all the off white so we've kept with the color scheme at least where trim and moldings are concerned.  (Update: See what I did with this fridge corner.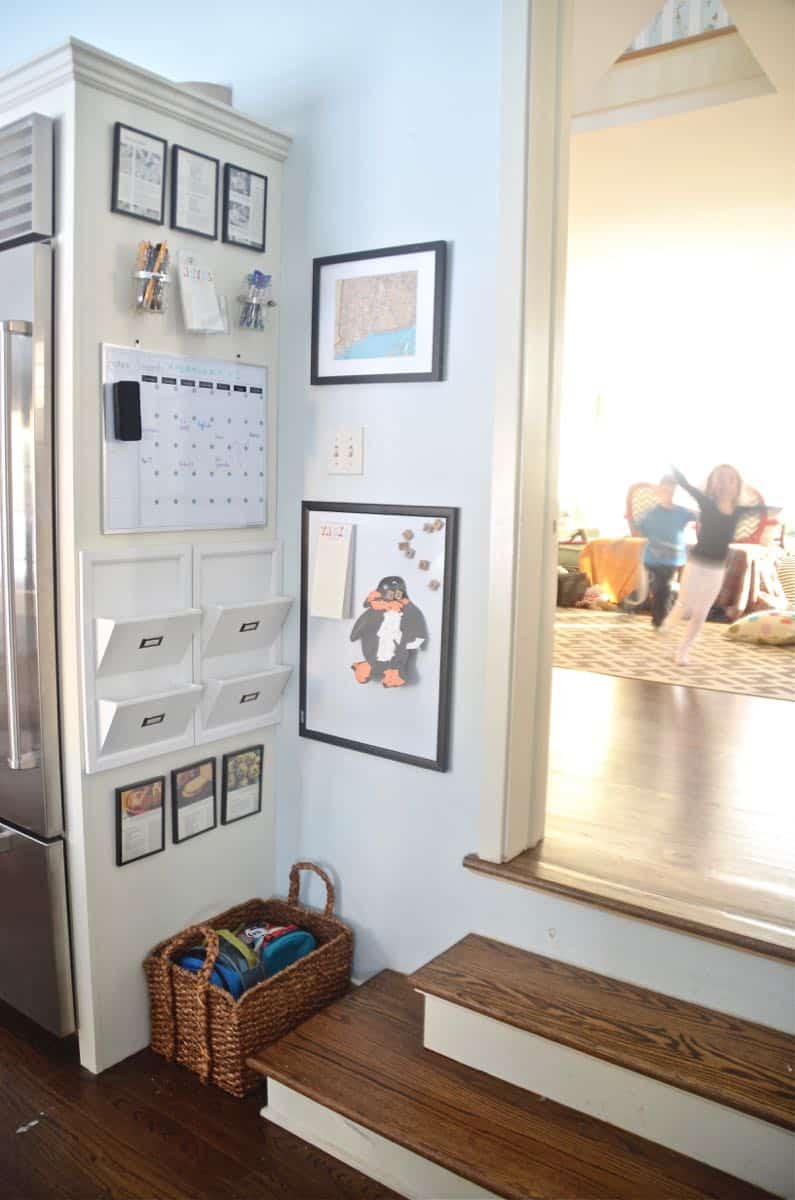 Now I can see why folks love an open concept! This whole room feels 3x bigger than it used to!