(Update: If you like this command center, then you're going to LOVE my Command Center 2.0 for the new house!)
In my ongoing attempt to feign organization, we've adopted a shiny new command center for our new and improved kitchen.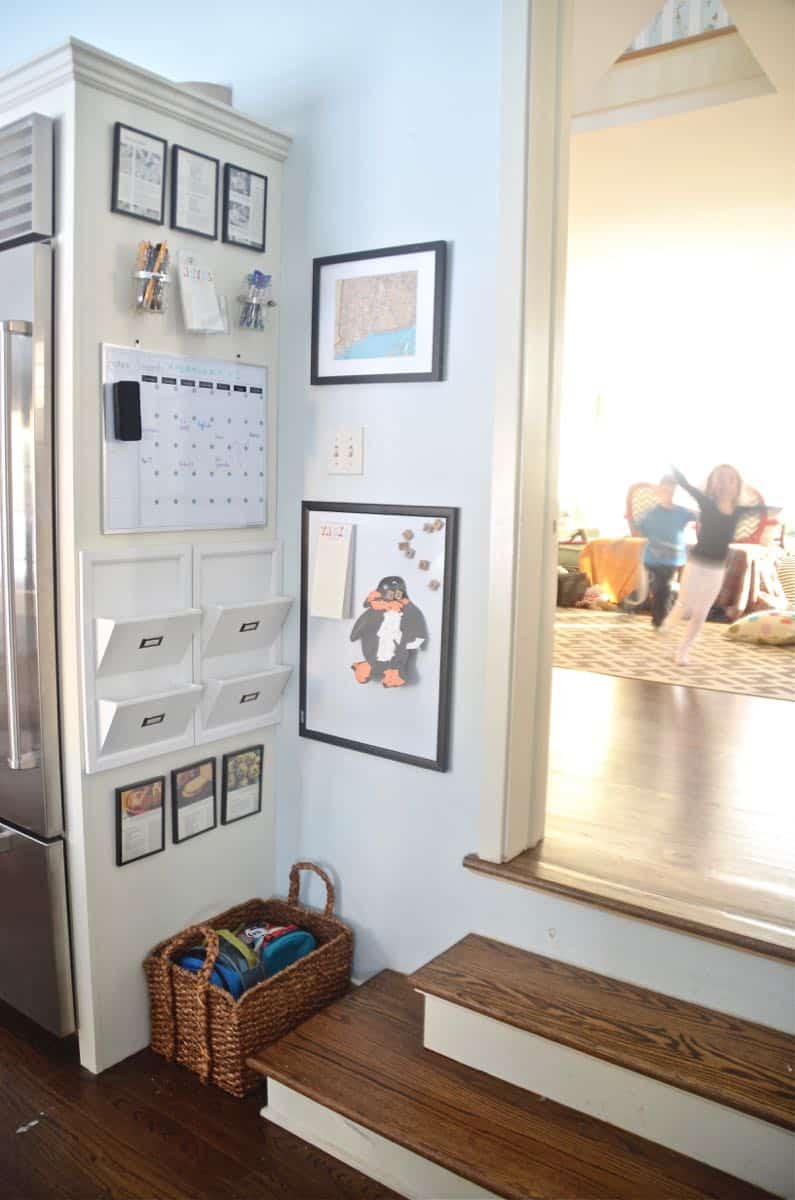 When our old kitchen island came down, so did the wee sized fridge. That now lives in our garage as Mark's pride and joy beer fridge and we have this gigantor in a new location in the kitchen. I'm not going to lie, this refrigerator was a major purchase for us… but your stove and your refrigerator are the kitchen work horses so if you're going to spend the cash, these are the places. And it's already made this big family's life SO much easier. I'm officially a housewife in love with her new appliance.
We opted for a counter depth refrigerator (24″) so that it will work when we go to renovate the kitchen in a few years. Because these units are meant to be "built in" to the cabinetry, the sides aren't intended to be seen (and they need BIG TIME anchoring). Our builders had to create a frame for the refrigerator that we painted to match the current cabinets/ trim (the previous owner chose BM Spanish White for the trim throughout the house).  Luckily this color also works well with my Craigslist Ikea sideboard.
Which left me this big span of space to work with! The perfect place for a little family organization. I looked at some other ideas for command centers, but ultimately brainstormed what sort of things I'd love to have readily available: pens/ pencils, a pad, white board and pockets to collect things like mail, receipts, etc. (Full source list at the end of this post.)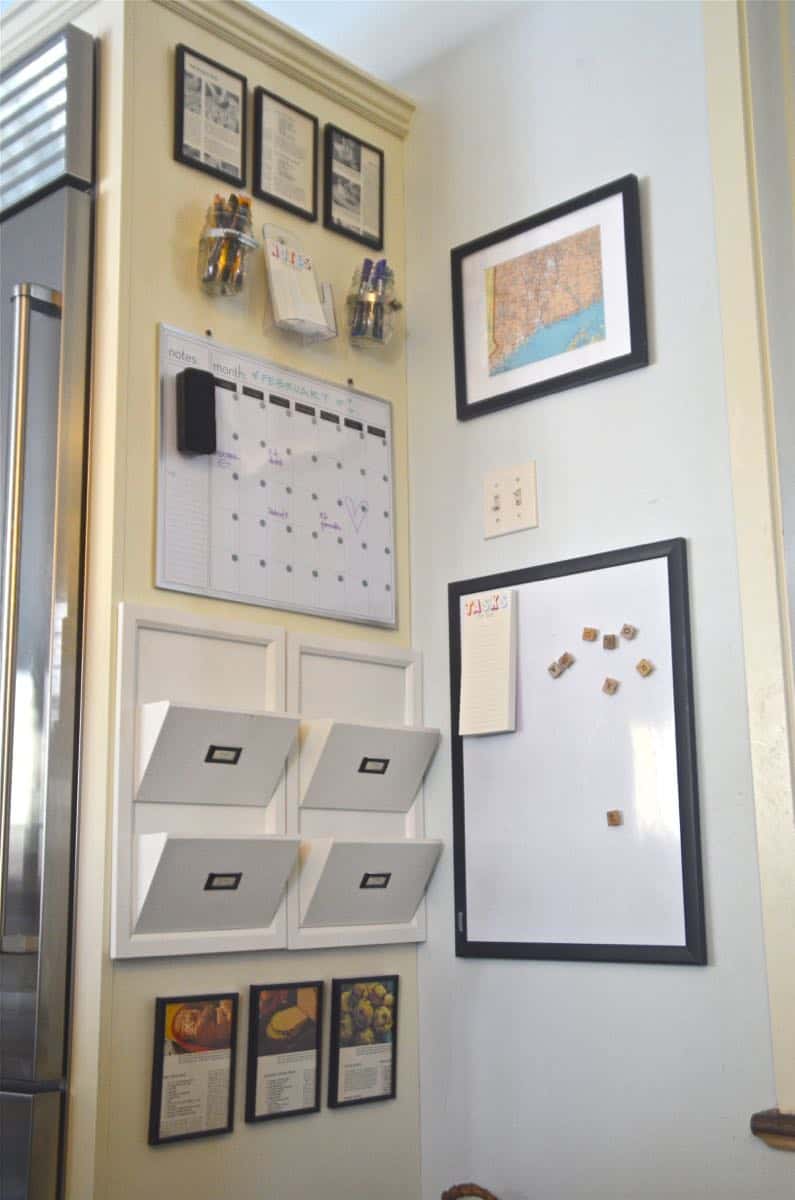 The white board
 is from Amazon… The comparable white board was $30+ at places like Office Max and Staples. This one cost me $25 (free shipping) with Amazon Prime.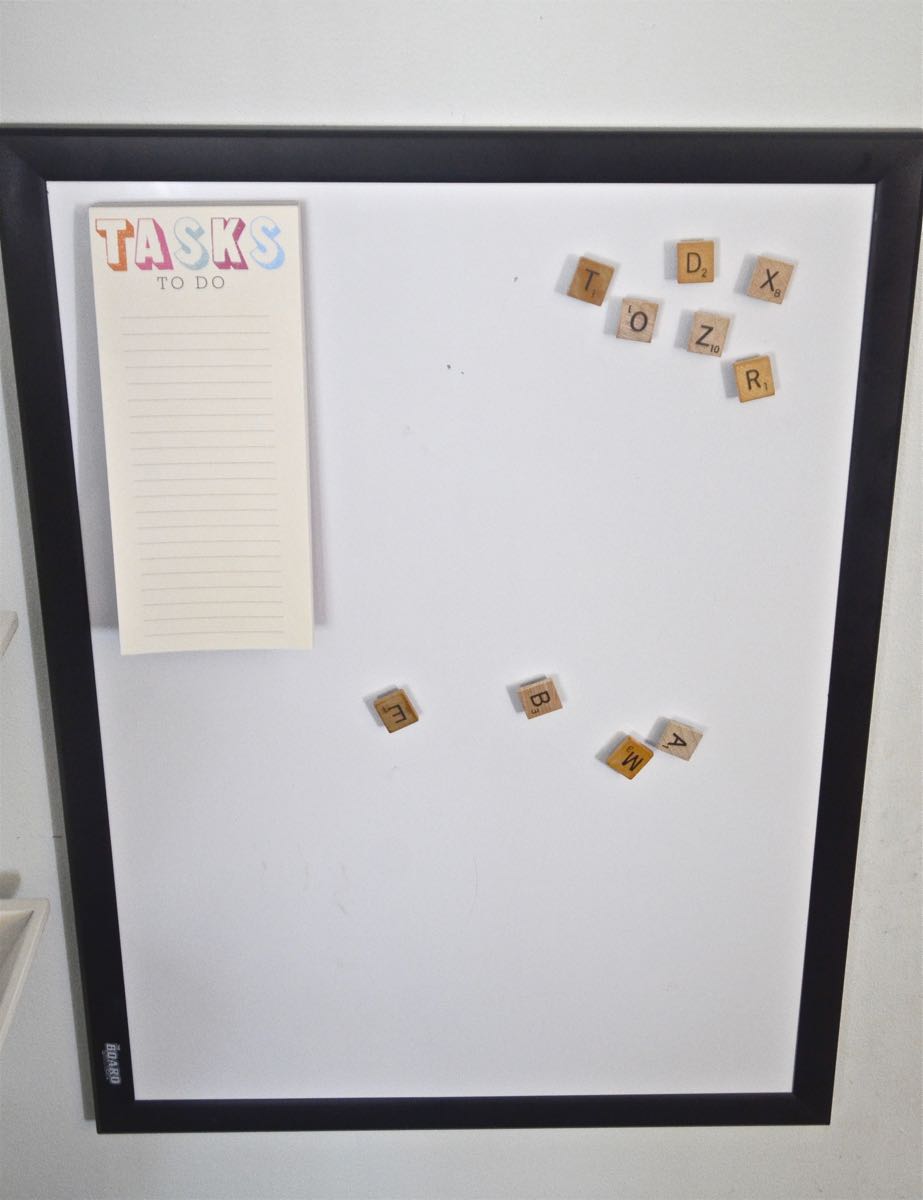 I scored at Homegoods when I saw these wooden pockets for $19.99 each. Not the cheapest, but I liked the clean lines and the durability. I couldn't find these exact ones, but these are close: this one from The Container Store,  this one from Amazon
and this from Ballard Designs.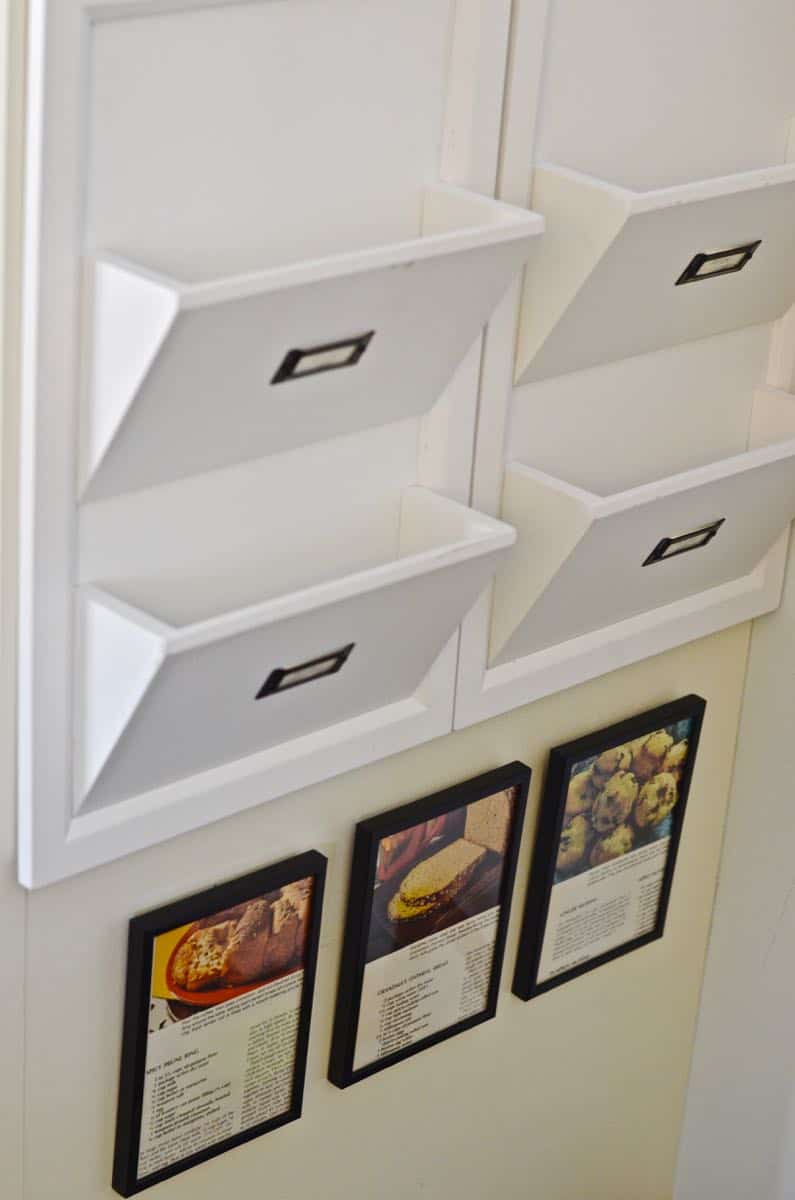 My calendar is ultimately on my computer and iPhone, but I couldn't pass up this dry erase calendar at Goodwill for $6. I'm sure it will come in handy for more immediate To Do items that come up.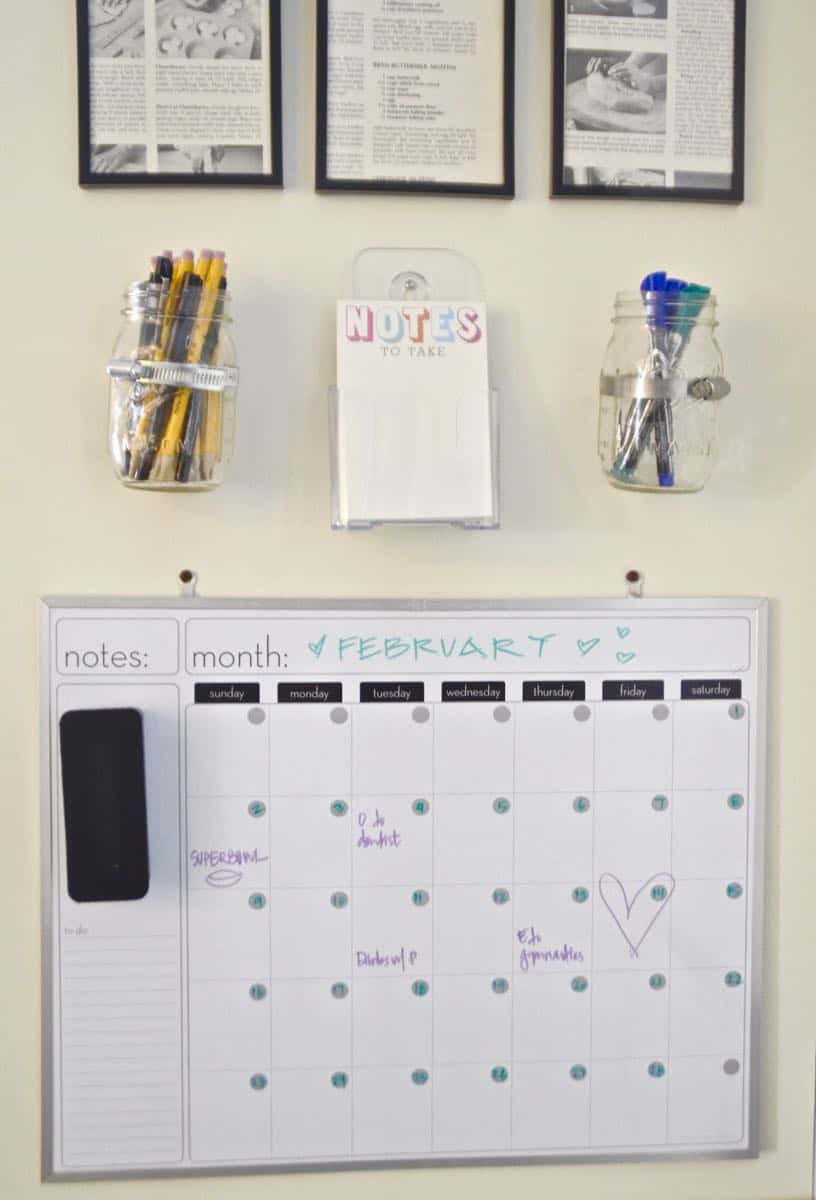 I used this genius idea from Jenna for my pen cups and it's super handy. Thanks to her suggestion, I hung these fairly high to avoid the slick fingers of the kids. (Materials needed: 1 hose clamp
and a mason jar.)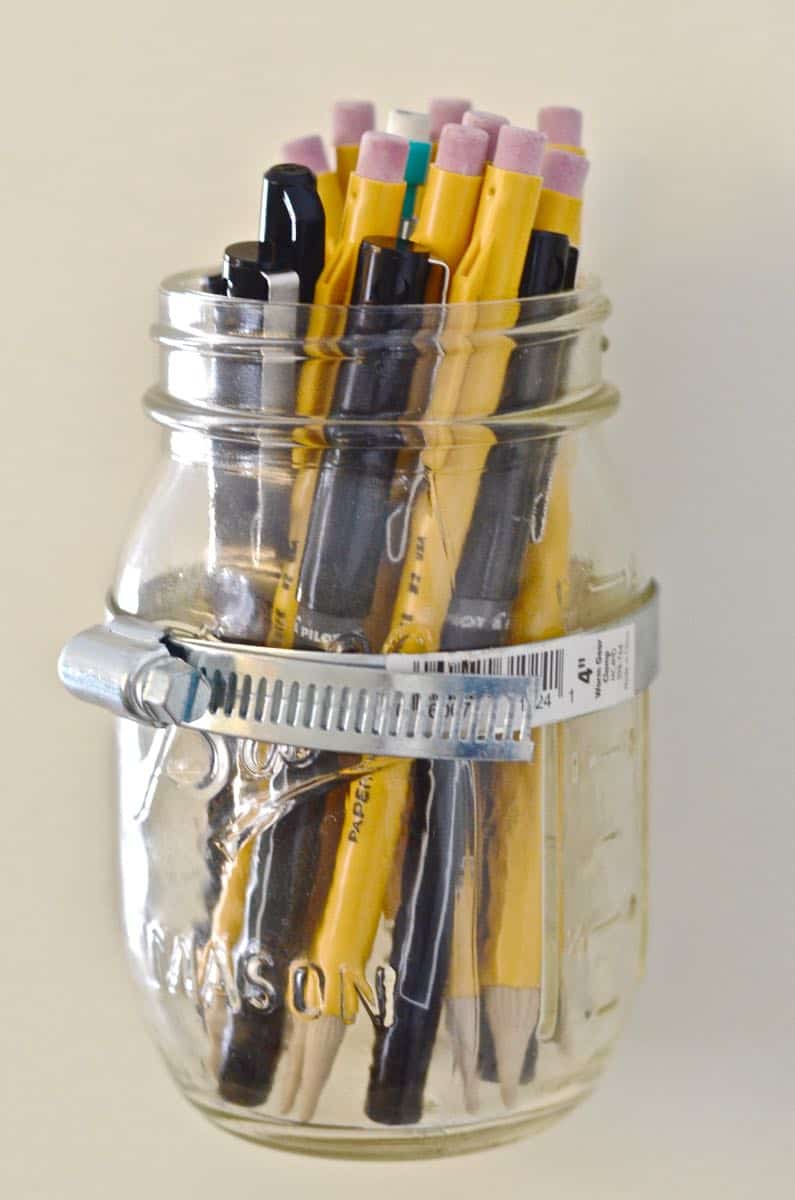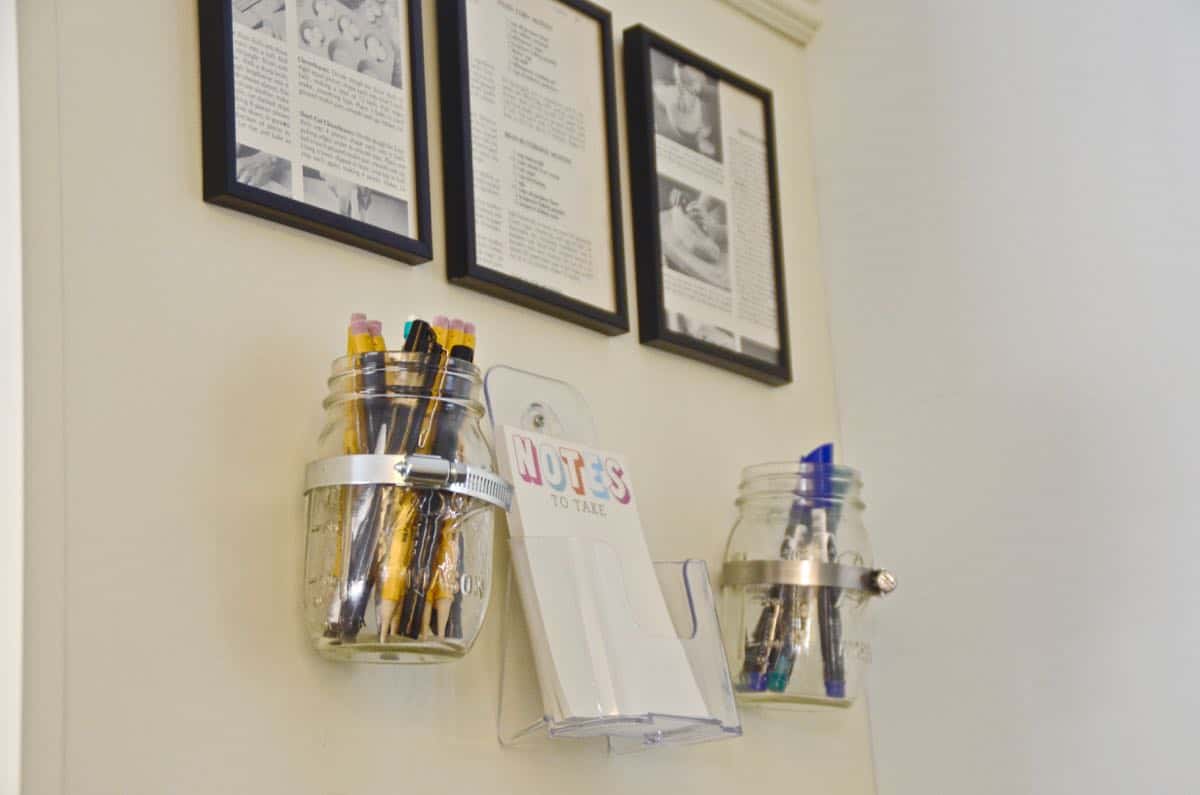 A plastic brochure caddy from Staples works great to hold little pads of paper for grocery lists, reminders, etc.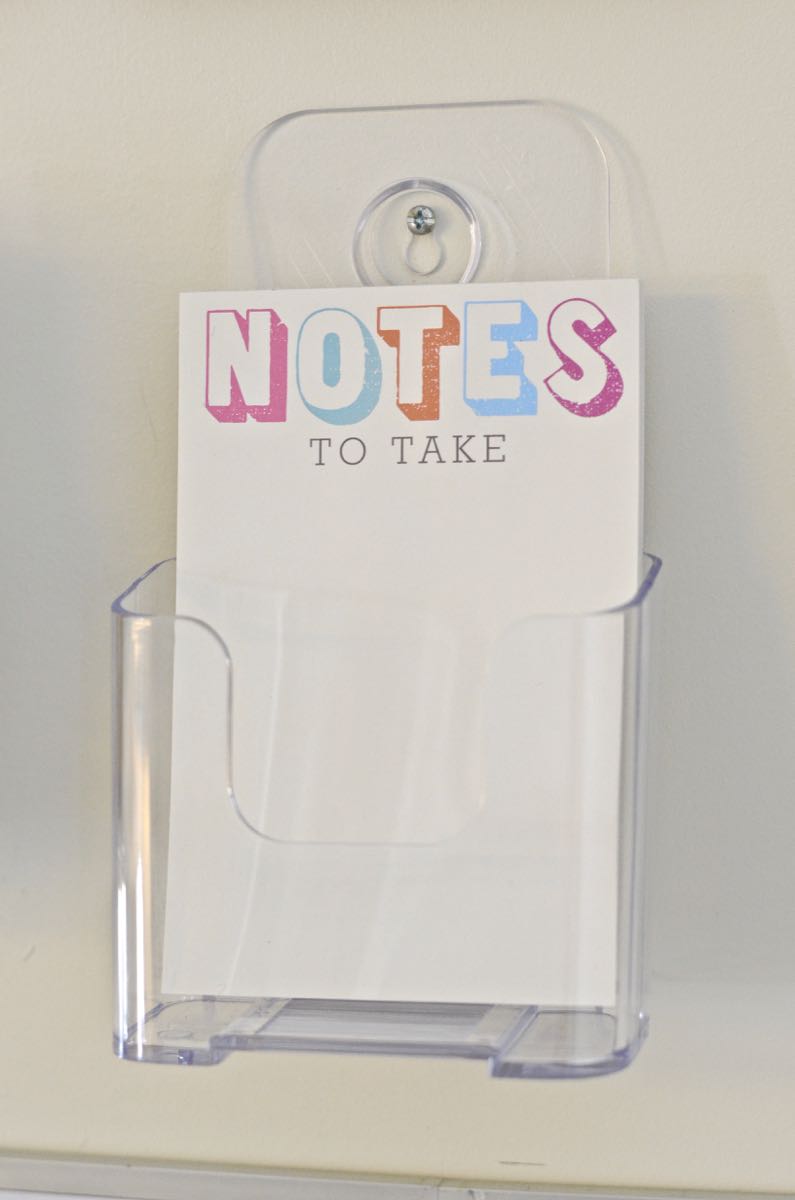 When I measured out the wall to see where everything would fit, it was clear I needed something above the pen canisters to help fill in the space.  Too high for anything useful, I pulled out some 5 x 7 frames from my stash and cut out some pages from a vintage Better Homes and Gardens cook book I found at the thrift store.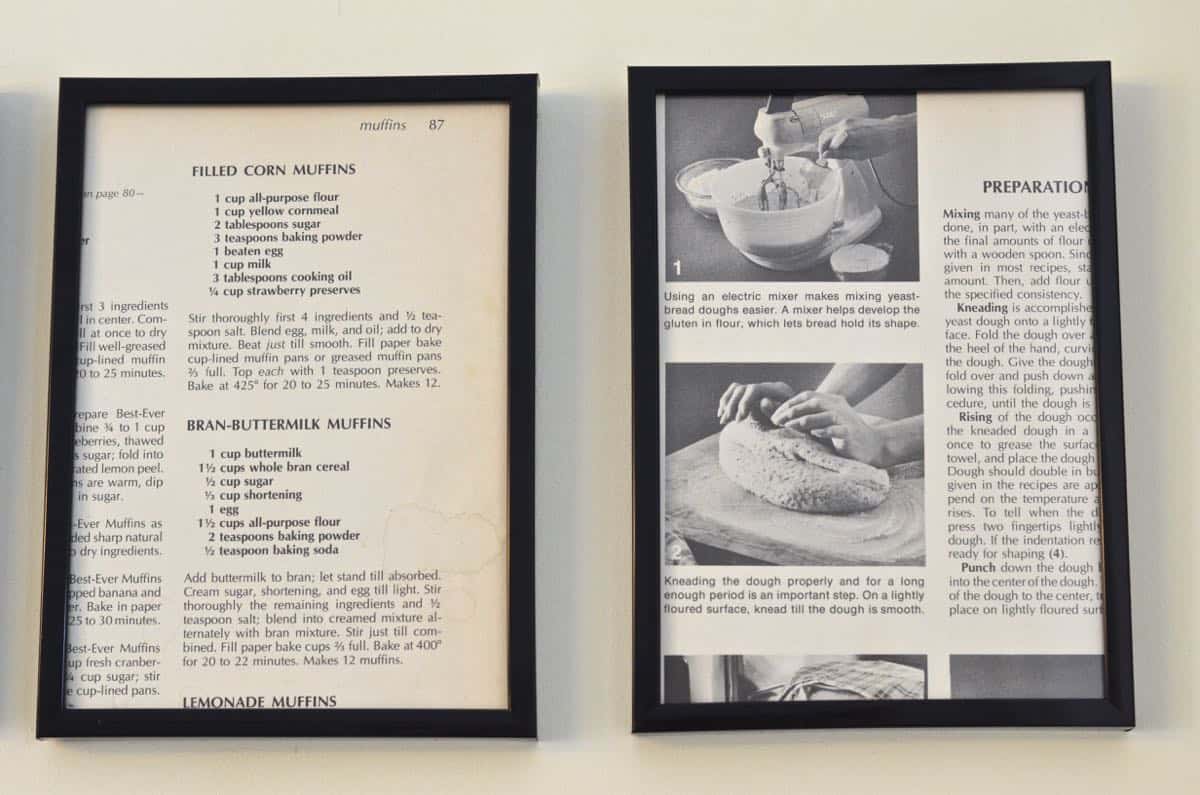 Similarly, after I hung the white board, I wanted something above it. I framed a page of the state of Connecticut from an old atlas I had and it works perfectly.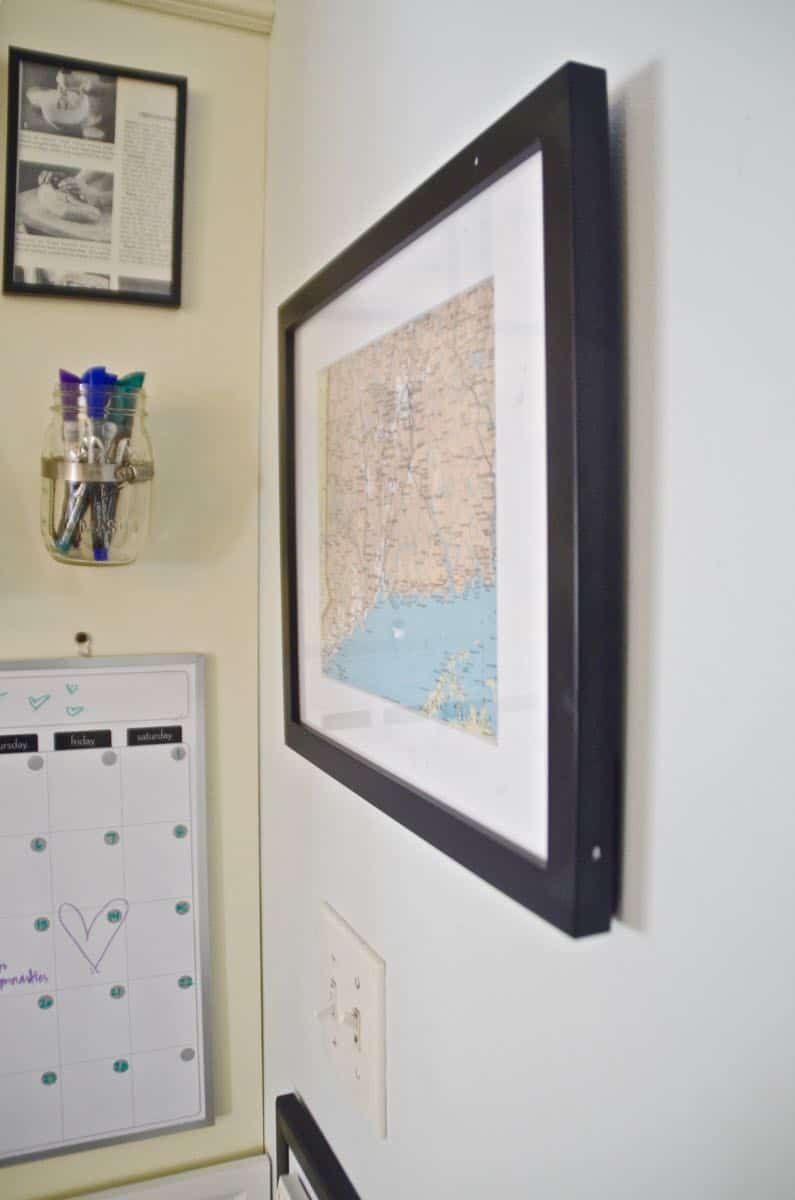 I used some old Scrabble tiles
from our wedding (!) and superglued a little magnet onto each one for the command center white board.  I also superglued an extra magnet to the white board eraser for simple storage.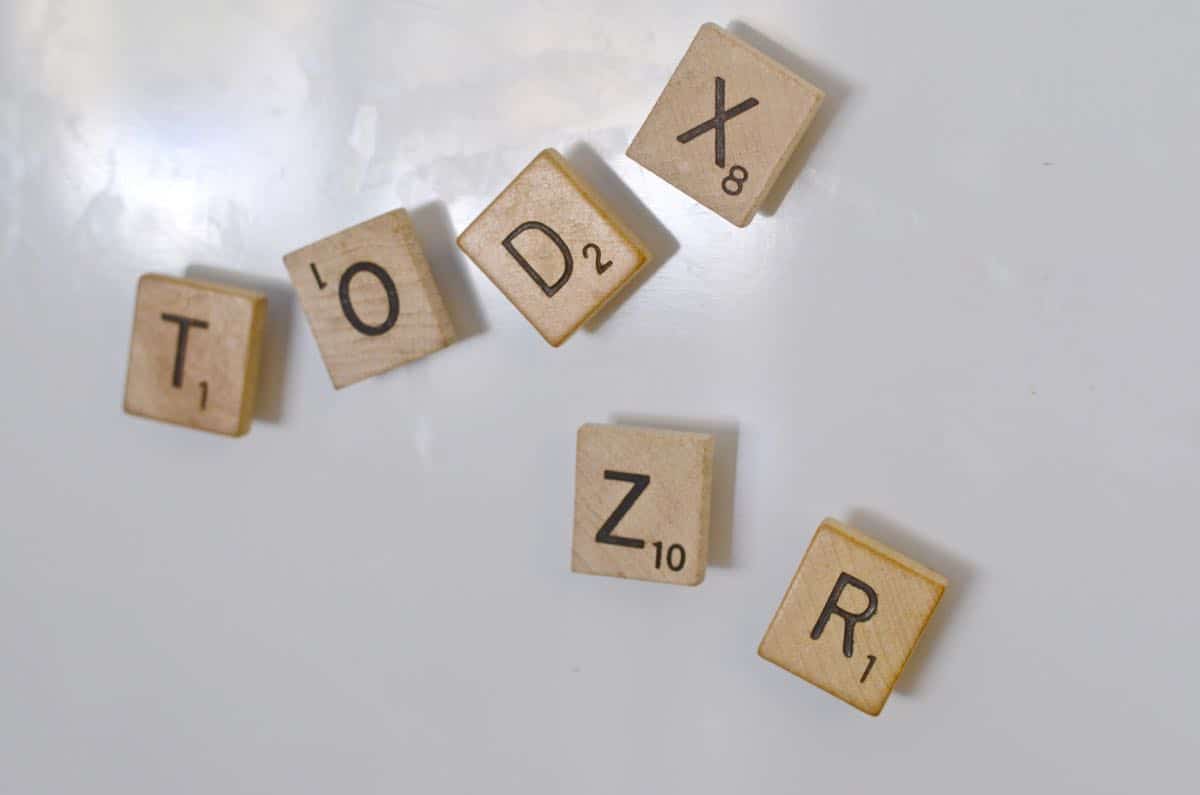 A basket sits on the floor as an easy place to wrangle lunch boxes and snack bags.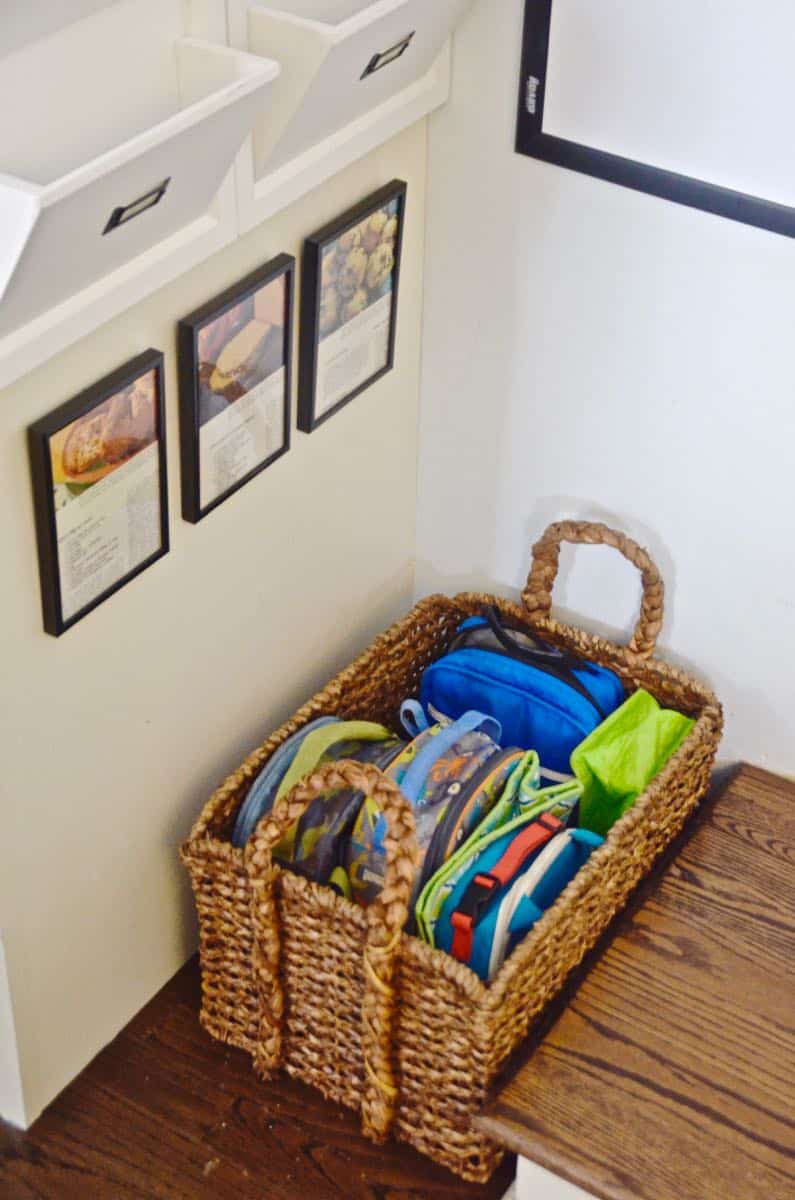 This whole wall is maybe 2 feet wide and 6 feet tall, but it provides SO much organizational goodness.  I love having multiple pockets in which to stick mail and magazines. A white board (and PENS!) right at my fingertips is amazing. And the calendar comes in handy when I need to jot down an appointment or playdate when I'm not on my computer.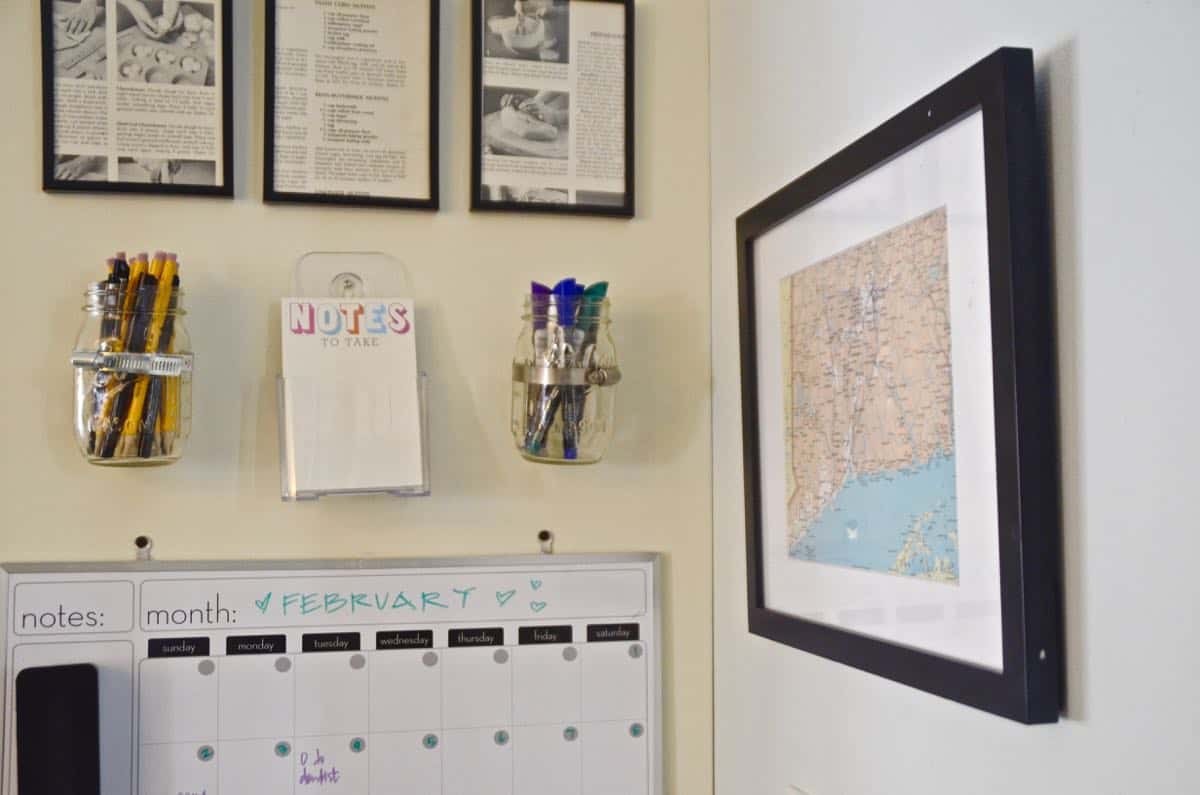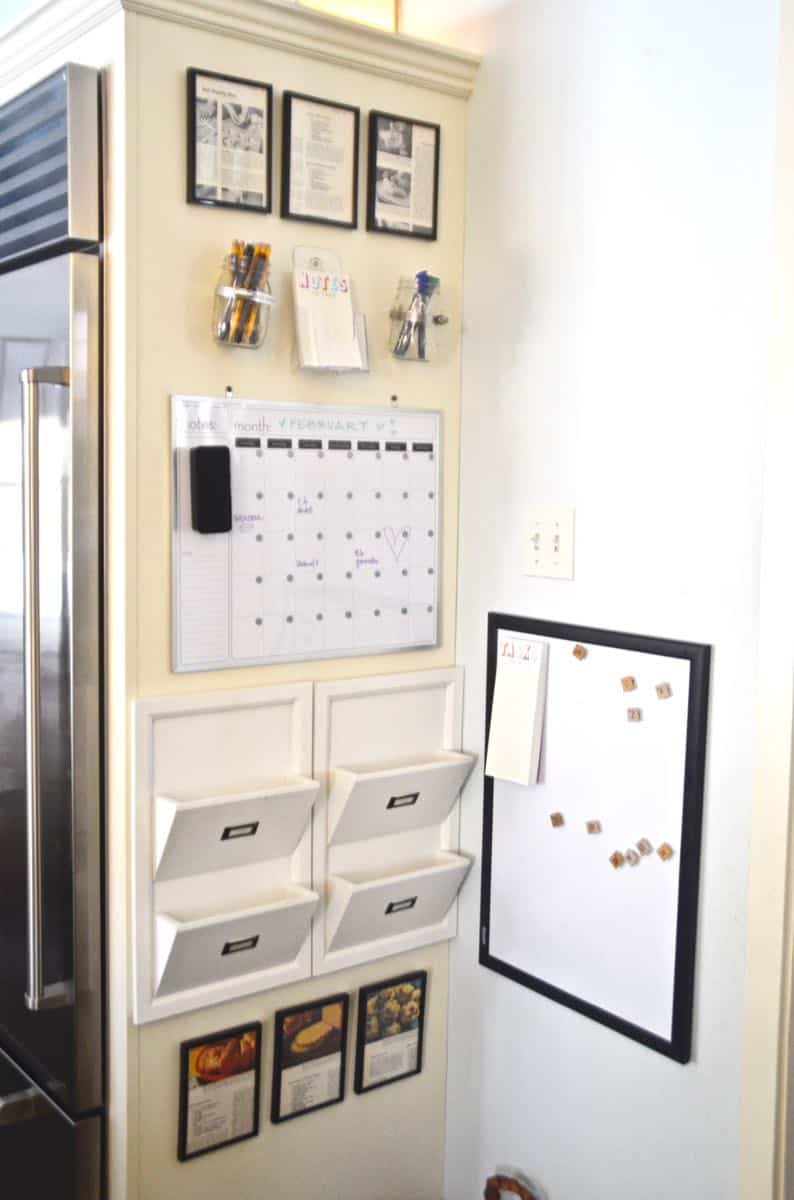 Much to the kids dismay, the white board is off limits for now… their track record for keeping the dry erase markers contained is poor at best.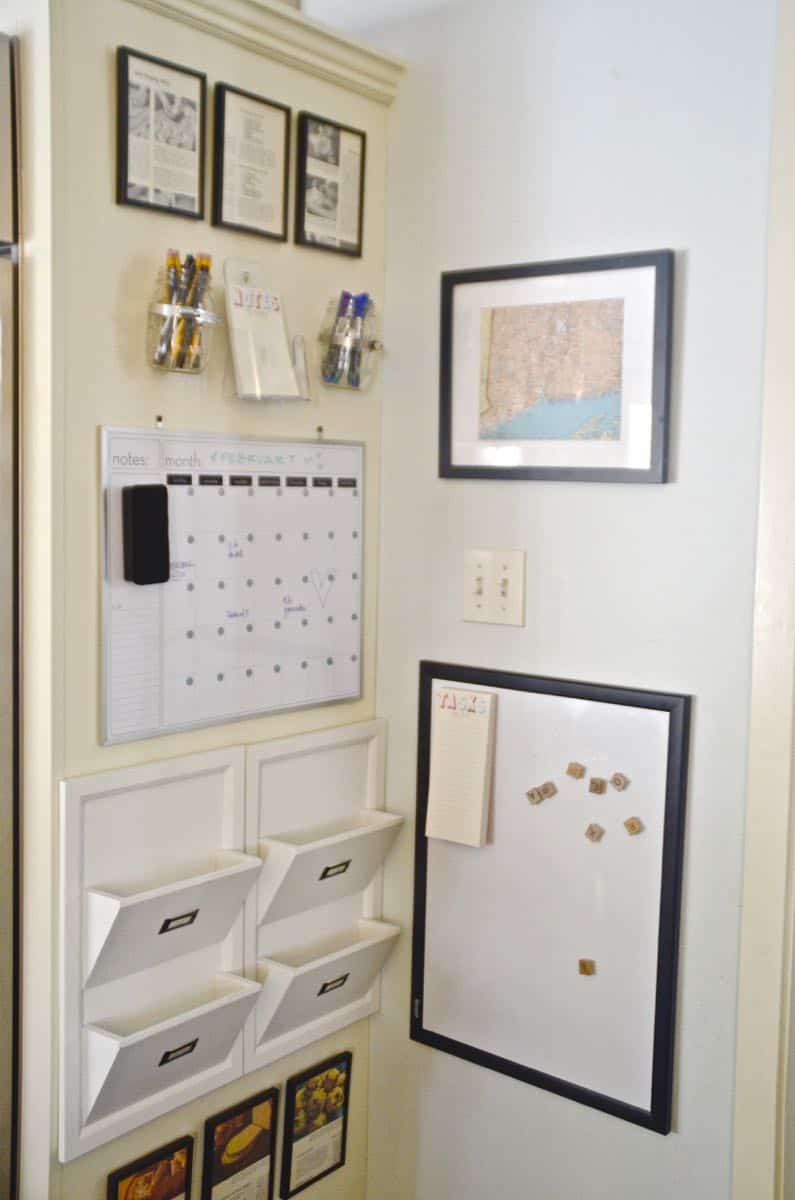 Make Your Own Kitchen Command Center
(Affiliate links included for your convenience.)
What are your strategies for keeping your family organized?  Any tips or tricks?
For more posts on cleaning and home organization, check out my favorites: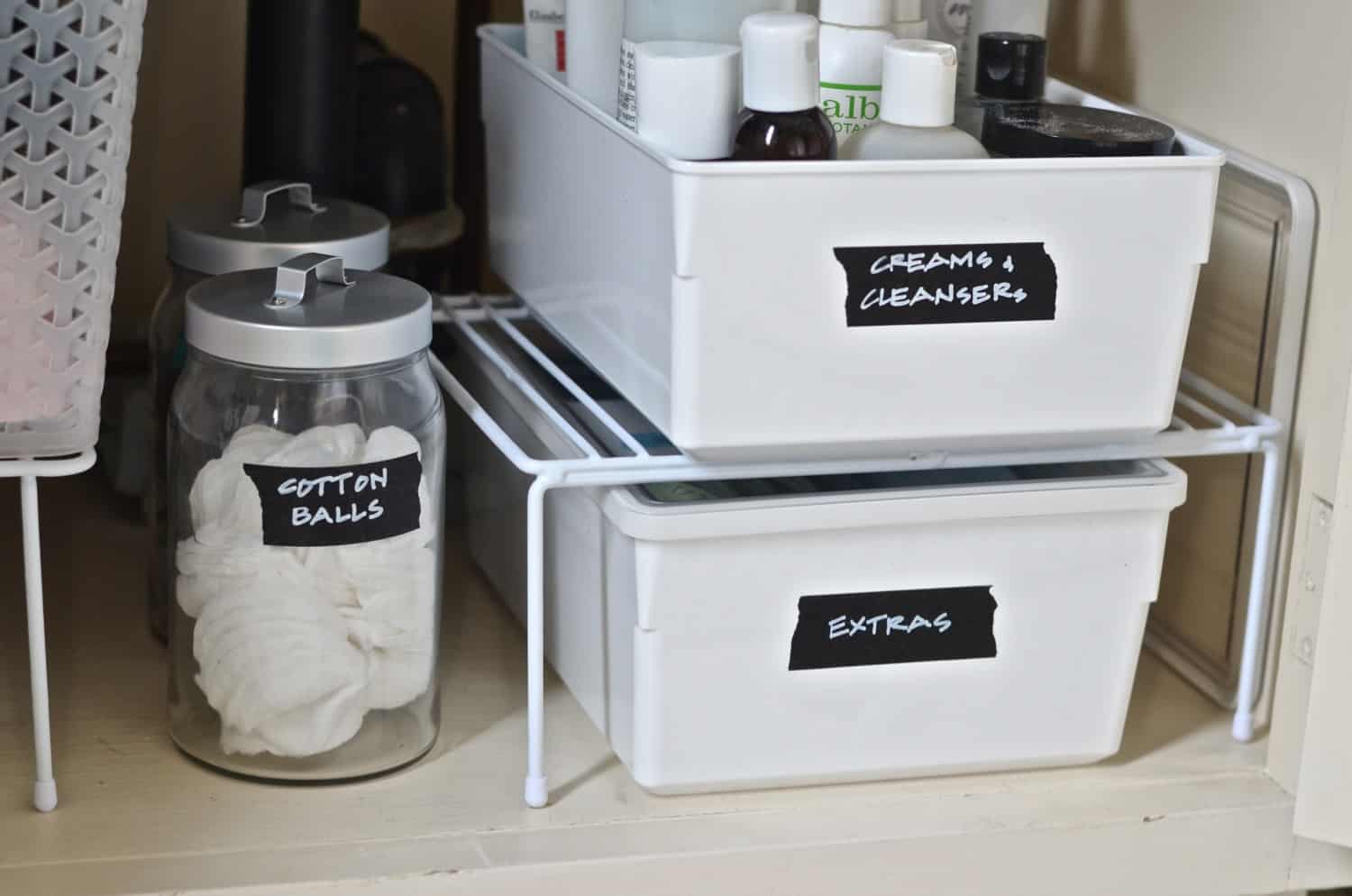 • how I pimped out some basic Ikea shelves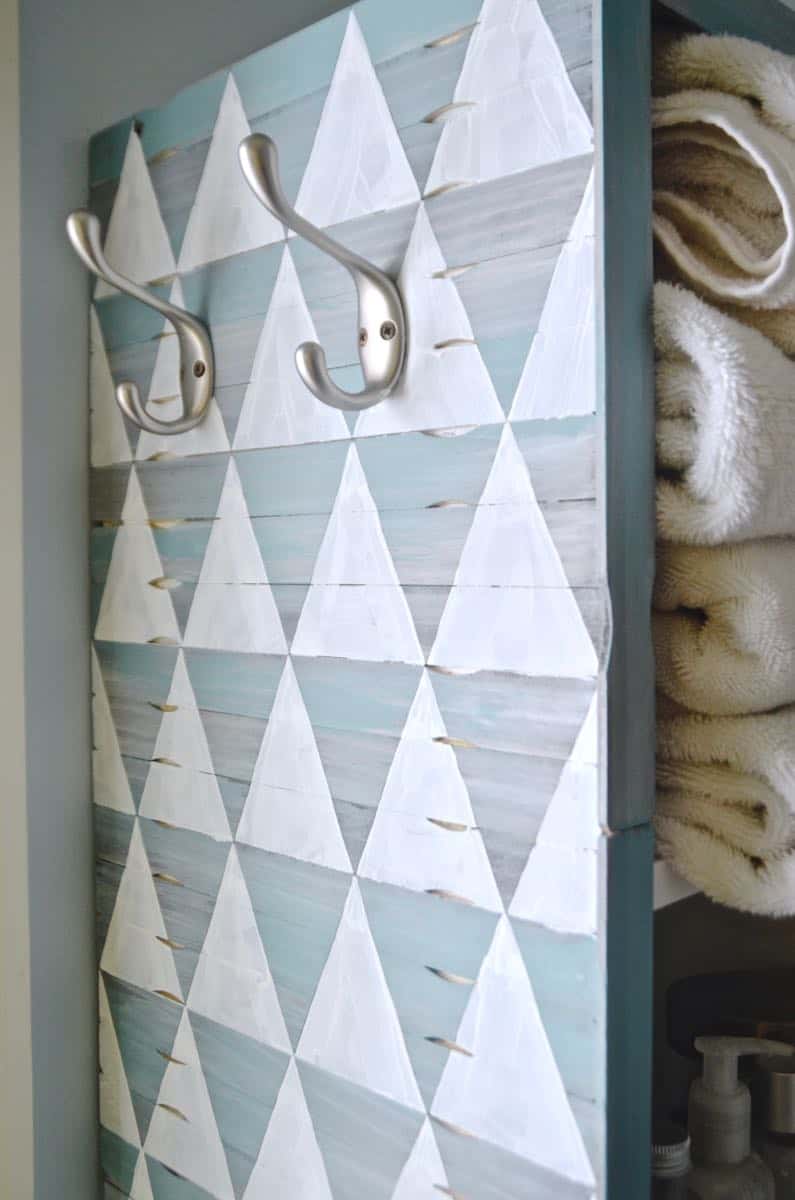 and learn how to clean your iron!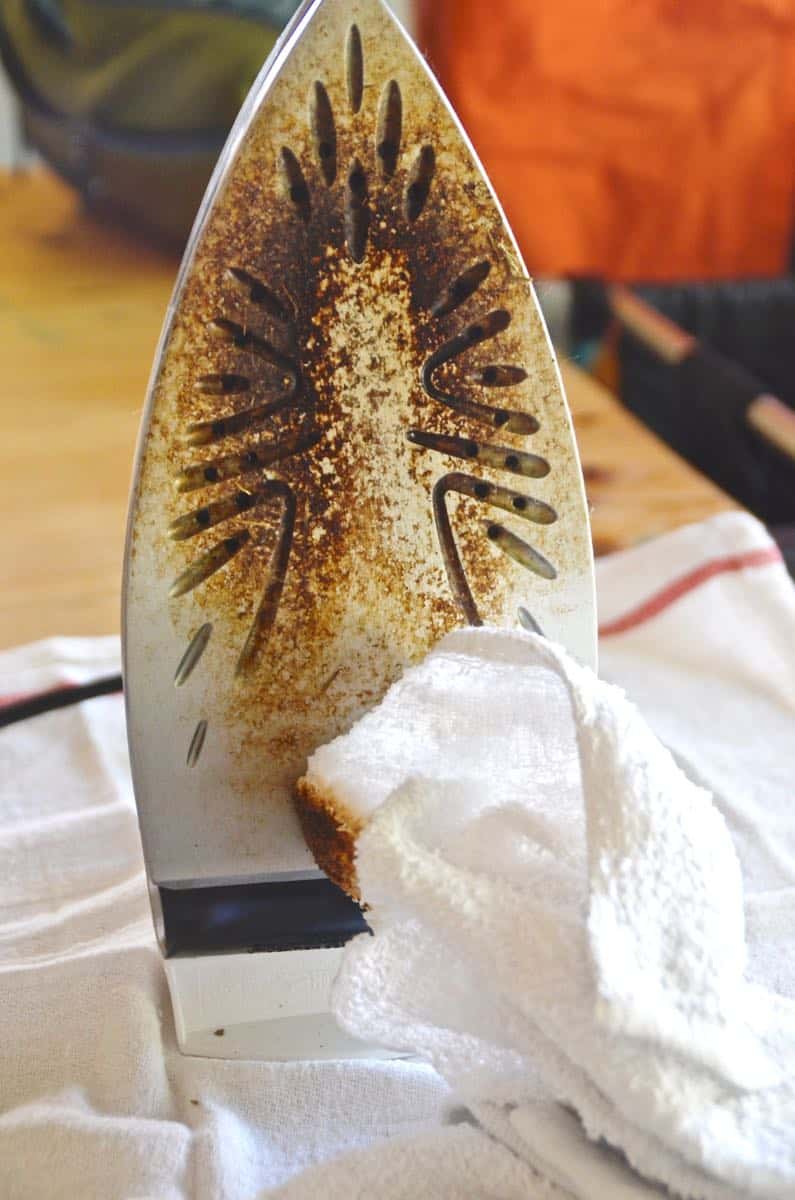 Stalk me on social media and follow me on Facebook, Instagram and Pinterest!