Family Kitchen Command Center
A little over a year ago, I shared our kitchen command center with you on the blog… it was great and got a LOT of use. And then…we moved leaving that specific space behind. This new house poses different organizational needs and I've also learned what aspects of that old command center were GREAT and what aspects weren't as important ultimately. As a result, our Command Center 2.0 is OFF THE HOOK! I love seeing it every time I come into the kitchen and I'm SO excited to share it with you today!!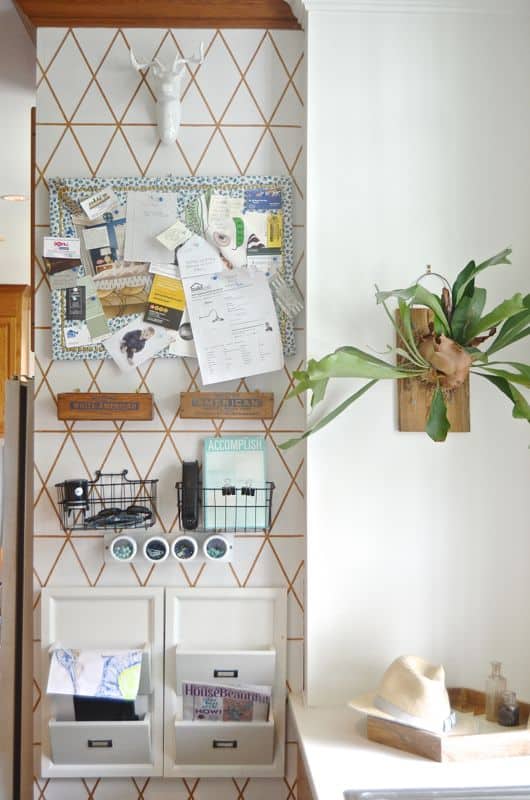 I decided to use this one long wall right when you walk into our kitchen. Similar to the old command center, it's easily accessible and big enough to hold some storage.
Must haves? A place to collect papers. So SO many papers come through the door. A place to store scissors and pens. There is clearly a tiny family of hoarding elves who specialize in grown up pens and scissors that live with us. I always end up with a 'junk bowl' on the counter… a smallish bowl that catches spare change, ear buds, rogue paper clips… that sort of thing. And finally… I never really used the dry erase board that was part of our old command center, but I love having a cork board for business cards, receipts, notes from school, etc. Bonus if I could find a way to make it all look cool and stylish!
Care to have a tour of Command Center 2.0? Get your popcorn (extra butter…) and settle in for a looksie. I started by adding a little pattern to the wall itself. I used 1/4″ floral tape so the lines aren't as crisp as I would like. But from a few feet back, you can't tell. I wanted the wood grain to shine through a clean neutral wall vs. just using a white paint pen as the pattern on top of the wood grain. And that's the pattern from my old blog background so there's a subtle nod to the former site! Thank goodness we were able to adios that yellow wall color and the white makes almost as much of a difference as the command center!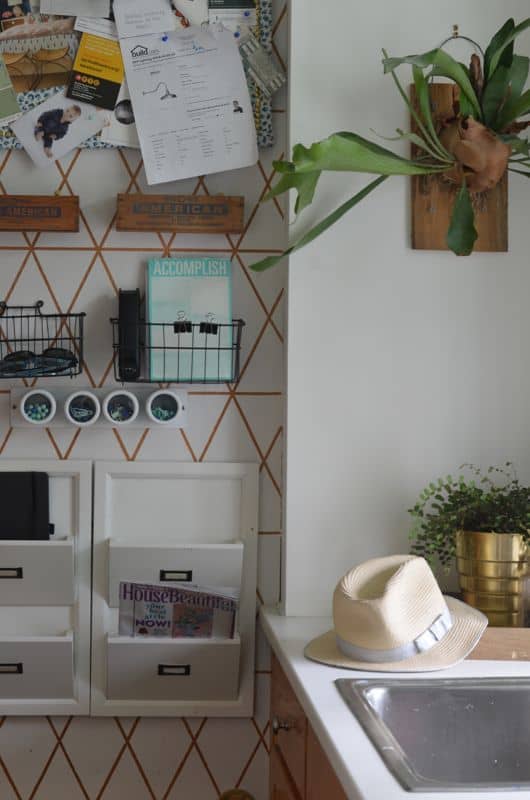 I had an old cork board that I covered with some fabric from my scrap pile. This is a simple way to add a little fun to plain Jane cork. I used spray adhesive to hold the fabric on the cork, then went around the inside edge of the frame with brass thumbtacks. (I'm terrible at putting these in straight so I added a faint pencil line to help guide me… I should have gone so far as to actually measure out where each thumbtack should go!) I finished it by wrapping the fabric around to the back and securing with my hot glue gun.
Right below the cork board (and out of reach from wandering little kid fingers) is pen/ scissor storage. These are wooden cheese boxes I saw at the flea market. I used a pair of screw eyes to attach each box to the wall. Aren't they so fun?
Below my pen storage are these two Ikea baskets. I've had them for a jillion years and I think maybe they're meant for bathroom storage? I mention only so you don't get fixated on 'office' storage when looking for organization solutions! These are sturdy enough to hold my junk bowl if need be!
I saw these magnetic storage containers at Homegoods for $4 or something and brought them home. Orginally they were gray, so I hit them with some white spray paint. Better.
These white wooden pockets are great and were integral for the function of the first command center. They were from Homegoods.
Last but certainly not least… I got the idea of storing a roll of paper using plumbing supplies from Susan at Living Rich on Less, but there was no obvious way to remove the paper without unscrewing the entire rig on hers. I used 2 floor flanges and 2 elbow joints and then a small tension rod between the elbows to hold the roll of paper!
And that's all she wrote! Loving. It. So far it's helping combat the clutter that naturally collects on the counters in our kitchen and it's crackalackin to look at too!!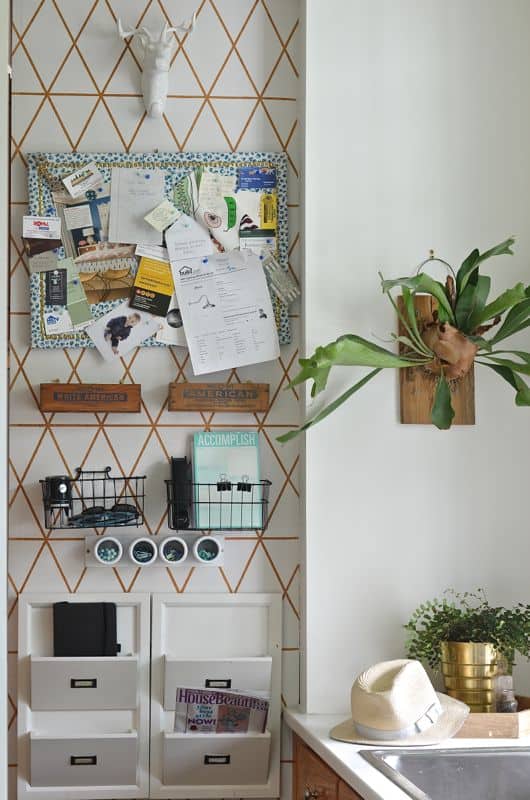 Want some glamour shots? Me too…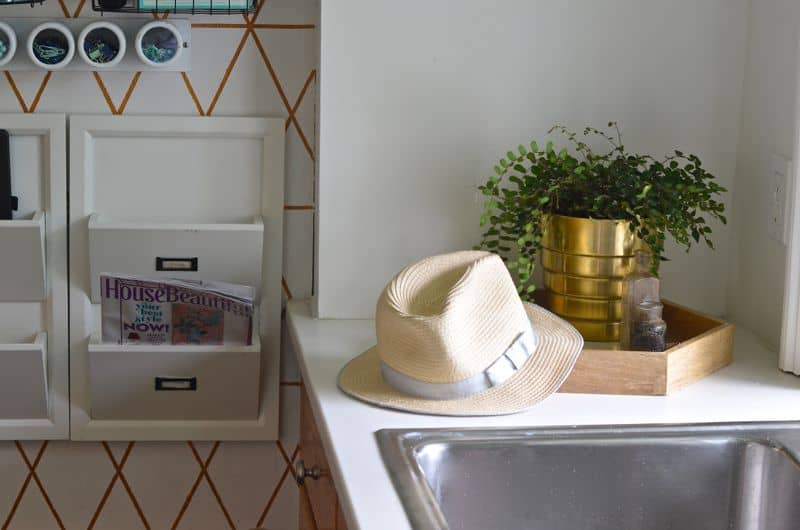 Family Command Center Supplies
(affiliate links included for your convenience)