Leonardo, Eat Your Heart Out
Psssst… this post *might* contain affiliate links: see my disclosure here.
Okay… get your Da Vinci on and come on over- the art center is ready. This little nook in the playroom went from kitchen to bitch'n. It's such a sweet kids art center and Eleanor is fit to be tied by it all! Here's how the space looked before.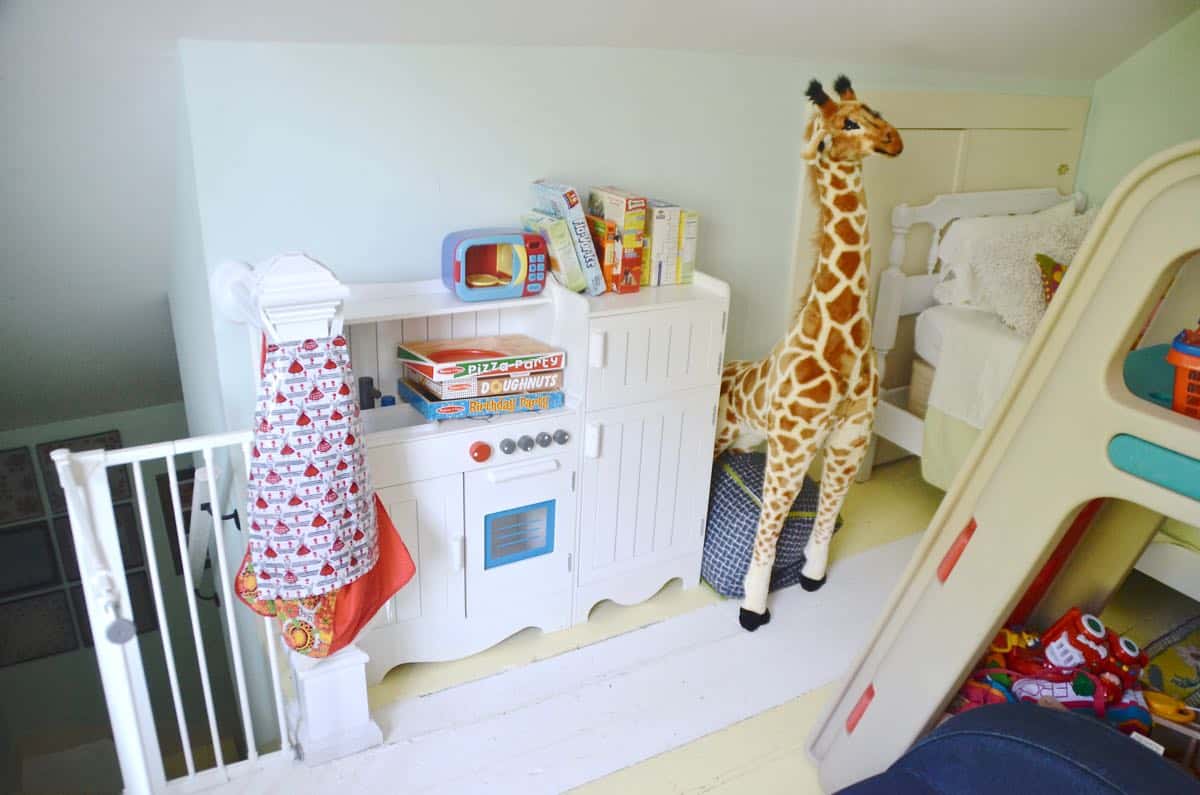 My top priorities for the art center were storage space, gallery space, and surface space. I achieved all those goals AND managed to do it on a pretty good budget (around $120 all in). Picture me walking backwards like every college tour guide you ever had, and I'll point out some of the details!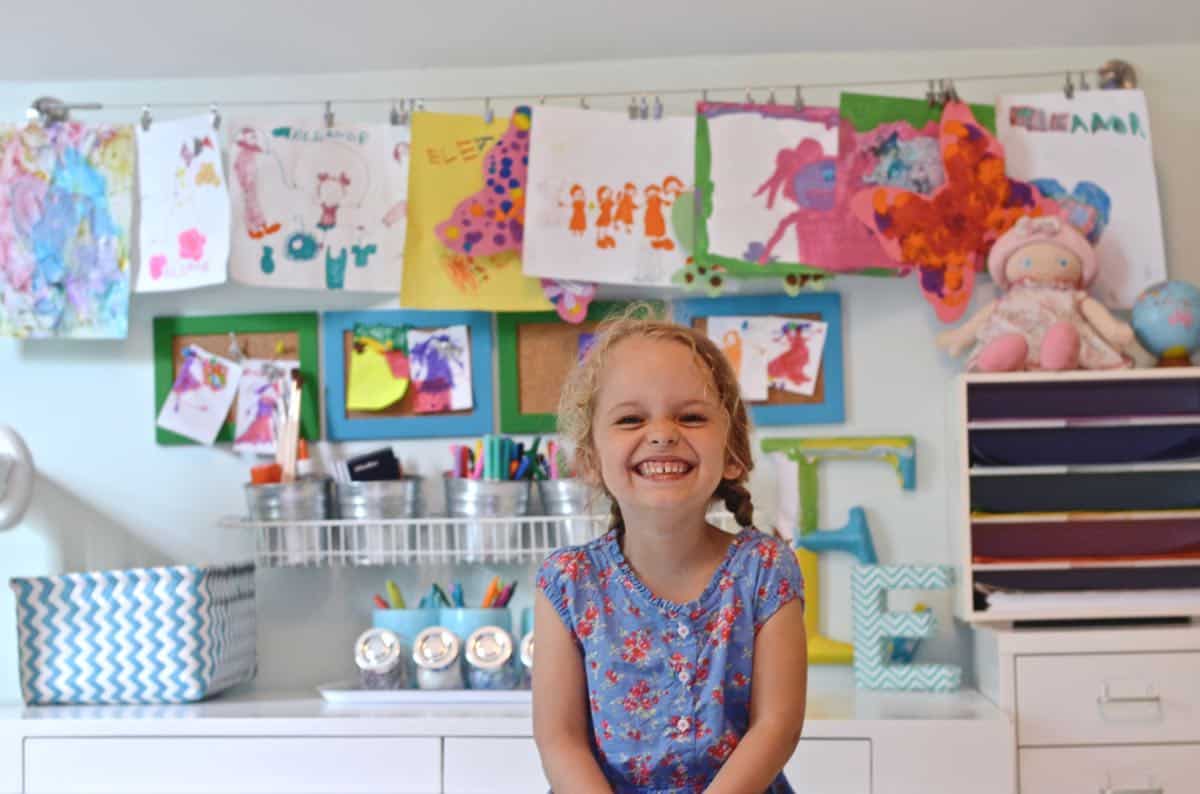 First and foremost is this amazing desk. I snagged it off Craigslist for $40 (which included 2 table lamps). It's this table from Overstock and exactly what I was looking for. Our tools are in storage because of the construction, so I took the legs off and ran them over to Home Depot to have them cut down to 24″. It's a little higher than typical kids' tables, but I wanted it to last a while and was worried that going too low would look disproportionate since it's a regular adult size surface area.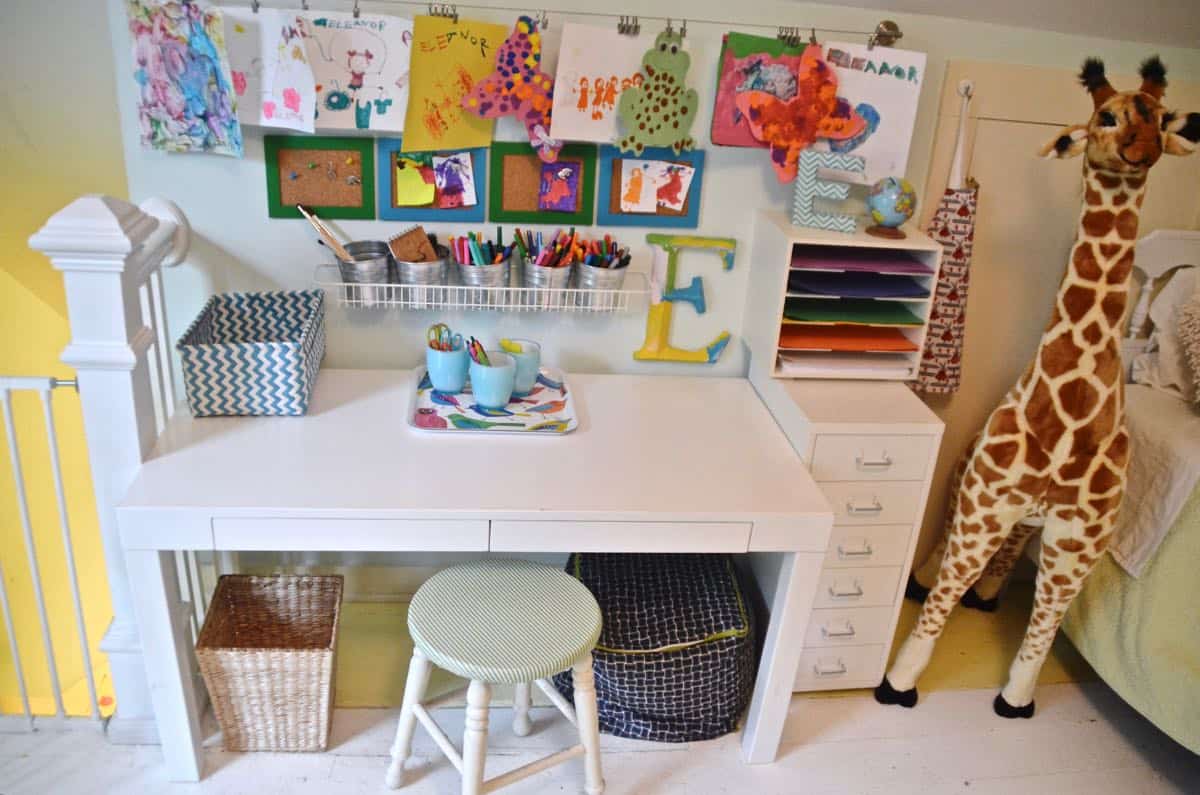 Let's talk storage. I needed to make an Ikea run for more of my favorite metal pails (in the garden section for $.79) and while I was trawling the aisles, I noticed this white shelf; it was in the bathroom section and I think it's meant to rest across a bathtub; cost= $4.99.  I used a level, some drywall anchors and screws and some washers I spray painted white to attach the shelf to the wall.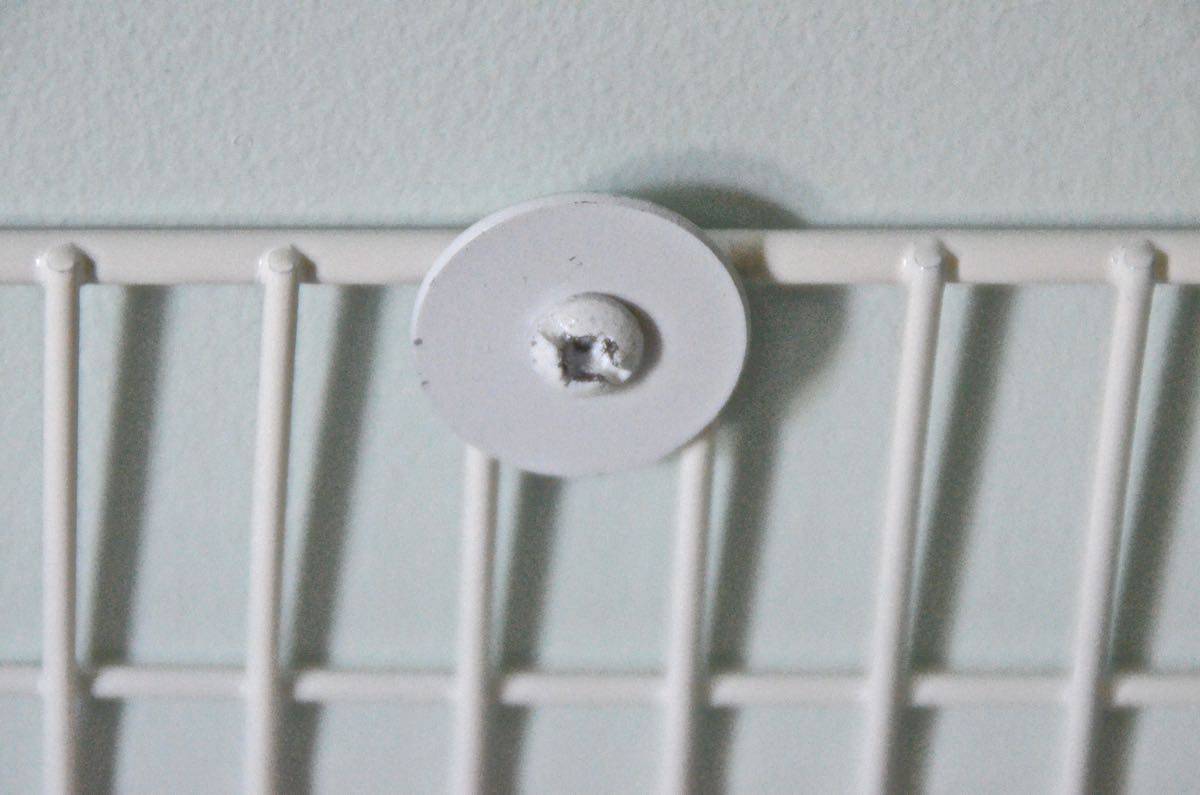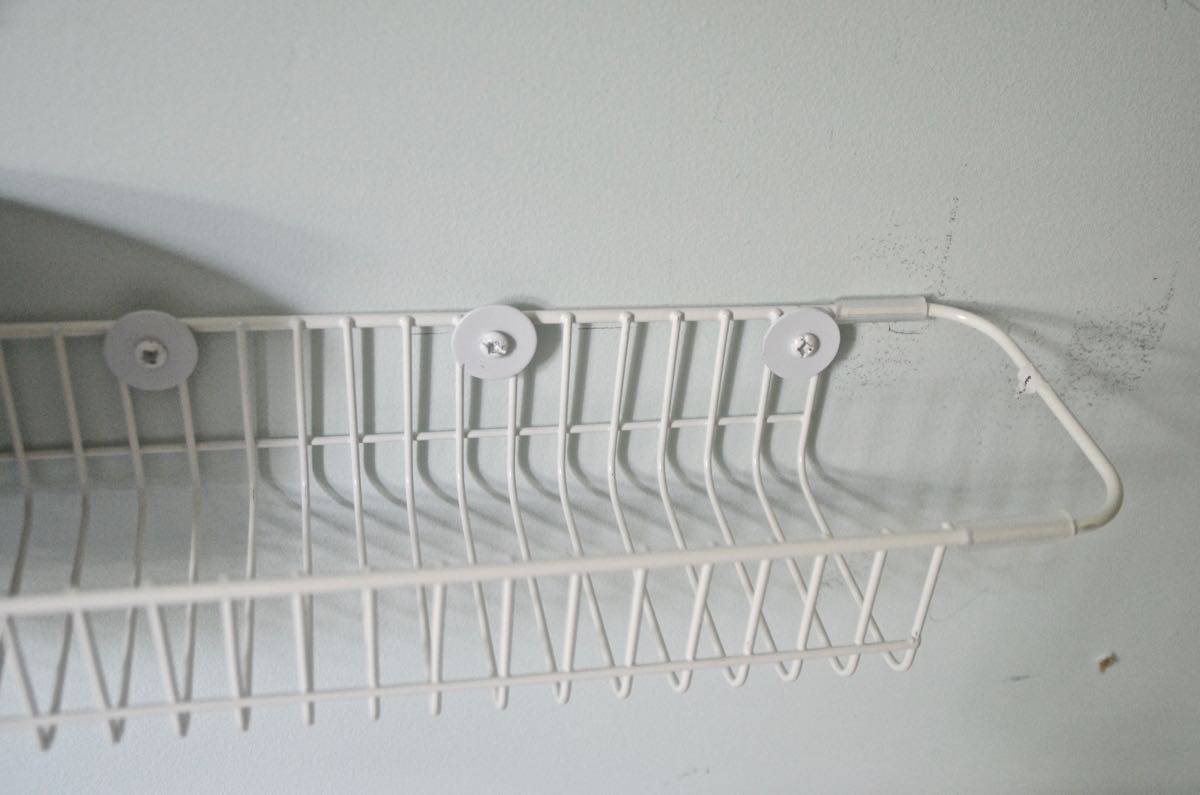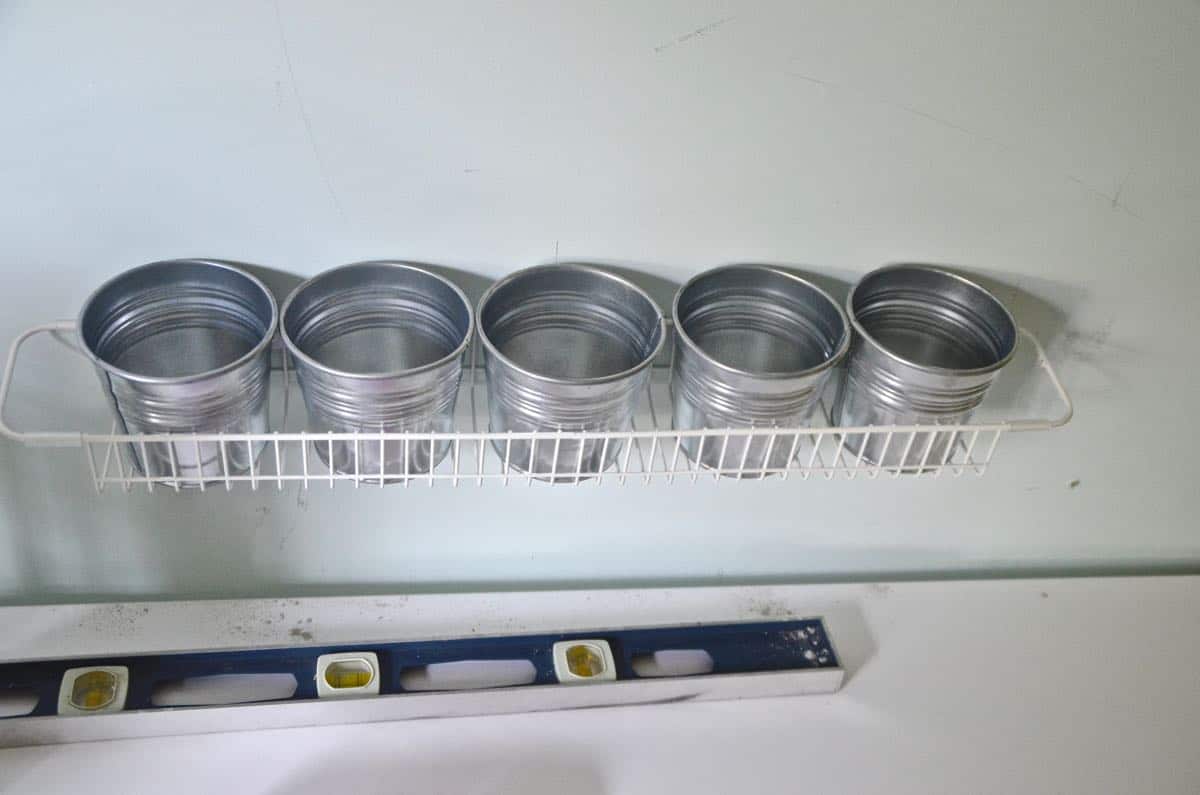 Then, en route to the cash wrap, this set of storage drawers caught my eye… they're small enough for the space upstairs but the drawers are big enough to hold lots of little artsy crafty things. Cost= $39.99.  Nothing like finding the watercolor drawer to get a girl smiling!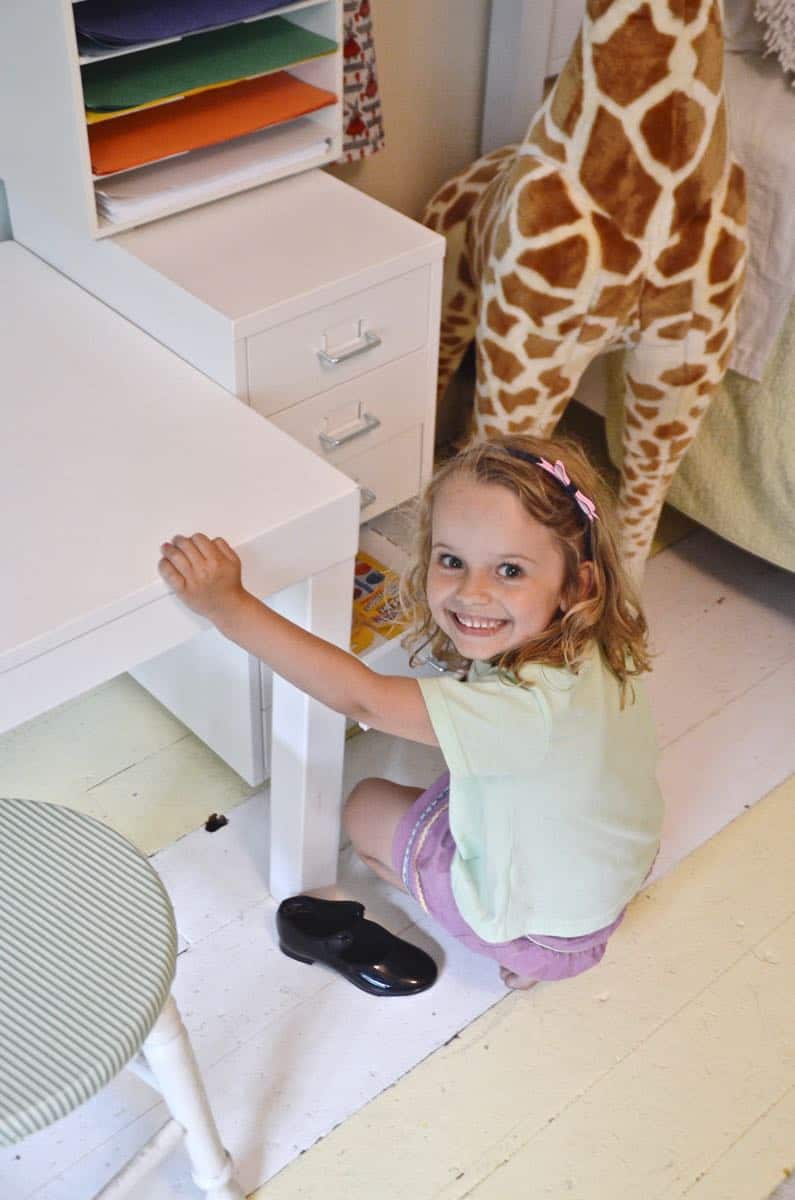 I've had this paper tray for a while, but it was from Homegoods and cost $7.99.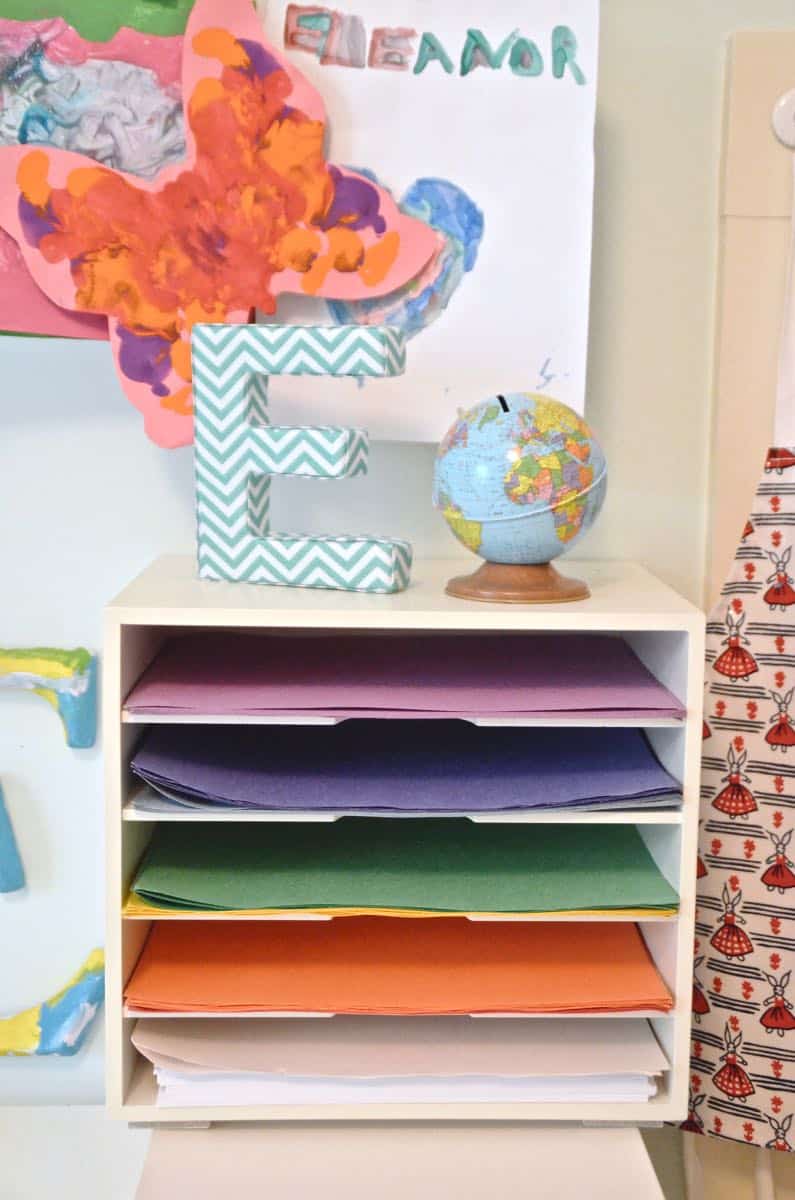 These lovely little cups were $.50 each at Goodwill.  They're plastic and my favorite color and great for little things like scissors and 'grown up' markers. I made sure to hang the shelf high enough that these smaller cups could tuck right under.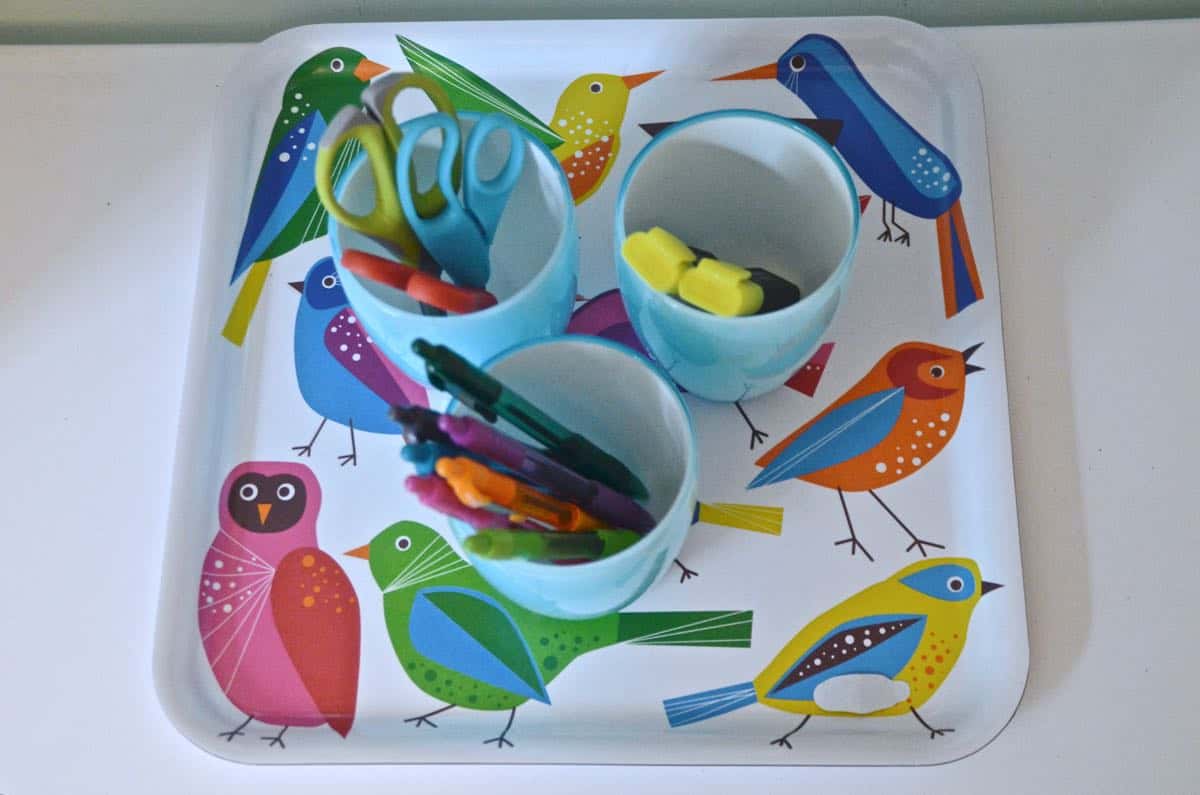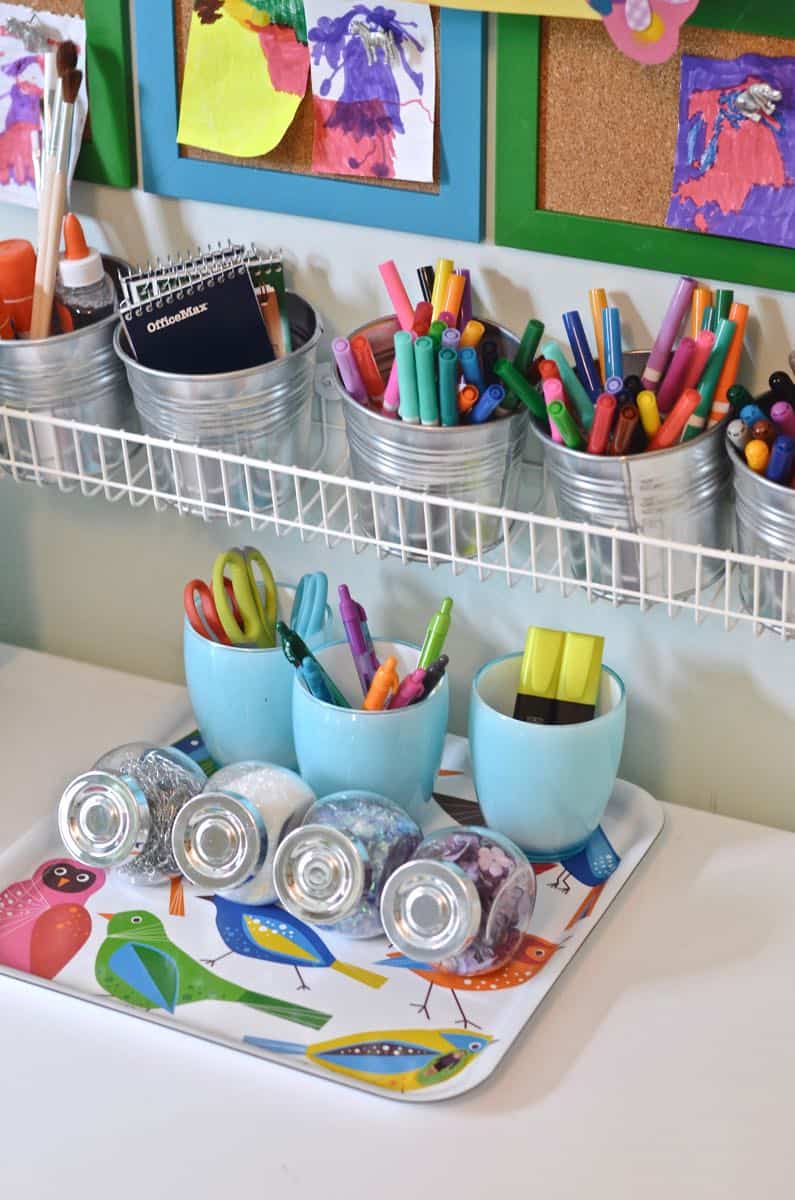 Last category: the gallery!  I fully planned on using clipboards mounted to the wall, but the space was filling up, and I loved the clean line of this wire display from Ikea for $12.99.  I also realized that with the wire, Eleanor could hang 10 times the art work she could with the clipboards, so I'll save those for another project.  The wire is perfect and Eleanor was examining her gallery about 2 minutes after seeing the space for the first time.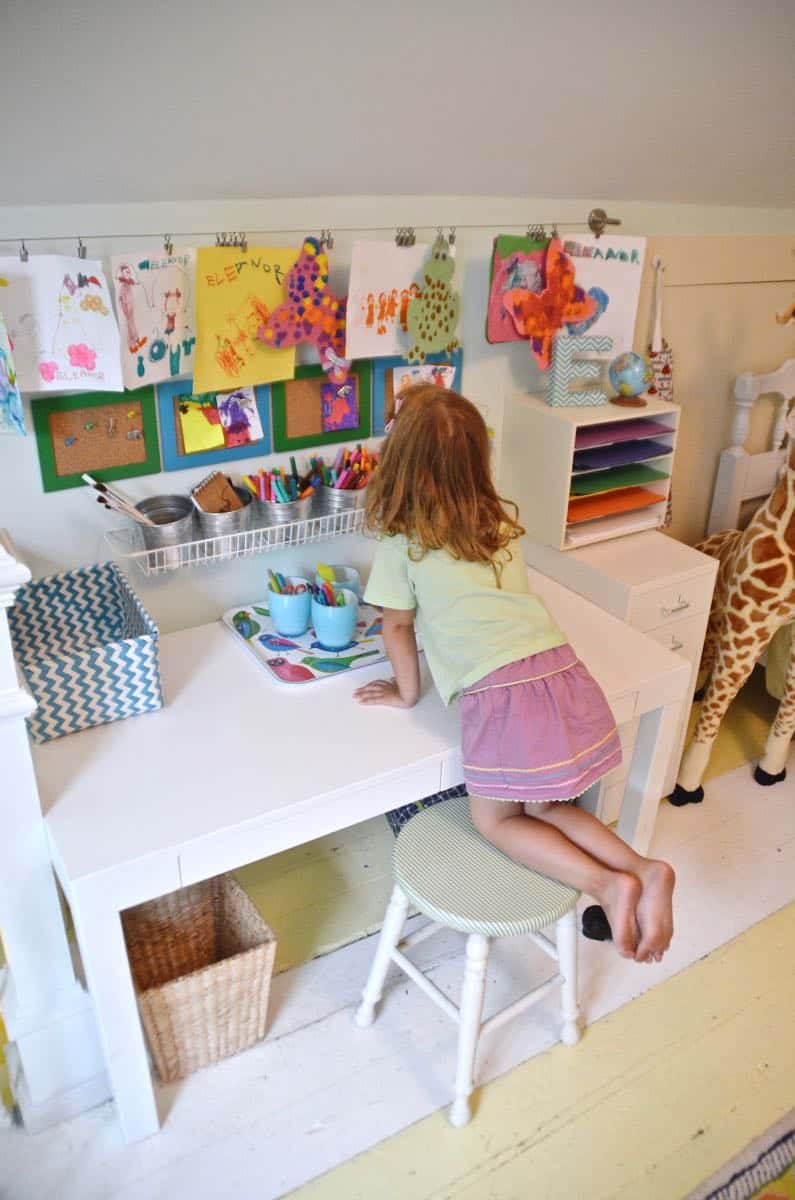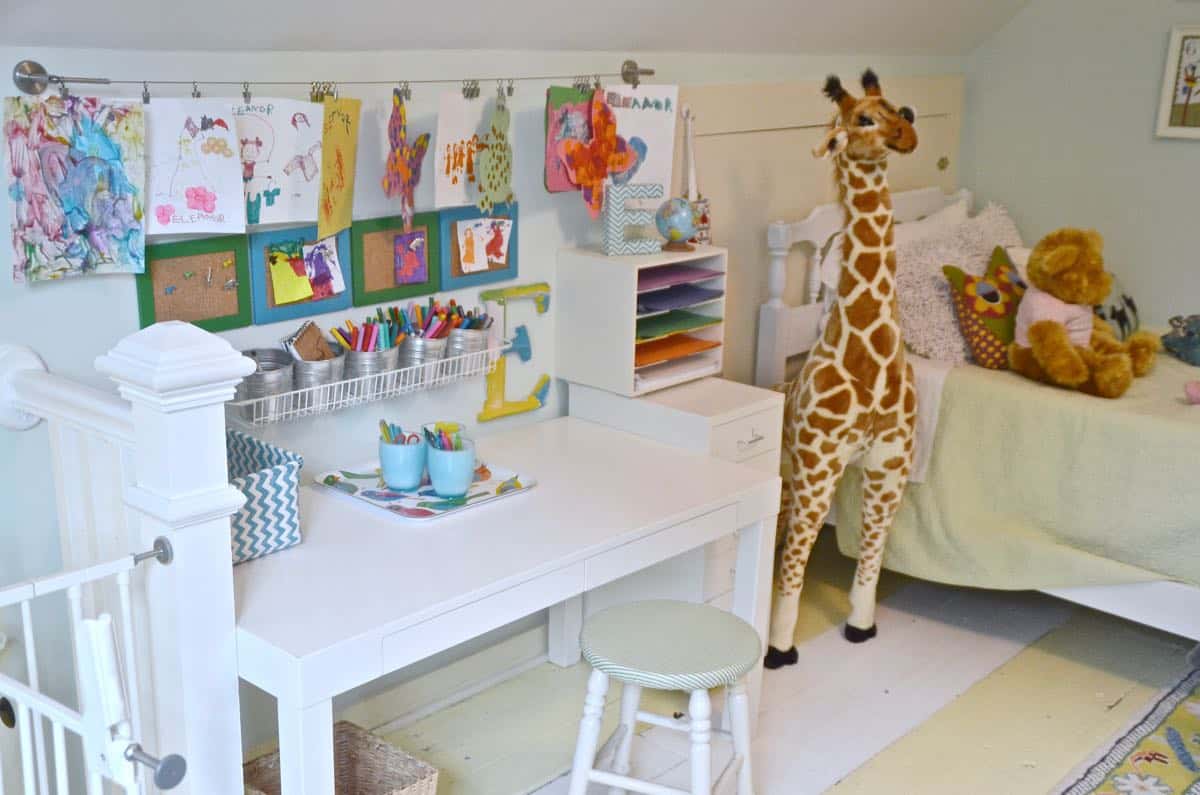 For her smaller artwork, I cut out cork and placed it inside these colorful frames (also Ikea) for $2.99/pair.  I'm a little nervous about having thumbtacks up there, but I told Eleanor it was her responsibility to be careful with them, so we'll see.  The frames are pretty shallow so the pins don't stick all the way in, but they hold her little doodles and designs up just fine.  I just used mounting tape to adhere the frames to the wall… not my favorite solution, but I wanted the cork boards to be flush to the wall and nails would have been too wobbly.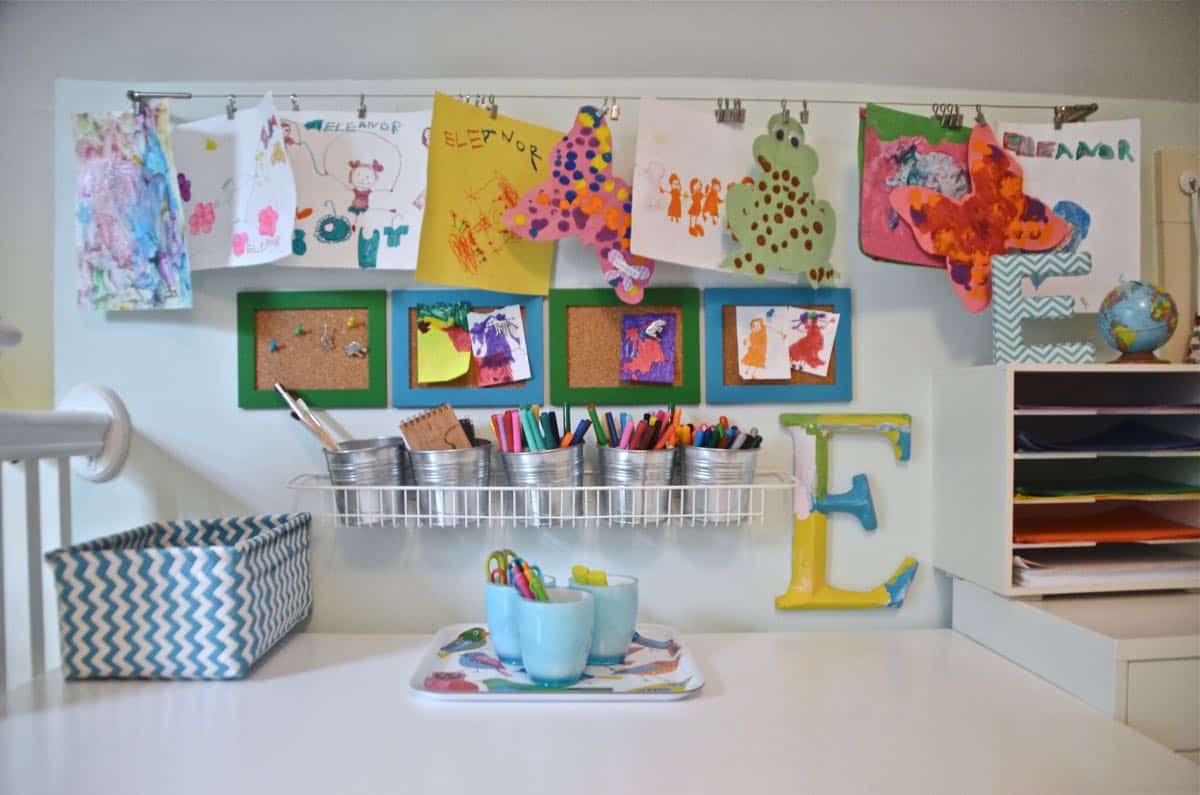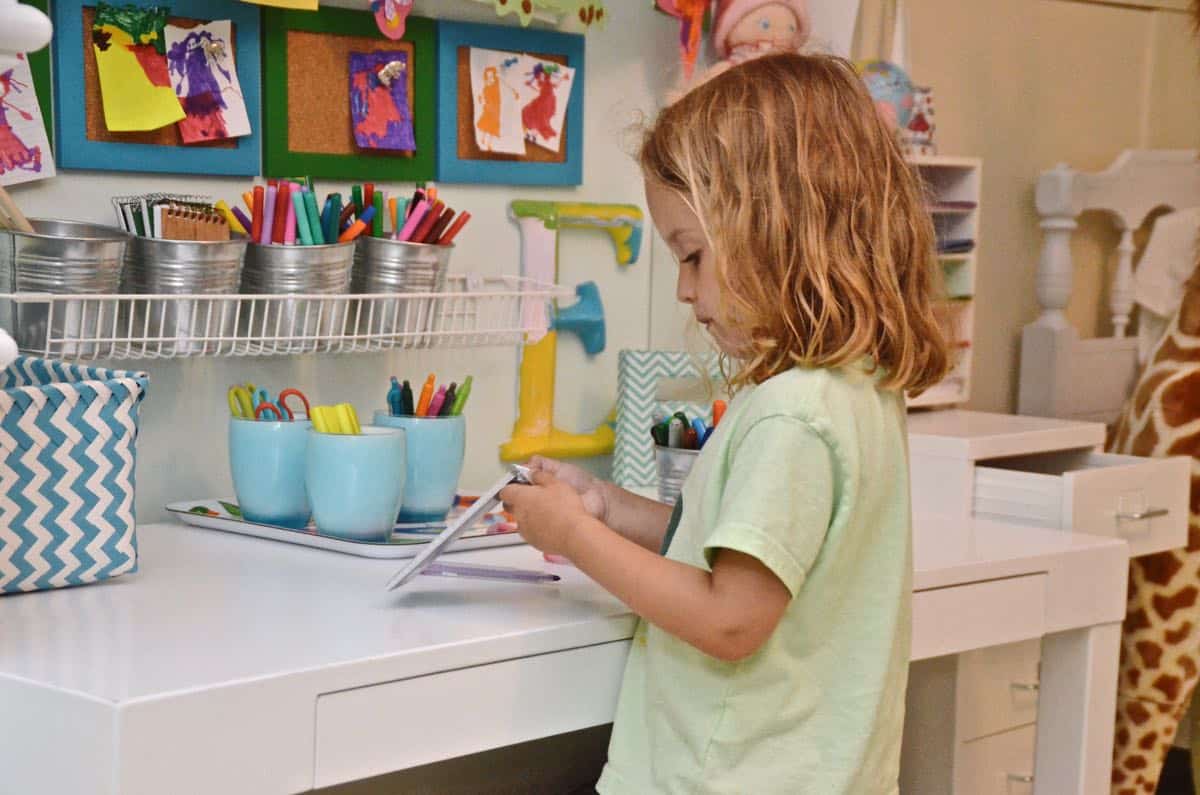 That sweet little stool was a flea market find for $10.  It's a little tall for the desk so I also tucked in a square pouf so she has the choice (or so Oliver can join her if she ever has a fit of generosity and sharing she can't overcome).  To make the stool a little more fun, I used Mod Podge to cover the top with the same fabric that I used for my playroom curtains.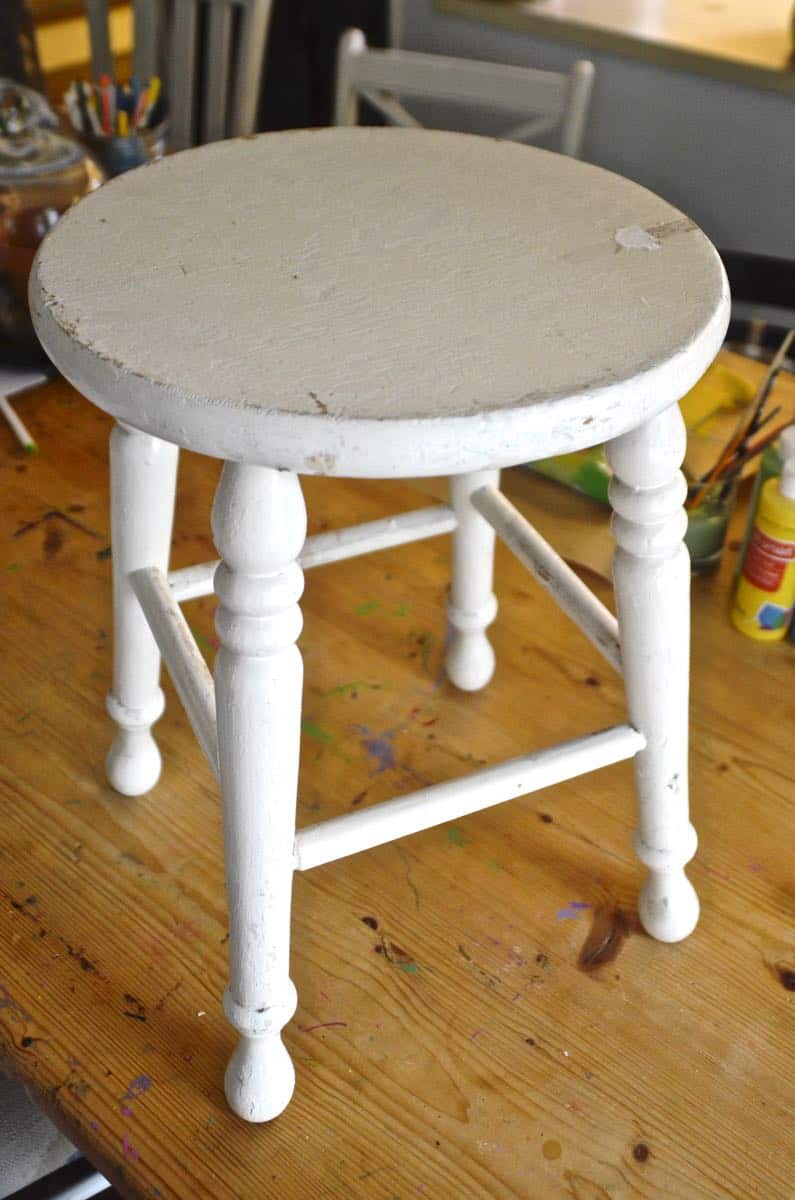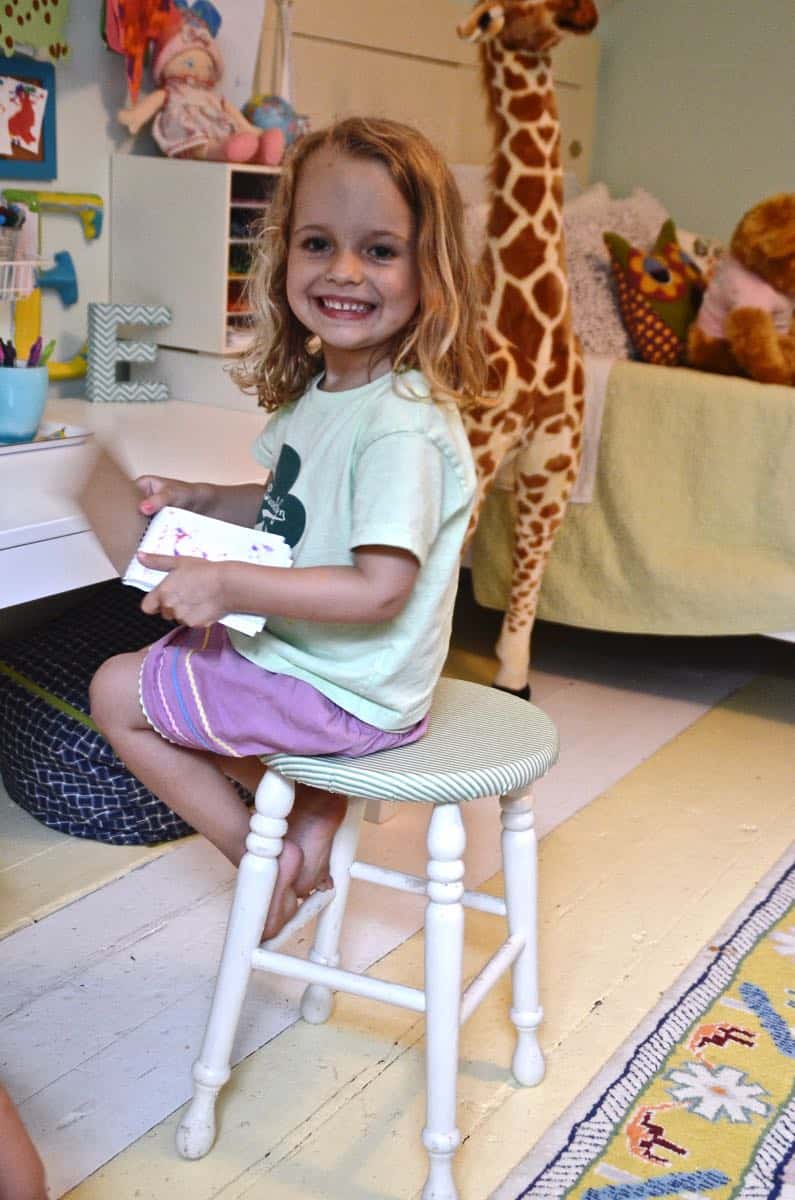 Eleanor seems to love it.  It wasn't until Sunday afternoon that she got to first lay eyes on the finished product and she immediately settled in for some creating!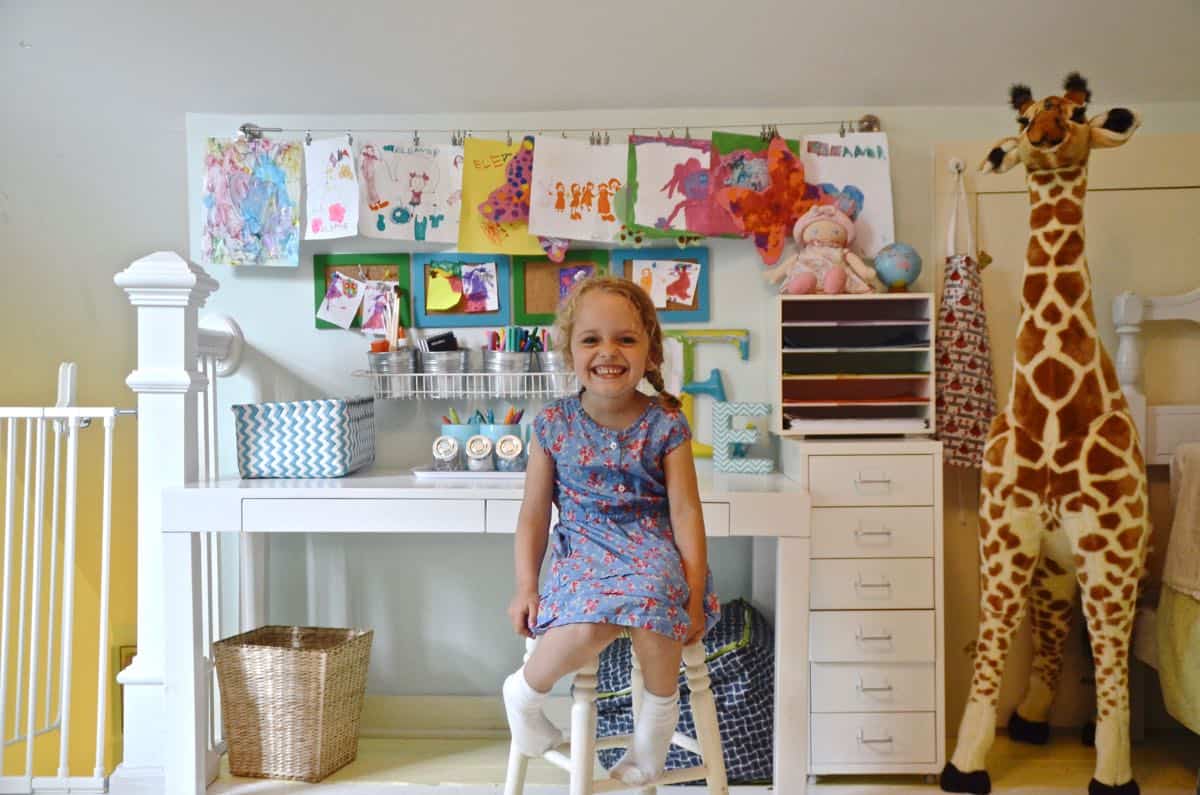 We had a tornado warning this morning (i.e. no sun) so the pictures still aren't great, but Eleanor insisted on posing in front of her new desk with the biggest grin she could manage.
Cost:
Table: $40 on Craigslist
Small drawers: $39.99 from Ikea
Wire shelf: $4.99 from Ikea
Metal pails (5): $.79 each from Ikea 3.95
Wire gallery display: $12.99 from Ikea
Cork board picture frames (2 pairs): $2.99 each from Ikea 5.98
Glass jars: $3.99 from Ikea
Blue cups (2): $.50 each from Goodwill
Letter "E": $1.50 from Goodwill
White stool: $10 from flea market
Paper tray: already owned
Cork: already owned
Chevron "E": already owned
Square pouf: already owned
Trashcan: already owned
TOTAL COST: $124.89