Make a Mad Science Lab With Household Items
Psssst… this post *might* contain affiliate links: see my disclosure here.
Last Minute Mad Scientist Halloween Decor
We made this spooky mad science Halloween specimen lab using simple household items!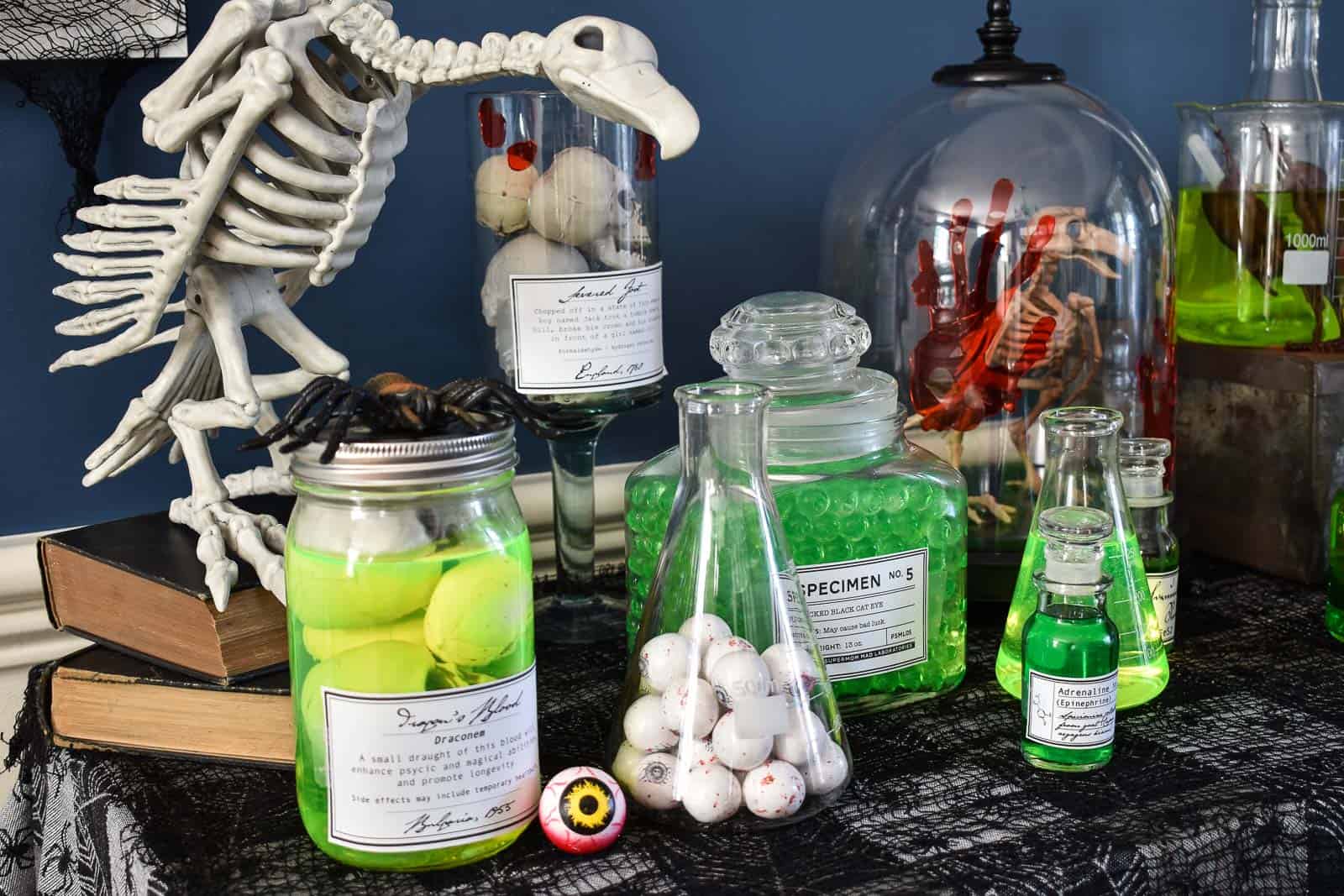 Last year I decked out our house for a Halloween photo shoot and one of my favorite set ups was the "Mad Science Lab"! I scurried around and found just about everything I needed for a super spooky science lab set up without getting anything too fancy. See what household items I used below!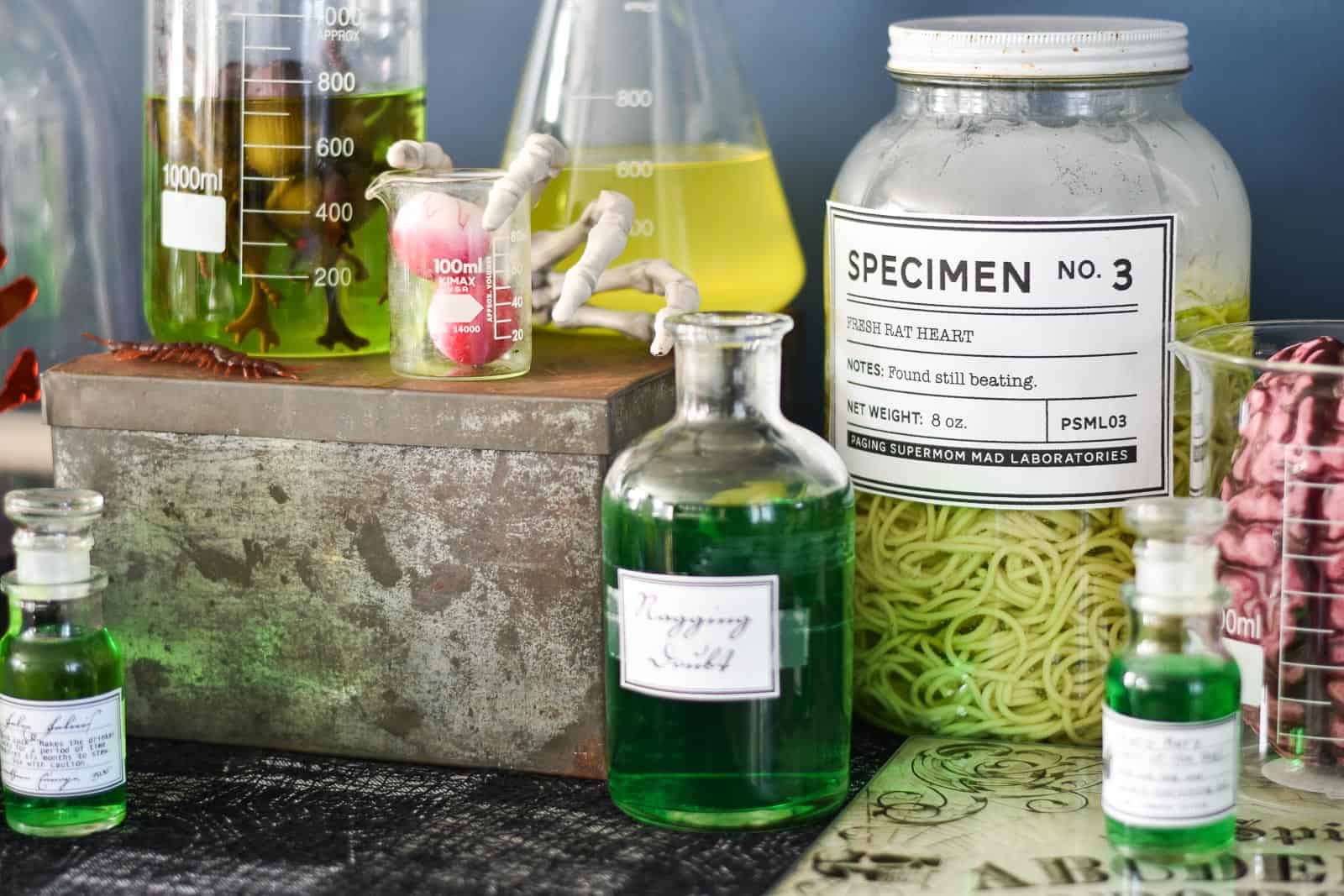 I started with a trip to the dollar store and grabbed everything that looked like 'formaldehyde green': dish soap, hand soap, and Mountain Dew. I also picked up some highlighters; if you pull the guts out of a highlighter and place in a jar of water, you get this amazing fluorescent liquid! They also make neon food coloring, so I used the yellow food coloring in water for a couple of the science jars.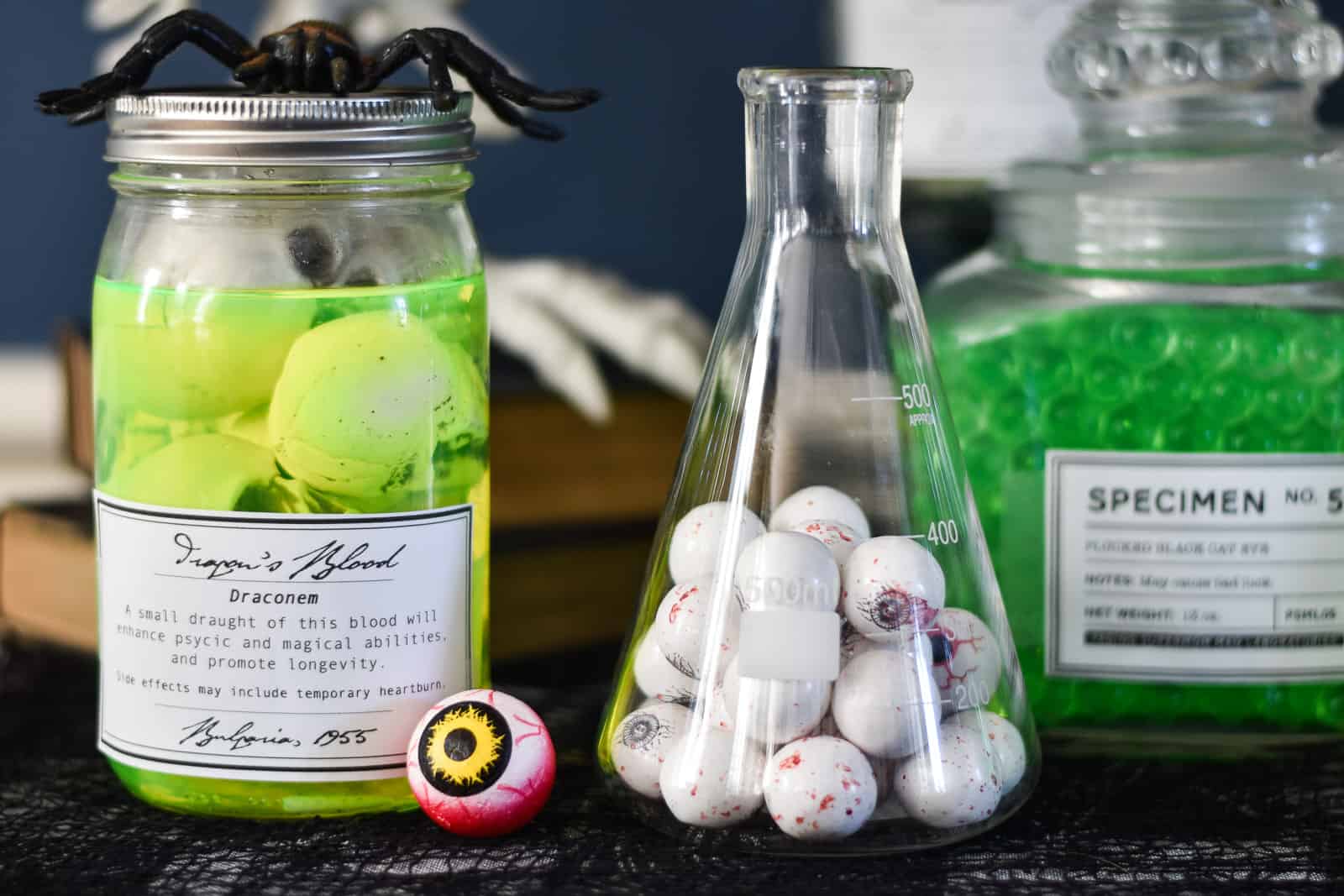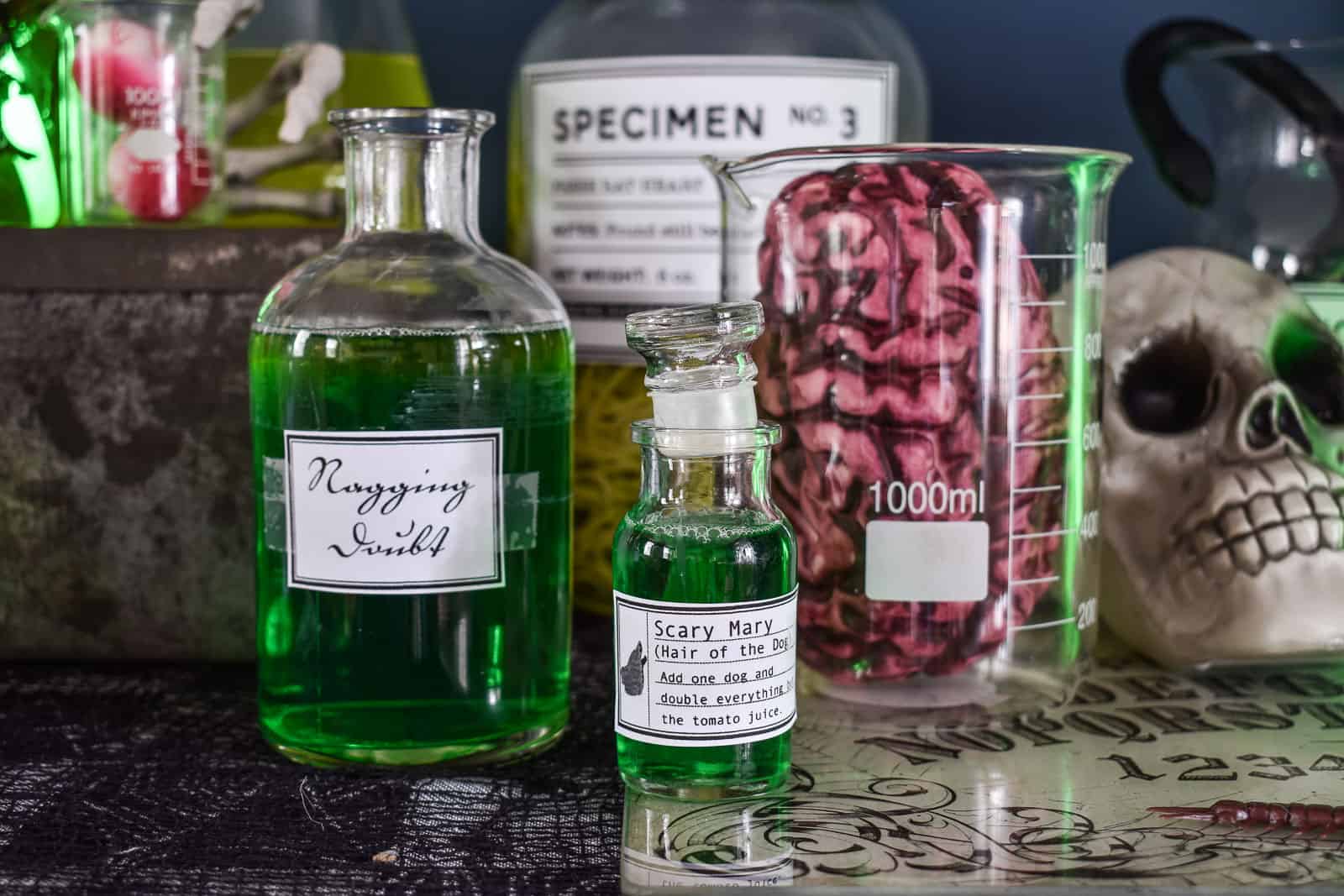 For the contents of the mad science lab… here's what worked for me: spaghetti, dollar store spiders and other plastic critters, and dollar store skulls and bones (similar ones here). I found eye-ball chewing gum for one of these, but you know what else works? Grapes. The last thing I love to include are these green water beads…. if you haven't discovered them… you need to. SO fun even when they're not being used in a mad science lab.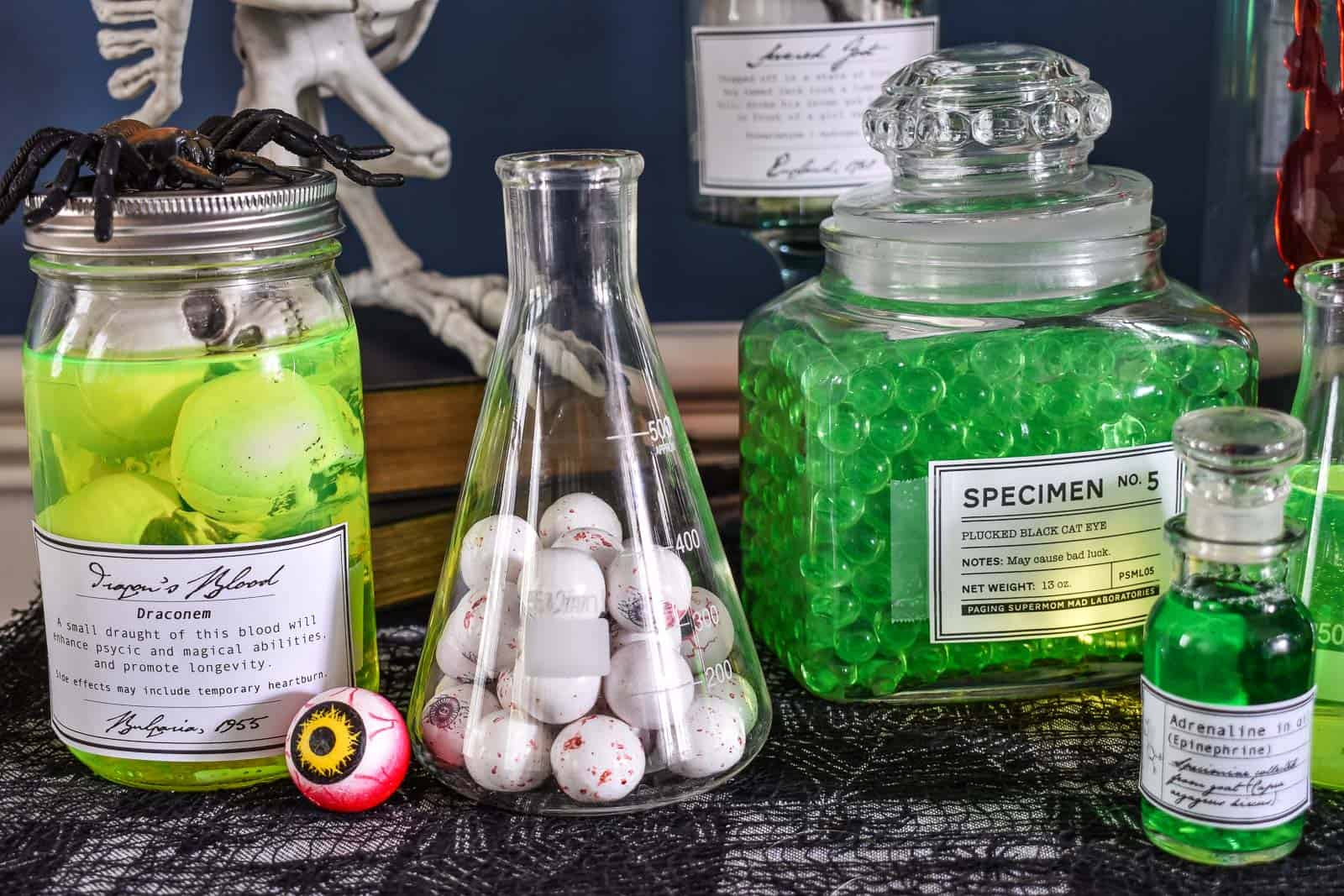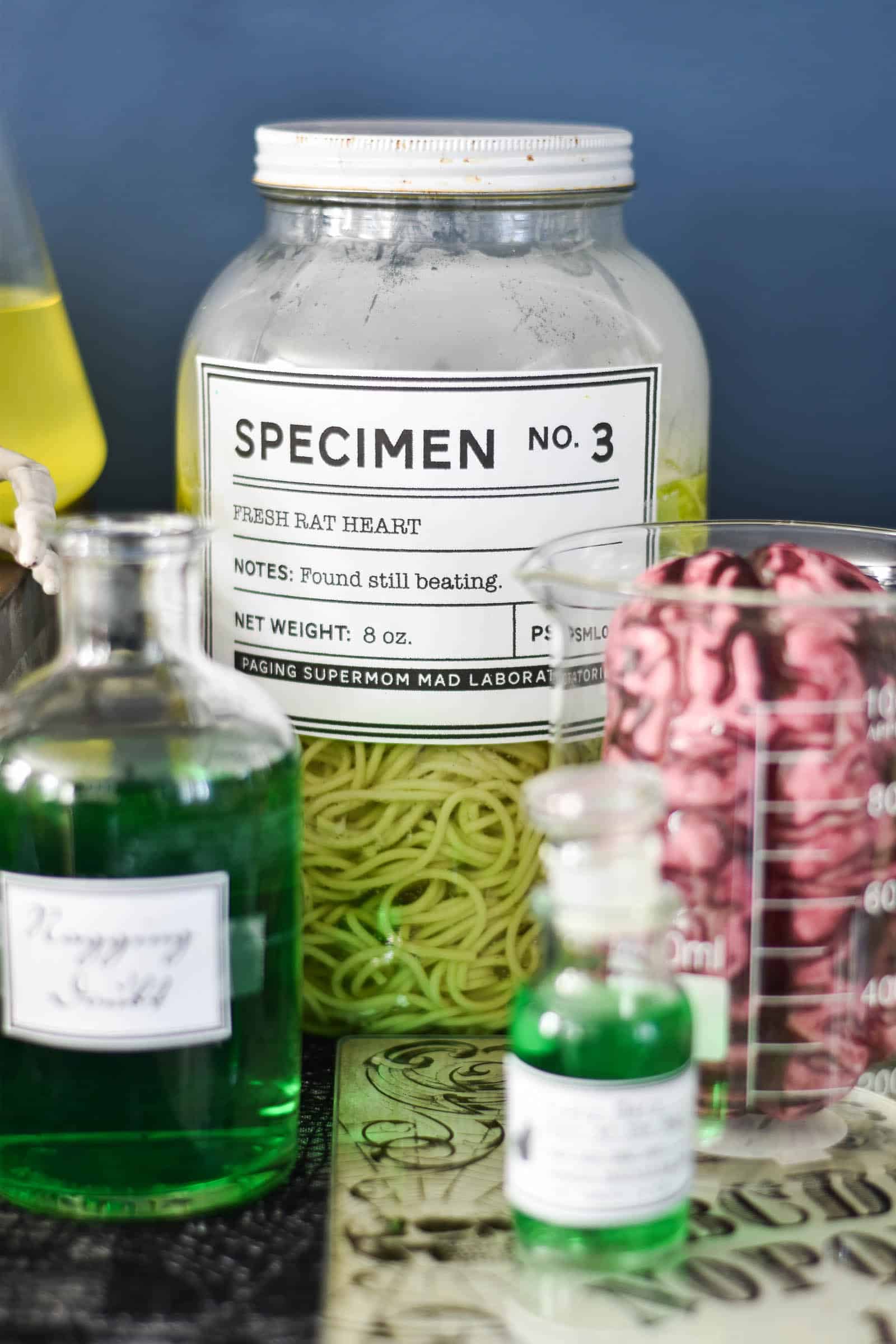 For containers, I have an array of glass vessels: the science beakers are from the craft store last year, but the other glasses are simple jars and containers I grabbed from the thrift store! One thing that makes them look extra spooky is the addition of science lab labels. I found mine here: specimen jar labels and creepy science lab labels.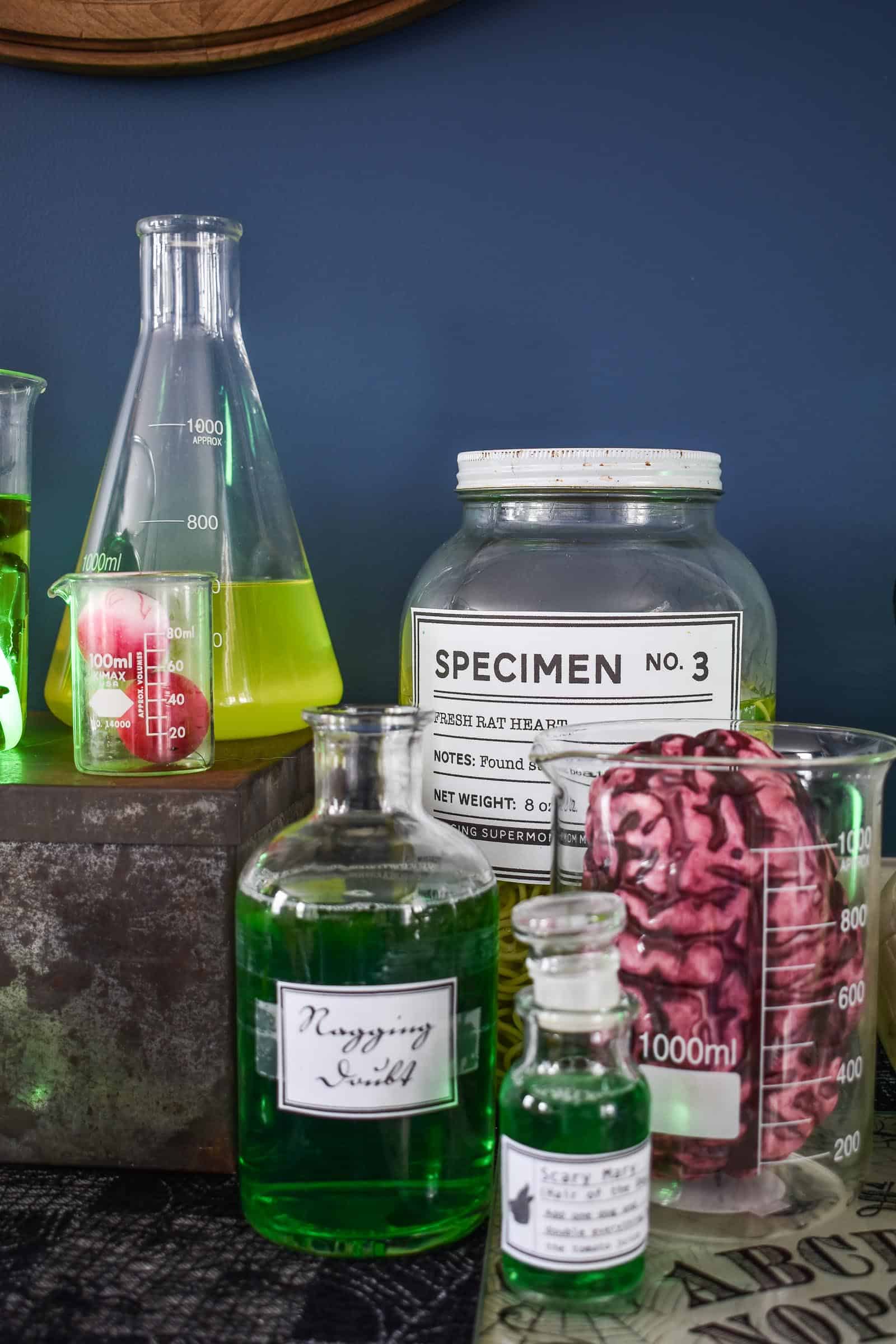 Other little fun details? I snapped some glow sticks before taking these pictures and dropped them into a handful of the containers. I also turned on our black light for a few photos just to show you how cool the highlighter looks! These LED lights got lost in the mail, but I thought they would have been another really cool effect! And it doesn't come across in pictures, but I have some denture cleaning tabs to drop in to the water and Mountain Dew to bubble like a potion!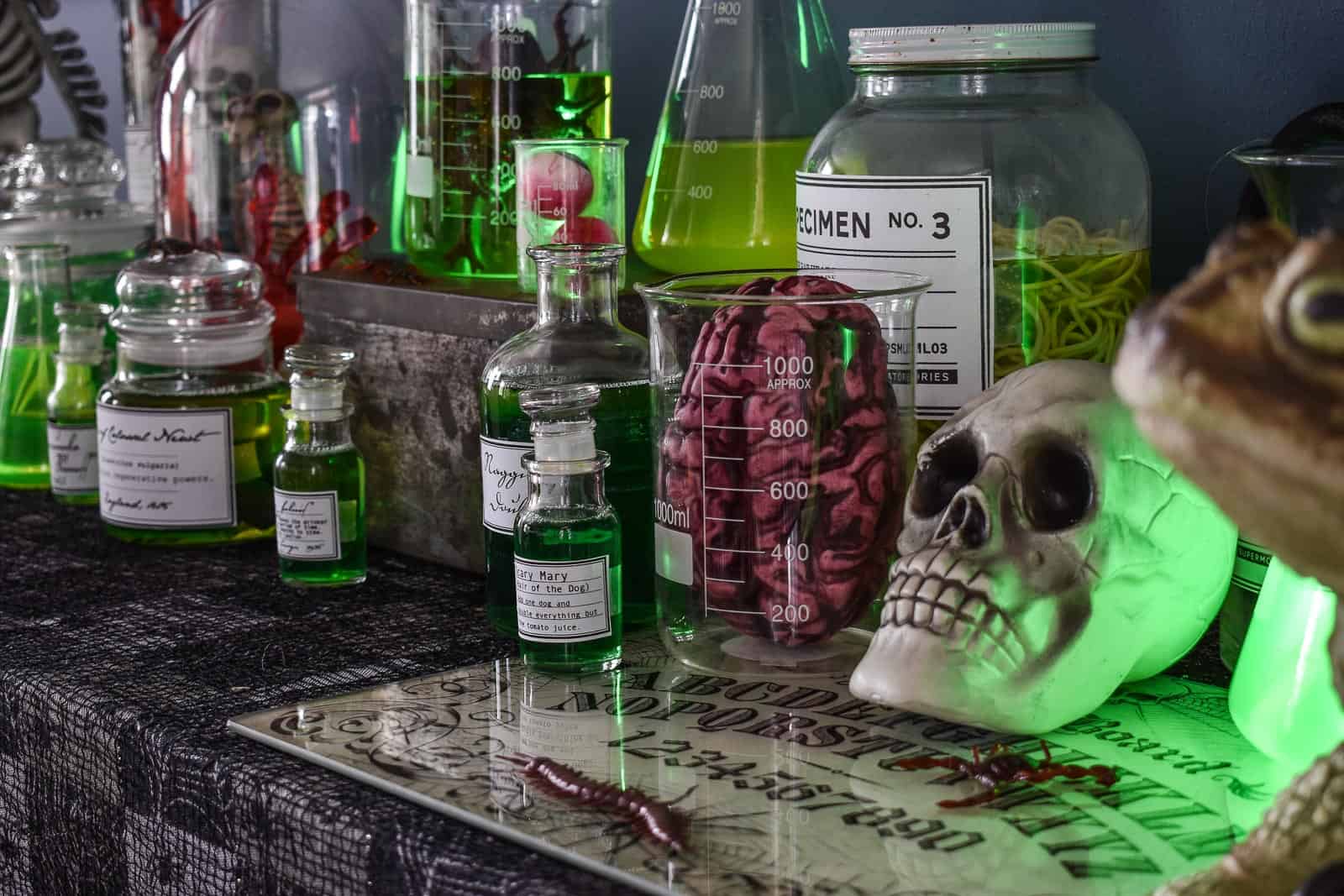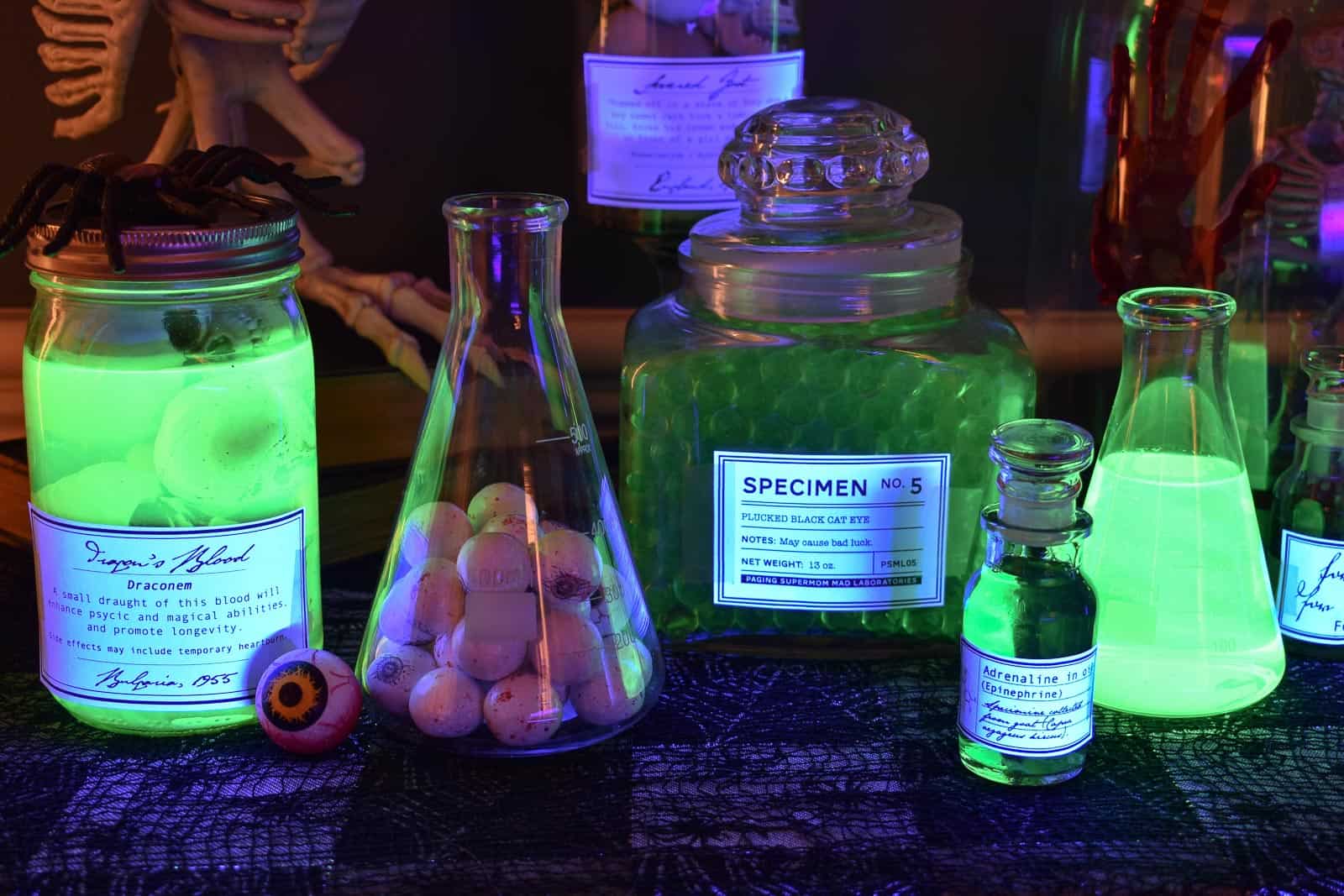 That skeletal bird was at Goodwill, but JOANN has something similar here. That toad is from last year, but I've linked a similar one here. I scattered some bugs and those fun eyeballs, but the rest of the set up is left to the mad science vessels! Easy peasy!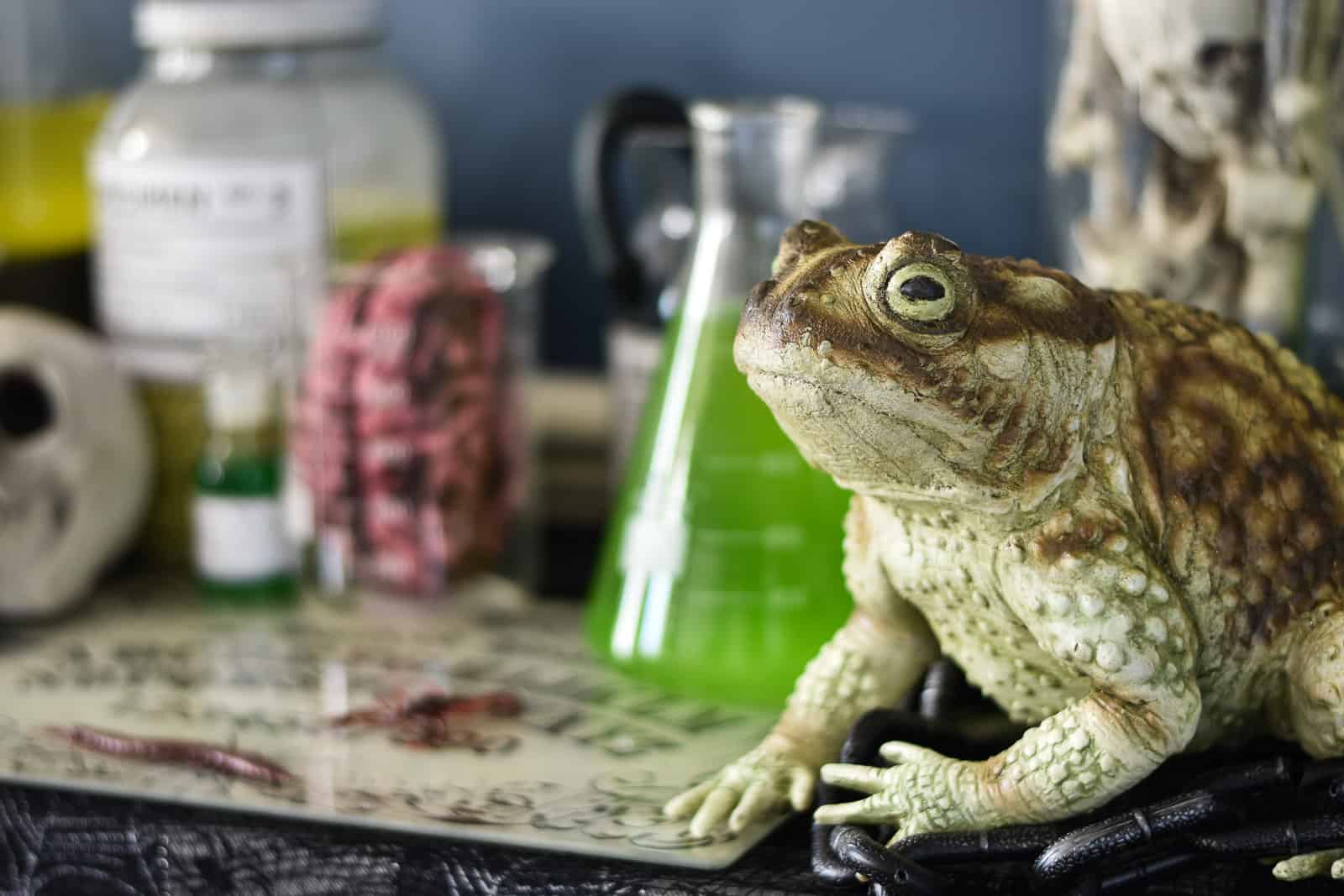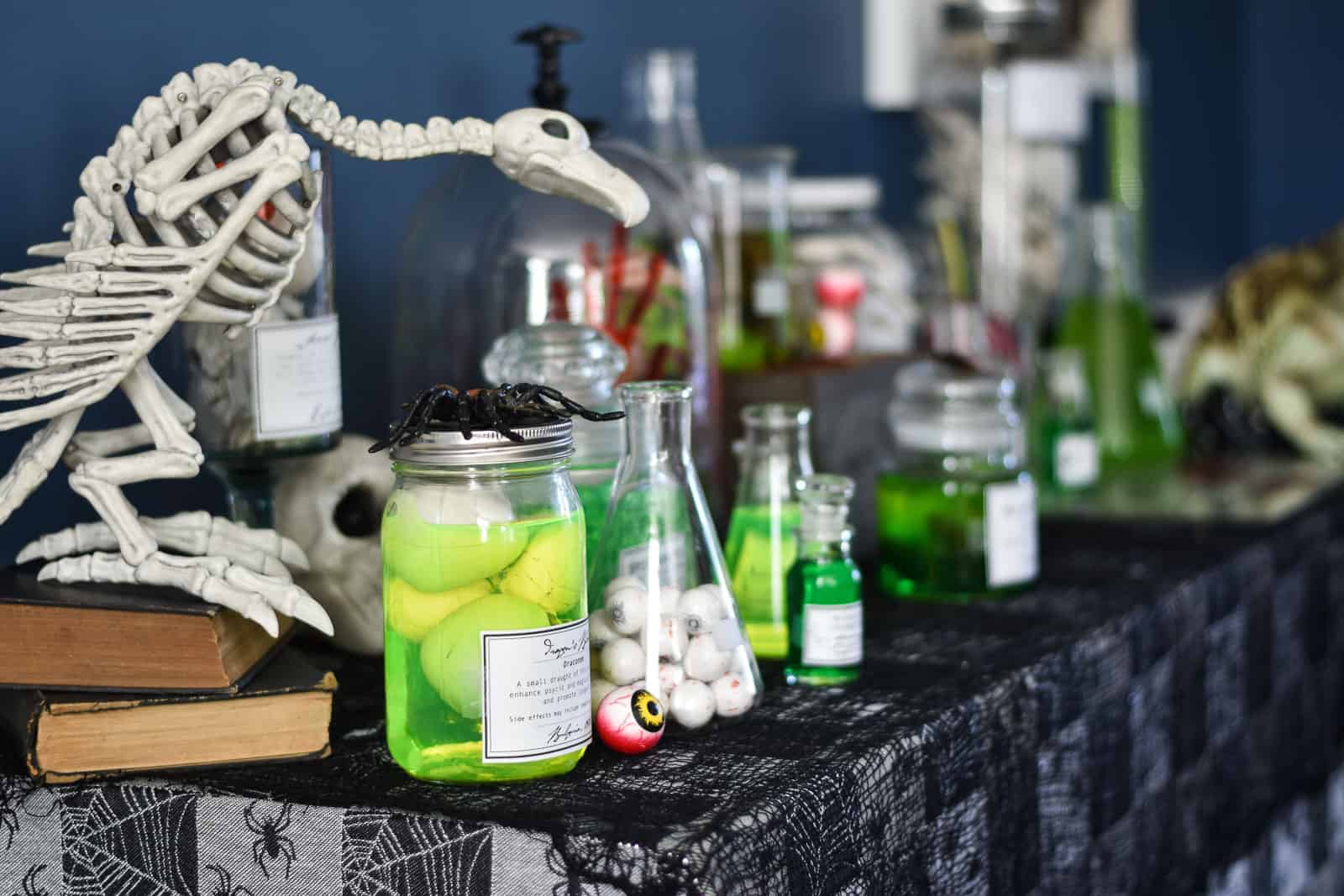 Leave me a message with some of your favorite mad-science ingredients! What's the spookiest thing you have in YOUR kitchen!