You all will chuckle when you hear why I haven't posted about this master bedroom sooner. (And after you've finished chuckling, you might google some sort of procrastinator support group.) This room has been done for a couple of months with the exception of one thing: the curtains were 5 inches too short. Five inches. Well, I conquered those five inches and am ready to share our neutral-ish sleeping quarters. One day I will spend time in here relaxing and reading and having an afternoon cup of tea… for now I'm there between the hours of midnight and 7 a.m.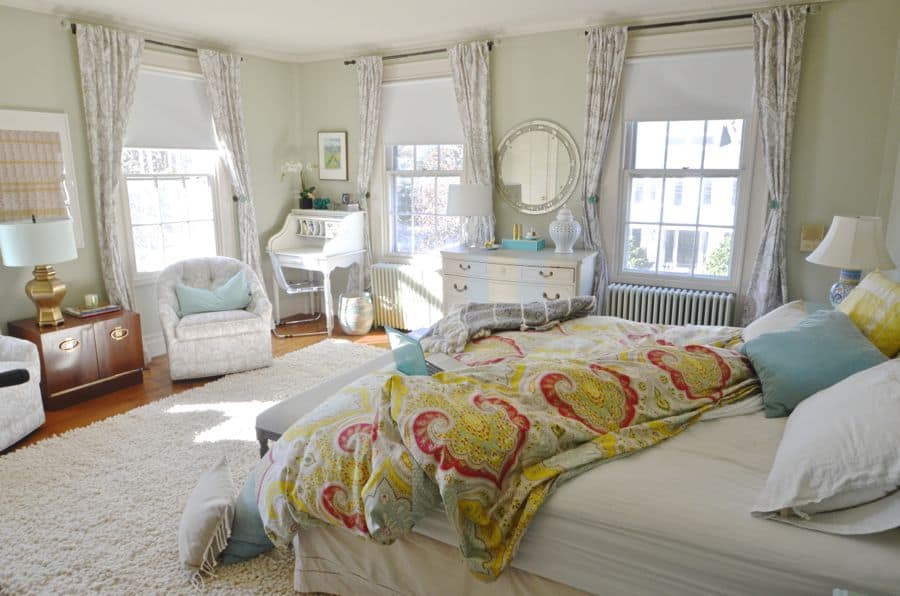 There actually wasn't too much DIY in this room… like a lot of the rooms in this house, my first goal has simple been to pull them together with minimal fuss. (And yes… I know in theory 5 inches of fabric shouldn't equate to 'fuss'…) You'll notice that, as a result, I didn't get into painting for *most* of the rooms in the new place. The wall color in here is NOT my first choice, but it's not offensive either. When the dust settles, I'll come back and focus on finishing touches. And fair warning… that dust may not settle for YEARS.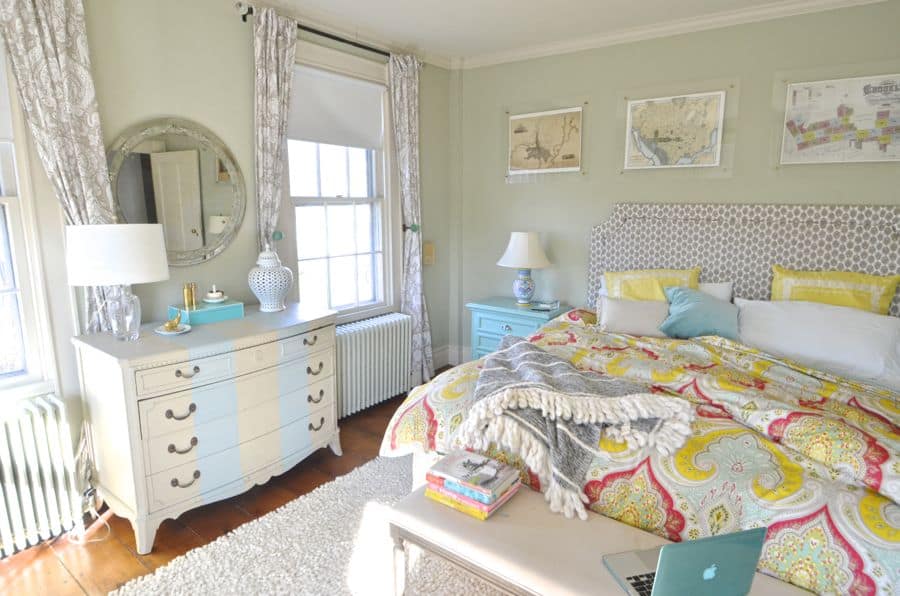 I start any room design with a centerpiece. The diva of the room if you will. For this room, the diva was the headboard. I made it in the old house and am still in love with the fabric. The supporting diva would probably be this amazing duvet cover from Echo Designs (affiliate link).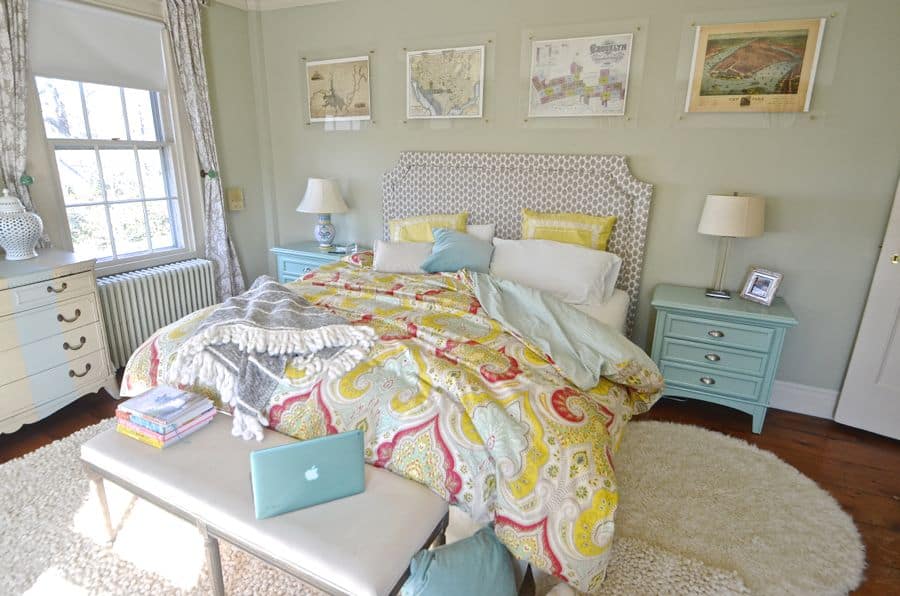 These two pieces are such show stoppers that I had to go easy with the rest of the room! The nightstands are from the old house (Craigslist) and got a facelift with paint and new hardware. I know you're going to ask what the color is and… I'll have to find it. So comment if you need it and I'll go scrounging through my notes.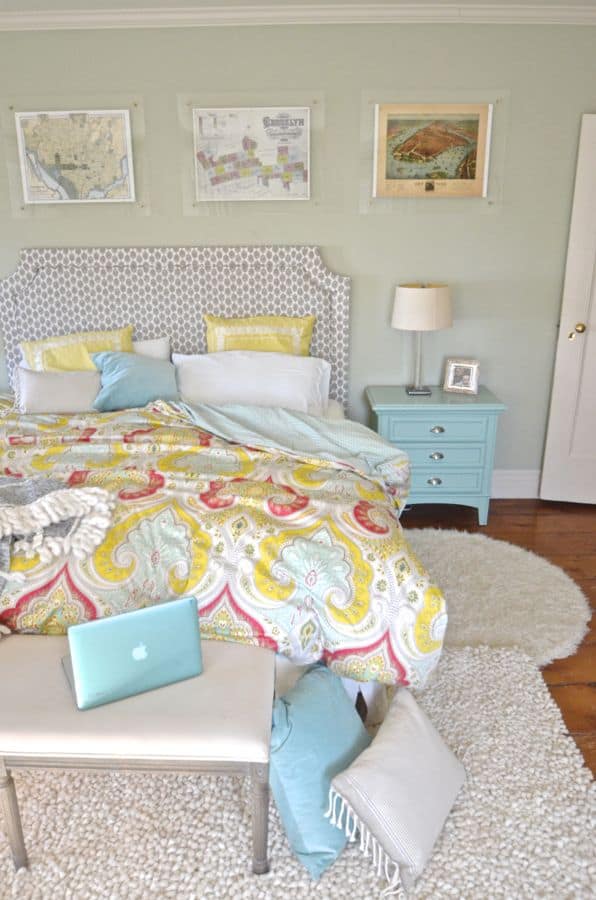 The vintage maps above the bed are from a brand called Cartographer's Union. They were able to source a fun map of Providence for me to represent my college town. The others are Washington, DC where I grew up, and of course, NYC! I DIY'd the floating frames and love how they work above the bed on that wall.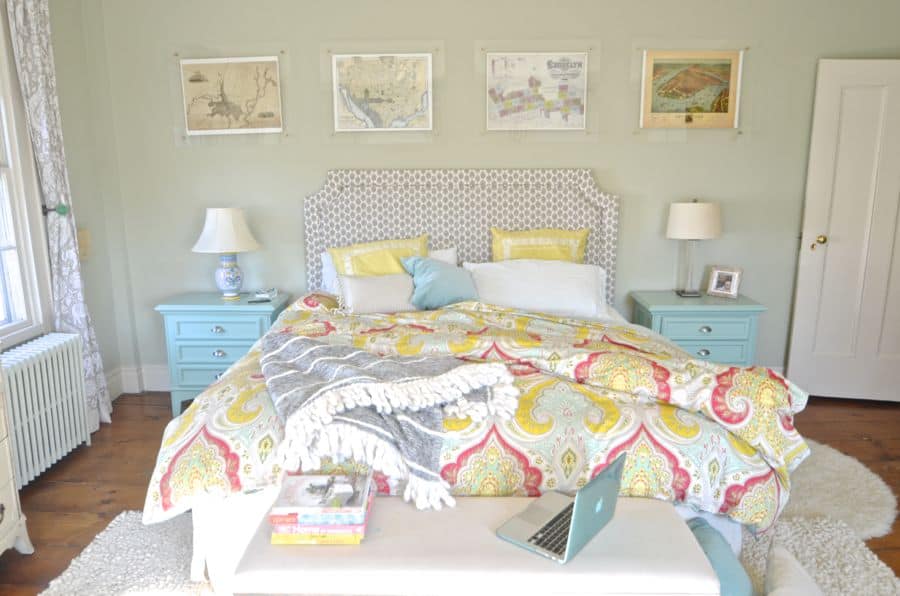 The super cozy shag carpet came from TJMaxx and I'm obsessed with it. It's not practical for a high traffic room, obviously, but for this bedroom it's the bees knees.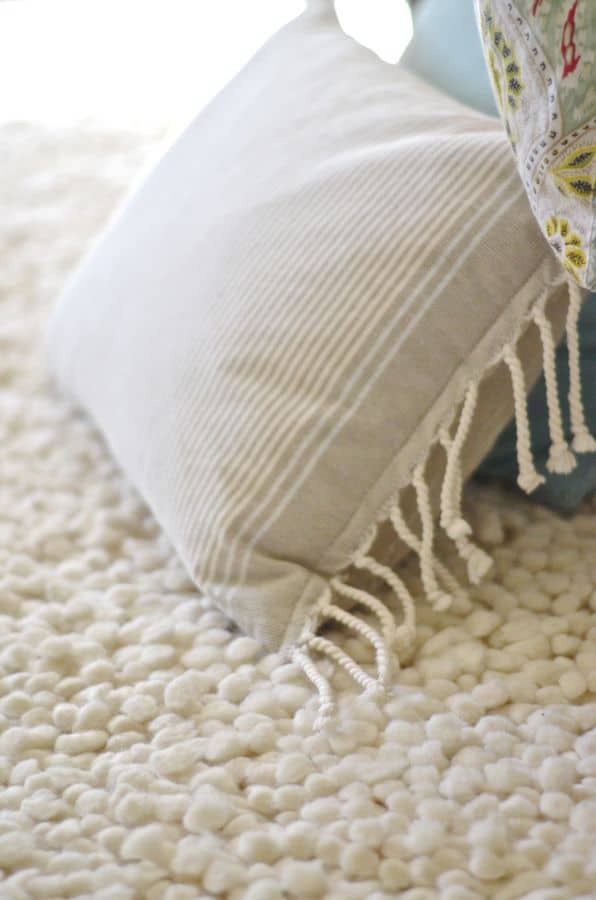 OK. The chairs. Please let's talk about the chairs. I win worst blogger of the year for not taking a picture of them before. They are barrel back swivel chairs and were $25 for the pair on Craigslist. Poor Mark has been rearranging them in our garage for years, but I FINALLY got around to using them! Imagine a ratty stained faded fabric with rips and all sorts of ish… that was these chairs. The upholsterer worked wonders and covered them with this agate inspired fabric I found on Spoonflower.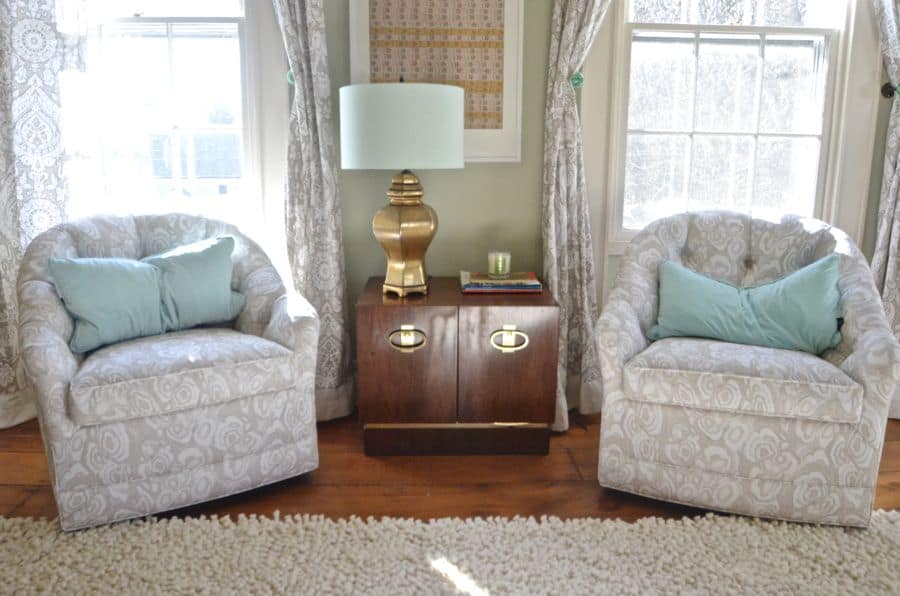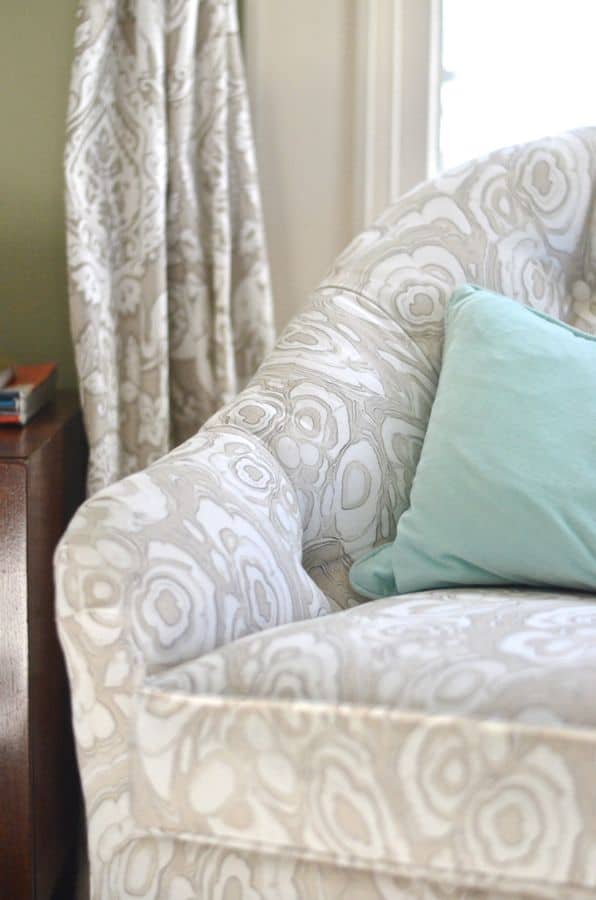 The highwater curtains were premade panels I pounced on when I saw them at Homegoods. Ditto the tie backs. I brought in that lovely teal/ mint green color to complement the duvet and it's been a great accent color throughout the room.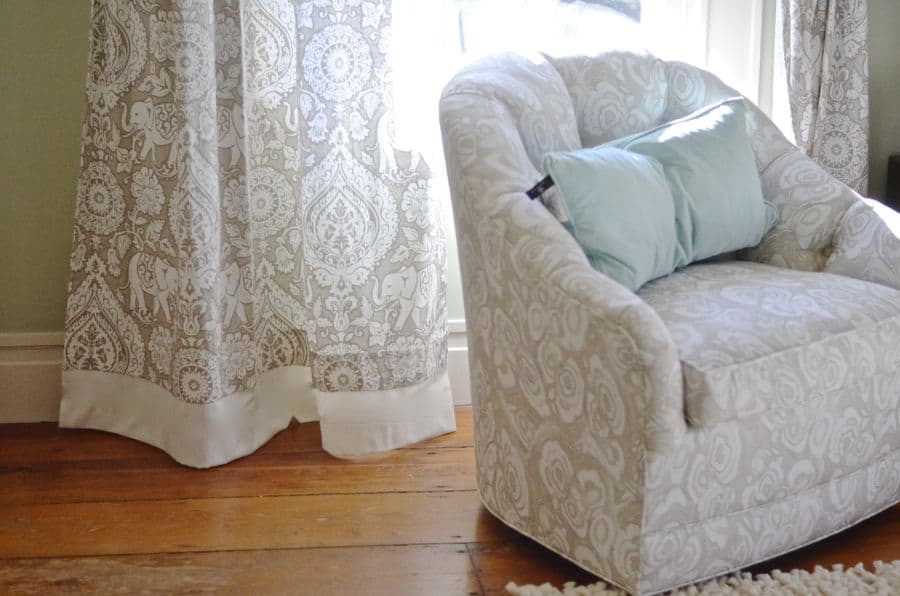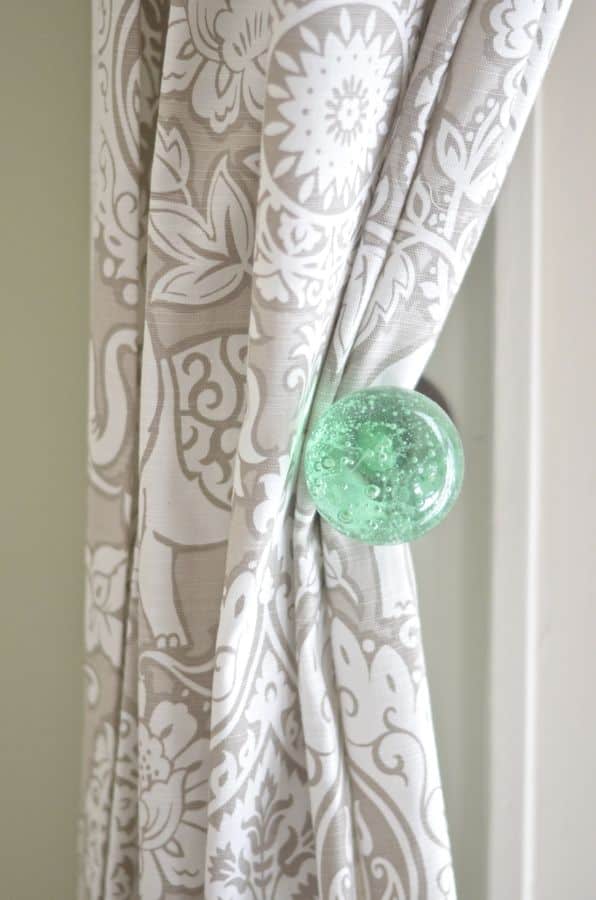 I shared the tutorial for the fun ticket art a while back. Never underestimate what a fun flea market score and a basic Ikea frame can do for you!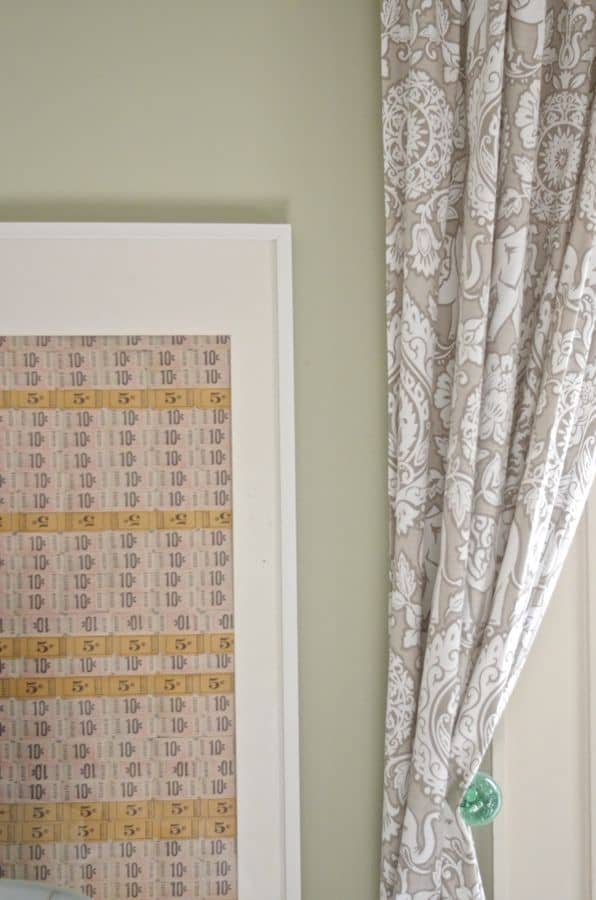 The desk was another Craigslist makeover that I did for the Fab Flippin' Contest with General Finishes Antique white milk paint.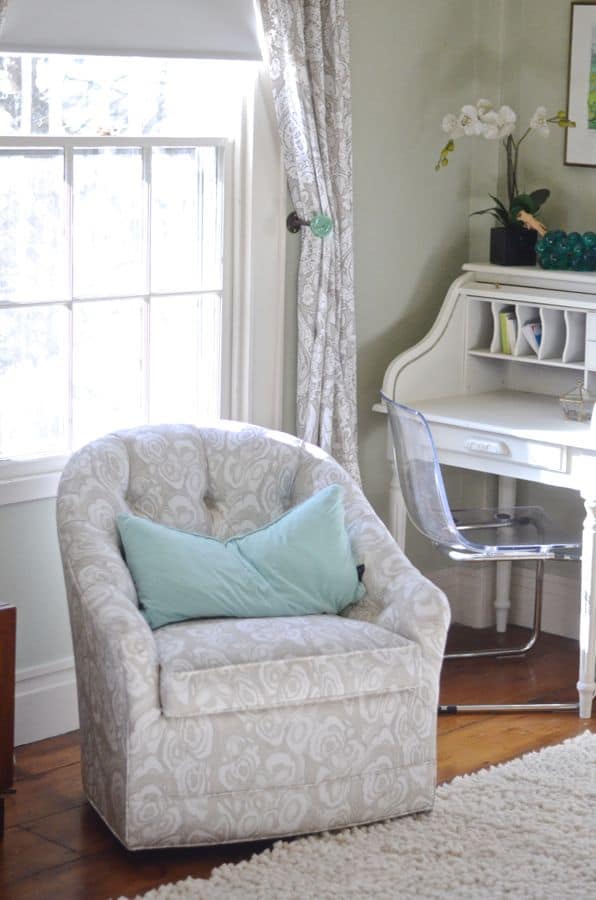 When we moved out from the city, I *finally* had space for a big-girl dresser. I shared the makeover in this post, but gave the stripes an update with DecoArt Americana Chalk paint to tone down the contrast a bit. The color's still not a perfect match, but the paler color works better in this space.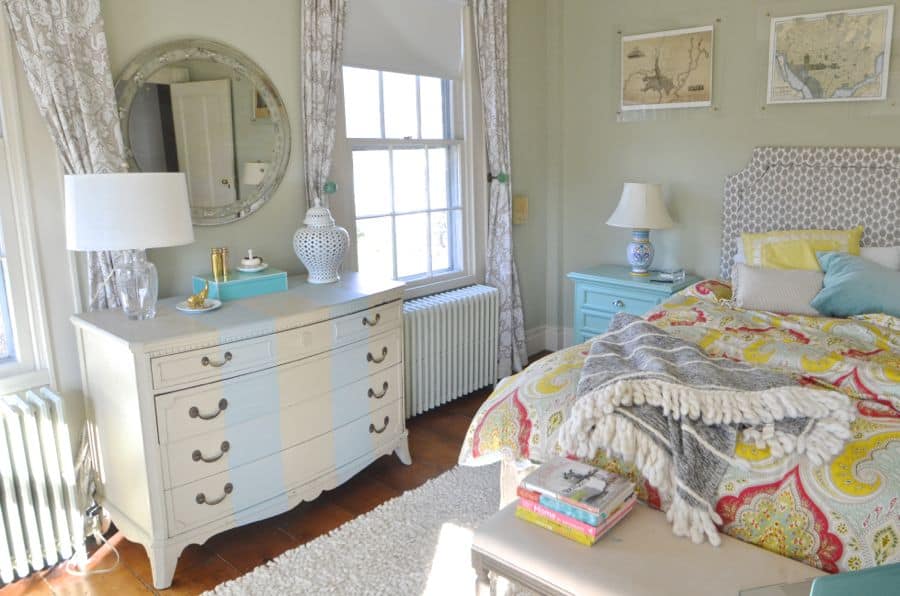 The ginger jar on my dresser was originally an unfortunate purple color… the power of spray paint, folks!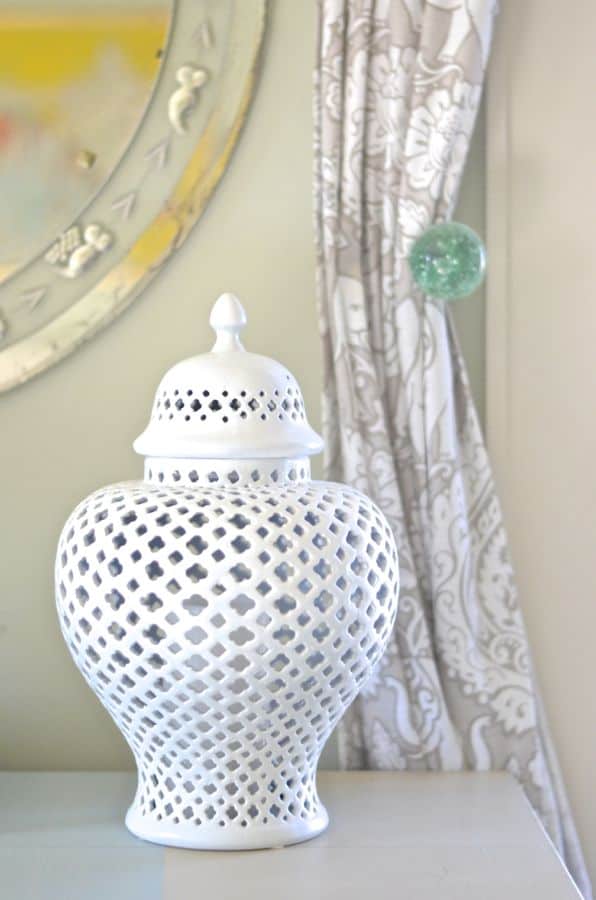 And I love this little jewelry holder I found at Homegoods. #IHaveThisThingForElephants.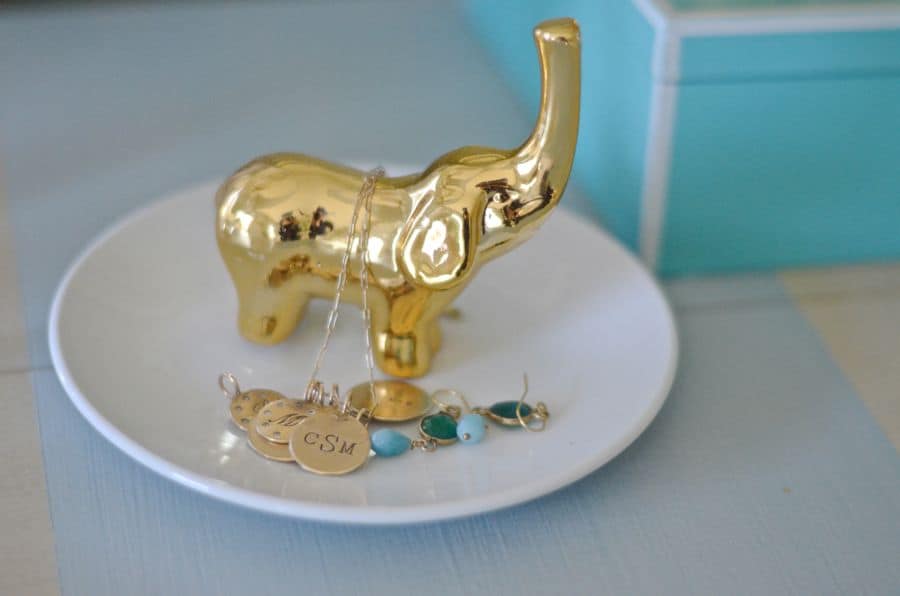 My grandmother recently passed away at the mic-dropping age of 96 and those aged silver perfume jars came from her. The silver has tarnished to a gold-ish patina, but they have her initials and I love them.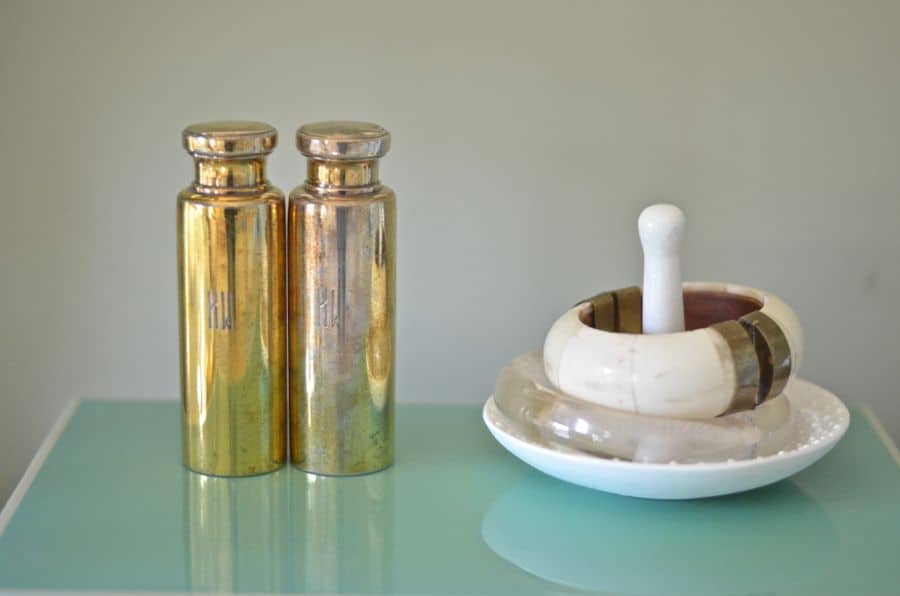 The table between the chairs came from Goodwill. One of those "I will find a place for this' purchases. You know the ones.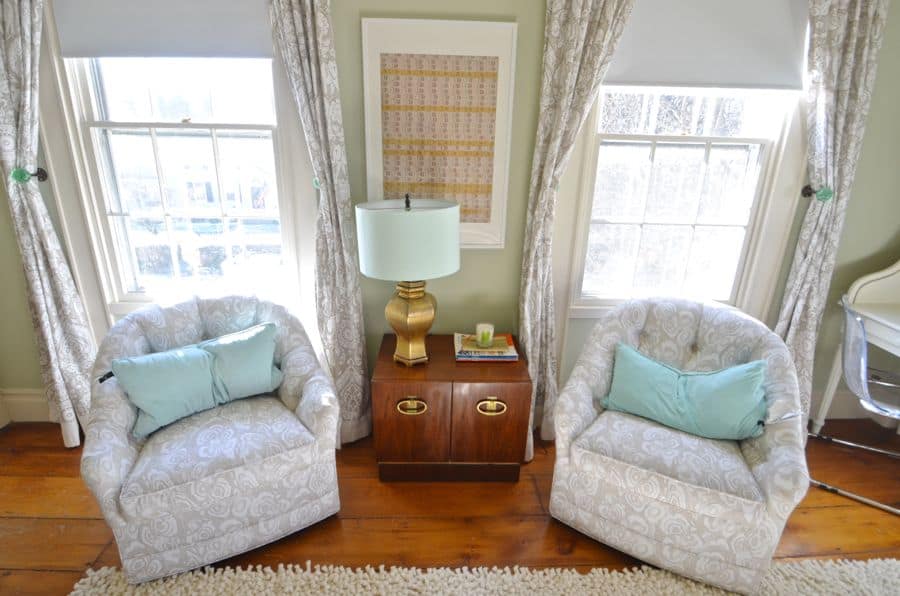 I have a new obsession with these big ol' pickle crocks… I love using them as planters and other miscellaneous containers. That photograph is by Gray Malin… his stuff's amazing.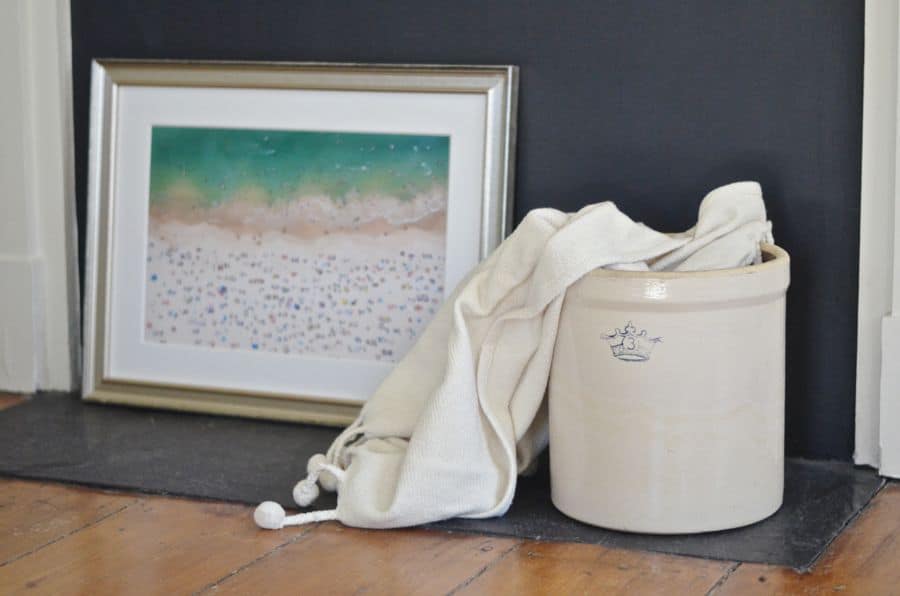 Mark prefers an arctic like bedroom so there are occasions when this fun throw from Anthropologie comes in handy (no longer available online, but similar one here)! And no… I don't have time to look through my favorite DIY books. They just sit there taunting me.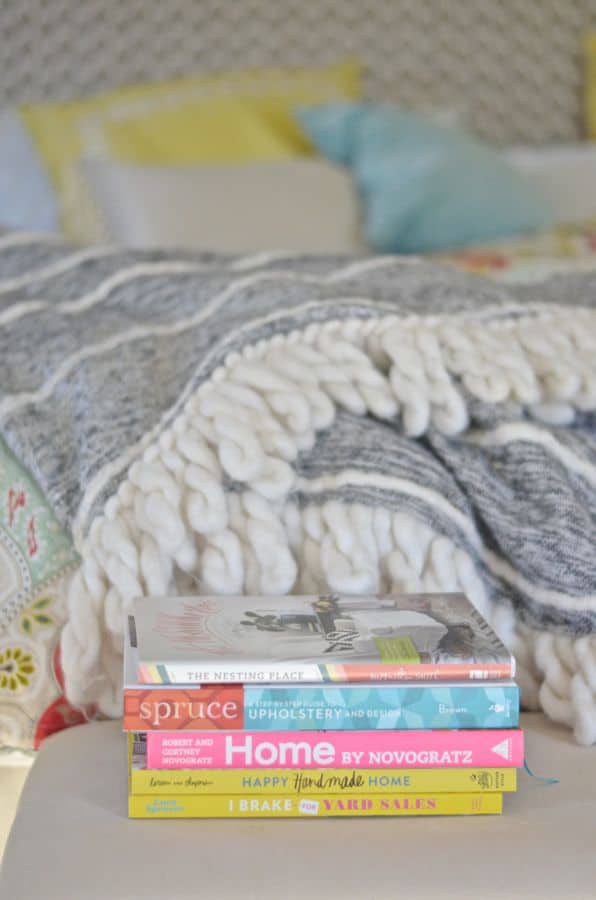 Sorry for the talk, talk, talk. Here are some final glamour shots! I included a shopping list at the end for items that are seen in the room (or at least similar items for things that aren't available anymore).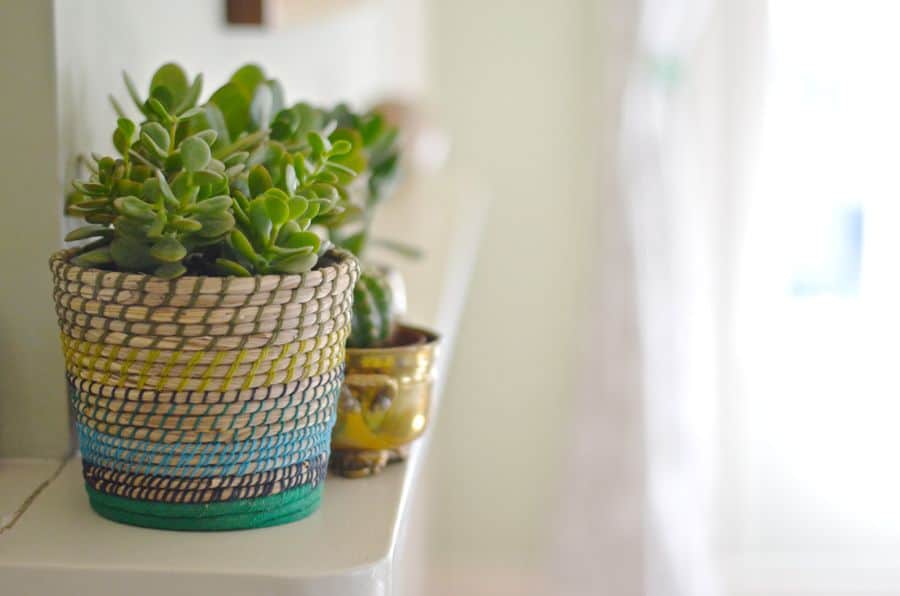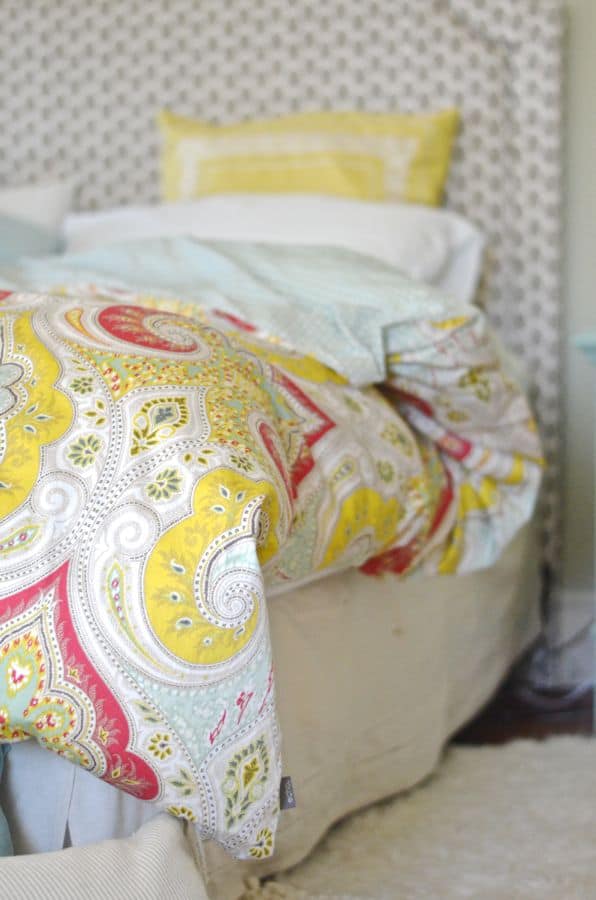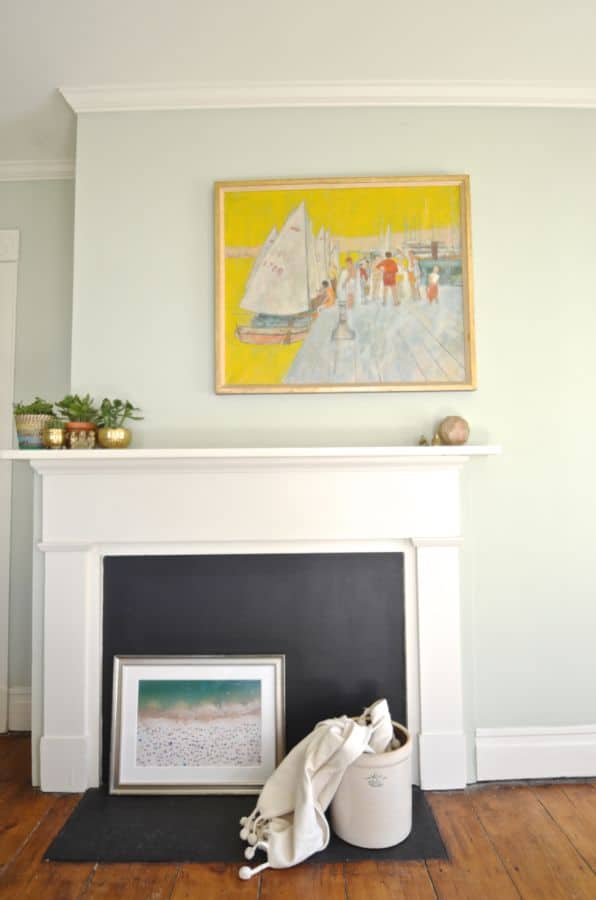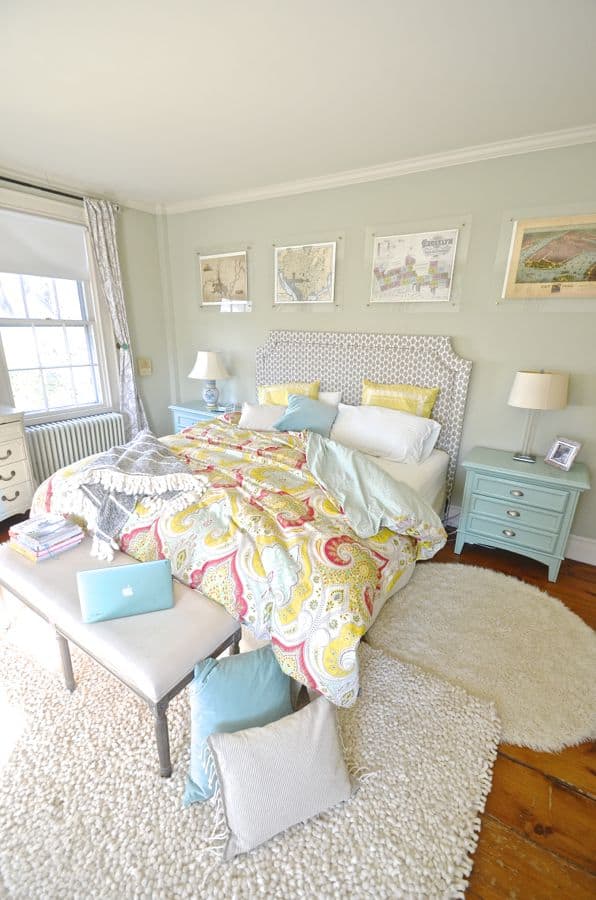 Shop this room (affiliate links included for your convenience):
• Headboard fabric
• Duvet cover
• Lamp
• Bedside tables drawer pulls
• Cutout Ginger jar
• Blue lacquer box
• Curtain tie backs
• Curtains
• Fabric on chairs
• Bench at the foot of the bed
• Pickle Crock
• Rug