Visiting Reykjavik and Iceland
I had the incredible opportunity to visit Iceland recently and here's what I did there.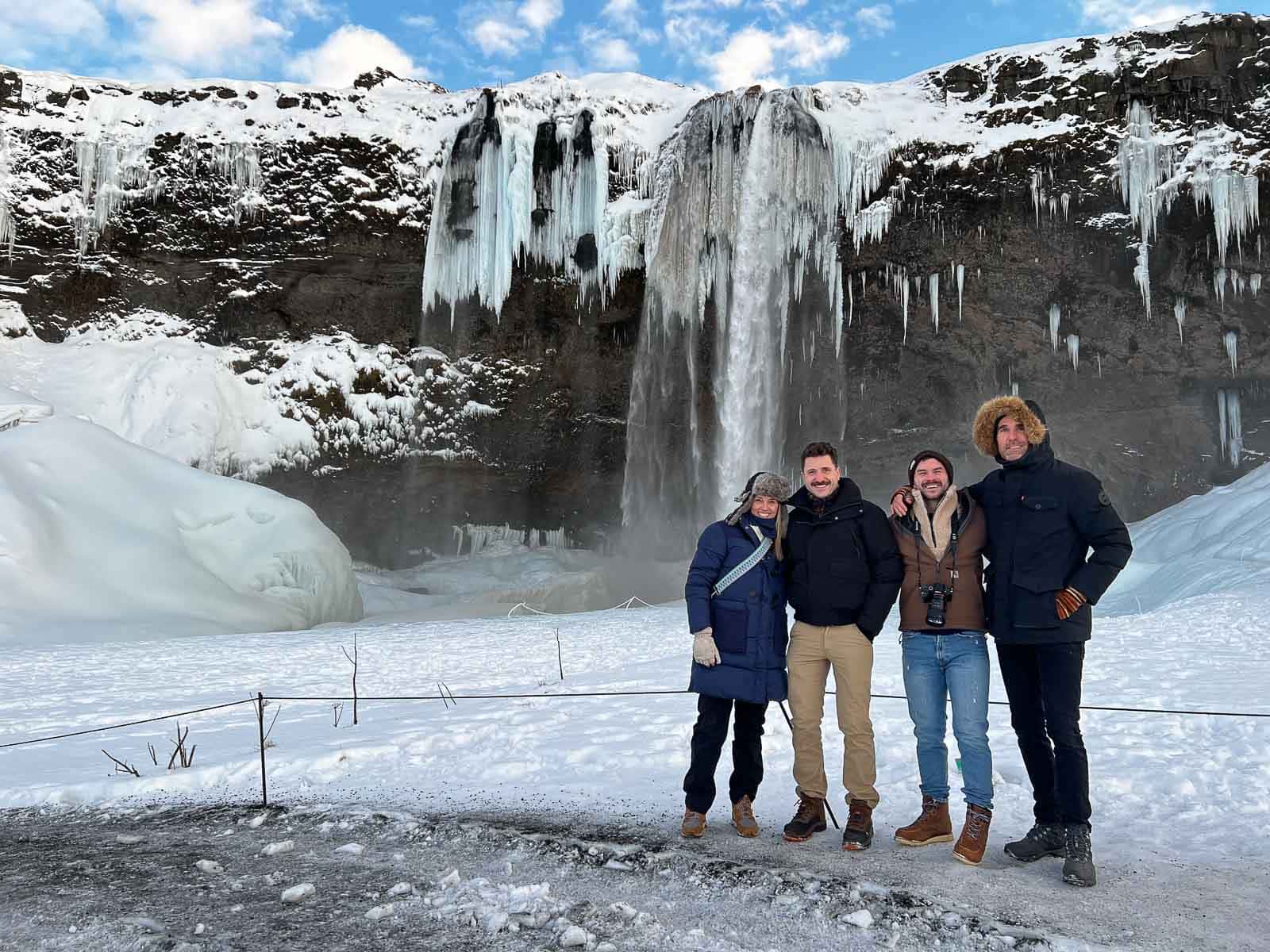 This bucket list trip all started with a text from my friend Brian Patrick Flynn. I'm part of his team for all of the HGTV dream homes he designs and have heard about his apartment in Iceland for years. Brian and his husband Hollis fell in love with Iceland years ago and purchased an apartment in Reyjavik that they redesigned and try to enjoy whenever they can. You can see the full spread about his place in House Beautiful here. Cut to mid December when I get a text from Brian asking me if I want to come visit. Um… yeah I do. He also extended an invitation to our friends Stephen and David, the Renovation Husbands, and a boondoggle overseas was booked!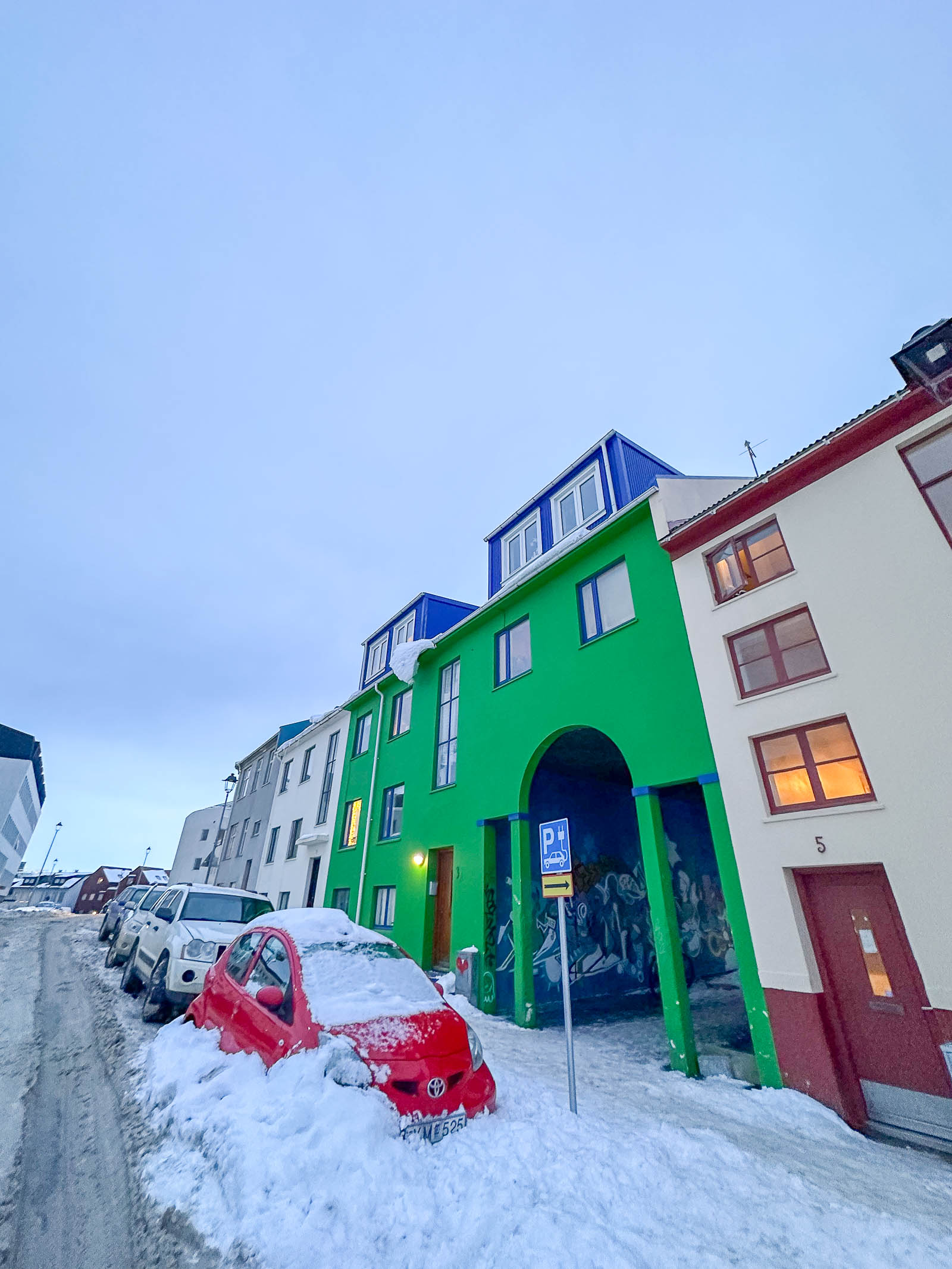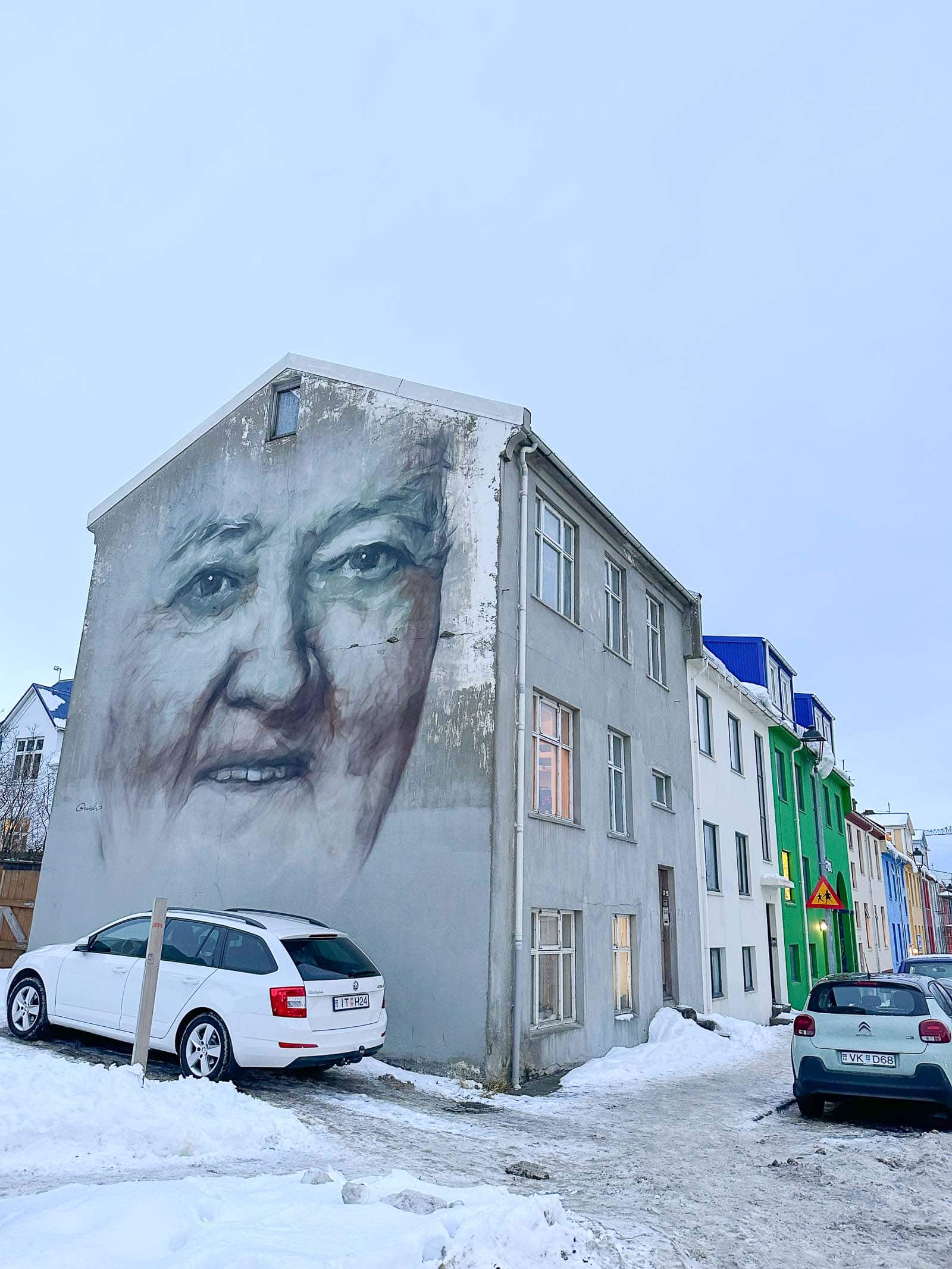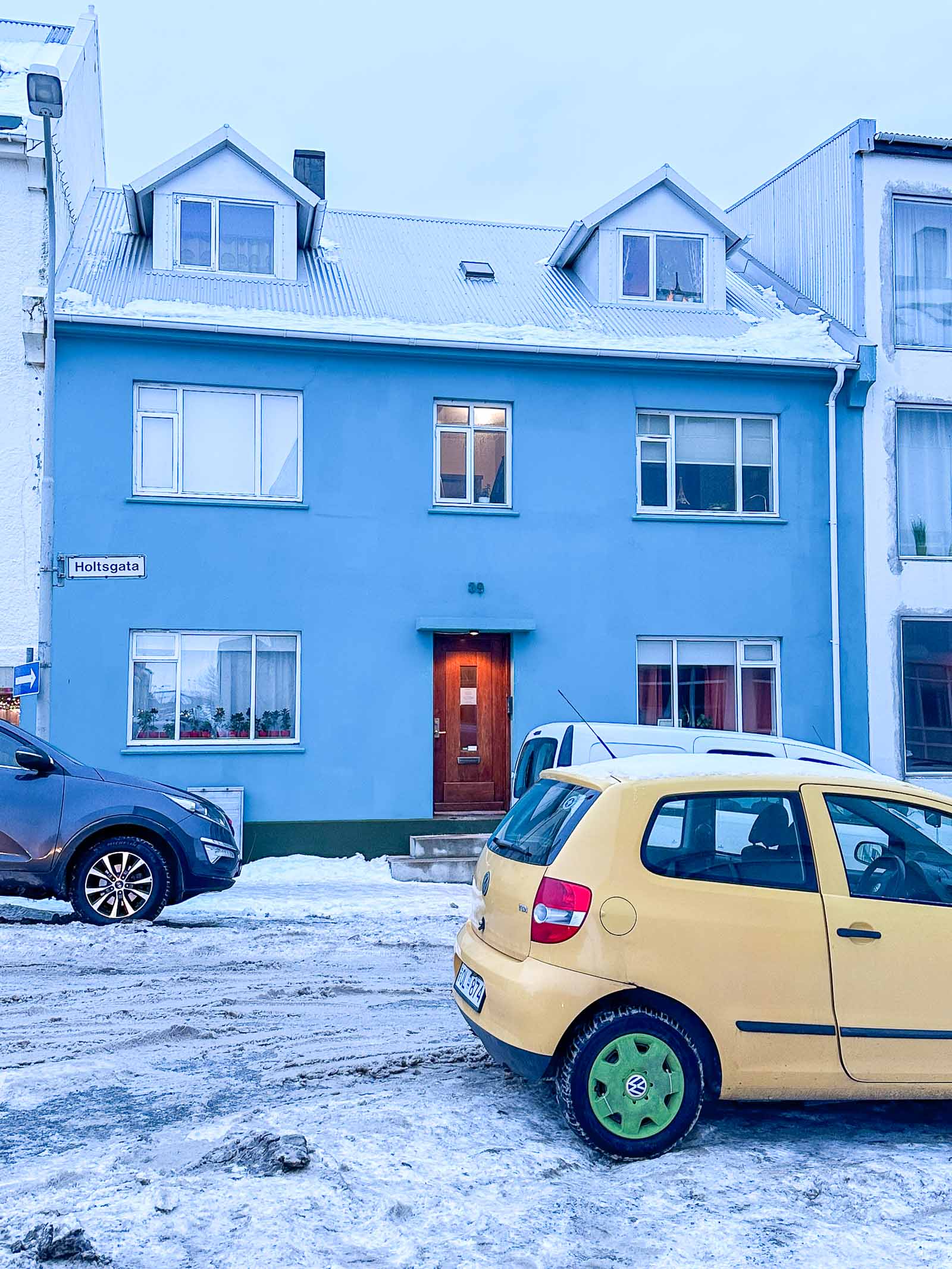 I flew out of JFK and my ticket was about $900. Do you all remember when Iceland had this huge tourism push and you could fly there for a couple hundred dollars?! I flew into Keflavik airport and cleared customs immediately. Stephen and David were getting in about the same time so I was able to wait for them at baggage claim. We picked up a few bottles of booze (Prosecco and vodka) at the duty free right next to baggage claim. You can take a taxi into the city (Brian said it's about $100) or hop on a bus which is what we chose to do. It's about a 50 minute drive and the bus was around $25 if I recall. The bus dropped us off at a bus depot where a smaller shuttle bus arrived within minutes and took us to a bus stop across the street from our hotel.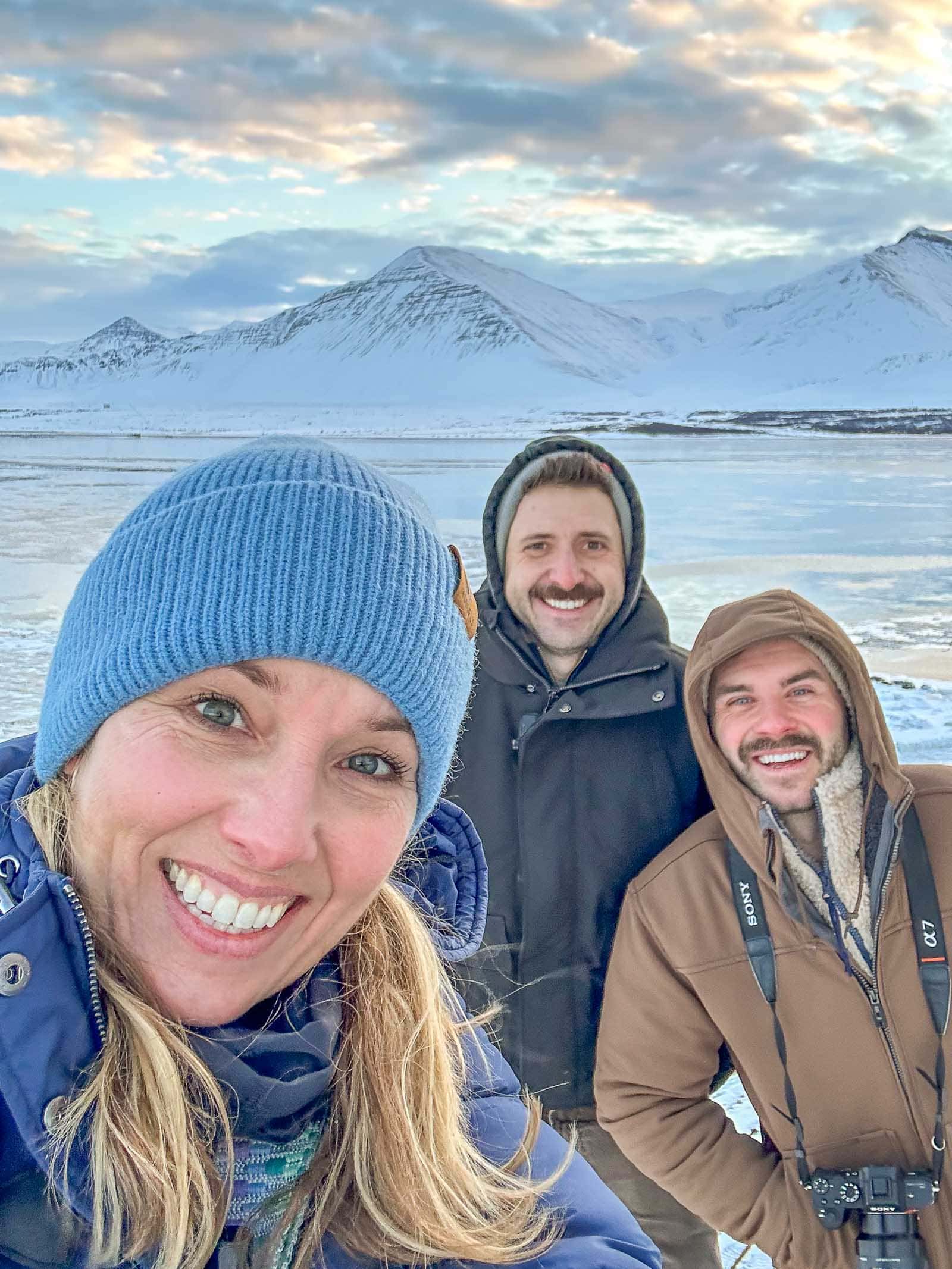 I was staying at the Grandi Hotel for a couple of nights before moving over to Brian's apartment. It was charming with a cozy lobby, a huge breakfast spread each morning and a coffee shop as well. The rooms were typical for Europe: cozy and small, but were well appointed with everything I needed. The hot water in Iceland comes from hot springs so it is readily available and abundant!
Day 1: Seljalandsfoss, Vik, and Reynisfjara
This time of year, the sun rises around 11 in the morning and sets again just before 5. We knew it would be *very* easy to sleep in because of the jetlag so we opted to wake up and join Brian at the gym our first morning. With the sun rising, we walked out of the gym and got our first glimpse of Iceland by day. To take advantage of the sun, Brian suggested going on a road trip through the countryside to see the black beaches of Vik. Normally sitting in a car for a couple of hours would *not* be on my vacation itinerary, but the countryside of Iceland is unlike any I've ever seen!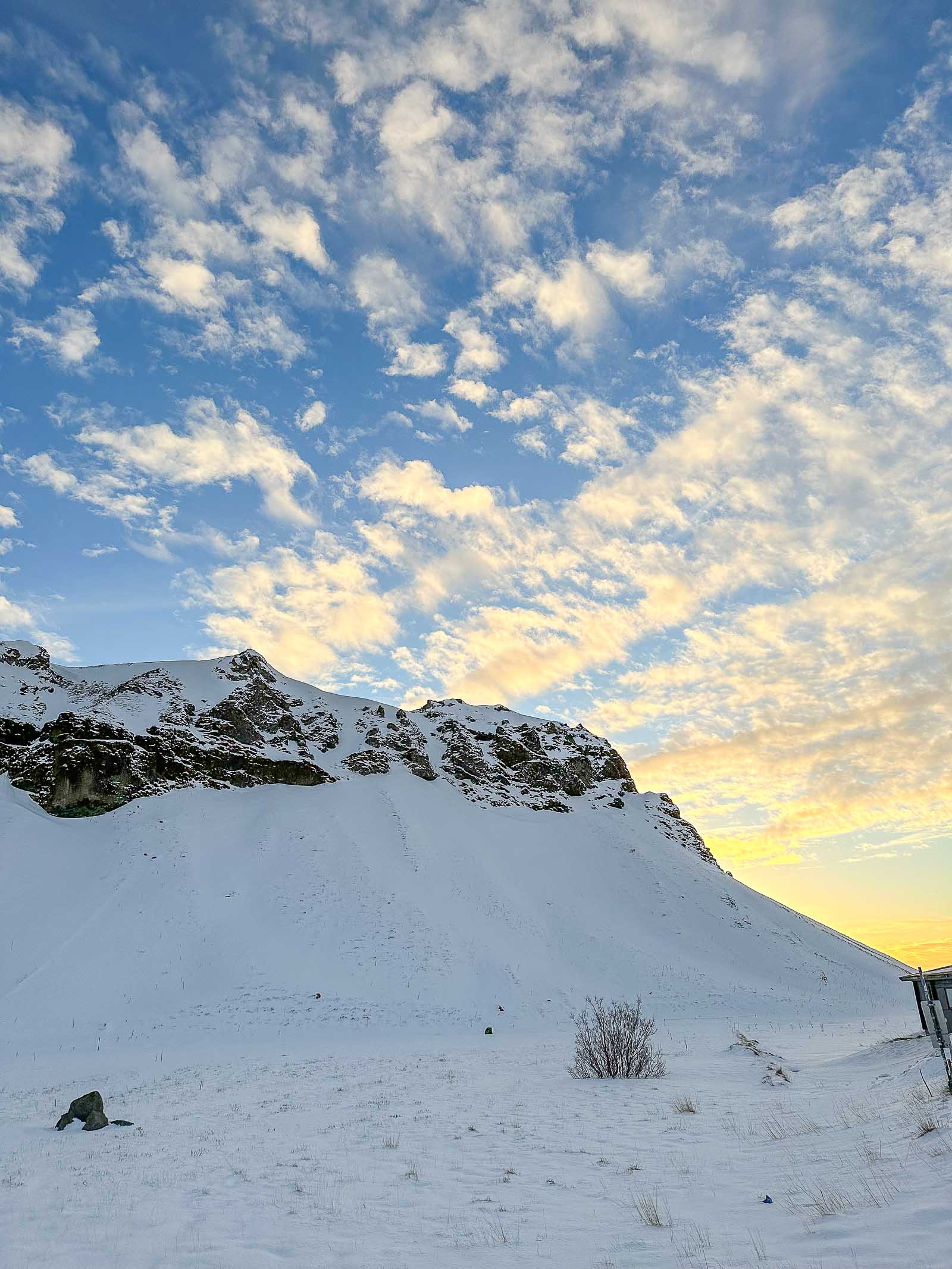 Quaint and colorful cottages speckle the hillsides and herds of Icelandic horses roam the snowy fields. (More on them later.) We pulled off the main road to stop at our first tourist spot… the Seljalandsfoss waterfall. The beauty of seeing such a place in the off season, aside from no crowds, was taking in the icy snowy spectacle that is frozen water falling from the mountain top. Hard not to have the lyrics of Frozen running through your head… There's an adorable shop here and a delicious cafe. Most places took credit cards (Visa… not Am Ex), and we never bothered to exchange currency.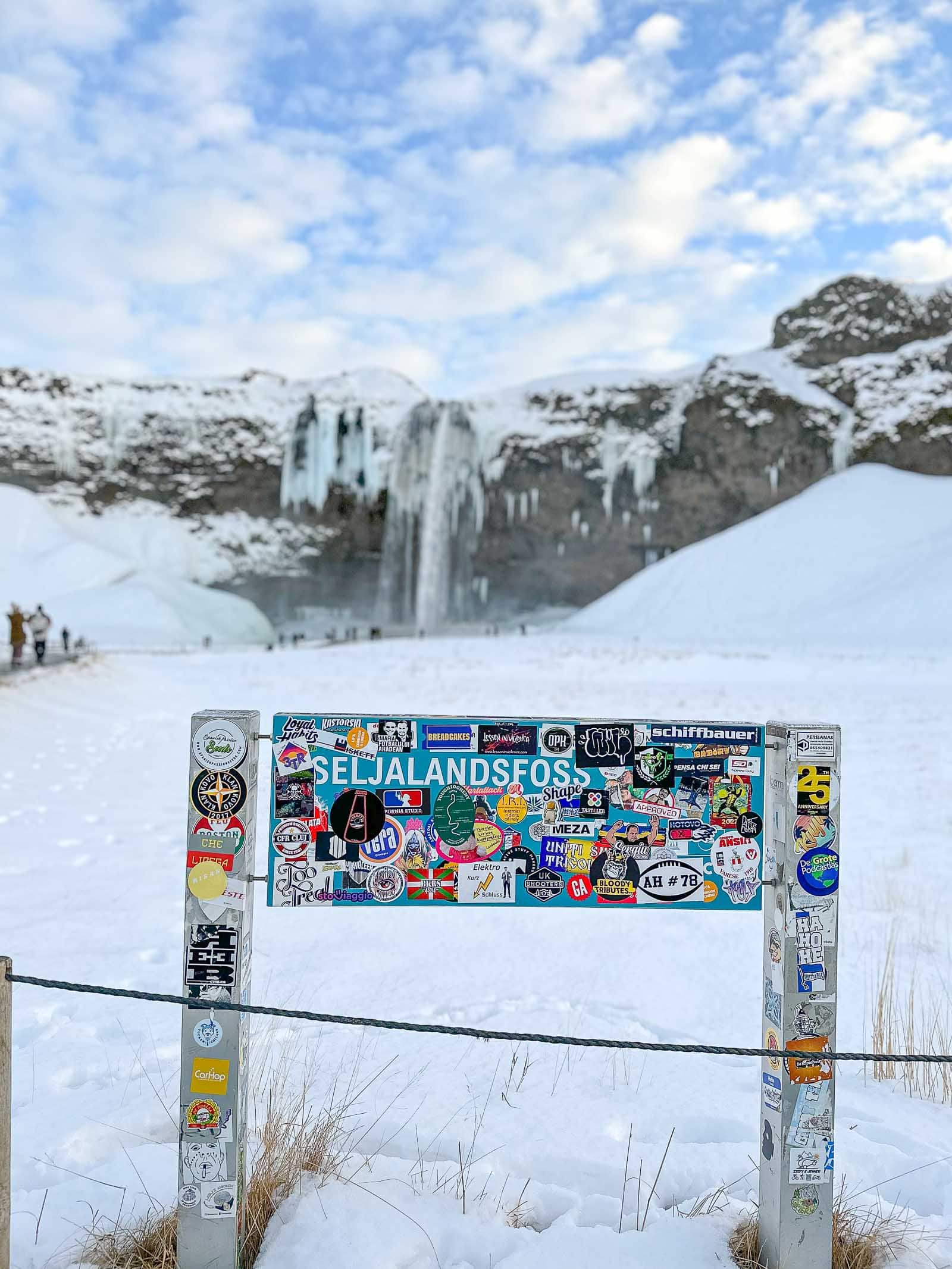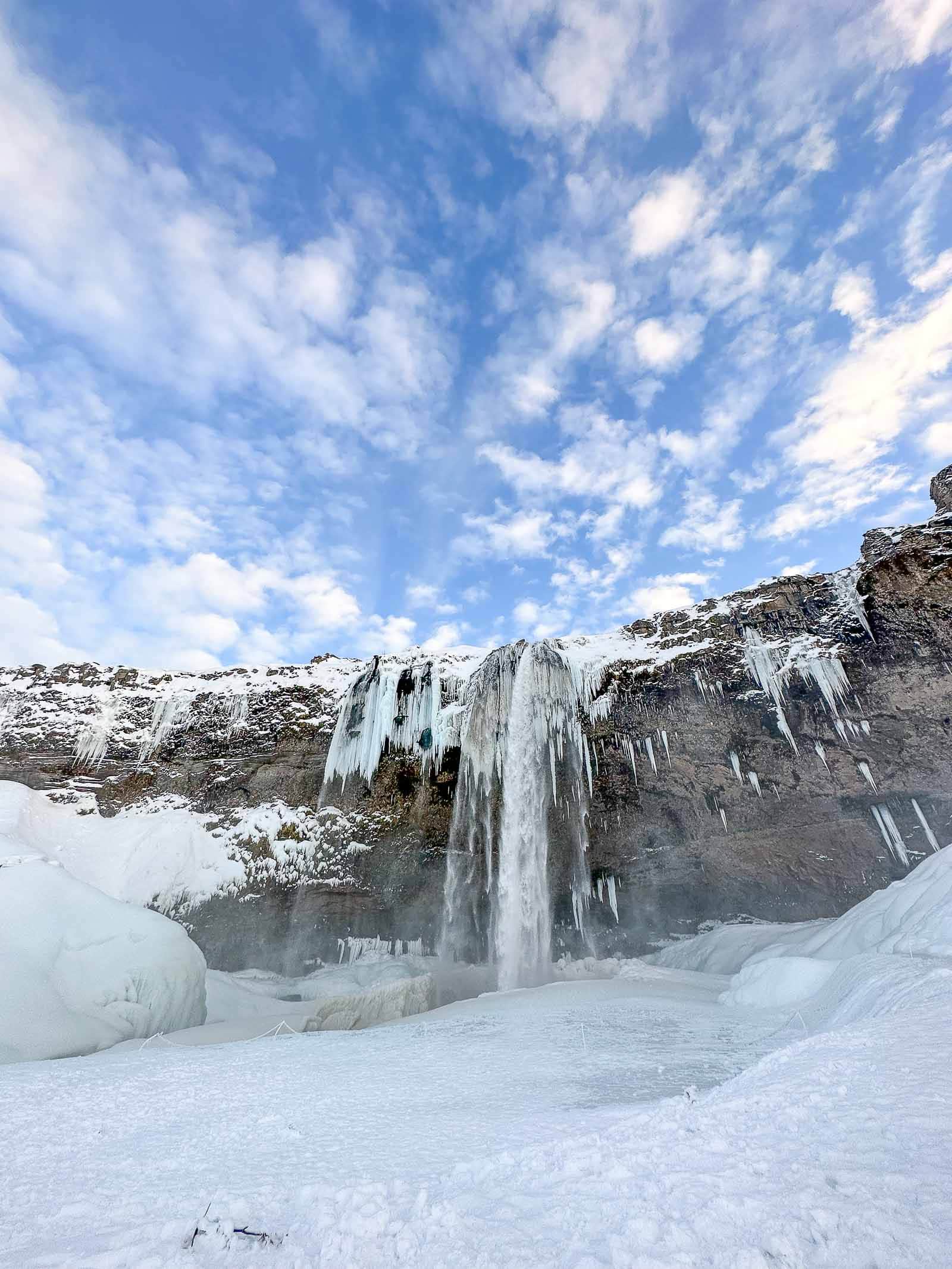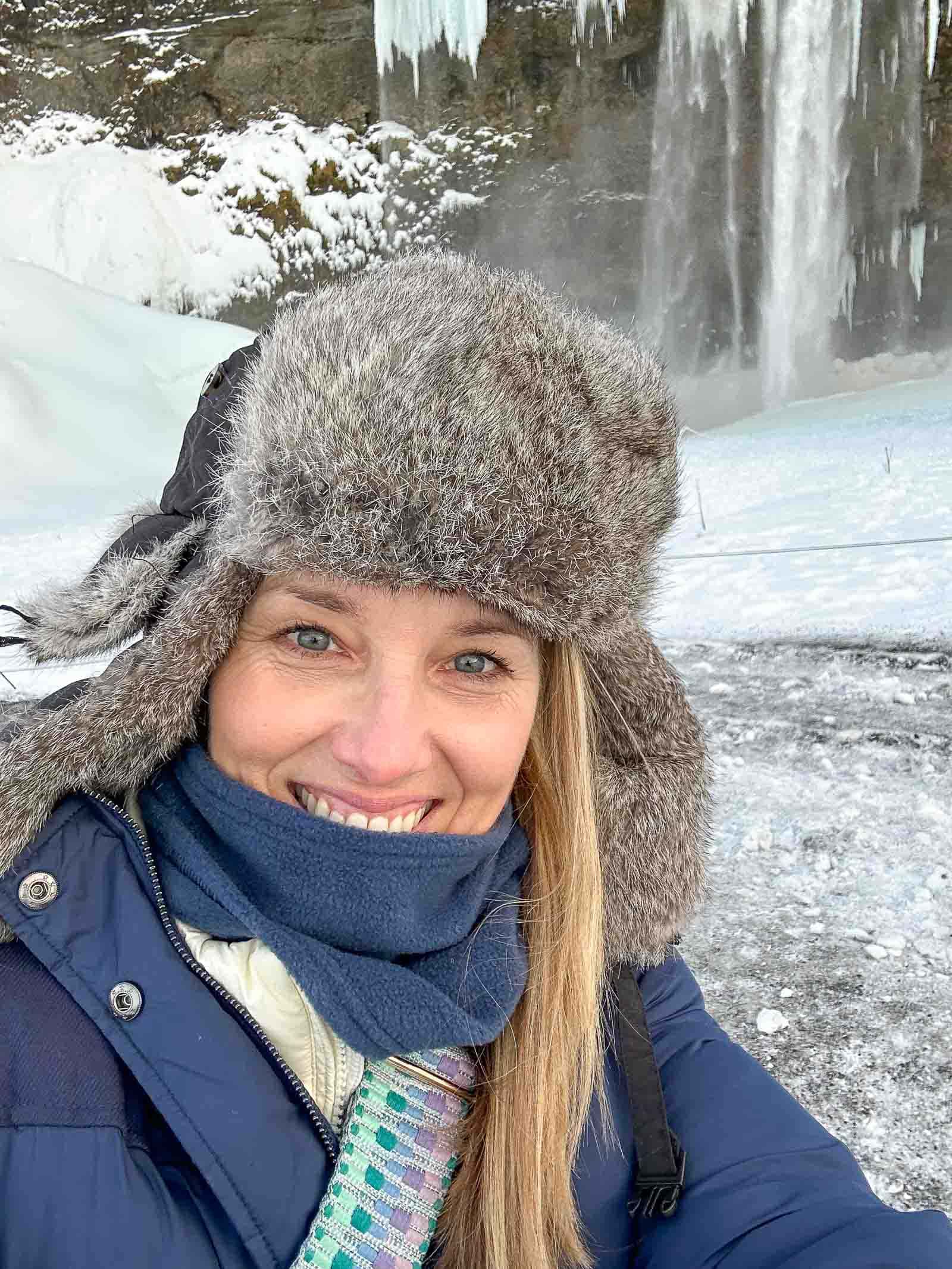 Next stop was the Reyniskirkja church overlooking the town of Vik. We couldn't see inside but the view from above was worth it despite the biting wind and the icy terrain.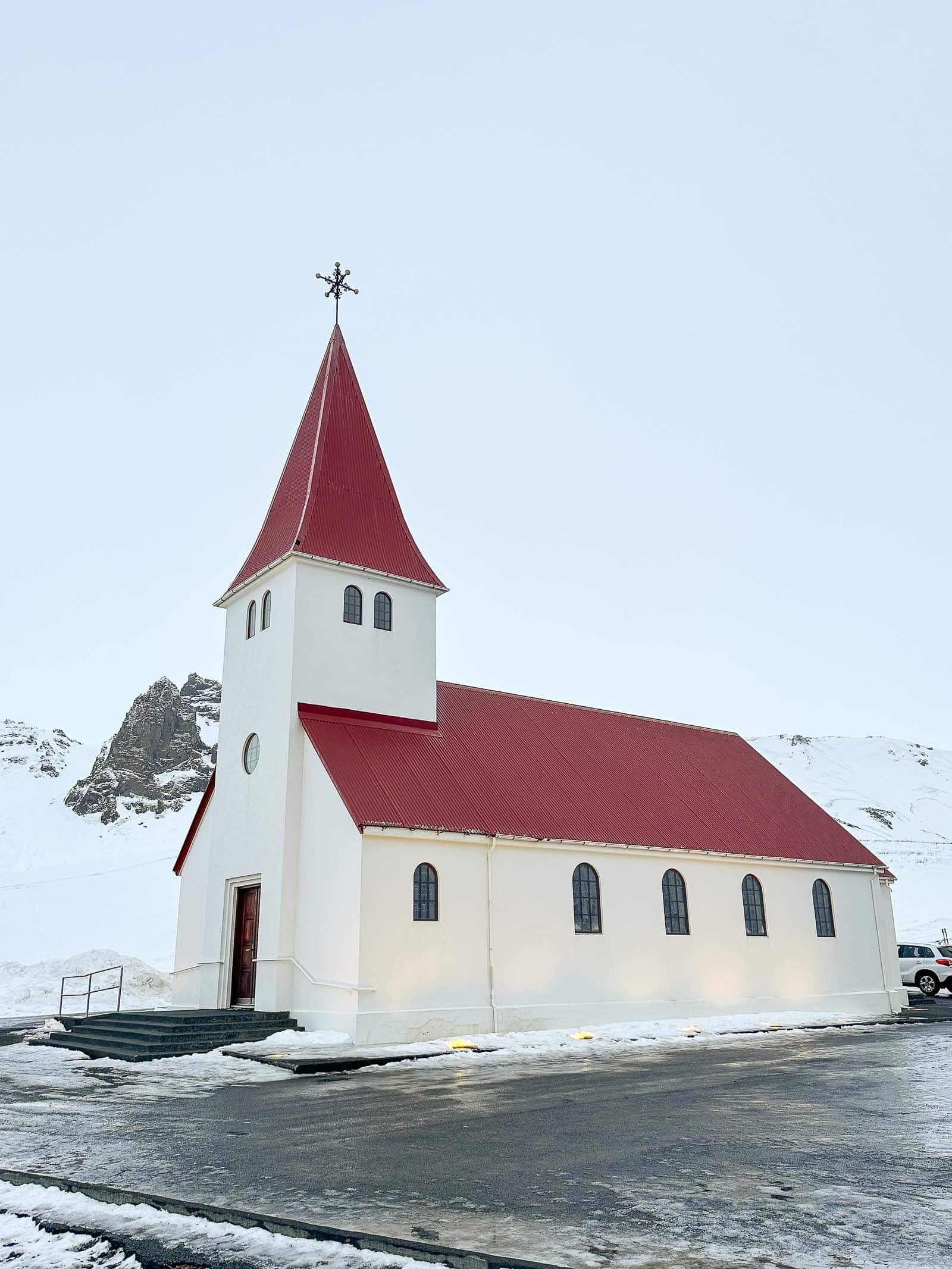 Ten minutes down the road, and we arrived at the black sand beach of Reynisfjara. This beach as been known to have rogue waves that wash people out into the frigid waters, and thankfully I didn't hear about this phenomenon until we were safely back in the warmth of our car. The basalt cliffs, the waves crashing and the black sands were spectacular to say the least. A glass of Prosecco and a snack at the sweet cafe by the beach and we headed for home. Food in Iceland is pricey because it's all imported so most of our meals were smaller ones. Meat soup, paninis and smoked salmon were some of my favorites from the week.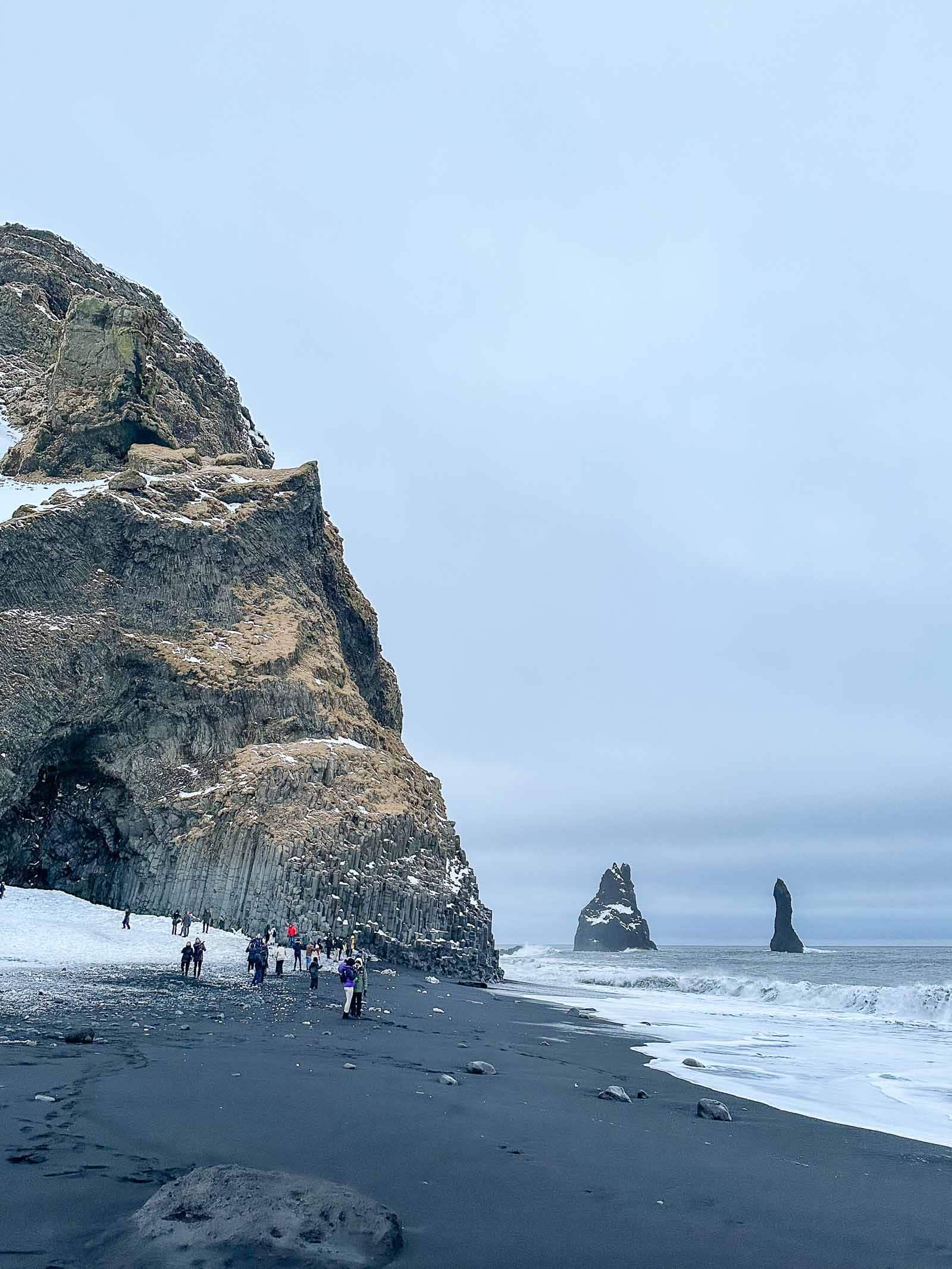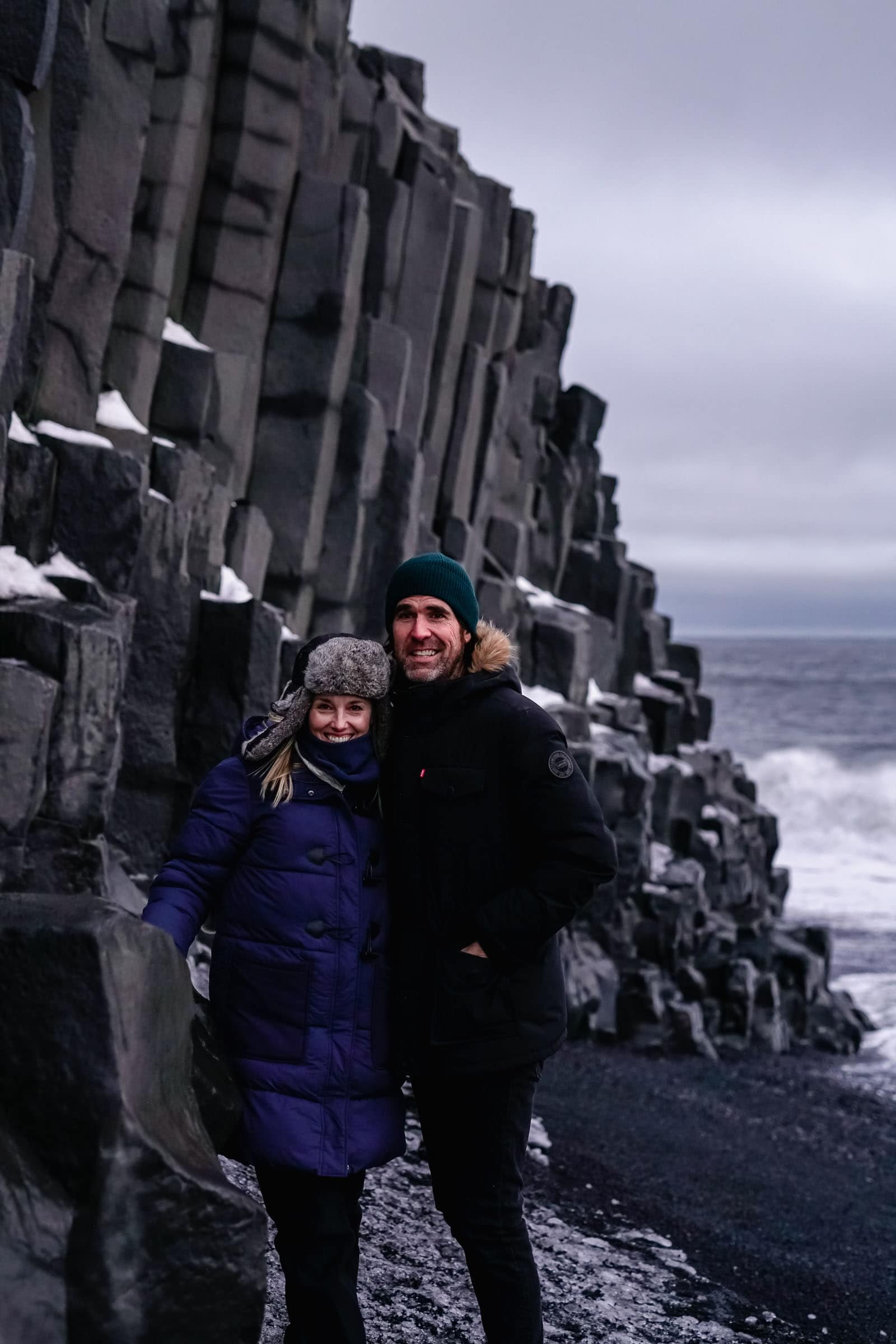 Day 2: Borgarnes, Horses and the Perlan Museum
On Day 2, the plan was to drive in a different direction through the Fjords. We made it about 30 minutes before taking a detour through the town of Borgarnes. The views were beautiful but the weather was biting cold. What started with a search for coffee ended with the discovery of the most charming quirky kitschy little coffee shop where we spent and hour or so talking and reading through the guest book and generally celebrating our good fortune that we stumbled into something so wonderful.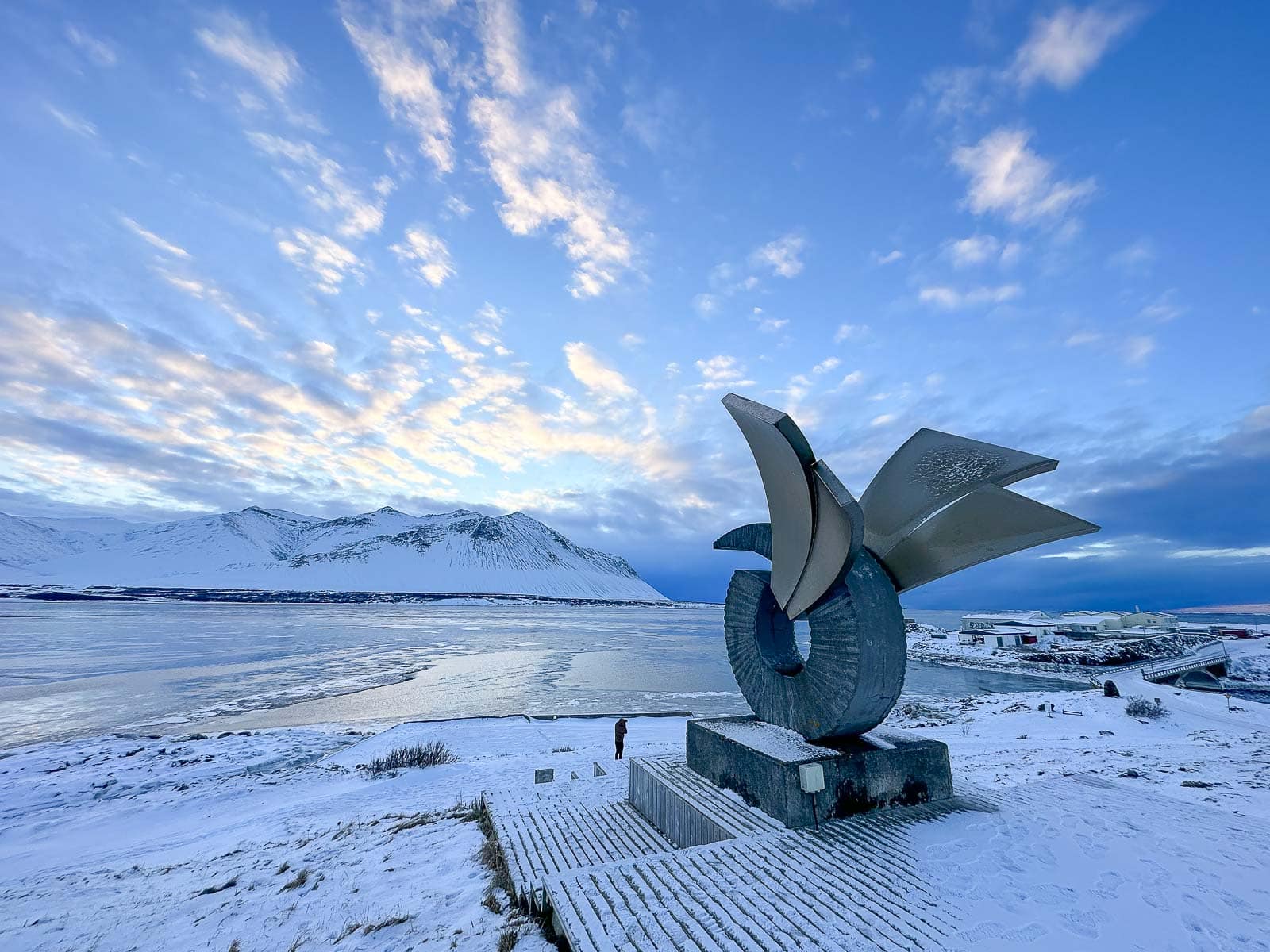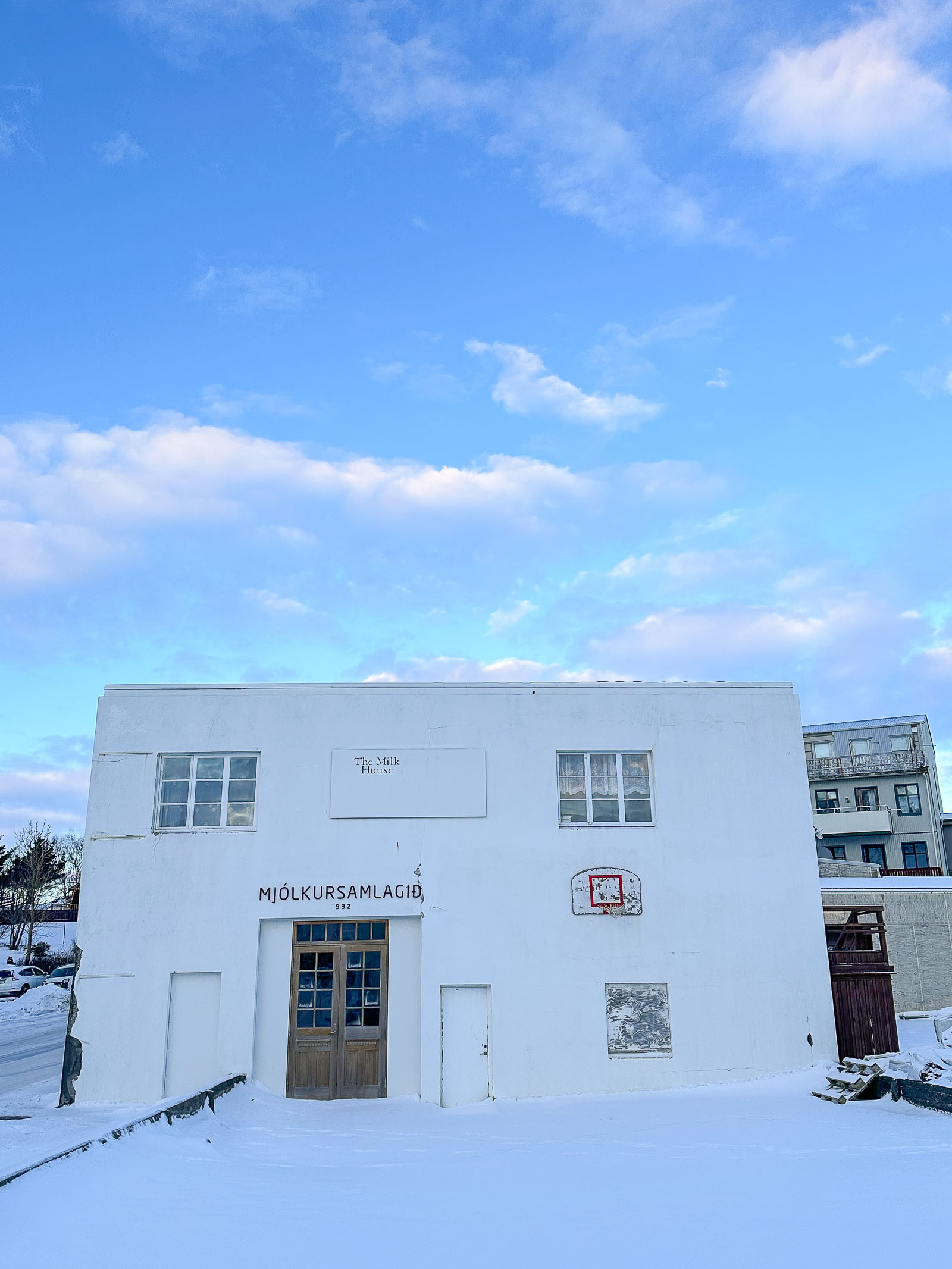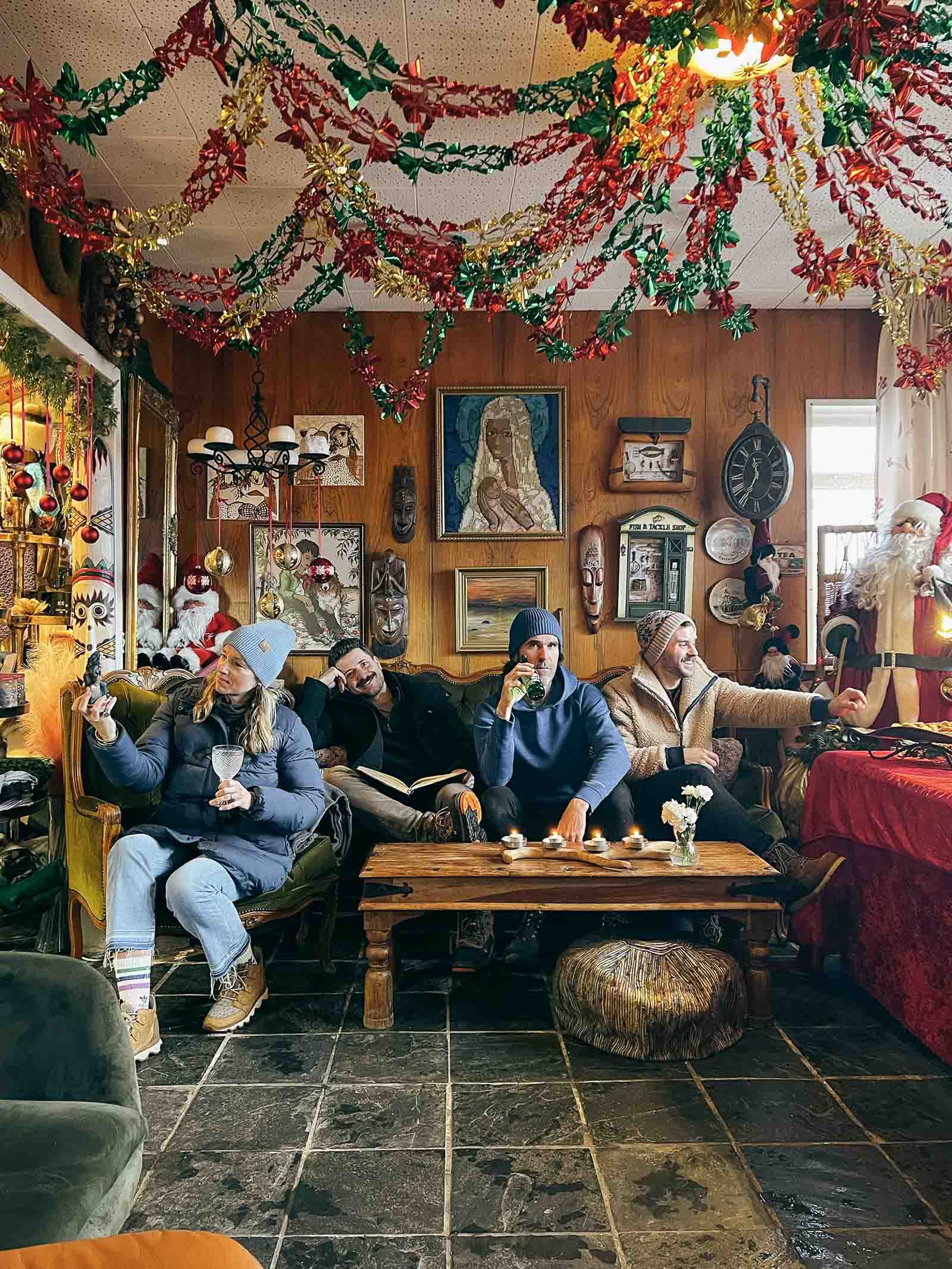 After admiring the furry Icelandic horses for a while, we finally pulled over to go meet a few of them on out way back into town. Thanks to Google, we learned that these horses are specific to Iceland and are smaller and furrier than the ones we have here in the US. They have a smoother gait than our North American horses and, as a result, are great for therapeutic riding programs. These sweet horses can leave the island but then they are not allowed to come back. A heard from a handful of followers on IG that they have Icelandic horses and love them!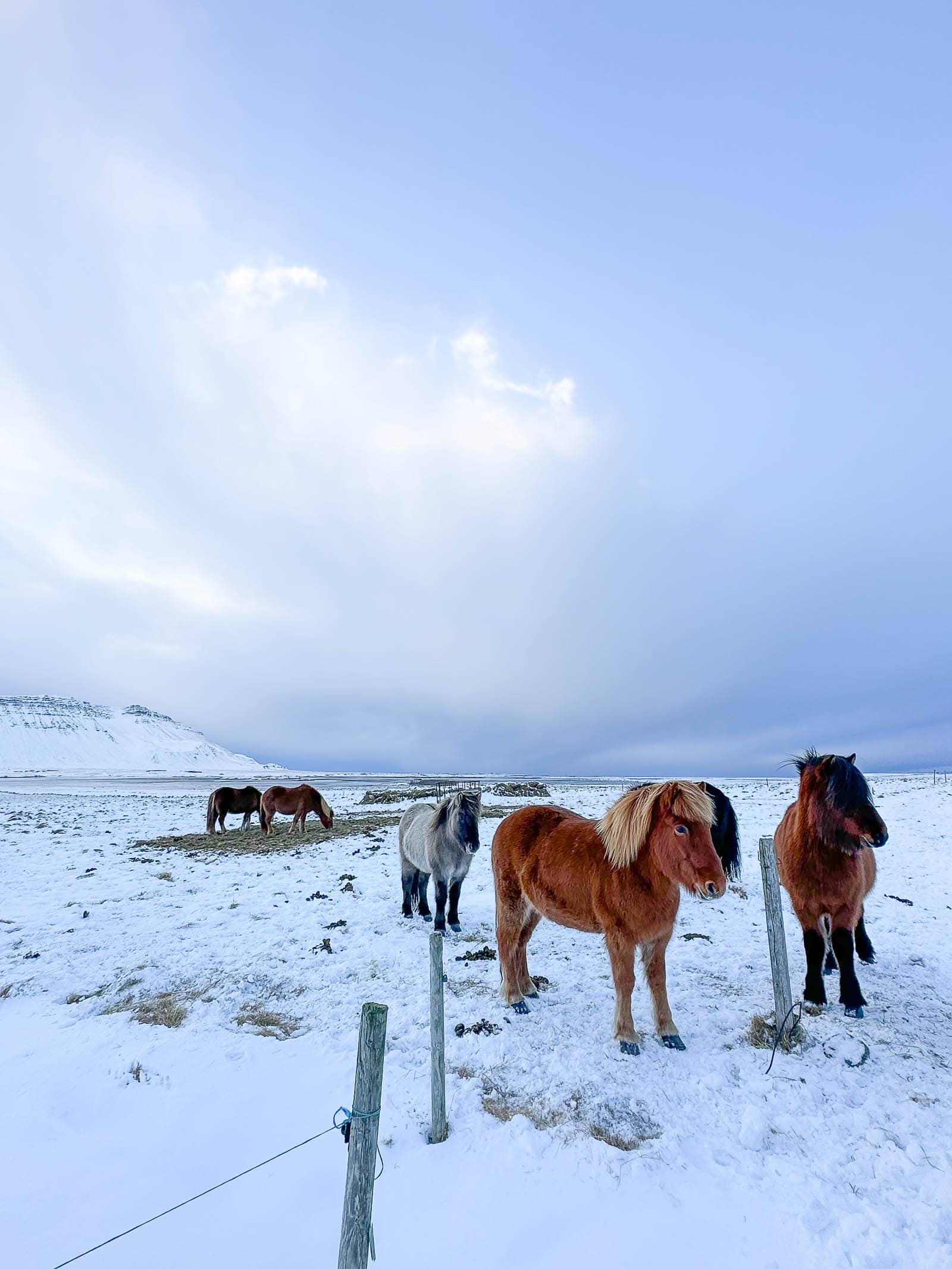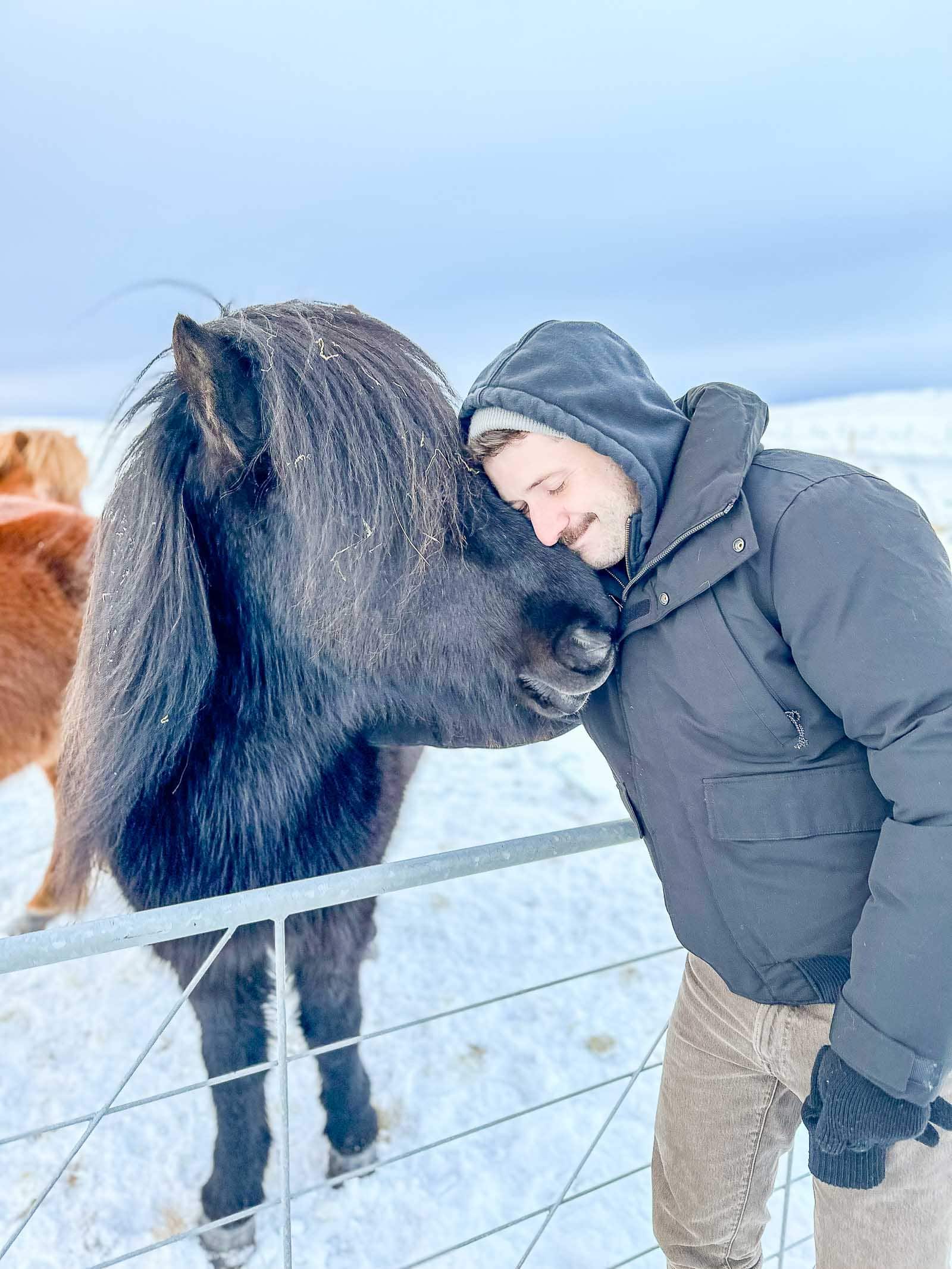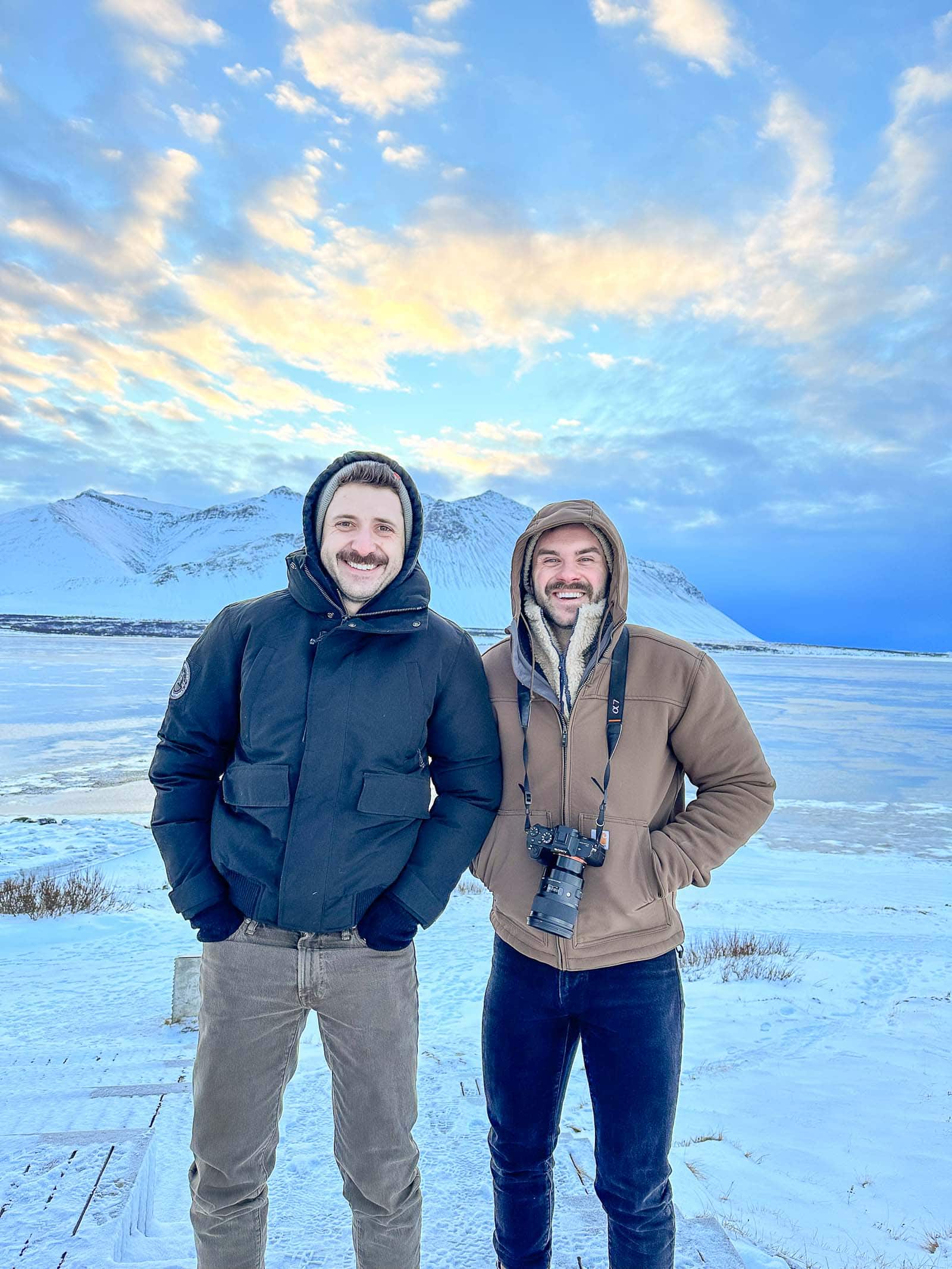 The last stop of the day was to visit the Perlan museum. It's an incredible glass structure that sits atop a hill and looks out across Reykjavik. We took in a quick movie in the planetarium about the Northern Lights (our only glimpse of them during our trip due to cloud cover) and then explored the rest of the museum. The coolest feature, in my opinion, was the man made ice cave; coooold but totally realistic and beautiful. We had dinner in the restaurant on the top floor (it has the ability to rotate, but for some reason it wasn't while we were there) and headed home for bed.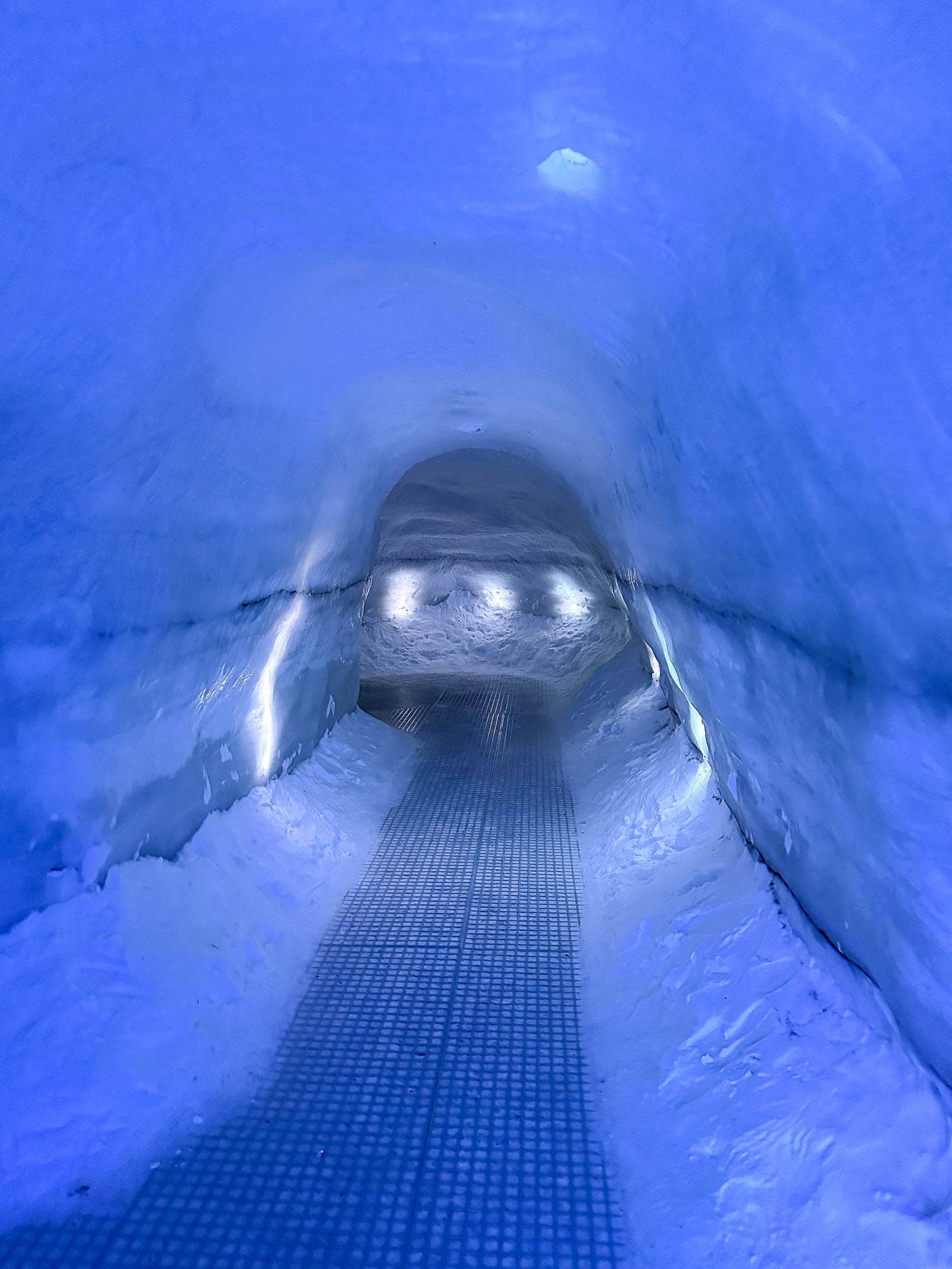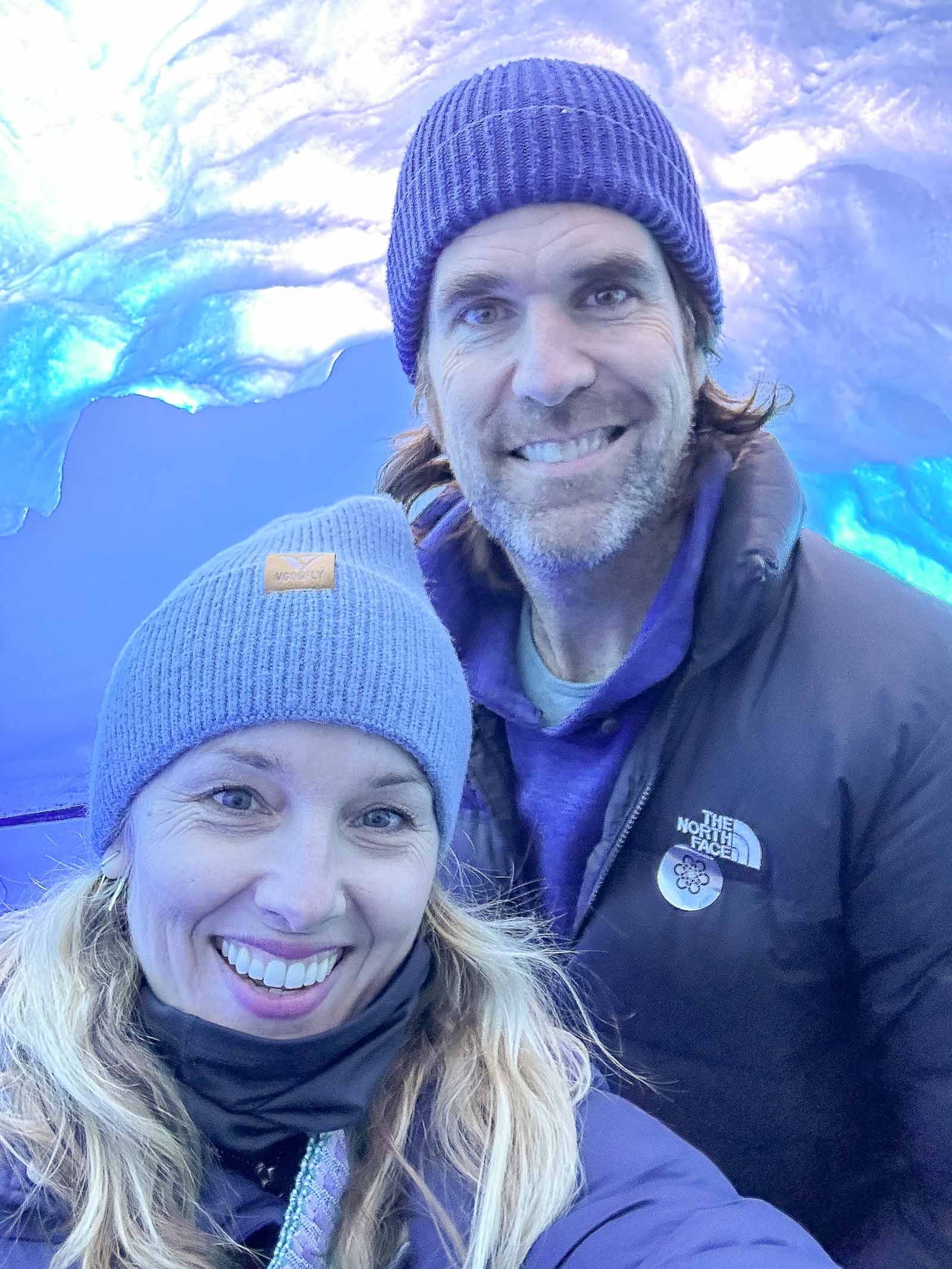 Day 3: Sky Lagoon and Downtown Reykjavik
There are two lagoons near Reykjavik: Sky Lagoon and the Blue Lagoon. We didn't make it to the Blue Lagoon sadly, but we did spend the morning at the Sky Lagoon. We opted for the full experience which meant we spent an hour or so basking in the warm waters with a cocktail and then moved through the "ritual steps" of a sauna, salt scrub, cold shower, steam room and warm shower. I'm not sure this 'ritual' was worth it necessarily, but I suppose it was nice to see what it was all about while I was there! Maybe I would have enjoyed it more if I knew we'd have 10 more hours of sunlight to enjoy! Ha!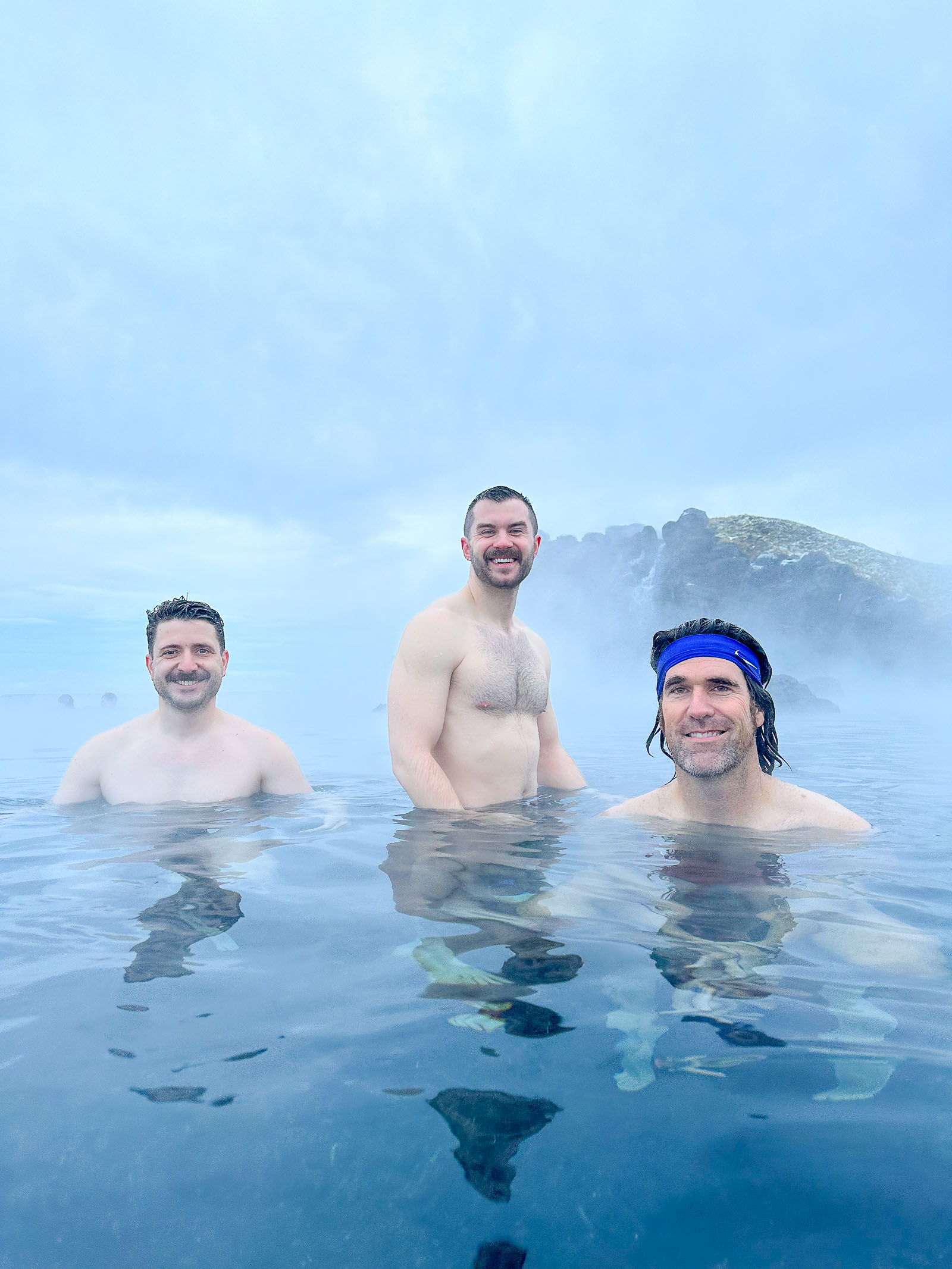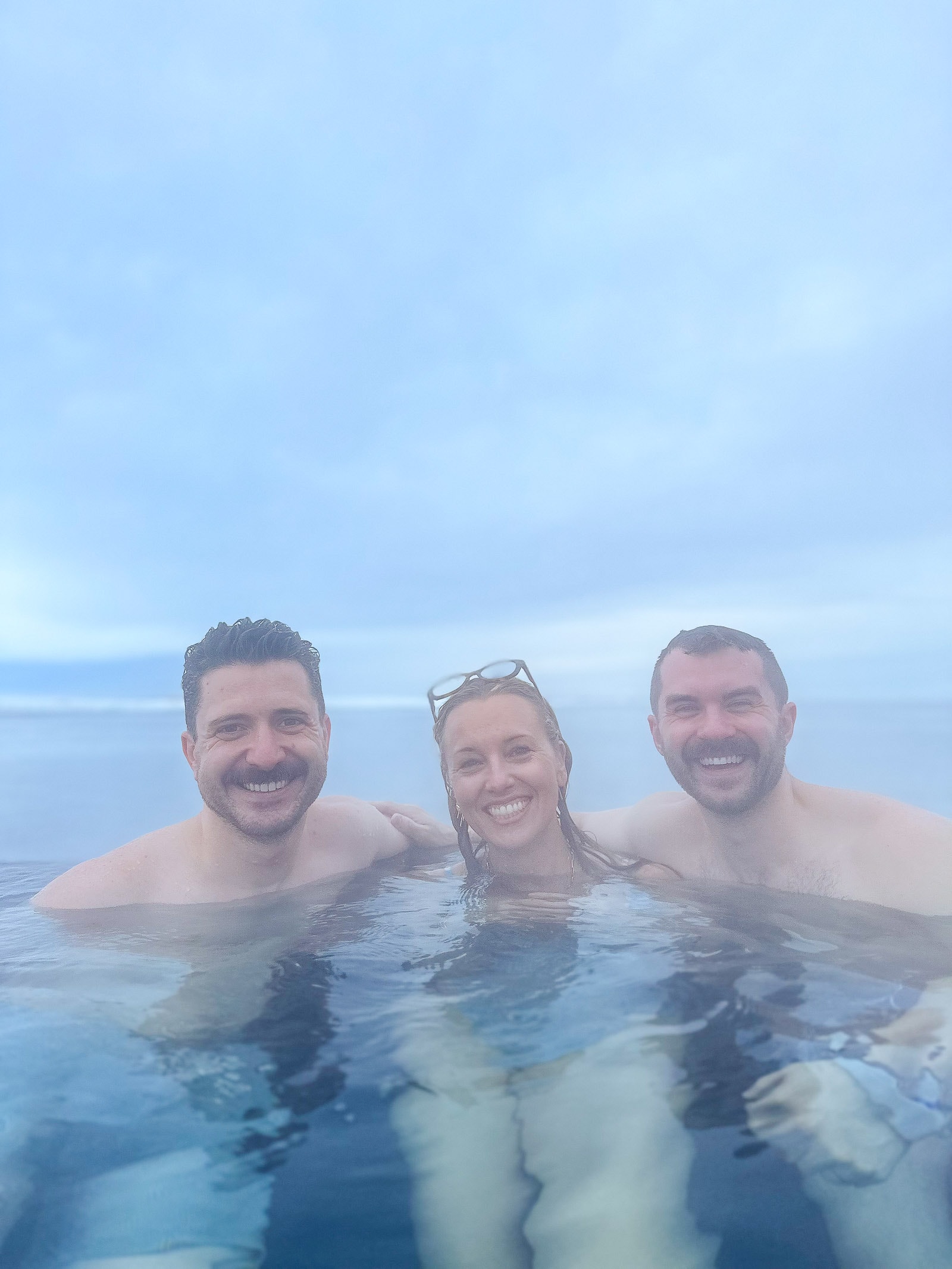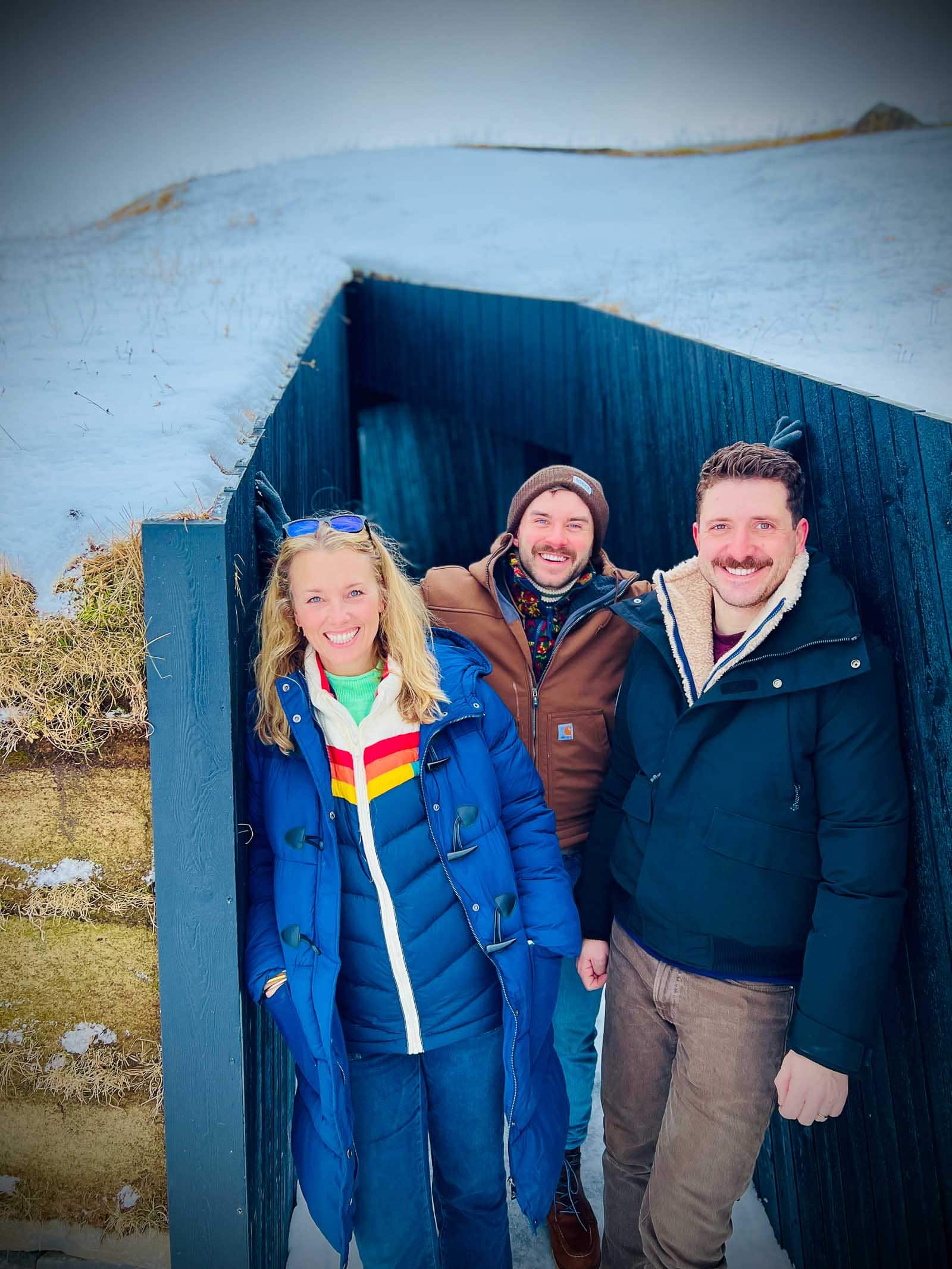 After the lagoon, Brian suggested we visit the little town of Seltjarnarnes right next to Reyjavik. Perched out on the point, we took a few pictures and once again marveled at the landscape.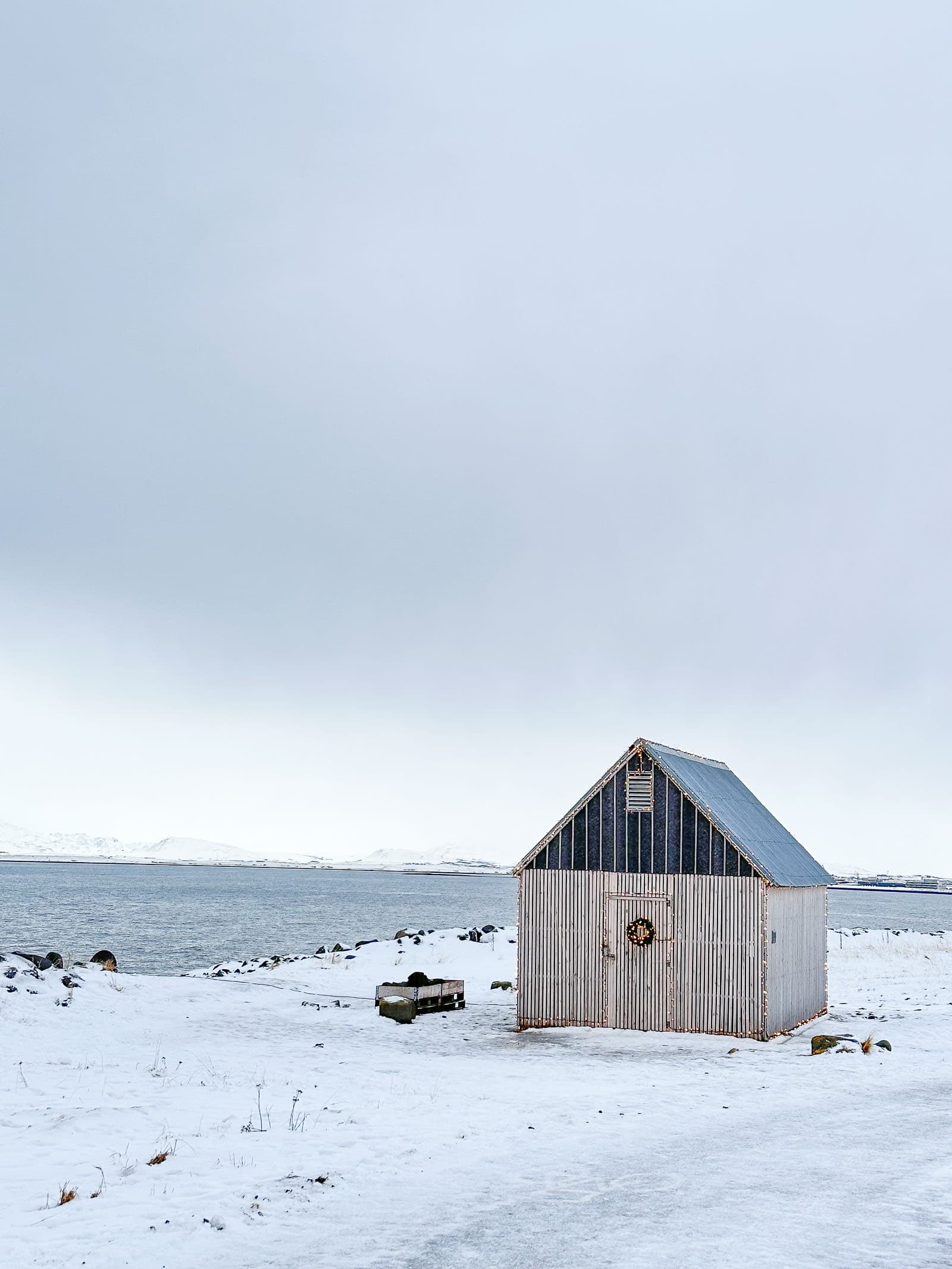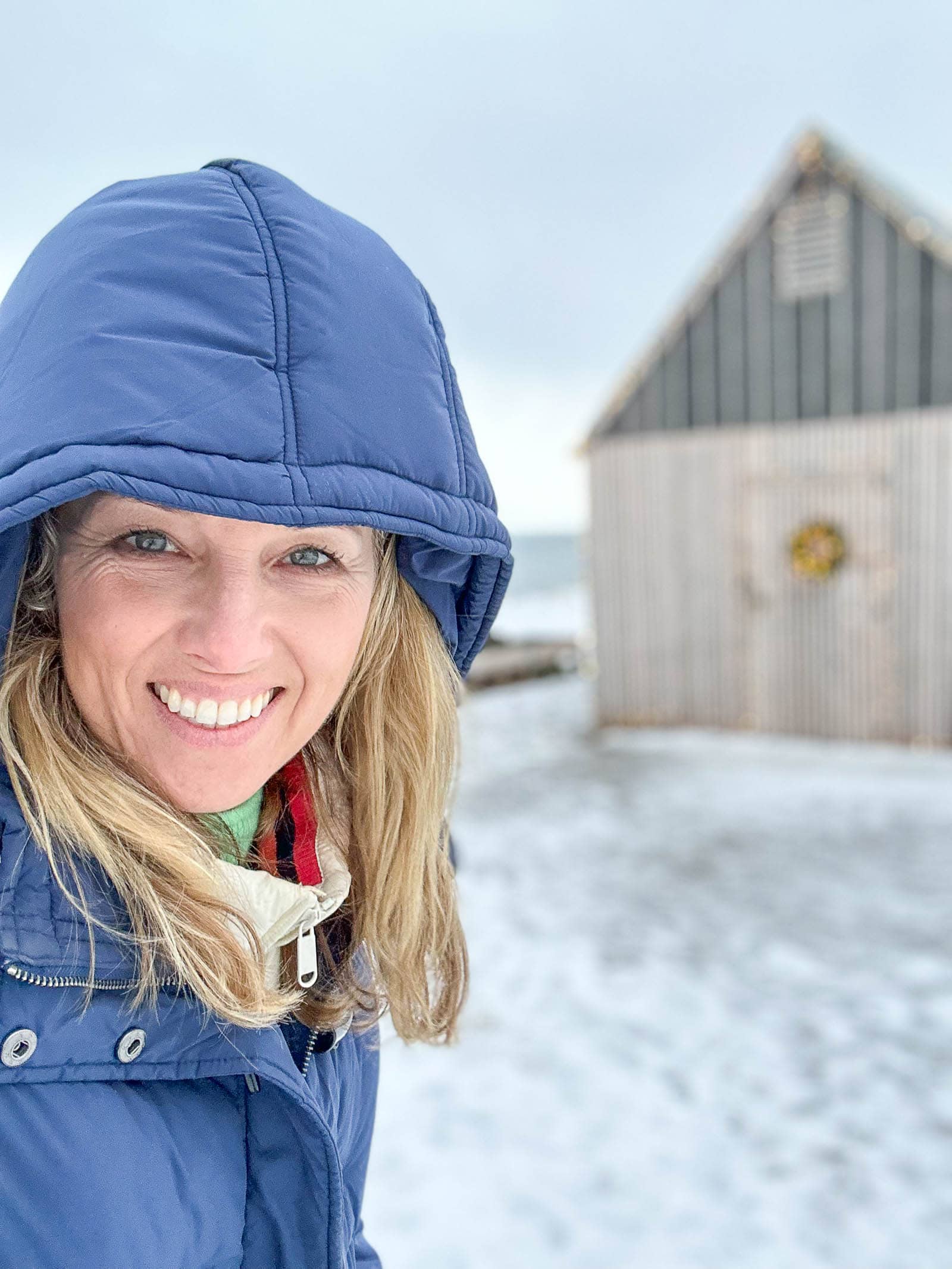 When you visit Iceland in the winter, making use of the few daylight hours is a big part of your sight-seeing itinerary. We wanted to make sure and get to the Cathedral Hallgrimskirkja before the sun set so we drove there first. This modern Cathedral sits on the top of a hill overlooking all of Reykjavik below. There was a baptism underway so we couldn't peek into the Cathedral itself but we took the elevator up to the roof for a 360º birds eye view of the roof tops below. The town is filled with charm and colorful corrugated buildings and shops. I could have walked around for hours!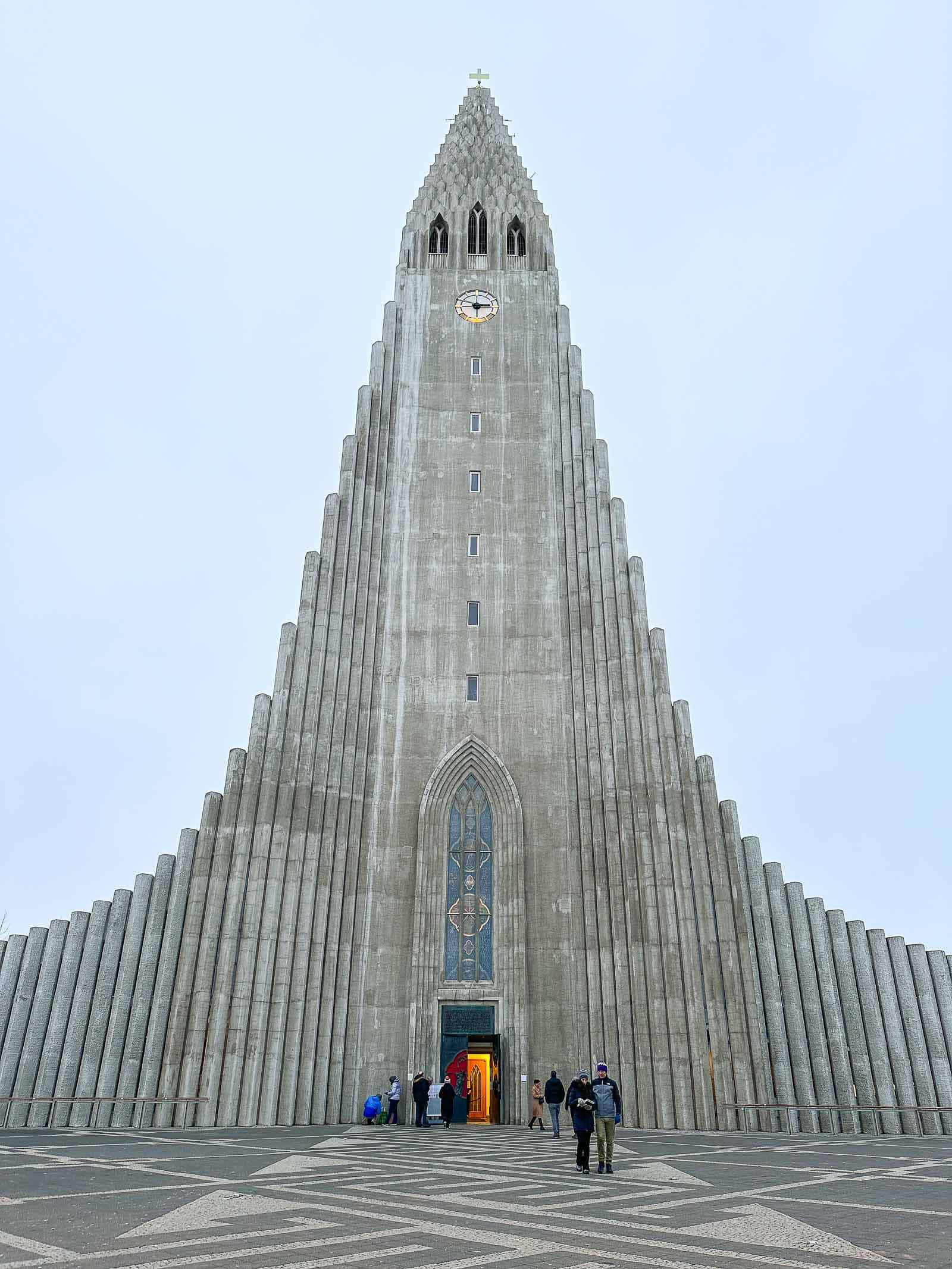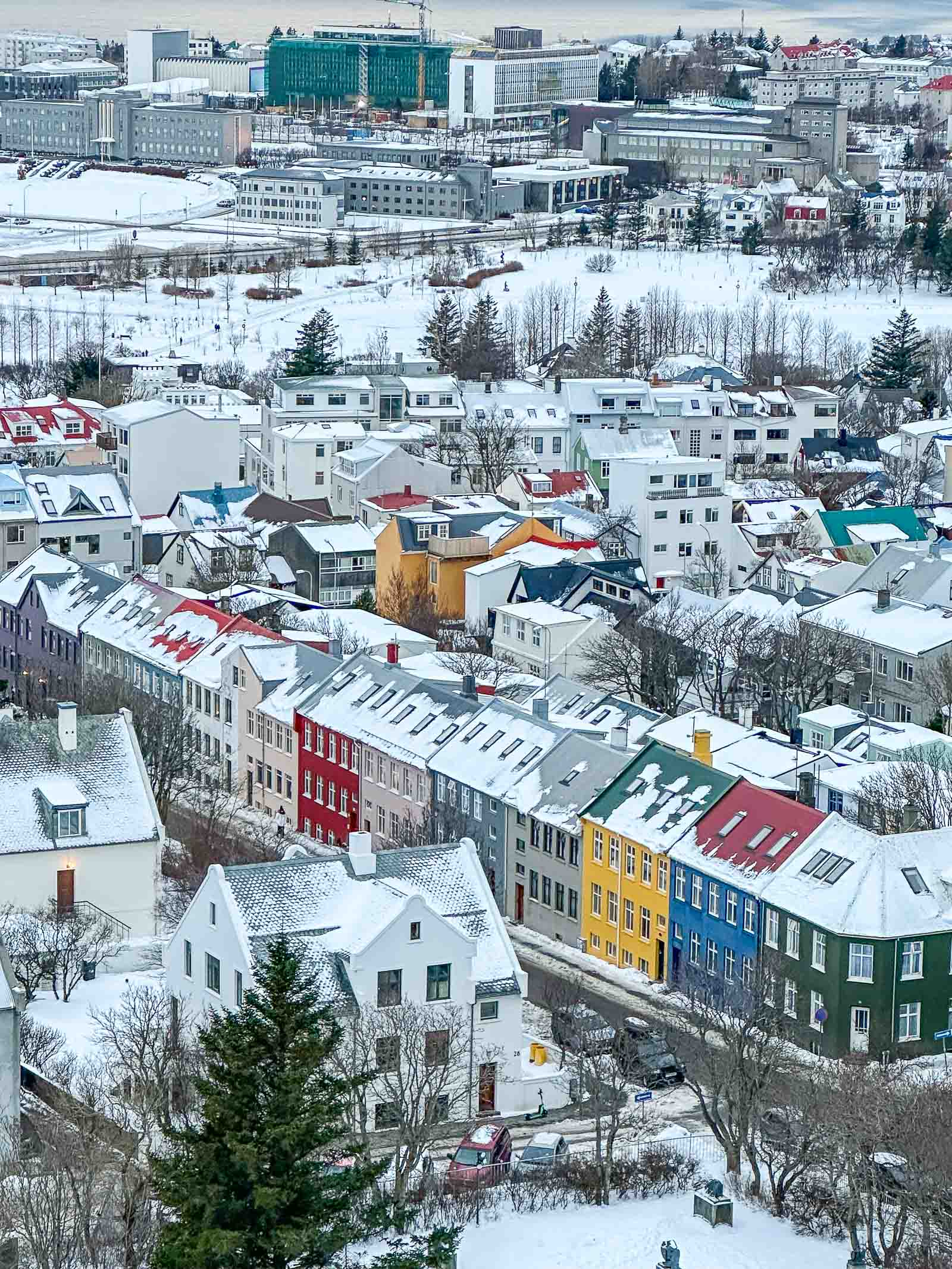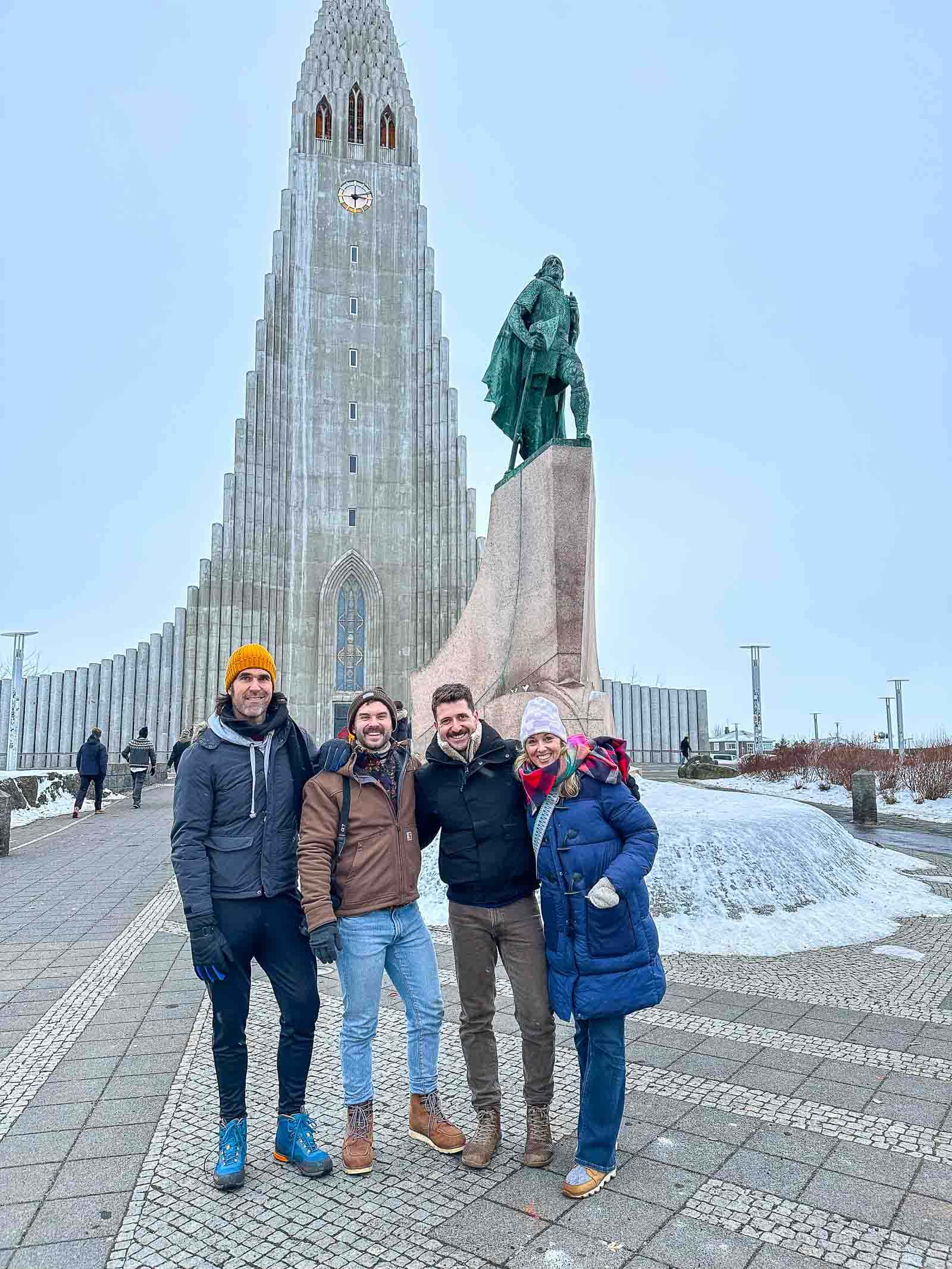 We ate some food at the MOST charming little restaurant around the corner from the Cathedral, Rok Restaurant, and finished our night enjoying a colorful drag show at the Kiki Queer Bar. I definitely loved popping in and out of the various shops in town. I will say that lots of the things I saw in the shops were also at duty free on the way out of town so keep that in mind as you're souvenir shopping!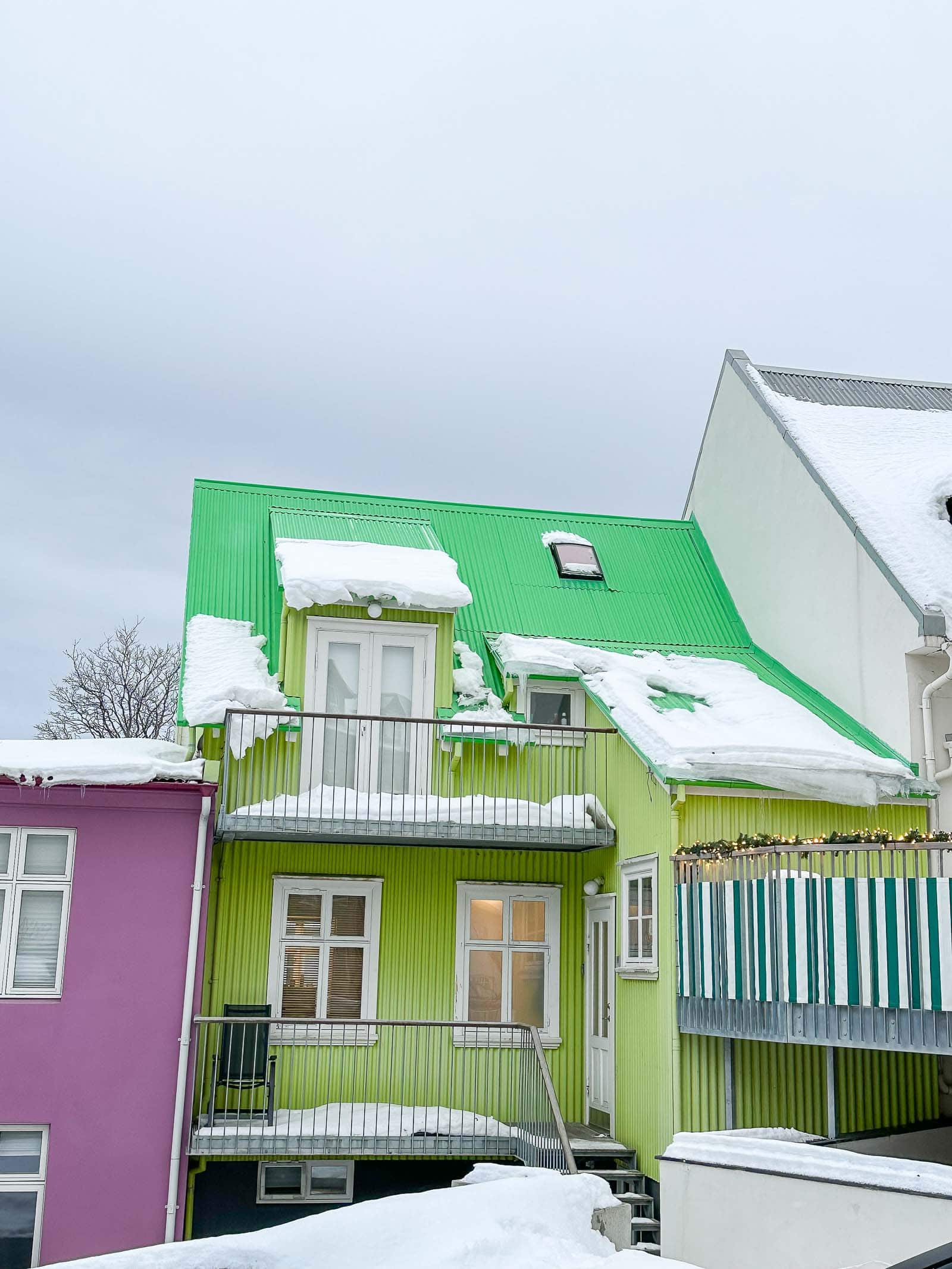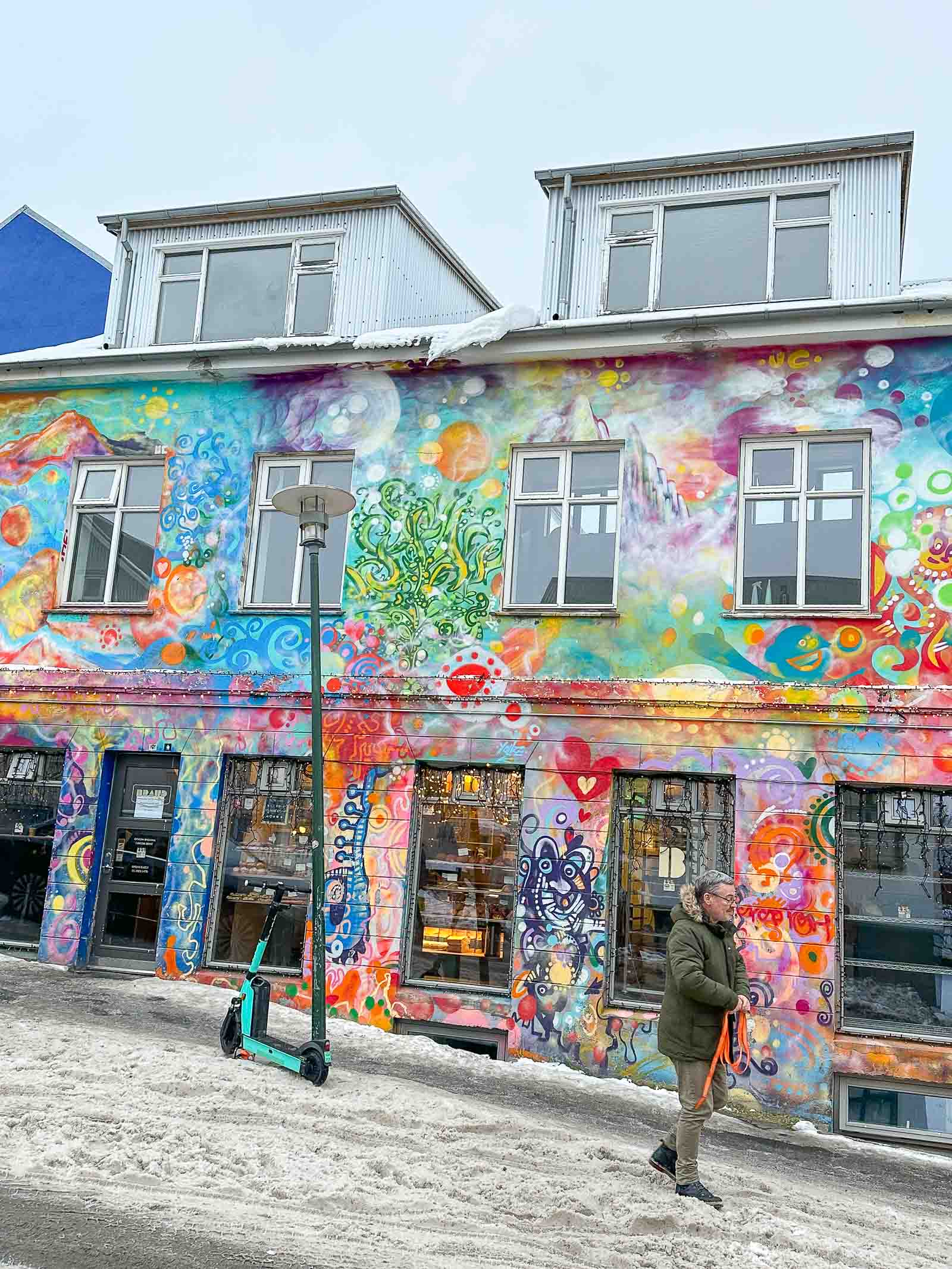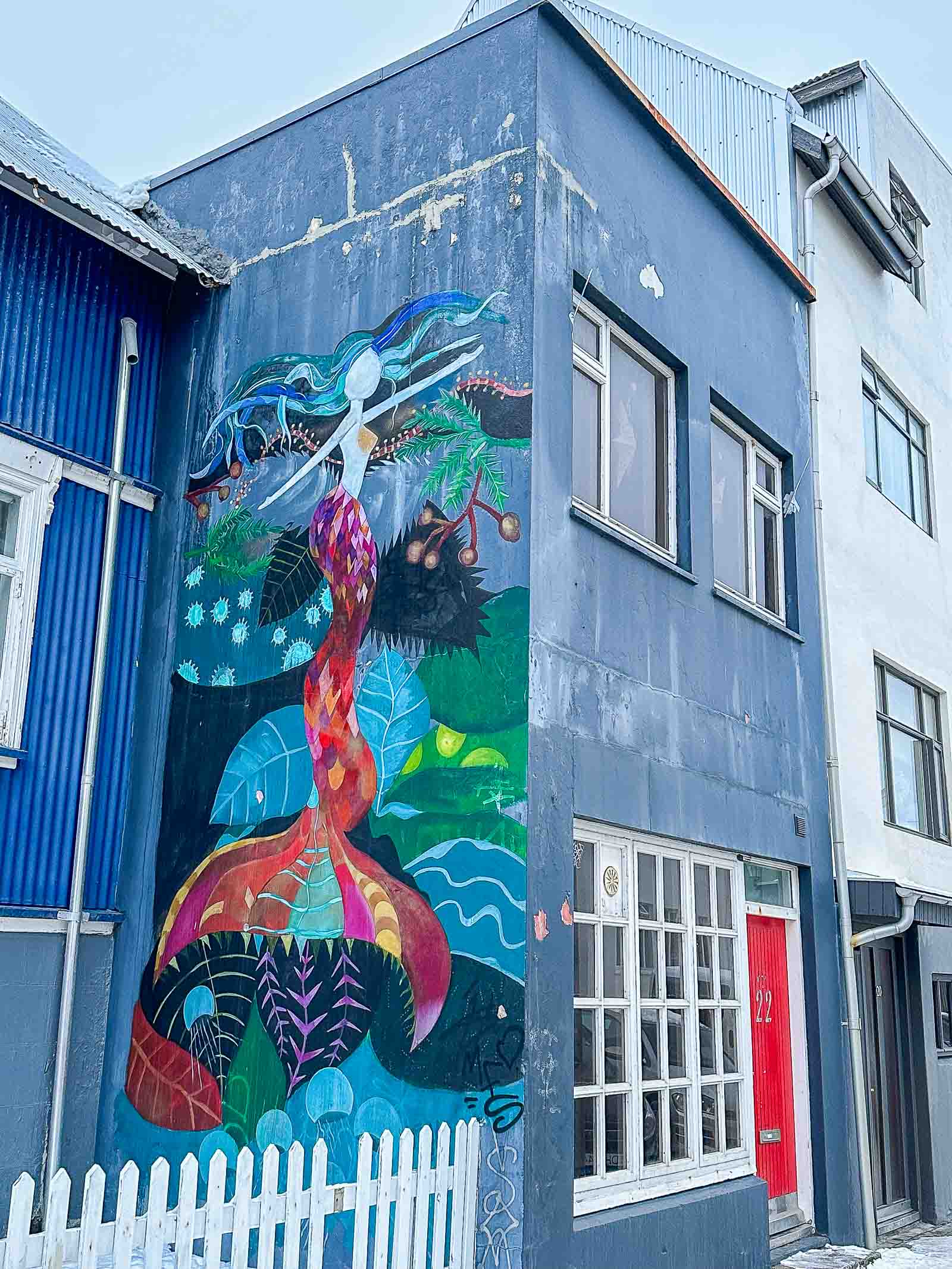 For the 5 days we were in Iceland, we didn't ever really adjust to the time change and most nights were spent back at Brian's apartment or in our hotel lobby enjoying conversation and a night cap. Lots of quick trips were taken to the local grocery store to secure snacks! Our last night was no exception.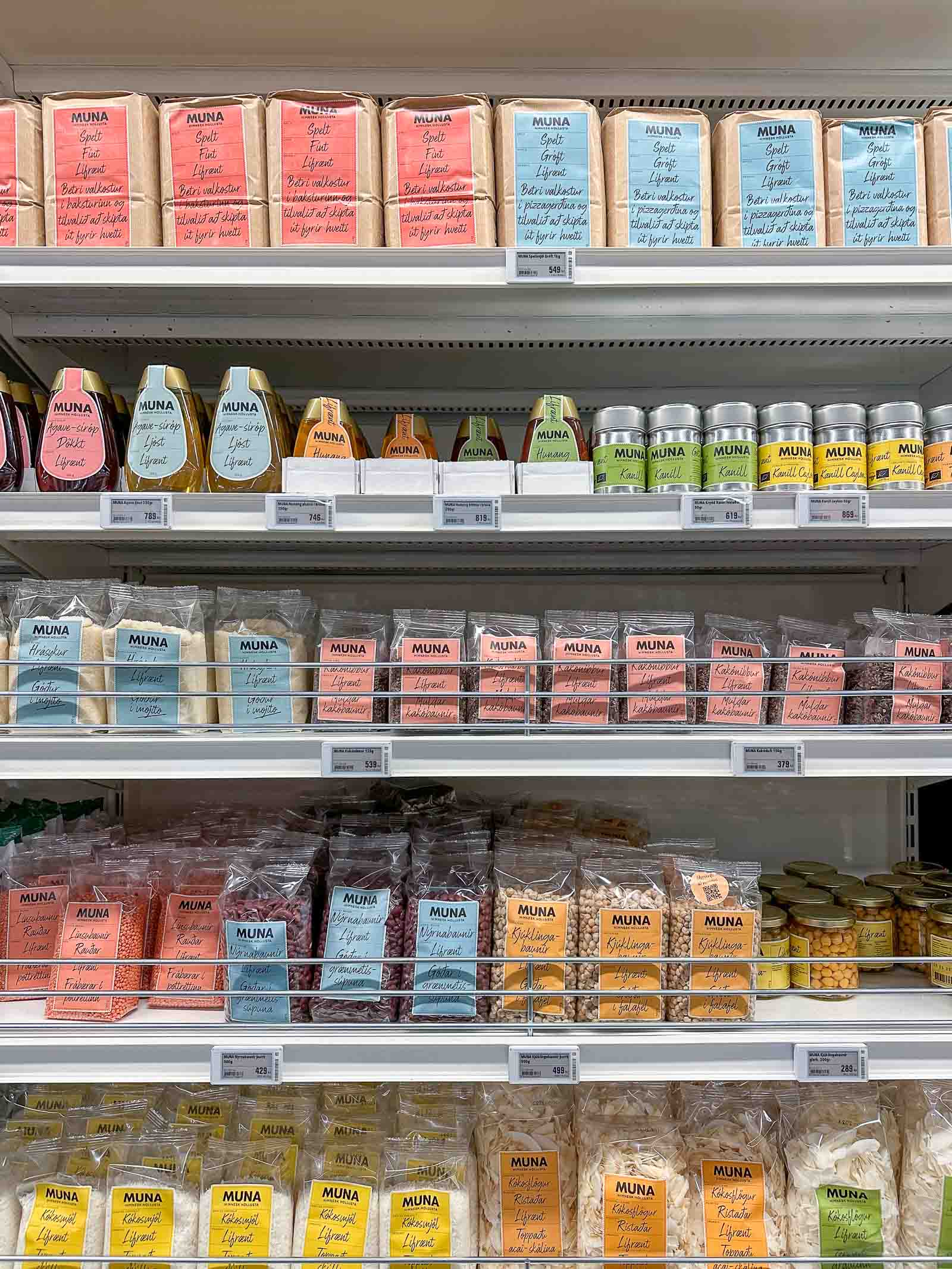 Day 4: Brunch and a Flea Market
My flight was later in the afternoon so we didn't have time for anything too ambitious. Brunch at the Laundromat Cafe was the perfect way to wrap up our trip. Although quiet in the winter, the flea market (Kolaportid) around the corner was a fun last stop. I didn't get anything because of my carry on luggage but I was tempted! Make no mistake, the drive to the airport was a sad a gloomy one… so sad to say goodbye to my travel buddies after such a great trip.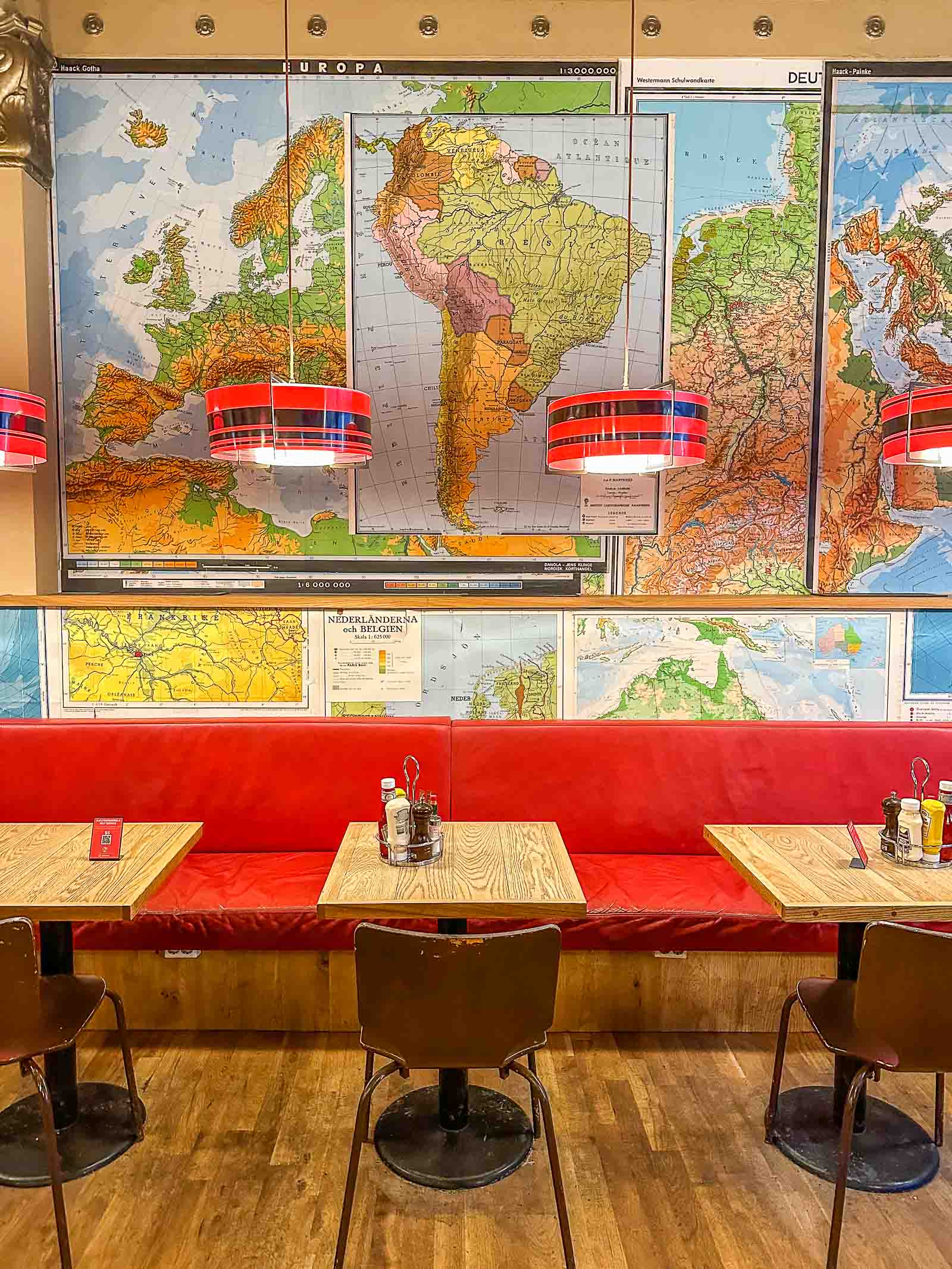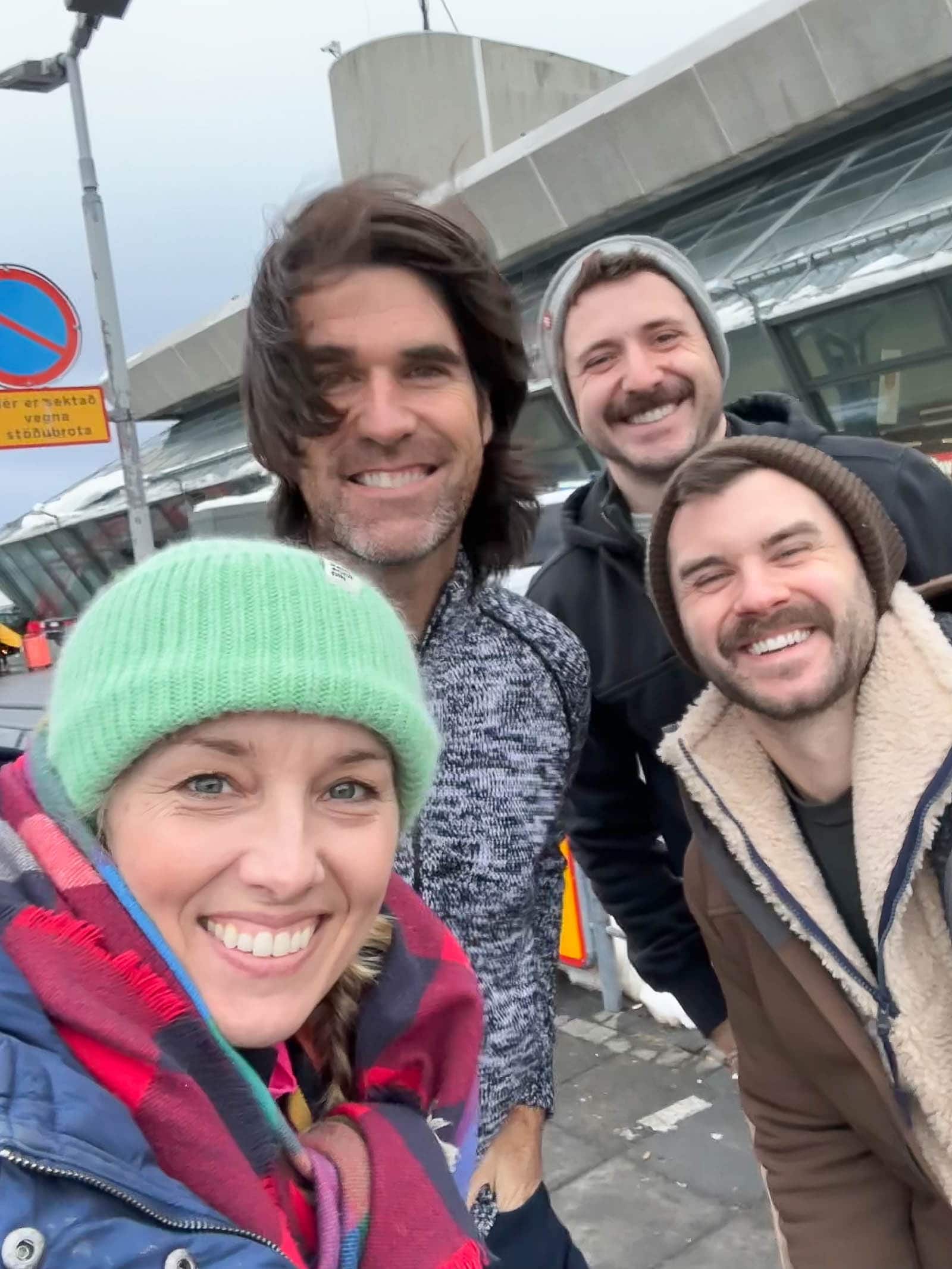 The comment I got in my DMs more than any other was how nice it was for you all to see another mom/ wife/ woman traveling and doing things on her own. Being able to travel is an incredibly luxury but finding a way to say yes to the things that make you happy and bring you joy doesn't have to be as grand a gesture as this. Being a mom is the best thing I've ever done, but I want my kids to see me as an independent women and a friend and so much more than singularly a mother.