Painted Metal File Cabinet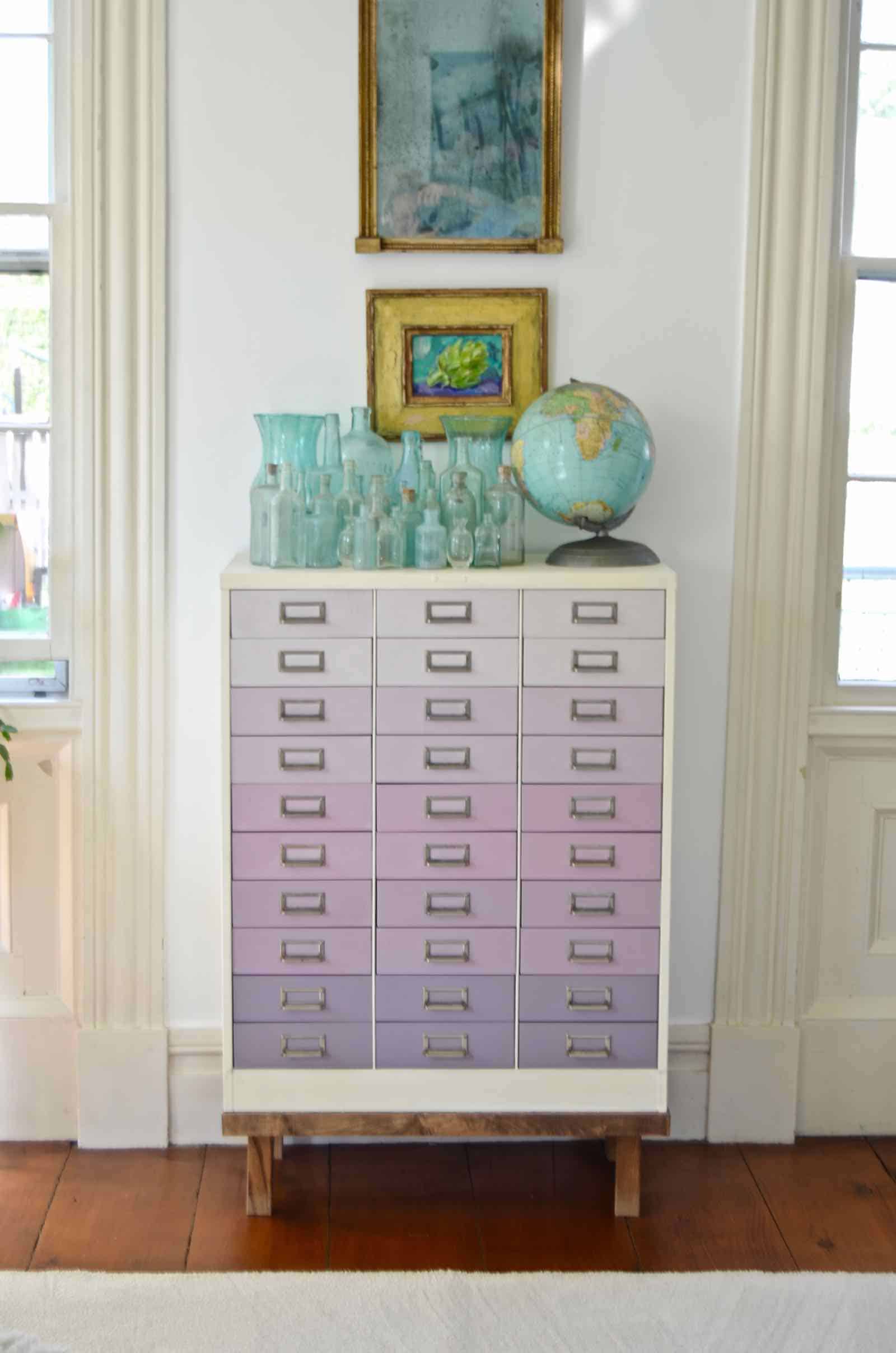 Are you ready to ombre?  One of my favorite things about the new lavender dining room is this re-energized file cabinet.  I bought it off of Craigslist (natch) from a lovely gentleman who had been using it for his fossil collection (don't you love knowing a little history about these pieces?!).
I considered lots of different ways to paint this girl, but ultimately landed on the epitome of non-prep… chalk paint.  (Another option that I toyed with was spray primer and then latex paint… but that involved lugging the whole thing outside AND the temperature was still too cold for spray paint.)  Before I even touched a paint brush, I went over the whole thing with a big ol' wire brush to get any flaky paint or rust off.  Wanna know what I learned?  1) the sound of a wire brush on a metal file cabinet will make you question your will to live. 2) the paint flaked right off the drawer pulls to reveal the original metal… #winning! (Before… and after.)
Once the cabinet was spiffed up, I went in with the chalk paint.  I used Annie Sloan's Emile, Henrietta and Old White and a 1″ basic foam craft brush (affiliate).  The file cabinet has 10 rows so I figured two rows of each color would be feasible without looking crazy.  I used straight Emile and the straight Henrietta for 2 colors in the gradient.  Then I mixed them equal parts for another shade.  And lastly played around with the Old White to get two more tones that fit the ombre.
The handles on these drawers didn't unscrew so I was forced to paint around them.  No biggie.
I knew this was going in the dining room and when I googled images for other similar storage cabinets (e.g. library card catalog drawers) the one thing I noticed was that the 'fancier' looking ones were elevated from the ground.  Obviously a purple ombre file cabinet will never be considered 'fancy' but I wanted it to look like a legit piece of furniture and not just an old metal set of drawers that I slapped some paint on.  So I went  into our scrap wood pile and found some 2x4s.  I cut them to size and using the Kreg jig, made a platform like so:
I love simple plates like this (affiliate) for threaded prefab furniture legs.  Makes adding legs to anything crazy easy. Not the most sophisticated option, but mad simple.
To cover the 2 x 4s, I then used my nail gun
 (affiliate) to attach these 1x2s along the edge after mitering the corners so they'd fit nice and pretty. I stained the whole thing using some leftover Minwax Provincial.
The file cabinet is pretty heavy so it's just resting on the base, but I definitely recommend screwing it in through the bottom of the file cabinet to secure it and anchoring it to the wall.
And a few more glamor shots.  Because let's face it… this fossil cabinet just got the Cinderella treatment.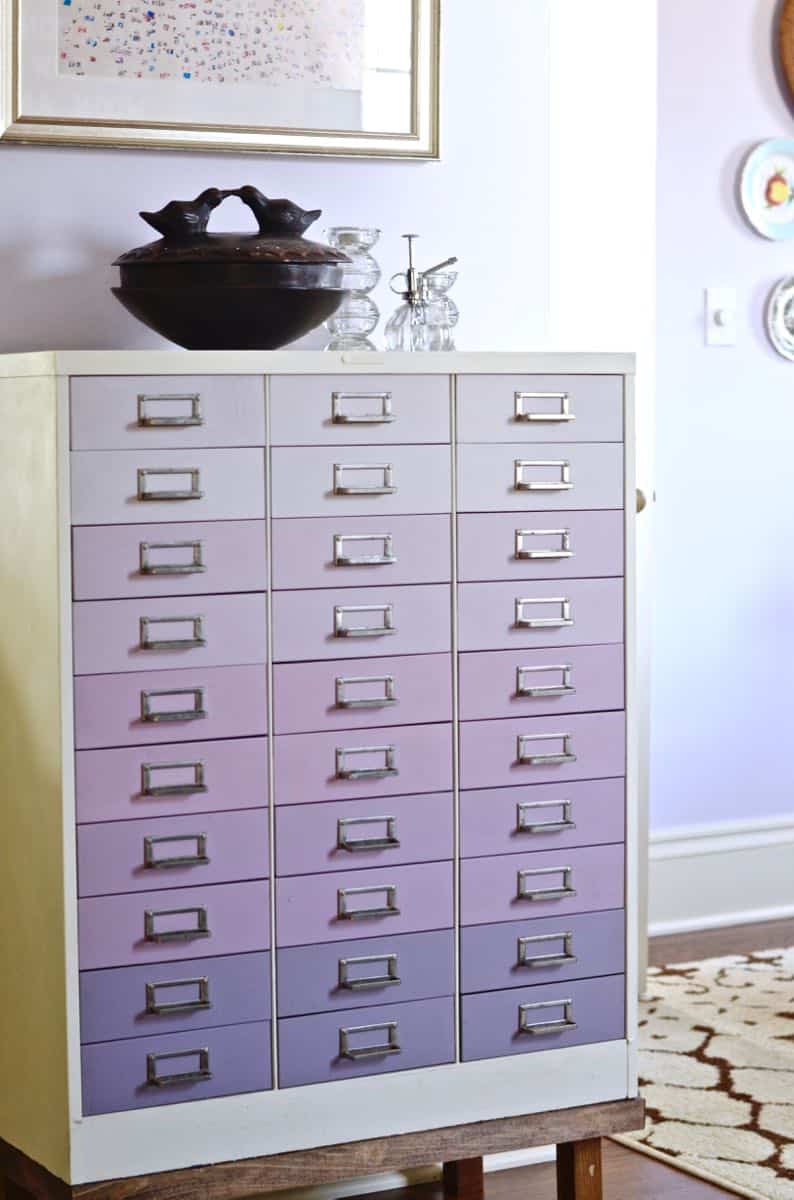 I haven't tested the chalk paint by running jagged nails up and down the surface, but this file cabinet has been moved around a couple of times and the paint is holding up great.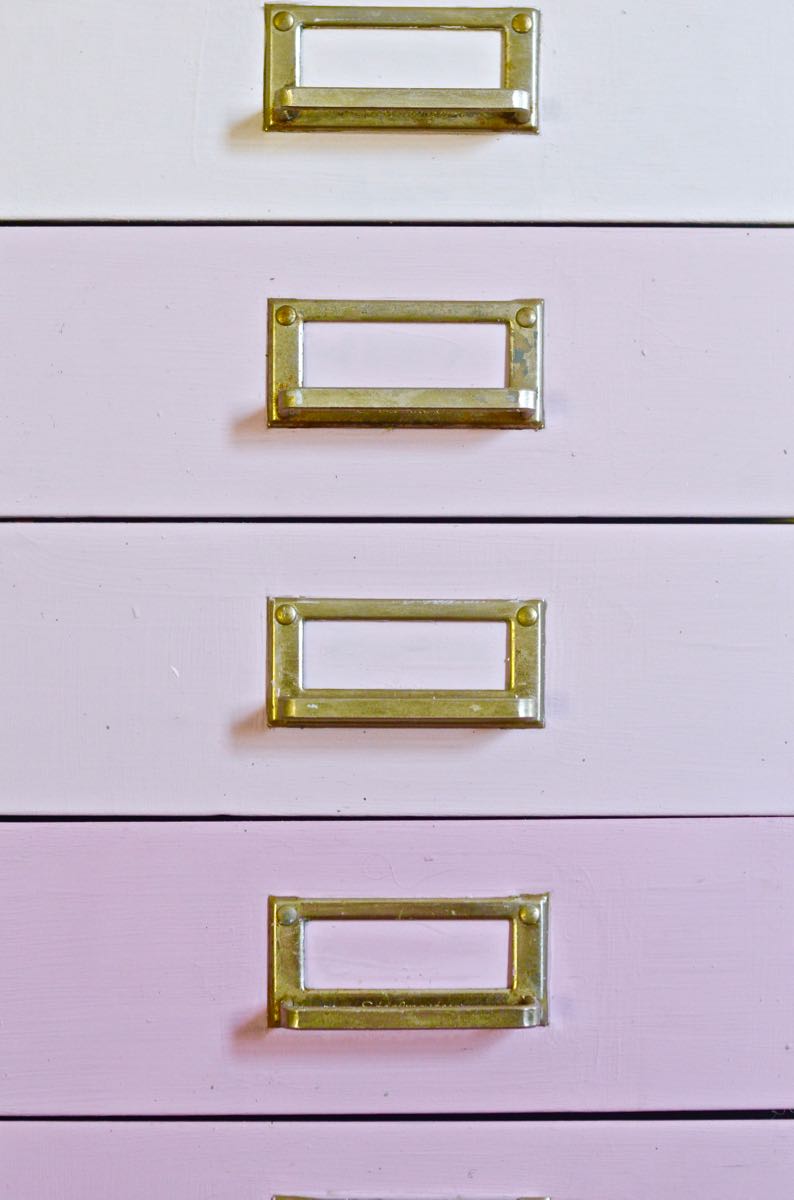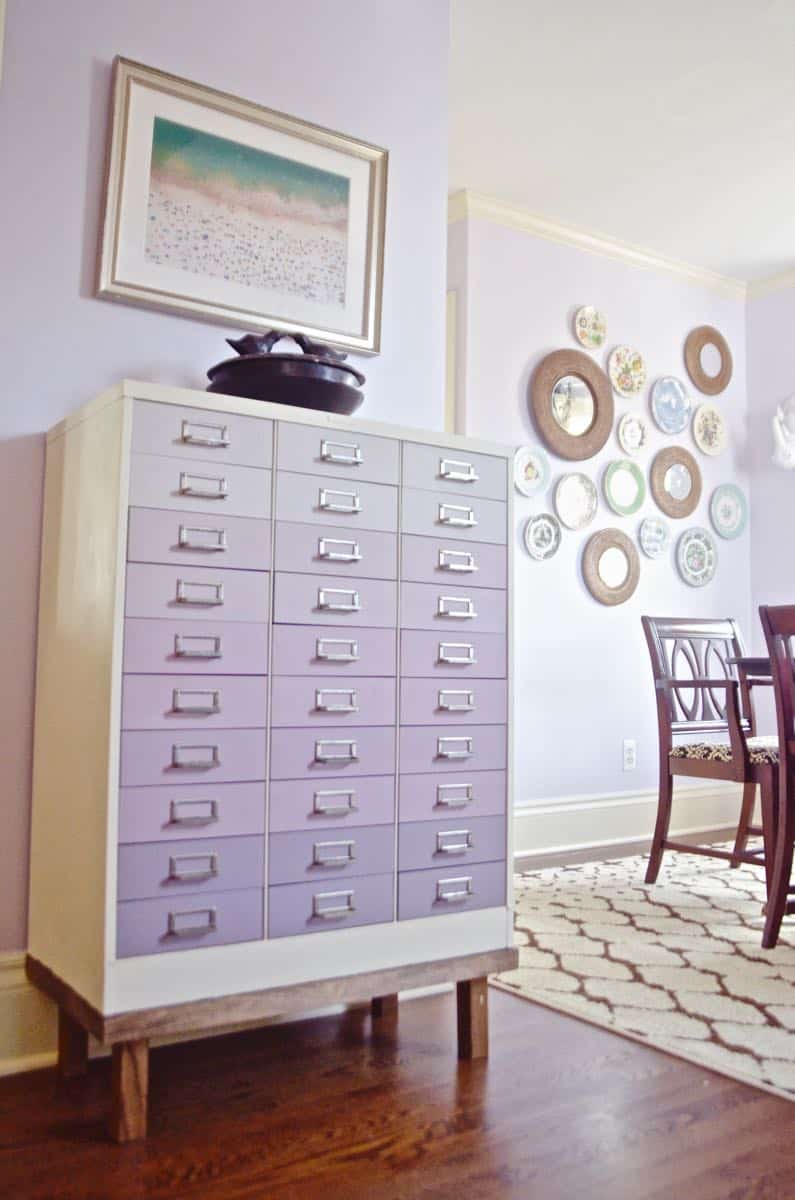 Update: See how this ombre makeover made its way into BETTER HOMES AND GARDENS!!!
Update UPDATE: I shared this file cabinet again after we moved. See how it looks in it's new location at our NEW HOUSE! It's been almost two years since I painted it and it's still got a FLAWLESS finish. I'm SO impressed!